Delivery apps have been all the rage for the last couple of years. They've given us comfort of having eat-out meals without leaving our homes and offices. However, with the coronavirus outbreak, they became not only about saving our time and effort but also about saving lives. 
As Covid 19 forced the world to quarantine, delivery apps usage has skyrocketed. Apart from keeping us safe, they also rescued many fast food and restaurant businesses around the world, as eateries closed their doors to visitors. 
Going forward, it looks like the tremendous popularity of delivery tools is here to stay. So if you decide to create your own food delivery app, it can be more than beneficial – not only for you but also for the world. 
However, what would you start with? What tech stack to choose? How to make a value proposition and who will be your competitors? 
At Riseapps, we created a bunch of great apps including those serving the food sector. We decided to share what we know about the market, tech stack, features these apps usually have, and more. So if you are wondering how to create a food delivery app, read on.
Market size
The online food delivery market looked promising even before the coronavirus outbreak. 
As Statista suggests, online food delivery revenue is expected to grow up to $164 mln. by 2024. Considering the recent surge in demand for this kind of tools, the predicted number might be much bigger now.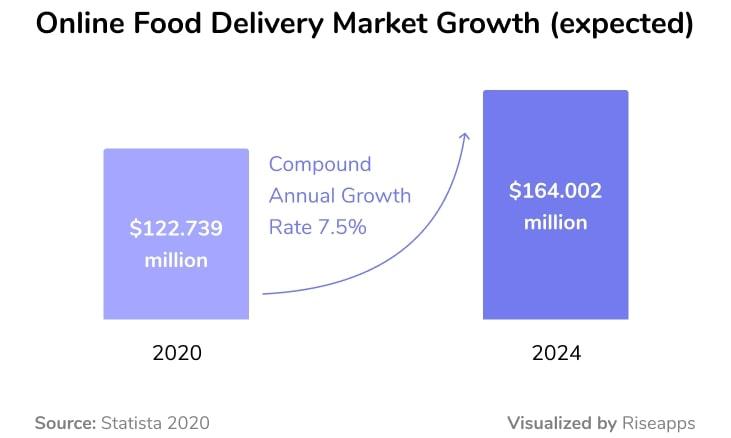 If you are going to create a delivery service app, you'll be pleased to know these tools often reach top places in app popularity ratings. As of 2019, DoorDash, GrubHub, and Uber Eats account for 40 percent of the 20 most-used applications.
In case you are wondering which app for food delivery is ahead of the game, this brief study from Second Measure might help. As we see, DoorDash and its subsidiaries earned 39 percent of U.S. consumers' meal delivery sales in February 2020, Grubhub comes second, and UberEats takes the third place.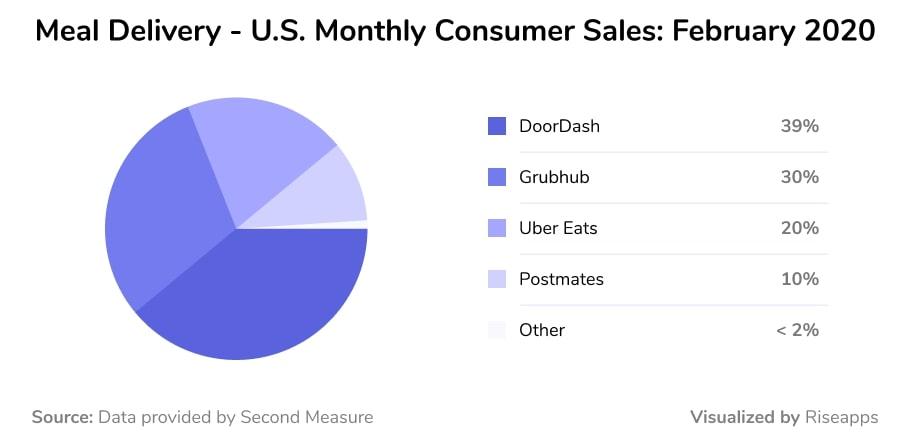 Now, let's take a closer look at some popular apps. To avoid listing only US-based vendors, we'll mention the one built in Great Britain. 
The most successful delivery apps
Uber Eats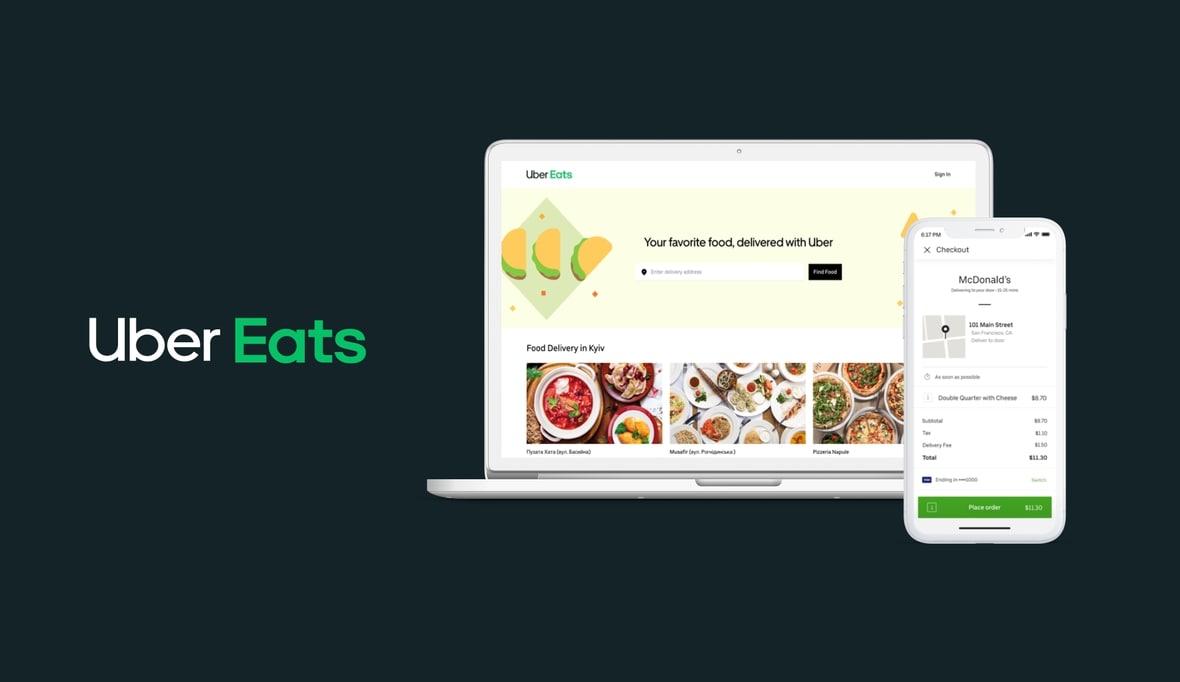 Uber Eats is a delivery platform powered by Uber, a worldwide company providing ride-hailing services. Launched in 2014, Uber Eats is now internationally available with an impressive list of countries the tool operates in – from Australia to the United Arab Emirates. Uber Eats Food Delivery app makes the top 3 apps in the Food & Drink category in the App Store.  
Uber Eats is considered to be the most profitable direction in Uber, so if you are about to start a food delivery app, it's a good idea to explore this particular tool. 
Postmates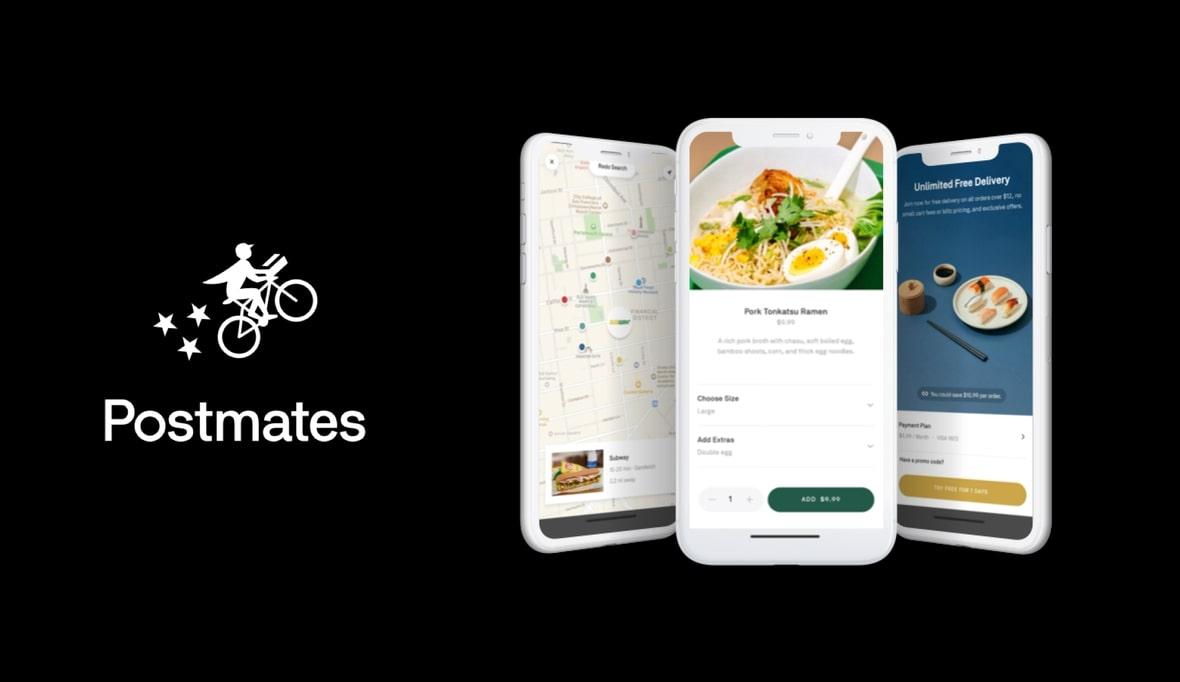 Set up in San Francisco in 2011, Postmates is a pioneer in the sector. It differs from similar tools by delivering goods not only from grocery stores, but also from pharmacies, and even liquor or electronic stores, depending on where a user lives and which nearby stores are available. 
As of March 2020, it's available in 4,200+ US cities. In 2017, Postmates tried to launch in Mexico but soon left the country. 
GrubHub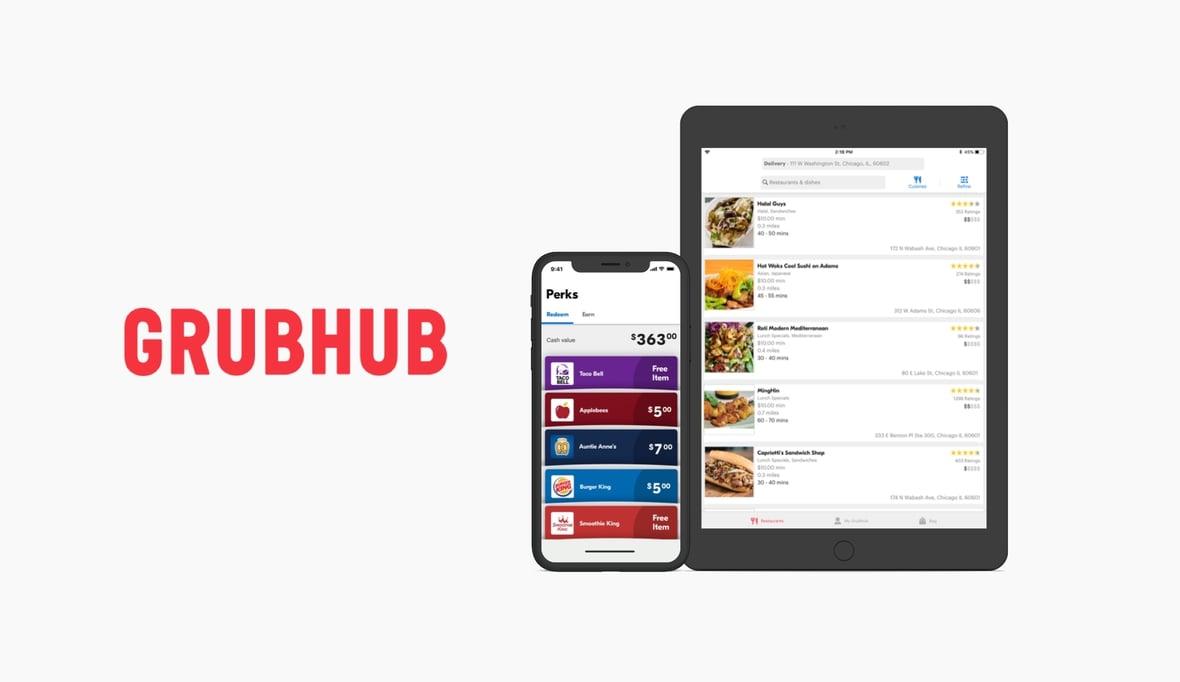 GrubHub is a food-ordering and delivery service started in Chicago in 2004. It operates in over 3,200 U.S. cities and London, claiming to offer "the largest selection of restaurants" with more than 22 million active diners. 
Grubhub is considered to be the most popular service in many Northeastern US metro areas, including New York and Boston. Its portfolio of brands includes Seamless, LevelUp, and MenuPages.
Deliveroo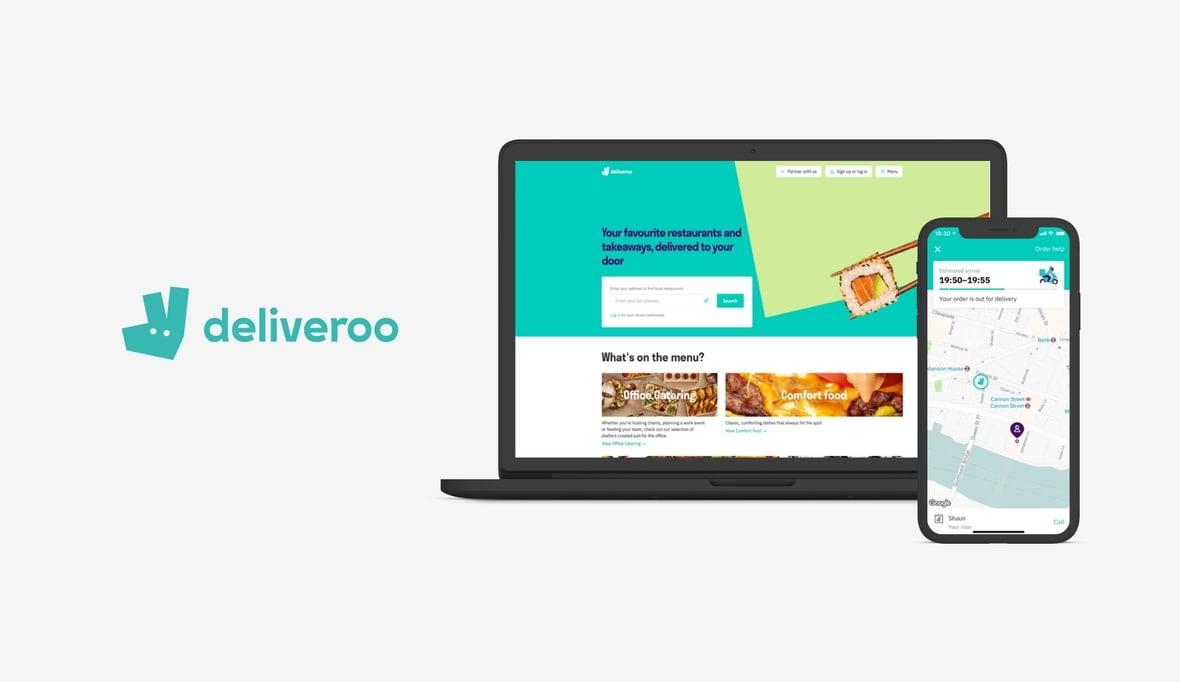 Deliveroo is the only tool on this list founded in the UK. It boasts revenue growth of over 650% year on year, featuring the so-called 'Frank' algorithm that evaluates the most efficient way of distributing orders claiming to cut delivery time. 
Deliveroo operates in over 200 cities across 12 countries, including Australia, Belgium. The U.S. is not on the list. 
In case you are wondering how to make an app like Deliveroo, feel free to contact Riseapps. 
How do apps make money?
Planning to develop an online food delivery app, you might be eager to know how tools of this kind earn money. Here are some of the options.  
Service fee.
Sometimes it's called commission or delivery fee. Tools collect money calculated as a percentage of each facility order made via the platform. Often, the exact amount is not publicly disclosed.
Activation fee.
Some tools require a one-time activation fee that sets restaurants up with a welcome kit, restaurant software, expert photoshoot, etc.
Delivery fee.
This kind of fee varies for each eatery based on things like a user location and availability of nearby couriers. Small order fees work when an order's subtotal is less than a particular amount.
Advertisement.
Restaurants can put up banner ads and get exposure on the app. The eateries can showcase their listing pages, as well as highlight reviews, ratings and more. A tool, in its turn, can earn on it.
Upgraded plans and membership services.
Platforms often have upgraded plans for customers and restaurants. For example, Postmates has Unlimited service that is $99.99/year. Its users receive free delivery when the order size reaches the cart. Grubhub also has GH+ plan that works in a similar way. This particular option might not suit you if you are just about to start a delivery service app. But when your application grows beyond MVP, upgraded services you offer could bring you much profit.
How to make a value proposition?
There is a multitude of approaches to making a great value proposition. But as long as we are looking at how to make a delivery service app, let's stick to what this particular kind of tool can offer. 
By definition, value proposition means the key benefits of your product, especially by being different to or better than a competitor's solution. In other words, how do you make your delivery app unique and useful? 
Needless to say, the key is your target audience and its needs. If you identify the most vital issues of both – eateries and foodies – crafting the unique selling proposition would be much easier. Here are some examples. 
Let's say couriers spend enormous time on delivery in your city, because of traffic jams or some city regulations. Then you might try to find a logistic solution and make it a part of your promotion program. This is actually what Deliveroo has done claiming they have developed algorithms to deliver food faster. 
Not all eateries loved by foodies are keen to partner with delivery companies. However, you might negotiate with some exclusive brands, so people could order food from them using your app only. E.g. Grubhub built up a list of "Brands you'll find only on", marketing it as a competitive advantage. 
The key requirements of your audience depend on country, economics, your competitors' offer, and more. It's a good idea to perform a thorough market analysis to see how your possible competitors solve the problems of their customers. 
The Key Features of On-demand Food Delivery Apps
For Customers
MVP
The MVP of an app for food delivery for customers would most certainly include the following functionality:
Browse nearby restaurants, eateries, cafes, etc. 
Search for food by cuisine, dish or meal
Order meals 
Get notified when your order arrives
Payment feature 
Theoretically, this would be already enough to deploy and test your product. However, even primitive delivery tools on the market have the 
Usually it allows users to see their food order on a map as it heads their way. So it might be worth including in the MVP as well. 
Advanced
The list of more complicated pieces of functionality might include
Advanced ordering feature 
You can design your app in a way that users will be able place orders not only for now, but also ahead – for later today or tomorrow. Features for picking up orders can be added as well. 
From Apple Pay to gift cards – the more options you can offer to users, the better. If you want to create an app like Uber Eats, you may set up your own separate payment option on the model of Uber cash. 
There are many small features you can add to your app for serving your users better. An example would be a new filter for people to choose their maximum booking fee. Alternatively, you can create a feature for app users to see the delivery time to their address.
For Restaurants
MVP
The apps for restaurants, cafes, eateries, for managing orders and deliveries are usually more simple in functionality and design. The MVP features would enable the following functionality: 
accepting and managing orders
adjusting item availability
tracking couriers 
Advanced
The advanced features of restaurant delivery apps usually allow vendors to tap into data that helps them grow. So the owners of eateries can:  
check on sales 
chart progress 
manage special offers to customers, and more. 
Often, vendors choose web applications instead of a mobile one, which, of course is not the option for couriers.  
For Couriers
MVP
The app for couriers doesn't need to have a stunning design, however, the intuitive UX is a must. For example, switching between restaurant and order features in the app should be easy-breezy. 
The basic app for couriers to run their errands smoothly allows them to 
Plan their schedule 
Track earnings
Map delivery routes 
Due to the COVID 19 outbreak, most delivery apps also offer some kind of functionality for contact-free delivery. This allows couriers to leave an order at a customer's door, in a lobby, or any other place at the delivery location. 
Advanced
The advanced app for couriers usually includes ID scanning for deliveries, automatic dispatch algorithms, and more. 
Is the app for couriers what you need? Feel free to contact Riseapps, so we can provide you with any tips and resources you might need. 
Techstack for building a delivery app
The set of tools necessary for home delivery app development varies greatly. It depends on features you are planning to implement, platforms and devices you target (will it be available on a user's iPhone, iPad, Chromebook?), and many other factors. 
Let's imagine you are going to build an MVP of a food delivery app for customers. Furthermore, you opt out for iOS development to reap all the benefits of the platform. What tech solutions would you choose? 
We asked this question to our senior iOS developer. He jotted down some possible options for implementing the following features. 
Functionality
Technology
Browse nearby restaurants/cafes
Google Maps (using MKLocalSearchRequest)
Search for food by cuisine, dish, meal
Backend side could fetch data from Kitchen stories; the client-side (mobile app) will get info using API calls
Place an order 
REST API; the tech stack depends on specific tasks, steps in the development flow, etc. 
Pay through a variety of options  
Stripe, Apple Pay, Braintree
Track your food order on a map as it heads your way
Google Maps, MapKit, MapBox
Get notified when your payment arrives 
Apple Push Notification Service, Twilio, Sendgrid,

Mailgun, AWS
Now, let's move to the sequence of steps you can follow for on-demand food delivery app development. 
How to Build a Food Delivery App?
If you are up to build a food delivery app, your path will probably consist of the following steps.
Define your goal 
Do marketing research
Find the development team 
Prepare technical requirements
Create an attractive design
Develop and test
Release! 
Perform app support and maintenance
Let's take a closer look at each stage.
Step 1. Define your goal 
First, it's all about the core appeal of your application. What challenges can you solve serving eateries, couriers and foodies? Would you develop the app for a particular region or are you planning to conquer the world?
Step 2. Do marketing research
As mentioned, the demand for delivery apps is huge. However, you'll inevitably face a challenge of finding your niche, because chances are you'll have many competitors. What will make your tool stand out? It's also high time to determine how to monetize your app.
Step 3. Find the development team 
If you have your own engineering team, everything is pretty straightforward. You just give them instructions and monitor progress.
If you don't, it's a great idea to outsource one. Nowadays you can get a development team to build your app from scratch. Just make sure you choose a trustworthy agency with a wealth of experience like Riseapps.
Step 4. Prepare technical requirements
The technical requirements for your app will stem from its purpose. Describing the idea in general first, you can see and prioritize features of your app. Search, order or payment features should be described in a functional specification document or user stories. 
Step 5. Create an attractive design 
The next two activities usually go hand-in-hand. When all the technical specifications become clear, an intricate "dance" between design, development and quality assistance starts.
On the design stage, your vision and features blend into a more clear image. The idea is to build a roadmap that helps you understand the connection between screens and how users can navigate through your food delivery app.
Step 6. Develop and test
Your team proceeds with the "dance", building both – backend and frontend, setting up databases, servers, storage solutions, APIs, etc. After having your app concept completely in place, you can finally test your food delivery app to understand how it will actually work.
Step 7. Release! 
Publishing a new app might take quite a lot of time and effort, as app marketplaces have very different policies. So it's a good idea to start preparing for this stage beforehand. Marketing efforts are also of the essence when the app is finally released.
You might contact your early adopters and receive some of the earliest feedback on your food delivery app.
Step 8. App support and maintenance
The maintenance of your app involves fixing any bugs and thus improves a developed version of an app. 
By the way, Riseapps provides a 2-month guarantee on the code. It means that all bugs that might be unveiled during this period of time will be fixed by our team for free.
Food Delivery App Development Cost
If you are going to create a delivery app, you might be interested in how much it might cost. Let's calculate the approximate development price of the whole platform for food delivery services that includes 3 apps – for customers, restaurants and couriers. 
We'll consider cross-platform development in case you want your services to be available on both – iOS and Android platforms. 
MVP for customers 
The app for customers would probably be the most expensive. You'll need to build everything from scratch and make the tool as visually appealing as possible, as high-definition pictures are essential to lure potential customers. 
With a rather small team (let's say – 2 experts) it would take no less than 3 months. 
The MVP for customers would cost about $30,000 – 40,000 if you choose a trusted developer from Eastern Europe like Riseapps. 
MVP for restaurants 
If you are going to make a delivery app (MVP) for restaurants and couriers, you may be pleased to know that each of them would cost a bit less than the one for customers. It comes from the fact that some elements of UX/UI may be borrowed from the customer app, as well as the backend solutions.  
The MVP for restaurants and couriers would cost $15-20,000, again, if you choose a trusted Europe-based vendor. 
Depending on the region your developers work, the price of your app can vary. As of April 2020, we see development prices as following 
| | | |
| --- | --- | --- |
| Region | Hourly rate | Basic level food delivery app (for customers only) |
| The USA | $100-180 | $80,000-160,000 |
| Great Britain | £100-180 | £130,000-170,000 |
| Western Europe | €80-150 | €125,000-150,000 |
| Eastern Europe | $30-70 | $30,000-40,000  |
| Ukraine | $30-50 | $30,000-40,000 |
| India | $15-30 | $15,000-25,000  |
And, of course, you don't have to pay for everything immediately. Many companies, including Riseapps, work on the pay per milestone basis. All work on the project is planned according to milestones and sprints that last 2 weeks. After every sprint, we present the work to our client.
Conclusion 
In this article, we covered how to make a food delivery app. As mentioned, the online food delivery market is constantly growing, and the practice of social distancing during the Covid 19 pandemic might have created a moment for this kind of tool. 
We've reviewed some of the key players, namely Uber Eats, Postmates, GrubHub, Deliveroo. With strong competitors, creating the value proposition for a new tool should be based on key challenges eateries, customers and couriers face. E.g. you can make an app like Postmates to deliver not only food, but also medications, alcohol, or even electronics, in case there's a demand for that. 
We listed key features for MVP and advanced products. For a customer food delivery app, a MVP will include search, order and tracking functionality. Your tech stack would depend on the core appeal of your app and platforms you target, and might include Google Maps features, as well as a variety of payment and notification services. 
If you decide to build a delivery app for customers only, it might cost you about $30,000, if you choose a trusted developer from Eastern Europe. The apps for restaurants and couriers could be less expensive – about 15-20,000 each. At the same time, the final price depends on the features you implement, platforms you target, and more. 
In case you are getting serious with the idea of creating your own delivery app, Riseapps is here to assist you. All our experts are middles or seniors, whose expertise allows us to take on the most sophisticated projects and work with the latest technologies. 
Don't kick your project into the long grass! Be sure to ping us using the form below.