Before you develop a healthcare app, it is essential to understand the scope of the project you're embarking on. You need more than just a great idea for your app. 
You must be aware of critical factors that will ensure the success of your healthcare mobile app development.
This blog post will discuss how to build a medical app using a step-by-step approach. We will cover vital ideas for a medical app, cost considerations, the trends to follow in 2023, and more. 
This information will help you build a healthcare app that functions effectively and that users find helpful.
Whether you're a healthcare professional looking to add more value to healthcare, or a tech-savvy entrepreneur determined to stake a claim in the medical industry, you'll find something useful to guide you here.
If you're prepared to take off with your project, you can begin now with a healthcare app development company.
RiseApps is committed to creating medical applications that help providers deliver improved patient care.
So, let's explore how to make your medical app dream a reality.
How mHealth Disrupts the Healthtech Market
MHealth (mobile health technology) has become an unstoppable force in the market. Similarly, healthcare mobile app development has upended the traditional landscape of health tech, allowing new health tech companies to break into the market and disrupt the status quo. 
In 2022, the overall size of the global digital health market was estimated to be 211 billion US dollars. From 2023 to 2030, the market is expected to experience a CAGR of 18.6%.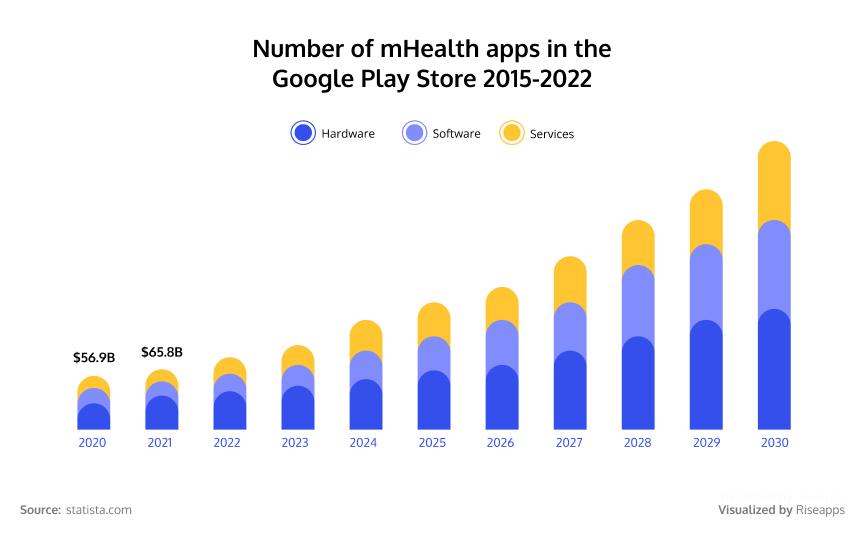 The key to mHealth's success is its ability to offer flexibility and convenience to patients. Its seamless integration with smartphones and tablets has enabled users to access personal healthcare information and services anytime, anywhere. 
This has allowed health tech companies to capitalize on the growing demand for digital health services and enabled them to reach previously untapped markets.
Mobile app development has also allowed health tech companies to offer their users more personalized, tailored services. 
With tailored mobile apps, users are given more control over their health, allowing them to manage any condition better. 
Furthermore, healthcare mobile application development has enabled healthcare providers to measure better and track health outcomes, providing powerful insights into optimizing their work for better patient outcomes.
The rise of mHealth apps has also presented opportunities for health tech entrepreneurs to capitalize on the potential of digital health. 
This has resulted in a surge of startups and emerging technologies aimed at revolutionizing the healthcare industry, with mHealth apps at its core.
Healthcare mobile app development and data analytics have revolutionized the health apps market. 
By leveraging data-driven insights, a healthcare app development company can create personalized, tailored symptom tracking and management tools and predictive health analytics that can revolutionize how healthcare is delivered.
The disruptive element of mHealth in the healthcare industry can't be overemphasized. With continuous advances in innovative technologies, medical apps will continue to revolutionize the healthcare industry for many years.
Core Types of Healthcare Apps that Worth Investments
Various types of mobile healthcare apps cater to different needs. The apps typically fall into two categories: provider-focused apps and patient-centered healthcare apps.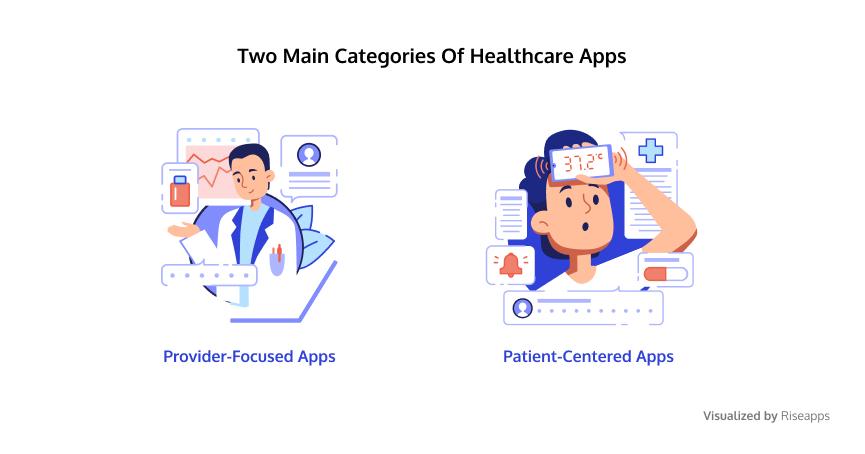 A Provider-focused healthcare app caters to the needs of healthcare professionals. These medical apps help to streamline their workflow, reduce administrative costs and improve patient care while keeping them updated with the latest health developments.
A Patient-centered healthcare app is designed to help patients manage and track their healthcare needs conveniently and efficiently. From tracking diet and exercise to seeking medical advice and monitoring medical treatments, healthcare apps can provide valuable health related services to keep patients better informed and more in control of their health.
Let's look at some core types of healthcare apps that are worth investing in.
Medical Records & Wellness Apps
A Medical record-keeping and wellness healthcare app provide users easy-to-use tools to improve their health.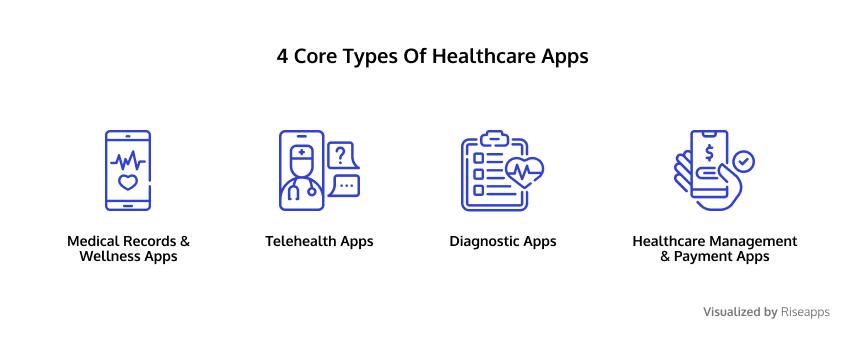 They allow users to access their medical records, personalized medication reminders, and health tracking programs. Such a medical app can be trusted to digitally store patient information, provide personalized advice, schedule regular check-ups and appointments, and even connect with a doctor.
Telehealth Apps
Telehealth apps offer remote medical services without traveling. These apps ensure patients can access virtual care from any location and get consultations with medical professionals without ever leaving their homes.
Diagnostic Apps
A diagnostic healthcare app is designed to help physicians or other healthcare professionals diagnose medical conditions faster and more accurately. 
They are powerful digital healthcare assistants that provide patient outcomes and tracking devices combined with sophisticated artificial intelligence-enabled diagnostic systems.
Healthcare Management & Payment Apps
Healthcare management and payment apps make it easier for healthcare providers and patients to manage, track and access billing information. Such apps also provide added convenience by enabling patients to view their medical records, pay medical bills, and communicate with their healthcare provider in real time.
These core healthcare apps are worth investing in, as they empower providers and patients with convenient access to treatment, effective solutions, and informative advice. 
Investing in healthcare app solutions can help make a meaningful difference in patients' lives.
Battle-Tested Healthcare App Examples that Rock
According to Statista, 54,546 mobile health apps were available in App stores and 41,517 in Apple's App Store as of the 3rd quarter of 2022.
A wellness and healthcare app falls under the healthcare category, though it does have distinct differences.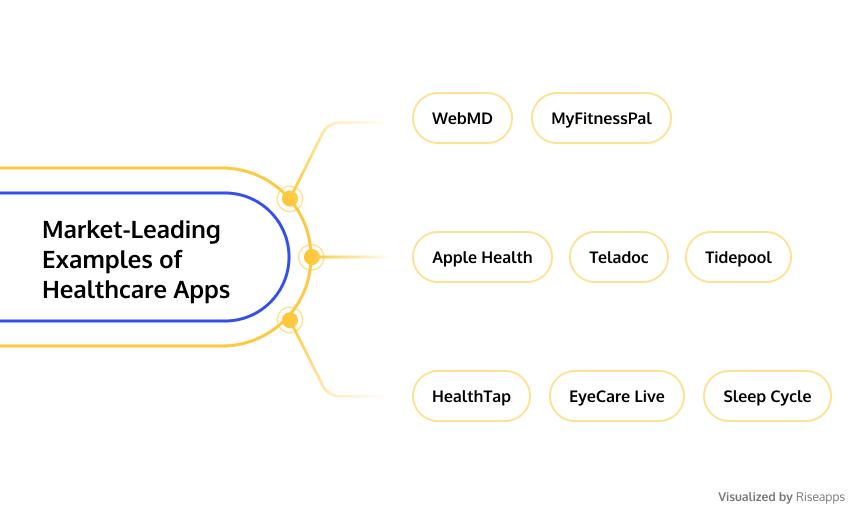 The US Food and Drug Administration (FDA) categorizes mobile apps that diagnose, track or treat disease as a health app. At the same time, health mobile app that enhances or tracks the user's overall health is categorized as a wellness app.
This healthcare app category addresses mental, physical, social, or environmental factors related to overall health. Below are a few examples of battle-tested healthcare apps that rock.
WebMD
WebMD is a comprehensive healthcare app with a toolkit of features that includes a symptom checker, medical library, drug search, health tracker, and more.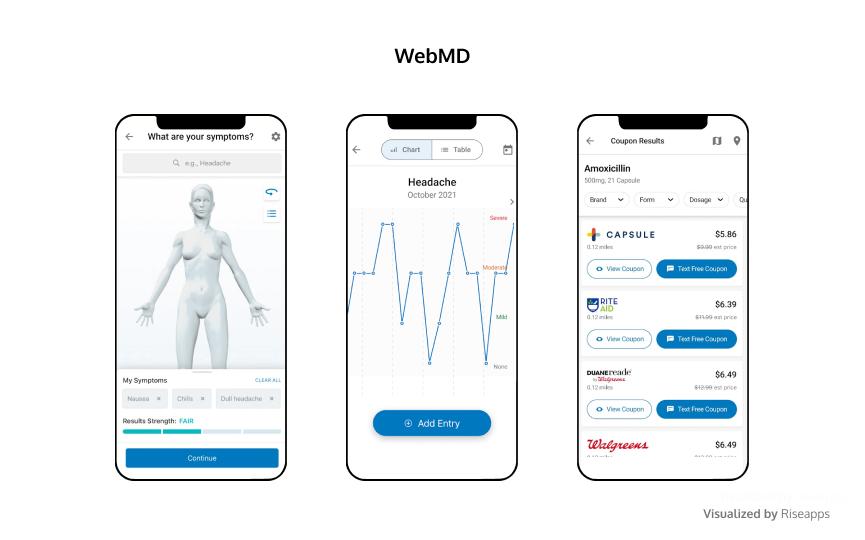 The symptom checker feature allows you to type in your symptoms and get a list of possible causes. You can then use the information to research your condition further and take the proper steps toward getting better.
The medical app library gives you access to thousands of up-to-date medical articles, while their drug search feature can help you select and compare different medications available. 
WebMD also has health tracking options, so you can keep track of your health and know when it's time to seek professional help.
MyFitnessPal
MyFitnessPal is a calorie counter, diet planner, and fitness app. With over 6 million foods in its database, MyFitnessPal helps track your calorie intake and ensures you meet your fitness goals. 
You can also set personalized calorie or macro goals to meet your needs.
The healthcare app also has a barcode scanner and restaurant nutrition facts, helping you make better choices when eating out. 
The fitness app also includes a tracker that allows you to monitor your exercises and take notes on your progress over time.
Apple Health
Apple Health is one of the most comprehensive health tracking apps on iOS devices. It allows you to track health statistics like sleep, nutrition, physical activity, and heart rate. It also gathers patient data from apps and devices that you're connected to.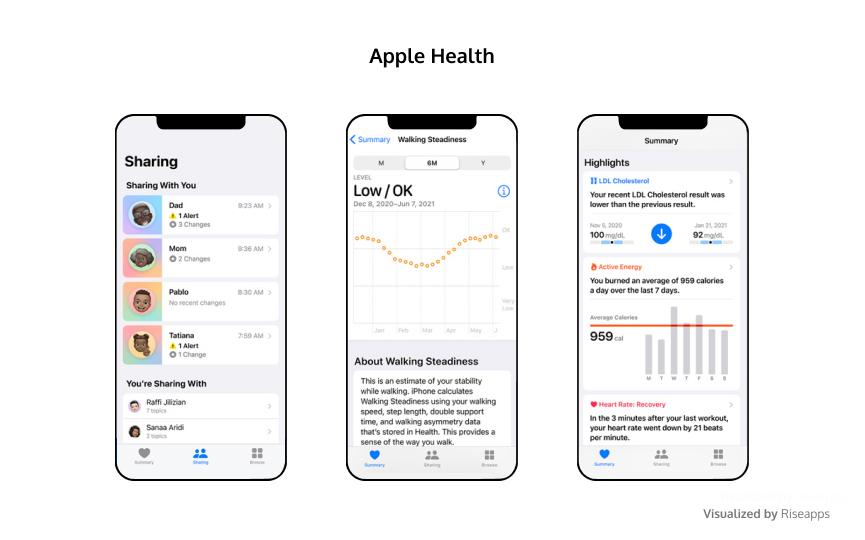 You can then view this information in an easy-to-understand dashboard. Apple Health also includes a medical ID feature that can be filled with emergency contact information in case of an emergency.
Teladoc
Teladoc is an online health care service that provides people with 24/7 access to virtual doctor visits with board-certified physicians, pediatricians, psychologists, and other specialized health professionals.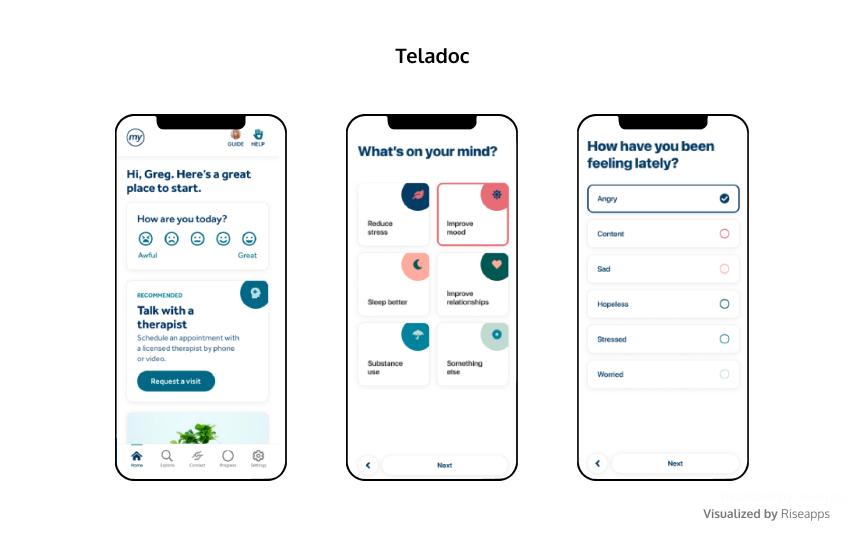 This healthcare app allows patients to receive quick, convenient virtual healthcare services such as diagnosing and treating various non-emergency medical issues, medications, lab orders, and more. 
With Teladoc, patients have the security of a HIPAA-compliant and secure platform while saving time and money and reducing the stress of visiting the doctor's office.
Tidepool
Tidepool is an open-source, free healthcare app designed to help people monitor and manage their type 1 diabetes. 
It allows users to add patient data from their glucometers and other diabetes-related apps and devices (like insulin pumps) in one place.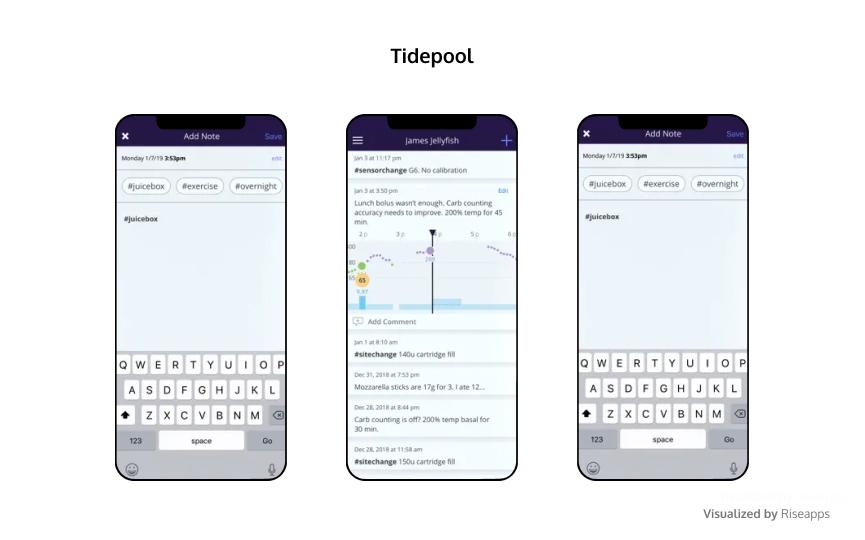 It also has a component for tracking food and activity and provides useful health data analysis with graphs and charts to help you gain insights into your diabetes management.
HealthTap 
HealthTap is a free wellness and healthcare app that allows users to connect with doctors and receive personalized health advice. The medical app includes health-tracking tools like symptom assessments, diet and exercise trackers, and health calculators, as well as information on preventive health topics, nutrition and fitness tips, and medical news.
HealthTap also provides access to real-time medical advice from qualified practitioners.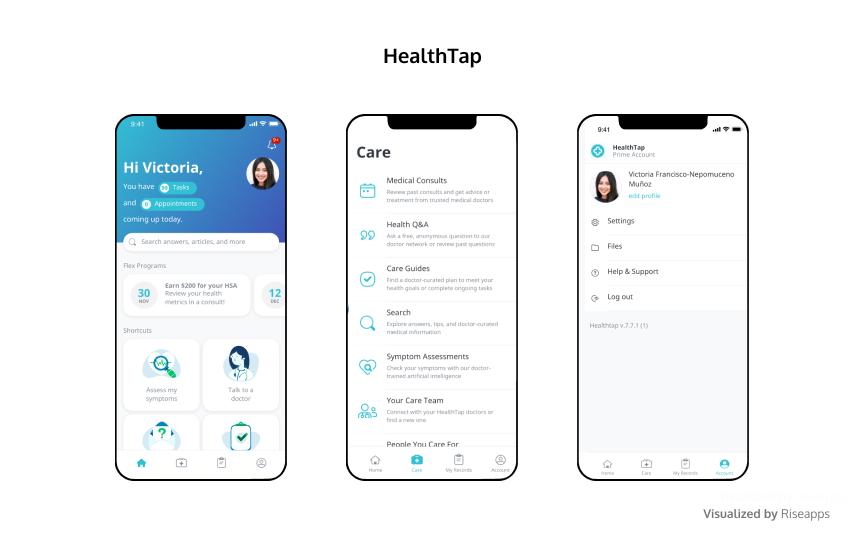 With professional healthcare apps, users can get personalized advice, including help with medical issues, questions about medications, and nutrition and fitness tips. The mobile healthcare app allows users to access their health records and connect with their healthcare providers.
EyeCare Live
EyeCare Live app is an innovative way to connect with healthcare professionals and easily access the best care for your eyes. With this app, you can book an appointment with optometrists and ophthalmologists, find discounts on optical services, learn about the latest eye care news, find educational resources on common eye conditions, and participate in interactive features such as games and quizzes.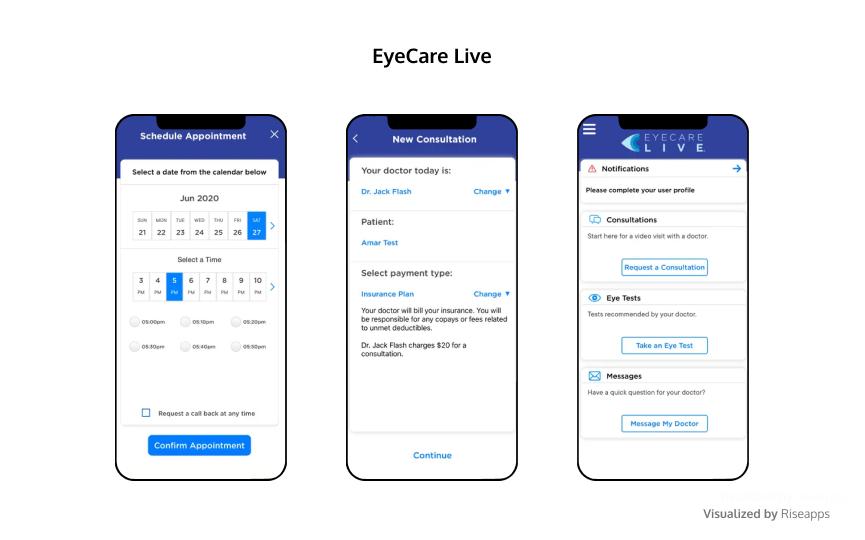 The user-friendly interface makes it easy to find the answers to all your eye healthcare questions. 
The healthcare app also ensures a secure and private platform, ensuring your health data remains safe and secure at all times. 
With its intuitive design, the EyeCare Live healthcare mobile app makes it simple to track your eye care journey and keep up with the latest advances in eye healthcare technology.
Sleep Cycle 
Sleep Cycle is a sleep-tracking healthcare app with multiple app features like audio-based sleep tracking, sleep insulation, snoring, and more.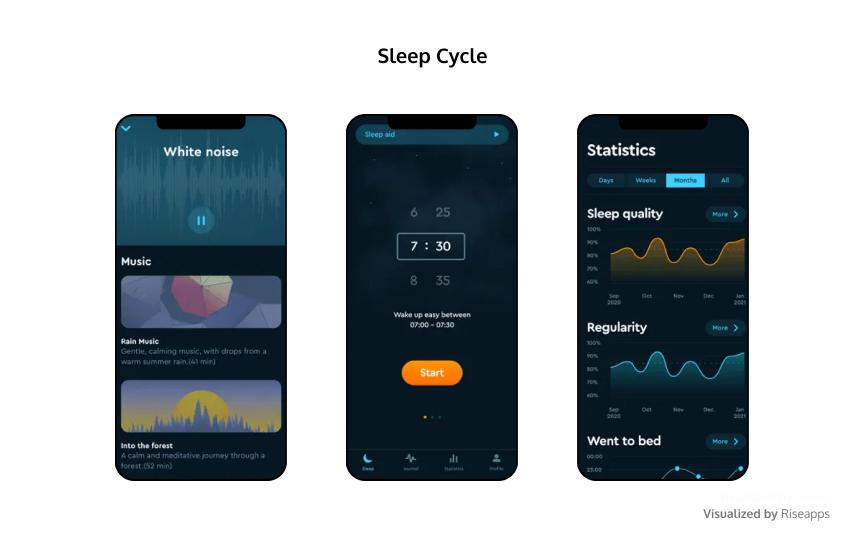 Such apps calculate the different times throughout the night when you are in deep sleep, light sleep, and REM. 
This mobile healthcare app also allows you to set goals and track your progress over time.
Must-Try Healthcare App Development Trends in 2023
Healthcare app development is rapidly advancing, with numerous new trends emerging each year. In 2023, healthcare app development is expected to be more innovative and efficient than ever. 
Here are the top 10 trends for healthcare app development that medical specialists must keep an eye out for in 2023.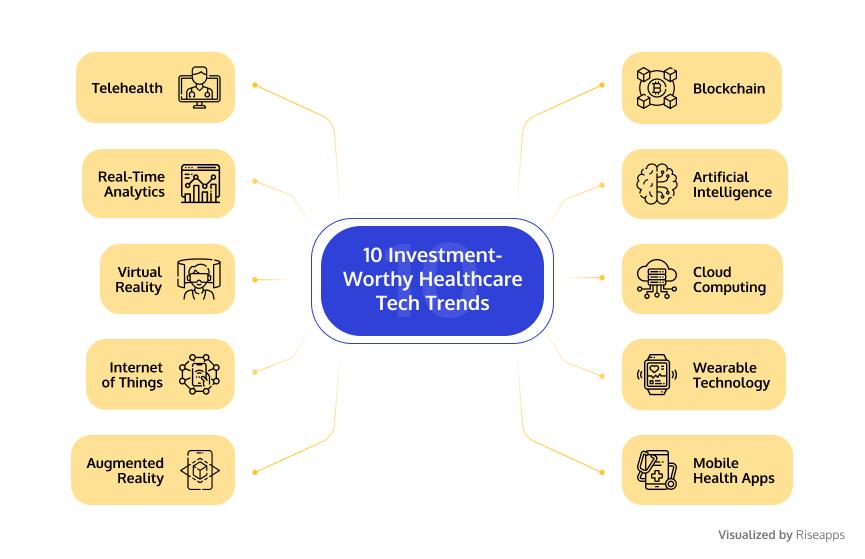 Telehealth 
Telehealth is a healthcare application that uses digital technologies to provide Remote Patient Monitoring. We conducted an ABM study on telehealth software development and surveyed 13 C-level executives to collect common business-related insights, recommendations, challenges, and shortcomings. According to our findings, RPM constitutes 38% of the leading trends that will shake up the healthcare sector in 2023. Telehealth has been steadily growing in popularity and is expected to grow further in the coming year, as it allows for faster, more efficient healthcare management.
Wearable Technology
Wearable technology is a rapidly growing trend in healthcare. Wearable devices include mobile devices such as fitness trackers and heart rate monitors are becoming more popular. 
They are expected to become even more integrated into healthcare. Mobile devices can track vital signs and monitor health in real time.
Artificial Intelligence
Artificial Intelligence (AI) is not exactly a new healthcare mobile app trend. AI technology is used to make healthcare more efficient and accurate. AI helps analyze vast amounts of patient data, identify trends, and make predictions. 
AI is expected to be increasingly integrated into healthcare in 2023, as it will help provide more personalized healthcare services.
Cloud Computing
Cloud computing is another healthcare mobile app technology that is becoming increasingly popular in healthcare app development. Cloud computing allows for secure storage and easy access to large amounts of data. 
This technology is expected to become even more integrated into mobile healthcare applications because it will enable doctors and hospitals to access data from anywhere quickly.
Blockchain in Healthcare Mobile App Development 
Blockchain technology is beginning to be used in healthcare to help facilitate secure and efficient transactions. 
Blockchain has been projected to be even more useful, as it will help ensure secure data transfer between medical professionals.
Mobile Health Apps
Mobile health apps are becoming an increasingly popular way for people to manage their health. 
More healthcare providers are expected to develop mobile health apps that can be used to access health records, book appointments, and more.
Augmented Reality
Augmented reality (AR) is being used to improve healthcare management. AR is used to create 3D images that can help healthcare providers diagnose and treat patients. 
AR has been predicted to become even more popular in 2023, as it will be used to create more detailed images and improve medical accuracy.
Internet of Things
The Internet of Things (IoT) is being used to create smart medical devices that can be connected to the internet. 
This technology will allow healthcare providers to easily connect a mobile device to the internet and access real-time data.
Virtual Reality
Virtual reality (VR) is another healthcare mobile app trend to watch. VR creates immersive experiences for healthcare providers and patients. 
VR is expected to gain wider acceptance in 2023 due to its usefulness in creating more realistic virtual environments for healthcare training and patient care.
Real-Time Analytics
Real-time analytics analyzes large amounts of healthcare data and generates insights. 
This technology is expected to be used more in 2023 because it will help healthcare providers make more informed decisions.
How to Develop a Healthcare App: Step-by-Step Guide Revealed
With the rise in the use of mobile apps, healthcare mobile app development is becoming one of the most popular ways to deliver healthcare services. 
As daunting as it may seem, you can develop useful, efficient, and secure apps with the right guidance.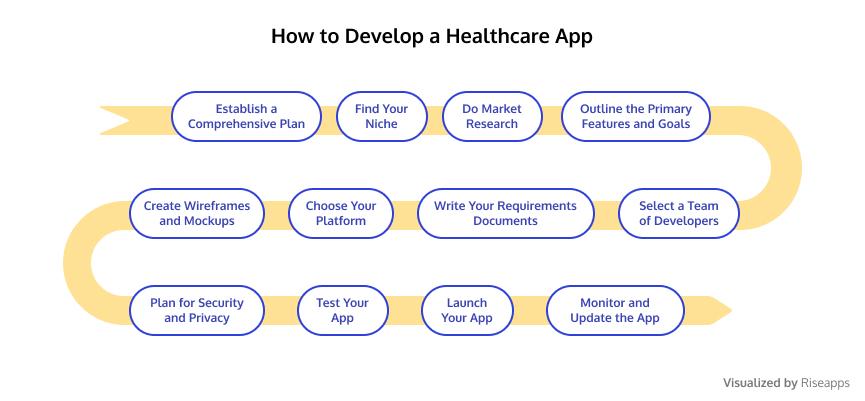 This information will help you build an app that not only meets the needs of its target audience but also has the potential to revolutionize its industry. 
The step-by-step approach below reveals how to develop a healthcare app successfully.
Step 1: Establish a comprehensive plan
Before beginning the healthcare mobile development process, it is essential to map out the entire healthcare app development before you begin the development process. 
Create a plan that includes your mission, goals, target market, timeline, budget, and other details. 
You should also consider development team size, payment models, hardware and software requirements, etc.
Step 2: Find Your Niche
This is the most important step in developing a healthcare app. 
Identify your app's target audience and ensure it provides them with a solution or fulfills a need that isn't currently met by any existing apps.
Step 3: Do Market Research and Analyze Your Target Audience 
You need to do in-depth market research on the existing healthcare apps in the healthcare industry and analyze their features, functionalities, target audience, reviews, and engagement rate. 
This will give you an idea of what makes a successful healthcare app.
Step 4: Outline the Primary Features and Goals of Your App
Once you've identified your niche and analyzed the market, it's time to outline your app's primary features and goals. 
Make a list of the app features you want to incorporate and determine how you want to achieve these goals.
Step 5: Select a Team of Healthcare App Developers
Choose a development team with the right skills, experience, and aptitude to complete the project successfully. 
Hiring developers who have experience in the development of a healthcare app is preferable. 
This ensures they understand the complexities and challenges associated with this type of app. 
It is also essential that your mobile app developers have the flexibility to work with different technologies and platforms to ensure the app is released quickly.
Step 6: Write Your Requirements Documents
Use a requirements template to create a list of specifications and requirements for the project. 
List the medical apps features and the tasks that must be completed to complete your healthcare mobile app development.
Step 7: Choose Your Medical App Development Platform
Choose the development platform that will be used to create your app. You can choose either a native platform or a hybrid platform.
Step 8: Create Wireframes and Mockups
Now it's time to create wireframes and mockups of the app to get a healthcare app idea for the structure and design.
Step 9: Plan for Security and Privacy
This is a critical step in the process. Security and privacy should be at the forefront of your app's design. 
Ensure your healthcare app developers meet all relevant federal and state privacy and data protection requirements and include necessary safeguards.
Step 10: Test Your App
Testing your app is a crucial step in the development process. Test your healthcare app for bugs and usability issues. 
Ensure health app users can navigate easily and that all features and functions work properly.
Step 11: Launch Your App
Finally, launch your healthcare application and make it available for download in the app store. 
You should also consider marketing and promotion strategies to help increase the visibility of your app.
Step 12: Monitor and Update the Healthcare Application 
After launch, monitor the app and make necessary changes to ensure it runs optimally. 
You should ensure the healthcare application is up-to-date with the latest operating system levels. iOS and Android roll out new versions regularly, and your app needs to be compatible with the latest versions. 
You need to monitor the release of new versions on App stores and provide updates accordingly.
Costs to Consider When Building a Health App
In planning to build a healthcare app, there are several costs associated with the development process you need to take into account. 
A comprehensive understanding of healthcare app development costs is vital to creating a successful app that meets user needs and is financially feasible.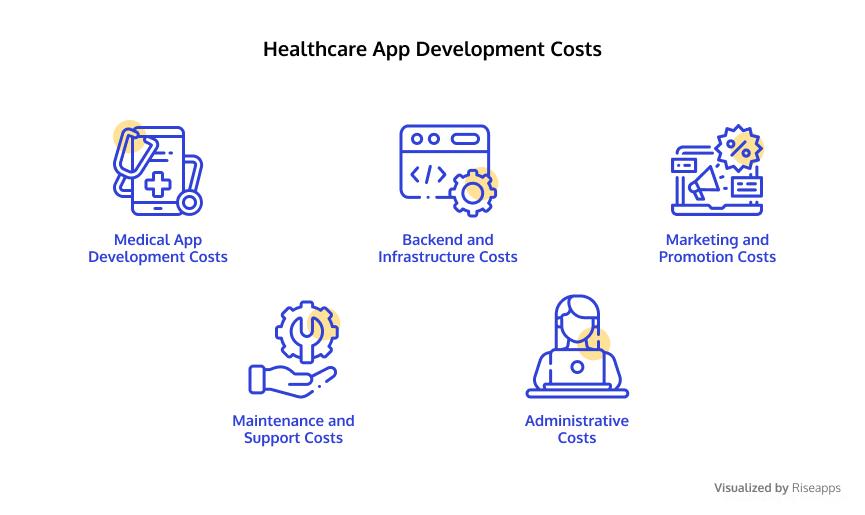 Here are the key costs to consider as you embark on your health app development journey.
Medical App Development Costs: This includes the cost of app design and development, coding, backend services, software license fees, and other related costs.
Backend and Infrastructure Costs: Server costs need to be considered for data storage, authentication, and data processing for the health app.
Marketing and Promotion Costs: Advertising, public relations, and promotional campaigns are essential for gaining new users and reaching a wider audience.
Maintenance and Support Costs: After launching the health app, costs for upgrades and bug fixes will need to be allocated.
Administrative Costs: Ongoing costs associated with operating healthcare apps may include staff salaries, digital tools, and legal and administrative fees.
Issues You May Encounter When Developing a Health App
The healthcare sphere is over-regulated in general. Thus, as medical apps are dealing with sensitive personal data, they need to comply with corresponding regulations and laws. Therefore, one of the issues in developing a health app is to comply with the regulators' guidelines. These mostly depend on the legislation of the country where your app is registered and used.
All regulations boil down to increasing security and preventing sensitive personal data breaches. There are several standards you need to take into account once you decide to create a healthcare app. We will list some of the digital health regulations in the USA and the EU. In the EU, on the national level, countries are developing regulations and guidelines for mobile applications for medical purposes, and chances are they will be alike.
For the USA:
Health Insurance Portability and Accountability Act (HIPAA)
Federal Food, Drug, and Cosmetic Act (FD&C Act)
Federal Trade Commission Act (FTC Act)
Health Breach Notification Rule
Lanham Act
US Copyright Act
US Patent Act
For the EU (the most general regulations)
Qualification and Classification of Standalone Software
General Data Protection Regulations (GDPR)
Data Protection Directive 1995/46/EC
e-Privacy Directive 2002/58/EC
This list is not limited to just the above regulations, as each unique case depends on the type of app and its functions. The most general regulations that are a must:
for the USA – Health Insurance Portability and Accountability Act (HIPAA)
for the EU – General Data Protection Regulations (GDPR)
These two regulations are dealing with the protection and security of private information. They are similar in nature but different in jurisdictions.
Apart from becoming compliant with corresponding regulations, there might be some issues dealing with additional services that you are adding to your apps. For instance, when we were building the Kego app, we included two services Twilio for chats and video calls and Stripe for payments. Twilio doesn't include HIPAA compliance (the app was marketed in the USA). Therefore, we needed to add additional functionality to protect sensitive data.
Even though compliance with regulations might cause additional pain and increase time to market, it significantly adds trust to your product. As found by PwC, more than half of the USA consumers would like to try an FDA – approved app or online tool to treat their medical conditions.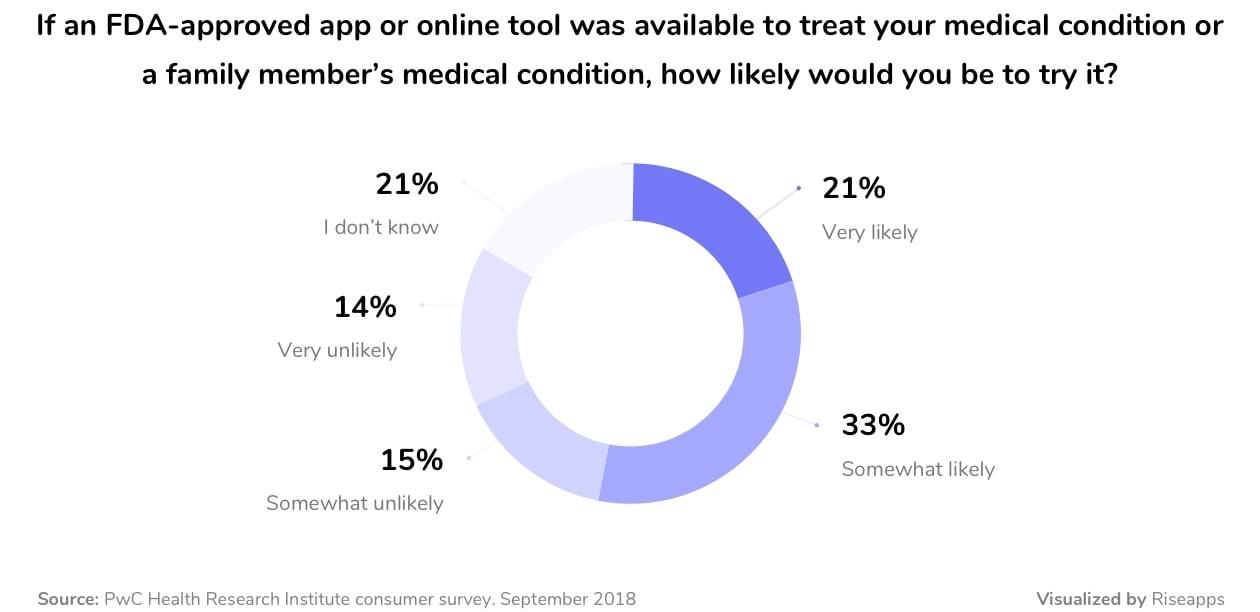 How to Create a Medical App with Riseapps: Success Stories
Riseapps provides comprehensive healthcare app development services to help clients move from ideation to creation. 
Our team of experienced software engineers and designers understands how to create a health app that is user-friendly and secure for patients, providers, and healthcare organizations.
We understand that mobile app development involves a series of stages, and we work collaboratively with you through each one. 
Here's an outline of the stages we go through with you to create a medical app that users will love.
Requirements Allocation
Roadmapping
Design and Development
Guarantees and Support
Beyond ensuring that every step of the healthcare mobile app development is approached holistically, we offer tailored solutions to ensure our clients have the most innovative health app at an affordable cost. 
You can deploy your health app products confidently using our powerful development tools and resources to serve users and patients.
Here are a few success stories of our healthcare application development services.
Skin Pick
Skin Pick offers a revolutionary approach to treating excoriation disorder (dermatillomania). With a few clicks, patients can schedule an appointment with a therapist specializing in treating compulsive skin-picking with evidence-based techniques.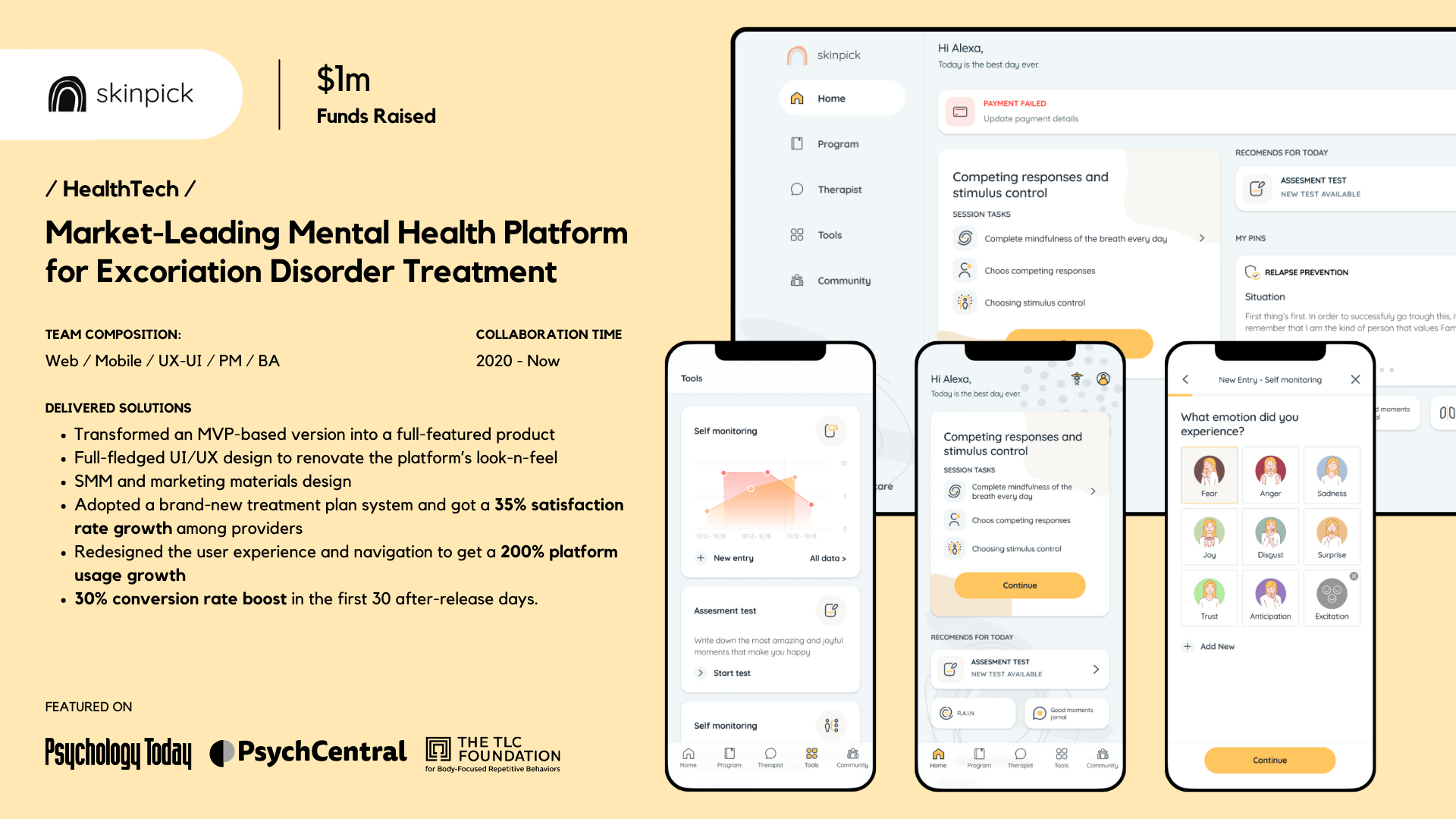 The RiseApps team created the Skin Pick app with features that meet HIPAA standards, accessible through iOS, Android, or web platforms. 
The medical app is designed for specialists and their patients, giving them guidance and tools to help them develop coping skills to deal with the day-to-day challenges of skin picking.
Black Doctor
Black Doctor is a medical app that is specifically designed for African Americans. With support for Android and iOS users, BDO provides you with innovative new approaches to the health information you require in everyday language, allowing you to overcome disparities, regain control, and live your life to the fullest.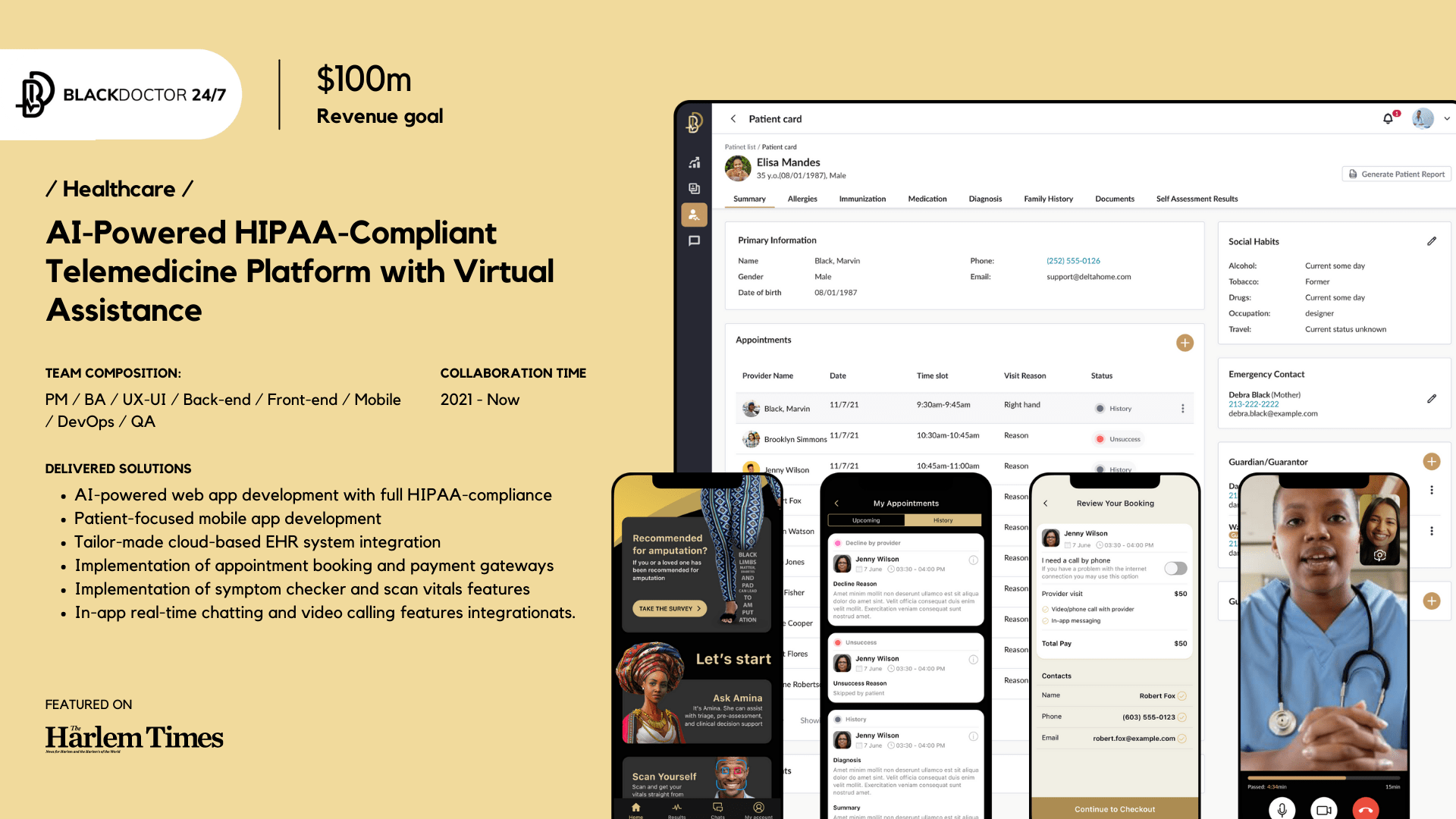 Thanks to the expertise and experience of the RiseApps development team, Black Doctor functions seamlessly and effectively.
Want to create a top-quality medical app? Contact us to discuss your project.
FAQ
---
How much does it cost to develop a healthcare app?

---

Generally, the cost of developing a medical app with basic features, such as an appointment booking feature, will cost from $30,000 to $100,000. However, the healthcare application development cost could be much higher if the app has complex features such as patient medical history tracking and medical data encryption.
---
How do health apps make money?

---

Health apps can make money in various ways. These include charging users for access or content, offering in-app purchases or subscriptions, displaying advertisements, and offering premium content or services. Other potential revenue streams include partnerships with medical professionals and charging companies for access to patient data.
---
What should be included in a medical app?

---

A medical app should include features such as appointment management, video conferencing, electronic health records, remote patient monitoring, care management software, prescription mobile apps, and medical billing software. These medical apps features can help patients and doctors manage health matters more quickly and efficiently.