People always strive to be more successful, earn more money, be happier, stronger, healthier, in other words, better. The way to improve oneself is not easy and demands numerous small steps walked in one direction regularly.
When relying on the willpower fails, surrounding conditions become the most powerful stimulus. One of the ways to create such a stimulus is to build a workout app.
The environment that is filled in with notifications like "It's time to do your pushups" or motivational phrases like "You have run further than 80% of our users" creates the conditions to make success inevitable, especially in becoming physically fit. To achieve this, only a solid training plan can make a difference.
Fitness apps have the power to help people see their dream reflection in the mirror. How to create a workout app that is powerful and attracts users? In this article, we emphasize vital issues to consider in the process of health and fitness app development.
Workout Boom or Why Fitness Apps are so Popular?
3 Reasons the Market is Growing
According to various data, the fitness app market is supporting the global trend of the health and wellness industry. The latter has already reached $30 billion in the U.S. and has been growing by 3-4% annually for the last ten years. 
It is estimated that the growth of this industry will continue and there are three undeniable reasons for it:
Insurance costs tend to decrease for healthy people, as they cost much less to insure. Many employers cover the fitness expenses of their employees, as long as the gym/fitness center is visited.
More and more people are switching from consuming processed food to becoming more conscious of their eating habits. This trend has led to people choosing healthy food for their diets, counting calories, and choosing more ways to become even healthier. One of the ways to support a healthy diet is to join the fitness studio or download a program to help stay physically fit. 
People are growing their awareness about their health by calculating steps, blood pressure, heart rate, etc. Various wearable devices have made such calculations easy and available at our fingertips. Once a person starts to pay attention to health metrics, they become more interested in improving these.
All these factors are moving the global fitness industry ahead and forcing it to create ways to balance busy schedules, mindfulness, and healthy lifestyles. Here come various mobile apps that give busy people the freedom to exercise whenever they have time.
More Market Statistics
As one of the reports goes, the fitness app market is anticipated to reach $14.7 billion by 2026, growing at a CAGR of more than 24.3% during the 10 years.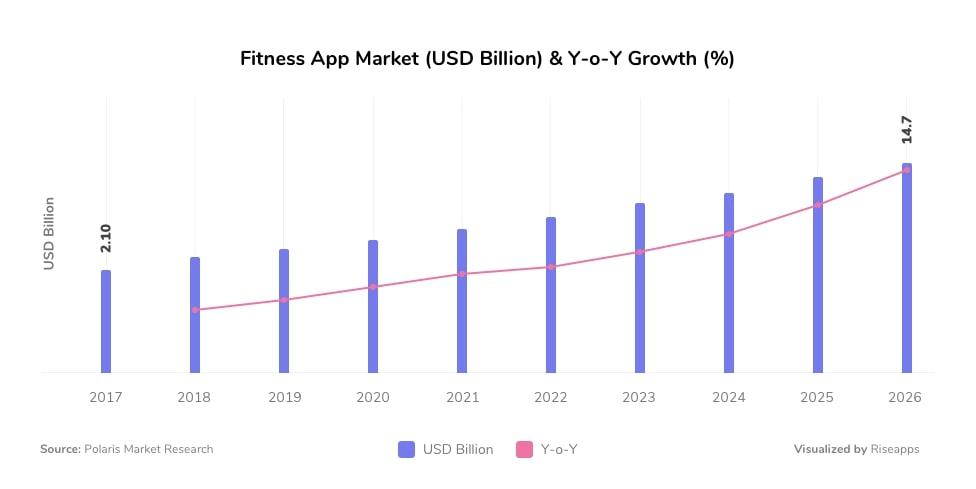 Not only the growing demand for fitness makes this market a piece of the pie, but the frequency people are using such programs, too. According to Flurry research, users become dedicated to their fitness apps once they start using them.
Main Market Players and Generated Revenues
The market today is reaching its maturity. Thus, there are already key dominant players, such as MyFitnessPal Inc., Dom, and TomTom, Motorola Mobility LLC, Grandapps, Fitbit, Nike, Azumio, WillowTree, Inc., ASICS, Under Armour, Appster, and others.
As Statista reports, the revenue is anticipated to increase at CAGR (2019-2023) of 5%, resulting in a market volume of $20.5 million by 2023.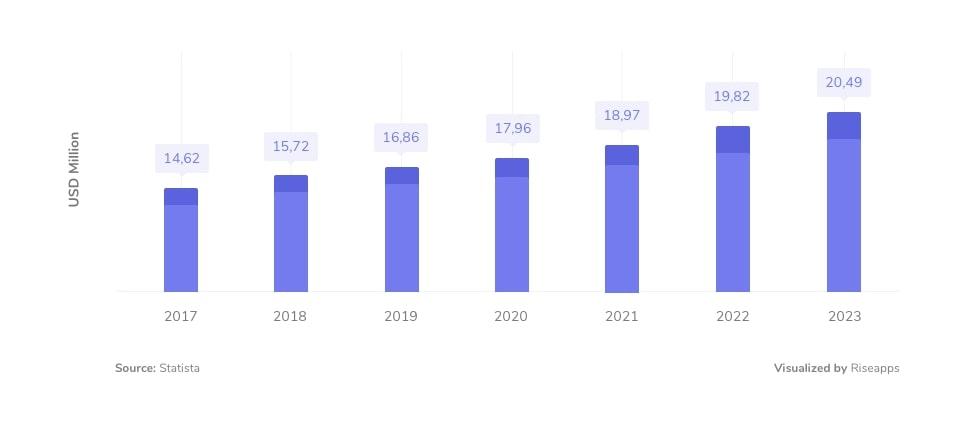 The market is growing and generating high revenues, making it the perfect time to start a fitness app and join the party.
Fitness App Types
Once the decision to follow the app development path is taken, here is what you need to know about solutions aimed at improving physical health.
Type
Description
Examples
Workout
It's always easy to have the whole training session in your solution. Instead of going to the gym, a person can start a workout on their mobile immediately. This category includes but is not limited to personal trainers, yoga and meditation classes, etc. More than 70% of all wellness applications fall in the workout & weight loss category.

Thinking about this category for your app? We suggest you divide exercises into categories. In this case, users can easily choose the type of activities based on their goals.

Freeletics

Nike Training Club

Nutrition and diet
These applications help people to manage their eating habits to either lose or gain weight. They keep track of calories, water balance, and give recommendations about the best diet for the user.
MyfitnessPal
Activity tracking
Apps in this category collect user data based on their activities, like the number of steps a person walked, run distance, heart rate, calories burned, etc. To display relevant data, such applications are advised to be connected to wearables.
Runkeeper

Runtastic 

Nike Run Club
Successful Fitness App Examples
Nike Training Club
When it comes to bodybuilding app development, Nike Training Club is one of the most popular examples. Created by the leading sportswear company, the application provides users with a great variety of workouts available anywhere, at any time.
Guided training sessions is what makes the app so appealing. There is also a section with personalized workout recommendations and an ability to create an individualized exercise program. There is also a paid subscription that provides even more customization.
Nike Training Club includes wearables support, making it easier to use the application. Integration with the internal health app of the user's smartphone allows keeping track of all their activities in one place.
MyFitnessPal
MyFitnessPal is a renowned application for nutrition tracking. It lets users access a huge database of various products and meals, import recipes, log items from restaurants, and more.
Apart from just counting calories and macronutrients, it's possible to track your water intake, set personal goals, and get rid of unhealthy habits. Options to scan a barcode or use data from other apps also add to the app's convenience.
Activity tracking is another MyFitnessPal's feature. Additionally, there are social features. Users can add friends, look for advice on forums, and share their progress with others.
Runkeeper
Runkeeper is an activity tracking app. It allows users to record activities like running, walking, biking, etc. There are also features that let you set specific goals, like increasing speed or distance, or following a personalized plan.
The app can be synced with various devices, like smartwatches or fitness trackers, to receive more data and display more accurate information. Moreover, other applications can be connected to Runkeeper, whether for listening to music or receiving calorie intake info.
Users can get a premium subscription that unlocks additional functions like tailored race-training plans or getting detailed insights into their progress.
Main Features of Fitness Apps
Features of a fitness app will depend on the type of app you are willing to develop, as some types of apps demand the must-have functionality. For example, to track activity, it is a must to be connected to the wearables to show the best result.
Moreover, it would be best if you kept in mind that all fitness apps have gamification elements. For instance, in case it is a running tracking app, it's always interesting to compete with your friends in how many miles you ran, earn running points, and be the best among other users.
Let's discuss the most general example of a fitness app and list the most commonly added features.
Make sure users of your app have a personal space, where they can add information about their age, weight, height, lifestyle, set their goals, etc. A filled-in profile can help an app offer the most relevant workout schedule to achieve set results.
This function can help users to login with their social media account and share their progress with their friends and family. Sometimes social support is the only thing missing to keep exercising and reach target goals.
As mentioned earlier, the app can track progress and record data more accurately while connected to wearables. Moreover, users will be able to track their activities on the smart device with ease.
Whatever activities are tracked by the app, all statistics must be available to the user, as it gives an understanding of personal progress.
People often forget to exercise or procrastinate. Frequent reminders can help a person stay on track and work out regularly.
If you go to a gym, there always is a trainer who can explain how to do an activity correctly, where to start from, what diet to follow, or how to track your progress. In the case of an app, prerecorded tutorials help users to get the most of their workouts.
This feature can be part of your app monetization strategy. Within app-purchases, you can either offer additional products that are not connected to your core app directly but can save time, like purchasing sports clothes, food, and more; or provide access to more functions, new workouts, tutorials, etc.
When we have run 10 km, for instance, it's always interesting to get the visualization of the route later to share it with friends and to have it as your personal achievement. Geolocation and mapping are here to help.
This list of features can continue. Our tip here: brainstorm all ideas, and then separate them into several categories:
Essential – the must-have features for an app.
Desired – features according to the type of your app.
Competitive – features that may give you a competitive advantage.
How to Make a Successful Fitness App?
Now let us guide you through the steps necessary to build a fitness app. To get a great app, you need a synergy of two parts: business and development.
Idea and business model canvas
Hiring a team of developers
Design, development, and testing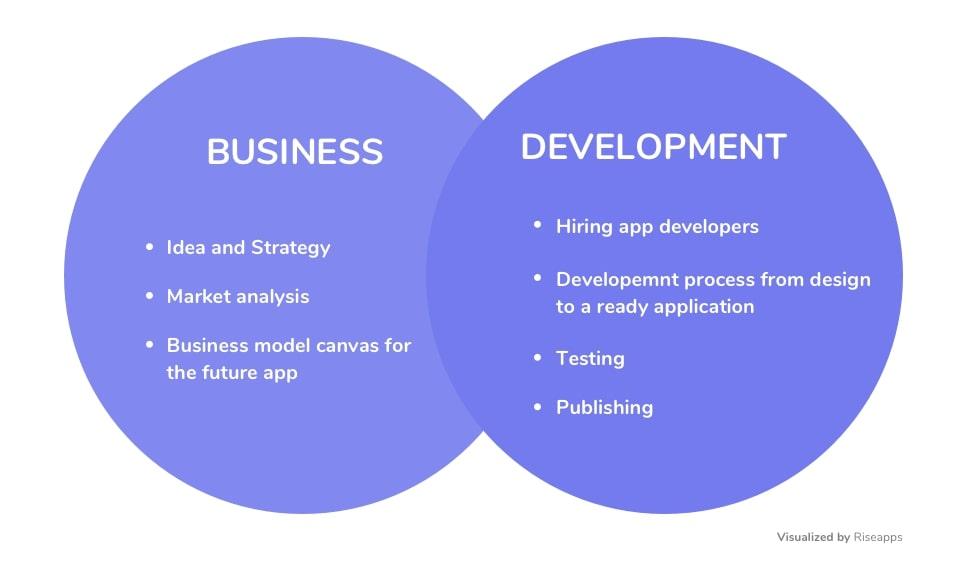 Step 1. Idea and business model canvas
In the business part, you need to describe your future app as detailed as possible first. We recommend you to create a business model canvas. We have already described this approach in our article here.
In a nutshell, you are creating a document where you are summarizing the most vital information about your app:
Key partners
Key activities
Value proposition
Customer relationship
Communication channels
Customer segments
Key resources
Cost structure
Revenue stream
Here is an example of the filled-in business model canvas for a fitness app.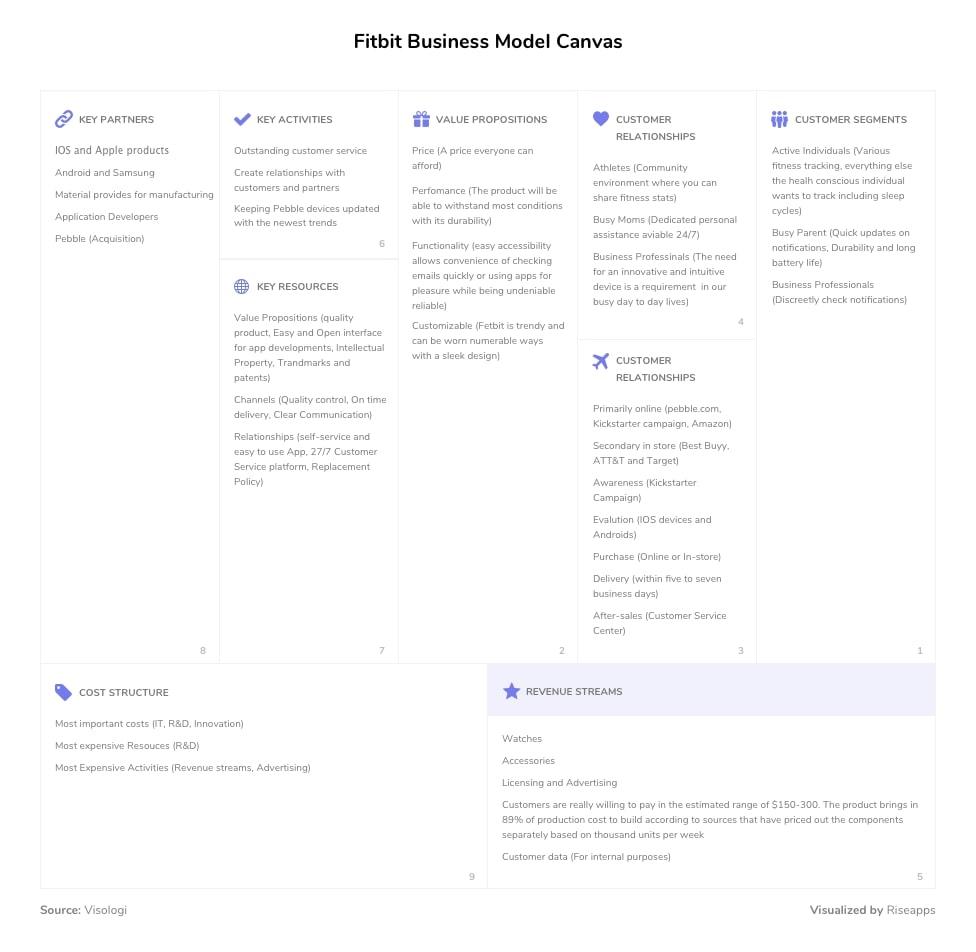 Whatever method you are using, it's better you clearly formulate the following:
Your app target audience 
Target platforms of your app: web, native, cross platform, etc. 
Key features you want your app to have 
Preferences on the technology you want to have in your fitness app
The budget you are ready to spend
The better you understand these key elements, the less time you will spend formulating the requirements for the development team. 
Once you've got that covered, you are ready to hire fitness app developers. 
Step 2. Hiring a team of developers
We would recommend choosing developers with critical thinking turned on. Here are several factors, we believe are vital when selecting developers:
Experience in developing similar applications 
Positive reviews from the customers who ordered related services
Project management tools and practices the team is implementing 
Experience of developers 
Development rates   
In our opinion, hiring a team always pays off, as people in the team doesn't need to be tuned to work together, they already know how to collaborate to solve issues and can offer the best solution. Two heads are always better than one. Moreover, teams typically include not only developers and PMs, but designers and QA engineers, who are working together on your project. Thus, you can get all the development from A to Z and not bother answering the question "How to make a fitness app?" yourself. 
Step 3. Design, development, and testing
We believe the process must be as transparent as possible. Thus, we are sharing an example of a workflow, based on our experience.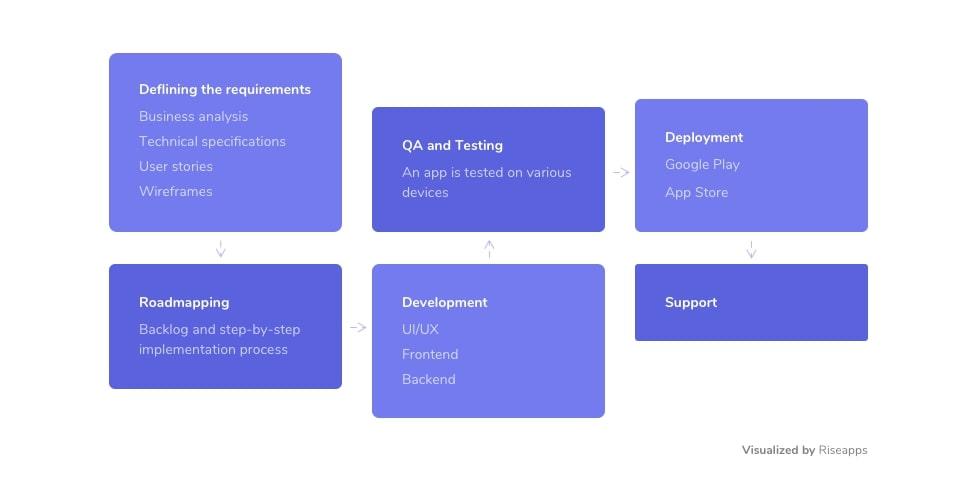 How to Make Money on Your App: Monetization Checklist
Fitness mobile app development itself is less than halfway. Once you have the product, you need to sell it, unless you are a purely social company and money isn't any of your goals. 
In case you are a business person, the following information is relevant for you.
1. Make sure you understand your target audience, competitors, and their behavior. Here we would recommend you to make a solid analysis of your target user and benchmark your competitors. As a result, market best practices will be at your disposal, as well as good knowledge of what your users expect from your app.
2. Choose the monetization model. There are several proven models on the market: paid apps, in-app purchases, ads. The choice will depend on your goals: whether you are willing to make a profit with an application, or you are offering it as a bonus to increase the value of a bigger product. For instance, you have several fitness studios, and you are developing a wellness app that helps book fitness classes, check the workout calendar, get useful training advice for free to get competitive advantage among other studios in your region.
For those of you who are considering in-app purchases, click here to get interesting statistics. Spoiler: only 5% of users are making in-app purchases. Nevertheless, they account for almost 50% of mobile app earnings, as compared to 14% from the ads-based model and 37,8% from paid downloads.
In case you are in favor of ads in the free app, make sure you are using ads mediation platforms like Epom, InMobi, etc. These are using the best advertising formats to maximize profit.
3. Respect App Store Optimization (ASO). Just like you are performing SEO to get at the top of Google search, you need to optimize your app for the store search. ASO is a set of measures to optimize metadata to increase the search visibility of the application in the App and Play Store. You can optimize the name and description of the application and add the keywords that are most relevant to it. Moreover, make sure you have added as many screenshots as possible; users like to understand what they are downloading.
4. Perform A/B testing. Check whether the chosen model is working the way you expected and get the feedback. Set the KPIs and monitor the results.
5. Update your app. Put yourself in the shoes of your customers. When you find an application that hasn't been updated for a year, would you download it? The answers may vary, but people tend to trust apps that are supported and updated. Here you can implement the PDCA cycle to control and achieve continuous improvement.
How Much Does It Cost to Build an App for Fitness?
We at Riseapps have already created several fitness apps with different monetization models and aims. As you know, the cost of app development, whether fitness-related or not, depends on the expertise of the team (more experienced software engineers spend less time to develop a feature), the scope of work (features, target platforms), and the company's rate per hour.
Here is a rough estimation of a fitness application with basic features, that is developed for iOS, Android, and web.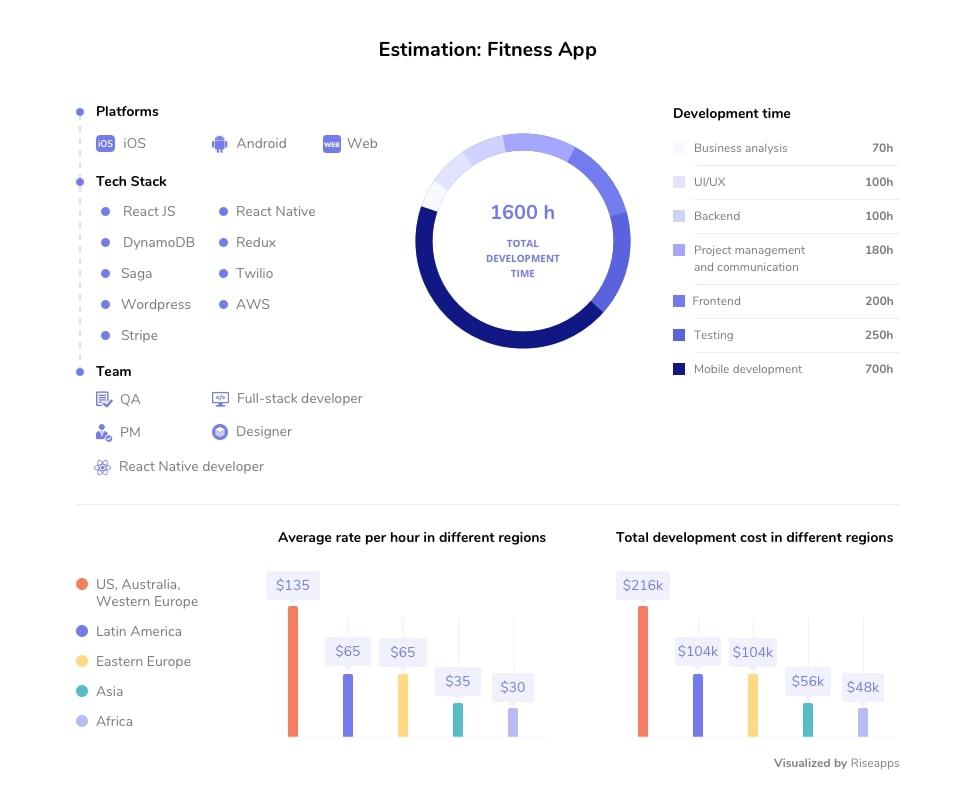 So, how much does it cost to create a gym app? Firstly, consider the time it takes to make such an application. As you can see, the personal trainer app development process takes about 1600 hours. These estimations are made for a cross-platform application built with React Native.
Secondly, the price one should pay to create a workout app majorly depends on the rate of the development company, which is affected by location and experience. Building a cross-platform fitness app with Riseapps will set you back around $70,000-80,000, but these numbers can be lower or higher depending on the complexity of the desired application.
Our Experience in Workout App Development
To make a workout app that will work properly and attract users, you need a skilled team of developers. Riseapps has plenty of experience in fitness application development, and here are a few examples of our projects.
Ruggengraat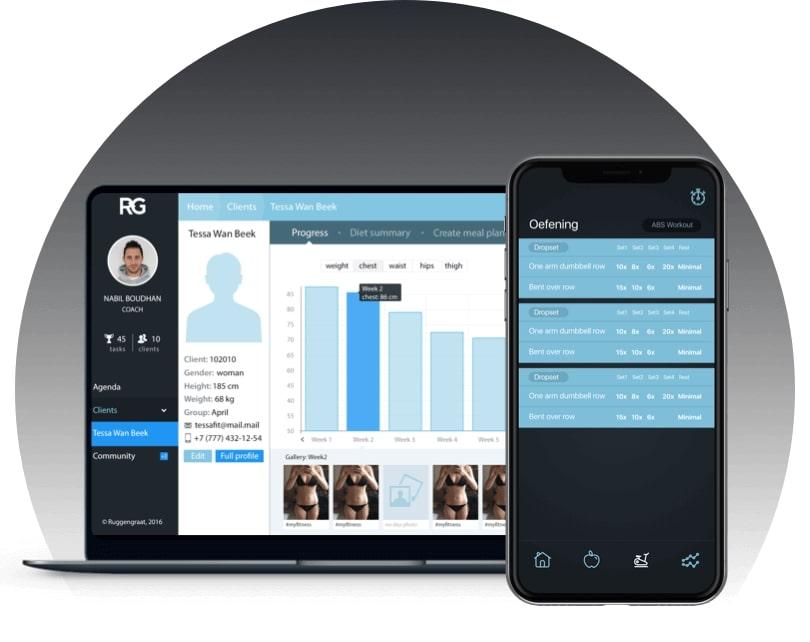 The goal of our client was to create a personal training fitness app. Such a tool had to let the user remotely interact with their fitness coach, who would develop a personalized fitness training program and meal plan for them. Performance analytics also had to be involved to allow progress tracking.
We build two mobile apps for customers and a web app for coaches. The applications are full of necessary features yet are easy to use. Trainers can check how their clients' fitness journey is going and adjust their program accordingly.
After the release of Ruggengraat, the company increased its sales five times, from around 20-30 clients to over 100 a month. They also went from just two people to a 12-member team.
Tech stack:
Backend: PHP, Laravel
Frontend (web): Bootstrap, Shopify
iOS: Swift
Android: Java
Bootcamp Groupie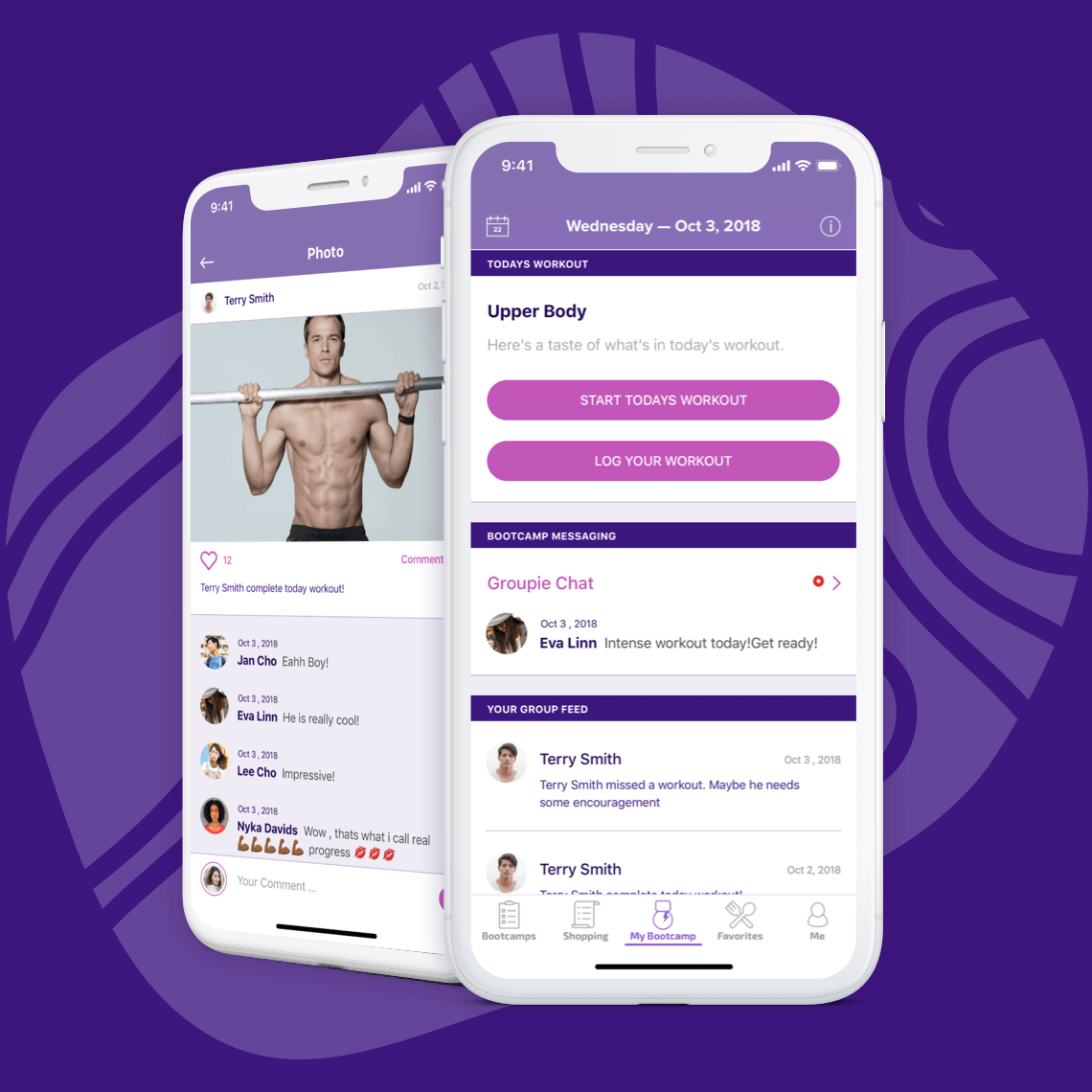 Our goal was to develop a fitness app with integrated social functions. The clients chose this approach to motivate customers to follow their workout schedule and eat more healthily.
We built an iPhone/iPad application with Swift and REST API. With Bootcamp Groupie, users get a kind of fitness social network. They can join groups, share photos, comment, and much more.
In addition to social interaction features, there are push notifications that notify users when it's time for their meal. There is a shopping list function, too, which helps to keep track of your nutrition.
Conclusion
Long considerations, collecting relevant data to start fitness app development must lead to fast decisions. Otherwise, chances are you have invested your time in vain. 
As for the fitness market, it will grow with or without you on board. This is why it's just the right time to build a workout app with a trusted fitness app development company.
Not sure where to start and how to create a fitness app? We are here to help you. Fill out the form below, and we will help you to make the most of your fitness ideas.