How do you create a fitness app to keep users fired and help them hit those fitness goals? It's a tough market, with 68,184 fitness coaches already duking it out in the US – and the race to seize the estimated USD 15.2 Billion prize by 2025 is only intensifying.
The objective isn't just to create an average fitness app. You must build an absolutely awesome solution to leave your rivals in the dust.
So, ask yourself–what's the point of your fitness app? Who are you targeting? What basic features do you want to add? How can you ensure data safety while following HIPAA regulations? What tech is needed, and what's the timeline for fitness app development?
From nutrition and workout to activity tracking apps planning, this article will serve as your golden ticket to success.
We'll cover the state of the current fitness app market, the types of apps out there, must-have fitness app features, and HIPAA compliance after launch.
Get ready to take notes as we answer your questions – it'll help you craft an app that meets your users' needs and interests.
Also, check out our healthcare development projects, and see how our services have revolutionized the way providers create custom solutions – they'll surely ignite your ambition to begin your own project.
Fancy Transforming Your Concept Into A Full-Fledged Fitness Solution?
Let's Do It
How Fitness & Workout Apps Transform the FitTech Market
It's time to get clued up on how fitness apps are shaking up the FitTech market – let's consider the advantages for both users and trainers.
Fitness Apps Spark Motivation Among Users
Offering users a way to monitor their progress and establish their targets keeps them revved up and cruising through their health and fitness adventures.
And to sweeten the deal, many physical fitness apps reward those who reach their objectives, driving them onward.
Wearable Tech Provides Immense Tracking Potential
The ubiquity of wearables like smartwatches and fitness trackers has made tracking progress easier, and they've been pushed to the forefront of the Internet of things (IoT).
Fitness apps have been the beneficiaries of this surge, supplying users with in-depth analyses of their workout and lifestyle modifications.
All of this can be a major help for those looking to lose weight, bulk up, or stay on top of their health.
AR & VR Deliver an Unforgettable, Engrossing End-User Experience
Statista forecasts that by 2027 the augmented and virtual reality market will have amassed US$52.05 billion. It's clear that the AR/VR trend will continue to cause seismic shifts in the medical industry; virtual trainers are already being employed by healthcare providers, particularly in fitness-related applications.
They have proved incredibly effective, with many users claiming they feel almost like they've got a real, physical coach.
The main difference between them and conventional trainers is their capacity to reach out to a far larger audience across the entire globe.
Gamification is Spurring on more Engagement
It's no surprise that Gen Z and Millennials love the trend of gamification in workout apps – and it's something they expect to find. In this case, gamification means training with game-inspired elements.
Think competitions on the treadmill or ergometer with the person next to you. This trend has undoubtedly been a major contributor to the flourishing of the fit-tech sector.
The Fundamental of Fitness Communities is Now Social Integration
Gym app users can find some serious camaraderie by hopping on forums and chat rooms where they can pose questions and trade tips with peers who share the same journey.
Social media and fitness apps are joining forces to produce an even stronger tech connection between users.
Cost-Savvy Solution for Wellness Initiatives
Workout apps offer free versions that allow users to access basic features without paying any money.
And with the premium versions provide access to additional features and resources at an affordable price. It's a great choice for those needing more money to join a gym or purchase expensive equipment.
Increased Visibility of FitTech Providers
A fitness app for trainers is a surefire way to get seen and respected.
Coaches can promote their services to a wider audience who may not have known about them before. Not to mention, exclusive discounts and offers can be advertised to draw in more customers.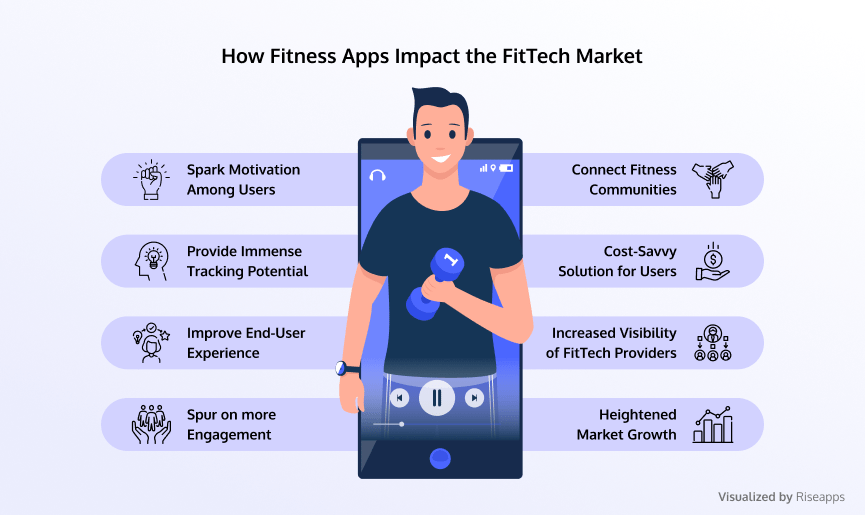 Fitness App Development Has Massively Boosted the Overall Market
Fitness apps are changing the game for trainers, enabling them to rake in payments from their clients and supply additional goodies.
And get this- the global fitness app market is estimated to exceed $15.2 billion by the year 2028.
This establishes an astronomical opportunity for gym owners, private trainers, and FitTech vendors to get in on the action.
Snatched up by the trendsetters in the fitness business and need to hire a healthcare app dev firm to craft yours?
5 Do's While Building Your Own Fitness App
Let's check out a few must-dos of fitness app development.
Think Intently About Your Ideal Audience
If you want your fitness app to stand out from the crowd, you'll need to figure out who your target audience is.
Put yourself in their shoes and think about what would make their lives easier and what problems your workout app could solve.
They could be activity tracking apps, workout plan apps, or nutrition software.
Show your users you understand them—what they like, their behaviors, and what they need—and you'll find loyal users sticking around for the long haul.
Don't focus on what you want—think about the users and what they need instead.
Embrace a Customer-Centric Design 
Users will pick up on that if you need to pour your efforts into a smart UI/UX design strategy for your mobile app. Uninstalls soon after downloading?
No app owner wants that horror story.
And If the user interface isn't satisfactory, people will have a hard time using your fitness app and feel let down. Result? A bad user experience.
Budget Smartly
No matter how big your wallet is, it'll ultimately determine the extent of what you can do with your mobile fitness apps.
Before you start anything, take the time to list all the features you want to see in your app. Chat with the development team for a more accurate understanding of what your budget can get you. They'll give you the scoop.
Test Your App Across Various Platforms
Releasing a fitness app to users without going through the rigorous testing process is a recipe for disaster. Users are unlikely to be satisfied with an application that is riddled with errors, runs poorly, and is unreliable.
So if you want your app to be a success, you have to make sure it's tested under various devices, operating systems, display sizes, and networks.
And remember to check that it works on low battery life and that notifications are delivered correctly.
Ensure Your Fitness App is Fully HIPAA-Compliant
These days, companies have one less thing to stress: their apps and devices don't have to be HIPAA-compliant if they're used for applications like tracking weight, exercise, and diets or checking medical info.
However, if any of these services specifically share patient information with health pros, then the company's got to make sure those apps and devices are up to snuff with HIPAA regulations.
Being HIPAA-approved necessitates that a fitness app is armed with all the necessary security bells and whistles, so the app users can feel confident that their data is secure, that it can be recovered from any mishaps, and that their health info can be wiped clean at the pull of a plug.
Don'ts to Avoid While Creating Your Workout App
Now that we've gone over the must-do's to achieve success in the fitness app development process, let's look at the don't-do's you should steer clear of.

Don't Stuff Your Mobile App with Content
It's easy to get carried away when developing a mobile app, jam-packing it with content and features that can easily become overwhelming and frustrating for the user.
But let's remember to separate the needs from the wants – prioritize the fitness app features essential to the user experience, and set the rest aside as a sweet treat.
Ensure the most important functionalities are at the forefront, and all else can follow.
Don't Complicate Navigation
Modern mobile users are yearning for simplicity, convenience, and sleek designs. If an app is too tricky to navigate, people won't take the time to use it – after all, apps should be making life easier, not tougher.
Keeping your website's look and feel consistent is an important point of emphasis here. Replicate the same designs and menus for your app.
Don't Neglect App Promotion
The adage 'If I build it, they will come'–it's a nice thought, but unfortunately, it's not the reality of today's app market.
With so many fitness apps and so much competition, it's essential to get your app in front of your audience and spread the word. That's where marketing comes in.
You must get on social media, get featured on the app store, and even reach out to people personally to get the conversation going.
How to Create a Fitness App: Step-By-Step Guide
Ready to make your own workout app? Check out these steps to help bring your app vision to fruition.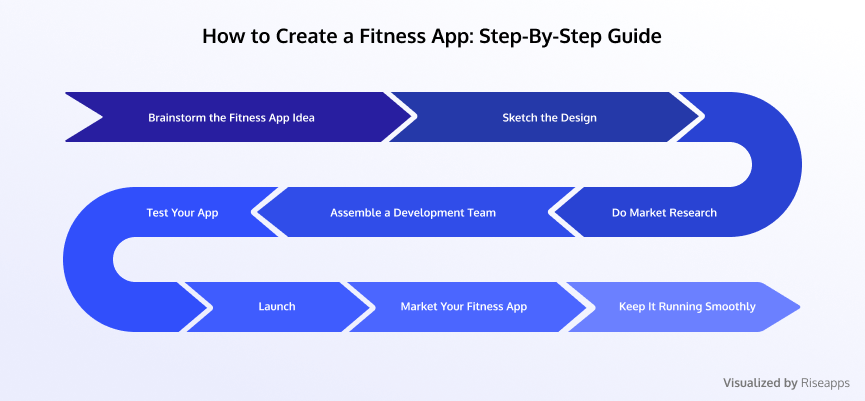 Brainstorm the Fitness App Idea: Figure out the Demographics 
Want to make a fitness app that's as fit as a fiddle? First off, you have to scope out the competition. Check the other fitness apps out there, what basic features they offer, and who uses them.
That way, you can understand what makes them tick and how to make yours stand out.
Furthermore, it's important to get to know your target audience and their needs – because knowing who you're making the fitness app for makes all the difference.
And it'll help guide what features and design you craft for your app. And remember, here's a list of must-haves for any fitness app.
Customized diet plans. 
Push notification system & reminders
Social sharing.
Geolocation. 
Gamification.
Wearable device integration.
Goals and tracker. 
Virtual coaches.
Design: Sketch out the Overall Look and Feel of Your App
Creating a successful fitness app requires killer design, and that's a fact. Make sure your app is easy to use and navigate and looks good to boot.
Opt for a user-friendly, intuitive layout and stylish graphics and colors to make it pop. Plus, it must be optimized for mobile and desktop devices – giving you total coverage.
Build It: Assemble a Dev Team & Utilize the Latest Technologies
If you're trying to create a top-notch fitness app, you'll need the best fitness app development team around.
Experts in the fitness industry should be at the top of your list so they can bring their know-how to the project. Additionally, making sure your tech stack is on point is essential.
That means getting the backend, front end, and databases just right, not to mention any other tools you'll need. 
Testing, Testing, and more Testing
Launching an app without proper Testing is like playing Russian roulette – you never know what issues you'll get.
All fitness app creators should exhaustively test their product, catching pesky bugs and verifying compatibility across various devices and operating systems.
Finally, invite users to try out the app and get real-time feedback to ensure it's functioning as best it can.
Launch Your Creation
Once the fitness app has been put through its paces and is good to go, formulating a launch plan is essential. This involves deciding when and where the app will be deployed.
Get the Word out About Your fitness App
Marketing is a must for any fitness app that wants to make a splash. Crafting a thorough marketing plan that covers both digital and traditional tactics is key.
Consider content creation – blogs, videos, infographics, the works. And, of course, you should tap into the power of social media platforms like Facebook, Twitter, and Instagram to get the word out.
Keeping It Running Smoothly
Once we've got the workout app out into the world, we must actively manage it to keep our users enthused and coming back for more.
A great way to do that is by consistently introducing fresh features and content and responding to user feedback promptly.
On top of that, it's also vital to keep an eye on user data so we can quickly spot any issues or areas to upgrade.
Are you after a UX/UI team to create an interface that speaks to your customers?
Monetization 101: How to Turn Your Fitness App into a Money-Maker
Do you prefer to offer a free fitness app, or would you rather give users the option to pay a fee and unlock premium fitness app features?
Here are six of the most popular monetization strategies to help you get the most out of your app: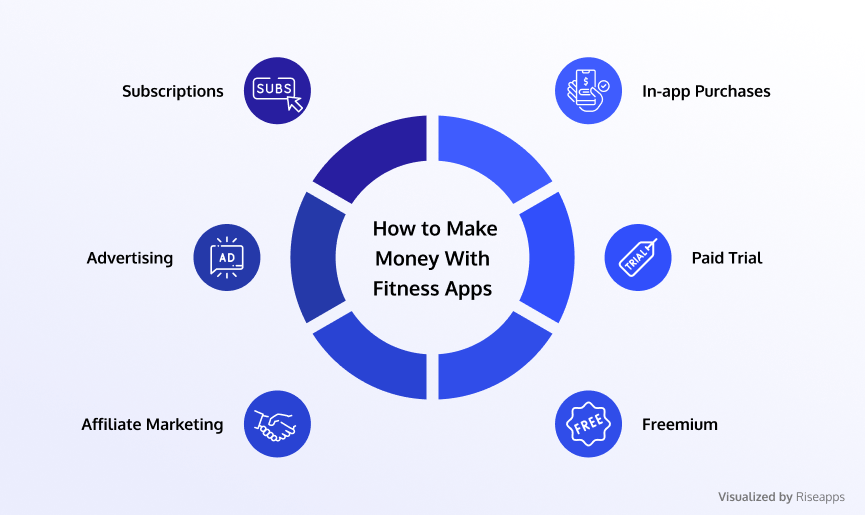 Subscription-based Model 
A subscription-based fitness app is a way to go if you want a return on your created content. Users pay a set amount to access all the features and content your app offers – perfect for those with loads of amazing stuff to share. Apple Fitness+ is the perfect instance to illustrate how subscription-based fitness apps are for rapidly scaling up revenue. Users can join in on the action for just $9.99 a month or a discounted annual fee of $79. App Insider estimates that Apple Fitness+ will generate $3.6 billion by 2025 – up from around $300 million in 2021.
In-app Purchases
Apple Fitness + isn't just cashing in on subscriptions but also offering extra features and options within the app. In app purchases work better for paid apps, allowing users to buy digital goods and services directly from them. Think of it as a paid one-stop-shop for all your premium content and extra features needs.
Advertising
If you're not keen on charging people for your workout app, then advertising can be your saving grace. This revenue-generating method will maintain the user experience, too – win-win.
Paid Trial
Offering a complimentary trial period is a great way to give potential users a sneak peek of your app before they make any commitments. This way, they can test-drive your app and decide whether it's worth the subscription cost.
Affiliate Marketing
Affiliate marketing is a great way to cash in without the hassle of creating your products or services. partner with other businesses and help promote their offerings in your app. To illustrate, Patreon got an impressive $9.3 million by granting creators who bring their own fan base to the platform (through their own special link) 80% of all revenue from those followers. If users come to the platform without a certain creator in mind, the trainer gets remunerated based on the seconds watched.
Free Fitness Apps
This model lets users sample the basics of your app without paying a dime. But, if they want the fanciest features, they'll have to shell out some cash. Perfect for a fitness app with lots of content, so people can pay to access just the things they need.
5 Market-Leading FitTech Applications that Raised Millions
The healthcare and fitness industry is overflowing with money-making apps that have achieved sky-high success. Here's our list of the prime players.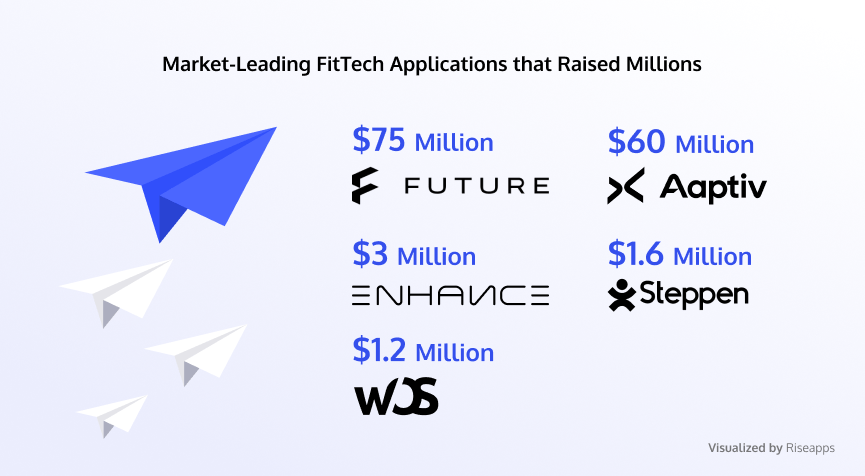 Future $75 Million
Future, that innovative digital fitness coaching platform, is turning heads after announcing a whopping $75 million Series C funding round, bumping their total funding to an impressive $110 million.
Co-founded by superstar tech alums Rishi Mandal (Google and NASA) and Justin Santamaria (Apple engineer extraordinaire behind FaceTime and iMessage), Future provides its subscribers with unlimited access to their very own coach, with each exchanging an average of four texts a day.
This constant support and guidance have helped Future garner a net promoter score of 90.
Aaptiv $60 Million
Aaptiv is like Netflix for fitness! This app-based business, founded and headed by CEO Ethan Agarwal, connects people to many trainer-led indoor and outdoor sessions that can be done solo with minimal to no equipment. With the coronavirus pandemic going strong, service usage and organic traffic and content engagement have skyrocketed. Aaptiv has served the past 30 million classes and raised up to $60 million in funds.
Enhance $3 Million
Established in 2018, Enhance Fitness is shaking up the Middle East's Training scene with its on-demand and multi-location services.
Their plan of attack is to spread across the Mena region to meet growing demand.
They've been growing like wildfire – they now have a team of more than 175.
With the burgeoning passion for health and wellness in the Mena area, folks are clamoring for personal trainers that offer an enjoyable, budget-friendly, and fuss-free experience.
wOS $1.2 Million
wOS, the online workout platform hailing from Mexico, just announced a major financial boost to their operations.
Noemi's Ventures, a New York fund, and Y Combinator spearheaded a US$1.2 million round to help wOS develop new tech that provides tailored experiences based on individual user preferences.
Much of the investment will be directed at boosting their presence both nationally and regionally.
Steppen $1.6 Million
Steppen first appeared in late 2020, the brainchild of Cara Davies, 23, Jake Carp, 22 – who knew each other since kindergarten – and Dave Slutzkin, the CTO. Cara, the company's CEO, was an engineering student at Monash University and was previously an intern at Afterpay.
Since it went live in mid-2021, the Steppen app has been snatched up more than 325,000 times across the globe, with the US leading the pack, followed by the UK.
Over 3 million exercise videos have been viewed, and 75,000 workouts completed.
Ready to be the top app in the funding game? 
Case Studies: How Riseapps Helped FitTech Brands Secure >$4M in Funding
At Riseapps, we get it – whipping a fitness and health app is no easy feat.
That's why we team up with the big names in the biz to bring together the best of both worlds – top-notch expertise and the right resources – for our clients.
And with our knack and know-how, we can help you to make a fitness and health app that realizes your aims and produces the desired outcome.
Here's a peek at how we've lent a hand in our projects, with over $4 million raised in funding.
Ruggengraat Fitness App
Ruggengraat is the ultimate fitness app to help you get your body into shape. Connect with your coach, and they'll craft a tailored training program and meal plan just for you.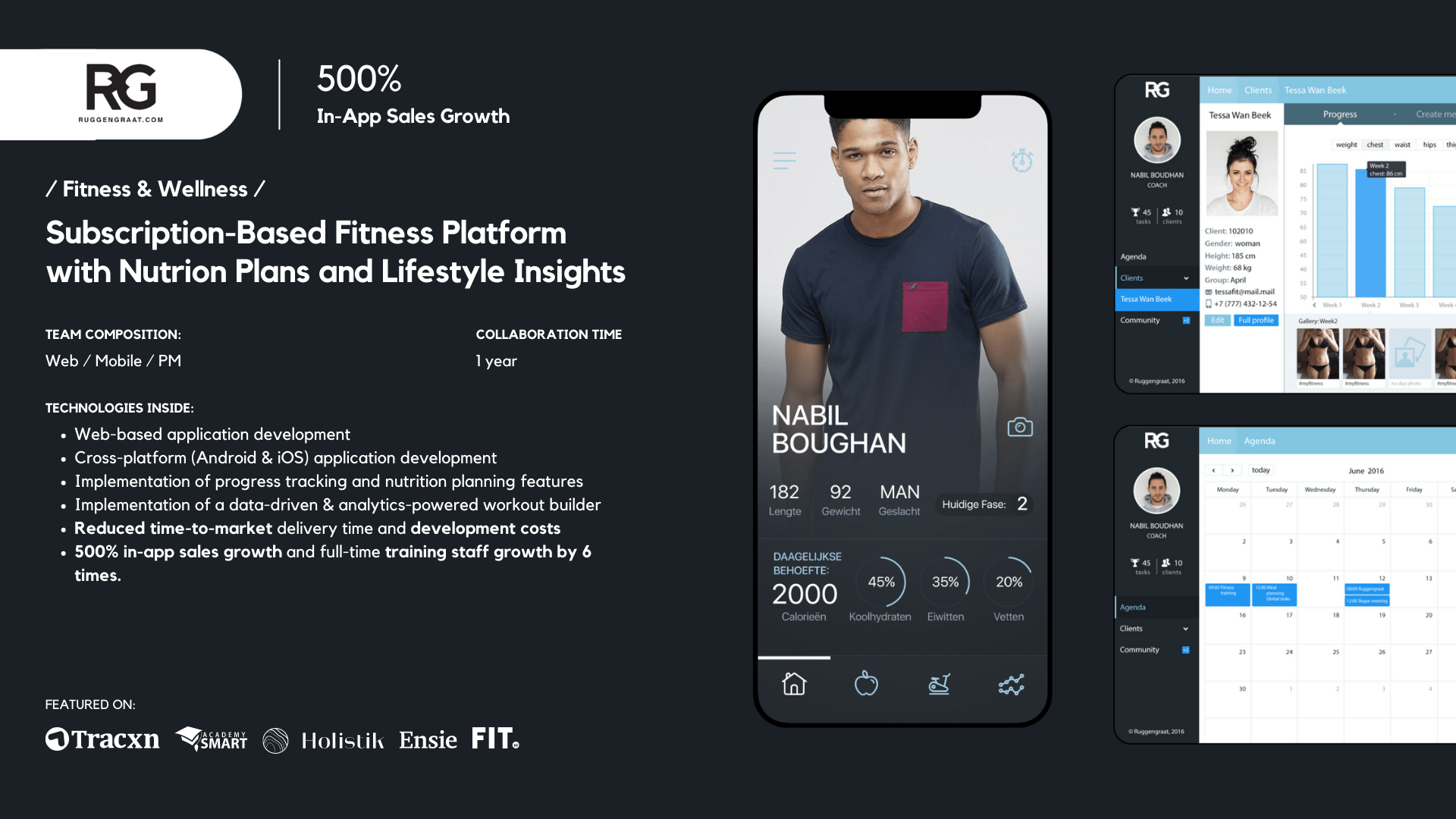 You can also keep track of your progress with performance analytics. Riseapps designed two handy mobile apps for clients and a web app for trainers.
Using essential yet foolproof components, the fitness app allows coaches to monitor their clients' fitness progress and tweak their program as needed. 
The overall outcomes of developing a fitness app for Ruggengraat include
Reduced time-to-market and development costs
500% in-app sales growth and full-time training staff growth by 6 times.
20-30 clients a month to over 100 – and from only two members to a dozen strong teams.
Fit20 Workout App
Fit20 is a revolutionary training app. The platform provides users with an exclusive 20-minute weekly workout, guided by a personal trainer, designed to get them fitter and healthier, based on cutting-edge scientific research.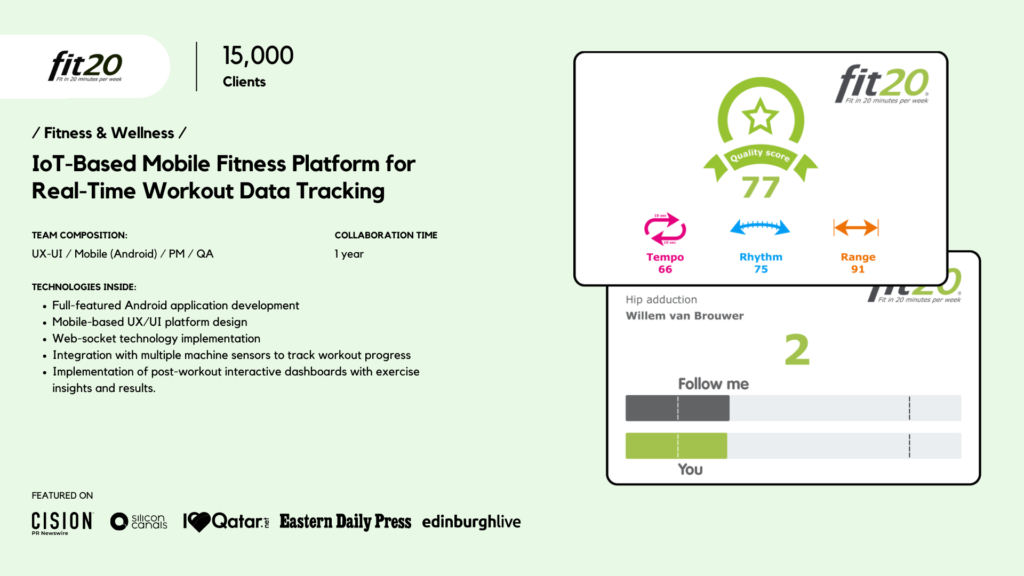 Easily plan your weekly workouts to stay on top of your fitness goals and ensure you get the most out of each session. Most members see measurable improvements within a few workouts – plus, they feel stronger and fitter too.
Conclusion
It may seem like a tall order to create a fitness app, but with the right knowledge and resources, you're good to go. Keep your app user-friendly and on-trend with the latest tech, and see it become a smashing hit.
With a top-quality fitness app, you could help others reach their fitness targets and live healthier lives.
So why not give it a shot and hire a software development company and make your own fitness app? Who knows, you could be the next success story.
Riseapps is here to provide a steady hand every step of the way. Get in touch with us and start building.
FAQ
---
How much does it cost to create a fitness app?

Fitness app development may range in cost from $5,000 to $25,000, with an average cost of $15,000. An MVP with minimal features will be more cost-effective than an app with all desired features. But a full-featured app starts from $30,000 to $45,000.
---
Can anyone make a fitness app?

Hiring a fitness app development team is necessary to transform your fitness app concept into an operational solution. It is important to remember that developers from different countries have varying hourly rates.
---
How does a fitness app make money?

Vendors can provide fitness apps at no cost and monetize through in-app purchases. The most widely sought-after products include premium instructional videos from experienced trainers, sporting equipment, tailored nutrition plans, nutritious food items, dietary supplements, and more.
---