Attendance slippage, financial and staff losses, global uncertainty… If you are in the fitness industry, you know about all this firsthand. The brick-and-mortar gyms, boutique studios and fitness chains have been challenged hugely by the pandemic.
Switching to digital became a solution for many fitness businesses. But how exactly do they make this shift? Does it actually help?
Riseapps, being a company specializing in fitness, keeps an eye on how gyms and studios all over the world face the problem. In this article, we'll look at how fitness businesses, primarily gym chains, tackle the challenge.
So if you are in the fitness industry, you could try something similar (or completely different!) for your chain, gym or studio. Let's see how technologies could help you not just to stay afloat, but even to thrive.
What's up in the fitness industry?
When deciding on what to do next, it's a good idea to embrace the whole picture. Let's see what we know about the current state of the industry. For those of you in a hurry, we'll list just 3 key facts.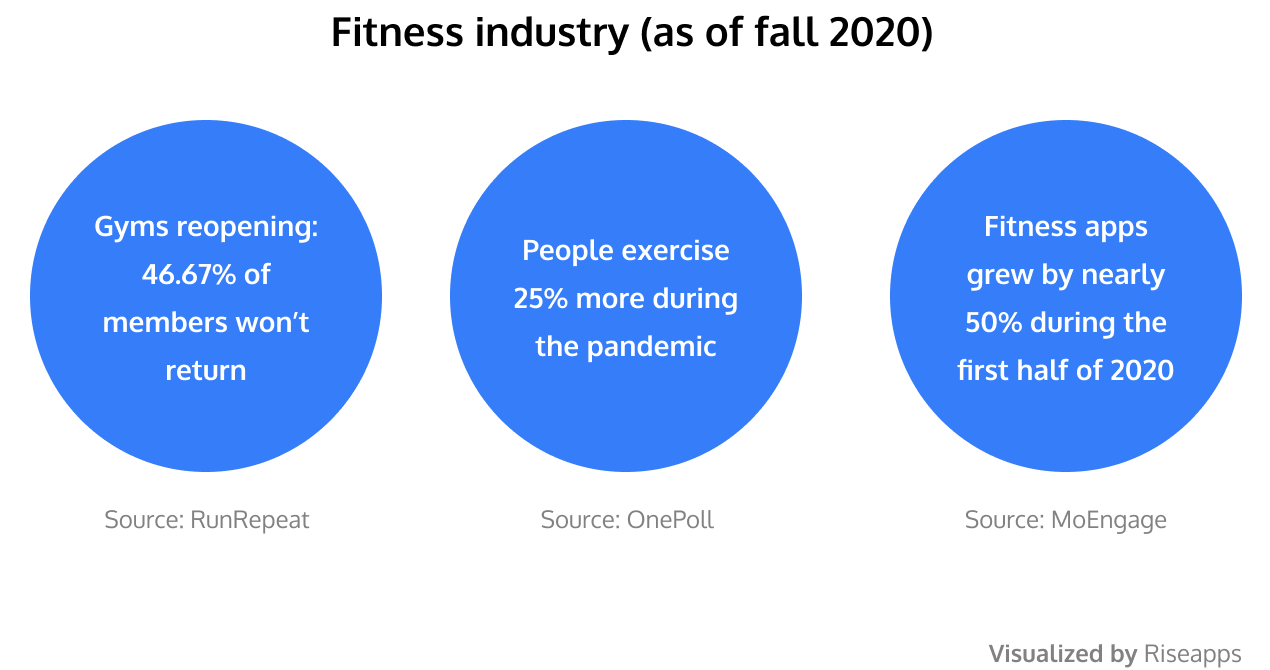 Basically, as many gym chains are filing for bankruptcy, people are reluctant to go back to studios. However, they exercise even more – with the apps, which use has never been higher. (In March 2020, Google searches for "at-home workouts" rose by about 500!)
The fitness industry made a huge step to digitalization, and the industry is developing, as many key players are investing in it. As we know, Peloton and Fitbit are thriving, and Apple has just introduced Fitness +.  
The question comes up: what would be the response of the brick-and-mortar gyms, studios and chains? Can they survive and leverage their competition? 
Will studios and gym chains survive? 
As most experts agree, physical gyms are part of their future and won't disappear.  However, digitalization is of the essence.  Here's what Europe Active's report 2020 says:  
"With more fitness facilities relying on digital platforms in the future, investments in the fitness workforce's digital upskilling will be crucial. 
Now, what could digital upskilling mean for the fitness chains and studios? 
How do fitness chains go digital? 
The majority of gyms and chains already had apps before the pandemic. Most of them, however, had been used for activities like gym management, session booking, tracking, etc. Though virtual workouts have become popular about two years ago, not many chains and gyms offered online classes before the COVID outbreak. The shift happened in spring of 2020. 
According to data from MindBody, over 7,000 studios have launched their first "virtual" class since March of 2020. 
Let's look at the digital offerings of gym chains and studios.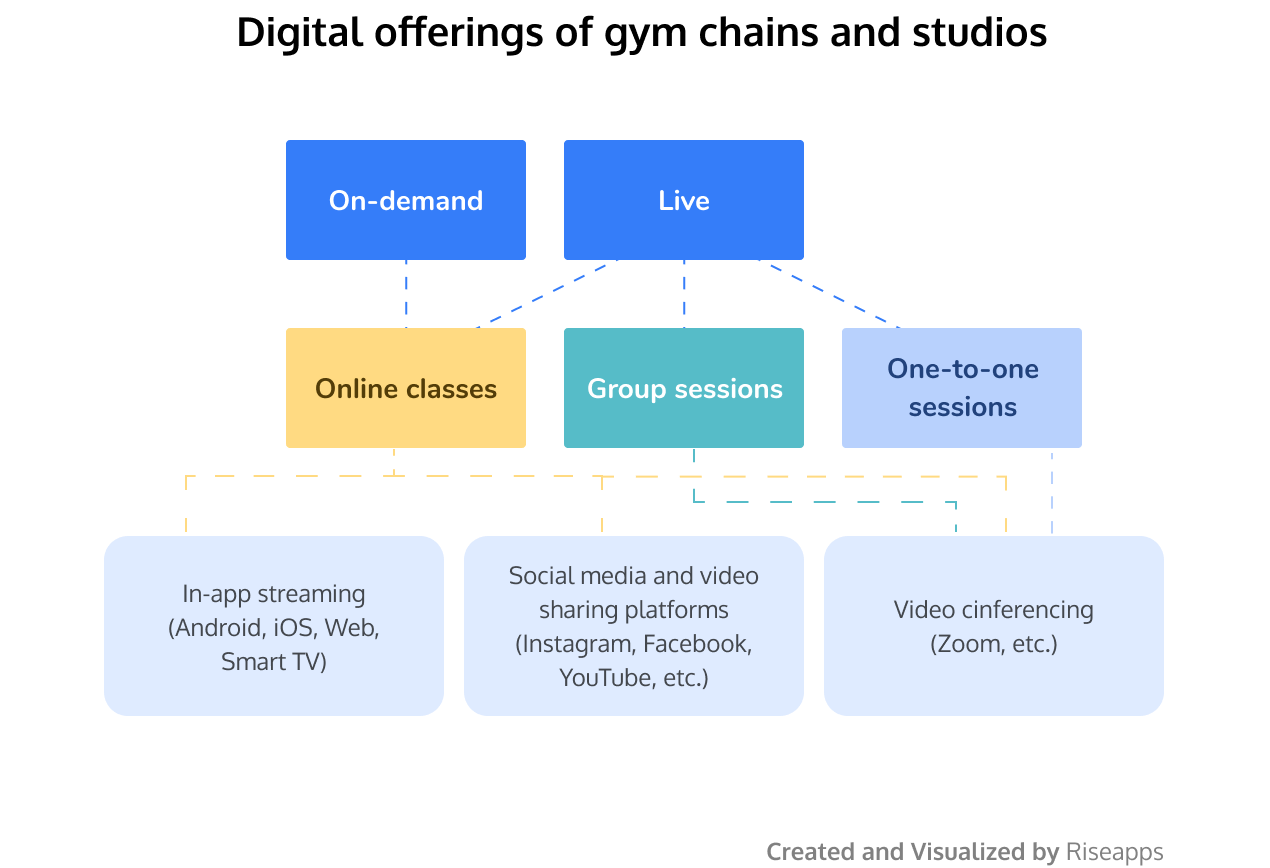 Now, let's get more specific. What are the examples of fitness chains solving this problem? Can we learn anything from their experience? 
5 real-life examples of how gym chains are fighting the crisis
The United States
Equinox
Equinox is the high-end US brand that owns premium gyms. In pandemic times, the company with almost 20,000 employees experienced losses for the first time in company history. 
Key solutions: a brand-new app for streaming on-demand classes; workouts on social media 
Needless to say, before the pandemic Equinox already had its own app with functionality that includes Apple Health and other integrations. Variis, an online platform for Equinox members seeking virtual workouts, was coming up just when the coronavirus crisis hit. The pandemic expedited the new app's launch timeline, though as for fall 2020 it is not available for everyone yet. As a side option, Equinox offers free access to hundreds of virtual classes on Instagram.
Planet Fitness
Planet Fitness is another major workout brand in the US. Founded in 1994, an American gym expanded into a franchise in 2003, which is now operating over 1,200 locations.  
Key solutions: upgrading the existing app;  "United we move" campaign on social media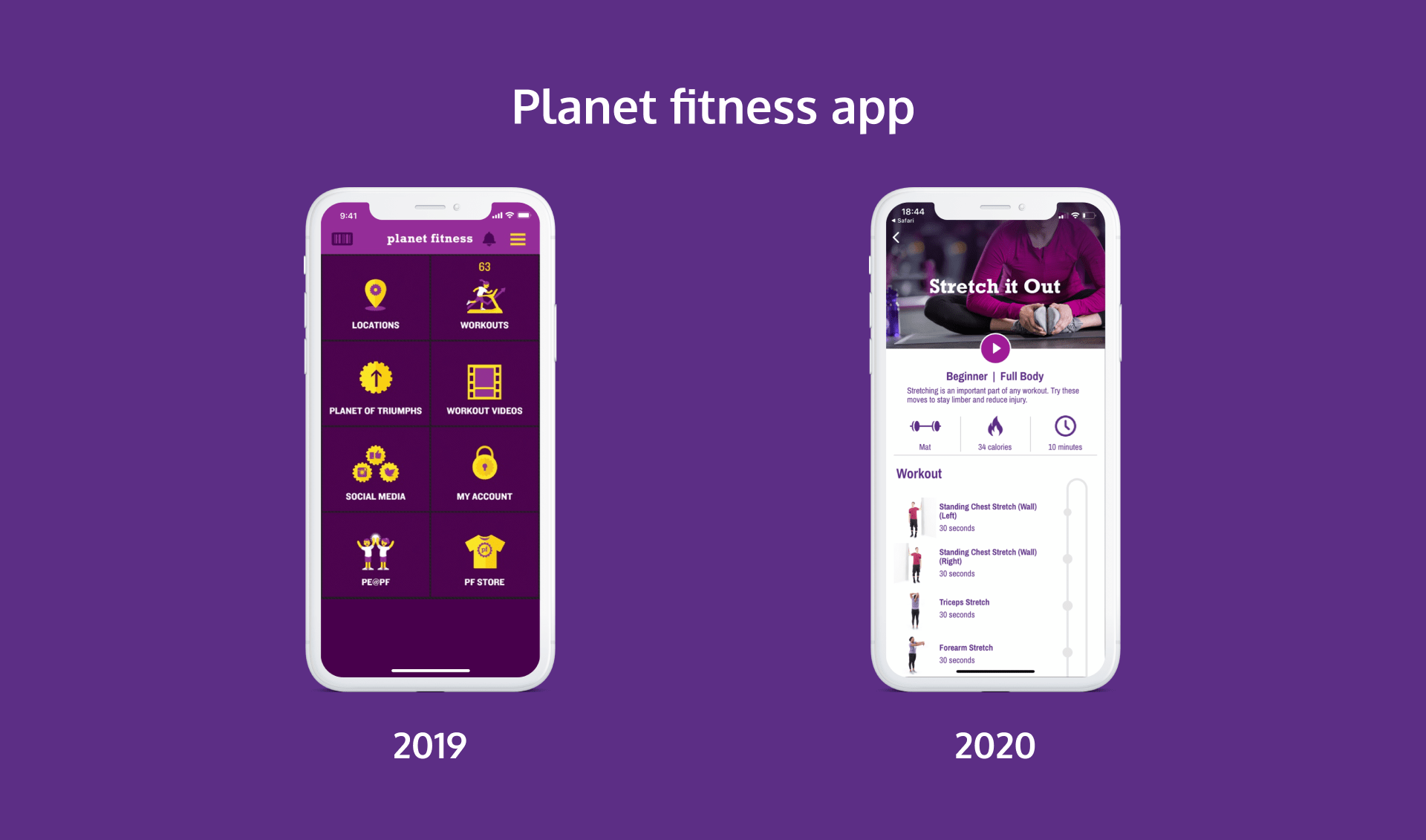 Planet Fitness pivoted to digitally-delivered workouts by upgrading the existing app and extending its functionality. The gym chain launched the exclusive home video workouts – training series, powered by iFit platform. In 2019, the app offered "workout videos" as a feature. Now, Planet Fitness offers hundreds of on-demand sessions and tutorials with the possibility of tracking the activity. The trainers are also streaming workouts from in-club on Facebook or YouTube. 
The Netherlands
Basic-Fit
Basic-Fit is the largest budget (and as of 2019 the fastest-growing) fitness chain in Europe, operating in the Netherlands, Belgium, Luxembourg, France, and Spain. 
Key solution: upgrading the existing app, creating a "platform for virtual experience"; workouts on social media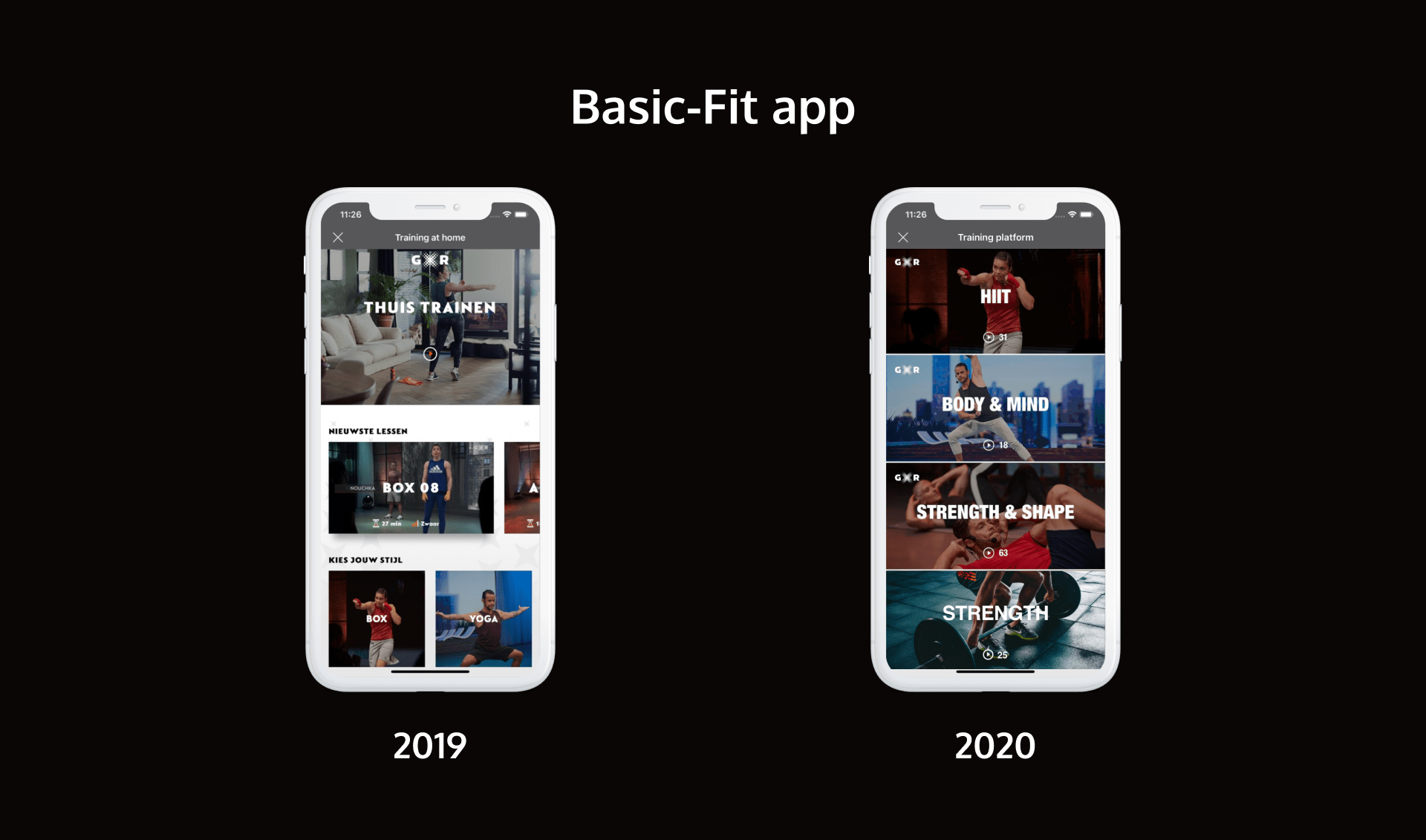 Basic-Fit is another example of a chain that expanded video workouts functionality in their app. Now it has not just sets of exercises but full programs available in the mobile, as well as in the web application. In July 2020, Basic-fit also created and powered a "Virtual Fitness Experience" platform in more than 800 locations that offers live, virtual group lessons. 
The UK
Gym Group
Gym Group is one of Europe's biggest publicly listed gym chains. The UK nationwide operator of 179 low-cost, 24/7, no contract gyms reported a loss of a fifth of its members and revenue for the first six months of the year.  
Key solution: partnership with FIIT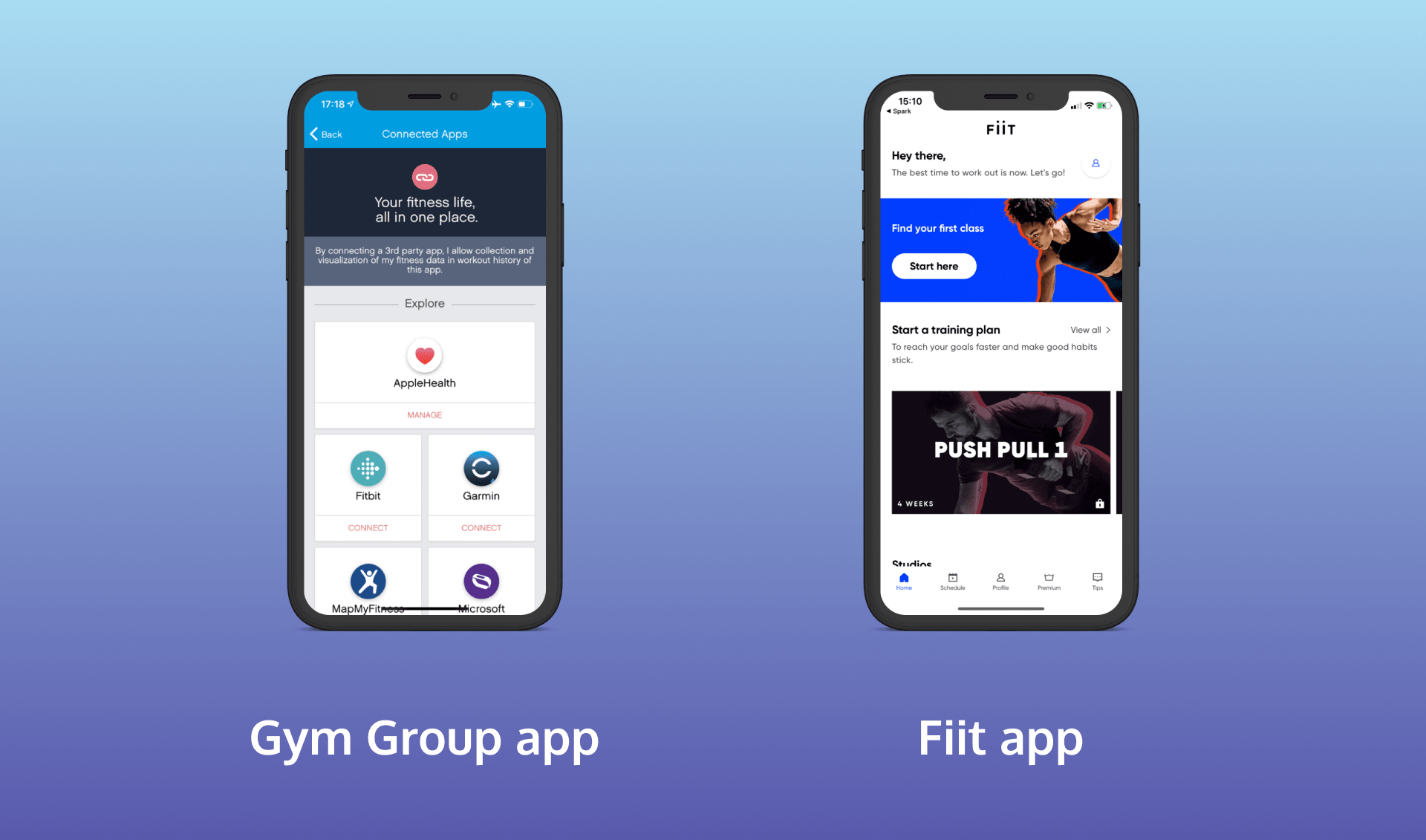 Apparently, the Gym Group hasn't changed its existing app much. As earlier, it can be used now for membership management, booking a class and fitness tracking. The chain shifted to digital by strucking a timely deal in early February with Fiit, a platform that provides remote classes through the app.  The company has also been trialling virtual classes within custom-built Fiit studios and pods in a small number of its gyms. 
Ireland
Club Vitae
Club Vitae operates 13 health clubs across Ireland. It's reported that a company suffered "a massive loss", because its core clientele is working from home.  
Key solutions: partnering with Les Mills; using a digital platform to digitize equipment checks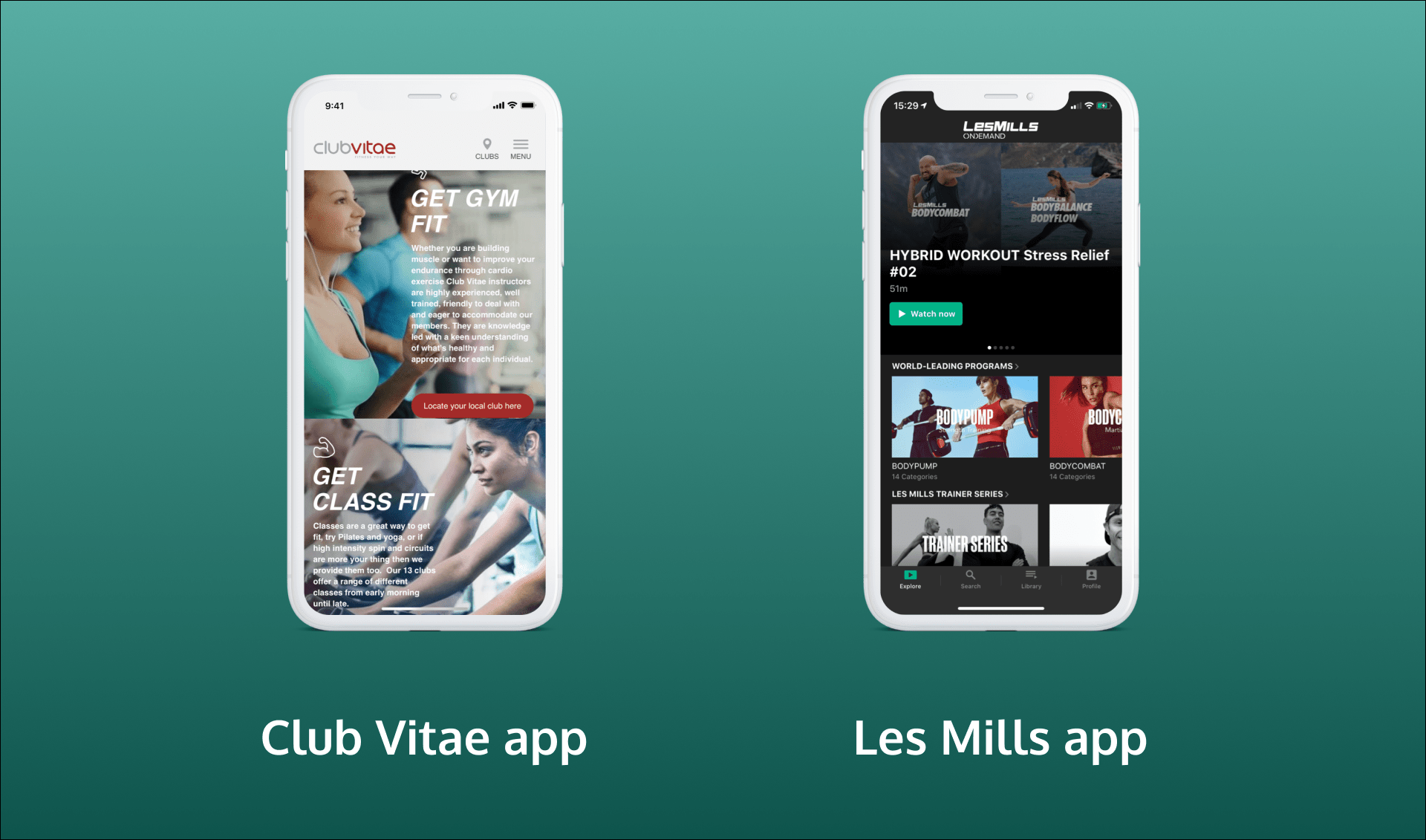 To deliver online workouts, Club Vitae partnered with Les Milles service. What's also interesting, the chain has used a SaaS platform to digitise equipment checks and other paper-based operations. The sensors are used to track which areas of the gym are busy at any given time so that it can keep tabs on which equipment needs cleaning. 
So far, we reviewed the digital efforts of 5 fitness chains fighting the pandemic. For most of them, increasing digital efforts meant upgrading (or creating a brand-new) app with access to on-demand classes. But a fitness app can offer much more. 
Would you like to build a fitness or workout app?
Let's talk
How can apps help fitness chains and studios? 
Apart from bringing together physical and on-demand offerings, here are the fitness app features that seem to be most demanded in the pandemic times: 
Performance tracking and metrics
This functionality has become a must-have for fitness apps. Wherever people are working out, they usually enjoy watching their minutes add up and calories burnt.
Social media features
Camaraderie is what many people miss when working out at home. So the features allowing them to communicate, support and compete with each other are part and parcel of fitness apps.
Motivational programs
It's harder to stay motivated when working out alone. So any endeavors prompting people to become keener to exercise and achieve more are a good idea. An example would be the Finland gym chain's ELIXIA app, allowing users to collect so-called MOVEs to become more active every day.
Gym management
Class scheduling and booking became even more important in 2020, because in many gyms, people are not permitted to enter unless a place is reserved. Moreover, platforms to support equipment checks during pandemic (like the one Club Vitae has) may also be helpful.
Artificial intelligence
As Europe Active 2020 report says, "there is no doubt that more fitness operators will look for further AI applications in their businesses, to process a wealth of data in order to target specific segments of clients, or propose personalised offers."Now, let's say you've decided to give your existing fitness app a facelift or build a brand-new from scratch. How would you make it possible?
Branded gear, as a source of additional, income Fitness gyms and studios are selling various branded equipment through their website and mobile applications. This allows them to join sports equipment retailers. Implementing tools like a recommendation engine for e-commerce can become handy for deciding to get a profit from selling branded gear online.
We asked Lucy K., a delivery manager in Riseapps, with 8-year experience in the fitness industry, what technology solutions could be used for upgrading or building a brand-new fitness app. Here's what she answered:  
"First, you might be advised to choose native app development, because it it will allow you to take full advantage of a particular platform. Cross-platform engineering might not be the best choice if you're planning to integrate your app with the leading health platforms. 
Second, we'd suggest implementing the microservice architecture because further upgrades might be necessary.
Overall, the technical solution depends on your goals, target audience, and your app's functionality. If you are going to create an app from scratch, it's a good idea to start with an MVP.  A careful business and marketing analysis will allow you to shape up your actual offering and make your app profitable."
Conclusion
In this article, we briefly reviewed how fitness chains and studios expand their offerings in pandemic times.  
In a word, businesses are still working out what their long-term digital offerings will look like. But everyone from local studios to tech behemoths are looking to make investments in digital fitness in a big way, as it can bring more stable revenue, broaden visibility and widen audience.  
If you'd like to create a scalable solution that suits your needs, we are ready to deliver it. Riseapps helped many fitness businesses to thrive. Our recent endeavors include assisting a startup going digital and boosting profit, building a fitness app with Apple Health & WatchOS integration. We've also helped a powerful gym franchise to ensure a flawless exercise routine.