It is no secret that right now, people are experiencing more mental tension and anxiety than ever before. The World Health Organization (WHO) named stress the "health epidemic of the 21st century". Besides, it is estimated that workplace stress costs companies billions of dollars, as it decreases employee productivity majorly.
To conquer their poor mental state, people start practicing mindfulness, including yoga and meditation. But, engaging in such activities can intimidate most at first. If someone has never meditated before, they might feel like it is hard to concentrate and let go of their thoughts even for five minutes.
Meditation apps are a savior for anyone at the beginning of their mindfulness journey. At times when the whole world is stressing over the COVID-19 pandemic, people need a tool to calm down even more. This article will provide you with a full guide to build a meditation app.
How Big is the Meditation Apps Market?
Mindfulness applications became widespread in the past couple of years, and there are a few reasons for that. Firstly, it is the aforementioned work-related stress. As many choose to focus on their career and start a family later, they spend some time improving their mental wellbeing. An increasing number of resources to learn about mindfulness also influences the rise of meditation apps.
Our 'always online' lifestyle is a big reason for more anxiety and stress, too. The internet is not only a convenient tool to communicate with others. Unfortunately, a person can feel a lot of pressure on themselves because of social media, online hate, and fake news. To cope with that, many turn to meditation.
As of March 2020, Calm and Headspace occupied the second and third positions, respectively, in the list of top Android health apps worldwide. Considering the popularity of fitness apps, which are also included in this category, it is quite impressive that mindfulness apps are ranked so highly.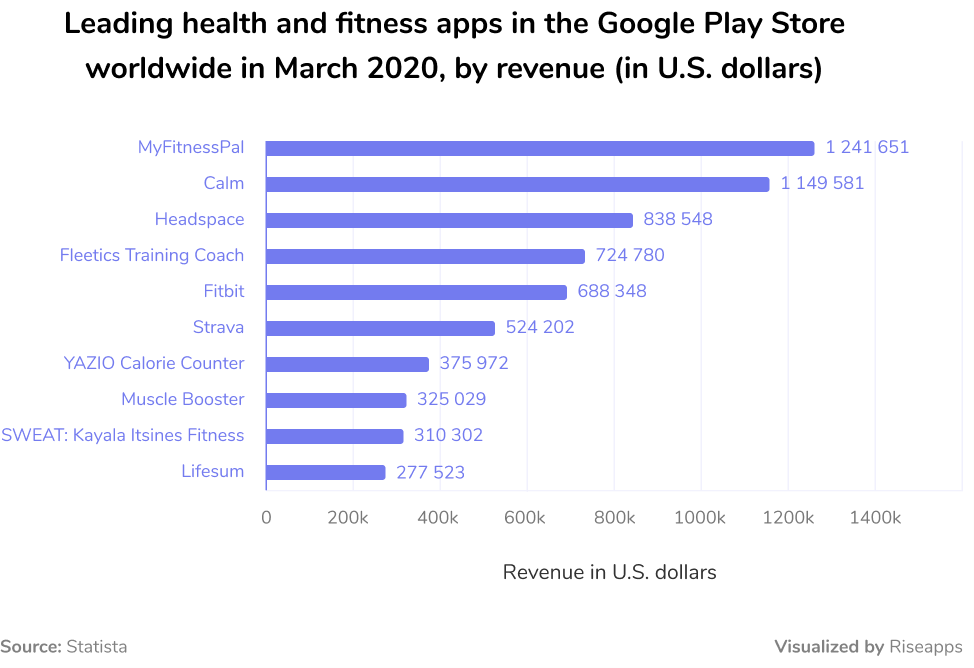 According to Statista, private meditation is the second most popular activity to relieve stress and get rid of anxiety among U.S. adults, and it only gives way to praying. Just like those who experience stress occasionally, people with more serious mental health problems find mindfulness apps helpful.
In 2019, a quarter of respondents of a worldwide online survey mentioned that they currently use meditation as a tool to ensure a good night's sleep. This presents another reason why people use self-care apps – to improve their sleep.
So, what is the size of the meditation apps market? In 2019, it was over a billion US dollars. If we compare the numbers of 2018 and 2019, there is an impressive 52% revenue increase of just the ten most popular mindfulness applications.
In 2017, the total revenue of the ten leading meditation apps was around 55 million US dollars. Next year, this number more than doubled and reached 128 million US dollars. Finally, in 2019 the top ten self-care apps generated nearly 200 million US dollars.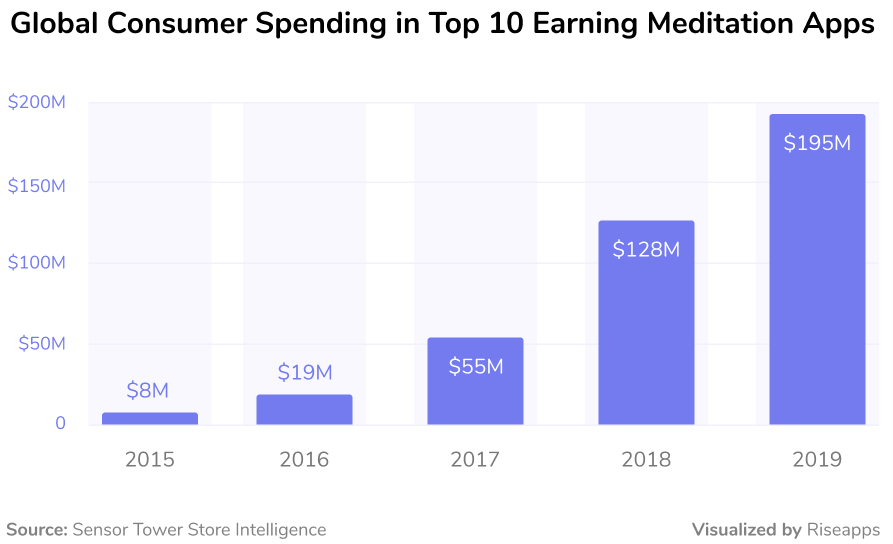 The applications mostly benefited from the shift to paid subscriptions. Over the next ten years, the expected CAGR of the market is 8%.
North America is currently the leading market for meditation applications, and it will likely remain so in the upcoming years. The reason for this is that most U.S. and Canadian citizens practice mindfulness on a regular basis.
India, the place of origin of meditation, is the high growth market for self-care apps right now. Most people there are used to traditional mindfulness techniques. However, South Asia provides plenty of opportunities for meditation app development.
Devices like smartwatches and wellness trackers also have a great influence on the mindfulness app market. The desire of people to constantly be aware of their wellbeing, both physical and mental, will result in the emergence of new meditation apps, specifically with the IoT functionality.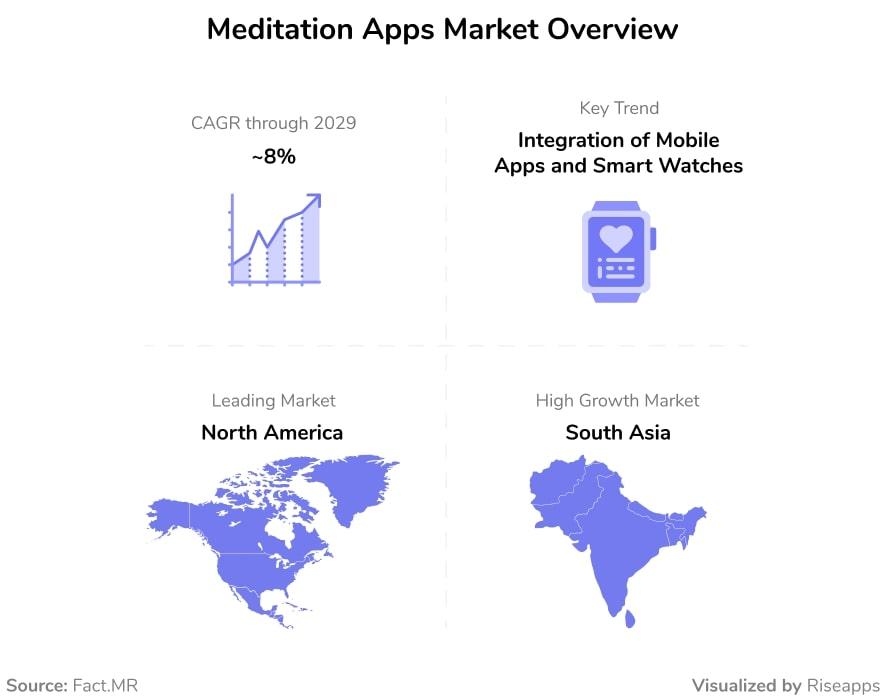 Overall, the meditation apps market research shows that this segment has a lot of potential. If you want to create a mindfulness app, now is just the right time to do it.
The Best Mindfulness Apps
We've mentioned the top ten meditation apps on the market. To get a better understanding of what a mindfulness application is exactly, here are three most successful examples.
Calm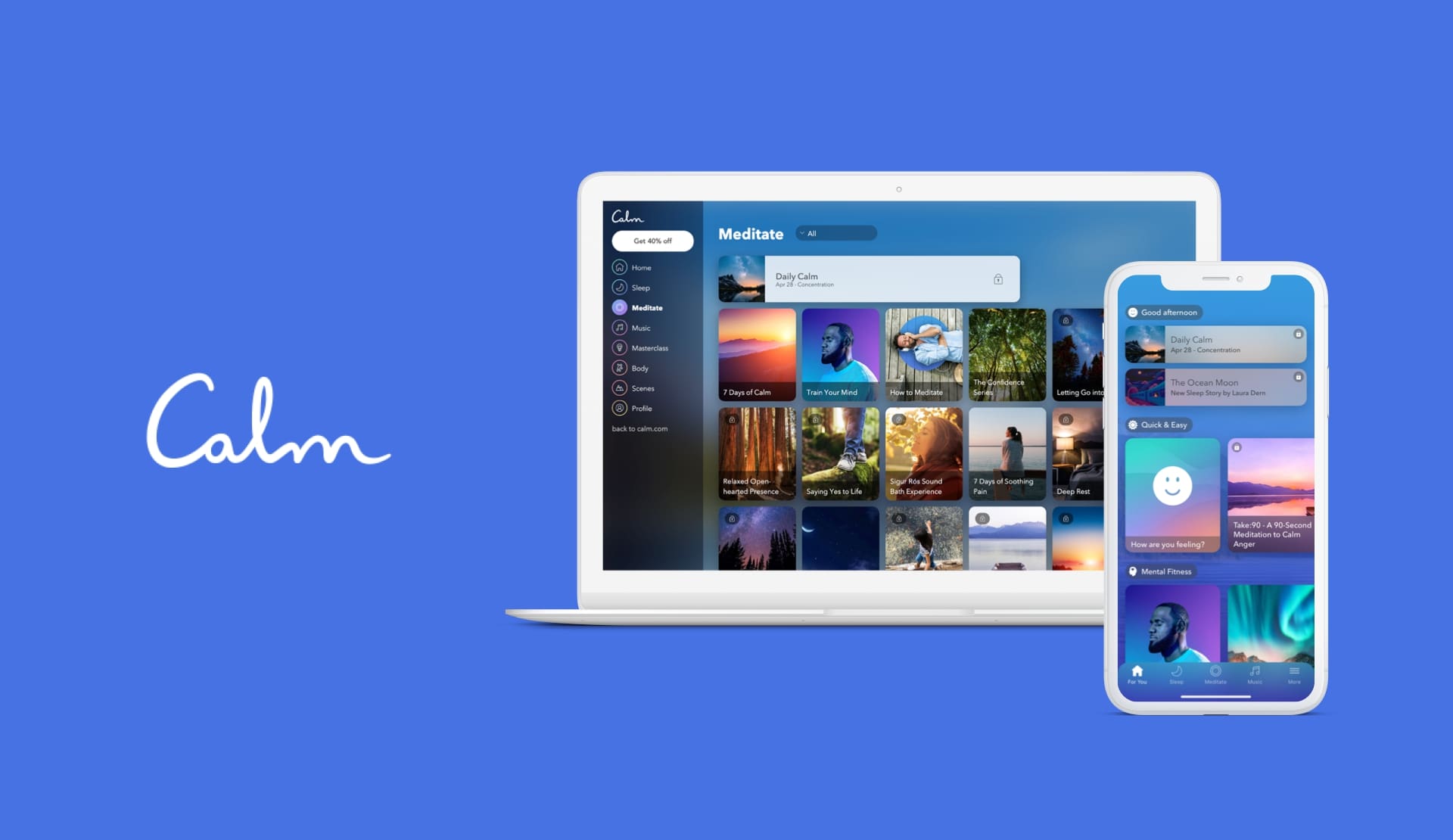 Calm is the most popular meditation app in the world. It has won multiple awards, including Apple's "App of the Year 2017" and Google Play's "Editors' Choice 2018", and was named "the world's happiest app" by the Center for Humane Technology.
What makes this application so great is its extended functionality. There are categories like Sleep Stories and Breathing Exercises, guided meditations of various duration, and special versions of famous songs to help users fall asleep.
People can track their progress and use special daily meditation programs. The app even provides stretching and mindful movement video lessons. To let users decide if they want to get a paid subscription, a part of the library is accessible for free.
Headspace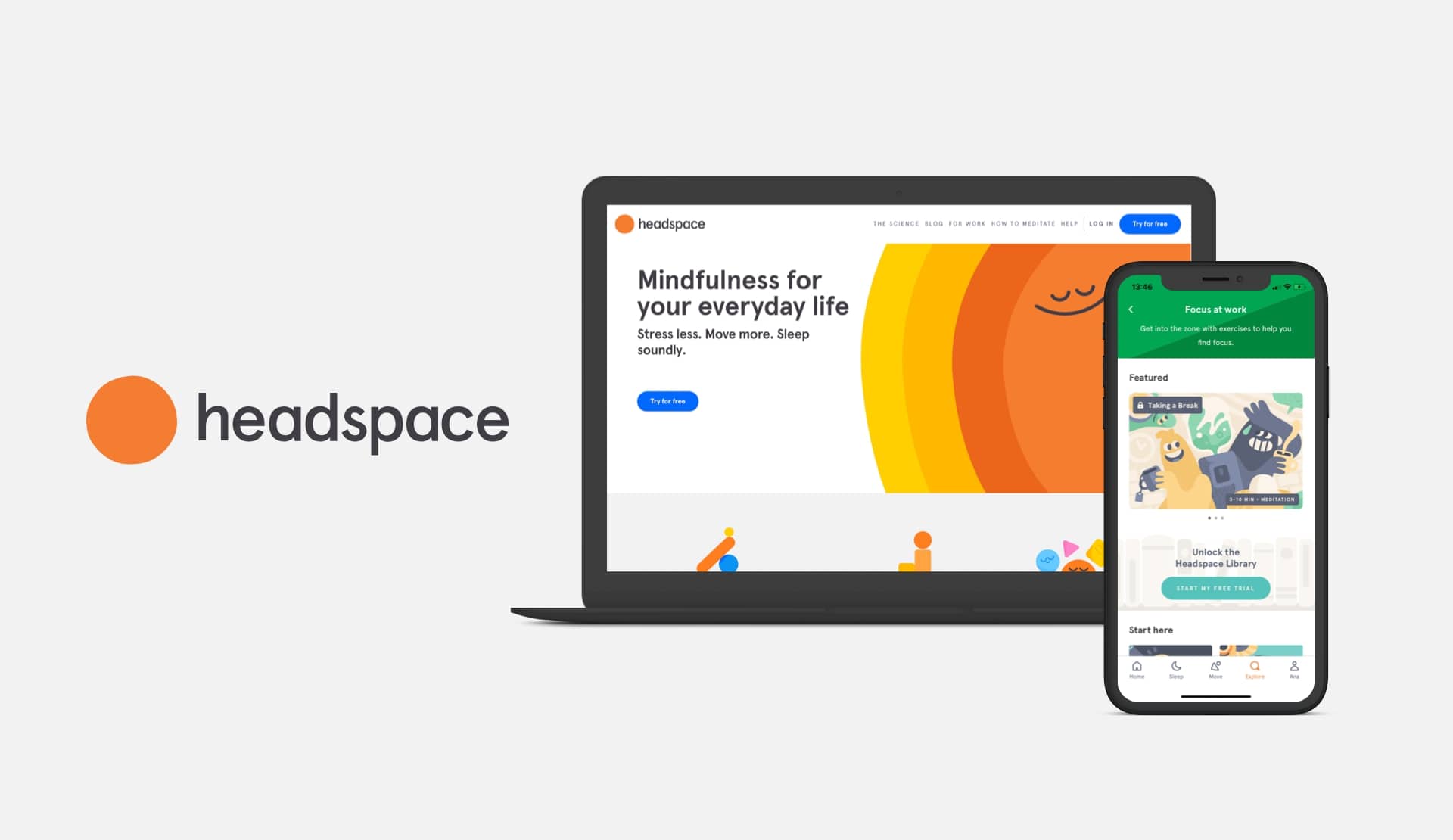 Headspace is a mindfulness app, with over 40 million users worldwide. With such a huge audience, it is no surprise the application includes networking features. It also offers you a convenient way to destress anywhere, and you can download sessions for offline use.
The app syncs with the standard health app on the user's device for easier progress tracking. People can practice mindfulness with Andy Puddicombe, an expert in this field. Also, there are short workout videos, so you can train both mind and body.
Some of the defining features of Headspace include 2-3 minute on-the-go meditations and "SOS" sessions for quick stress relief. Paid subscription grants users access to the entire app library.
Insight Timer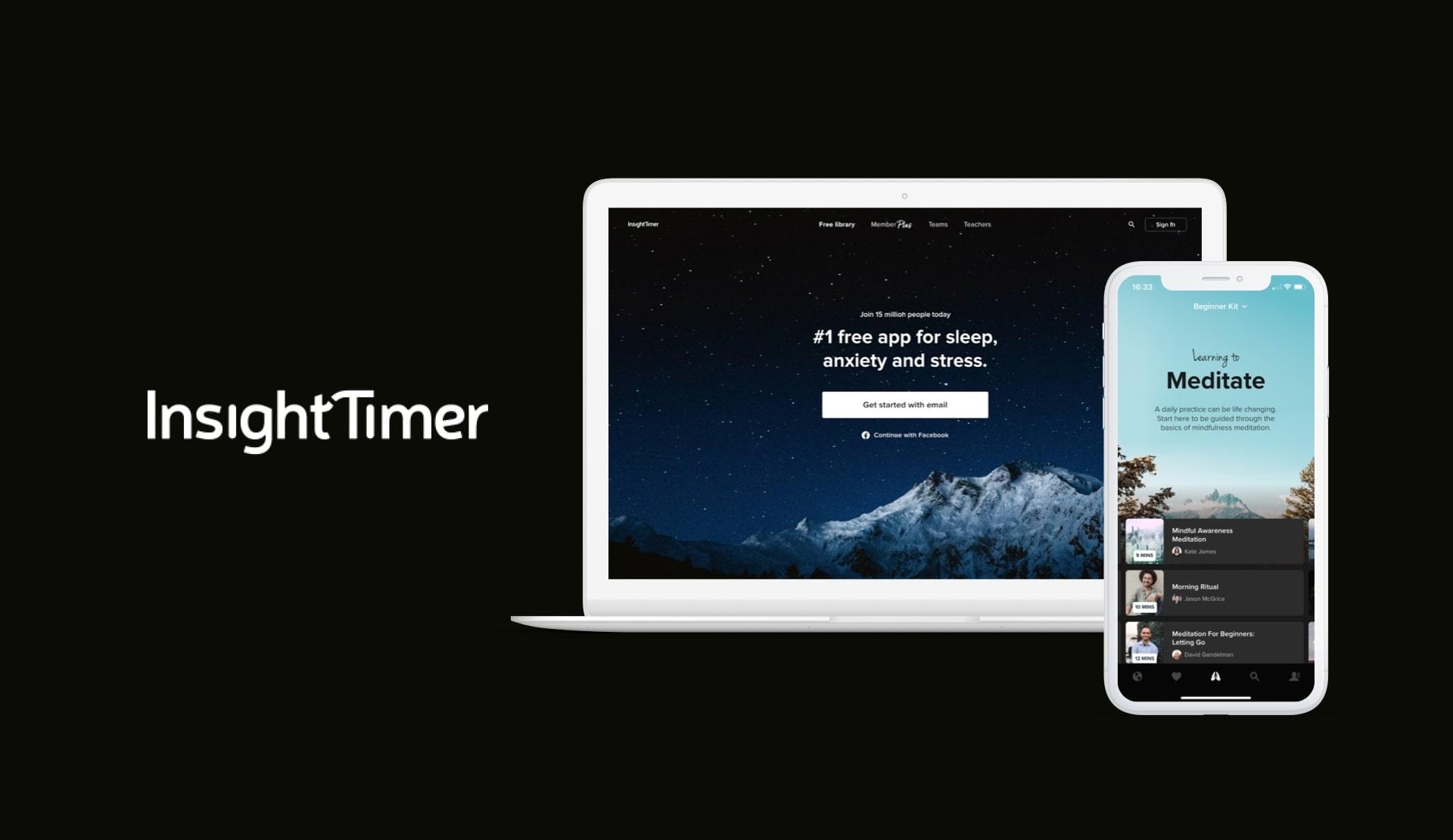 Insight Timer provides users with an extended meditation track library for free. It is loved by press and users and has more than 250,000 reviews on App Store and Google Play combined. There is a paid subscription, too, and it provides options like offline access and insight courses.
Guided meditation sessions are created by mindfulness experts, as well as leading psychologists and teachers. There are also music tracks by famous artists. Insight Timer integrates with the standard health app on your device, and progress tracking is really convenient.
It is possible to choose a session for a specific purpose, like anxiety or insomnia. Moreover, the app allows users to connect to each other via discussion groups and has other networking features.
Meditation Apps Features
Essential features
This is what people are going to see first when using your app. For a person who's never meditated before and opens a mindfulness application for the first time, an onboarding tutorial is crucial. It ensures the user understands how the app is structured.
First, provide information about the essential features. Trying to tell about every detail of the app at once is unnecessary, it can be done later. Pictures are usually used for a walkthrough, but animations and videos are better as they are easier to comprehend.
User login is a standard feature for nearly any app. Make the authorization process as quick as possible. To keep things simple, let people sign in with only name and email or their social media profiles.
The media library is the most important feature of a mindfulness app. Here, users can choose an audio track with melodies, nature sounds, or guided meditation. Normally, there is a selection of tracks of various lengths, anywhere from a few minutes to an hour.
It is great to divide the library into categories. The most common sections are stress relief, a good night's sleep, and concentration. An ability to use filters for finding the right track is also worth including.
The play screen is the second crucial element of a mindfulness app. It has a button that lets users control the audio track, as well as a few other settings. Convenient features to add to the meditation screen are session download and background playback.
To design a meditation application that's easy to use, pay plenty of attention to this feature. Large play button, muted colors, and a soothing backdrop are key for amazing user experience.
When it comes to meditation apps, the user profile is not only about changing personal information. Here, it is great to provide questionnaires so people can indicate why exactly they use your application. Afterward, it is possible to offer a personalized selection of tracks to anyone.
There can be a favorites section for people to save the sessions they like. Including some tips on improving your mental state is very beneficial, too. Depending on the nature of the user's problem, they can get some helpful mindfulness advice.
Notifications are the number one tool for keeping users engaged, so include them and make them customizable. As meditation is supposed to be a daily activity, reminding people to have a mindfulness session is vital.
Asking people about their current mood can also remind them to use your app. Moreover, notifications can be utilized to announce new library tracks, as well as promotions and discounts.
Add-on Features
Progress tracking is not a necessary feature, but it is highly advisable to include it in a meditation app. Users will appreciate a tool to monitor their daily mood and mindfulness journey.
The process can be gamified, making users more interested in meditating consistently to reach different milestones. Awards may include unlocking new sessions or getting a subscription discount.
Certain mindfulness apps include a social element. Finding a community of like-minded people can be a great encouragement to care for yourself and meditate consistently. This is why giving users a chance to interact with each other in your application can make it stand out.
If you are targeting a specific region, think about adding a geolocation function to the app. This enables a feature to find mindfulness events nearby. Just like with social interaction, creating a strong community sense is a great way to appeal to users.
How to Monetize a Meditation App?
Subscription
In-app purchases
Ads
To cover the costs of development and make your app profitable, you have to decide on a monetization technique beforehand. Some of the most common options are paid subscription, in-app purchases, and advertisements. There is also pay per download alternative, but it is less popular as such apps don't appeal to customers as much.
Subscription
This way of making money with mindfulness applications is the most common. Users get a chance to try out the app functions for free at first, or they can only access a limited number of tracks in the library.
When people got a taste of the app, it is highly likely they will agree to pay a monthly or yearly fee to use its full potential. Industry leaders like Calm utilize this approach to make a profit.
In-app purchases
Such an approach is somewhat similar to a paid subscription. However, users are not obliged to pay every month or year. They can purchase a specific pack of sessions and use them forever. Also, a personalized meditation can be an in-app purchase.
Some companies choose to provide only partial access to the app, even for subscribers. Other premium tracks or specific features should be paid for separately. While seeming profitable at first, this technique is rarely appreciated by users.
Ads
The final monetization option is quite common in various types of apps. On the one hand, you can make money without the user paying for anything directly, which makes your application more attractive.
On the other hand, many use mindfulness apps to distract themselves from irritating things. And, well, ads definitely can be annoying. So, if using this monetization method, choose the advertisers carefully.
6 Steps to Create a Mindfulness App
Still not sure how to create a meditation app? Here are the main steps:
Get a clear idea of your future app
Pick your platform
Select the app features
Choose the monetization tactic
Decide on UI/UX design
Start the app development process
Get a clear idea of your future app
Having a clear vision is essential if you want to create your own meditation app. Think about the defining characteristics of the application. Also, choose your target audience and do some market research to better understand what these specific customers might need.
Your mindfulness app can include more guided meditation or have a vast library of nature sound and melodies. It can also be targeted towards those who want to network with other meditators and find self-care events nearby.
Pick your platform
Depending on your goals and your budget, choose the platform for your future application. The demographic you want to reach will most likely prefer iOS or Android. If the funds are limited, pick one or the other at first, or go for cross-platform development.
Cross-platform can be built using React Native or Flutter and are more cost-efficient. However, if you want to start a meditation app that utilizes the full potential of the specific OS, separate applications will be needed. For example, Apple ID authorization is not available in cross-platform apps.
Select the app features
Now, it's time to decide on your app's features. We've already told you about the MVP for a mindfulness application. Elements like sign-in, user profile, track library, and meditation screen are necessary for such an app.
If you have the means and desire to make a more unique application, consider adding features like networking tools, geolocation, or personalized mediation sessions.
Choose the monetization tactic
The last step to make a mindfulness app is deciding on the monetization technique. There are very few meditation apps that weren't created to make a profit. So, if you want to earn money with your new application, you should choose how.
We've described the most common monetization practices. Including one or several in your app will help you keep it profitable.
Decide on UI/UX design
Meditation app design is just as important as its main functions. Mindfulness equals being calm and relaxed, and that's exactly how users should feel when opening your application.
Go for a toned-down color palette. Blues, greens, and purples are most commonly associated with relaxation. But, pastel colors or muted yellows and browns can be used too.
Make the interface simple for easy navigation. If you look at apps like Headspace or Calm, you'll notice that the application is well-structured and is not too cluttered. This ensures smooth user experience.
Finally, swap out excessive amounts of text for graphics. Pictures and animations serve the purpose of explaining something to users much better than written words.
Start the app development process
At this point, you should have a clear vision of what your mindfulness app will do and what it will look like. Now it's time to build it.
If you choose to hire a company to do that, look for a team of experienced and trustworthy developers. This way, there won't be any problems in the app development process.
The team you'll need to create a meditation app:
PM
Developers (back-end and front-end)
Designer
Based on the features you want the application to have, you might have to hire a bigger team. For example, if you're creating a single platform app, you'll need a front-end developer who specializes in either iOS or Android.
If you want to build an app for different platforms, which sometimes can be quite expensive and time-consuming, opt for one platform at first and develop the second application later. Or, go for a cross-platform app.
How Much Does it Cost?
Time and financing required to make a mediation app are linked directly to the complexity of the project. Main stages of the meditation app development include:
Wireframing
Prototyping
UI/UX design
Coding
QA
The cost will vary depending on the features and specific elements of the application you want to include. Furthermore, the location of the software development company you choose influences its rates majorly. Here is the price breakdown of app development based on the region as of April 2020:
| | | |
| --- | --- | --- |
| Region | Hourly rate | Basic level meditation app |
| The USA | $100-180 | $80,000-160,000 |
| Great Britain | $125-220 | $120,000-170,000 |
| Western Europe | $90-165 | $130,000-160,000 |
| Eastern Europe | $30-70 | $40,000-55,000 |
| Ukraine | $30-50 | $35,000-40,000 |
| India | $15-30 | $20,000-30,000 |
At Riseapps, the cost of building a basic mindfulness app would be around $35,000-40,000. It takes about three months to create. Both price and time vary depending on your particular application concept.
We work with iOS, Android, and cross-platform applications, so any of your ideas can be brought to life. With years of experience and 50+ successful released projects, our company guarantees you'll receive the result you want.
Our Experience in Meditation App Development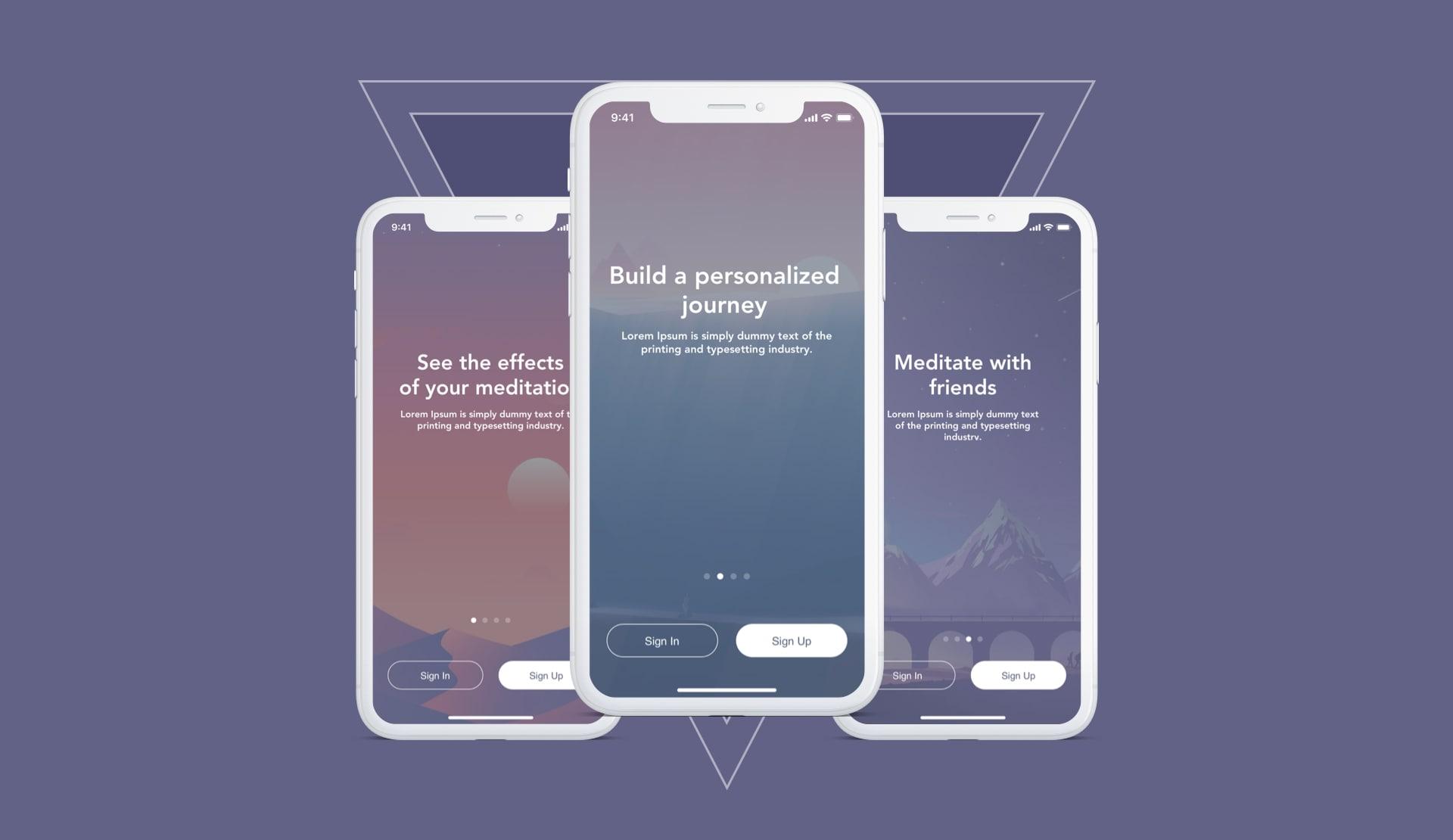 Riseapps team is familiar with creating mindfulness apps. One of our clients, Core, wanted an application, but it had to be different from others on the market.
The reason for that is Core's special meditation device, which had to be integrated with the app. The tool also had to provide its users with a unique immersive meditation experience and use their biometric data.
We developed an app that offers customized meditations to every user. There is also progress and stress-level tracking and other biometric data insights. Users can use the application to the fullest by getting a premium subscription.
Conclusion
Mindfulness applications are in high demand right now. So many people use meditation to destress and concentrate. Why not use this opportunity for a successful startup?
If you decide to develop a meditation app, there are several things to keep in mind. Let's recap the main steps necessary to build a mindfulness app like Calm or Headspace.
First, you have to conduct market research to decide on your target audience and choose a suitable application platform. Then, pick the basic and additional features to provide users with everything they need in just one app. Selecting a monetization technique is essential to make an app profitable.
The next step is the UI/UX design. To make a meditation app, which appeals to users, choose an appropriate color palette and suitable layout. After design comes development, the main step of the application creation process.
A meditation app is a perfect solution for a modern person who wants to relax. This is why building such an application is done not only to make money; it can help people all over the world.
Still not sure how to create a mindfulness app on your own? Riseapps experts will help you with that. Just fill out the form below, and we'll answer all your app development questions.