React Native Development Company
Release the Power of Your Cross-Platform App with React Native Right in the Core

Backed by Facebook, React Native is a perfect framework catering for both platforms iOS and Android.
Open source React Native framework bridges the gap between a wide market place, that is represented by both iOS and Android platforms, and profitability. The number of Android users outperform those who are using iOS, yet Apple supporters produce more profit.
Our React Native app development company will help your render UI for iOS and Android.
With a such framework you don't need to choose one of the platforms only, you can get both of them.
Key React Native Benefits
This cross-platform framework is an enhanced technology to build advanced mobile solutions for our rapidly changing world of mobile. React Native is a perfect choice for those striving to create the most innovative and competitive apps.

Works Under a Tight Budget
Building a native app will cost you more, than building cross-platform applications. It takes 2 teams and more development time to cover iOS and Android development separately. If you have budget constraints, the best option will be to order React Native app building services and build two apps with one team, less time and get into the market straight away.

Supports Cross-Platform Development
This mobile tech helps develop an application with only one code base, using only JavaScript and React.
Apps, that are written with the cross-platform mobile frameworks are compiled with the natively written code for iOS/Android. Thus, such apps function the same way on two platforms without lags.

Runs Like a Native App
In apps that are built on this framework, building blocks are compiled with iOS/Android platforms. Moreover, it's possible to use components written in Java, Kotlin, Swift, Object-C, or to build a part of the code in this framework and a part in native code. Facebook is actively using this approach.

Quick Feedback Loop
No compile-time. In this cross-platform framework, changes are applied in a matter of seconds, helping to save developers time.
Ready to hire React Native developers?
Request a quote for our React Native development services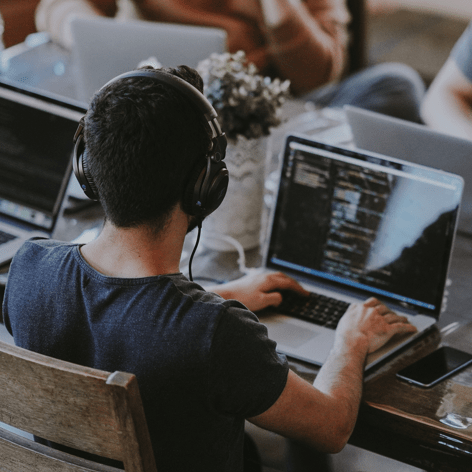 Working with React Native Development Company
Our aim is to provide our clients with the best solutions. Understanding that sometimes the project demands a unique approach, we are ready to review your ideas for cooperation.
Our React Native app development company typically cooperates with our clients in 3 ways.
Offering turnkey solutions based on your idea. We are working in tight cooperation to make sure the process goes how it was planned. Our company is responsible for all stages of product development.
Helping you to cover only one service that you need, e.g. design, etc. We manage the delivery of this service in a timely manner according to your requirements, using the best Agile practices.
Providing our a team of developers or one/ two developers with the expertise you need. All the process lifecycle is managed by you and our specialists follow the tasks of your engineers.
How would you like to work with our React Native mobile app development company?
We are open to other forms of collaboration and ready to adjust according to your project needs.
Let's talk
Our Projects
Standing at the front-end of mobile development, our company has already offered mobile app development services for various companies in healthcare, wellness, on-demand business segments
Dmitriy

Tech Lead

Choosing optimal technologies and writing complex algorithms

Vladlen

CEO

Delivering tailored software solutions to meet your needs and fulfill the expectations of end-users

Alex

Design Lead

Never sacrifice user experience in favor of fancy interactions
Clients Trust Us
Our team is an extra force that helps to translate your ideas into remarkable applications.
We believe that transparency and trust are the base of any successful cooperation to build outstanding projects.
And that's what our clients say.
Articles from Developers Who Mastered React Native
Guides, fresh industry updates, and insights. Check the best articles from our developers.
Hitting two birds with one stone and choosing that very stone - React Native vs Flutter. I...

Is there still a  market for healthcare apps? Should you opt for medical app development?...
Ready to collaborate?
Drop us a line