IoT technology has been gaining popularity quite rapidly in recent years. There are plenty of ways to integrate the Internet of Things systems for personal or professional purposes, but some of them stand out among others. IoT in the fitness industry is definitely such an exemplary case.
However, it's the events like the COVID-19 pandemic that have truly shown how valuable the Internet of Things technology is for gyms and wellness centers. According to this article by Forbes, the pandemic has shifted customers' focus on digital workout solutions. For this reason, everyone, including fitness centers that are reopening now, is paying more attention to IoT, VR/AR, AI/ML, etc.
When it comes to IoT in sports and fitness, the basics are well-known for now – you need a system of connected hardware and software. But, there are things unique to the industry to remember. We've already covered the general guidelines of developing an IoT app, so let's get right into the specifics of the Internet of Things for fitness tracking.
Fitness IoT market size
The valuation of the global smart fitness market is truly impressive. Compared to around 6 billion USD in 2016, this market is expected to reach nearly 30 billion USD by 2025.
Such growth can be explained by the increasing demand for innovative workout solutions. People need new tools to reach their fitness goals, despite the lack of time and low motivation. Moreover, technologies like IoT, AR/VR, and M2M (Machine-to-Machine) communication have boosted the adoption of smart wellness devices.
For example, here's a look at an impressive increase in the number of wearables worldwide from 2015 to 2022.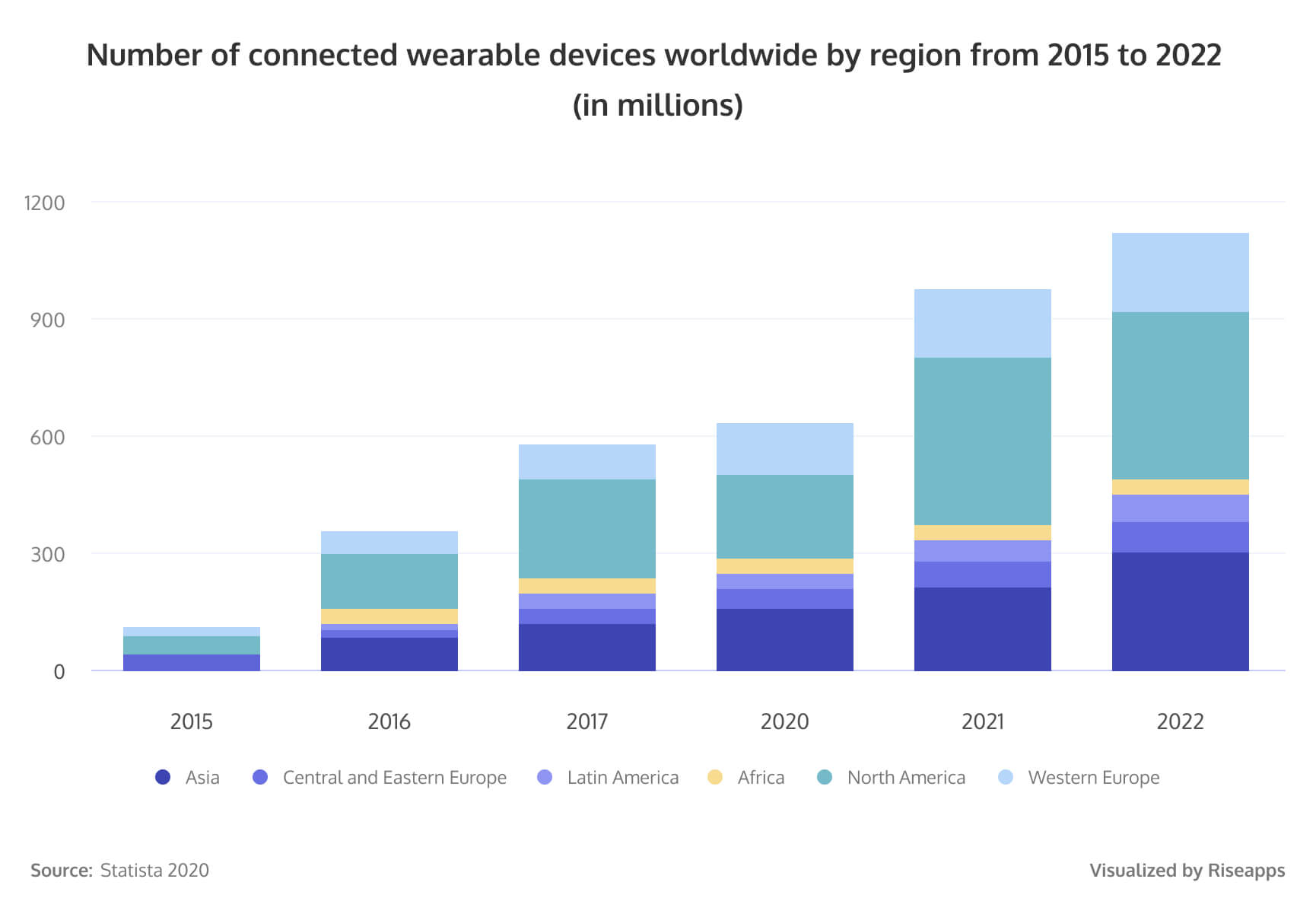 The fitness and wellness industry, in general, has skyrocketed in the recent few years. People are becoming more aware of their health and physical shape, so the products that help them on this journey are on the rise. Increasing disposable income is another major driver for the popularity of sports Internet of Things devices.
Just in the EU, the number of health and fitness IoT units has nearly doubled when comparing 2017 and 2020.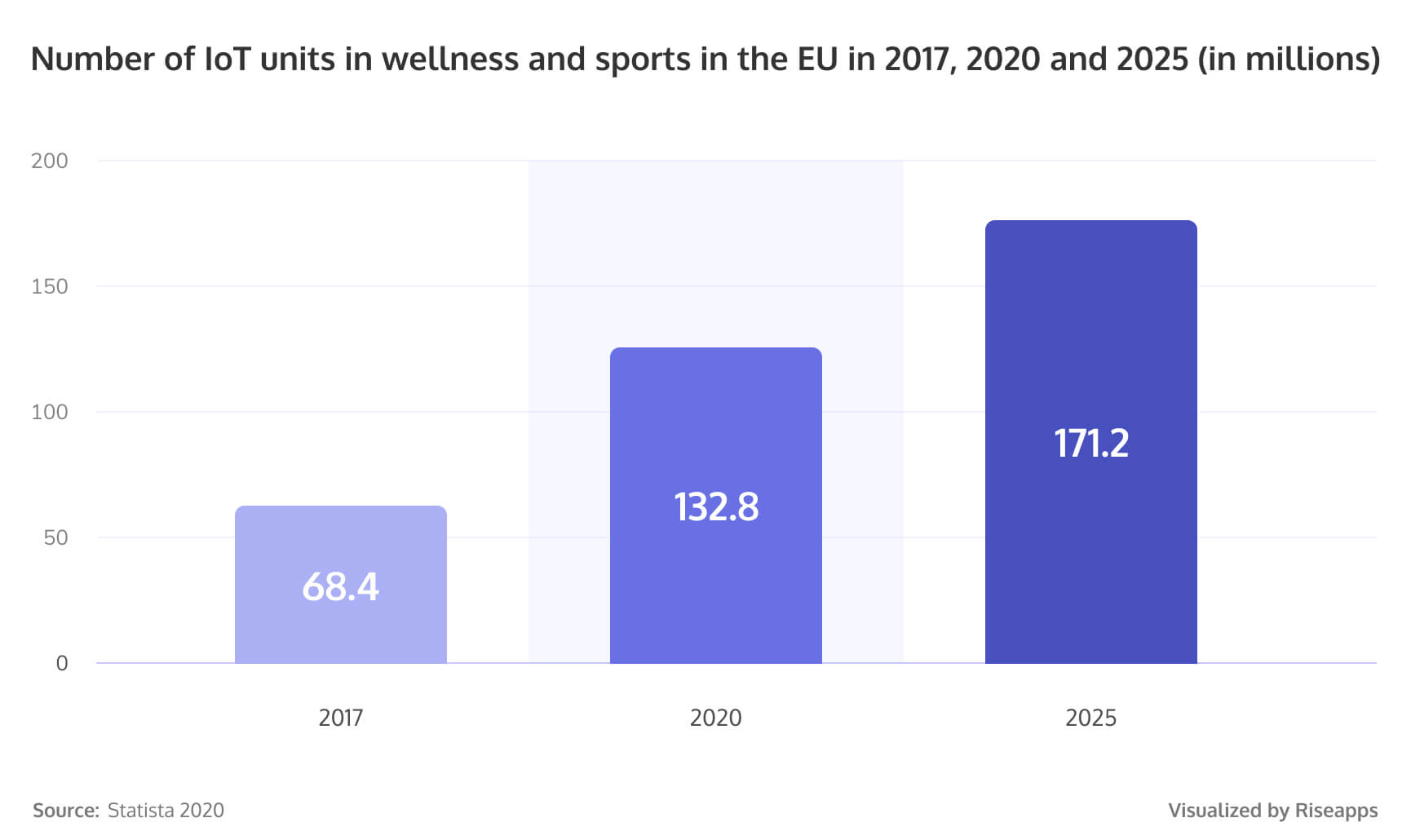 Considering the continuing shift to digital fitness tools, devices like wearables or IoT-powered gym equipment are here to stay. There are several main segments in the smart fitness devices market: smartwatches, fitness trackers, smart clothing and shoes, smart exercise machines, and others.
How IoT devices are changing the fitness industry
They can help to personalize exercise
They allow immersive training
They simplify equipment maintenance
Let us show you a few ways in which the Internet of Things systems are changing the fitness industry:
1. They can help to personalize exercise
This is the most well-known characteristic of IoT integration in gyms and the wellness industry in general. Based on the data received from wearables, sensors, and smart training equipment, the workout routine can be customized to suit the individual perfectly. Additionally, it's very easy to track your fitness progress with such devices.
2. They allow immersive training
VR technology, headsets, in particular, can be used for so much more than just entertainment purposes. When it comes to working out, virtual reality can provide an immersive experience to users, giving them a chance to exercise in an appropriate environment anywhere they are. Moreover, VR allows training with others even when everybody can't be together in one space.
3. They simplify equipment maintenance
To ensure customer satisfaction, gym owners have to take good care of their machinery. Due to the frequent uncertainty about which equipment is being used the most, it's hard to tell which machines are worn down. With an IoT system, though, all the usage information is readily available. Thus, understanding which equipment has to be maintained is much simpler.
IoT fitness devices examples
IoT fitness devices are currently on the rise. For that reason, there is a huge variety of them. Let's look at some examples of fitness and wellness IoT devices.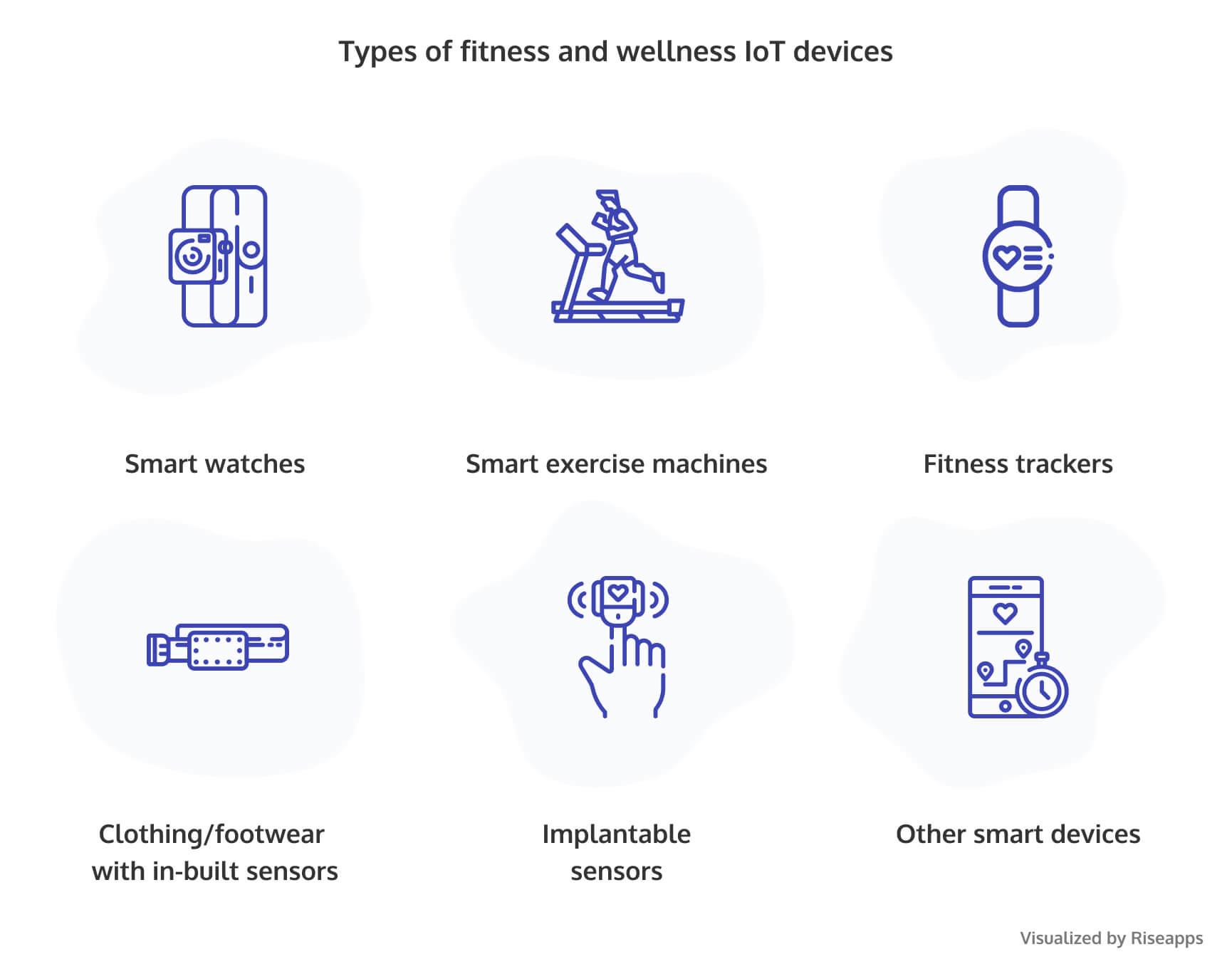 However, as we're discussing the Internet of Things application in gyms in this article, here are two examples of smart solutions suitable for such use.
Pendex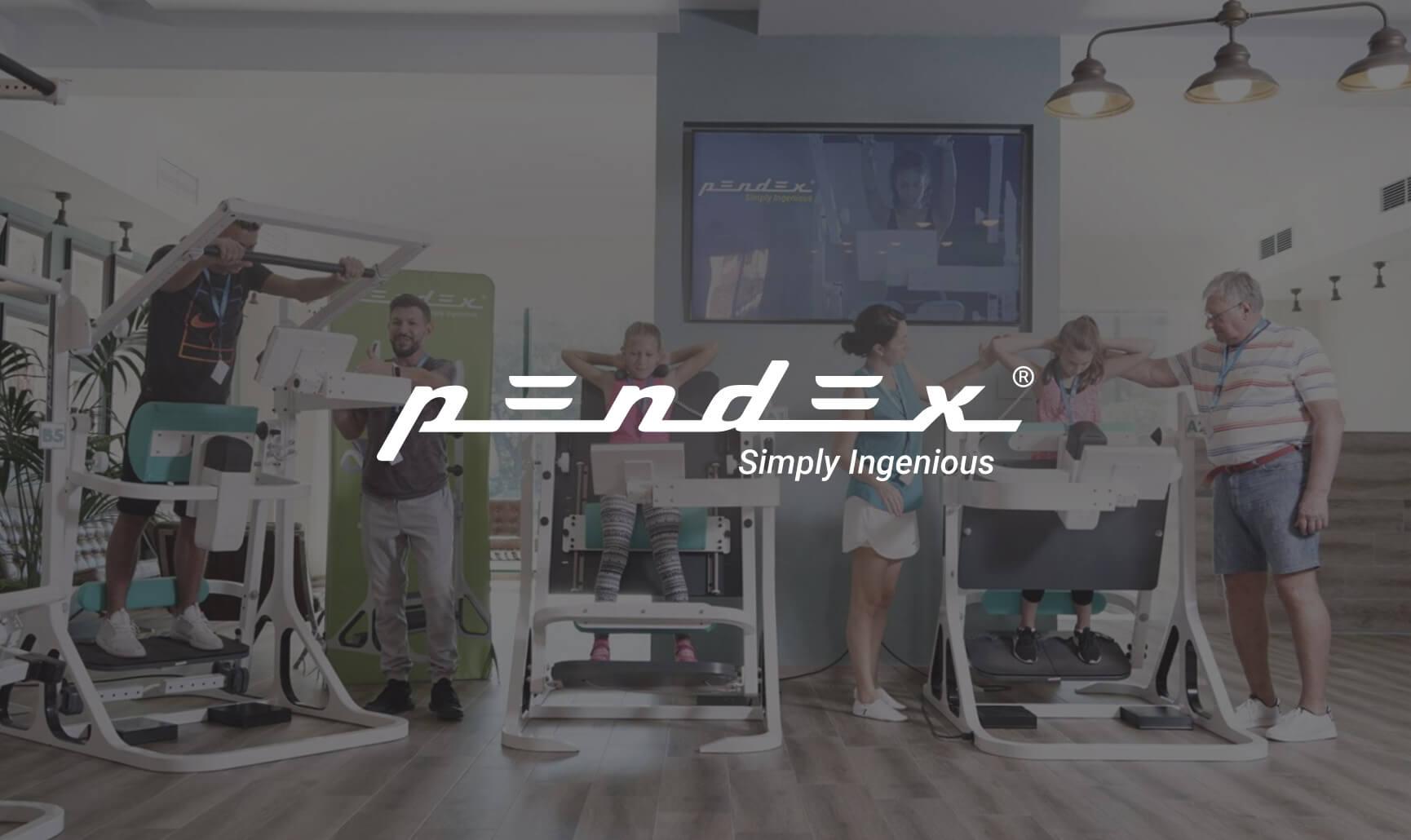 Before founding their company, the creators of Pendex realized that there is an opportunity to create an Internet of Things gym system. However, it was not just any system. They wanted to create a smart fitness solution that would change the way people see personal training.
A system of IoT gym equipment was created to achieve that. The company offers a set of 12 different machines with special sensors, an AI-powered data processing unit, mobile apps for coaches and customers, and more.
Such a system presents an innovative approach to personal training. Thus, gyms can welcome more clients while making sure they exercise more effectively than ever.
Polar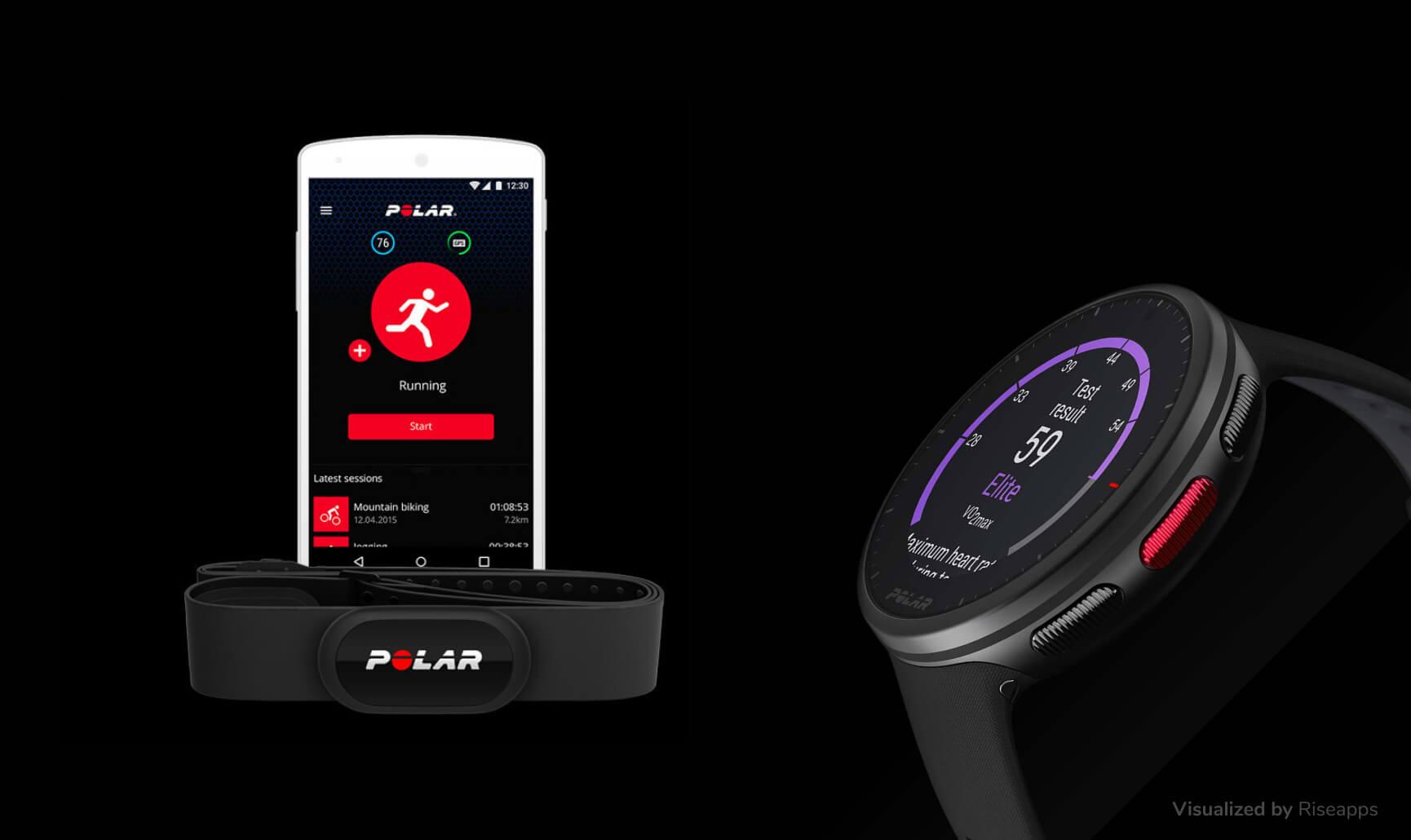 Polar is an example of how wearables can be beneficial, specifically to those who train in gyms. Whether a fitness band for your wrist, a smartwatch, a chest strap, etc., these little devices majorly help to improve your performance.
After measuring your vitals, i.e., heart rate, a Polar device uses this data to create a guide for you to optimize your efforts and reach the desired goals. This IoT solution includes a mobile app, and it displays all the critical information to the user, allows them to have a fitness assessment, track their sleep, and more.
A wearable device like Polar's products is a great option for those who want to reach an audience of health-conscious people. These tools are helpful in both the gym and in your everyday life.
IoT gym equipment trends for 2020-2021
Sharable health data
Group exercising
Connected client experience
Smart sensors
Immersive training
1. Sharable health data
One of the best ways to use IoT in fitness is to obtain valuable health data with it. Wearables, for example, can collect the user's heart rate, body temperature, calories burnt, etc. This data can then be processed to customize the exercising routine, as well as shared with others to show off your fitness achievements. Gyms can build exclusive wearable devices and create a leaderboard to motivate the people who go there to workout more.
2. Group exercising
IoT and workouts at the gym can also mean group training. Various devices and sensors are used to track each of the exercising class attendee's vitals and progress. Such practice usually leads to much better results, as coaches can analyze what works for a particular group of people and what doesn't. We are likely to see a lot more fitness classes with the Internet of Things technology involved.
3. Connected client experience
While group workouts are great, individuals often want to have an experience customized just for them. A smart gym using IoT can provide just that. Both wearables and intelligent exercising machines can examine how you train and give you extended instructions on how to do it correctly. In the long run, your performance and results will be boosted majorly when you workout in a smart gym.
4. Smart sensors
There is a huge number that provide health and fitness monitoring in IoT available on the market. What lies at the of any such product are sensors, and they are becoming smarter day by day. A tiny chip can now collect immense amounts of data for further processing. That is how smart clothing, footwear, and exercising equipment like intelligent yoga mats became a reality. Nearly anything can be a part of a fitness IoT system.
5. Immersive training
Finally, it is hard not to mention VR/AR and immersive exercising again. We have a separate article on the topic, so let's cover it briefly here. With events like the lockdown, digital exercise skyrocketed, and virtual or augmented reality is the best solution to exercise effectively out of the gym. VR headsets are health and fitness Internet of Things devices that can allow users to do anything from a pilates class at home to a virtual marathon. Those who want to connect with their target audience digitally should surely pay attention to this trend.
How to use the Internet of Things for your health and fitness company
One of the main distinctions a gym of the future with the Internet of Things has is the variety of devices included. For this reason, certain aspects of integrating IoT must be kept in mind when creating a smart fitness system.
Let's start with data integration. All IoT sensors collect data and share it. However, due to their complexity, they usually do this in many formats. Integrating data is essential to allow correct processing and analysis of it, and it can be done by implementing the necessary remote monitoring standards.
Cloud services like Microsoft Azure, for example, have made data integration much easier. These are excellent solutions for IoT as they provide tools for data conversion, storage, and management. When using cloud services, fitness centers and gyms can streamline how they control their Internet of Things machinery.
Next comes data analysis. As the data received from devices using IoT in gym flows constantly and usually quite rapidly, it should be analyzed continuously. This helps to identify anomalies, which is crucial when combining fitness and IoT devices.
According to Deloitte, "analytics can identify situations that require some form of human intervention." The most popular IoT in sports and fitness analytics uses include:
Utilizing data received through devices and sensors to give training instructions;
Using such data to optimize the exercising process;
Examining how a user performs in comparison to their previous results or other users;
Predicting and detecting existing issues in gym equipment or even the human body.
What to keep in mind when implementing IoT for fitness use
IoT and a fitness app can create an invaluable system for your customers who exercise regularly and want to reach maximum results. However, you should remember some important aspects when planning the Internet of Things implementation process and building a related application.
You have to decide what exactly you want to offer your clients with your new smart gym system. Is it high-intensity training with IoT exercise equipment? Or will you provide each of your customers with a special wearable device to measure their vitals for a more personalized training experience?
Based on your ideas, you will be able to understand what your future Internet of Things system will be like and what data it will collect and analyze. Moreover, you will get a clear vision of your position on the market and your competitors, thus helping you with positioning your new smart fitness solution.
Also, be ready for continuous upgrades, as the IoT technology is changing rapidly right now. You will likely have to refresh the devices every few years, as well as update the software for managing your smart fitness system.
Here is a list of more things to keep in mind when using IoT in gym or health center:
Legal issues. Make sure you're not violating any local data privacy regulations when creating an IoT system.
Organized data. We've mentioned the importance of keeping your data well-managed and integrated already, but we must mention this point again. If you keep your data organized, your smart gym is bound to succeed.
Ready-made vs. custom IoT solutions. Usually, combining pre-built hardware and custom software is enough to bring your IoT ideas to life. However, with a more complex smart fitness solution, you might have to develop custom machinery.
Our work in fitness IoT
Fit20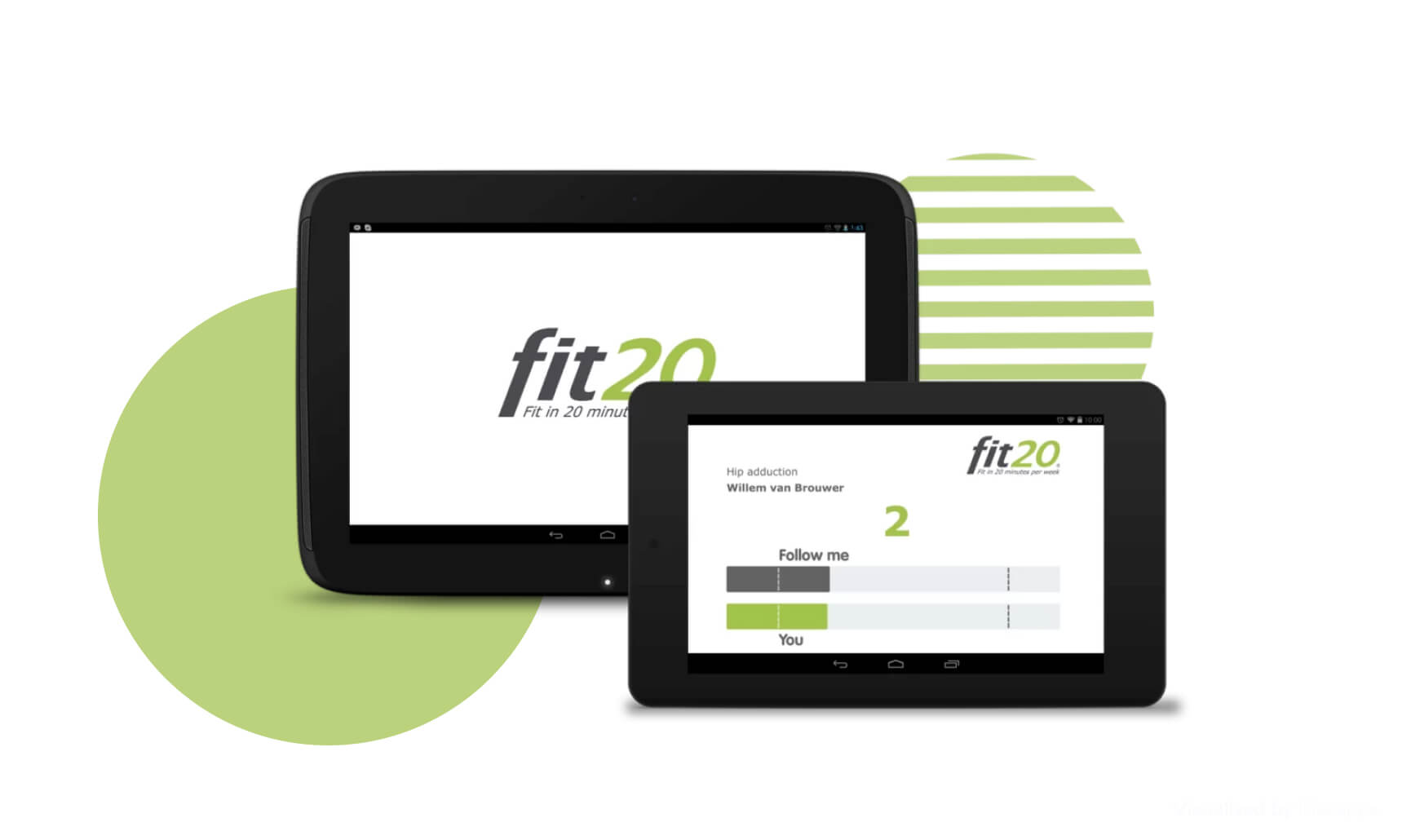 Fit20 is a global fitness chain that provides its clients with special high-intensity exercise routines. An IoT system was needed to do that, and we helped the business create it.
Every item of Fit20 gym equipment has an Android tablet mounted on it. We developed an application that reads data from the machine sensors, processes it, and displays it in real-time on the client's tablet. Meanwhile, the trainer also receives the workout data on their iPad to track the customer's progress.
The coach can control the tablets connected to the equipment via their iPad to modify the exercising routine. WebSocket technology is used to send data between devices. Also, there is a local server for improved speed and a higher protection level.
Clients can also view and change their training with the machine tablet. The training flow is displayed on the screen using a visual progress bar, so it's very easy to follow. Lastly, the app calculates the final scores and saves data from every workout to analyze the customer's long-term performance.
With their new IoT for fitness equipment system, Fit20 was able to make the user experience at their gyms even better. The solution is utilized at all the company's 140 studios on four continents. Each of the firm's 15,000 clients can improve their physical shape with this tool.
BootyMe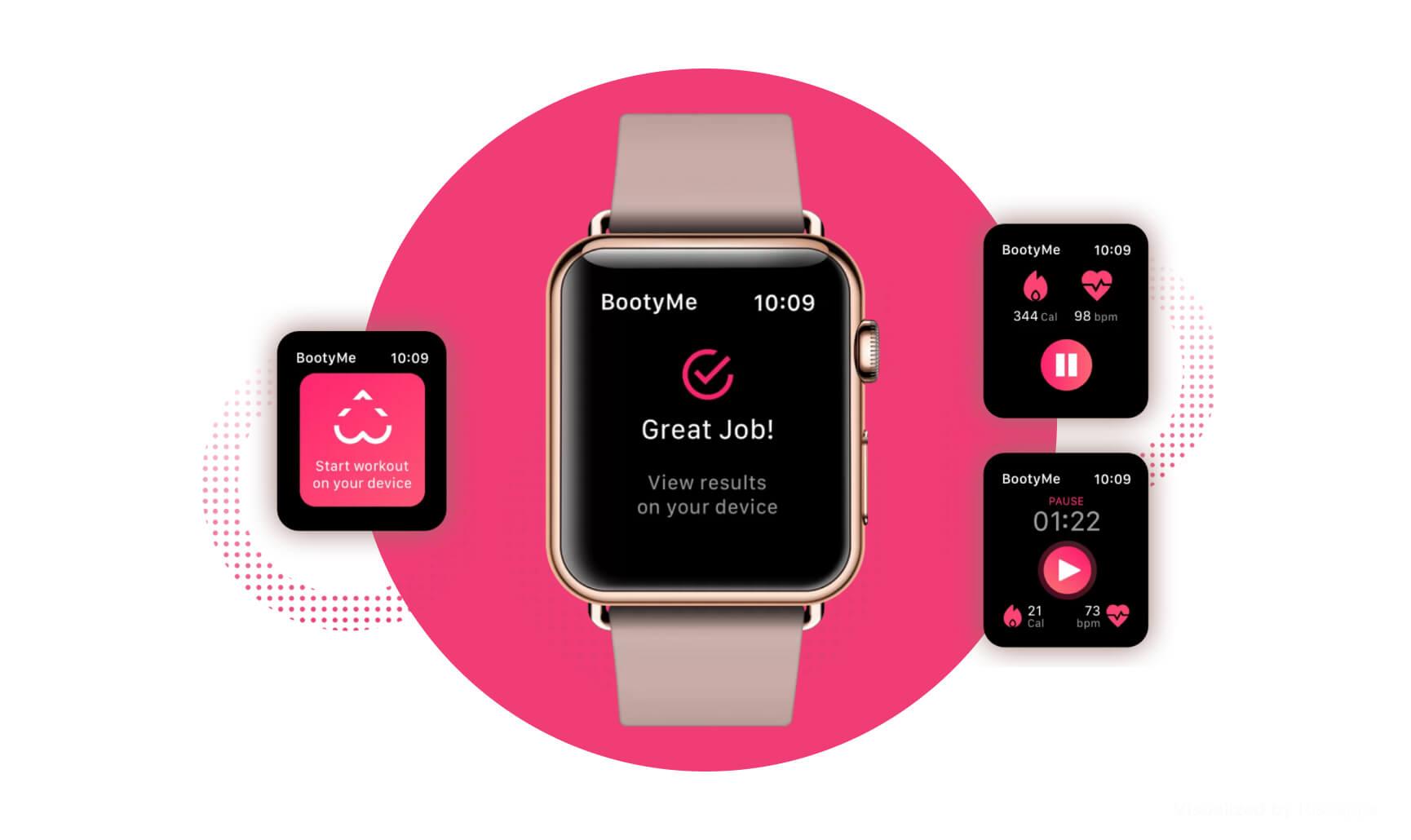 With the BootyMe app, we had several aims. One of them was to create a WatchOS application, so the users could benefit from Apple's wearable while training. We also added HealthKit integration that allows processing data like heart rate received from the Apple Watch.
This app is a great example of utilizing wearable devices to make working out more effective. With a smartwatch, the individual can control the exercising routine and track their progress. Moreover, sensors in the wearable gather the data to calculate the user's pulse, calories burnt, etc.
BootyMe has proven itself as the best female fitness app on the market because of its functionality. It provides a more engaging and goal-oriented training experience.
Conclusion
We will surely see IoT systems become more widespread in our everyday lives soon. That's why it's just the right time to take advantage of this emerging technology if you have a health and fitness company.
It can be rather tricky, but with concrete ideas and a solid team on board, you can create an amazing solution. A smart fitness Internet of Things system can help you reach your target audience, boost customer engagement, and increase your profits. Many consumers want to use an innovative exercising solution, so seize this opportunity to cater to them.
If you are ready to start working on a health and fitness IoT solution, don't hesitate to contact us. With 8 years of hands-on fitness app development, our team will help with creating a reliable Internet of Things system for your company.