Are you a tech enthusiast looking to make a foray into the healthcare sector but unsure how to build a telemedicine app? You may be a healthcare provider seeking to offer higher-quality care to your patients.
The exciting potential of telemedicine for entrepreneurs is undeniable – with estimates suggesting that the telemedicine app market will reach $30 billion by 2025. 
Telemedicine apps make it easy for people to get the healthcare they need from the comfort of home, no longer requiring them to wait for extended periods in a doctor's office.
But before taking the plunge into creating a telemedicine app, it is essential to comprehend the key elements for its success.
If you're developing an app related to health, then getting acquainted with HIPAA compliance rules is strongly recommended.
Once you've done that and are ready to get started, you may enlist the expertise of an experienced telemedicine app development company.
And if you're interested in learning how to build a telehealth app, we're here to help you through the process!
In this article, RiseApps discusses the steps necessary to make a successful telemedicine app, the advantages of having one, and how to construct a user-friendly interface while integrating the relevant features.
Staying Ahead of the Curve: Latest Figures in the Global Telemedicine Market
Let's explore the current statistics of the telemedicine app market, including the number of users, the types of services offered, and the growth potential.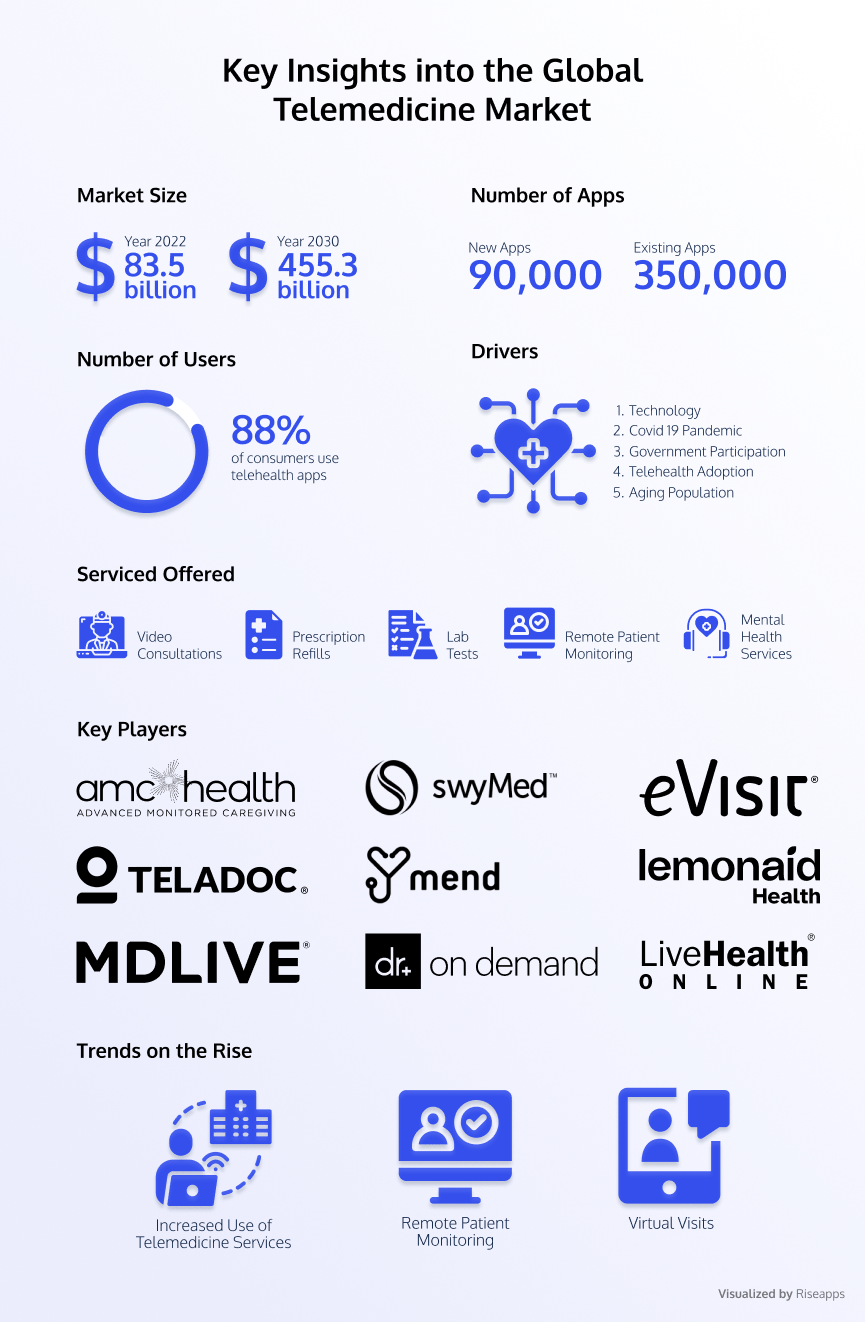 Size & Regional Focus
The global telehealth app development market was valued at an impressive USD 83.5 billion in 2022 and is anticipated to increase at a remarkable CAGR of 24.0% in 2030. 
In 2022, North America accounted for the largest portion of the market, 47.1%, due to considerable healthcare I.T. expenditure and a substantial internet/smartphone user base in the region. 
It is predicted that Asia Pacific will be the fastest-growing market during the forecast period.
The elderly population in India and Japan is growing, and this, with the implementation of advanced digital health technology and research projects, is expected to impact the market positively. 
Furthermore, the government's efforts to improve internet access and the increasing need for healthcare and medical assistance in rural areas are anticipated to drive the market's growth.
Number of Telemedicine Apps
The IQVIA Institute for Human Data Science released a report illustrating the substantial rise in digital health apps – 90,000 new ones added in 2020, resulting in a total of 350,000 now available.
Most of them are related to wellness and fitness; however, there has been an influx of disease management apps.
Nearly half of all condition-specific telehealth apps currently focus on managing specific diseases or health issues, unlike the 28% in 2015.
Mental health, diabetes, and cardiovascular diseases are the most popular areas of focus for these applications.
Number of Users
In May 2021, 88% of consumers reported utilizing telehealth services since the onset of the COVID-19 pandemic. Furthermore, the 2021 McKinsey Physician Survey found that 83% of physicians offered virtual care, a significant increase from the 13% who did so in 2019.
Types of Services Offered
Telemedicine apps offer a wide range of services, from basic consultations to more complex treatments. Common services include video consultations with doctors, prescription refills, lab tests, and even mental health services. 
Many telemedicine software offer additional services such as appointment scheduling and reminders, which can be especially helpful for those who have difficulty keeping track of their medical appointments.
Potential for Growth
As teletherapy is increasingly being integrated into healthcare, it is important to consider the primary forces boosting its development. These are the main factors contributing to its success.
Technology
Technology is set to provide the market with a much-needed boost with the introduction of the web- and cloud-based platforms providing virtual care. In partnership with Teladoc, CVS Health launched Aetna Virtual Primary Care in August 2021, utilizing Teladoc's physician network to enable patients to receive remote consultations via telephone or video calls, eliminating the need for in-person appointments.
COVID
The demand for telehealth programs experienced an exponential increase in the past year due to the COVID-19 pandemic and measures taken to reduce the spread. As a result of the virus, the traditional delivery of healthcare services needed to be altered drastically and most medical establishments had to transition to virtual care solutions.
Government participation
Government involvement in I.T. and telecommunications infrastructure development, increased consumer dependence on digital services, the continuous rise of internet users, and the growing use of smartphones are the main factors that are driving the telemedicine market. In 2019, the International Telecommunication Union (ITU) reported that nearly 4 billion people were using the internet. Almost all of these users have access to a smartphone.
The widespread utilization of telehealth
The rapid adoption of telemedicine by healthcare providers and individuals seeking treatment is propelling the growth of the overall telemedicine market. The primary benefit is the ease of use and convenient access to healthcare services. Market players such as tele-ICU and Telecare have released a range of telemedicine products designed to offer customers high-quality, effective solutions.
The aging population and dwindling talent pool
The growing prevalence of health concerns and the rapidly aging population across the globe are considered to be major stimulators of the telemedicine market's growth. For instance, cancer cases are increasing globally, and this is predicted to be a strong force propelling the market's advancement. The healthcare industry is already facing a shortage of certified medical practitioners, such as physicians and nurses, so this rise in cancer occurrences is expected to put further strain on the system.
Key Market Players
Currently, notable telemedicine applications include AMC Health, swyMed, Teladoc, Mend, eVisit, MDLIVE, Lemonaid, LiveHealth, and Doctor On Demand.
Teladoc Health expanded its global reach by acquiring MédecinDirect, a French web/mobile medical consultation supplier. 
The French healthcare software operator attained "unicorn" status after venturing into the telehealth sector and gaining an additional €150 million in investments.
Trends on the Rise and Future Outlook
We ran an ABM study on telehealth app development and surveyed 13 C-level executives to unearth their business-related perspectives, suggestions, troubles, and inadequacies. 
Our results demonstrate that RPM makes up 38% of the major developments that will alter the healthcare industry in 2023. Overall, these trends are the foremost impacting the future of telemedicine.
Use of Telehealth Services
Telehealth programs are becoming increasingly popular for providing medical care remotely. These services allow patients to connect with medical personnel via phone and video calls or text messages. 
This can be especially beneficial for those who live in rural areas or have difficulty accessing traditional healthcare services. 
Telehealth services can also provide mental health services, such as counseling and therapy. Patients can access care more quickly and conveniently by providing these services remotely.
Remote Patient Monitoring
Remote patient monitoring (RPM) is another trend in telemedicine that is gaining traction. RPM is a medical specialist to remotely monitors a patient's vital signs and other health data. 
This data can then detect changes in a patient's health and provide timely interventions. RPM can further monitor a patient's compliance with treatment regimens and medications. 
Through timely health data analysis, RPM can assist medical personnel in making more informed decisions regarding the patient's care.
Are you interested in exploring the advantages of RPM for medical practices? Check out this article to discover fifteen reasons remote monitoring is essential.
Virtual Visits
Virtual visits allow patients to connect with doctors through telephone or video calls. 
This telemedicine software development trend is particularly advantageous for those in rural areas who have difficulty accessing traditional healthcare services. 
Remotely delivering mental health services, like counseling and therapy, can also be done via virtual visits, allowing individuals to access care more promptly and conveniently.
The Future of Telemedicine
The future of the telemedicine industry is bright. As technology advances and more healthcare organizations begin to offer telemedicine services, the number of users is expected to grow. 
New features and services are expected to be added to existing apps, further increasing their appeal. 
Finally, as more people become aware of the convenience and cost savings associated with using these apps, the potential for growth in the global telemedicine market is expected to remain strong.
Unmissable Benefits and Complexities of Crafting a Telemedicine App
A telehealth app is beneficial, as it provides convenience, cost savings, and better access to care. So let's get right to it and talk about the main advantages of launching a telemedicine app for doctors and patients.
Top Benefits for Patients
Here are a few ways telemedicine mobile apps are helping patients access better care.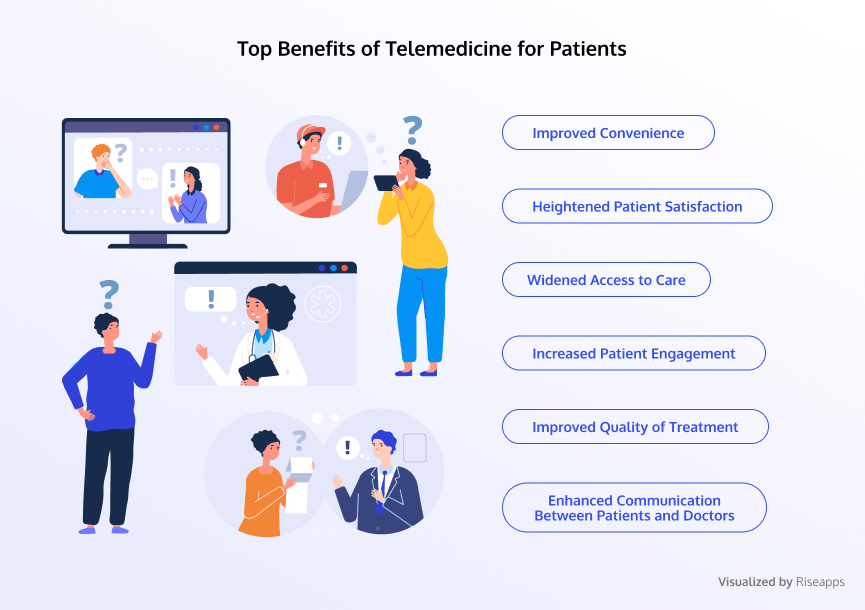 Improved Convenience
A mobile telemedicine app allows patients to access medical care from the comfort of their homes.
With telemedicine, patients no longer have to take time off work or arrange transportation to visit a doctor's office. 
Instead, they can log into their telemedicine app and connect with a healthcare provider in minutes. 
Additionally, telemedicine software allows patients to access medical advice and treatment anytime, day or night, making it easier for them to manage their health.
Improved Quality of Treatment
Telemedicine applications have the potential to enhance the quality of care for patients. Offering medical advice and treatment remotely, this type of telehealth app can ensure that patients receive optimal care in the comfort of their homes.
Increased Patient Engagement
Patient involvement increases because they can access their medical records and health-related information.
Granted access to their medical records means that patients are more enlightened about their health and can make informed decisions concerning their treatment. 
Moreover, these applications can encourage people to participate in their own healthcare by providing them access to resources and tools.
Widened Access to Care
Using telemedicine is a great benefit for those who can't make it to a doctor's office due to distance or mobility issues- they can access medical care from their homes. 
These apps can help eliminate long wait times and quickly get patients the necessary care. That's the supposed plus side of them.
Heightened Patient Satisfaction
With telemedicine apps, patients can receive medical services from the cozy comfort of their homes. These apps make medical guidance and attention available at the touch of a button, granting a greater sense of ease and security. 
Not just that, but wait times have become a thing of the past, with more personalized care awaiting each patient – all of which leads to improved patient satisfaction!
Enhanced Communication Between Patients and Doctors
The inclusion of technology gives patients and doctors a chance to connect even better! Telemedicine apps give them the power of direct communication so that all queries and worries are sorted out promptly.
A telehealth app can also give access to medical records and other essential papers that can promote smoother dialogue between patients and medical practitioners.
Rewarding Advantages for Healthcare Providers
Implementing Telecare into hospital management is essential for doctors and medical professionals – let's explain why.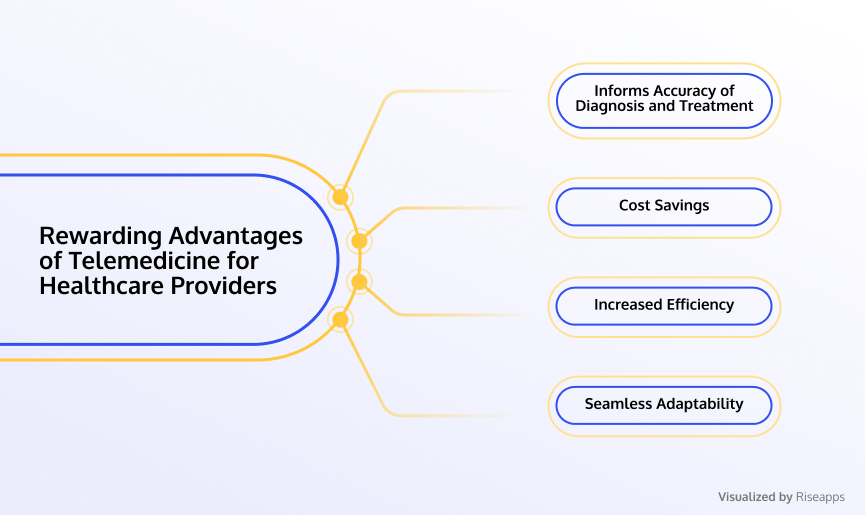 Informs Accuracy of Diagnosis and Treatment 
Medical errors are reduced by providing healthcare organizations with up-to-date medical information and resources. This can help ensure that patients receive the highest quality of care possible.
Cost Savings 
A telehealth app can help reduce rent, utilities, and staffing costs by eliminating the need for physical office space.
Telemedicine software can help reduce costs associated with travel, as healthcare providers no longer need to visit patients to provide care physically.
This can result in significant cost savings for both doctors and patients.
Increased Efficiency
Healthcare organizations increase their work efficiency. Since a telehealth app allows providers to conduct remote consultations with patients, it can reduce the time spent on administrative tasks such as scheduling appointments and traveling to and from clinics or hospitals.
Seamless Adaptability
Telemedicine apps provide healthcare providers with various tools to improve patient care. For example, they can facilitate remote consultations with patients, allowing providers to diagnose and treat patients without requiring them to travel to a clinic or hospital.
Potential Challenges to Consider Before Developing A TeleHealth App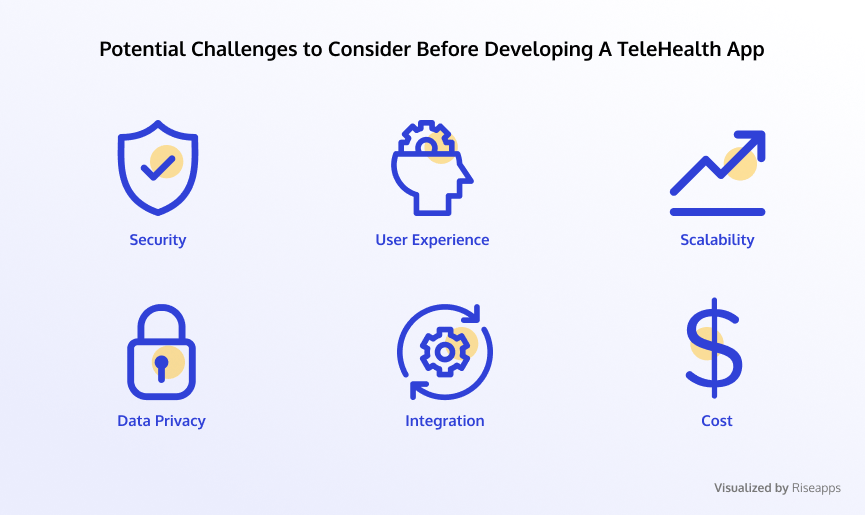 Creating a telemedicine application involves a complex and meticulous process that requires extensive forethought.
It is essential to consider the potential difficulties associated with developing such an app, as they may significantly affect the project's outcome. 
Here are six major hurdles of establishing a telemedicine app: security, user experience, scalability, data privacy, integration, and cost.
Security
Security is one of the most important considerations when developing a telemedicine app. The app must be designed with security to handle sensitive patient data.
The app must be built with strong encryption protocols and authentication measures. It must be regularly tested for vulnerabilities and patched as needed. 
User Experience
The user experience of a telemedicine app is also very important. The app should be designed with a focus on ease of use, accommodating both patients and healthcare professionals. Intuitive navigation and features should be incorporated to ensure usability by all users, regardless of technical skill level.
Scalability
When designing a telemedicine app, scalability is a crucial factor to consider. The application must have the capacity to manage extensive health data and user traffic since numerous people will use it.
Therefore, the app should be created with scalability in mind, featuring elements that facilitate it to quickly and easily scale up or down based on the number of users.
Data Privacy
Data privacy is a key factor to consider. The app must be built with data privacy as a priority, as it will deal with sensitive patient information.
Consequently, robust encryption protocols and authentication procedures should be implemented to safeguard patient data.
Furthermore, the app must comply with all applicable data privacy rules and regulations.
Integration
It is important to ensure that your telemedicine app is constructed to seamlessly integrate with existing healthcare systems, databases, and other third-party services. This will allow for greater interoperability between existing systems and services.
Cost
The cost of developing such an app can vary greatly depending on the project's complexity. Considering the cost of telehealth app development is important, as it can significantly impact the project's success.
Feeling stuck in mobile health app development? Check out our blog for tips on conquering those pesky challenges!
Common Pitfalls You Should Avoid While Building an mHealth App
Read Now
Must-Have Telemedicine App Features to Elevate Patient Care 
For successful telemedicine app development, you must include these essential features: secure communication, remote monitoring, and patient education.
To further understand the importance of these features, let us delve into the specifics.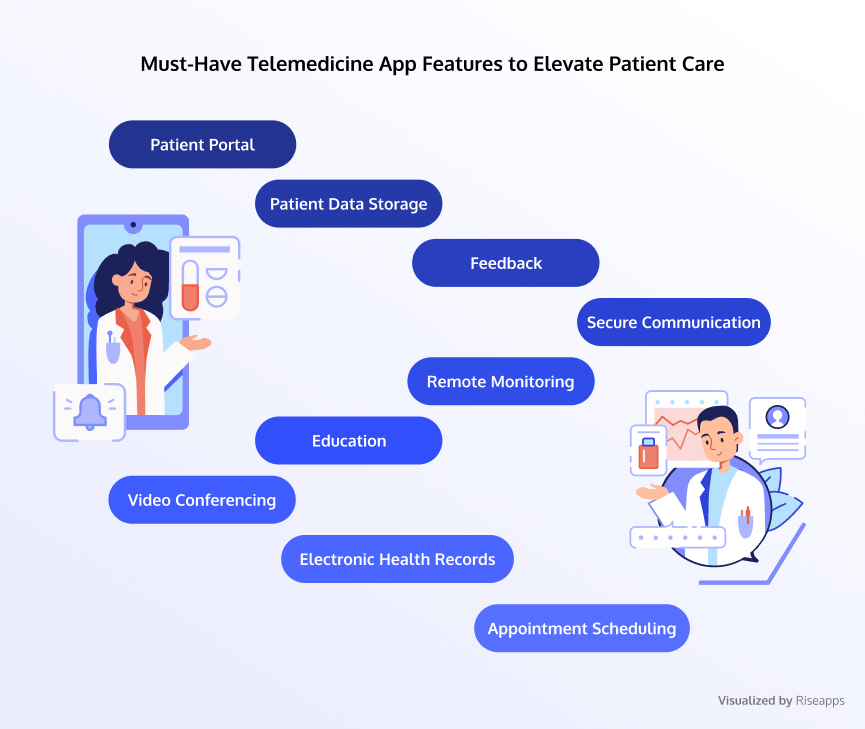 Patient Portal
The patient portal allows patients to access their medical records, view test results, and communicate with their healthcare providers securely and privately.
The patient portal should be secure and encrypted to ensure that all patient data is kept private and secure. It should be easy to use and have a user-friendly interface.
Patient Data Storage
Another key feature of a telemedicine app is patient data storage. This feature lets a medical specialist securely store patient information, such as medical history, medications, allergies, and lab results.
The physician can easily access the medical history during a telemedicine appointment. 
Feedback
This feature allows patients to provide feedback about their experience with the telemedicine app and their healthcare practitioner.
The feedback system should be user-friendly and enable patients to swiftly and conveniently provide feedback on their experience.
Secure Communication
Secure communication is an integral element of telemedicine apps. This key feature allows patients to securely and confidentially interact with their healthcare providers. 
Secure communication guarantees that all patient information is confidential and that only approved persons can access it.
It also guards against any unauthorized intrusion into patient data – particularly critical when dealing with sensitive medical information.
Remote Monitoring
This capability allows doctors to observe a patient's health without them having to visit physically. It can be used to keep track of vital signs like heart rate and blood pressure, as well as other indicators like sleep habits and activity levels.
This could be especially helpful for people with chronic ailments or those who need to be closely supervised.
Education
Patient education enables healthcare givers to equip patients with pertinent information about their wellness and how to manage it.
This could involve data related to diet, exercise, medication, and other lifestyle modifications that could lead to improved health. 
Furthermore, patient education can give patients insight into common medical issues and how to control them. By receiving this information, patients may become more knowledgeable about their health and make wise choices regarding their treatment.
Video Conferencing
This functionality enables patients to establish a secure video link with their healthcare practitioners, allowing real-time interaction between them and their physicians. 
This is especially beneficial for those unable to attend their doctor's office in person.
The video conferencing feature allows healthcare providers to evaluate a patient's state and give treatment advice without being physically present.
Appointment Scheduling
Through this feature, patients can conveniently arrange appointments with their caregivers. This is particularly advantageous for those with difficulty in departing from their homes or who reside in remote locations.
Appointment scheduling can curtail waiting times and boost patient contentment.
Electronic Health Records
A telehealth app offers the vital capability of keeping and retrieving electronic health records (EHRs). EHRs are digital recordings of a patient's medical background, which both doctors and patients can view. 
This perk promotes better interaction between the two, in addition to granting straightforward access to critical medical data.
Moreover, health records can monitor a patient's growth over time, making it possible for healthcare professionals to evaluate their condition more accurately.
To gain insight into how to create an electronic health record, refer to our blog post, which outlines the necessary steps.
Here Is How You Can Build an EMR & EHR System
Read Now
Telemedicine App Development: 7 Steps to Delivery and Launch
There are six essential steps to get the most out of a telemedicine app: researching, designing, developing, testing, deploying, and maintaining.
Taking these steps will ensure a telemedicine app is both effective and efficient.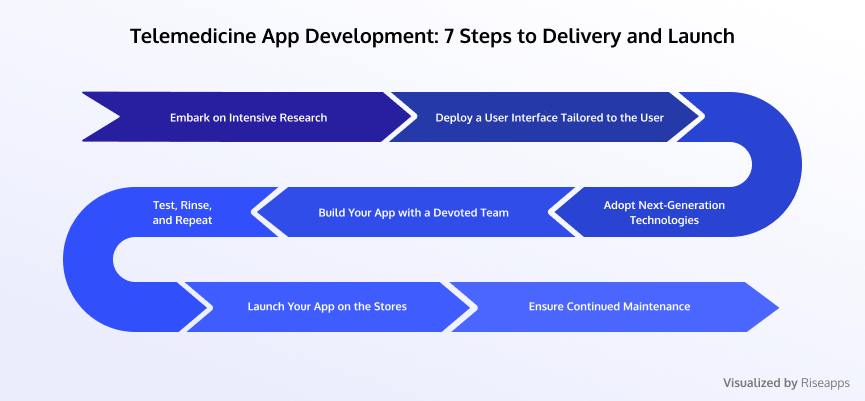 Embark on Intensive Research
Gathering information on the existing telemedicine app market is the first step in creating a successful app. 
Researching the competition, identifying the needs of your target audience, and discovering potential features are all essential activities that will help you create an app that stands out from the competition. 
Knowing what features other telehealth apps offer and understanding the needs of your users will ensure your telemedicine app is tailored to their specific needs.
Deploy a User Interface Tailored to the User
UX/UI design is the next phase of your telemedicine app development journey. You'll create wireframes, mockups, and prototypes in the design process.
This guarantees a user-friendly experience, and crafting a layout that is easy to understand and interact with is key. 
Creating an aesthetically pleasing design is also important to further boost the app's attractiveness.
Adopt Next-Generation Technologies 
This section will look at the tech stack for developing a telemedicine app. This includes the programming language, frameworks, databases, and other tools required for creating this app.
Programming Language
When developing a telemedicine app, the programming language is one of the most important components of the tech stack.
The most popular programming language for developing telemedicine apps in JavaScript. JavaScript is a universal language that can be used to create both web and mobile applications. 
It's relatively easy to learn and use, making it an ideal choice for developers. Other programming languages that can be used for developing a telehealth app include Python, Java, and C#.
Frameworks 
In addition to the programming language, frameworks are essential for telemedicine app development. Frameworks provide developers with a set of tools and libraries that can be used to develop a telemedicine app. 
The most popular frameworks for developing telemedicine apps are React Native and Flutter. 
React Native is a JavaScript-based framework that is designed for creating mobile applications. Flutter is a cross-platform framework that can be used to create both web and mobile applications.
Databases
Databases are also an important part of the tech stack for developing a telemedicine app. MongoDB is the go-to database for a telehealth app. It provides great scalability and performance and is simple to use. 
It's a great option for managing and storing large amounts of data. If MongoDB isn't right for you, MySQL, PostgreSQL, and Firebase are also viable alternatives.
Other Tools 
Apart from the programming language, frameworks, and databases, other tools come in handy when developing a telemedicine app. 
Version control systems like Git, task management tools such as Trello, and communication tools, e.g., Slack, are some of those tools.
Moreover, developers may need to use cloud services like Amazon Web Services or Google Cloud Platform for hosting their apps.
Build Your App with a Devoted Team
You can express your coding skills and integrate the necessary APIs and services here. Nonetheless, your software development team's impeccable commitment will greatly influence your project's success. Therefore, ensure that you hire only the best professionals.
During telemedicine app development, ensure your code is clean and efficient. Additionally, it's important to guarantee that APIs and services are properly integrated, so the app performs to its full potential.
Test, Rinse, and Repeat
Testing the app is an important fourth step in developing a telemedicine app. This includes checking for bugs, usability, and performance. To ensure the app runs without a hitch, it must and should satisfy users' expectations.
Time to Get Noticed. Launch Your App on the Stores
Now it's time to submit your telehealth app to the correct app store (Google or Play store) and ensure it meets all the requirements for it to be accepted. 
Double-checking that all prerequisites are fulfilled is essential to get your app approved. Ensure the app is properly set up to guarantee trouble-free performance on all devices.
Ensure Continued Maintenance
Staying on top of your app's success means staying on top of its support needs. Keeping track of usage and user feedback will help you identify improvement areas and potential problems. 
After the telemedicine app development and launch, you must address user feedback to ensure your customers are satisfied. Finally, regular updates are necessary to keep up with the latest features and bug fixes.
Need a reliable healthcare app development team? You can score yourself a trustworthy squad now.
Start Small: Give Us a Pilot Healthcare Project
Get a Quote
Powerful Tactics for Accruing Revenue from TeleHealth Apps
With the proper tactics, telemedicine applications can be monetized to secure a consistent flow of income. Here are techniques to generate revenue from your app, from subscription costs and advertising to in-app buys.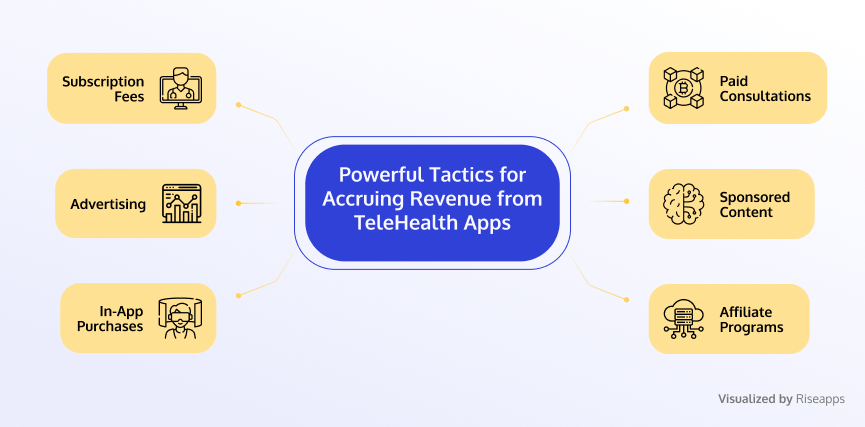 Subscription Fees
One of the most common ways to monetize a telemedicine app is through subscription fees. Patients can pay a monthly or annual fee to access the app's services. 
This can be a great way to generate a steady stream of revenue if the app offers enough value to justify the cost.
To make subscription fees more attractive, you can offer discounts for longer-term plans or bundle additional services with the subscription.
Advertising
Another way to monetize a telemedicine app is through advertising. You can partner with companies related to the medical field and display their ads within the app. 
This is an excellent opportunity to create income without the need to bill patients directly. However, it's important to ensure that the ads are relevant and not intrusive, as this could drive away potential users.
In-App Purchases
In-app purchases can be used to monetize a telemedicine app. You can offer additional services or features that patients can purchase within the app. 
This could include virtual consultations with specialists or access to premium content. 
In-app purchases can generate additional income, provided the services or features offered hold sufficient value for customers to make payments.
Paid Consultations
You can offer patients the option to book one-on-one consultations with doctors or specialists for a fee.
Paid consultations can be just as lucrative as other forms of revenue, but an adequate number of skilled professionals must be available to provide the consultations.
Sponsored Content
Monetization of telemedicine applications can be achieved through sponsored content. 
Establishing partnerships with companies and organizations associated with the medical field enables them to create content for the app, such as articles, videos, and podcasts sponsored by the partner organization.
Affiliate Programs
You can partner with companies that offer products or services related to healthcare and allow them to advertise on your app.
When patients purchase these products or services through your telemedicine platform, you will receive a commission from the partner company. 
How Much Does It Cost to Develop a Telemedicine App: Key Components that Impact Your Final Bill
Developing a telemedicine app requires a significant investment of time and money, and the cost can vary greatly depending on the features and complexity of the app. 
According to Research2Guidance, the general average cost of marketing one is approximately $425k, with 46% being devoted to the telehealth app development process. 
For a better understanding, let us review the factors that influence the cost of telemedicine app development.
Scope of the project: The more features and complexity included in the app, the more expensive it will be to develop. For example, the app includes video conferencing, secure messaging, and appointment scheduling features. In that case, it will require more time and resources to develop than an app with basic features such as symptom tracking and medication reminders. Additionally, if the app is designed to be used by both patients and providers, it will require more development time than an app designed for one group or the other.
The technology used: If the app is developed using open-source technologies such as React Native or Flutter, it will be less expensive than if it is developed using proprietary technologies such as Apple's Swift or Microsoft's Xamarin. Additionally, the app is designed to be compatible with multiple platforms, such as iOS, Android, and the web. In that case, it will require more development time and resources than an app designed for one platform.
The expertise of the development team: The team's experience in developing healthcare apps determines if they'll complete the project more quickly and efficiently than a team with less experience. Suppose a team is familiar with the specific technologies used to develop the app. In that case, they will be able to complete the project more quickly than a team unfamiliar with those technologies. Drawing from our experience, here is a general idea of how long a telemedicine solution with basic features would take.
Security and compliance: The app must be designed to protect patient data and comply with all applicable laws and regulations. This can add additional time and resources to the telehealth app development process, as well as additional costs. Additionally, if the app is intended to be used in multiple countries, it may require additional security measures and compliance requirements.
Maintenance and support: This includes updating the telehealth app to ensure compatibility with new devices and operating systems and providing customer support for users who encounter issues with the app. The telemedicine app development costs are increased due to the additional expenses of maintenance and support.
Telemedicine App Development with Riseapps: $37.5M Funds Raised
Riseapps specializes in creating healthcare applications and telehealth website development. To build a telemedicine platform, our completed projects suggest it may take between 1,000 and 5,000+ hours, with a basic app estimated to cost between $40,000-45,000; additional features may further increase the cost.
Below are examples of telemedicine app development projects that we completed.
ViewMed
ViewMed is a leading provider of in-home medical equipment and post-acute respiratory healthcare services throughout the United States.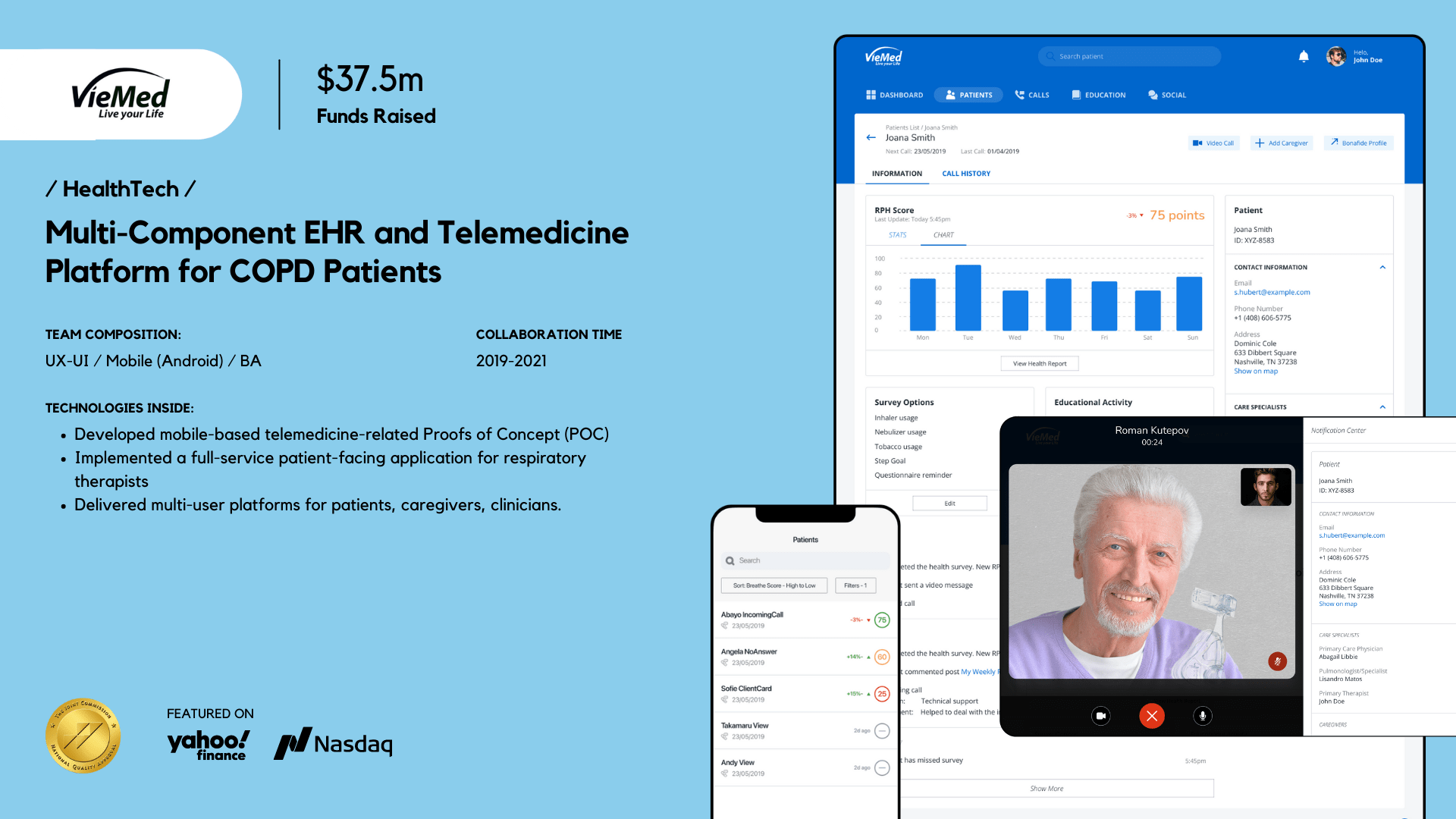 Their offerings emphasize effective in-home treatment, with experienced clinical practitioners providing therapy and counseling to patients in their own homes utilizing the latest technology. ViewMed successfully secured an impressive $37.5 million, gained through the formidable execution of its app development.
Riseapps created powerful mobile-based telemedicine-related Proofs of Concept (POC) and developed an extensive patient-facing application for respiratory therapists. We also provided multi-user platforms for patients, caregivers, and clinicians utilizing Swift and Android with Kotlin.
InteliWound
InteliWound is a groundbreaking value-based wound management software engineered to revolutionize the delivery of wound care while cutting costs. This state-of-the-art program helps clinicians effortlessly complete wound assessments and offers treatment suggestions and a marketplace for supplies.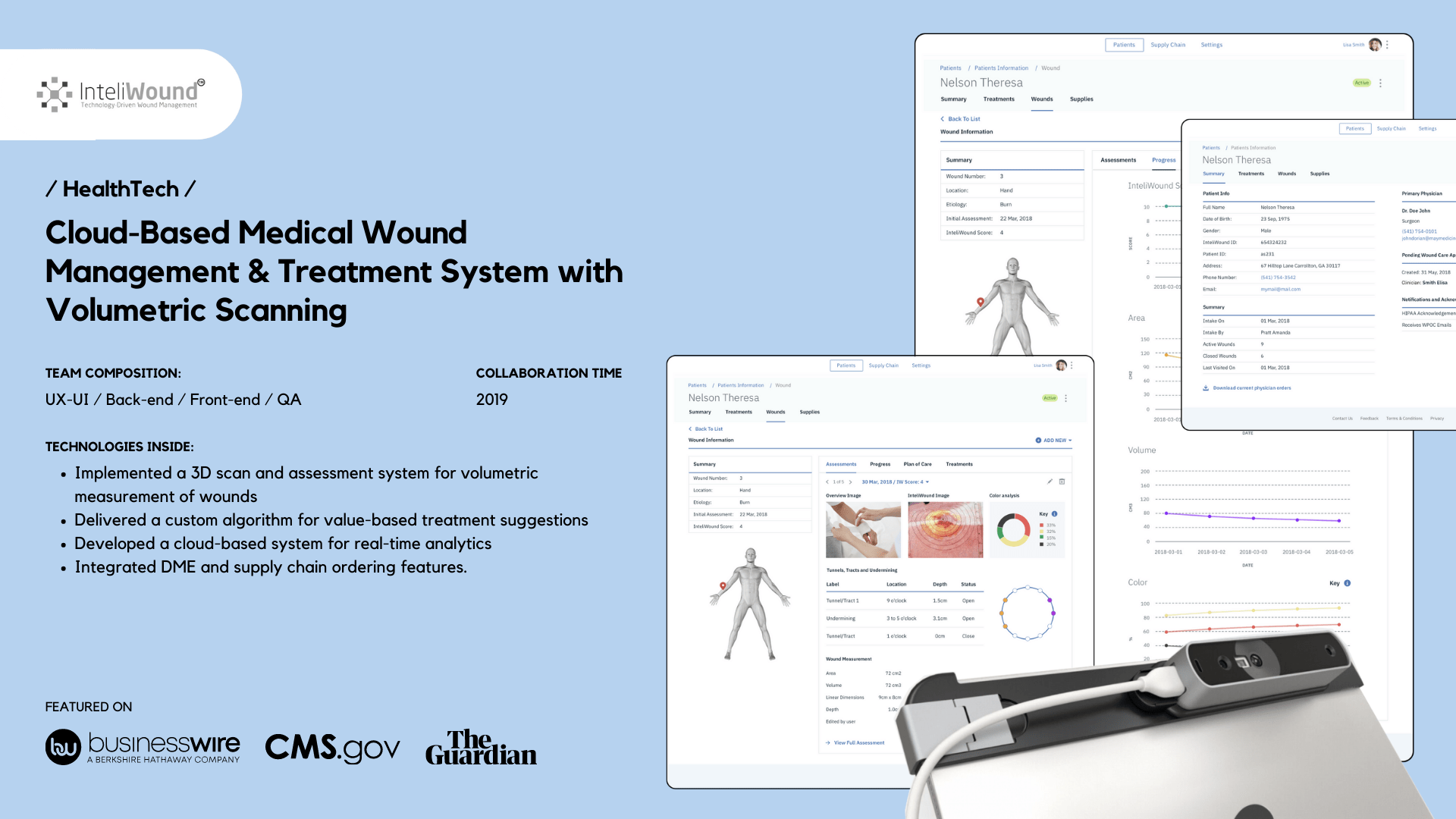 During this telehealth app development, we implemented an innovative 3D scan and assessment system to measure wounds accurately. We also delivered a custom-made algorithm for providing value-based treatment suggestions. Moreover, we developed a cloud-based system for real-time analytics and integrated DME and supply chain ordering features.
We're here to assist you with any telemedicine software development needs! If you want to learn more, look at our company page for further insight into our services.
You can even book a call with one of our friendly team members and chat about your application. 
FAQ
---
How much does it cost to develop a telemedicine app?

---

The cost of telemedicine software development can range from $50,000 to $200,000, depending on variables such as the type and complexity of the application, the quality of the team, their technical proficiency, and the location.
---
How do I create a telemedicine app?

---

The process entails creating the user interface, constructing a secure telemedicine platform, interfacing with existing systems, and evaluating, releasing, and sustaining continual support for the application.
---
What are the essential features of a telemedicine app?

---

When developing a telemedicine app, there are several features to consider, such as a patient portal, secure video conferencing capabilities, geolocation services, an appointment scheduling system, and more.