Fast, convenient, and accessible from anywhere. It is how we want to receive services.
Reliable, speedy, and technologically advanced. It is what we expect from our apps.
With these two desires combined, telemedicine is making the breakthrough in the 21st century, bringing healthcare closer to consumers than ever before. Ready to discover tips on how to build a telemedicine app? Keep reading.
2 Major Reasons Why Telemedicine Apps Have Huge Potential
There is no doubt that we are living in a digital society. This digital trend cannot be ignored, and industries that have entered the party are already receiving their revenues. Going digital was only a matter of time for global healthcare.
Digital technologies, in general, enable better engagement, improve access to healthcare providers, and help build more personal two-way relationships in the long term. Telehealth, in particular, introduces a "care anywhere" model, enabling faster, more convenient healthcare servicing and helping deliver medical help to most secluded corners of the world. 
Here is why telemedicine is the future of healthcare:
#1. It helps patients save precious time and receive high-level medical services in the comfort of their homes.
A 20-minute consultation will never be this quick in traditional healthcare.
You will spend extra time getting to a doctor's office and back, as well as waiting in a line. So, if you have a full-time job, it may be challenging to find time to visit a doctor.
#2. It helps doctors and medical centers increase revenue streams and decrease costs.
Telemedicine has the power to attract new patients by making healthcare services available everywhere. It also acts as an incentive for current patients to make return visits. As teletherapy is more convenient yet as reliable and professional as visiting a clinic, the majority of patients will be eager to get medical consultations more often.
On top of that, medical providers can build new online healthcare models without brick and mortar offices, resulting in reduced costs.
Telemedicine Apps Market Size
The telemedicine market is getting momentum. It is forecasted to exceed $30.5 billion by 2025, rising from $38.3 billion in 2018, as stated by Global Market Insights. Such an increase, by almost 19%, is supported by the same growth in the web/mobile telemedicine services delivery model. 
The highest market growth is expected in the USA, reaching $64.1 billion by 2025, making the country the largest telemedicine market. Government policies, coupled with the advanced tech infrastructure, will support this trend.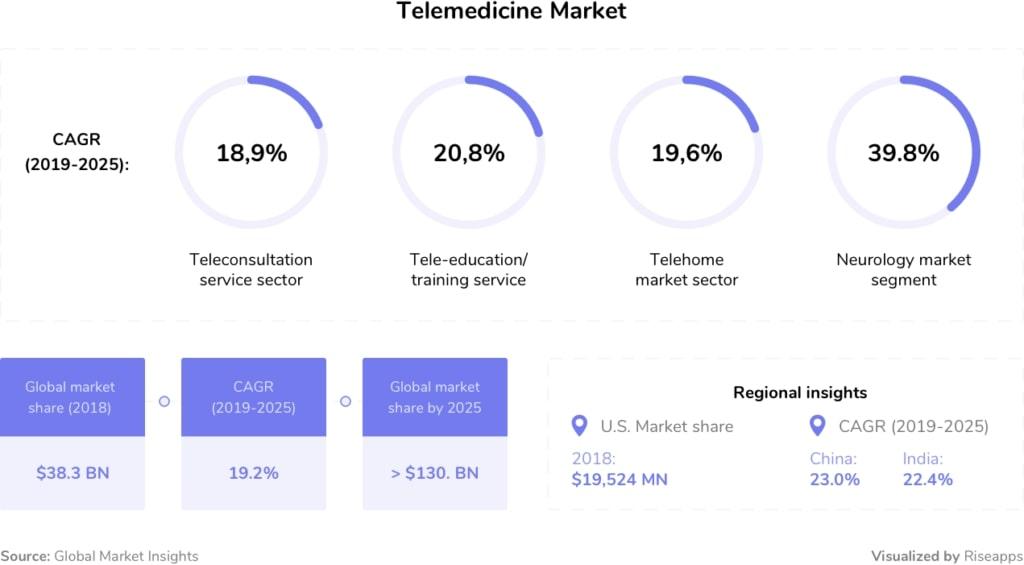 Key market players, both enterprises and startups, have already proven their interest in the telemedicine segment by making investments and acquisitions.
For instance, the US virtual care company Teladoc Health is acquiring the French provider of medical web/mobile consultations MédecinDirect to boost its international presence. French healthcare software company became a unicorn, after entering the telehealth market and managing to attract an additional €150 million of investments. 
From the patients' perspective, 65% are willing to see their PCP over video. These patients in their majority fall into two groups: 18 to 34-year-olds and parents of children under 18.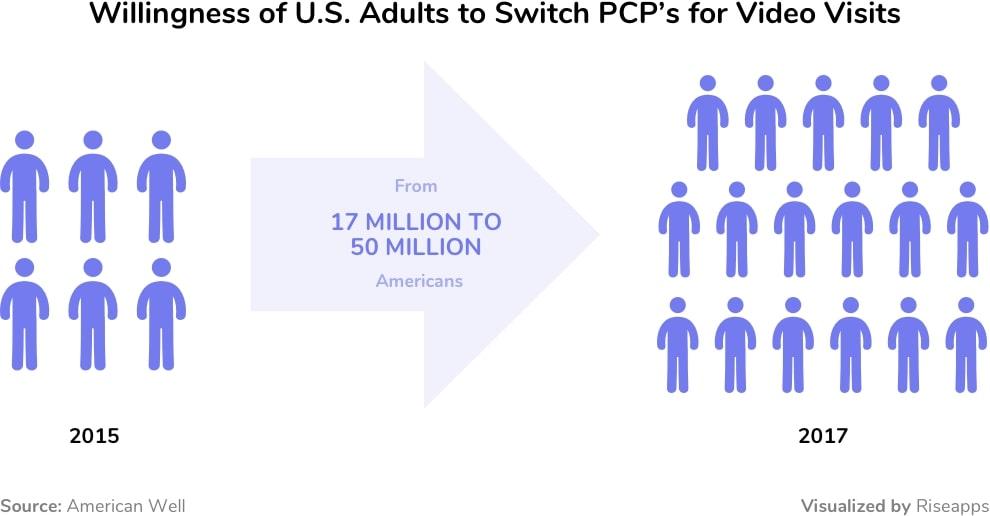 The telehealth market is growing, as both patients and medical providers get interested. With the growth in the market, comes the increase in demand for building infrastructure to support the industry. This demand is making web and mobile telemedicine apps the best way to deliver video consultations.
Some of the most famous examples of telemedicine apps that are already in the market: AMC Health, swyMed, Teladoc, Mend, eVisit, MDLIVE, Lemonaid, LiveHealth, Doctor On Demand, etc.
Telemedicine Technology – Benefits for Everyone
The use of telemedicine is set to increase, and this is driven by convenience and lower costs. However, the benefits of teledoctor apps are not limited only to these two factors. 
What else is telemedicine ready to offer?
Benefits for Patients
Telemedicine is basically visiting a doctor in the comfort of your house in your pajamas. You can access a medical professional anywhere, anytime. Moreover, it becomes even more vital when talking about parents with small kids or older adults.
As mentioned at the very beginning, a 20-minute visit to a doctor will never take 20 minutes. According to the US Survey of Physician Practices, the average time for the new patients to see a doctor is 18,5 days, and, in some areas, waiting time can reach 72 days.
When patients need to get medical consultation, it is urgent for them, and they want to get it as fast as possible. More than 18 days doesn't seem fast at all. Moreover, patients' condition can dramatically change while they are waiting for a visit.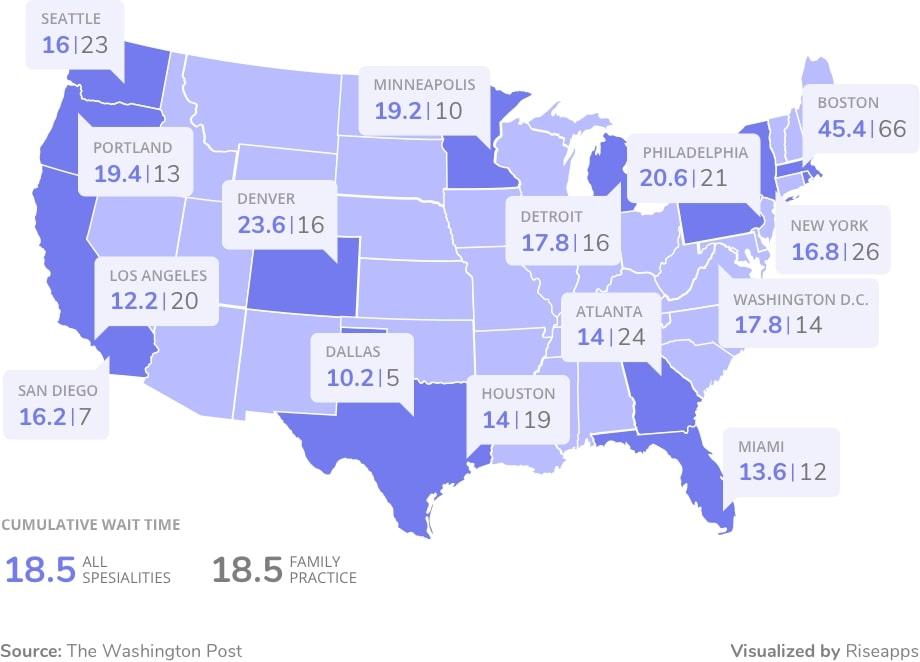 Telemedicine, in contrast, allows reducing this time significantly. Patients are open to finding the closest time to plan a 20-minute call. What's more important, it will take only those 20 minutes, as no commuting to a clinic is required.
According to research, people are often opting for telemedicine not to use emergency services in the hospital, as it is by far more expensive than a scheduled visit. As research states, net savings range from $19 to $121 per visit compared with other care providers, assuming that the average cost per televisit at the time was about $70.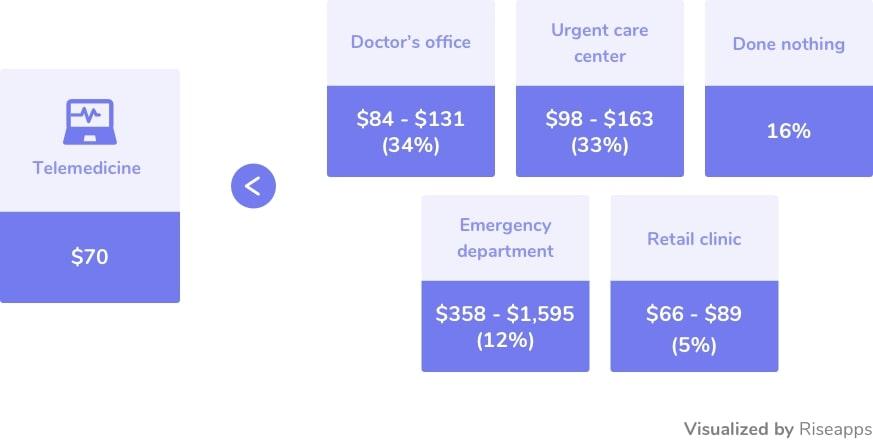 It gives access to more healthcare practitioners
Telehealth provides more opportunities for a patient to choose the best doctors, breaking states, and country limits. A patient from Kentucky can quickly get a consultation from leading doctors in New York. The only things needed are an Internet connection and a mobile device.
It makes your health better
If the health problem is not that serious (as we assume), we ignore visiting doctors in favor of work, relaxation, spending time with family and friends, etc. The majority of patients do this. As reported in the American Well Consumer survey, 67% of Americans delay visiting healthcare providers.
Thanks to telemedicine, being healthier is easier, more affordable, and time-efficient.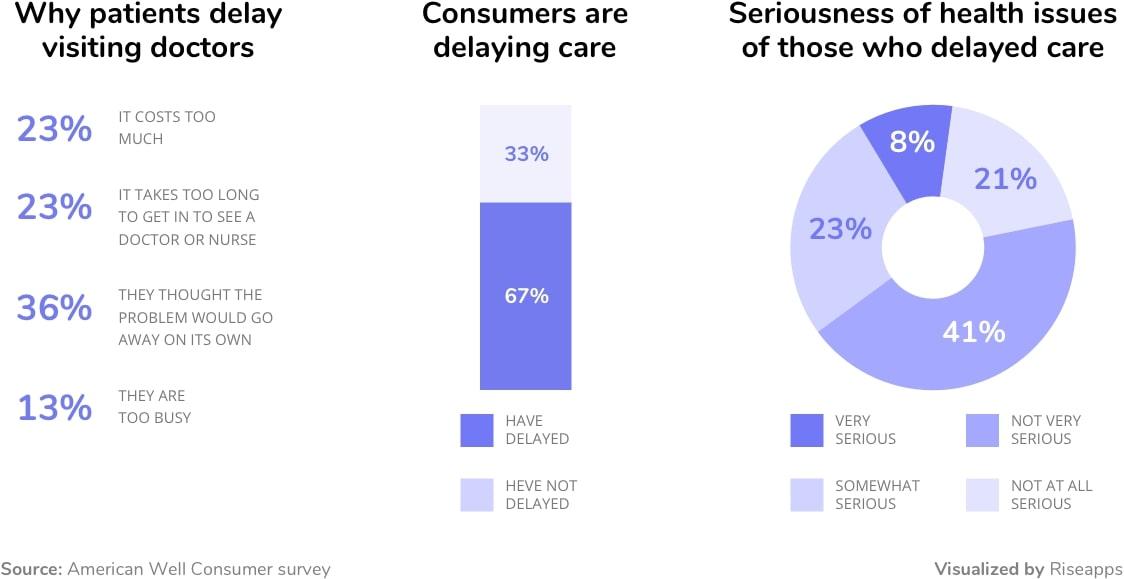 Benefits for Doctors and Medical Providers
Entering online practices, doctors can open time-slots when they are available, improving work-life balance and decreasing stress.  
It improves clinical workflow
Clinical workflow efficiency can be increased. Telehealth serves as the conduit for quicker prioritization of each case and improves communication by capturing, storing, and using patient data for better decision-making.
It adds a revenue stream and increases patients' engagement
Physicians can expand their practice to help more people in the most secluded corners of the world. By being convenient, telemedicine may also incentivize patients to seek medical help more often.
Moreover, it can cut down no-shows, resulting in better time management. Almost 40% of patients at the University of Pittsburgh Medical Center stated that if they did not have the opportunity to have an online visit, they would have forgone care at all. 
Thus, telemedicine can increase profits by up to 40%.
The University of Pittsburgh Medical Center states that telehealth is cost-benefit and helps to save $86.64 every time a patient receives primary care or urgent care online.
Top 3 Successful Telehealth Apps
Doctor on Demand
Doctor On Demand provides US residents with an ability to get remote care, from telenursing to telepsychiatry. The service doesn't require users to have insurance and offers various discounts to those who are eligible.
A user can chat and audio or video call a doctor at any given time. The app has the option to make an immediate visit or schedule an appointment for later. Only certified medical specialists can connect with patients through the app.
Doctors can see their clients' records and other health-related information right in the application. Doctor On Demand integrates with the internal health app on users' devices to make collecting this data easier.
Teladoc
Teladoc is another American telemedicine application. It lets users access doctors by using the video app itself, going to its website, or making a toll-free call. Specialists are available for a consultation 24/7/365.
Users can choose between various interaction tools, like text or calls. Teladoc has no time limits when it comes to televisits, too, so patients can speak to medical professionals for as long as they want to.
The app includes a prescription feature, meaning a doctor can issue a prescription to their patient right in the application, and it will be sent to a pharmacy. Internal health app integration is also a function.
Maple
Maple is a Canadian example of a telehealth app. Patients can remotely visit licensed doctors no matter where they are. The service provides healthcare services at a reasonable price, and some users are covered by their benefits plan.
What's great about the application is the fact that not only citizens of Canada can use it, but visitors too. A wide range of conditions can be treated, and medical professionals using the app can provide emergency services.
Connecting to a doctor is fast and secure through Maple. Additionally, patients can receive digital prescriptions or sick notes through the app.
How Does a Telemedicine App Work?
All telemedicine apps are different; they vary in the target audience, aims, medical segments, and functions. Still, all of them have the same idea: to connect a patient with a doctor and to secure medical information.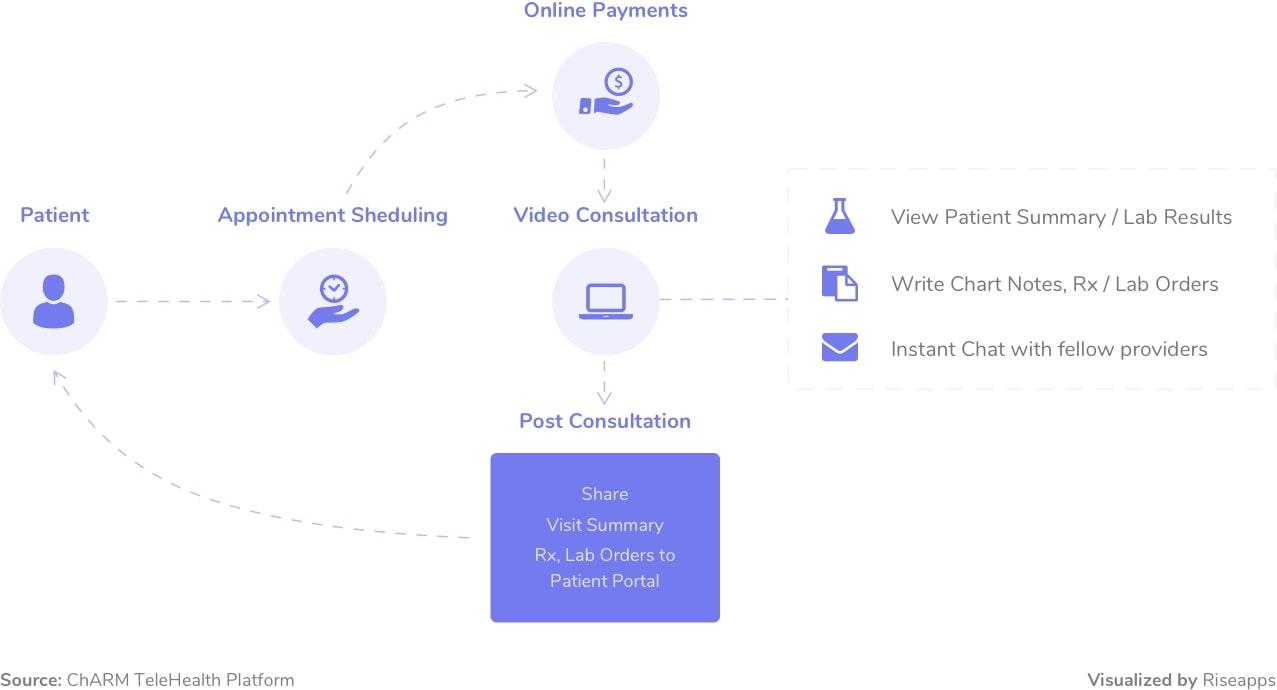 This is a typical flow for a telemedicine app. It's simple on the surface, but building a telehealth app may not be as easy as it looks. A telemedicine app deals with the patient's sensitive information that must be protected. Such information is revealed during video calls, and during the consultation, a patient may send it to a doctor as a file. Thus, much attention must be paid to storage, chat, and video calls security, making sure there are no information leaks.
How Do Telehealth Apps Make Money?
How to develop a telemedicine app is one question. Creators should think about how to monetize it, too. These are the most common ways to make a telemedicine app profitable:
This technique is popular as it lets users have a consultation just once for a fixed price. Yet, utilizing a pay-per-visit approach still means the application will make a profit.
Another common monetization strategy relies on subscriptions. Both patients and doctors can be subscribers, and there may be options to pay a monthly/yearly fee.
When your company is successful enough, you can expand your reach by offering your franchise in other regions/countries. However, this method won't help you earn right from the launch of your app.
Don't forget advertising. Providing ad space to relevant companies is a good monetization technique choice, too. Just don't go overboard on advertisements, as they may annoy users.
Main Features of Telemedicine Apps
Telemedicine apps features vary, that's true. Still, there is a list of features patients and doctors would expect from the app.
These are the most basic features required to create a telemedicine app. We suggest you spend time discovering your app features, as it will have a tremendous impact on your development time.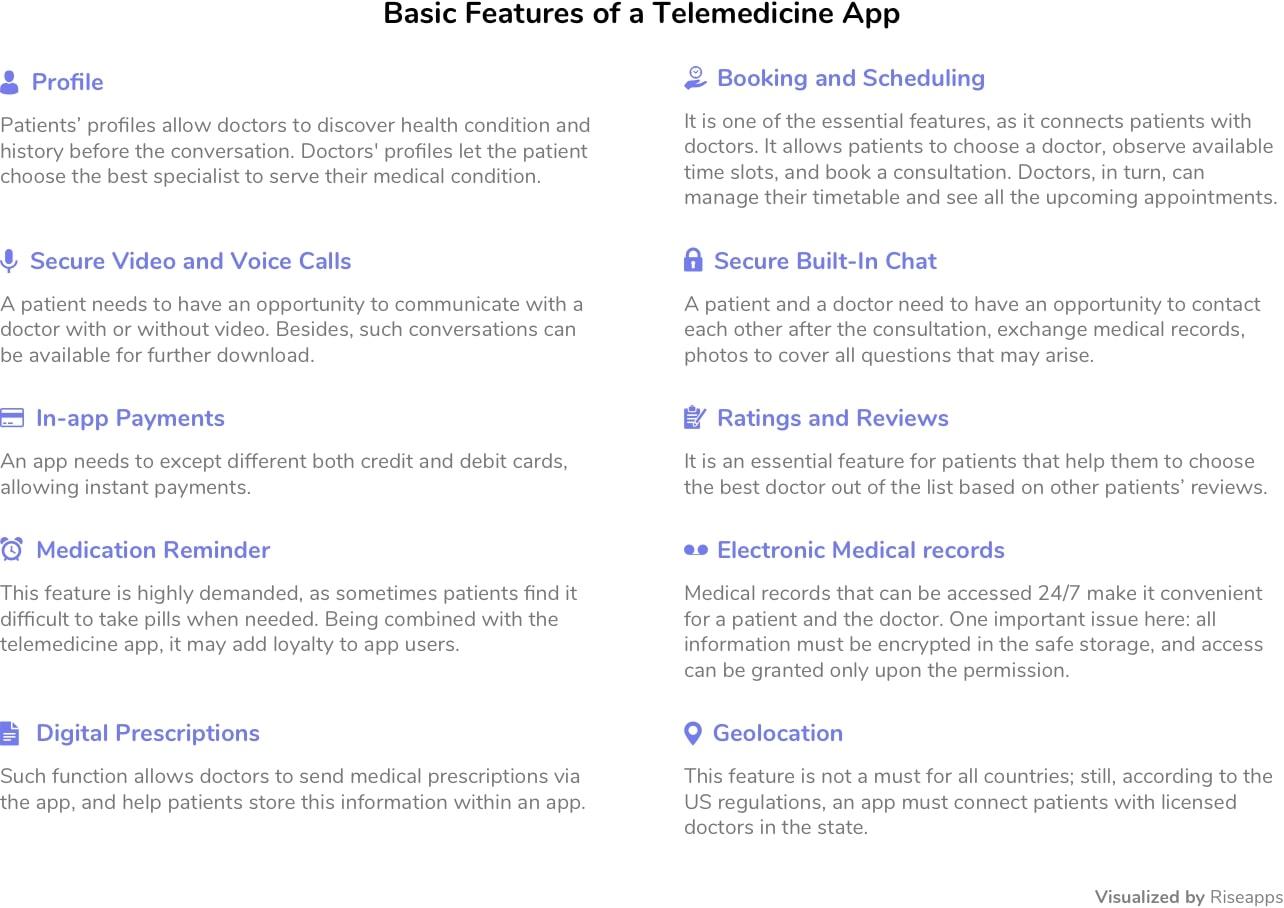 How to Develop a Telemedicine App
The process of telehealth app development depends on two parts: business and development itself. The more thorough the business part is, the better the final result will be. Follow the stages below.
Come up with an idea
Make market analysis
Find developers
Plan your budget
Build the first version & test your app
Adjust changes
Launch your app
Get profit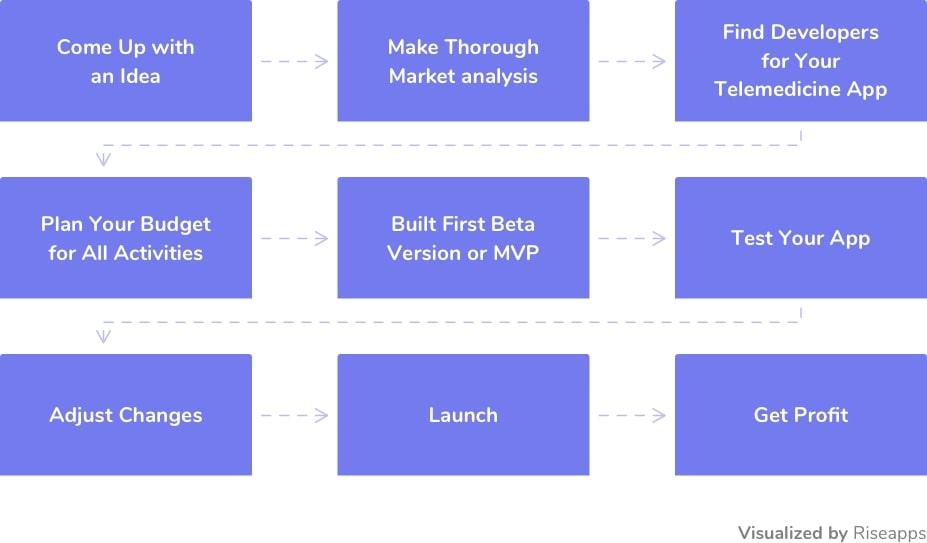 Step 1. Come up with an idea
To begin the development of telehealth mobile app, you should have a clear understanding of what your future application will look like. As you have the initial idea, it's time for market research.
Step 2. Make market analysis
When you know what the future app will be like, it's time for market analysis. It will help you properly define your target audience, location, preferred platform, etc.
Step 3. Find developers
Once you define the concept of your app and analyze the market in terms of competitors and regulations, find a reliable team of developers to estimate the development budget. 
Step 4. Plan your budget
Now you can plan your general budget for all activities, including both development and marketing. As soon as the budgets are agreed upon, you can start your doctor on demand app development.
Step 5. Build the first version & test your app
It is beneficial to outsource the development team experienced in building telemedicine apps. It will save you time, energy, and nerves. Wondering how to build a telemedicine app, and what stages development includes? Here we go.
The telemedicine app development itself typically includes the following stages.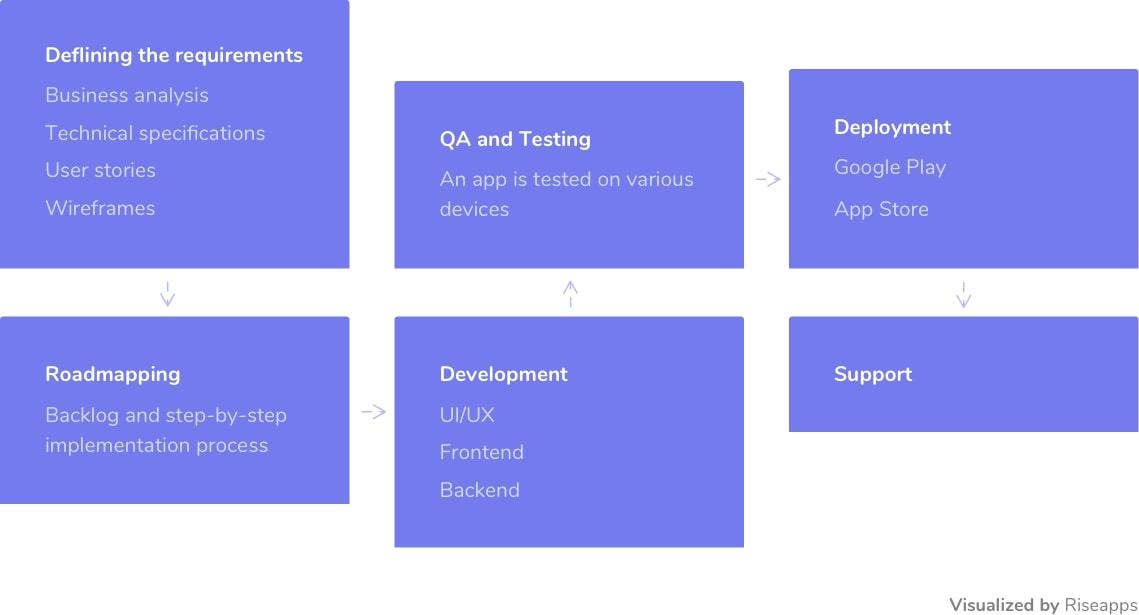 A professional development team will assist you in all stages of creating a telehealth platform. Moreover, it can help you define the best technical solutions to meet all requirements and make your app compliant with HIPAA regulations.
Step 6. Adjust changes
The main pitfalls may arise in two areas:
1. UI/UX – it's highly essential to match the design on your app with the target audience, as some people you want to reach may experience severe health conditions.
Do you look for experienced usability specialists? Consider our UI/UX design services.
2. Backend – you need to make sure the app is secure, sensitive information is encrypted, and access is granted to authorized users only. This is one of the important things to become HIPAA compliant.
Step 7. Launch
Make yourself ready for a long road to go. According to recent research, on average, it may take from 6 to 15 months to build a telemedicine application, and it may take up to 2 years to market it.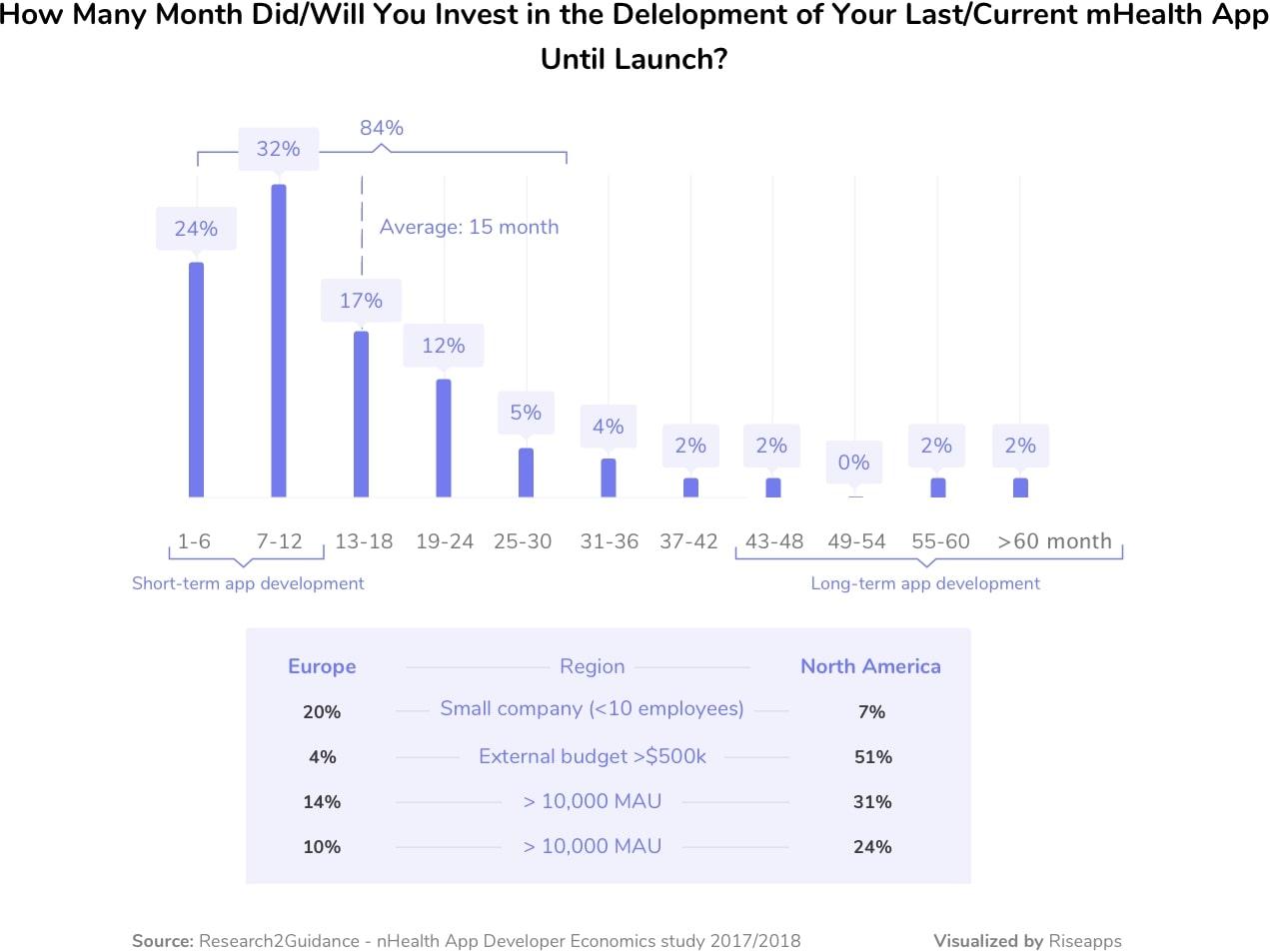 Step 8. Get profit
If you've followed all the steps correctly, the first profits from your app will follow relatively soon. Depending on how you budgeted the development, you may or may not need to cover those costs first.
How Much Does It Cost to Develop a Telemedicine App?
Costs vary significantly. Research2Guidance states that the total average cost to market a healthcare app is about $425k, 46% of which is usually allocated for development.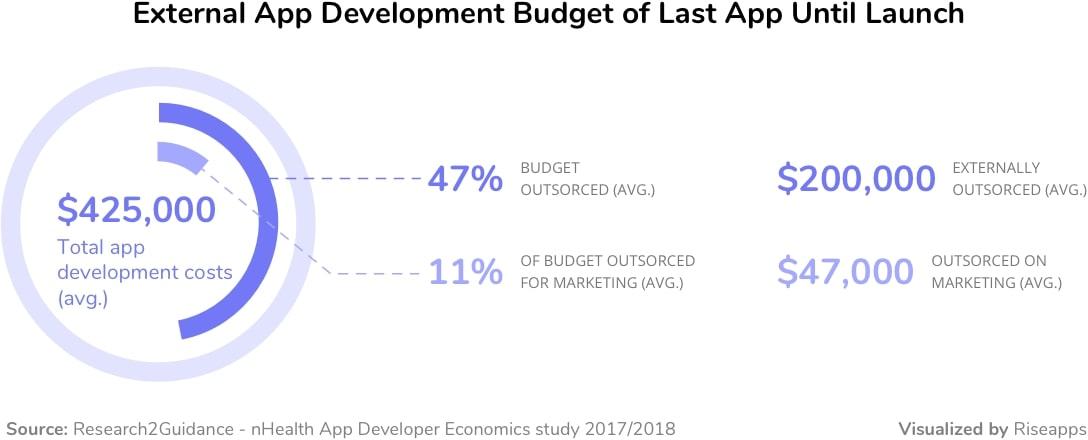 Prices of telemedicine app development depend a lot on the region where you are outsourcing telemedicine app developers, per-hour rates, and the scale of your app. Generally speaking, you need a team of developers with experience in developing healthcare apps. Hiring such developers will reduce development time and help you omit possible pitfalls with backend and UI/UX.
Here is a rough estimation of a telemedicine solution with basic functionality, according to our experience.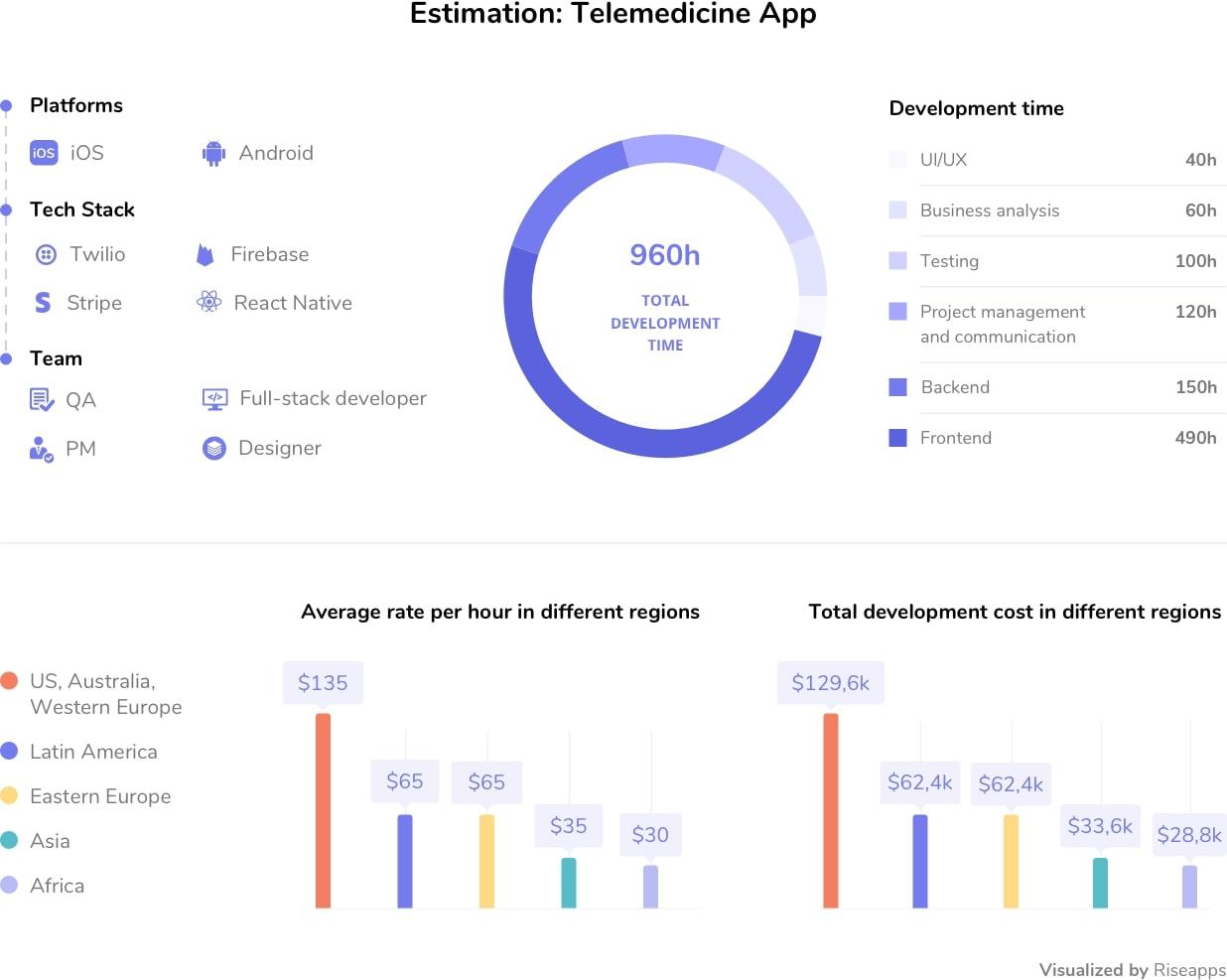 Read Also: Outsourcing to Eastern Europe. How to Do it Right?
At Riseapps, we specialize in creating healthcare applications and telehealth website development. Based on our completed projects, it could take anywhere from a thousand to 5,000+ hours to build a telemedicine platform, and a basic app of this kind will cost you around $40,000-45,000. Remember that this number increases as specific features are added to the list.
Our Experience in Telemedicine App Development
Kego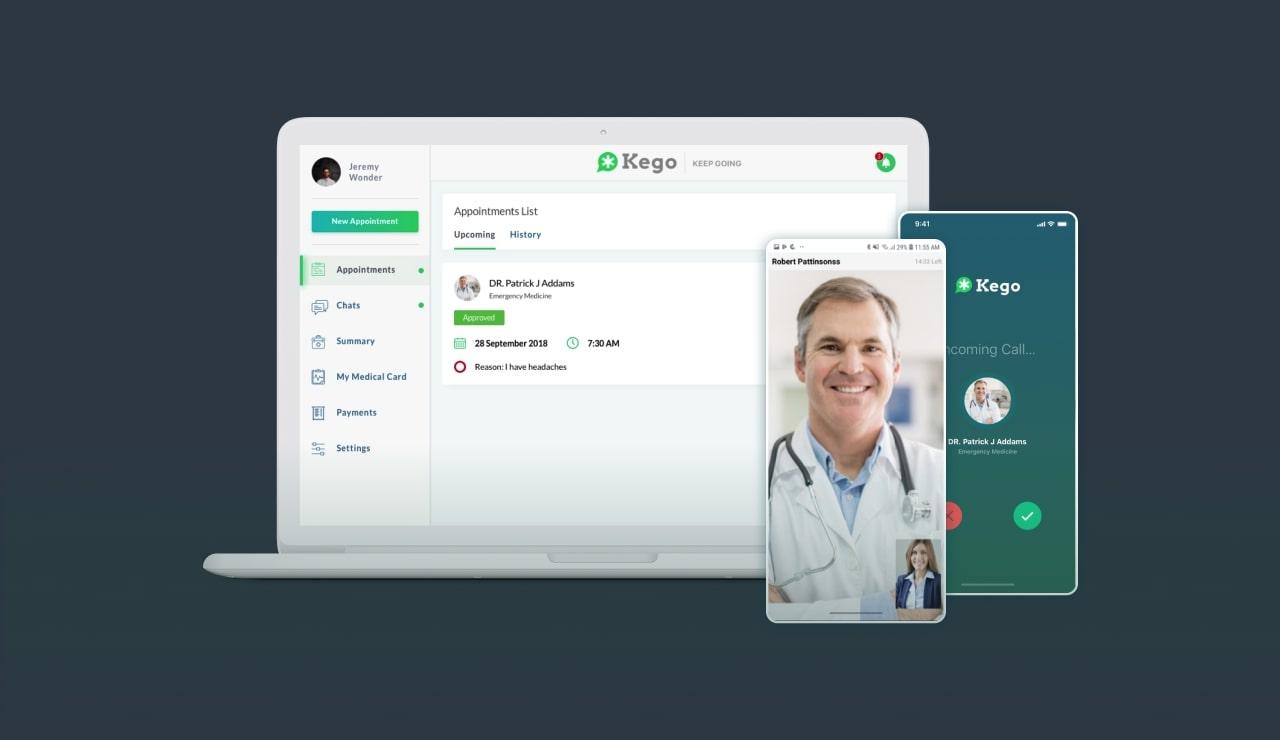 Kego is a telemedicine app developed by the Riseapps team. This is an example of not only an application but telemedicine website development, too. We built separate apps for patients and doctors, as well as a web admin panel to maximize functionality.
Both versions include video call and chat features. The application is HIPAA compliant, so additional data protection is included. With Kego, patients have the opportunity to make online doctor appointments, whether they have health insurance or not.
Read Also: How to Build a Doctor Appointment App
Tech stack:
Backend: Python, Django, Django Rest deployed in the cloud (AWS)
Frontend (web): React.js, Redux, WebRTC
iOS: Swift
Android: Kotlin
BabyWise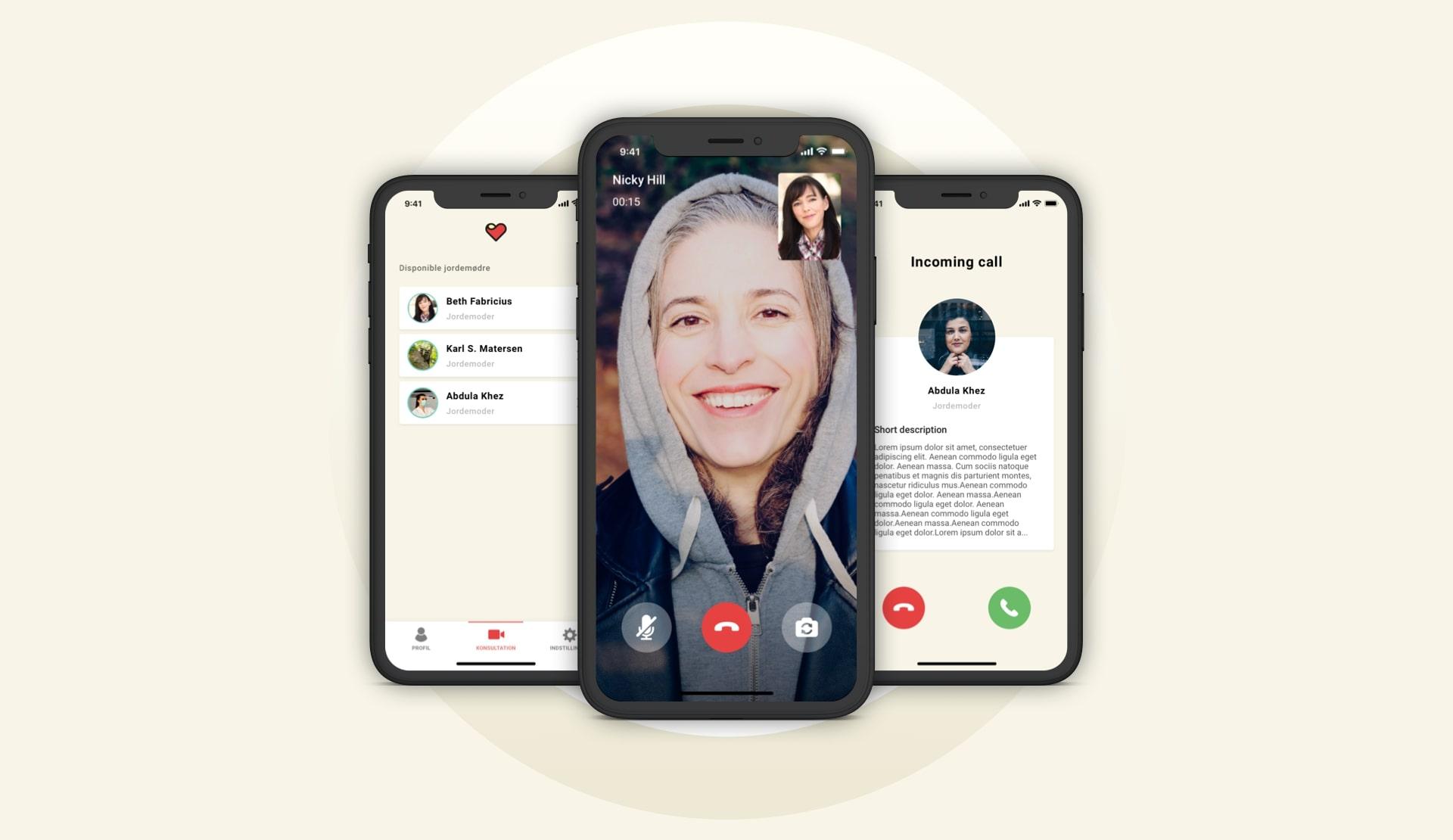 BabyWise is a telemedicine app for pregnant women. They can quickly book an online visit to a midwife and get a paid consultation via text or audio/video call.
The application is cross-platform, so it's available for both Android and iOS. Secure data storage and in-app payment functions are included, too.
Tech stack:
Backend: Firebase Cloud Functions
Android/iOS: React Native
To Conclude
The telemedicine market is growing and has vast potential as it is convenient for patients and brings many opportunities to healthcare providers.
"If we are not investing in this area and providing great care and service to our patients through it, we are not going to be prepared for the way medicine is delivered in the future,"
– Daniel Barchi, MS, chief information officer at New York-Presbyterian Hospital
We are ready to help you with your telemedicine software development! There's a telemedicine software development company page with more info about what we can do for you. Feel free to check it out or book a call with our managers, and let's discuss your app!