Black Doctor 24/7
$100M Revenue Goal Achieved for an AI Telemedicine App
Client:

Dr. Bill J. Releford, The Releford Foot & Ankle Institute

Industry:

Healthcare

Platform:

iOS, Android and Web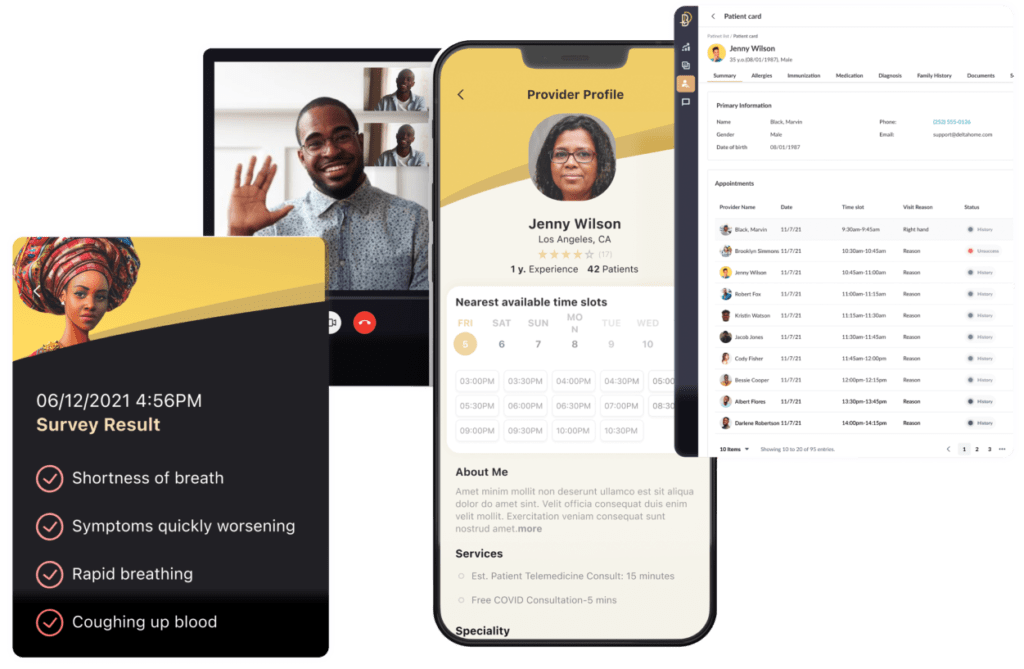 Client's Background
Black Doctor 24/7 is a virtual assistant-powered HIPAA-compliant telemedicine platform geared towards streamlining the patient-doctor relationship through telehealth technologies and amputation-preventing care.
Designed to fight health disparities, Black Doctor's mission was to provide a viable alternative to the present healthcare system. With manifold cutting-edge integrations, the platform now cuts down human bias and prejudice along with approaching cardiovascular disease treatment.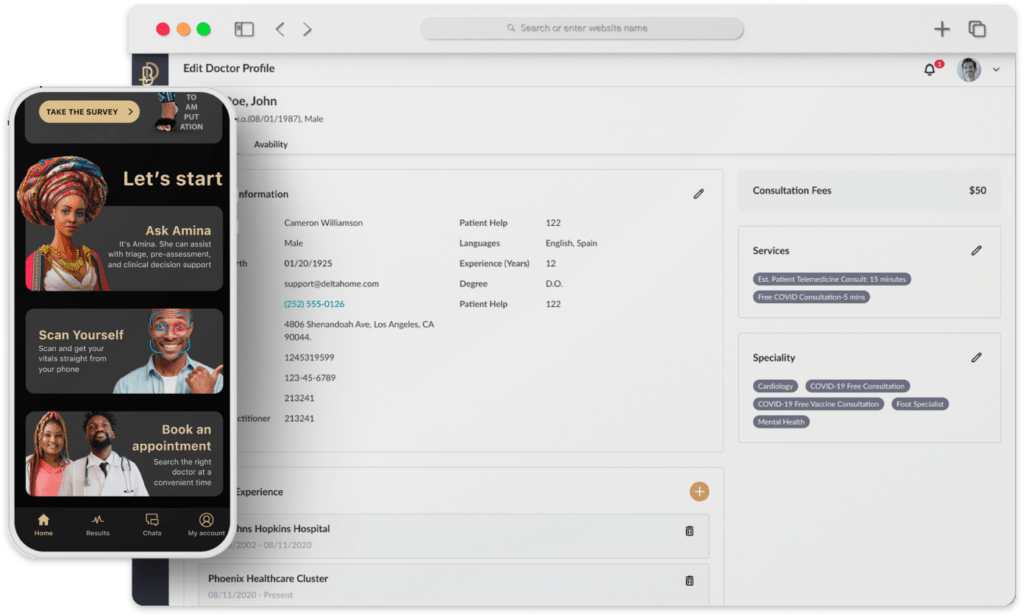 Initial Black Doctor 24/7 Requests
Black Doctor reached out to Riseapps to help deliver a market-ready and feature-rich telemedicine platform to cut patient care delivery overheads by 40%, reduce patient service time by 65%, and ensure 100% HIPAA compliance.
– Build and launch a full-fledged cross-platform medical platform in only 6 months
– Implement telemedicine technologies to provide seamless video calling and fine-tuned patient-doctor relationships
– Implement an AI-driven virtual assistant for uphold patients throughout the entire care delivery process
– Integrate multiple 3rd-party services like Agora, GetStream, and Intermedica for advanced patient care
– Ensure full HIPAA compliance with successfully passed penetration tests prior to the deployment stage
– Design a full-featured UI/UX architecture for both mobile and web platforms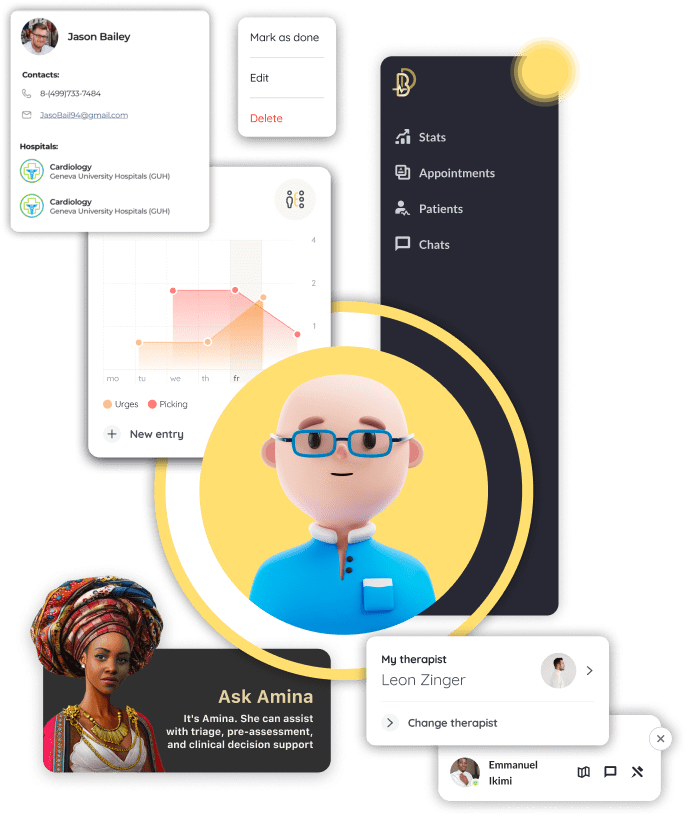 Challenges
– Design and develop viable functionalities for physicians including wound report generation, appointment scheduling, supply ordering/tracking, and on-the-go telemedicine capabilities.
– Implement intuitive and engaging patient-centric features including a seamless pre-screening process (with Amina AI assistant), appointment booking, doctor profile review, automated self-assessment, and real-time chatting.
– Implement an AI-driven symptom checker service (Amina) based on Infermedica API to facilitate patient-focused care delivery.
– Ensure full HIPAA compliance by implementing network access management, threat detection and mitigation, vulnerability management, security hardening, logging policies, and encryption.
– Roll out a well-structured system architecture with minimum code and maximum communication opportunities to access multiple 3rd-party tools.
– Implement multi-factor authentication with full compliance to ISO standards to skyrocket data security and avoid data leakage risks.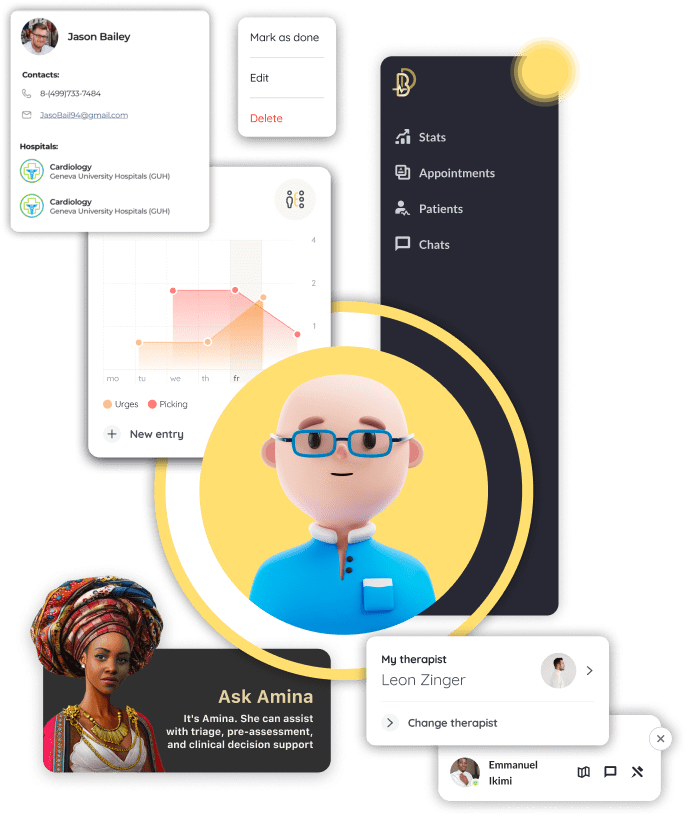 Solutions
Full-Featured Mobile and Web UI/UX Design
Riseapps' team designed the initial product's user interfaces and experiences for both physician and patient-faced web and mobile applications to streamline the way patients get care look-n-feel, deliver engaging user experiences, and provide modern navigation flows.
We leveraged Blueprint.js to save the existing functionality level and enhance it with brand-new eLearning functionality that caters to higher education software end-users.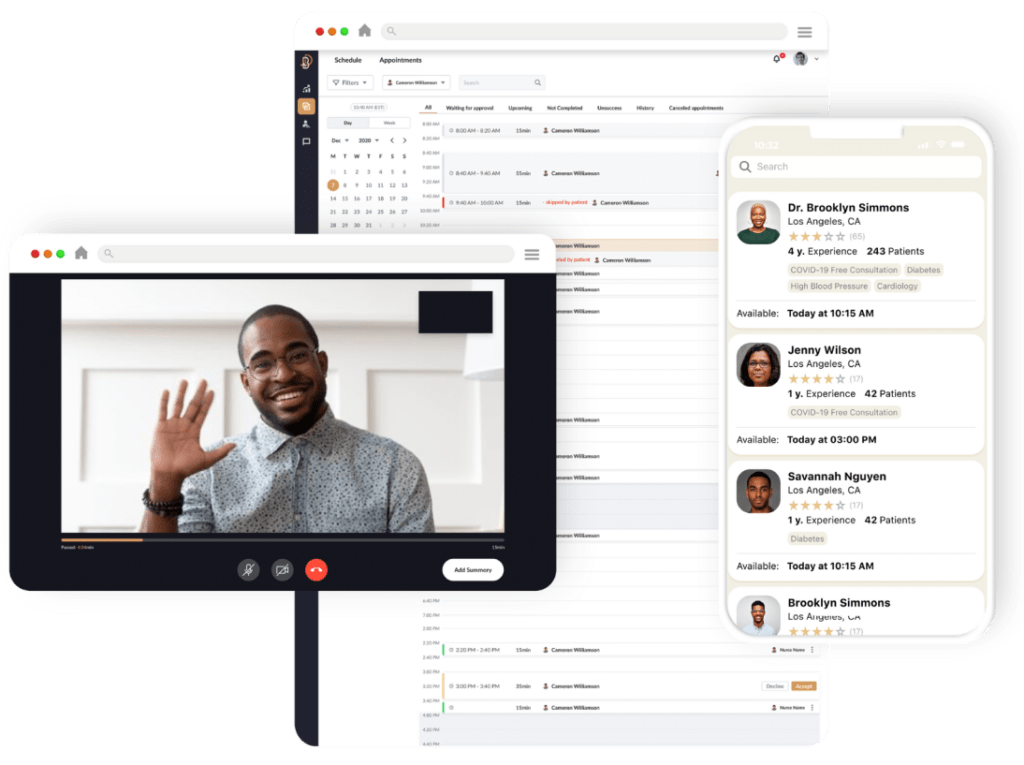 Clinically-Tested Artificial Intelligence Assistant
We developed a 24/7 available virtual assistant Amina to automate the patient care delivery process, minimize missed diagnoses, reduce the patient service time by 65%, and prevent possible COVID-19 exposure for both professionals and patients.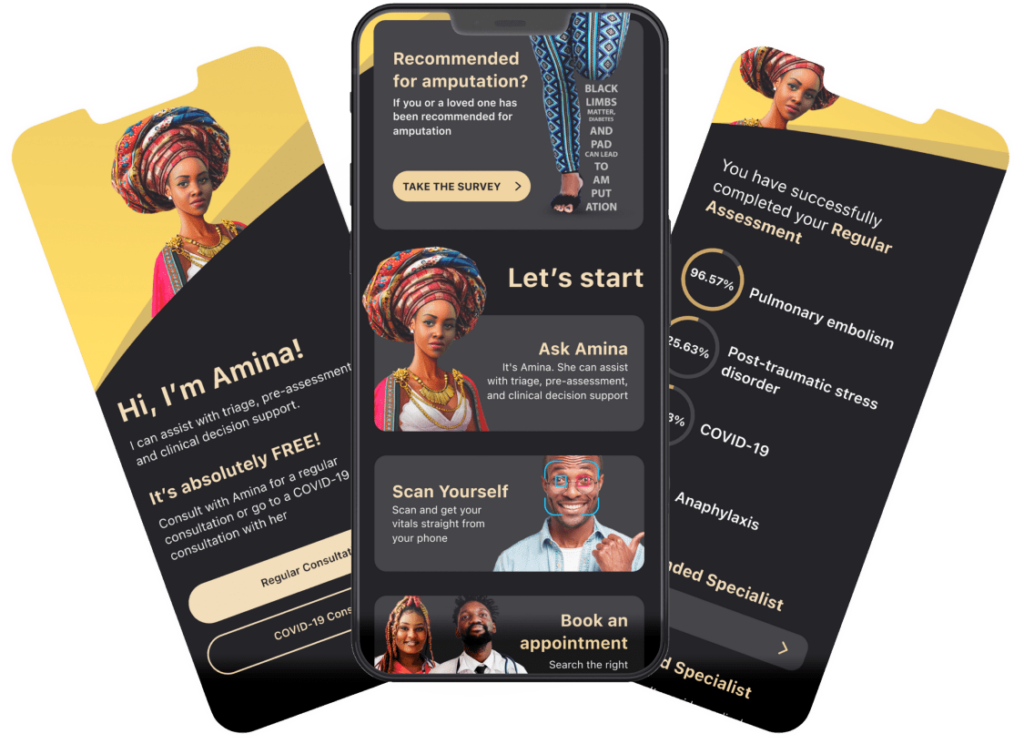 Web-Based Platform for Doctors
Riseapps' team designed a multi-component yet inutitive web application for physicians to administrate their medical practice, manage e-Prescriptions, access patient data, govern supply ordering/tracking, and hop off on medical appointments with patients.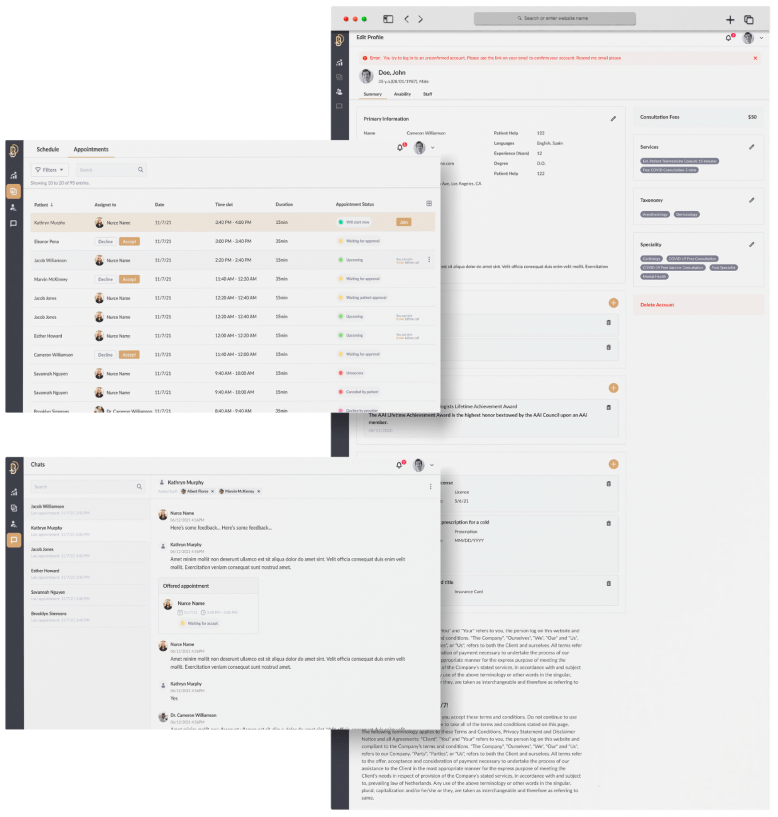 Patient-Focusing Secured Mobile App
We delivered a HIPAA-compliant mobile application for patients to lead them through a seamless, automated, and affordable flow to get quality care in no time.
24/7 access to hand-pick the physician, free consultations, real-time chatting for pre-/post-appointment consultations, built-in telemedicine, and virtual assistant for self-assessment and symptom checking are among the core features we've delivered.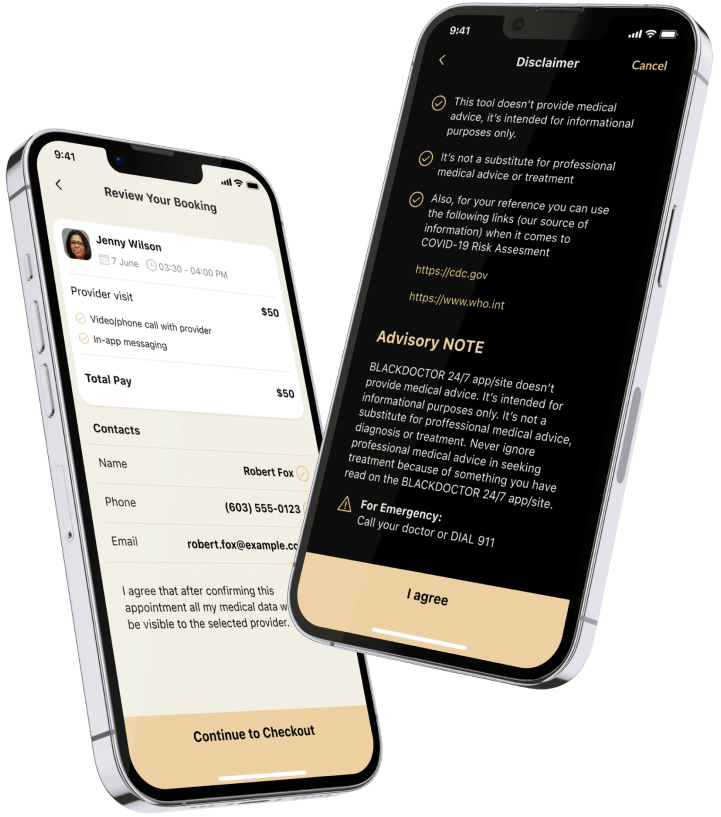 3rd-Party Services Integration
The Black Doctor 24/7 team asked Riseapps to make the product communicative with multiple third-party services for making it feature-rich and flexible.
We've integrated Agora video streaming platform to yield telemedicine functionality out-of-the-box. On the chatting front, we've integrated GetStream to let patients and doctors stay in touch real time.
To facilitate patient-focused care delivery, we've leveraged Infermedica API to empower the platform with AI-driven virtual assistance.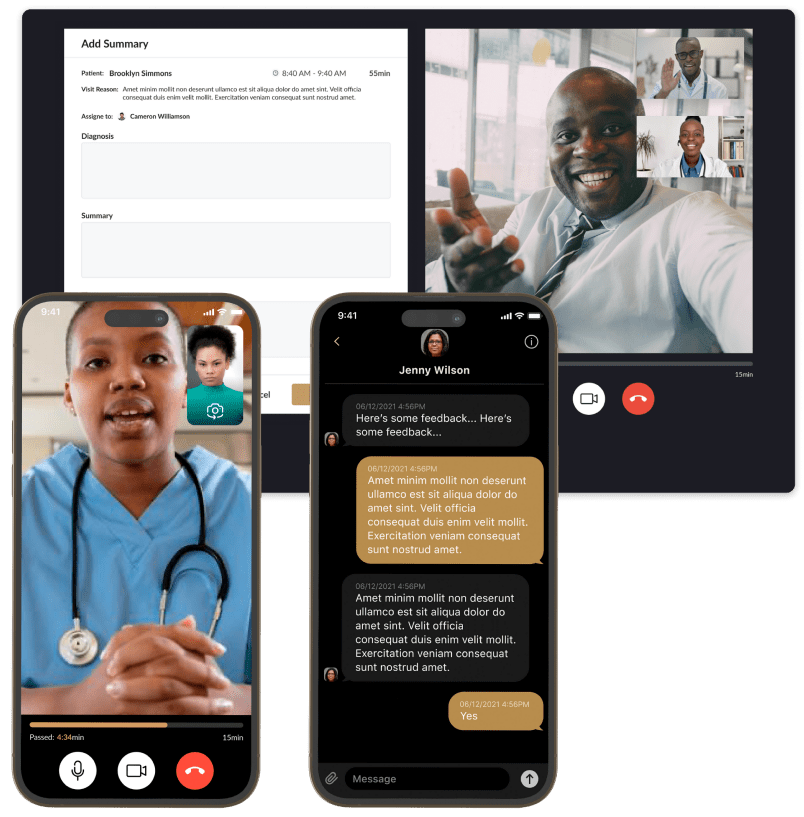 Full-Scale HIPAA Compliance
With industry standards in mind, we've ensured the entire product stays secure and HIPAA-compliant so patients won't be at risk of PHI leakage and other vulnerabilities.
To pledge high a safety grade, Riseapps' team has implemented network access management, threat detection and mitigation, vulnerability management, security hardening, logging policies, and encryption.
Going the extra mile, we've also included jailbreak and root detection and screen lock algorithms along with a HIPAA-as-a-service-backend model based on AWS.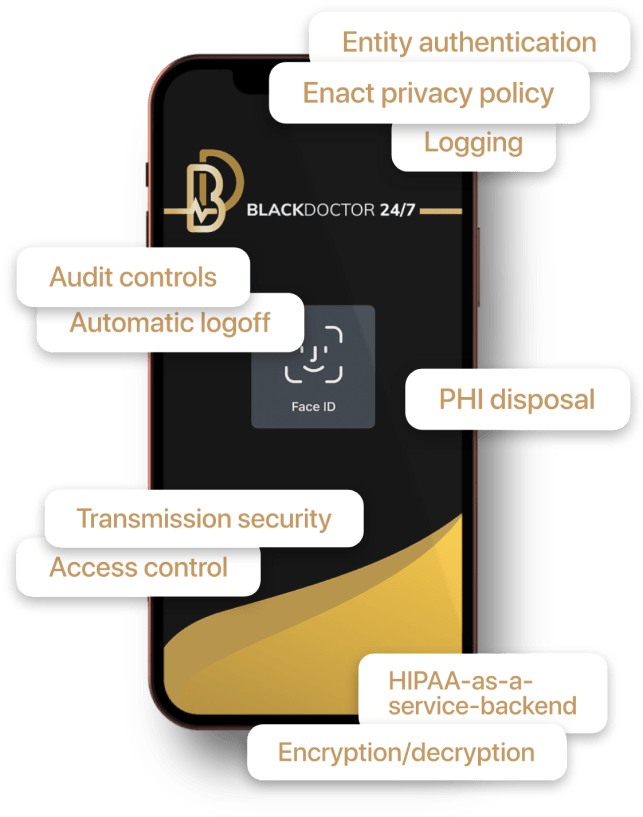 Results
6-Month Only Cross-Platform App Development & Rollout
which helped the Black Doctor 24/7 team reduce time to market, cut care delivery overheads by 40%, and get early users onboard converting them into paying customers and start their $100M revenue path.
Remote Humanized Virtual Care
using Agora.io to furnish the platform with real-time video calling experiences that let patients get remote and secure care while doctors economize tons of time on in-person appointments thus identifying the wound healing progress way more efficiently.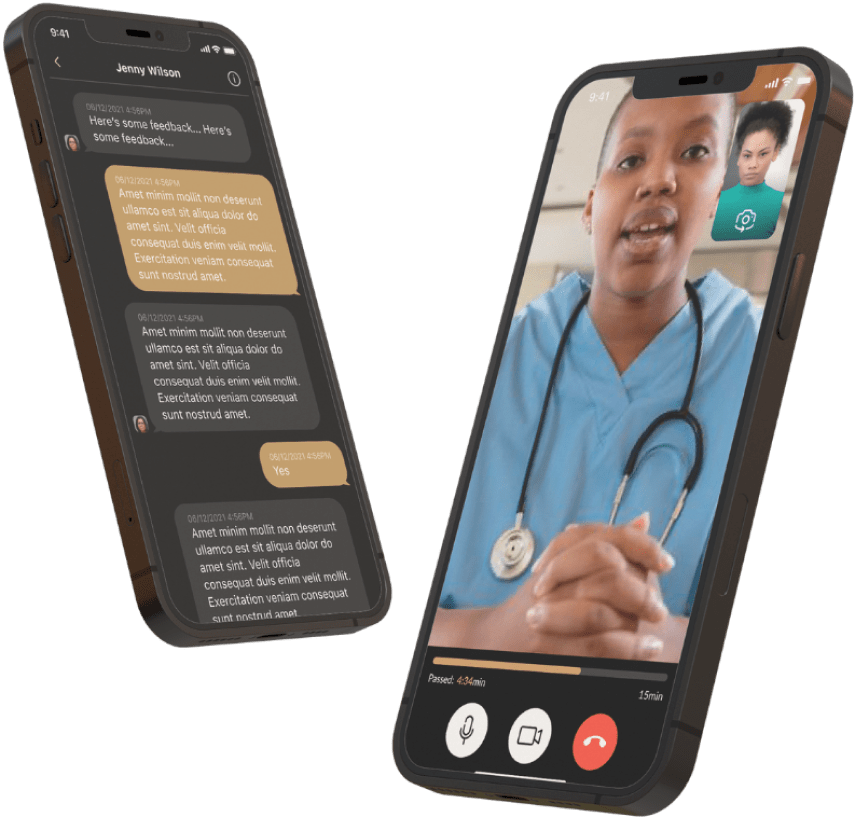 100% Test-Proven HIPAA Compliance
through implementing the AWS-based HIPAA-as-a-service-backend model and passing the penetration (pain) tests (by an external certified vendor) with low-only notices.
AI-Based Virtual Assistance Right Away
by integrating Anfermedica API to let patients self-assess their wounds 3x faster, book appointments in 2 clicks, and evade physician time-offs facilitating 24/7 wound care.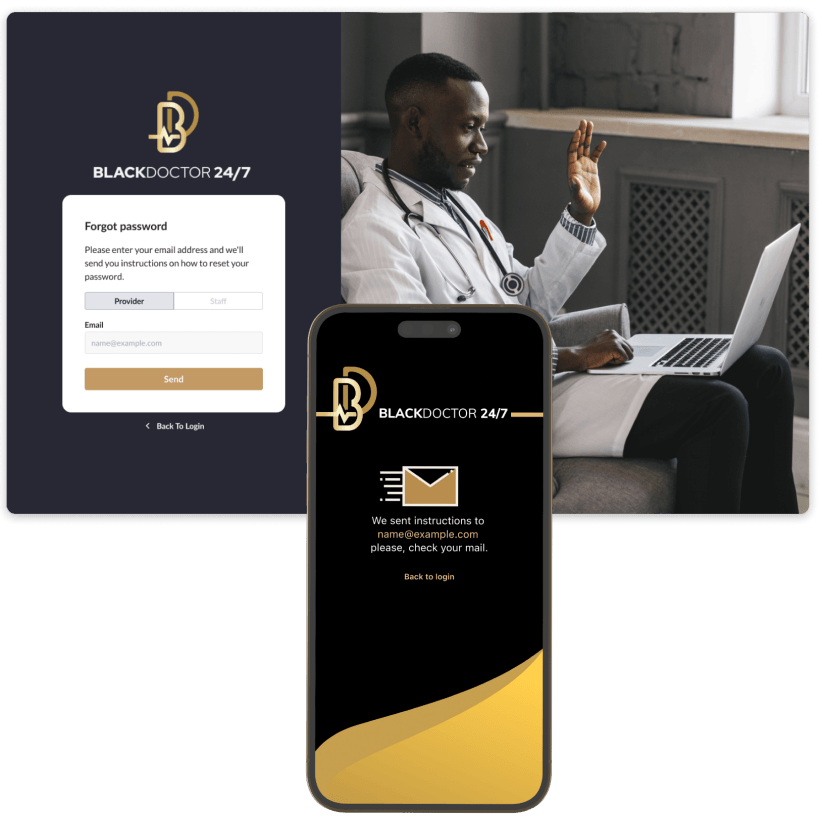 Ready to collaborate?
Drop us a line