Skinpick
200% Platform Usage Growth for a Mental Health Platform
Client:

Eran Price, COO & Co-Founder at HelpingMinds LTD.

Industry:

Healthcare & Mental Health

Platform:

iOS, Android and Web
Client's Background
SkinPick is an Israeli top-in-the-line mental health startup conquering the industry with 3 excoriation disorder treatment solutions focusing on dermatillomania, trichotillomania, and obsessive compulsive disorder (OCD) illnesses.
The startup's mission is to deliver access to advanced tools and methodologies for patients fighting against the above-mentioned disorders so they find treatment and develop coping skills to refine their life.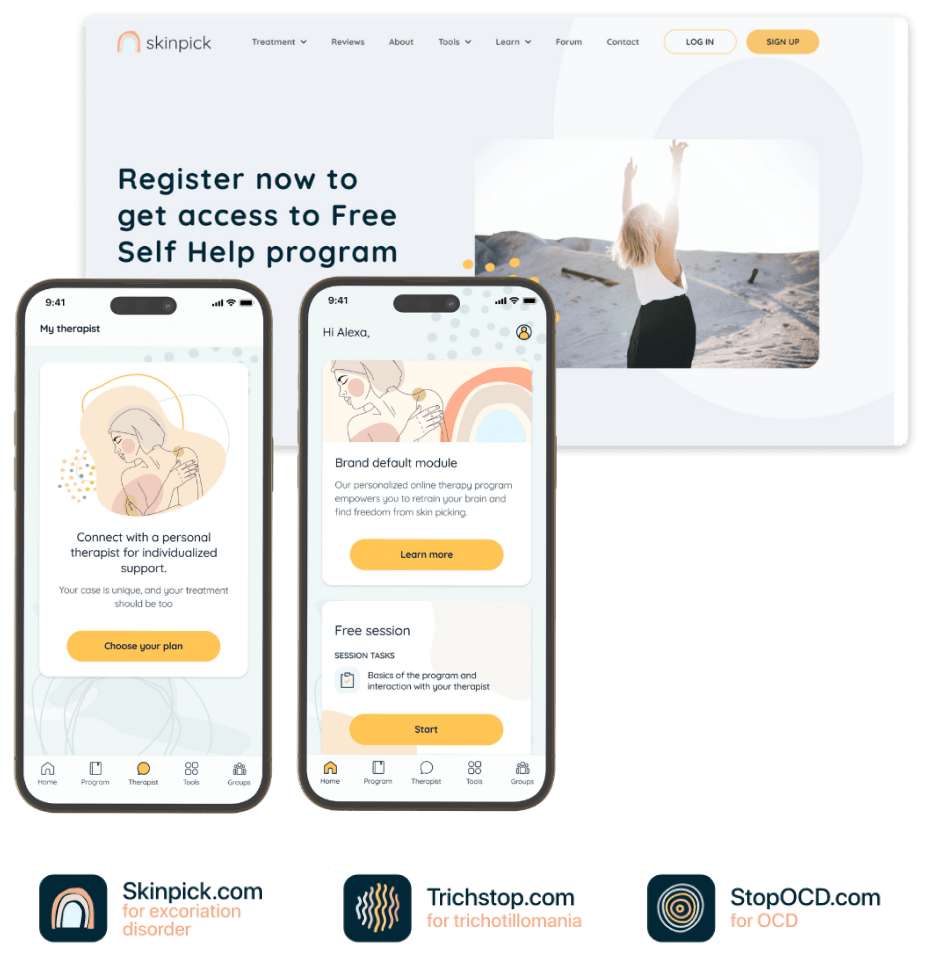 Initial Skinpick Requests
SkinPick reached out to Riseapps to help them redesign the previous mental health platform powering it with lightweight navigation flows, engaging quizzes, and feature-rich therapy sessions to raise web conversion rates by 30%, satisfaction rates by 45%, and platform usage by 200%.
– Redesign the existing mental health system making it lightweight and intuitive to grow conversions
– Create wireframes and design user experiences for the entire mental health whitelabel platform
– Develop full-fledged product branding including social media, promotional videos, offline banners
– Facilitate visual-based template development for the entire email marketing funnel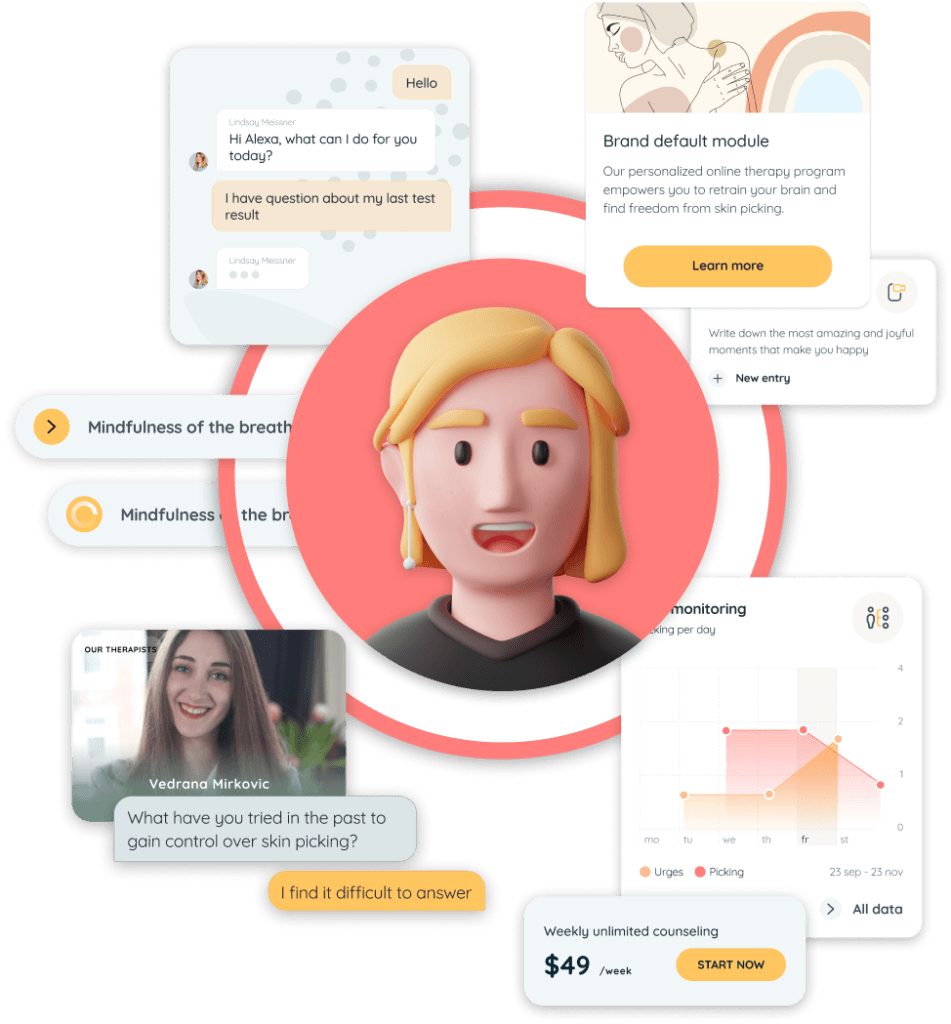 Challenges
– Reconcept and redesign the existing 8-year-old promotional website and craft a brand-new visual look-n-feel with manifold style guides from the ground up.
– Transform and reconceptualize the entire mental health platform performance making it lightweight and fast-loading through file type optimization and content supply.
– Shift outdated desktop-only user experiences to a mobile-first application with intuitive navigation through bulks of content, drag-and-drop features, session progress tracking, and engaging visuals.
– Streamline the inefficient patient-physical communicationshifting from a delayed commenting approach and outdated PDF tests to cloud-based and real-time chatting, module-based peer-to-peer rooms, and lots of interactions on the platform's end.
– Extend built-in limited client-focused tools (assessment tests and skin pick attack monitoring) 5x times embedding mindfulness practices, to-dos, stimulus control, good-moment journals, and others.
– Refactor and redesign the existing dermatillomania treatment quiz making it interactive, engaging, and visual-powered to grow lead-to-patient conversions.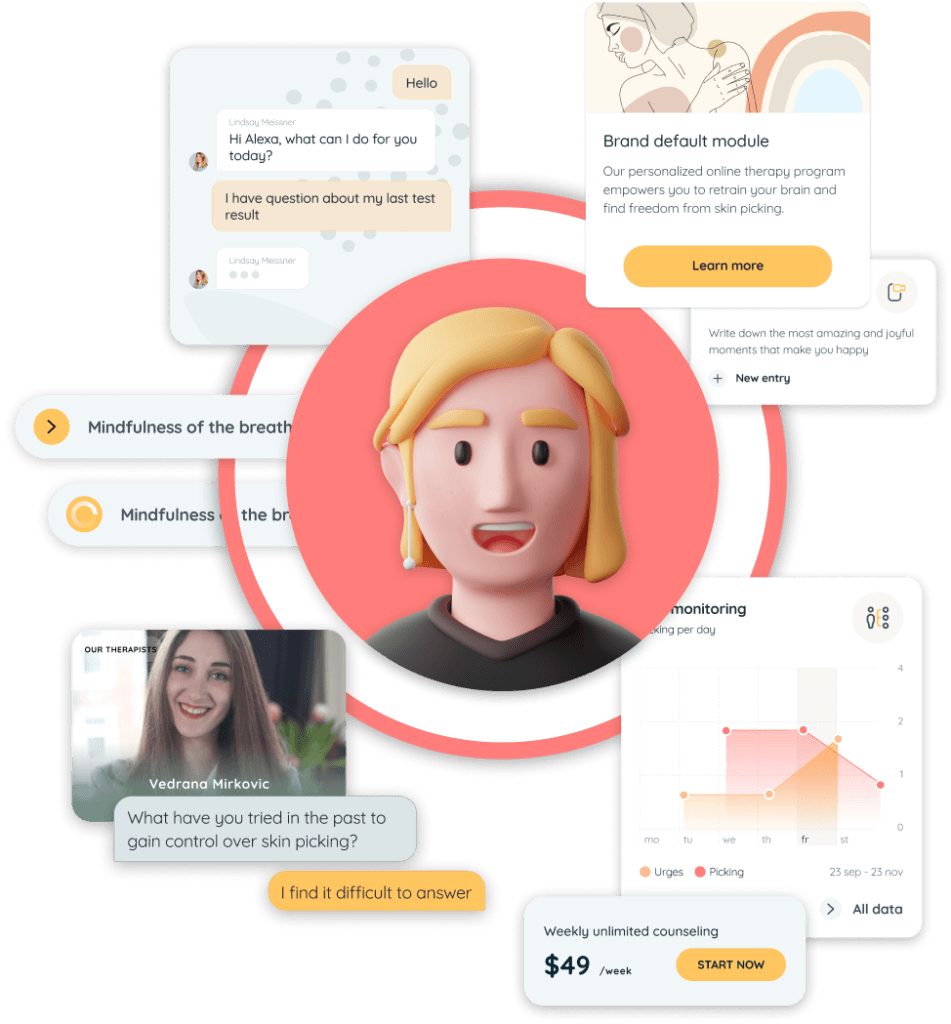 Solutions
Mobile-First Platform UI/UX Design
Riseapps' team transformed a desktop-only outdated mental health platform into a mobile-first contentful and interactive application.
Brand-new features included streamlined navigation through dermatillomania therapy sessions, progress tracking, module-based chatting, and others.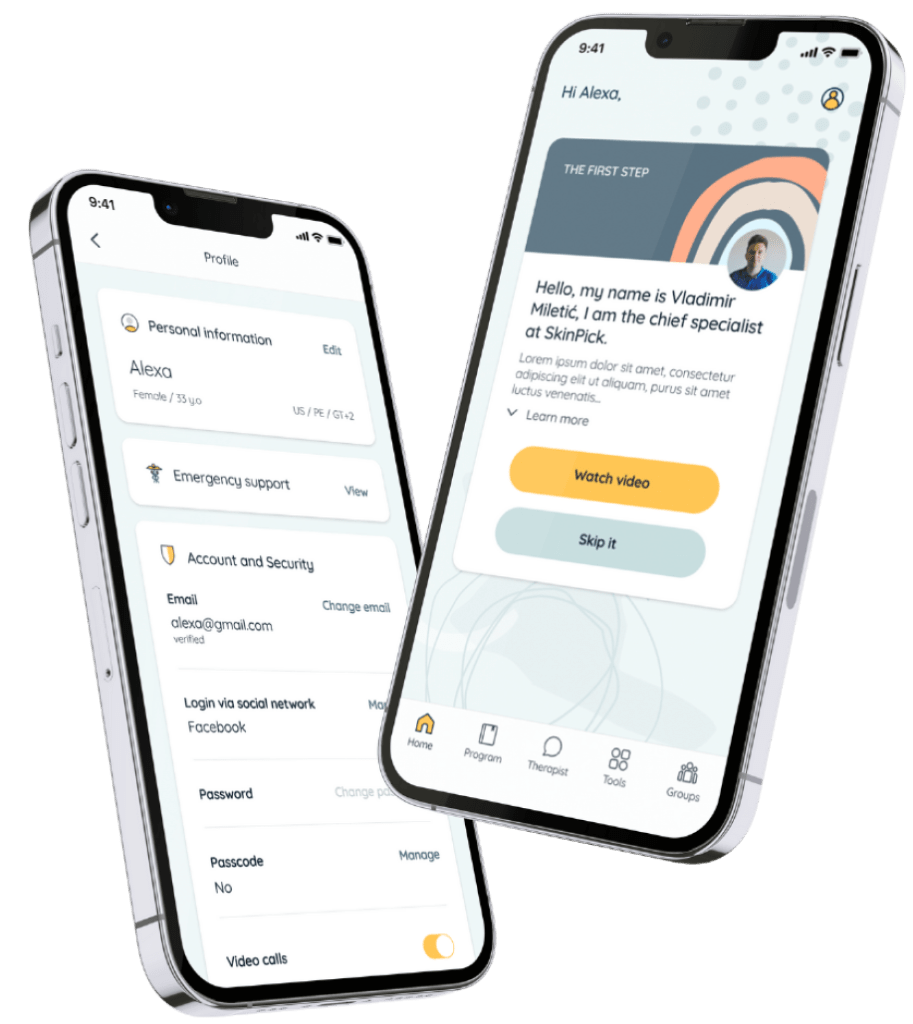 Data-Driven Patient Care Delivery
Patients had to fill in tons of diagnosis-based data to be efficiently processed and managed by physicians. We've redesigned the way doctors approach excoriation disorder treatment by customizing therapy sessions based on ever-changing patient progress and results.
This helped reduce the time-to-recovery period by 47% powering physicians with data-driven tools to hand-pick the best-fit customized therapy session for each patient individually.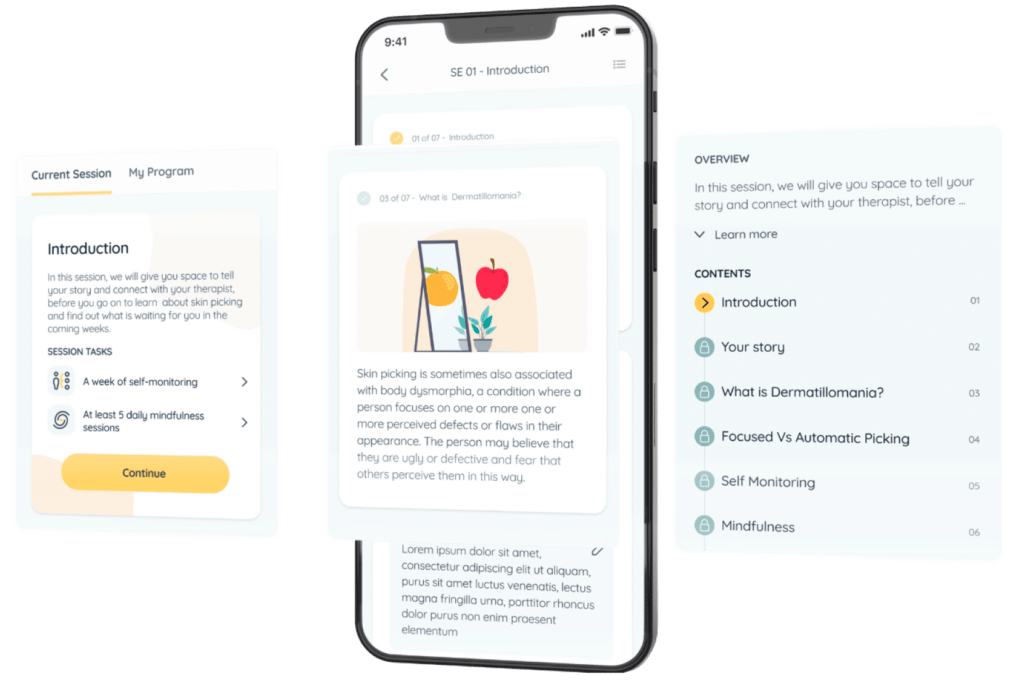 Highly Customizable Session Constructor
Physicians previously had to manually process bulks of patient-facing data to prepare manual-only PDFs and materials to somehow individualize the treatment experience.
We've redesigned the therapy session builder allowing for crafting customizable sessions based on the appointment results so that doctors now spend 3.5x times less on generating individual treatment for patients while being able to customize the sessions on an ongoing basis throughout the entire programme.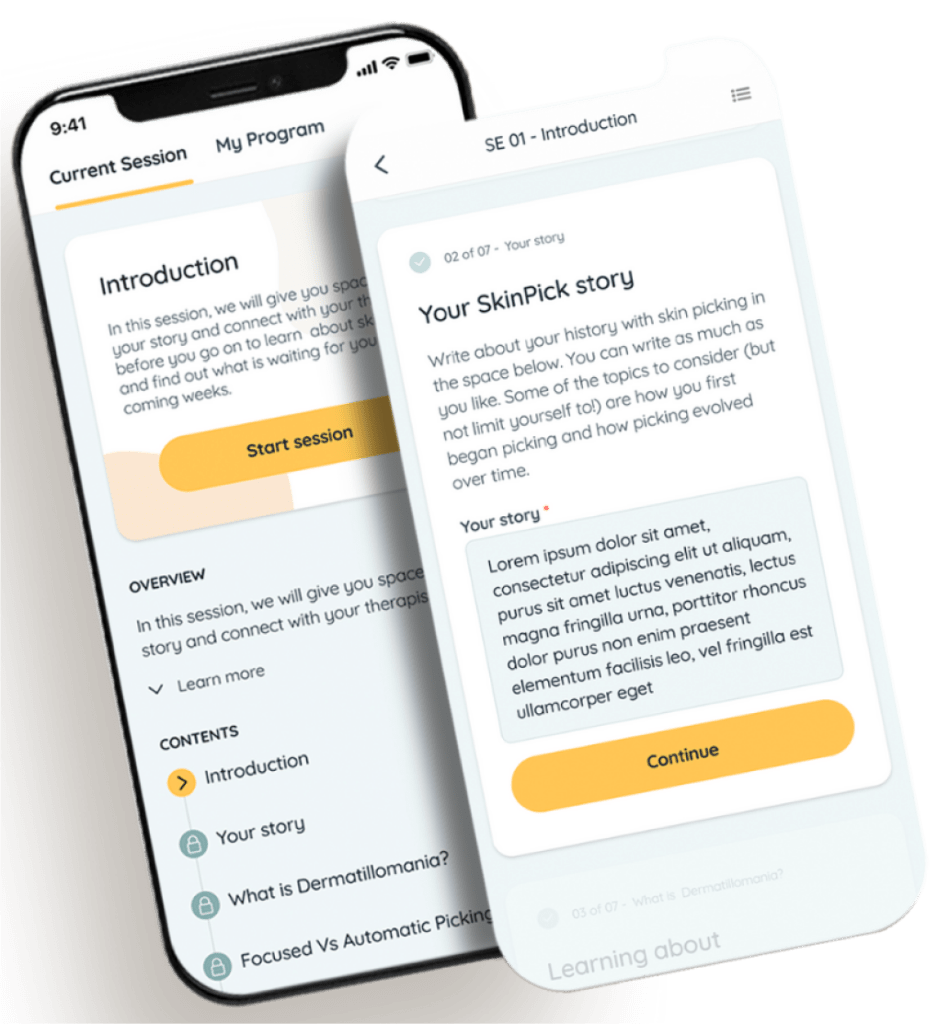 5x Times Enlarged Built-In Therapy Tools
Prior to cooperating with Riseapps, the SkinPick team had a limited number of therapy tools, namely the assessment test and manual attack monitoring journal.
We've carved out 5x more therapy instruments including:
– mindfulness practices (with voice recordings, animations, meditations, etc.)
– to-do lists of goals
– journals with values
– stimulus control
– diaries that now bring all-in-one engagement and interaction to the table.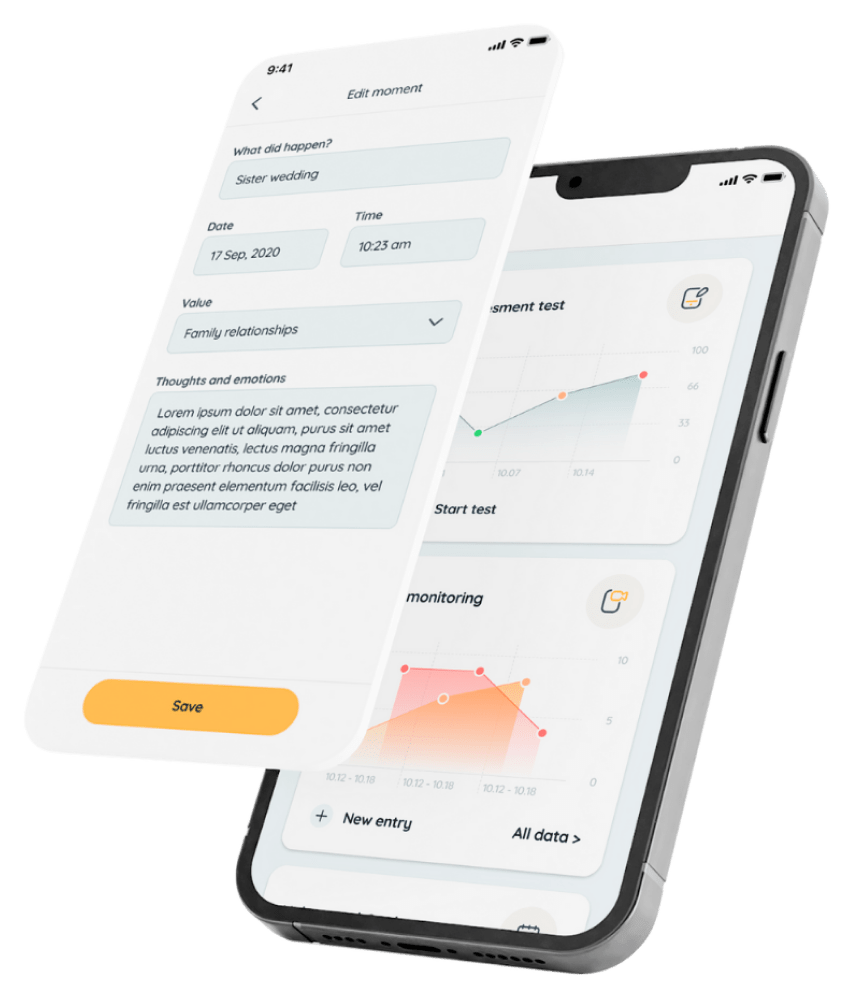 Streamlined Patient-Physician Communication
As SkinPick previously leveraged a delayed commenting approach and outdated PDF tests to engage with patients, we suggested modernizing patient-physician communication.
We redesigned the system furnishing it with:
– cloud-based and real-time chatting functionalities
– module-based peer-to-peer rooms (for topic-related discussions)
– mass support groups for treatment negotiations).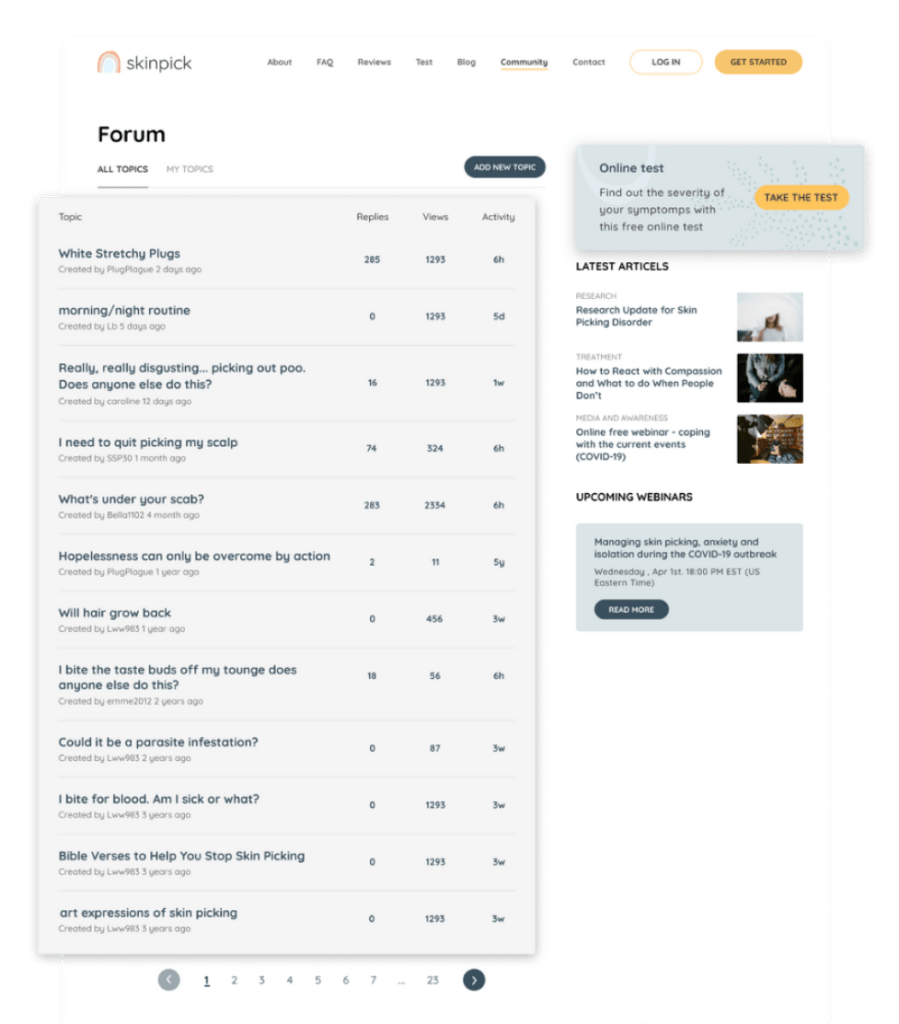 Results
30% Web Conversion Rate Boost
by redesigning the entire mental health system making it lightweight, fast-loading, interactive, and contentful so that patients easily submit web forms and navigate through an engaging quiz to kickstart their skinpick disorder treatment.
2x Platform Usage Growth
by introducing a mobile-first mental health app for patients with real-time chats with therapists, easy-to-go therapy assignments, advanced tools for self-assessment, self-managed systems of goals and values, and tons of interactive practices to engage with and develop coping skills to treat the excoriation disorder.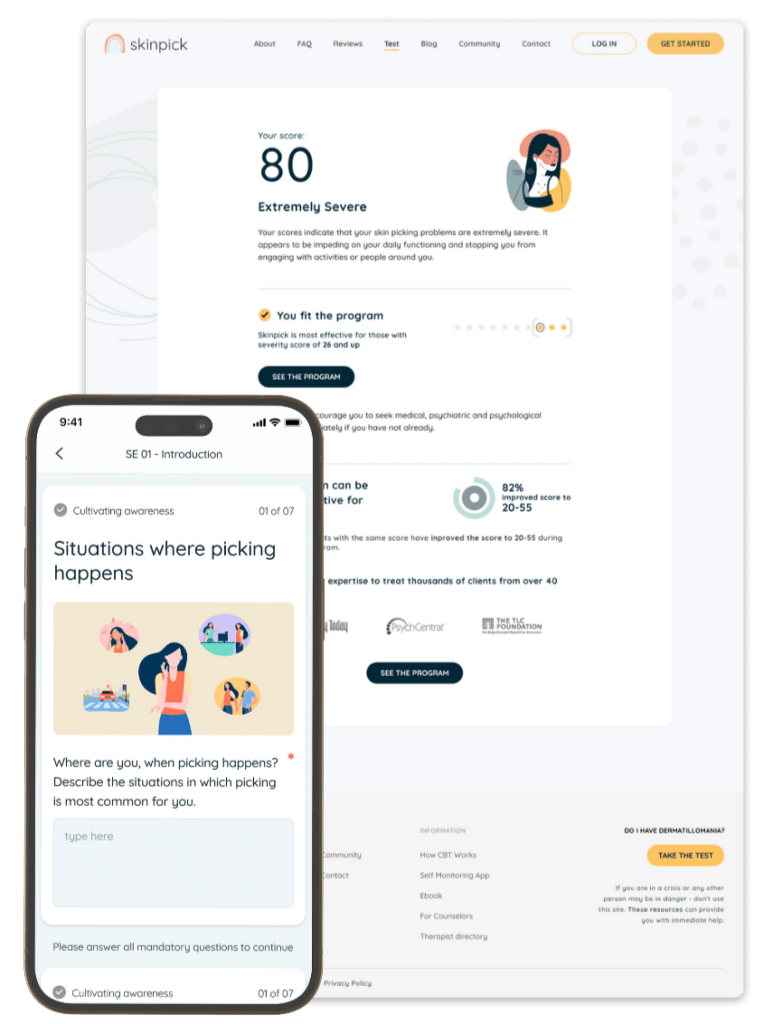 45% User Satisfaction Rate Rise
by designing multi-component mental health modules like a therapy session progress tracker, relapse prevention scenario simulators, interactive in-session navigation with swipes and dran'n'drops, topic-centric communities, and advanced profile editing capabilities.
5x More Designed Therapy Tools
including chart-powered self-monitoring and assessment, mindfulness, progressive muscle relaxation, stimulus control, good moments journal, relapse prevention, to-do lists of values and goals, and R.A.I.N. training therapies.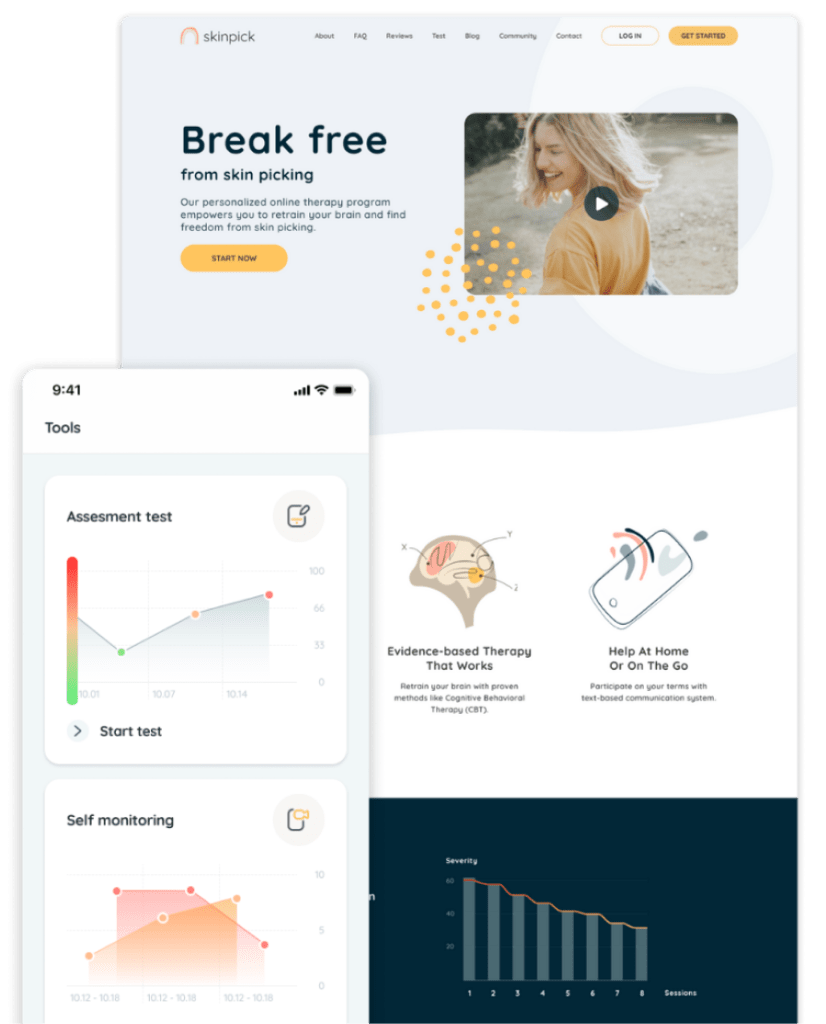 Ready to collaborate?
Drop us a line