As we all stepped into the post-pandemic world, healthcare has gone digital. Telemedicine has skyrocketed by 2000%, and it looks like the trend is here to stay. 
HIPAA-compliant video conferencing is an integral part of telemedicine. One by one, healthcare providers utilize their power. So choosing the right tool to communicate with the patients (and sometimes colleagues) becomes crucial. 
If you are on the hunt for a perfect HIPAA-compliant video call solution – be it a standalone tool or platform providing communication API for your healthcare app – you are in the right place. 
In this article, we'll lay out some basics on HIPAA-compliant teleconferencing and introduce you to some software (free and paid) that can help you. We'll also provide you with some insights on how to choose the right tool in case you need one. Read on.
How Does HIPAA Work?
If you are all at sea when it comes to HIPAA, let's share some basics on the topic. 
"HIPAA" stands for the Health Insurance Portability and Accountability Act, signed into law in 1996. Its primary goal is to keep healthcare information confidential and secure. The measures are set in the HIPAA regulations. 
HIPAA violations are investigated by the Office for Civil Rights. The penalties for violations can be both – criminal and financial. So, yes, it's better to play by the book. 
Amidst the COVID crisis, the federal government waved a number of telehealth rules. However, the restrictions are only temporarily suspended, and HIPAA compliance is still of the essence. 
Why is HIPAA Compliant Video Conferencing So Important?
As studies suggest, the healthcare sector has been the prime of online attacks. The infrastructure systems in hospitals are particularly threatened by ransomware. 
By ensuring HIPAA compliance, the healthcare providers protect quality care, as well as privacy and security of healthcare information. 
In Which Cases Should You Be HIPAA Compliant?
Disclaimer: this article is written for informational purposes and can't be used as legal advice. We suggest you consult your lawyer about HIPAA compliance and get an expert opinion on your particular case from a qualified software engineering company.
HIPAA rules apply to"covered entities" or "business associates". So if you belong to any of these categories and handle PHI, your tool needs to be HIPAA compliant. 
Please, check out this table for some clues on whether you should be HIPAA compliant.  
Covered entities
Business associates (examples)

Healthcare providers (doctors, clinics, psychologists, dentists, hospitals, and more)  

Health care clearinghouses (health management information systems, billing services, and more)

Health plans (HMOs, health insurance companies company health plans, Medicare, Medicaid, and more)

Data processing companies

Data transmission providers

Medical transcription services
External accountants
You can get to know more about business associates and covered entities by checking out this link.  
How to Choose HIPAA Compliant Conferencing Software?
First, it's all about your goal. Do you need a standalone tool with a video conferencing feature? Or your goal is to find a platform with a video chat API or SDK for your healthcare app? Please, choose the subsection below that might be relevant to your request. 
How to choose a video conferencing platform? 
At Riseapps, we've explored many platforms for HIPAA compliant video calls. Let's share some of the findings. What you might want to pay your attention to?  
Security requirements. It might be not (only) about HIPAA. Depending on your practice, you may need a tool that is GDPR, PHIPA/PIPEDA, & HITECH compliant, and more. What standards do your practice should adhere to and what markets do you aim for? 
Functionality. Will a simple telemedicine tool be enough for you? Or you are interested in a practice management software for providing, let's say, therapy, and need some advanced features like billing or documentation? As you might see, the tools on the market differ greatly, delivering various sets of features. Be sure the software you choose corresponds with your goals and priorities. 
Price. Some tools for videoconferencing claim to be free (have freemium plans). You might notice however that paid solutions usually provide video calls of higher quality. At another point, it's a good idea to make sure you get your money worse, not buying functionality you don't need.  
Now, let's see how to choose a video chat API or SDK if you are going to build your own telemedicine app. 
How to choose a video conferencing API or SDK for your healthcare app? 
At Riseapps, we are a dab hand at building healthcare apps, knowing quite a lot about APIs and SDKs. We gave some advice about choosing them in one of our previous articles. So here, I'll reiterate the point of our expert Dmytro,  a senior iOS developer with 15-year experience in software engineering. 
3 key factors to pay attention to are:
Claims about being HIPAA compliant 
Price
Support 
If you are interested, check out a more elaborated comment in our article on HIPAA compliant chat APIs and SDKs. 
Or ping us with a message right away, so we can assist you in building your healthcare app. 
Now let's briefly review some platforms and their features.
Top 4 HIPAA Compliant Video Conferencing Platforms
The HIPAA compliance video conferencing technology market is huge and diverse. 
Below are multifarious tools for different uses and purposes, often listed as the best HIPAA compliant video conferencing software. 
We've chosen those we have tried out, those our clients in healthcare prefer, and those most often featured in the prominent media. 
1.Doxy.me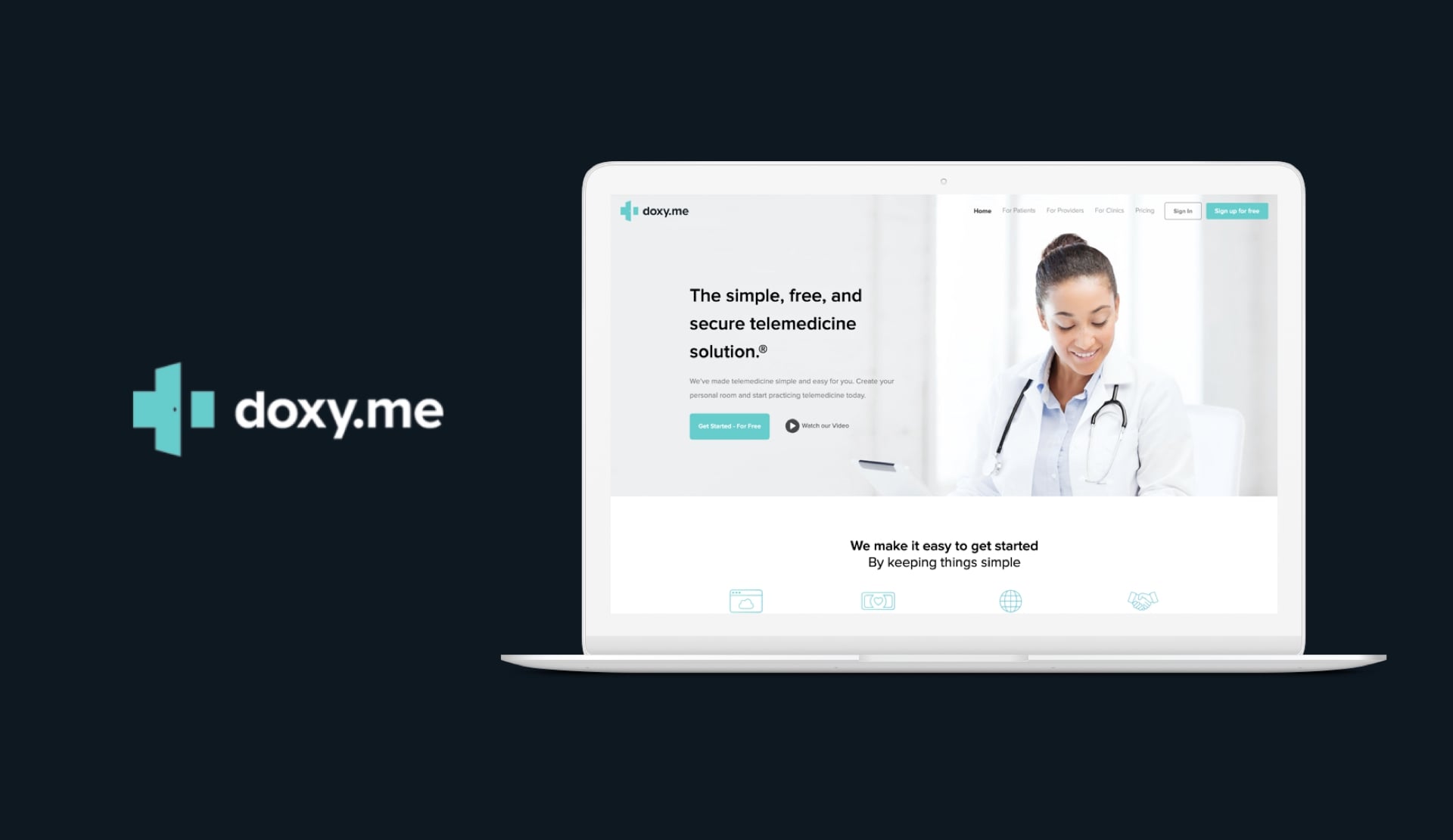 Doxy.me is a HIPAA compliant telemedicine solution for healthcare practitioners. A video call feature is at the core of its functionality. 
The tool skyrocketed during the pandemic – from 80,000 users in January to 700,000 in June 2020. 
Many practitioners are drawn to this solution, because of free accounts. Also, it's rather easy to use – patients don't need accounts or download software. 
By the way, Doxy.me is powered by Vonage – a HIPAA compliant video platform that provides communication APIs for healthcare providers.  
What Doxy.me can do for you? 
Basically, Doxy.me is a tool for HIPAA compliant web conferencing, meaning it's a browser-based video meeting software that sends links to patients. 
In Freemium Plan, Doxy.me features a waiting room, patient queue, text chat, meeting history, and other functionality. Minutes and sessions are unlimited. 
How much is Doxy.me? 
Doxy.me markets itself as a free HIPAA compliant video conferencing software. Although in Free plan only LD video is available. 
Professional plan starts from $35/mo and includes file transfers, screen sharing, group calling and more. 
Should you use Doxy.me? 
Doxy.me is a rather simple solution. If you are a health practitioner who needs a tool with video conferencing as a key feature, or you need a free software, it might be a choice for you. 
If you need a practice management – not just a video conferencing tool, it might not be exactly your choice. Also, keep in mind Doxy.me doesn't provide API for integration with other tools. 
2. SimplePractice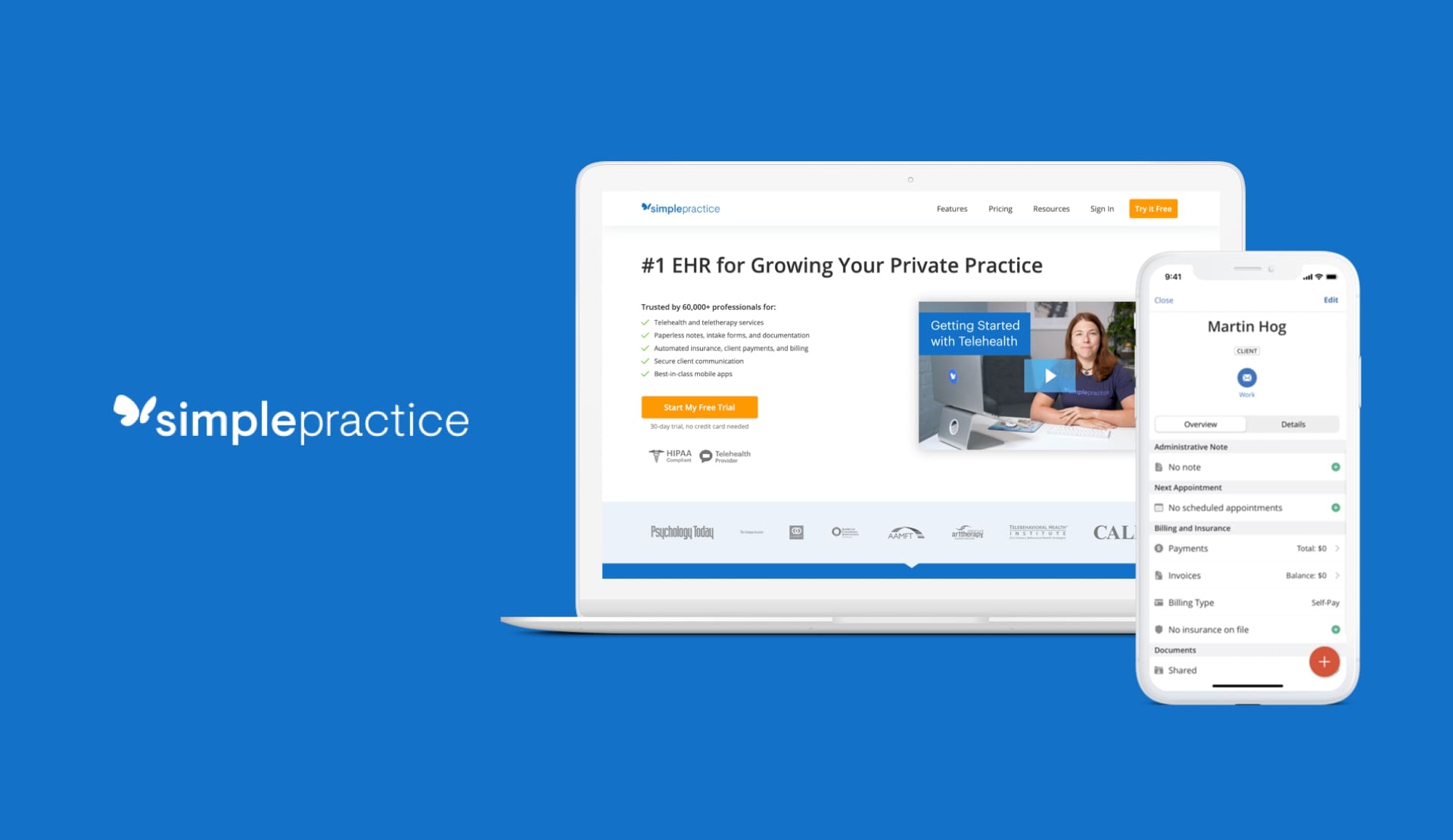 SimplePractice is a popular HIPAA-compliant solution for practice management. The tool claims to be a "#1 rated platform for Health & Wellness professionals."
What can SimplePractice do for you? 
Its key features include the client portal, scheduling, documentation, and billing. Access to the template library, free appointment reminders (SMS text, voicemail, or email) are also available. 
How much is SimplePractice? 
Unlike Doxy.me, SimplePractice doesn't have a freemium version. The cheapest plan is 39$ a month, designed for solo practice. But telehealth is available via the Professional Plan only, which is $59 per month. You can add it to your practice for 10 dollars more per month per clinician. 
Should you use SimplePractice? 
If you need not just a video conferencing, but a practice management software and are ready to pay, SimplePractice is a way to go. In case you want to try it out, the tool has a 30-day trial. 
Like Doxy.me, SimplePractice does not offer a public-facing API for integrations with other software or platforms. 
In case you are looking for a tool that provides API, get in touch, so we can come up with a perfect solution for you. 
3. Zoom for healthcare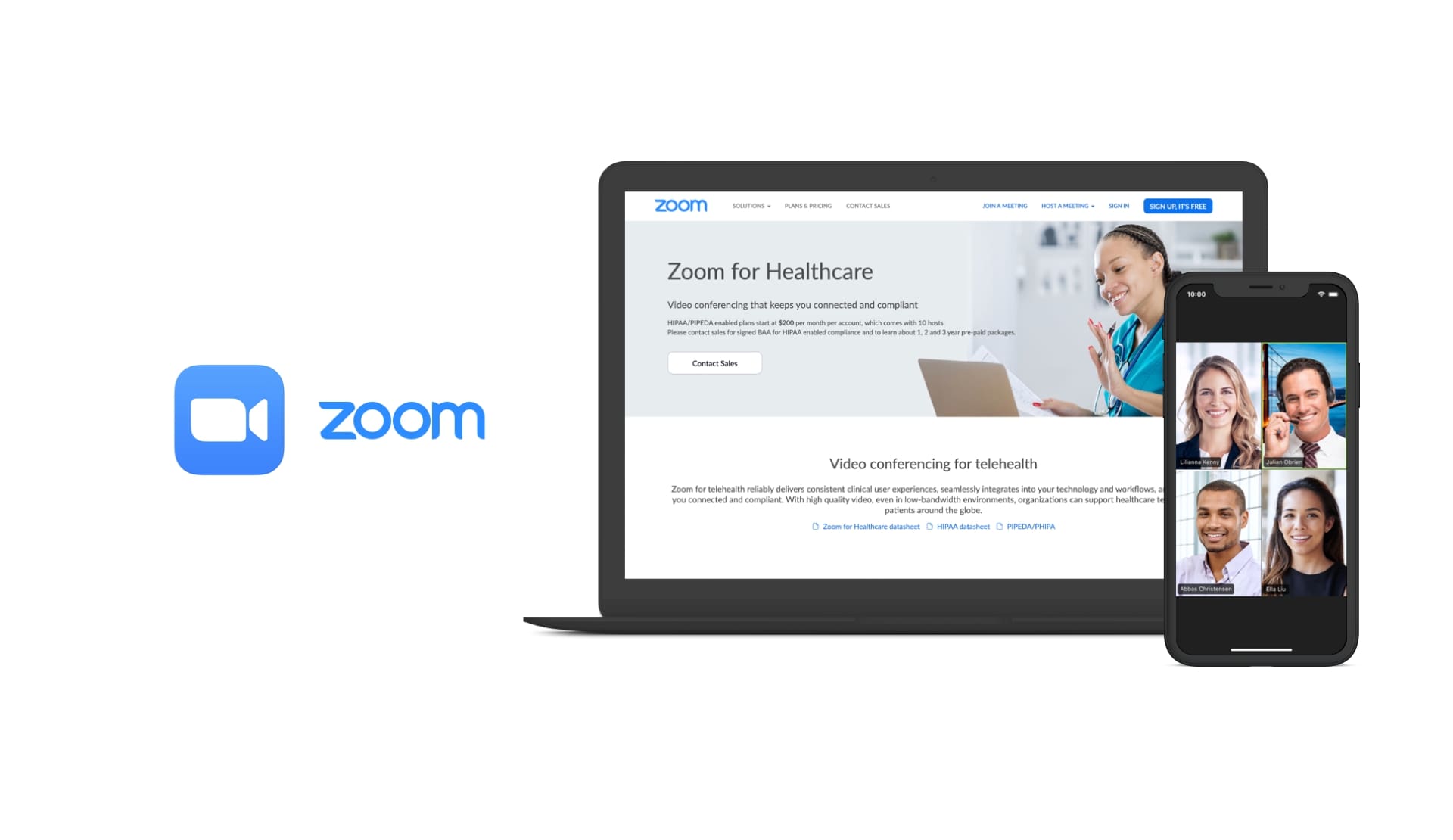 Zoom for healthcare is a HIPAA-compliant platform that markets itself as "the leader in modern enterprise video communications." As the name of the tool implies, it's been designed specifically for video communications in healthcare. 
What can Zoom for healthcare do for you? 
With the key focus on HIPAA compliant communication, Zoom for Healthcare is more than a video conferencing platform, and can be integrated into various workflows. 
The list of features includes the patient waiting room, recording session review, medical device integration, and more. 
How much is Zoom for Healthcare? 
HIPAA/PIPEDA enabled plan starts at $200 per month per account, which comes with 10 hosts. 
Should you use Zoom for Healthcare? 
Zoom might be more suitable for clinics than single practitioners which can be concluded from exploring its customer case studies. 
Also, many applications don't allow for multiple members to join in a HIPAA enabled setting, but Zoom does. So if that's important for you, the tool might be the right choice. 
4. VSee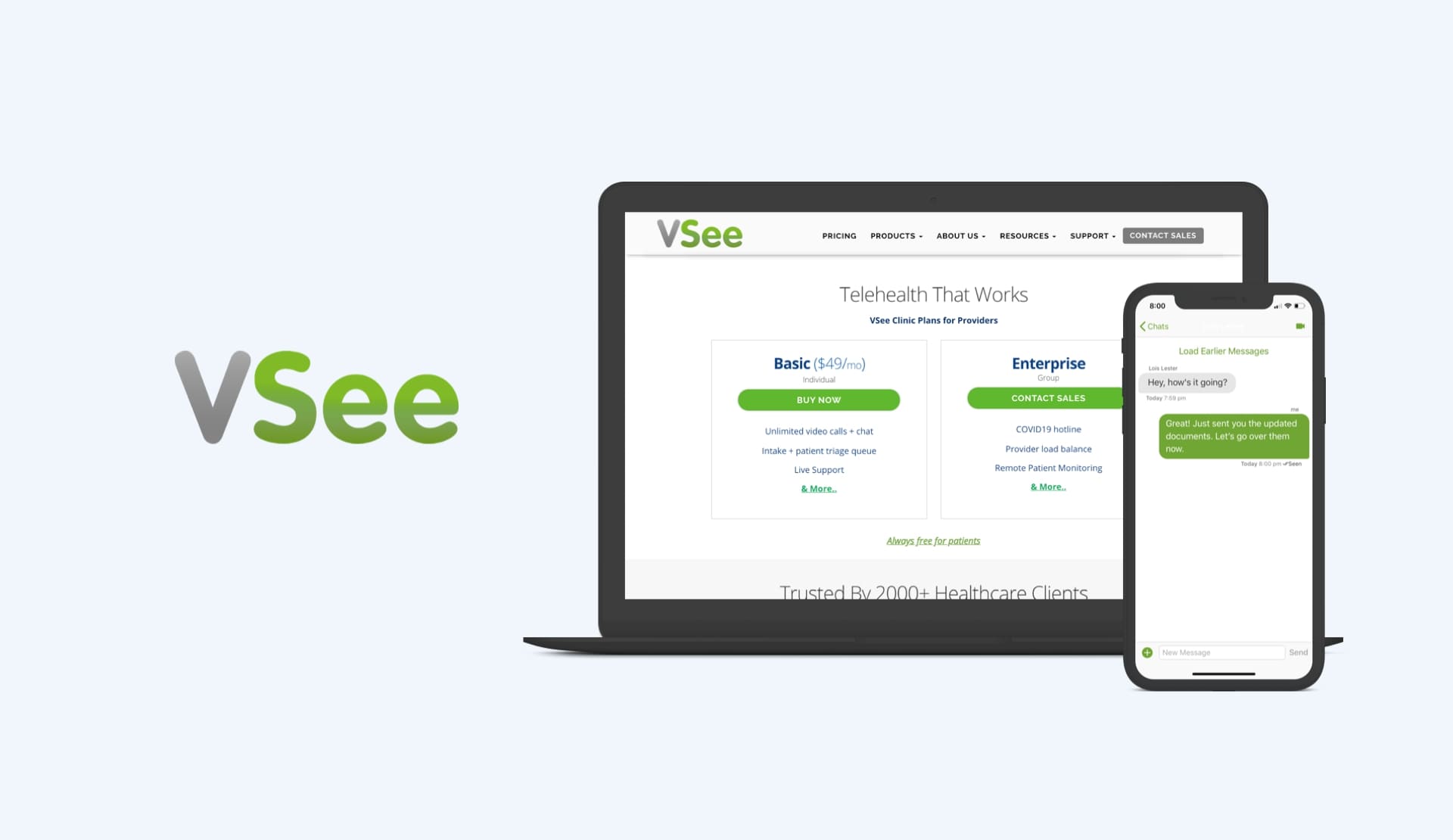 VSee positions itself as "the most trusted HIPAA compliant telemedicine solution." In short, it's a low-bandwidth, video chat and screen-sharing software tool.
Read Also: How to Create a Video Chat App
What can VSee do for you? 
Its two core products are VSee Messenger and VSee Clinic. The latter is a more complex solution featuring not only secure HD video and messaging, but also waiting room, intake, walk-in alerts, and more. 
Unlike the Doxy. Me and SimplePractice, VSee has SDKs to build secure video & chat communications right into your own app or website. 
How much is VSee? 
VSee Clinic Basic is $49 per month for single practitioners. The price of VSee SDK is not publicly disclosed. 
Should you use VSee? 
VSee is a trusted multifunctional tool that can certainly help launch your telemedicine service. However, it's not the simplest or cheapest tool on the market, and solo practitioners might consider exploring the alternatives. 
What If You Need a Custom Solution
If the out-of-the-box solutions don't satisfy your needs, you might want to build your own tool with a video conferencing feature. For this, you'll need to use a video chat API or SDK. In this case, the expertise of an accomplished healthcare development company like Riseapps may come in useful. 
Healthcare application development brings multiple perks to the table. You can serve your patients better, improve efficiency, boost profit, customer loyalty, and more. If that sounds good enough, feel free to get in touch with us, so we could assist you with your big idea.
Our Experience in HIPAA Compliant Telemedicine App Development
Among the variety of Riseapps cases in healthcare, let's mention Kego.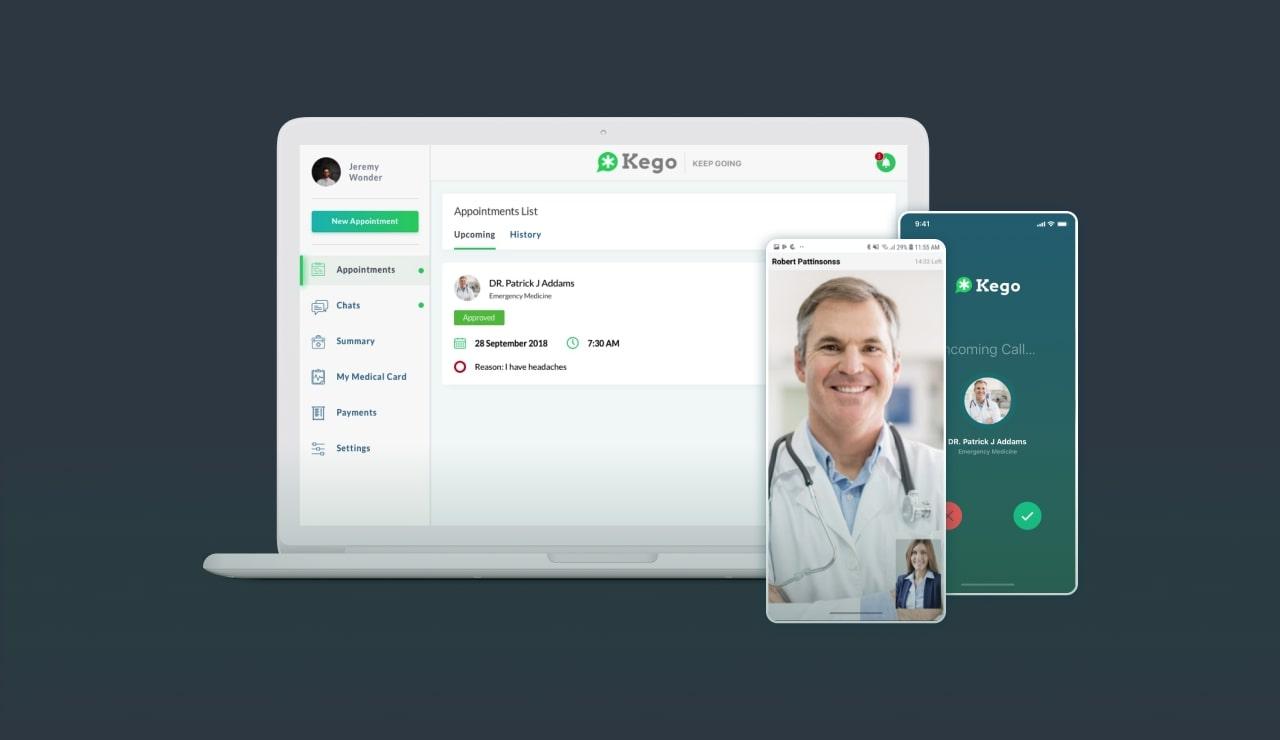 This is an 'urgent care clinic' – an on-demand service allowing patients to consult a doctor via video conference. The mobile and web apps allow patients to schedule appointments, talk to experts, and store their medical data in digital form. 
Riseapps built Kego apps for iOS, Android and web. We used a Programmable video SDK of one of the most noticeable video conferencing platforms. 
The app allowing patients to see a doctor using your phone and paying just a flat rate, boosted the profit of service providers more than 3 times. Being fast and easy-to-use, the app is on the box seat in the digital healthcare market. 
Conclusion 
In this article, we've briefly reviewed video conferencing in healthcare. 
As of 2020, HIPAA is of the essence, as usual, even though some restrictions are temporarily relaxed because of the pandemic. 
When choosing a HIPAA compliance video conferencing platform, it's important to deeply explore their range of functionality. You might need a simple telemedicine solution like Doxy.me, or choose a more complex practice management tool, like SimplePractice. Price and types of compliance (apart from HIPAA) are two other factors to consider. 
Finally, you might build your own healthcare app using the API and SDK of a particular platform. If you'd like to have a piece of advice on this, feel free to contact us.