With the direct impact on our lives, healthcare has become one of the largest growing industries today. There are already both web and mobile apps that fill different roles, from providing access to information saved in different databases to managing communication between doctors and patients, monitoring their state and scheduling appointments in clinics.
Is there still a market for healthcare apps? Should you opt for medical app development?  How the healthcare business model has changed? What types of healthcare apps exist today? In this article, you will find what you need to know to start healthcare app development supported by a real example of the backend in the working healthcare app.
From healthcare market size to tech stack and healthcare mobile app development costs.
Should You Start to Develop a Healthcare Application in 2019? Is There a Market?
Let us brief you about the current digital healthcare market.
The healthcare market has undergone major changes. We would like to outline two of the major spheres that changed significantly: patients and the health care model.
Patients
Patients tend to be dissatisfied with poor service and lack of transparency around price, quality, and safety. Today they are seeking accessible, customized and convenient healthcare apps.
According to the Accenture 2019 Digital Consumer survey, convenience becomes the top factor when seeking medical treatment. People are also paying attention to affordability and reputation of a medical provider.
Patients are expecting digital capabilities from medical providers. Younger generations, often referred to as Generation Z and Millennials, are more likely to choose a digital provider who offers digital services.
Even three years ago it was enough for a provider to offer additional digital solutions, e.g. online appointment scheduling, sending notifications, etc., to be in the top, today such services are the must just to be in the game.
Market Size and Model
The global health market is worth almost $10 tn in both private and governmental sectors. In 2018 the USA digital health market was valued at USD 86.4 bln as reported by Global Digital Market research.  According to various estimations, the global market size is to increase, exceeding  $118 bln in 2021 to more than $504 bln in 2025 due to the adoption of advanced technologies.
Digital health market unites the following segments: telemedicine, mhealth (mobile health), health analytics and digital health systems. Mhealth market is expected to witness the highest growth (about 38.8% CAGR ) over the next 6 years. To know more, we recommend reading our articles on how to make a telemedicine app and about pitfalls you should avoid in mHealth app development.
These expectations are not accidental, as the younger generation is in demand for such services.
As demand is changing, healthcare market players are in need to shift accordingly, by taking advantage of emerging opportunities to establish more direct and personal relationships with the patients. Digital health market today is becoming interconnected and patient-centered. As Research2Guidance 2018 states, an app has become a center of the digital healthcare ecosystem.
Being in the center of this new model apps are the bridge between hospitals and the patients. They are filling the patient's demand for convenience in their fingertips and help medical institutions establish more personal and direct relationships with their patients the moment the help is needed.
Currently, there are more than 165,000 mobile healthcare apps listed in Google Play and App Store. Anticipating the growth more and more medical providers are following the patients' demand to implement digital technologies and show interest in healthcare app development.
"Going digital" is not enough—"being digital" appears to be the new necessity for all healthcare organizations."
2019 Global health care outlook
Organizations that understand and act on how patients would like to interact with health providers and use digital health technologies are likely to improve value delivery and inevitably leapfrog the competition.
So, should you start to develop a healthcare application this year? If you are not willing to be left behind on the growing market, you need to consider it at least.
What app to develop? Let's move further to review what types of healthcare apps already exist.
Types of Mobile Healthcare Apps
The digital healthcare app market, mhealth in particular, is fragmented. There are different types of apps according to various criteria. We will review two of the most widespread classifications: by user type and by purpose, as they will help you decide who your target audience is and what problem the app will solve.
Please, consider the following classification as the starting point in defining your target audience.
By user type healthcare apps can be divided into two groups:
for medical professionals – aimed at internal purposes, facilitating their networking with other colleagues; access to databases with medical records and prescriptions, information about their patients, etc.
for patients – are typically used for personal health monitoring, keeping personal records (calories, weight, blood tests, etc.).
By purpose, healthcare apps fall into the following categories:
ER/Urgent Care – the main idea is to route patients to the nearest urgent care provider.
Wayfinding – navigation around your medical institution, a quick search of departments, physicians.
Women Health /Pregnancy/Childbirth – provide women with educational materials and information for natal care, scheduling for appointments, pregnancy tracker, etc.
General Hospital – the main app for a hospital, that includes general information, booking features, access to patient profile/personal portal via an app.
Cancer Care/Outpatient  – to provide engagement of the patient and doctors, treatment plan adherence, etc.
Wellness and meditation – to encourage patient to take care of their own health, one of the biggest categories, includes health trackers, wellness tips, meditation classes, etc.
Medication Tracking – to track prescription regime; helps to understand whether there are any medication conflicts.
Clinical & Diagnosis Assistant – to provide access to personal health records, electronic charts, lab test results, the information about possible symptoms.
Medical Scheduling – helps to get listed for medical appointments.
Obviously, it's not the end-list. We have mentioned only the most widespread categories.  
We suggest you define who are you making your app for (medical professionals/patients) and what purpose should it serve. Classifying your future app will outline the scope of both healthcare mobile application development and marketing activities to be covered.
Moreover, understanding what your target audience and why this app should be developed in the first place will significantly impact the healthcare mobile app design.
Key Medical App Design Features and Tech Stack
User experience is what makes a great app. If your target audience is millennials, pay attention to the following statistics: 21% of users will delete an app if they don't like how it looked on their Home Screen.
We advise you to consider user experience in two layers:
Design – the appearance of your app
Technology stack – what users can do with your app
Let's review these layers.
Design
Some words about how to design a healthcare app. An app design in healthcare is following standards of app design applicable to any field, adding some extra specifications.
Designing a medical app you should be based on the best practices that work for your target audience. As a rule, the design should be centered around user interface (UI) and user experience (UX).
Looking for usability experts? Take a look at our UI/UX services offer.
It's better not to reinvent the wheel and when designing a medical app keep in mind the following:
Simplicity – less is more.
Bigger the better – a small button or link will make it difficult for the user to click as this restricts the flexibility of their finger movements.
Colors – as the target audience of a healthcare application may include a sensitive audience, choosing the appropriate color palette becomes essential; moreover, various age groups tend to prefer different color schemes, e.g. children – vibrant, bright colors, older people – softer colors. The best choice of background will be white so that it won't distract from the main functionality. If you are dealing with an older target audience, make sure your application is implementing easy behavioral patterns, as these age group might have a lack of experience in using apps.
Fonts – it's better to choose up to three fonts, San Serifs are better perceived on the screen. Make sure fonts go well with the chosen color scheme, and don't prevent readability. Take into account Android and iOS typography guidelines. Pay also attention to kerning, spacing and text-align.
The last but not the least – create a responsive design according to all screen types your audience may use.
Great design is the first thing your users will see, and based on what they see they will further decide whether to use your application or not.
Tech Stack
Once you start building your application, chances are you'll start with a front end, what a user will face, and only afterward decide what back and tools you need to support that.  No matter what great idea is behind your future healthcare application, it won't succeed unless you define a robust technology stack, as it defines the future of any software.
In general, there are 4 pillars of any tech stack: frontend, backend, development platform, additional requirements.
Of course, the choice of the tech stack depends a lot on the features you are going to include in your application. However, we would like to share our experience in building a healthcare application to show how your healthcare app could be developed. The main idea of Kego is to provide remote medical service. We created 2 types of apps: for doctors (iOS), and for patients (iOS, Android and Web). Based on our client's needs, we included 3 types of users: doctors, patients, and admin, who is mainly responsible for adding doctors in the system and the refund policy.
The technical environment includes applications for doctors and patients, a web interface for admin, Twilio for live chat and video calls, Stripe for payment, file storage S3, elastic compute cloud EC2 to store backend code, database RDS (PostgreSQL), Rest API, and WebSockets.
Technical peculiarities:
for the frontend we used the following key technologies: for Web – React , Redux, WebRTC; for iOS – Swift;  for Android – Kotlin.
There is a single backend for native and web applications.
We built the client-server architecture with one unique API (Rest API) for all functions except sending notifications, as they demand two-way connection. WebSockets are used for push notifications.
All backend is written in Python, Django, Django Rest and deployed in the cloud (AWS). We have chosen  Amazon Web Services as it is the most comprehensive leading and broadly adopted cloud platform with extensive services and functions, and the deepest capabilities to manage a large number of users. It's one of the most secure cloud environments today and it offers detailed guidelines on how to implement HIPAA recommendations.
All data is encrypted and stored in the PostgreSQL. This database has max compatibility with Django and Django Rest frameworks, that were used for the web application.  PostgreSQL is fast, free, productive and one of the most popular.
Twilio and Stripe were connected via SDK.
Building a healthcare application, we took data protection seriously. We made sure data is secure in several ways:
We used an encrypted database to store personal information about a patient's health; all files that are transferred between a doctor and a patient are also encrypted and stored in the file database (S3).
We are encrypting information that is transferred to servers, using the HTTPS protocol.
As Twilio positions itself as a conduit to transfer protected health information, it doesn't need to sign a Business Associate Agreement, thus to comply with HIPAA itself.  We, on our side, needed to make sure protected health information is secure all the time. That's why we used data encryption for all information sent in chats (video calls, they are not recorded). A patient doesn't send files directly to the doctor, these files go via our database, where they are encrypted. A doctor has the key to read this encrypted message. In this way, we can guarantee that a patient's health information stays safe.
We implemented all HIPAA compliance recommendations for data protection.
Ready to build your healthcare app?
Healthcare Apps Business Canvas
When developing your business it's pretty understandable that you need to create a strategy, vision, roadmap, etc. When creating your app it's also vital to align this app with your overall business strategy, your customers' needs and your stakeholders' expectations.
Business Canvas
We would like to share one useful business tool, eliminating all the fluff that frequently goes along with business planning.
Business canvas or Business model canvas will help you answer the most valuable questions, that afterward will shape the requirements for your app:
Who do I target?
What value does my app bring?
How do I reach my customers?
How do I communicate with those who will use my app?
How do I get my cash flow?
What are the key functions of my app?
What assets do I need to make my app rise?
Who will I partner with?
What is the cost structure for my app?
These questions may sound complicated but they are vital to answer, as all of them represent one of the segments in business canvas, the core of your app business model. Here is an example of a business model canvas for one of the best apps in healthcare, Epocrates (an app for medical reference).
Once you create such canvas for your app, you will better understand your customers and the core values of your business. We advise you to outline this map for yourself before starting the healthcare mobile app development.
The Most Widespread Revenue Models for Healthcare Apps
There are several proven ways how to monetize your app. Healthcare app monetization models are similar to the monetization strategy that will work with any mobile app. Monetization model depends on business goals, business logic, and concept.
Let's review the most popular monetization models in healthcare.
| | |
| --- | --- |
| Monetization model | Description |
| Freemium | With a freemium, a user gets two versions of the same app: free and premium. With a free version, a user is typically introduced to the basic functions while the premium version gives access to more advanced features. Freemium model adds to the user's commitment and engagement. Moreover, a user gets to know the app before purchasing it. |
| Advertisement | Offering to advertise via your mobile app may be a frustrating experience, though it may allow users to access all functions for free. The main idea is to partner with localized advertising providers. Users are more likely to interact with ads if they are given a choice of brands (drugstores, retailers, etc.) |
| Subscription model | Registration / Subscription model is one of the most widespread. Such apps can charge doctors for every appointment/ registration that happened via an app, or doctors are paying a monthly fee to be available for further search in the app. |
| Certified content | The certified content promotion will work perfectly with peer to peer apps that are offering certified content. In such apps, doctors can view a specific amount of content for free. To get access to more regularly updated content a doctor needs to subscribe and pay a subscription fee. |
| Accumulated data monetization | All users' data provided via medical applications are protected and anonymous, however, there are legal methods to collect impersonal data. Such data might be valuable for other medical providers, pharmaceutical companies, researches, etc. |
| Paid | In paid applications, all features are blocked unless you purchase an application. |
It's highly recommended to decide on your monetization model at the very beginning, as changing it on the go, will benefit neither to your clients nor you.
Medical Apps Development Issues
The medical sphere is in general over-regulated, thus, as medical apps are dealing with sensitive personal data, they need to comply with corresponding regulations and laws. Therefore, one of the issues in medical apps development is to comply with the regulators' guidelines that mostly depend on the legislation of the country where your app is registered and will be used. All regulations boil down to protecting security and preventing sensitive personal data breaches. There are several standards you need to take into account once you've decided to create a healthcare app. We will list some of the digital health regulations in the USA and the EU. In the EU on the national level countries are developing regulations and guidelines for medical mobile applications and chances are they will be alike.
For the USA:
Health Insurance Portability and Accountability Act (HIPAA)
Federal Food, Drug, and Cosmetic Act (FD&C Act)
Federal Trade Commission Act (FTC Act)
Health Breach Notification Rule (FTC)
Lanham Act
US Copyright Act
US Patent Act
For the EU (the most general regulations)
Qualification and Classification of Standalone Software
General Data Protection Regulations (GDPR)
Data Protection Directive 1995/46/EC
e-Privacy Directive 2002/58/EC
The list of regulations is not limited to the ones that are stated above, as the regulation depends on an app and its functions. The most general regulations, that are the must:
for the USA – Health Insurance Portability and Accountability Act (HIPAA)
for the EU – General Data Protection Regulations (GDPR)
These two regulations are dealing with the protection and security of private information, they are similar in nature but different in jurisdictions.
Apart from becoming compliant yourself with corresponding regulations, there might be some issues dealing with additional services, that you are adding into your apps. For instance, when we were building the Kego app we included two services Twilio for chats and video calls and Stripe for payments. Twilio doesn't include HIPPA compliance (the app was marketed in the USA), thus we needed to add additional functionality to protect sensitive data.
Even though compliance with regulations might cause additional pain and increase time to market, it significantly adds trust to your product. As found by PwC more than half of the USA consumers would like to try an FDA – approved app or online tool to treat their medical conditions.
How much does it cost to develop a healthcare mobile app?
Unfortunately, there is no definite answer. It depends on many factors, starting with the platform where an app will be deployed to the functions and design. According to rough estimates, the average price range would start from $30k.
An app price is determined out of 3 factors:
Set of features – types of features determine the complexity of your app and the development time. As developers are hourly paid, the complexity of an app and the price are in direct dependence.
Platform – Are you willing to build native/ hybrid/ cross-platform application? It will all alter the price, e.g. Android healthcare mobile development tends to cost more than iOS as it requires more testing.
Rate per hour – as economies of countries differ, the rate per hour varies too. The US and EU based healthcare mobile app developers may cost you between $30 to $250 per hour, Indian – $20 to $80 per hour. On top of that, the cost of medical app development depends on whether it's a team of freelance medical app developers, or it's a healthcare application development company you are dealing with. Our advice is to deal with the company, no matter where the team is located. Dealing with different freelance healthcare mobile app developers will lead to various issues in coordinating processes and the clarity of code (it's vital if you are planning to scale/ upgrade your app in future).
When you are choosing a healthcare mobile/web application development company you will get a rough estimation of the work to be done and the price.
For instance, we have created iOS, Android and Web
apps for fitness – Ruggengraat. Tech stack included Swift, Java, Laravel on the backend, bootstrap on the frontend. In general, it took us 3 months to develop the first version.  The cost started at $80k.
Applications that support online consultations will cost more as they are more complex.  For instance, Kego, iOS, Android, Web application for patients and doctors which provides the possibility for patients to purchase an online consultation with doctors; built on Swift, Android, Kotlin,  ReactJS, Python Django, Firebase, Twilio API cost more than $100k.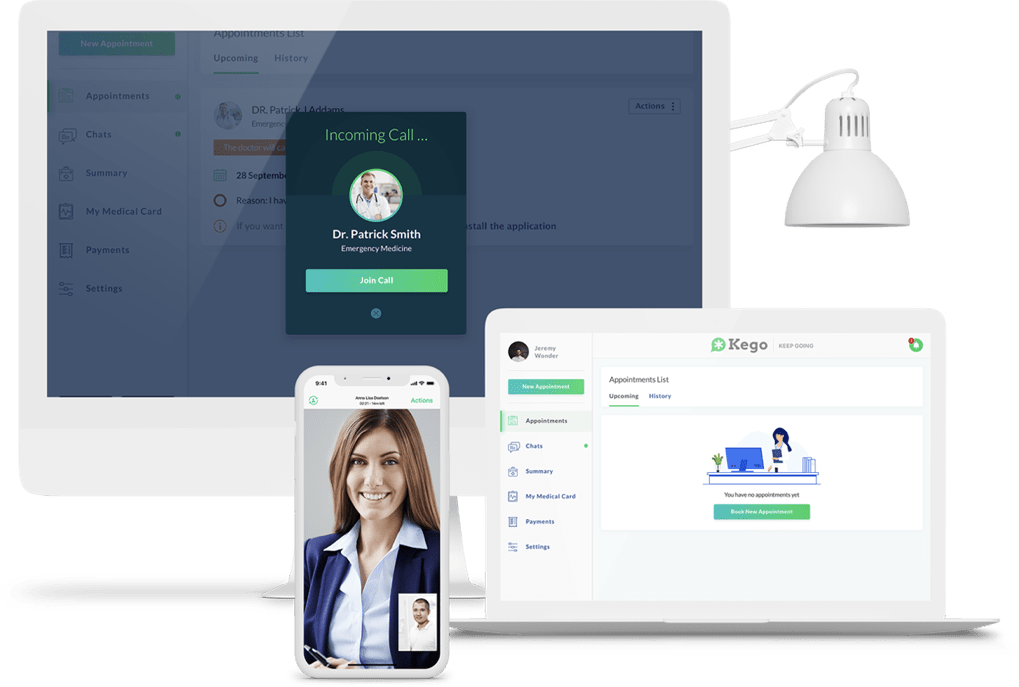 Moreover, according to our specialisation on the Healthcare field, we are listed at Top Health and Fitness App Developers.
7 takeaways
The market is growing, according to different estimations of $118bln in 2021. Applications are becoming the center of healthcare tech environment, bridging the gap between patients and hospitals. Patients are becoming more tech-savvy, and take collaboration with doctors via a mobile app for granted.
It's vital to define the target audience and their demands, as it will outline the set of features and the tech stack.
Pay attention to your healthcare app design, as it is the first your users will see. Give preference to white backgrounds and San Serif fonts, and adapt your app colors to sensitive audiences.
The choice of your tech stack will depend on the platform you want your app to operate on. It also depends a lot on the functionality you are going to use. Our advice will also be to think in advance whether you are going to stay only within one platform, or you are planning to cover both.
The best way to put your app strategy in one place is to create a business canvas.
There are many regulations in healthcare, dealing with security and data privacy. If you are planning you market your app for the USA, pay attention to Health Insurance Portability and Accountability Act (HIPAA), for the EU market leading document will be General Data Protection Regulations (GDPR)
The price depends a lot on the feature set of the to-built application. Thus, unfortunately, it's hard to give a definite price. While approaching healthcare app development agencies to be ready to pay more than $30k.
Being widespread already in various fields, digitization has already paved its way to healthcare, enabling health companies to get closer to patients and assist them when needed. Consequently, many providers start app development for the healthcare industry. It's up to you whether to leverage this digital tend or not, the window of opportunity won't be always open. Still, if you are wondering when to start your app development for healthcare, time is now when the market is unfolding and there is a demand for healthcare applications.