Parking apps are all the rage now. For drivers, they are a real catch helping them save time and money. Besides, these tools are incredibly useful for city infrastructure, as they reduce inner-city traffic, the number of accidents and improve space utilization.  
Overall, the smart parking market is thriving. It is expected to grow to $43 billion by 2025, representing a CAGR of 20 percent.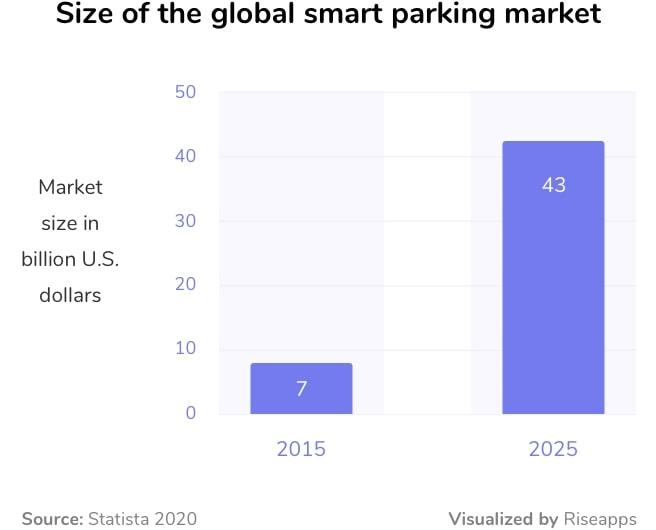 The top-notch parking technology solutions are not restricted by apps. There are a multitude of tools on the market – from community-based systems to robotic space holders, with connected parking being on the rise. 
However, apps are irreplaceable when a response to parking challenges is required. Even for cutting-edge solutions like automated vault parking apps, they are necessary. That's why creating a parking app might be rewarding for you, not to mention helpful for cities. 
Riseapps has considerable experience in creating different apps, including parking applications. So we compiled this brief guide on car parking app development. Read on to learn more. 
Types of Parking Apps
If you wonder how to build a parking app, you might be interested in the types of tools available on the market. 
Below, we'll list some categories of apps. In some cases, however, the division is rather conventional, as software programs often have way many functions, thus falling into several categories. 
By geographical coverage 
Initially, all brand-new parking apps are introduced into a specific small region. With time, however, some of them spread over the countries and even continents. Kerb and Parkgene can serve as examples of such tools.  
Many apps, however, work successfully in specific countries or cities only. ParkNYC would be an example of such a tool. 
Needless to say, creating a global tool is more challenging, but it might be more rewarding as well. Anyway, it's a good idea to start with building an MVP and test your app in a specific region first. 
By functionality 
Most of the tools on the market are for parking management – i.e. they allow drivers to find, reserve and (or) pay for a spot. JustPark and SpotHero can serve as examples.  
Another category of apps has a different function, as the tools help drivers park safely. Fensens developed by Riseapps would be an example. As connected parking is evolving, tools of this kind are of topical interest to investors.  If you set out to build one, let us assist you. 
Each category of tools – parking assistance or management – requires a completely different tech stack. Parking assistance apps might be a little more difficult to build and development might take some more time. 
By parking management features
As mentioned, most of the tools on the market combine different features, but some are built for specific purposes only. 
These apps solve probably the most vital problem of drivers all over the world. They allow you to find a spot available for leaving your car – sometimes right now – so you can park on the fly. Search tools are often supplemented with parking booking and payment features. 
Booking and reservation tools
Some tools allow you to make arrangements, not only for the nearest time but also for a week, a month or so. Often, these tools include a payment feature. ParkingPanda and Parclick could serve as an example of such apps.  
These apps help drivers to buy parking services, and sometimes it's their core feature. Pango – an Israeli app – would be an example of such a tool.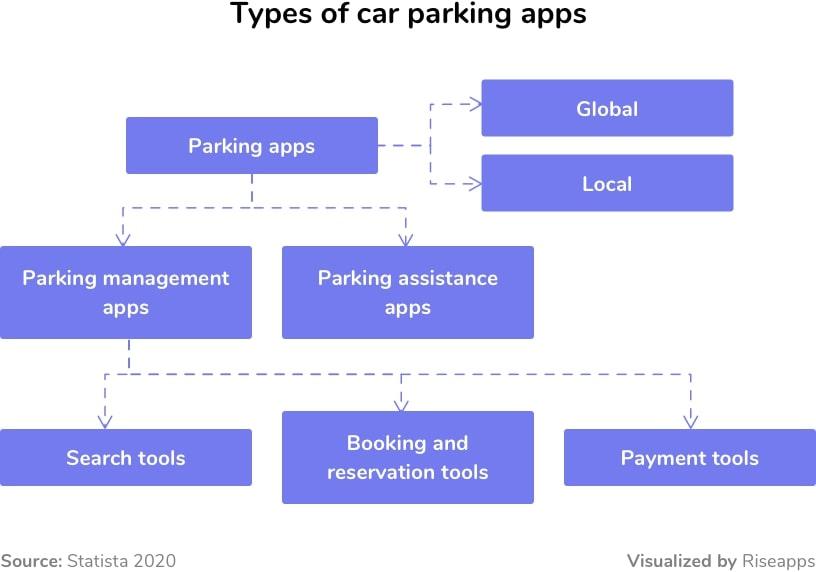 By parking place
Some tools help you leave your vehicle temporarily somewhere along with the sidewalk (or anywhere on the street). 
Off-street parking can be both indoors and outdoors. It includes private lots, parking garages and driveways. 
Any on- or off-street tool can serve as an app for available parking spaces or have many more features like booking and payment. 
By search options
find a spot
find your car 
Most often, apps help drivers find a place to park. Some tools, however, solve a different challenge assisting you in finding your car in a large area. Parkify is an example of such an app. Developing an application to detect empty parking spaces is a more popular endeavour, though. 
By payment methods 
Credit card 
Apple Pay 
PayPal
Parking by phone, etc.
Usually, the more options a tool has, the better. The choice depends on where it operates. We'll touch upon this subject again in "Our experience" section. 
By payment features 
Software programs may provide drivers with different tools helping save their money. Users can 
view pricing
compare pricing 
get discount 
There are many more categories of parking apps, but we've focused on the main ones. Now, let's move to a brief review of some of the most successful tools on the market. 
The Most Successful Car Parking Apps
First, a few words about the parking apps market. 
It is extremely versatile as cities and countries have their inner-city challenges and regulations. Besides, it is very fragmented (especially in Europe) and highly competitive. Thus, car park operators often implement new services to boost their revenues and profits, e.g. cleaning cars while being kept in a spot. 
We'll list 3 tools arguably considered as the most successful ones. At least, they definitely worth the attention of those wondering how to make a parking app, as they could learn from the experience.
The tool is one of the oldest tools in the worldwide market built in 1999 in Europe. In the 2000's it spread to the United States – where it now boasts 2.5 million users – along with Australia, Canada and New Zealand. Basically, it's the leading provider of parking solutions in the U.S.
ParkMobile lets drivers perform parking search and pay for parking on their mobile devices. On- and off-street services are covered, without having to use a kiosk or meter. Besides, the tool offers reservations for concerts, airports, sports events, campuses and more. 
If you are going to make a car parking app, we'd advise you to take a close look at this tool with its 20-year history of ups and downs.  
This is one of the largest databases of on- and off-street parking in the U.S. It's been enjoying quite a success since 2009, providing availability and payment information in more than 16,000 cities, on 7 continents, according to its website. 
The tool allows drivers to check daily and monthly rates for parking lots, plus rates for street parking. Users can set a timer to avoid overstaying, overpaying or getting a ticket. They can also see real-time info on available spots and street parking (the feature is available on some markets only).
ParkNow is a subsidiary of BMW and the part of the ParkNowGroup that  reached 230 million transactions with its core (ParkNow) and other brands (Parkmobile, RingGo and Parkline).  
The tool allows users to pay for parking on the street so they don't search for change or run to the parking meter. All is ticketless and cashless in over 80 cities in Austria and Germany. 
Among other tools – startups – standing out in the market, Parkopedia, JustPark, and SpotHero are noteworthy. 
How Do Parking Apps Make Money
When making a parking app it's important to explore 4 main ways for such tools to make money. The options you choose largely depend on the type of your software program and local regulations. Before you build a car parking app, it's a good idea to consider all the ways of monetization. 
Your app can charge an extra amount of money for booking, reserving a spot, or payment. 
Instead of paying with their dime, your users might pay with their time and attention. As the global advertising market continues to increase, placing ads might be an option as well.  
You might create a freemium app but with some advanced paid features. For example, some apps provide their users with a possibility to buy a permanent vacant space in an area where cars can be left temporarily. 
Needless to say, to make a paid tool you should deliver some exclusive or highly-valued services. 
Top 6 Parking App Features 
Let's take a closer look at the key features of parking management apps.
Search and Navigation 
Search and navigation is a quite common feature in tools of this kind. Users can determine the distance to the nearest lot and be guided to where they can leave their car. Parking spot finding is one of the most frequent requests of drivers.
Booking
It allows users to pre-pay for the place on a daily, weekly, and monthly basis. This helps drivers to avoid everyday reservations, saving their time and money.
Payment
Payment option is usually a huge benefit, as many drivers don't want to tinker with cash. Usually, several payment options are available in apps.
As for the payment systems, the choice depends on the customer and their country. For example, in the Middle East countries, Payfort is more often used. In other regions, however, users may prefer Stripe, PayPal, Braintree, and other systems.
As for technology stack, the libraries that might be handy for a developer making a parking app are react-native-in-app-purchases, react-native-stripe, react-native-paypal, and so on. (That is of course if you choose cross-platform development – for Android and iOS).
Push notifications
Apps can send notifications about discounts and application updates. But what's even more important they can notify the users before the parking time is over. This allows drivers to extend their parking time if necessary and avoid paying a fine.
As for techstack, to build this feature, your developer can use react-native-firebase. If push notifications are implemented via backend,  react-native-push-notifications can be used. (Again, it's valid if you opted for the cross-platform development)
Whatever platform you choose it's a good idea to create an MVP. A product with just enough features to satisfy early customers will provide feedback for future product development.
Now, let's also list 2 key features of parking assistance apps.
Audio, visual, or vibration alerts
Apps can send audio, visual, or (and) vibration alerts for objects detected in front or behind your vehicle. The piece of software interacts with wireless backup cameras and sensors.
Automated parking management
When it comes to automated valet parking, cameras thoroughly map the surroundings and any possible obstacles for a vehicle to maneuver and park. And it's the smartphones that initiate and orchestrate the process.
8 Steps to Build a Parking App
Steps for building a parking app are pretty simple and well-defined.
Step 1. Define your goal 
It all starts with the core appeal of your app. What are the concrete challenges you are going to solve? Will it be a parking management or a parking assistance map? Will it have features to find a parking spot and pay for it? Or will it address a completely different problem?
Step 2. Do marketing research
It's crucial to know who your competitors are. Would your app work locally or will you extend your presence to a global market? What will make your tool stand out? It's also a high time to determine how you can market and monetize your app.
Step 3. Find the development team
If you have your own development team, everything is clear. You just give them instructions and monitor progress. 
If you don't, it's a great idea to outsource one. Nowadays you can get a development team to build your app from A to Z. Just make sure you choose a trustworthy agency with a wealth of experience like Riseapps.
Step 4. Prepare technical requirements
The technical requirements for your app stem from its purpose. Describing the idea in general first, you can consider the sequence and prioritize features of your app. Search, booking or payment features should be described in a functional specification document or user stories. 
Step 5. Create stunning design
The next 2 steps are usually intertwined. After clearing out all the technical specifications, an intricate "dance" between design, development and testing starts.
On the design stage, you find ideas and features blend into a clearer picture. The idea is to build a roadmap that will help you understand the connection between each screen and how drivers can navigate through your app.
Step 6. Develop and test
The "dance" continues, so your team is building both backend and frontend, setting up databases, servers, APIs, storage solutions, etc. After the first time, you have your actual app concept completely in place, you can finally test your app to understand how it will actually look and feel. 
Step 7. Release!
App marketplaces have very different policies when it comes to publishing a new app, so one should start preparing for this stage as early as possible. Marketing efforts are also of the essence when the app is finally released.
And don't forget to reach your early adopters and receive some of the very earliest feedback on your car parking app.
Step 8. App support
The maintenance of your app involves fixing any possible defects and thus improves a developed version of an application.
By the way, Riseapps provides a 2-month guarantee on the code. It means that all bugs that might be unveiled during this period will be fixed by our team for free.
Parking App Development Costs
For those wondering how to create a parking app, the question of price is out front usually. 
The budget required for a basic level app with a solid backend and custom design, for both iOS and Android (cross-platform development) might cost around $40k. But more complex features would make it more expensive. 
Depending on the region your developers work, the price of your app can vary. 
| | | |
| --- | --- | --- |
| Region | Hourly rate | Basic level parking app  |
| The USA | $100-180 | $80,000-160,000 |
| Great Britain | £100-180 | $120,000-170,000 |
| Western Europe | €80-150 | $130,000-160,000 |
| Eastern Europe | $30-70 | $40,000-55,000  |
| Ukraine | $30-50 | $35,000-40,000 |
| India | $15-30 | $30,000-40,000  |
Riseapps team is always on the way to optimize your budget and recommend the best solution to your needs. 
Our Experience in Mobile Parking App Development
As you might know, Riseapps is deeply involved in mobile development.  Recently, we built an app for car parking assistance. 
Our client – Fensens – designed a sensor that detects objects in front and behind a car. They needed an app that would receive data from the sensors, process and reflect them in a way that helps drivers park their vehicle. 
As per request, we developed the mobile application that converts signal from the sensor into visual, sound and vibration alerts after detecting nearby objects. This piece of equipment sends information to a mobile device via Bluetooth. Thus, drivers can park safely.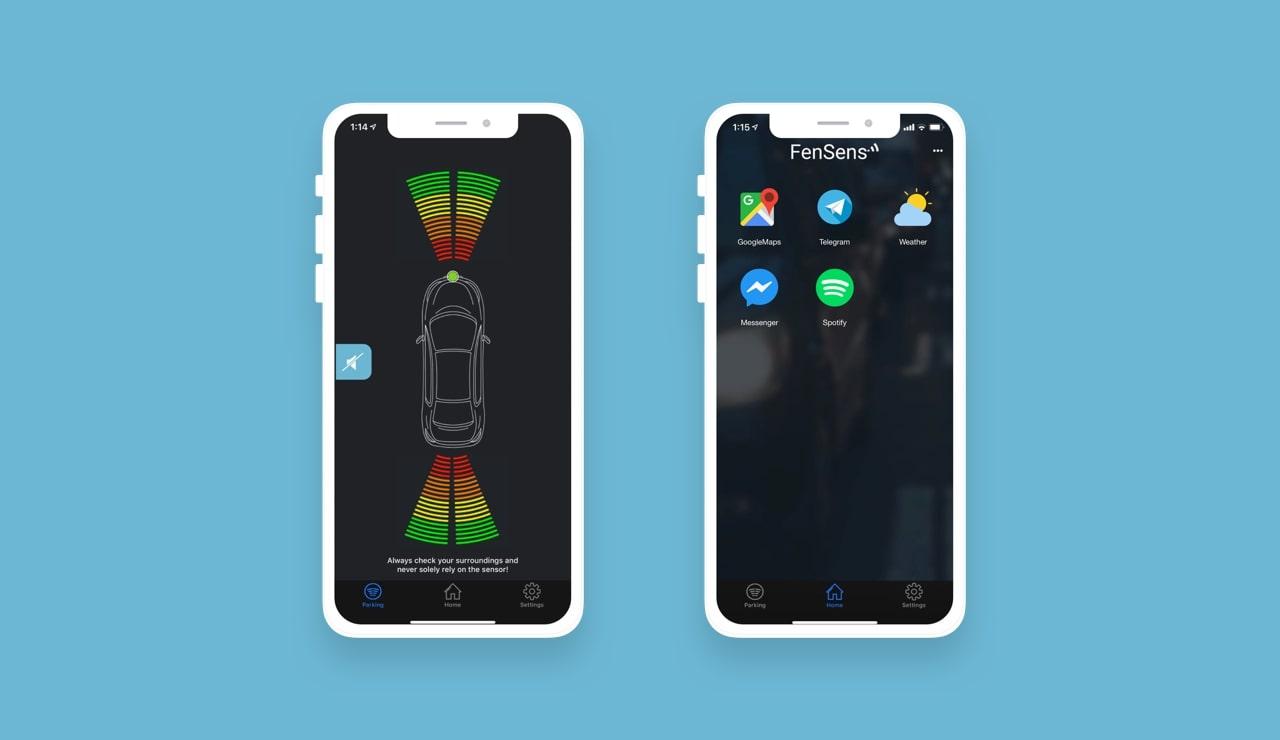 To make our car app solid, safe and easy-to-use, we've spent about 1000 hours. Actually, we made two native apps – for iOS and Android using  – Swift and Java programming languages. 
With 30,000+ customers, Fensens has enjoyed 580% usage Growth.  Fensens Smart IoT Car Solutions is featured in Forbes, CNET, TheVerge, and other prominent media.
Conclusion
In this article, we've made a brief review of how to develop a parking app. 
As we saw, there are many types of these tools. The majority of them are parking management (parking finding and other) apps, but parking assistance applications also seem to have big prospects. Some of the tools work globally, but many tools are successful in their specific region or country. 
Most parking management apps usually have 4 key features: search and navigation, booking, payment, and notification. As for how much parking app development costs, $40k would be the price of a basic level tool (providing you choose a trustworthy development company from Eastern Europe).
Whatever app you are up to create – just a parking finder or a top-notch tool for automated vault parking, Riseapps is here to assist you. Our expertise allows us to take on the most sophisticated projects and work with the latest technologies. Let us help your big idea come into life!