Clubhouse came out in the spring of 2020, but its popularity skyrocketed nearly a year later. As of January 2021, the application has been valued at an impressive $1 billion. The platform drew the attention, of the general public and investors and now many entrepreneurs want to know how to make a social media app like Clubhouse.
We created a guide to help you build a voice-chatting app based on this unicorn startup. Our article provides a detailed overview of essential features, monetization options, development steps, and more.
What's Clubhouse?
Clubhouse is an audio-based social networking app co-created by entrepreneur Paul Davison and software engineer Rohan Seth from Alpha Exploration Co. The company shortly describes its application as a 'drop-in audio chat'.
The audio-based conversations app gained initial popularity among the American tech community. As of March 2021, Clubhouse is only available on iOS, but the company claims that it's already working on the Android version of the application.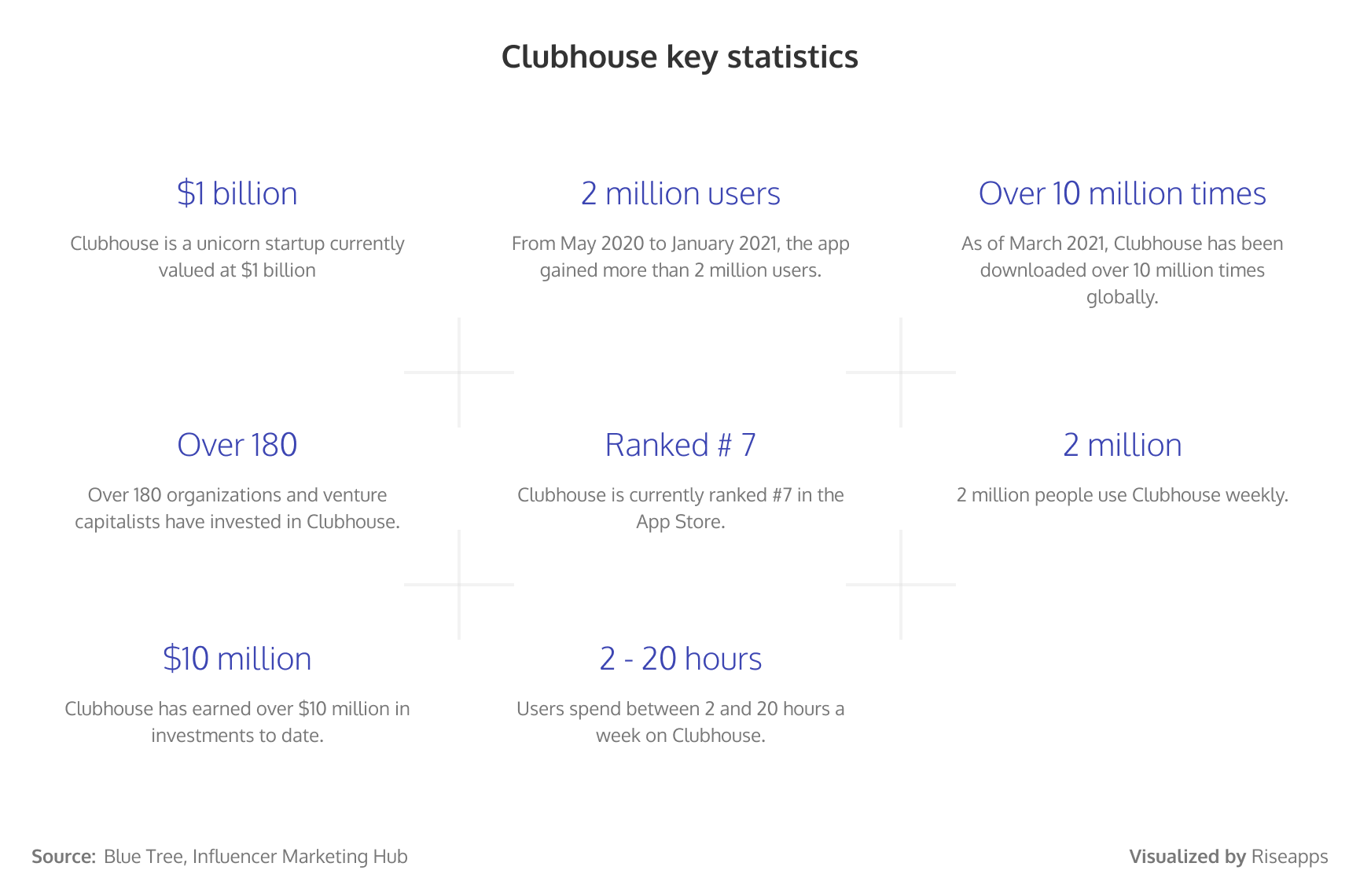 Several factors affected the success of Clubhouse. The first factor is the fact voice-only group chats became the new normal for people during the quarantine. Another reason the application is so successful is the added feel of urgency. Conversations on Clubhouse can't be recorded, meaning more users want to access the app not to miss anything important.
Another factor that made Clubhouse popular is its adoption by public figures. One of them is Elon Musk, who drew a lot of attention to the app and is considered the key driver of its fame. Other industry leaders popularized Clubhouse by holding lectures and meet-ups there, which they usually announce on other social networks.
You now have an overall idea of the application and the reasons behind its fame. Let's look at how it works to understand how to create a Clubhouse-like app.
How does Clubhouse work?
Users can access Clubhouse by invite. It's also possible to join a waitlist and get 'bumped up' to the top of it by someone who already uses the app.
When the user gets access to the app, they're asked to enter their real name, set up a profile, and choose their interests. When these steps are completed, the user is redirected to the feed section of the app.
The main feed includes current and upcoming chats, known as rooms, that may interest the user. There are three main actions for a regular room participant: leave, add others, or raise a hand. Users can also become speakers and moderators. The moderator role implies the most rights. The moderator can end the conversation, accept raised hands, add speakers, and kick out participants.
The application has an explore section to find people, rooms, and clubs users are interested in. The clubs are similar to groups on other social media. A user can either follow a club or be added to it as a member by the club creators.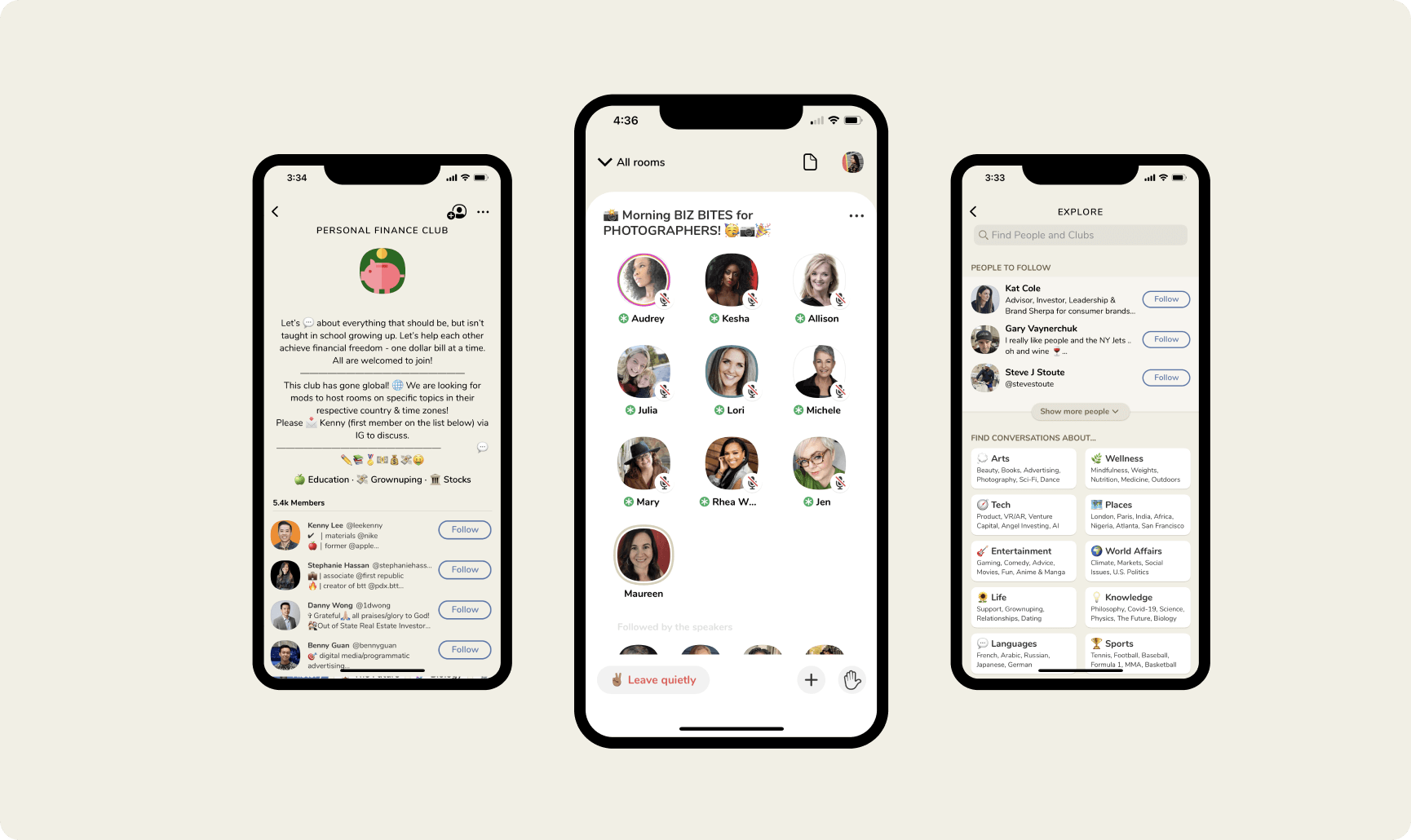 There's also a section with invites, where a user can offer someone on their contact list to join Clubhouse. The upcoming events tab shows all rooms created by people a user follows. In the activity section, users can see who just joined the app or followed them, as well as newly scheduled rooms.
That's the main functionality of the popular application. Next, we'll provide you with a full list of features required to create a social media app like Clubhouse.
Key features for a Clubhouse-like application
Onboarding
You need to introduce users to your application right when they install it. For a voice chat app, make the onboarding very detailed to make sure people understand the main functionality of the app. Here are a few stats to show you how important onboarding is.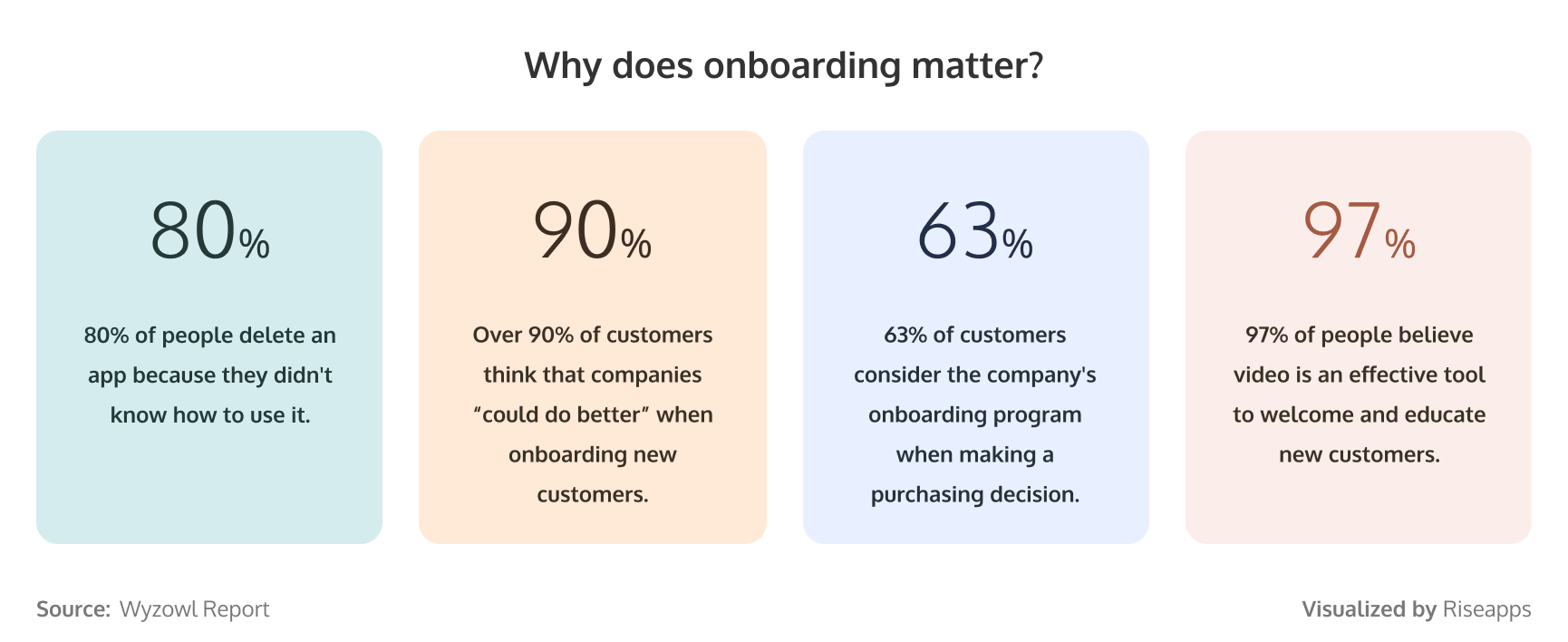 The onboarding in Clubhouse isn't very sufficient: there's no information about the key sections and functions of the application. When building your own app, do the opposite and provide instructions for every key function of the application. For example, you can create a short walk-through video and show it to users when they first open the app.
User profile
Clubhouse is a social network, so the user profile is the main tool for people to show who they are and connect with each other. Allow users to personalize their accounts by adding a bio and interests and linking social media profiles like Instagram, Facebook, Twitter, etc.
Feed
The main feed is the first thing existing users see when they open your application. Make it well-organized and personalized to ensure people see chats they're really interested in.
The buttons for creating a chat should also be placed in the feed section for quick access. However, it would be best to make starting a chat available from most of the app sections.
Audio chats known as rooms
Chat rooms are the main highlight of an audio-based social media app. Include several participant roles like Clubhouse does: listener, speaker, moderator. Make it possible to create public or private conversations and set their topic to find relevant chats easier.
Clubs
Clubs or groups add the community element to a social media app like Clubhouse. On the page of each group, you should include its description, related events, and a list of members so people can connect with one another.
Search
A search tab makes using a voice-chat app much easier. Allow users to find accounts, groups, and events they're interested in. To make the search feature more effective, include filters and customized suggestions.
Activity tab
This feature should let users see their new followers and freshly scheduled chats. It's also wise to inform users when people they know join the app so that they can connect immediately. You should also consider including push notifications for this section of the application.
Event schedule
A schedule helps users to keep track of all the upcoming chats. You can make this feature a list of events like Clubhouse does. Alternatively, you can design the schedule as a calendar to make it more convenient.
Notifications
Implement notification to make sure users never miss a chat. Clubhouse has a great option: people can choose how often to receive notifications from the app. This way, users don't get bombarded with chat announcements, so they are less likely to turn the notifications off.
We previously covered a general list of features and development steps for a social media app. Check out that article if you're interested in creating your own networking app from scratch.
Business model: how will Clubhouse be monetized?
After you've selected the features to build an app like Clubhouse, you should think about making it profitable.
As of the beginning of 2021, Clubhouse is not monetized. However, there will soon be plans for creator payments in the application. Opinion leaders will organize paid rooms, and Clubhouse will subtract a fee from the creator's profit.
Such a monetization strategy raises an important question: when your audio-based social network is released, should you attract creators or regular users first? Let's look into this problem.
The 'chicken or egg' paradox
A social network like Clubhouse is a peer-to-peer platform, meaning that a part of users creates content in the app, and another part consumes it. If there are not enough 'consumers', the content creators won't have a sufficient following to profit from their work.
You should carefully consider how to implement content monetization in your own application. Think about these ways to boost this process:
Don't subtract the fee from the creators' profit for a limited time after they join.
Give users a discount for the paid content upon registration.
Allow creators to invite their target audience to the app from other social media.
More monetization models for a voice chat app
We offer you four other options to turn your app into a revenue stream:
Paid subscriptions. Instead of making your app invite-only, you can make it subscription-based. This adds to the exclusivity of the application and makes it profitable at the same time.
In-app advertising. Banner or video ads are a tried and true method for monetizing your application. Place the advertisements throughout your app, but don't go overboard with them.
In-app currency. You can implement a virtual currency in your application. This method is similar to content monetization, but allows setting transaction values more beneficial for you.
Microtransactions. Finally, there are transactions like tips and donations. The profit from these can either go 100% to the creator, but you can subtract a small microtransactions fee. If you make it mandatory to combine this monetization technique with others, you'll get a sufficient profit.
Let's look at all the monetization methods side-by-side.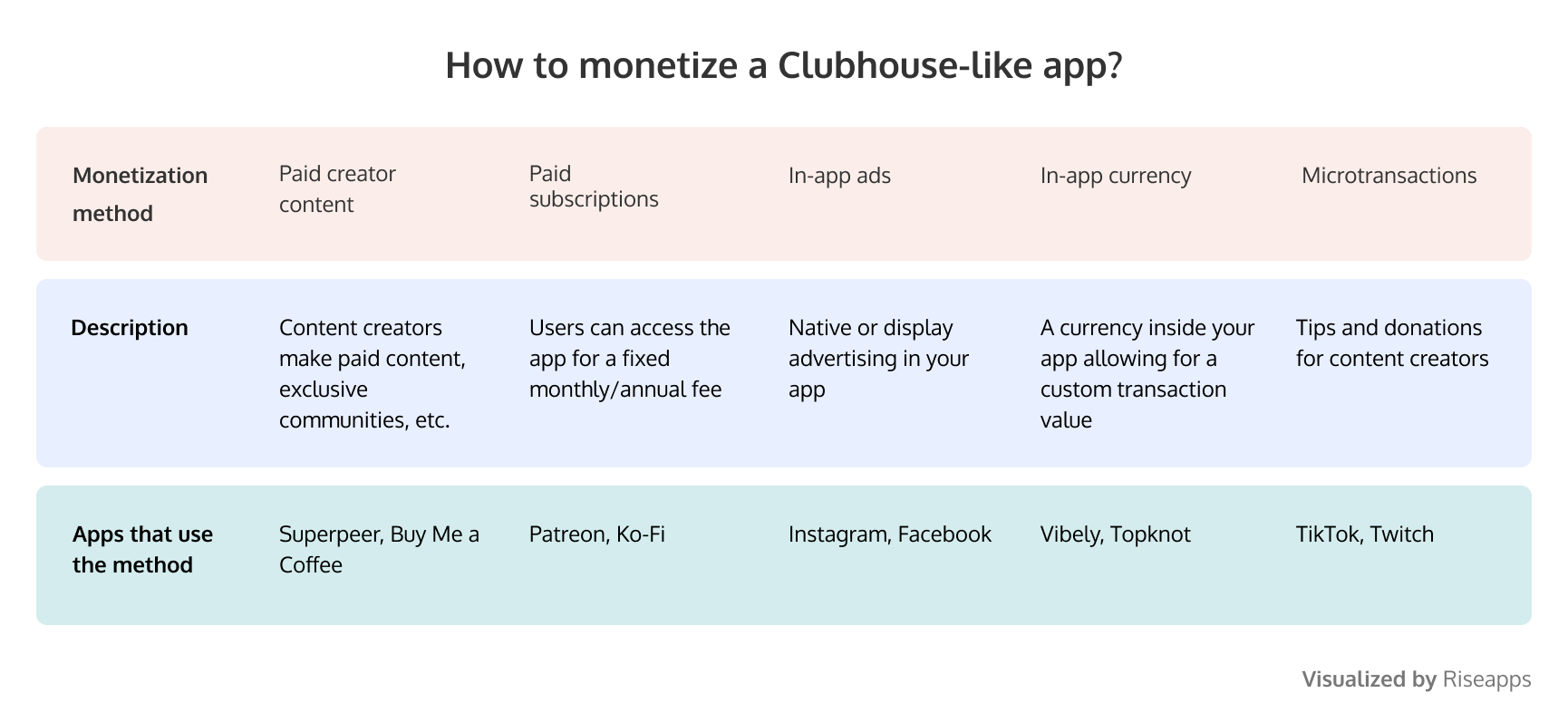 How to make an app like Clubhouse: a step-by-step guide
It's finally time we tell you how to develop an app like Clubhouse. A step-by-step development process looks like this:
Idea & research
MVP development
Testing
Release
Here's a detailed overview of each of the stages.
1. Idea & research
To create your own app like Clubhouse successfully, don't just mimic existing applications. Consider the weak points of Clubhouse and other similar platforms to conceive a solid app idea and think about offering a better solution.
Before you develop the application, we highly recommend creating a lean canvas for it. The lean canvas is a 1-page version of the business model canvas that helps break down your idea into key elements and get a clear project vision. It lets you evaluate the current market needs, select your target audience, and more to understand what exactly your solution will be like.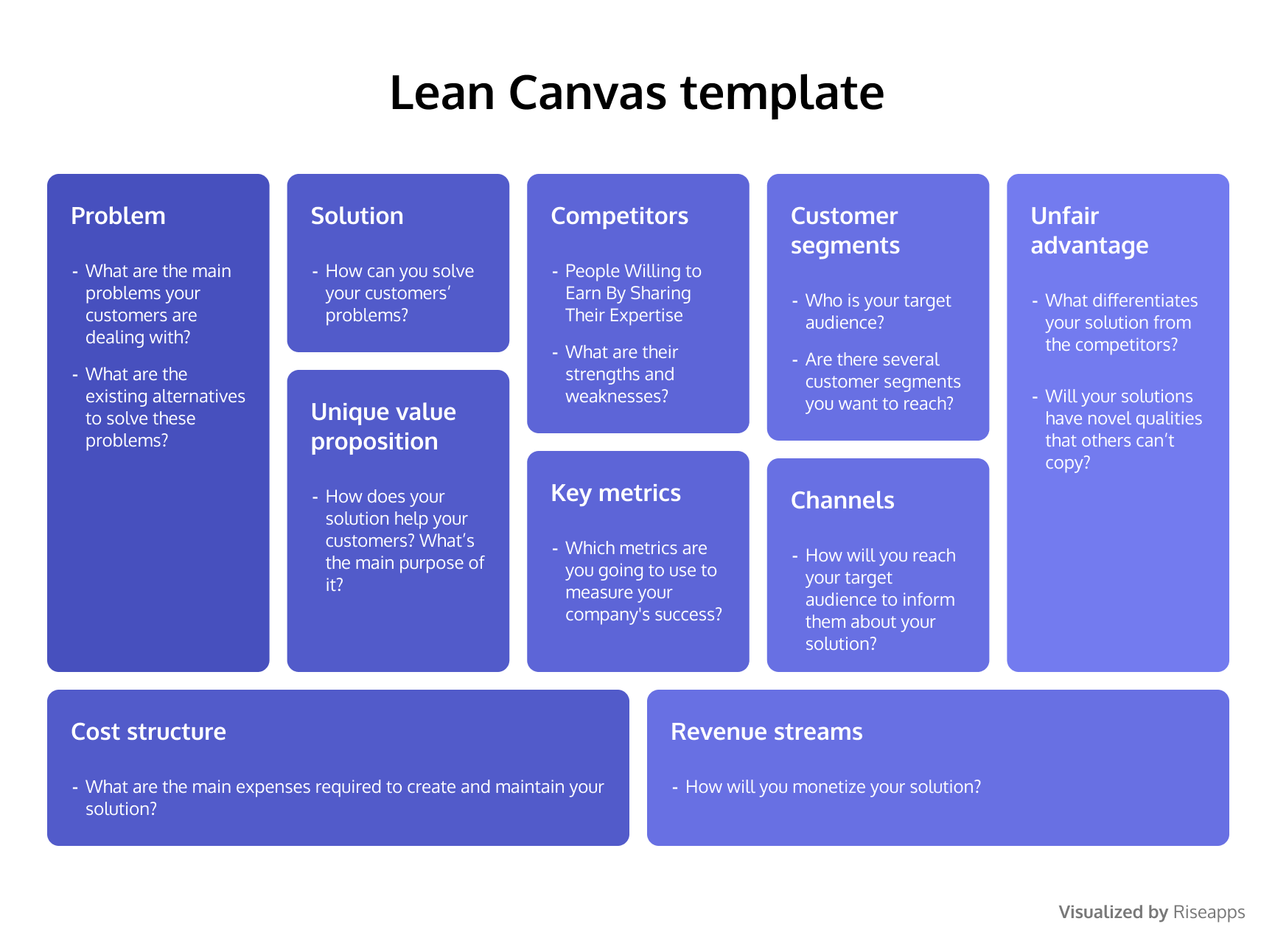 Answering these questions is crucial to structure your idea and turn it into a viable business plan. Moreover, a lean canvas can help you come up with additional ways to differentiate your app, increasing the probability of its success.
You should also do some research to choose the right development partner. Look for a team with proven experience in creating social media apps and working with VoIP services.
2. MVP development
Clubhouse is still a novelty. If you use it as app inspiration, we recommend you build a minimum viable product first. A minimum viable product or MVP is a basic version of an application released to test your business idea and get initial user feedback. With an MVP, you can spend less on your app and see how well it performs before adding more features to it.
A voice-chatting application needs a bit more than regular mobile and backend development. What's required to create a social media app like Clubhouse is a Voice over Internet Protocol or VoIP. This service lies behind the main function of such an application: transmitting audio from user to user instantly and smoothly. 
Unfortunately, Clubhouse doesn't share its tech stack yet. However, we do know that the application uses Agora as its VoIP provider. Besides Agora, consider VoIP services like Twilio, EnableX, and CONTUS MirrorFly.
| | | | | |
| --- | --- | --- | --- | --- |
| | Agora | Twilio | EnableX | CONTUS MirrorFly |
| Deployment | iOS, Android, MacOS, web, cloud, SaaS | Web, cloud, SaaS | iOS, Android, web, cloud, SaaS | iOS, Android, MacOS, Windows, web, cloud, SaaS |
| Free trial | + | + | + | – |
| 24/7 live support | – | + | + | + |
| Training | – | + | + | + |
| Pricing | From $0.00099/minute | From $0.0085/min | From $0.0127/min | Not provided by the vendor |
We already reviewed Agora and Twilio in our list of the best VoIP providers but for a video chat app. If you're interested, check the article below.
Top 4 video chat SDK and API providers
Read more
3. Testing
The MVP should be comprehensively tested, so your users won't get an application full of bugs. When you make an app like Clubhouse that includes VoIP services and voice-transmitting functionality, connection reliability should be checked especially well.
Sufficient time for quality assurance of the app equals at least 20% of the development time. You can also opt for testing in production, a practice where software is tested while already available to real users. This method helps with identifying the most prominent bugs in your application and fixing them right away.
4. Release
It's finally time to release your application. With social media apps like Clubhouse, it's crucial to make your platform viral. Think about how you'll promote your app. Some of the best ways to market your application are:
hiring influencers to advertise your app;
using App Store and Google Play Store optimization;
promoting your application through relevant media outlets.
Also, pay close attention to the first customer reviews your application gets after the release. This feedback can reveal valuable information to improve the app and make sure people will continue using it.
How much does it cost to make a Clubhouse-like app?
Now that you're familiar with the development process let's examine the cost to develop an app like Clubhouse.
If you decide to build a voice-chat app for both iOS and Android, prepare to hire a team of around six people:
A business analyst

analyzes your business objectives
translates them into requirements and creates a software estimation
calculates the development timeframe and cost

A project manager

creates project time plan 
creates separate tasks for each team member
holds meetings and tracks the team's progress

A designer

builds the basis of your app in the form of wireframes
creates the user stories to design compatible UI
adds all the necessary features to the app interface to ensure good UX

An iOS developer

An Android developer

create initial software architecture
turn the prepared design into the codebase
choose optimal development tools and approaches to build a solid app

A QA engineer

tests the app to ensure usability across various devices
identifies bugs and reports on them to the developers
prepares software documentation
Such a team will build both apps in around 6 months for approximately $75,000. Below is an approximate estimate for a project like this.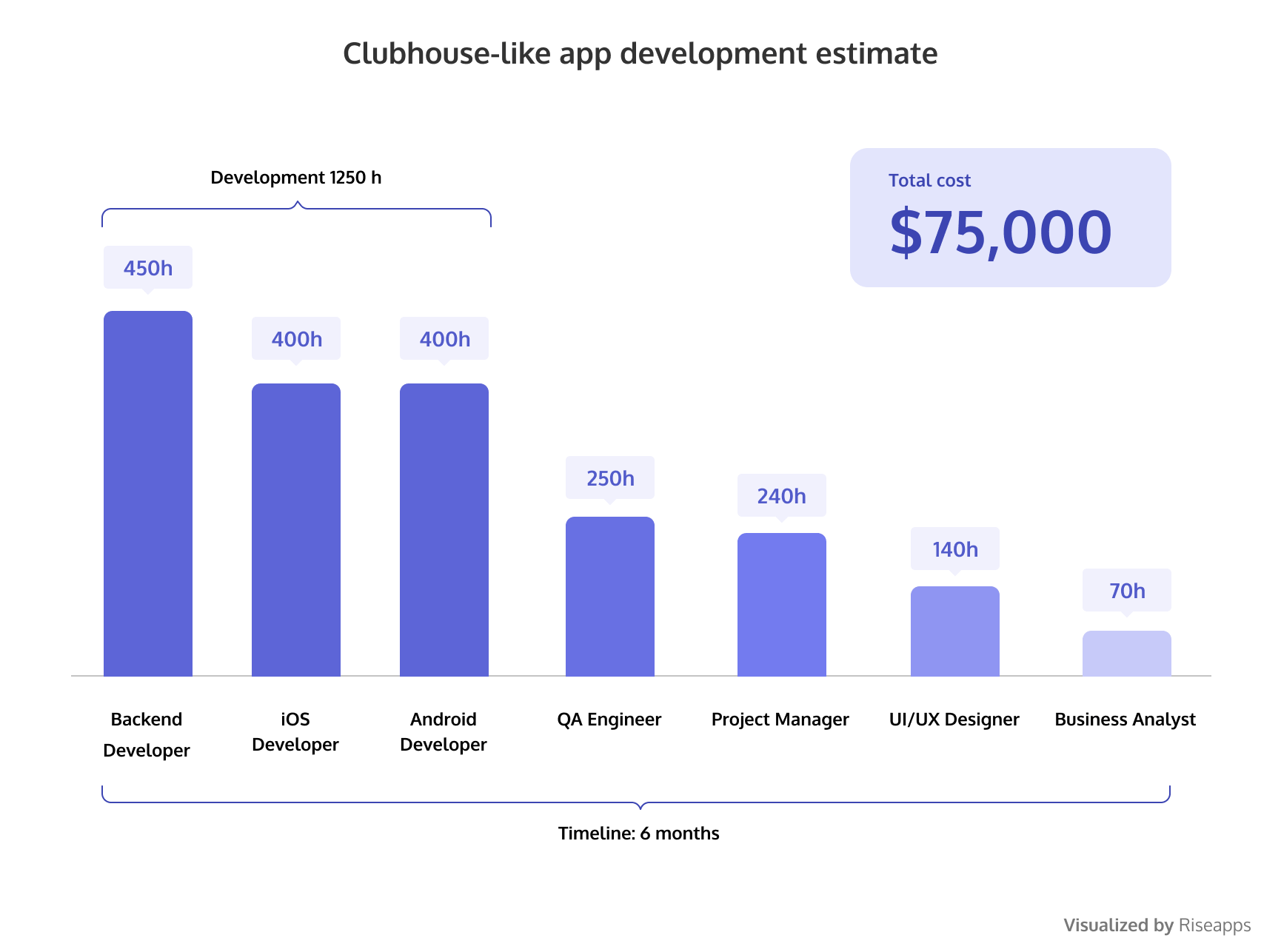 Besides the development timeframe, team size, and app functions, your project price is affected by the developers' location. Here's an overview of software development rates based on location.
| | | |
| --- | --- | --- |
| Region | Hourly rate | Basic voice-chat app |
| The USA | $100-180 | $195,000-350,000 |
| Great Britain | £100-180 | $275,000-487,500 |
| Western Europe | €80-150 | $195,000-350,000 |
| Eastern Europe | $30-70 | $58,500-136,500 |
| Ukraine | $30-50 | $58,500-97,500 |
| India | $15-30 | $30,000-58,500 |
It's also important to remember that you'll have to continuously pay for the VoIP services when the development is complete. Make sure you know how much your chosen provider charges.
If you want to develop an app like Clubhouse and release it quicker, choose a cross-platform technology like React Native. You can build an application 1.5 faster with this framework, which not only speeds up the release but also allows for cutting costs.
Conclusion
With the right idea and positive outlook, you can create an app even better than Clubhouse. Research the market and decide what will make your application different. Hire a reliable development company to bring your idea to life. In just a few months, you'll be ready to conquer the market with your spontaneous voice chat app.
We hope our article helped you understand how to build an app like Clubhouse. If you still have questions, our team is here to answer them.
FAQ
---
How does Clubhouse work?

---

Clubhouse is an invite-only drop-in audio chat app. It offers users a chance to organize conversational rooms, follow each other, and create groups based on common interests.
---
Is there a Clubhouse app for Android?

---

As of March 2021, there's only a Clubhouse app for iOS. However, if you decide to start an app like Clubhouse, we advise you to make it available for both iOS and Android.
---
How can I monetize a voice-based social media app?

---

You can implement paid creator plans and charge a fee for them. Other monetization options are subscriptions, in-app advertising, in-app currency, and microtransactions.
---
What are the steps to create a mobile app like Clubhouse?

---

The main steps of voice chat app development are:

Idea & research
MVP development
Testing
Release
Support

Reach out to us, and we'll help you develop a Clubhouse-like app in a fast and cost-efficient way.
---