Social media apps are all the rage now, so creating one can be truly rewarding for both – you and your audience.
With a team of aces and a well-built plan, your workflow can be smooth. Your app doesn't have to be super-expensive, but rather cost-effective. The whole development process shouldn't be extremely time-consuming.
At Riseapps, we've had a solid experience of building successful, long-lasting, profitable software products, including apps for all platforms. We've decided to share our expertise by compiling a brief guide navigating you through the process of creating a social media app.
Let's get started!
Social media app trends and statistics
You might wonder what social media market looks like as of 2020 to make a thoughtful decision on making your own app. 
Here are the most popular mobile social networking apps in the United States as of fall 2019, by monthly users. As you can see Facebook, Instagram and Twitter are ahead of the game.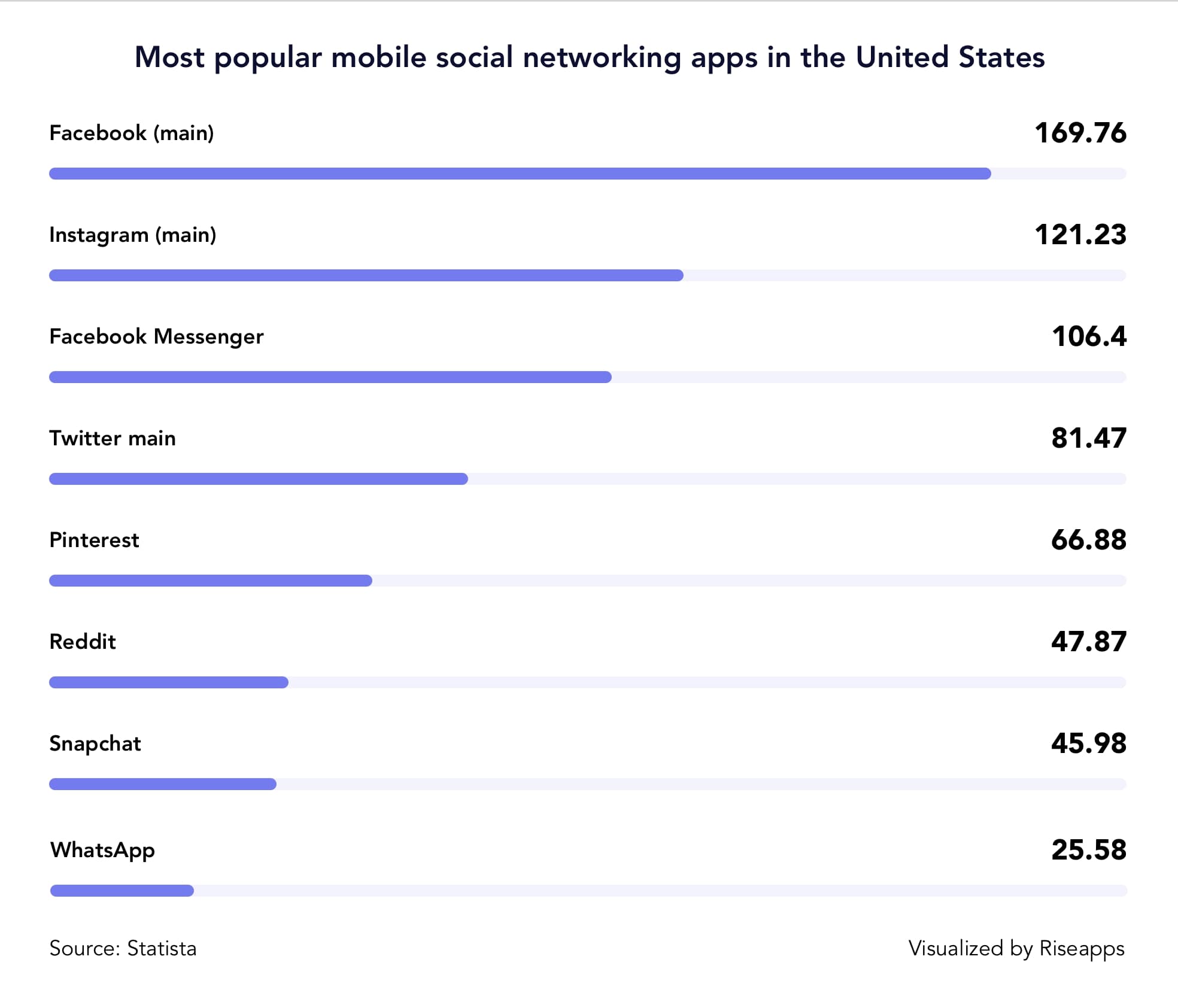 Most popular mobile social networking apps in the United States.
Mobile social media stats worldwide don't differ much, according to Statcounter. Across the globe, Facebook, Twitter and Pinterest are at the top. 
As you can see, there are the key leaders in the social media app market that seem unbeatable. However, there's still plenty of room for a new tool to succeed. Here's why. 
Why You Need to Develop Own Social Networking App?
Many factors that can encourage you to build a social network app. Let's provide you with 3 valid arguments. 
Social media usage is on the rise. Social media usage is one of the most popular online activities. Compared to 2018, when an estimated 2.65 billion people were using social media worldwide, the number is to increase to almost 3.1 billion in 2021! Users of your up-and-coming social media app are among them.
App industry is thriving. Here's another signal to entrepreneurs that making your own social media app might be a perspective idea. According to eMarketers research, 90% of mobile time is spent on apps in 2019!  So if you create a social media network, building an app is a must. While mobile app usage is drastically increasing, the app market is also on the rise.  iPhone users can now choose from nearly 1.8 million tools available at Apple's App Store (6 years ago the number was about 1 million).
There are still spots on the social media app market. You might say the market is too dense to introduce a new product, however, some possibilities constantly arise. Let me remind you about TikTok – a video-sharing social networking service that came to a very tough market a couple of years ago. Now, it has reached over 500 million monthly active users, and over 1 billion videos are viewed every day on the platform.
To sum it up, as technology evolves, user needs and motivations change, there's still a place for a great social media app in 2020. 
Types of Social Network App
Social media vary greatly. You might be wondering which category your future app falls into, as your target audience and requirements depend on this choice. 
People often split social media into three categories: personal (like Facebook), professional (like LinkedIn) and dating (like Tinder). 
But there's a more profound look on app types. Does your tool fall under any of these categories? 
| | | |
| --- | --- | --- |
| Type | Description | Example |
| Social networks | Make connections | Facebook, LinkedIn, Tinder |
| Media sharing networks | Share photos, videos, and other media | Instagram, YouTube, Snapchat |
| Discussion forums | Share news and thoughts | Reddit, Quora |
| Blogging and microblogging networks | Publish content online | Twitter, Tumblr, Medium |
| Bookmarking and content curation networks | Discover, save, and share new content | Pinterest, Flipboard |
| Consumer review networks | Find and review businesses | Yelp, TripAdvisor |
| Shopping networks | Shop online | Polyvore, Fancy |
| Interest-based networks | Share interests and hobbies | Last.fm, Goodreads |
Social media app types and short descriptions
There are many more types of social media apps, like community forums, economy networks, anonymous platforms, etc. Some of the apps don't really fall into any of these categories, which can happen to your software. 
However, having a clear understanding of the type of your social media app will surely help you to build it. 
What's your big idea? Let's move straight to this topic, getting ready for the development of your social media app. 
How to Build Your Own Social Media App: Preparation Stage 
In this section, let's list some very basic steps to take before you start to code and design a social media app. 
Define Your Goal
If you create your own social network app from scratch, the first step is about making your idea grounded and specific. This is where you define a goal of your app. What challenge is it going to solve?  
You delineate your vision, your mission – all that big stuff that allows you to start your design and development journey. The general, security and other requirements will stem from your purpose. 
At this stage, the portrait of your potential client appears. 
Who Is Your Target Audience? 
Creating a product without an end-user in mind can be the biggest mistake of those who start a social network app. In fall 2019, CB Insight published a study on failing start-ups. One of the findings says that 14% of them hadn't examined their client. 
This means having a great idea for an app and a decent purpose isn't enough. An app should provide real value for a specific group of people. 
Target audience research usually includes: 
Developing a general understanding based on the app's category and purpose 
Secondary research that identifies target audience demographics
Here are some data points to consider when you make a social network app and research target audience.  
General
Specific

Age 
Gender
Location 
Occupation 
Language
Marital status 
Income level
Platform
Devices

Values 
Needs 
Motivations
Interests
Habits 
Personality traits
Marketing research
When entrepreneurs are going to make a new social media app, they often think they have a completely original idea. However, providing an abundance of apps on the market, chances are someone has already done at least something similar. 
You might need to dive deeper into market research. Who exactly will be your competitors? What exactly will make your app special? How do you find the niche? This is a stage where you may already need an expert take on your idea, and start looking for a team if you don't have one.
The methods of marketing research vary greatly, from studies and surveys to personal interviews with potential users. 
Technical requirements
It's time to look into the technical aspects of your app. Knowing your goals, you can now define all the requirements for your tool. You'll get a clear picture of whether your idea is truly doable from a technical standpoint. So if your social media app has a newsfeed, how will it be arranged? How will your users create a network? 
Traditionally, general requirements go hand in hand with security. So your research will naturally extend into user-specific safety requirements. This can include confidentiality, integrity,  authentication, availability, and many more questions. 
Below, we'll look into technologies that can help implement your big idea. 
How social media apps make money?
This question should be asked at the very start, as technical and security requirements depend on your answer largely. 
There are various ways to monetize an app. Which one will you choose? At times, you can combine or even mix the approaches. 
Ads
One of the options is to offer your app for free but run ads on it. So users will pay not with money, but with their time and attention. Facebook and Instagram are the most obvious examples of social media apps using this strategy. 
This model would require a large user base. The obvious pro of this option is that online advertising is a rising market. 
Paid app
You can charge your user to download the app. However, for a small business that is just trying to make their presence known it might not be a good option. It could work better though for successful apps offering exclusive content valuable to the user. 
The experience shows that successful subscription social networks are entertainment, media, and dating networks. 
Freemium subscription 
Many prominent apps like Skype, Evernote, OneDrive and Buffer follow this approach. Its obvious pro is about having no usage barrier, but their sure struggle is to monetize free users into paying customers.  
In-app purchases and virtual goods
In some cases, you can go for creative ways to make revenue. E.g. in mobile gaming people pay real cash to buy specific points – that's an in-app purchase. 
Facebook Gifts are an example of an app delivering virtual goods. Users can send each other gifts like avatars, stickers, and coins. 
Strategy of Monetization
Your choice on monetization strategy depends largely on the nature of the business, your target users, and the pros and cons of your app.  
Here are two great questions to ask before deciding how your app will make money: 
What makes your application exceptional and for what reason should individuals buy it? 
What strategy do your rivals choose? You don't have to copy it – keeping it in mind, however, might be a good idea.  
Social media app features
Before going into the design and development stages, let's look at features social media usually have, so you could reflect upon implementing them in your app.  
| | |
| --- | --- |
| Feature | Description |
| User profile | It can be very brief or detailed, highly customizable and include text, birthday, gender fields, a photo or avatar. |
| Post creation | Users create written messages, ask questions, leave reviews, post media files, etc. |
| Feed | Users scroll the feed with posts, updates, etc. organized by a certain criterion. Stories feature already available in certain apps – providing short-term content – can complement the Feed feature.   |
| Private communication (DMs) | You are encouraged to create them, so people who need to send a private message to a particular person, wouldn't need to switch to other apps  |
| Search | Users can search for one type of entity by a word or phrase. Search can be performed in messages, people, posts, etc. |
| Notifications | Users can see notifications about basic events |
| Social authorization | Users can register or login via another social network providers. This can increase registrations and give you richer access to user profiles |
Before starting social network application development, people usually consider whether to implement many more features, e.g. CMS and analytics tools.
Social Media App Development
This is a section for everyone inquiring how to code your social media app. 
Needless to say, technology stack stems from the basic requirements of your app. Research extends into legal restrictions like copyright and privacy questions. 
The platform you choose depends on where your audience is. In many cases, it makes sense to develop a social networking app for one platform first. If the dominating one is Android, the choice is obvious. If your target market is divided between iOS and Android in a similar percentage, the best solution might be to consider cross-platform development.
I'd recommend choosing cross-platform development for start-ups, as you can target both iOS and Android. Besides, releasing an MVP model won't cost that much. For cross-platform development, you can take a closer look at Flutter and React Native.  
Choose the technology stack for cross-platform development (iOS and Android)
If you are interested in how to program your social media app, let's look at technologies that might help you with this. Let's suppose you choose the cross-platform development using the React Native framework. Here are some tools to use: 
Architecture
Redux-saga
Push notification module
Firebase Cloud Messages
User authorization
JWT Authentication

Auth0 

Social authorization

User interaction
NativeBase

React Native Material UI

Security
react-native-keychain
Payment integration
Stripe (Tipsi-stripe), In-app purchases (react-native-iap)
In-app communication/Chat
Twilio
Geolocation
react-native-community/react-native-geolocation
Now, let's briefly define stages of app development starting with the design. 
Think about design and usability 
Usually, after you gathered requirements about your app, you can start taking care of design and usability. So how do you design a social media app? We've outlined a few steps here. This set of steps reflect the common scheme, but it might be different from how you do it. 
Wireframe
First, it's all about creating a mockup of your app. A mockup is a foundation for the architecture of the app. This is where UX designers step into the game. 
At this stage, you also create a storyboard for your app. It's kind of a roadmap that will help you understand the connection between each screen and how users navigate through your app. 
Prototype
To put it simply, a prototype is a minimum version of the app to test your hypotheses and get early feedback. It's a step you can't skip when developing a social networking app. At this stage, you can add button functionality to your design, so you can click through your app in review mode. The goal is to concretize your app concept before it goes into the actual design process.  
Prototyping can be done by using design platforms only. But sometimes designers go straight for a native prototype written in a specific programming language (e.g. Swift).
Visual design
This is where the full collaboration between designers and developers unwinds and it doesn't stop until your app is ready. Visual design deals with the appearance of the app. But it is not only about making things look nice – it's about making sure that there's a consistent visual language throughout to make your social network app design shine. 
Develop the app
During the coding phase, product requirements are converted into an application. We've dedicated a separate section to this process, but it actually goes hand in hand with the design and testing. Development is often divided into periods of around two weeks apiece, each focused on a particular bit of functionality. 
While front-end development usually goes alongside with design, your work on the back end may start only after you've actually tested your prototype. Then your developer will have to set up servers, databases, APIs, storage solutions, etc.
Test the app
In the testing phase, you perform security along with quality assurance checks. Before starting to test your social media mobile app, you shortlist the testing techniques – functional and non-functional. The test types include: 
functional testing
integration testing
end-user testing
device and unit testing
bug fixing 
Create an MVP
When working on such a large-scale project, our social media app developers offer to start with the minimum viable product. MVP is an app with a minimum core set of functionality that quickly lets to send the product to the market to test the idea. This will allow you to assess your project at a modest budget.  For a social media app the usual set of tools for an MVP may look like: 
User management
User interaction
Security 
In-app communication
Geolocation 
3rd party integration 
Remember about support and maintenance
Even after an app is released, support is of the essence as an ongoing task. 
Your team should proactively monitor how well it works checking system software and embedded components. Security vulnerabilities are especially important. 
Here's the overall list of what you should take care of 
App stability and security control
Control of server performance
Additional security checks
Scaling an app
Product updates (technologies, OS, servers, security) and quality assurance 
Work on additional features upon request
Promote the app
I've put promotion the last item on the list. But actually, this is what we should keep in mind from the very start when building a marketing strategy. For publishing your app at Google Play Market and Apple Store, you'll need to create all promo materials: screens, description texts, video guides, as your app should be very easy to see or notice. None of this left for the last minute. 
The promotion strategy can include: 
Content marketing 
Email marketing (providing you have a customer base)
Advertisement  
Collaboration with influencers 
When it comes to the latest trends in app promotion, I'd highlight retargeting campaigns that are on the rise  – the tactic is continuing to grow in relevancy. The number of apps running retargeting campaigns increased 57% year over year.
Our Experience in Creating a Social Media App
At RiseApps, we have considerable experience in building apps. Just recently, we've created a social networking one – an event overview app named Happens. 
Our Norwegian client wanted an app that would gather events happening worldwide. 
We've made a thorough study of similar products to make the new tool organized in the simplest and best way possible. 
As our client needed a tool for both platforms – Android and iOS, we did web and cross-platform development, having built the app using React Native for iOS and Android. 
We've been able to minimize any drawbacks of the cross-platform solution and come up with a simple and user-friendly interface for the app, as it was a key objective for a client.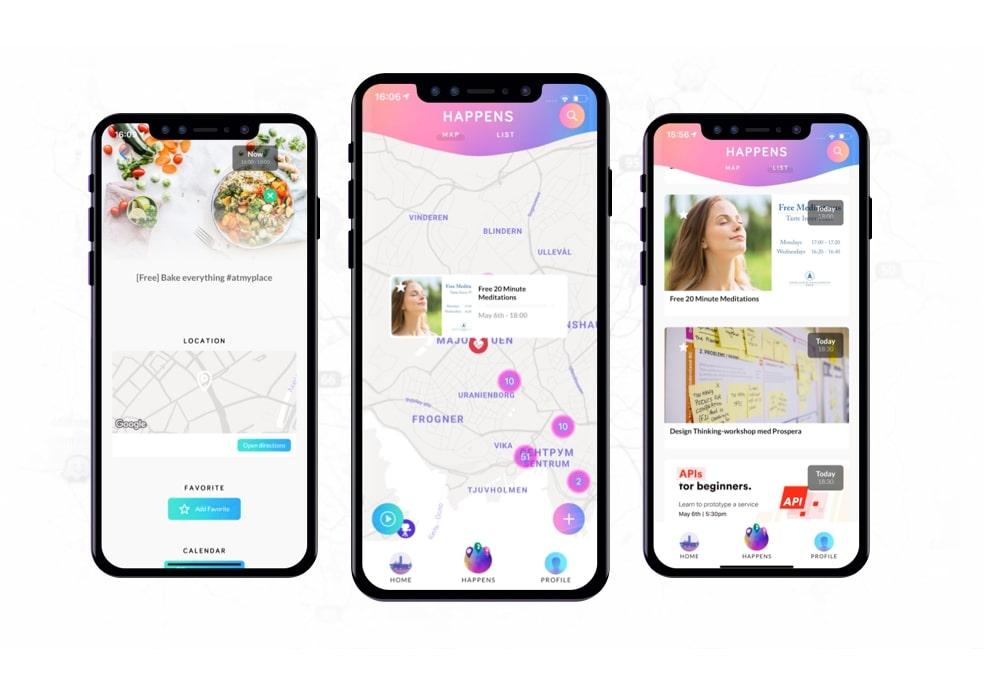 Some basic features we implemented allowed users: 
To search and find events they are interested in;
Сreate and promote your event;
View updates from ongoing events;
Save memories from events they've attended; 
Find prices and tickets to events.
We enriched the tool with "live function" advanced feature – so users can share their event experiences with pictures, videos and comments.
It took about half a year to develop this app until it's ready for launch. 
How much does it cost to build a social media app?  
Numerous factors like app complexity, the platform you choose, and devices you target influence the cost of your app. The price also depends on the vendor you collaborate with. Of course, you shouldn't forget to budget for updates, marketing, and other costs.  
Here are the key factors that determine social media app cost in a list: 
App complexity and features 
A back-end server built or APIs integrated may take more financial resources.  
Target platforms and devices 
You can go for native or cross-platform development.
Vendor (region, expertise, reputation)
Choosing a software company from Eastern Europe is more cost-effective. 
Companies can engage more experts to make the development process quicker.  
Don't forget about promotion and PR activities. 
Often, most of the time and cost are related to the backend, especially, if a back-end server is necessary, many APIs need to be built, or scalability features are required. But sometimes complicated design or animation takes a lot of resources too, so the front-end can take equal time or even more than the back-end development.
Your social media app probably won't be as expensive as, let's say, a game app with payment options, but you can't get it for peanuts either. 
Let's say we are talking about a basic level mobile app with some advanced features. Then $45-55k is a minimum sum if you choose with a software company in Eastern Europe. 5 months could be the approximate timing of developing such kind of an app. 
Your app may include 
User management
User interaction
Security 
In-app communication
Geolocation
3rd party integration 
Data sources integration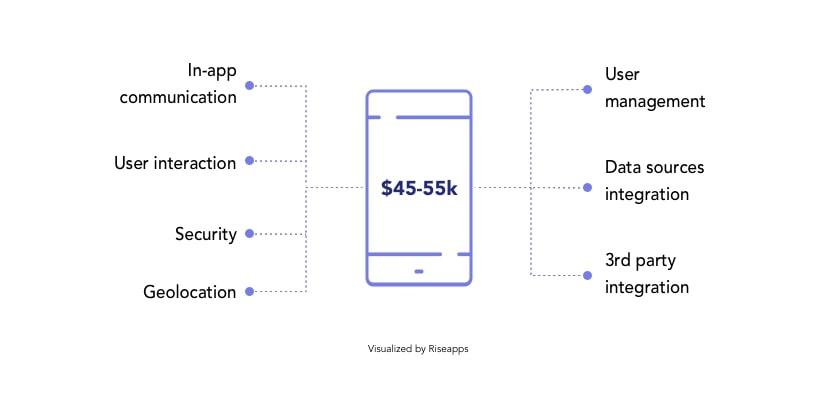 Depending on the region your developers work, the price of your app can vary.
| | | |
| --- | --- | --- |
| Region | Hourly rate | Basic level social media app |
| The USA | $100-180 | $90,000-170,000 |
| Great Britain | £100-180 | $125,000-230,000 |
| Western Europe | €80-150 | $90,000-170,000 |
| Eastern Europe | $30-70 | $30,000-65,000  |
| Ukraine | $30-50 | $30,000-50,000 |
| India | $15-30 | $15,000-30,000  |
And don't forget you don't have to pay for everything at once. Many companies, including RiseApps, are working on the pay per milestone basis. All work on the project is planned according to milestones and sprints (2 weeks). After every sprint, we present the work to our client for payments.
Conclusion
Though creating an app is a challenging and multistage process, it can also be quite straightforward and exciting. 
In this social media app development tutorial, we've outlined key points to keep in mind when you create your own networking tool. 
To wrap it up, your success largely depends on the team you are working with. At Riseapps, we have a wealth of experience in building apps, including social media, and are listed as top social networking app developers. Drop us a line about your idea and we'll find a way to put it into practice.