Remember the first time you have planned your trip yourself? Meaning that you have chosen destination, checked the weather forecast in this place, found out the best time to visit it, rearranged your schedule to make this happens, checked the map to find the best way to get there in terms of time and costs, did some research to find things to do there, planned day by day program… Already tried to read? Yes, planning is tiring, yet rewarding. Some people give up even before they start doing a thing and they go to the agency, pay money for someone to create the best trip for them. It's a working approach, still, sometimes it lacks a personal touch and uniqueness. And this is where all application development becomes at hand, enabling travelers to achieve unique experience, omitting all tiresome process and long hours of searching. Those providers that have already noticed such rising demand, are already thinking about how to build a travel app. Are you one of them? Keep reading to get information about how to create a travel app.
Travel Market: Facts, Statistics, Trends
The travel market is growing and it is estimated to hit $1,091 billion by 2022 with a CAGR of 11% during the next several years. This market is pushed by all the digitization that occurred in traveling, like online booking, payment, planning, etc. It's not only growing but becoming better in offering quick services. To make it even more convenient and faster, travel agencies are already offering their services via mobile and web applications, as these are the most favorable mediums to reach the target audience.
According to Criteo, the branded tools, that are offered by a specific travel agency have all chances to become the driving force of online travel buying. Such tools not only help to increase the number of bookings done via mobile devices but also increase the conversion rate. This report also states that the retailers noticed a more than 17% conversion rate increase for their mobile travel apps.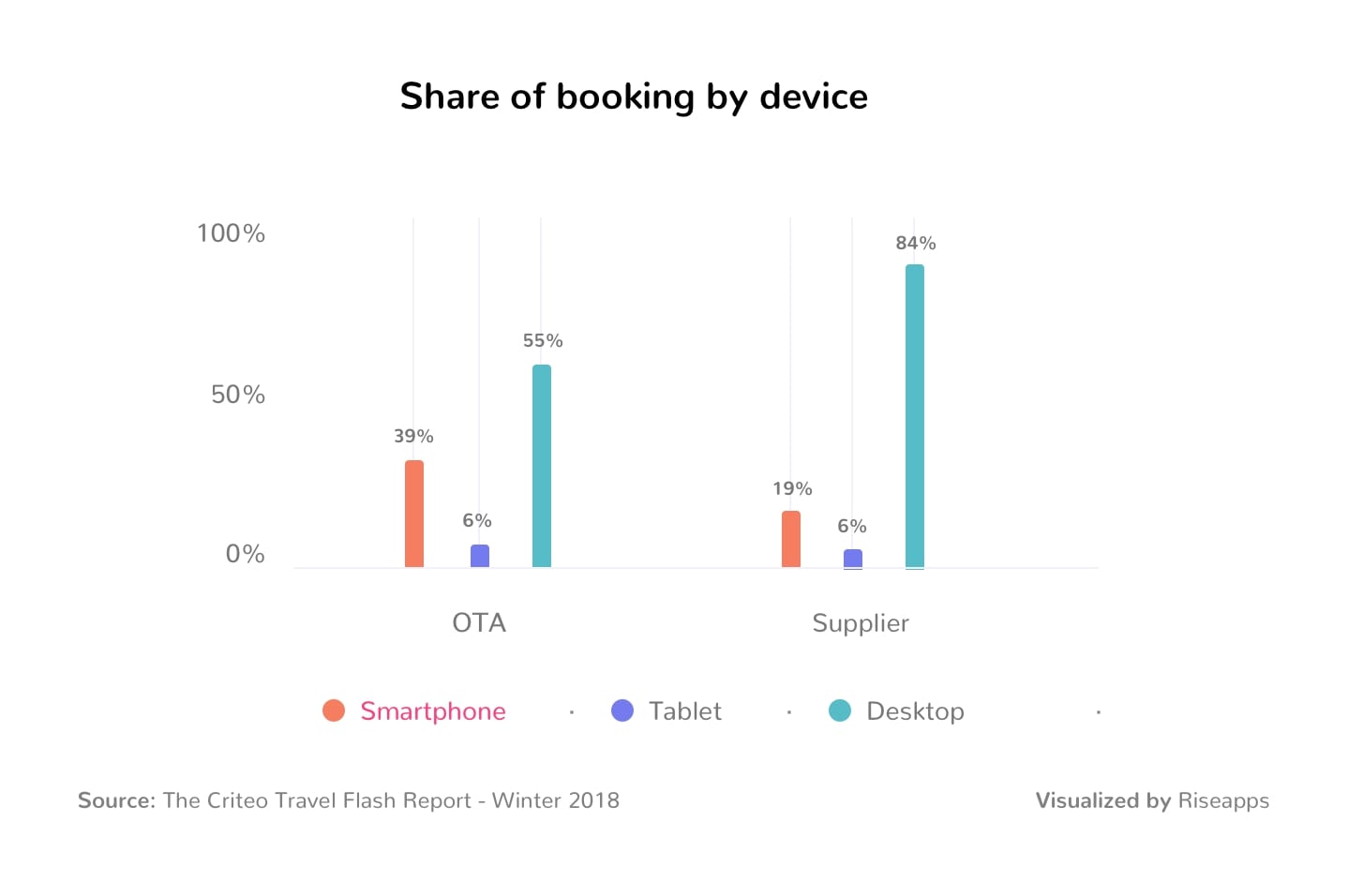 Source: The Criteo Travel Flash Report – Winter 2018
Mobile is gaining momentum for those users, who prefer to travel on impulse. 89% of such bookings happen via mobile devices (split mostly evenly between mobile browsers and apps).
The mobile platform is also chosen over the web due to its speed (39%), additional functionality, that is unavailable on the web (30%) and better user experience (21%).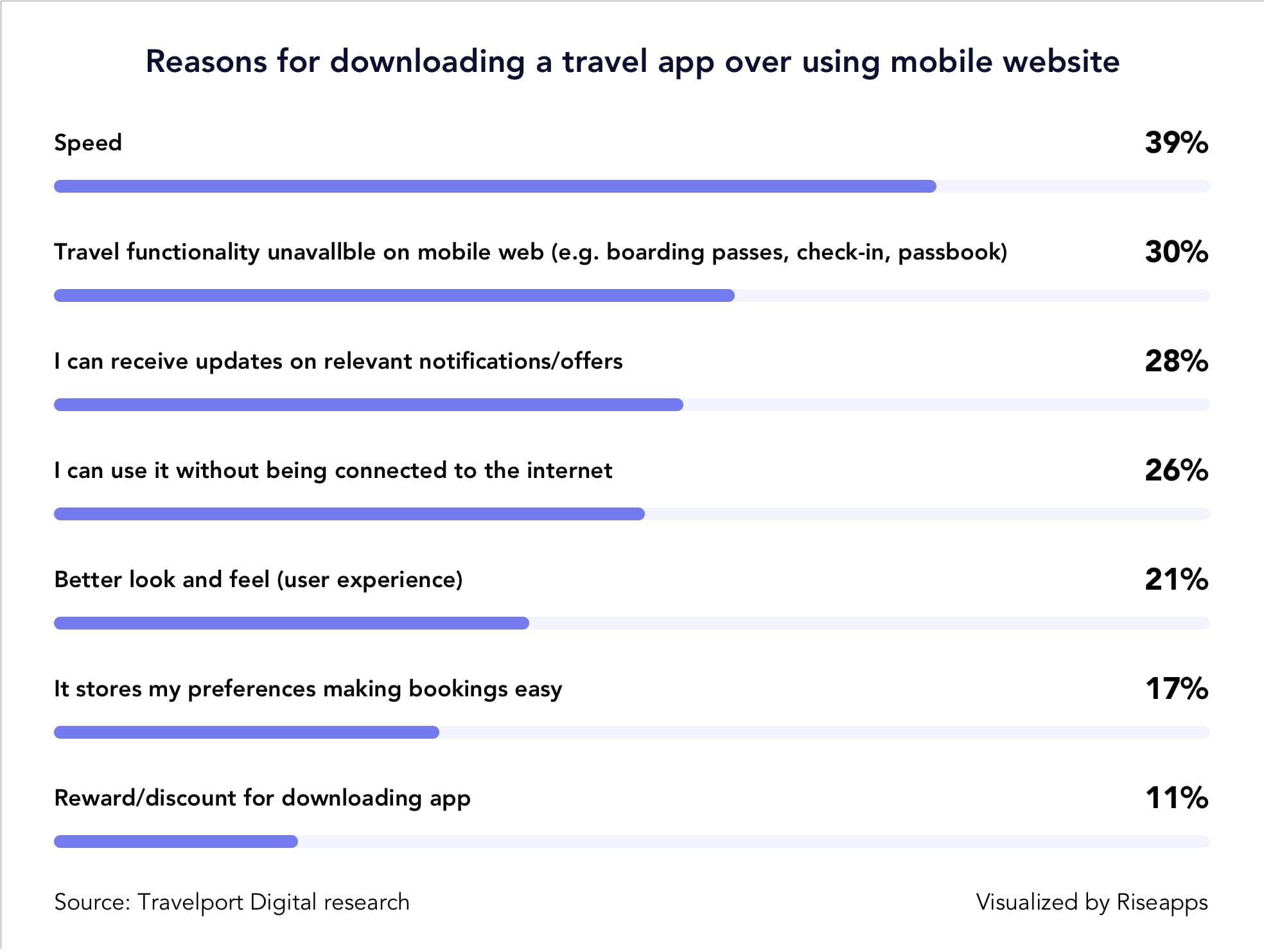 Source:Travelport Digital research
Travel App Engagement
Another research revealed that travelers turn to a wide range of apps more regularly when they have a definite plan of where they need to go. Such users demand to be communicated on a regular basis via push messages, in-app chats, notifications sent before during and after the trip. These expectations present agencies with many opportunities to increase engagement.
These years users install tools not only to evaluate their choices but complete the target activity. 81.8% install-to-reserve rate supports this idea, revealing that users rely on a mobile/web solution to make a booking. Even though the value of such a transaction remains unknown, it is stated that the cost to acquire such a user is around $5.51.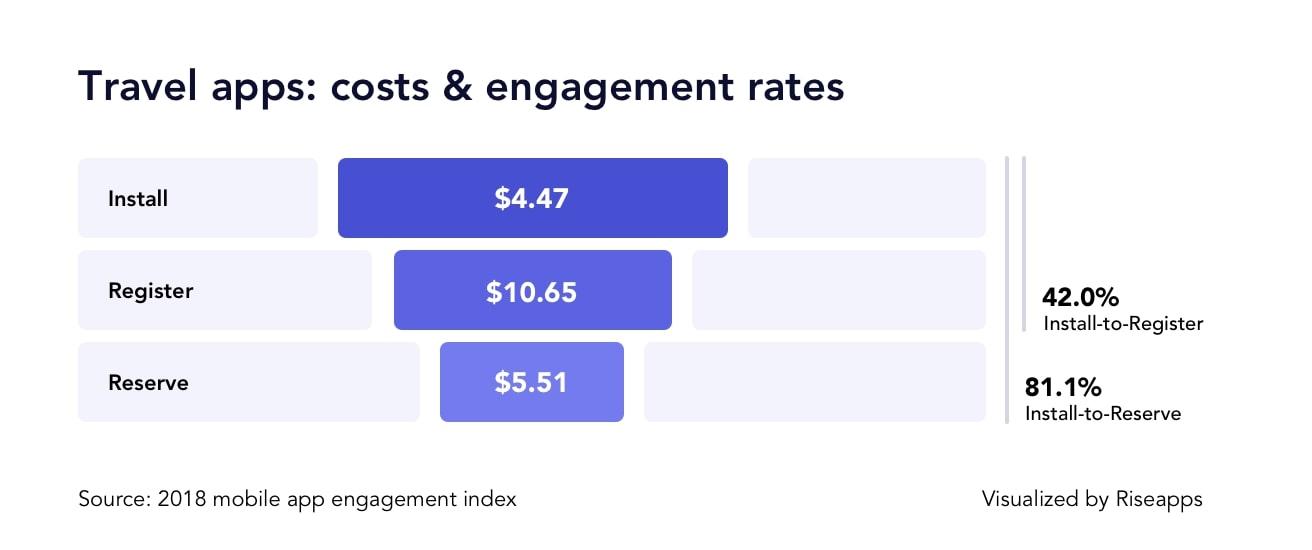 Source: 2018 mobile app engagement index 
Males appear to engage more at a lower price than females. However, the high cost to acquire a male user who completes a registration ($9.27) and 44.1% install-to-register conversion rate indicates marketers have to do more to remove the friction.
Females tend to be pricier to acquire, but they become more loyal to the app in the deeper funnel showing the install-to reserve conversion rate of nearly 90%.
Nonetheless, a disconnect at the Register stage forms marketing opportunity to optimize a tool for convenience closing the gender gap.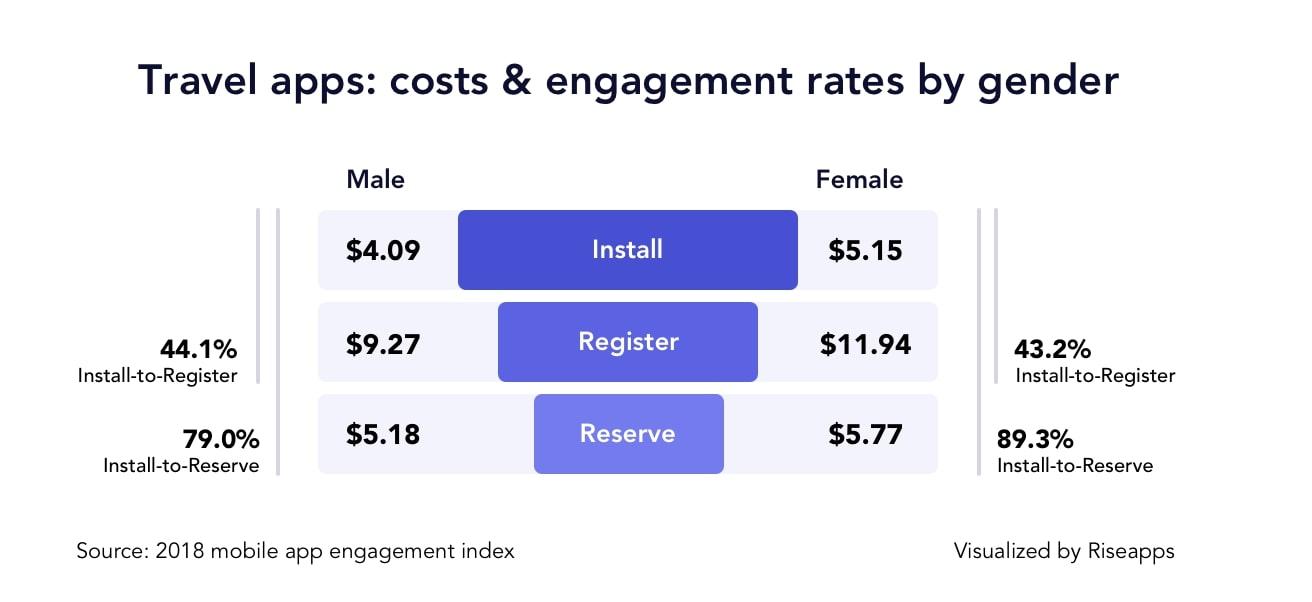 Source: 2018 mobile app engagement index 
Benefits that Travel Apps Provide
There are numerous advantages of using mobile travel apps, in fact, they are limitless. Let's take a look at some of them.
Benefits for Customers
The goal of a travel tool is to convert users to complete the target action – to book a room, purchase a ticket, rent a car, etc. Personalization can help to achieve this goal. Many mobile travel apps have access to big data, that helps to customize the user experience.
For instance, it is possible to customize a trip, time and day of a flight, various bookings and dining options based on the user's past habits. With this experience, a user will save time, money and mental health to get what he/she wants, and companies will boost customer relations and increase engagement.
Many providers have proprietary apps that help their clients to automate such operations as check-ins, check-outs, ordering room services, managing their accounts. Many big names, such as Hilton and InterContinental are already in the game. Following their route and adding such features, can give you additional advantages over the local competitors.
Traveling is not only about buying tickets or booking a room. It's more about the short term living in another, sometimes unknown place, including local commute, eating out, sightseeing, insurance, price forecasting, etc. With the right tool, that has all of that packed inside travelers can do everything in one place faster with less headache (planning a trip sounds romantic, still when you need to this often it's a tiresome experience, and when it's your first time – it can be a disaster). Tools like Skyscanner enable travelers to find the cheapest dates to fly, buy tickets, deal with insurance, rent cars, book hotels, etc. Such all in one solution are by all means handy.
Better communication and organization
For those travelers, who are going on business trips a mobile travel app can be very effective for organizing trips, linking up with providers and fellow travelers. Social functions in mobile apps enable travelers to interact globally while discovering other cultures.
Benefits for Business
Mobile travel solutions proved their potential and effectiveness not only for the customer but for businesses.
Provide customized services to suit traveler needs
The more you know about your customers, the higher the chances you have to satisfy their needs. Giving travelers what they want, enhances their experience, and increases cash flow into the business.
Bridge the gulf between travelers and travel service providers
Such tools help travel companies build trust with their users, by building communication with a user directly and managing their needs the moment they appear without time delays.
Moreover, such apps improve the customer satisfaction rate through anticipation of their
need, resulting in customer loyalty.
Offer exciting offers to boost agency sales
The app can be used not only to send a customer notification about their bookings and flights but is a platform for sales outreach. For instance, an operator can provide discounts, special offers or exclusive deals for their customers. You can send your customer a birthday promo his or her most favorite destination and your travel is sure to gain a permanent customer.
Defining the Type of Your Travel App and Its Features
Before defining how to make travel guide apps, you need to outline what travel tool you want to develop. The market is already flooded with a vast variety of travel applications including, but not limited to accommodation, flight, bus, train booking, car rentals, navigation, travel guide apps. These types are defined from the features they hold. Thus, the list is huge. Not to get lost in all this ocean of apps we advise you to go from your customers' needs and expectations.
Here is some statistics on functionality that travelers value to fuel your thoughts about your travel app.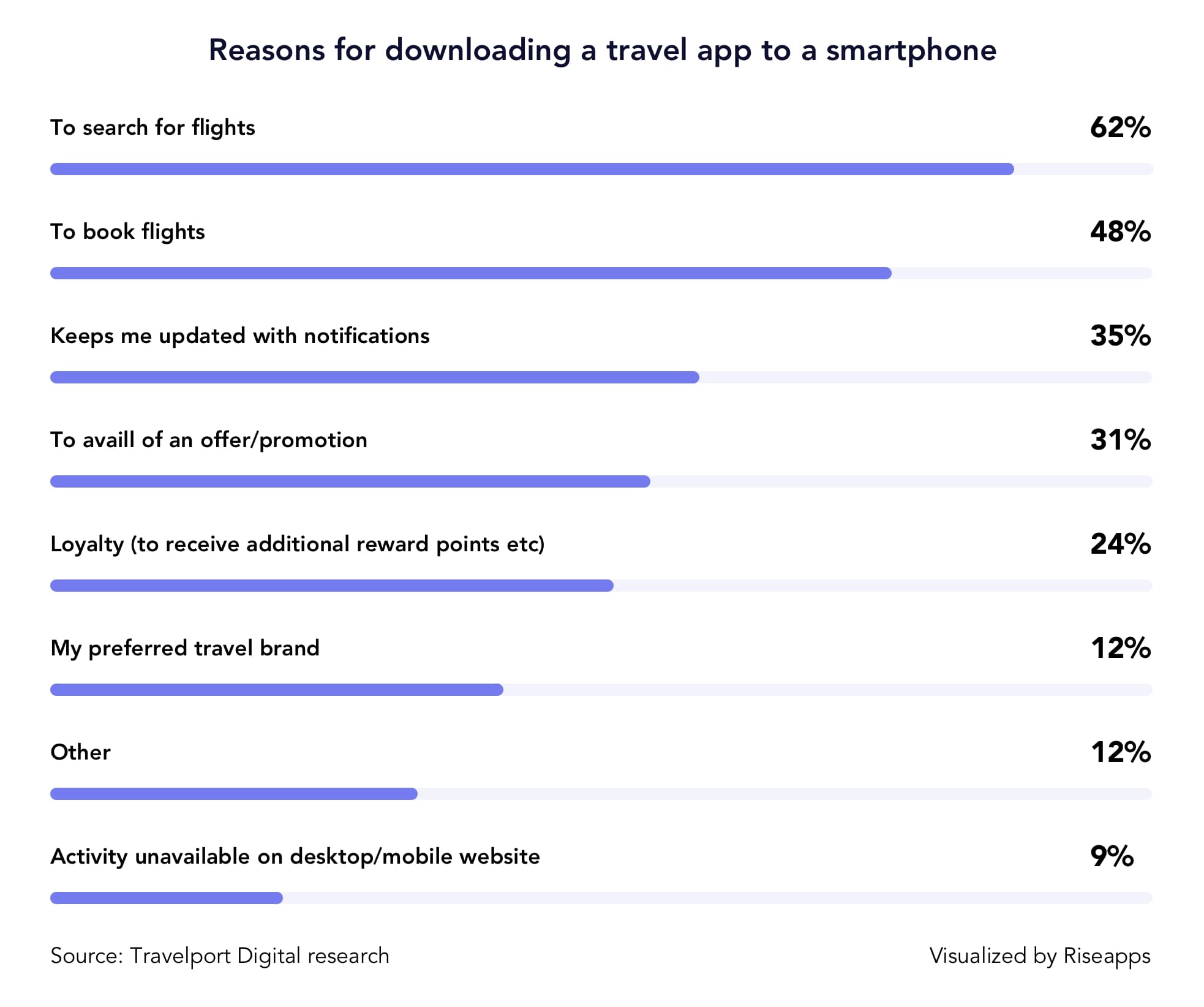 Source: Travelport Digital research
As you can see the most expected features are search/book flights/accommodation, thus including them into your travel tool can be rather helpful for your target users. Still, don't limit yourself. To make the list of functions your solution needs to include, define the goal of your business, pains of your users and study apps available on the market.
Is your app more about
booking? – check Hotels.com, Airbnb Booking.com, Agoda, Expedia, Nusatrip, etc.
search? – check Skyscanner, Kiwi, Momondo, etc.
receiving travel information? – check Minube, TripAdviser, Gogobot, Triposo, etc.
Now when you have checked the examples, got a mere understanding what your app can look like based only on the dominant function of your app, it's time to dive deeper and develop a business model canvas, that will help you define the exact list of functions your app should have and to develop the general business model for your tool to make money.
Business Model Canvas
As you know business model canvas is a business tool that helps to visualize the business model. It will also help to shape the requirements for your app, as well as describe your target audience, values, ways to reach customers and communicate with them, monetization models, functions, funds, and costs. Take a look below how it was done by Booking.com.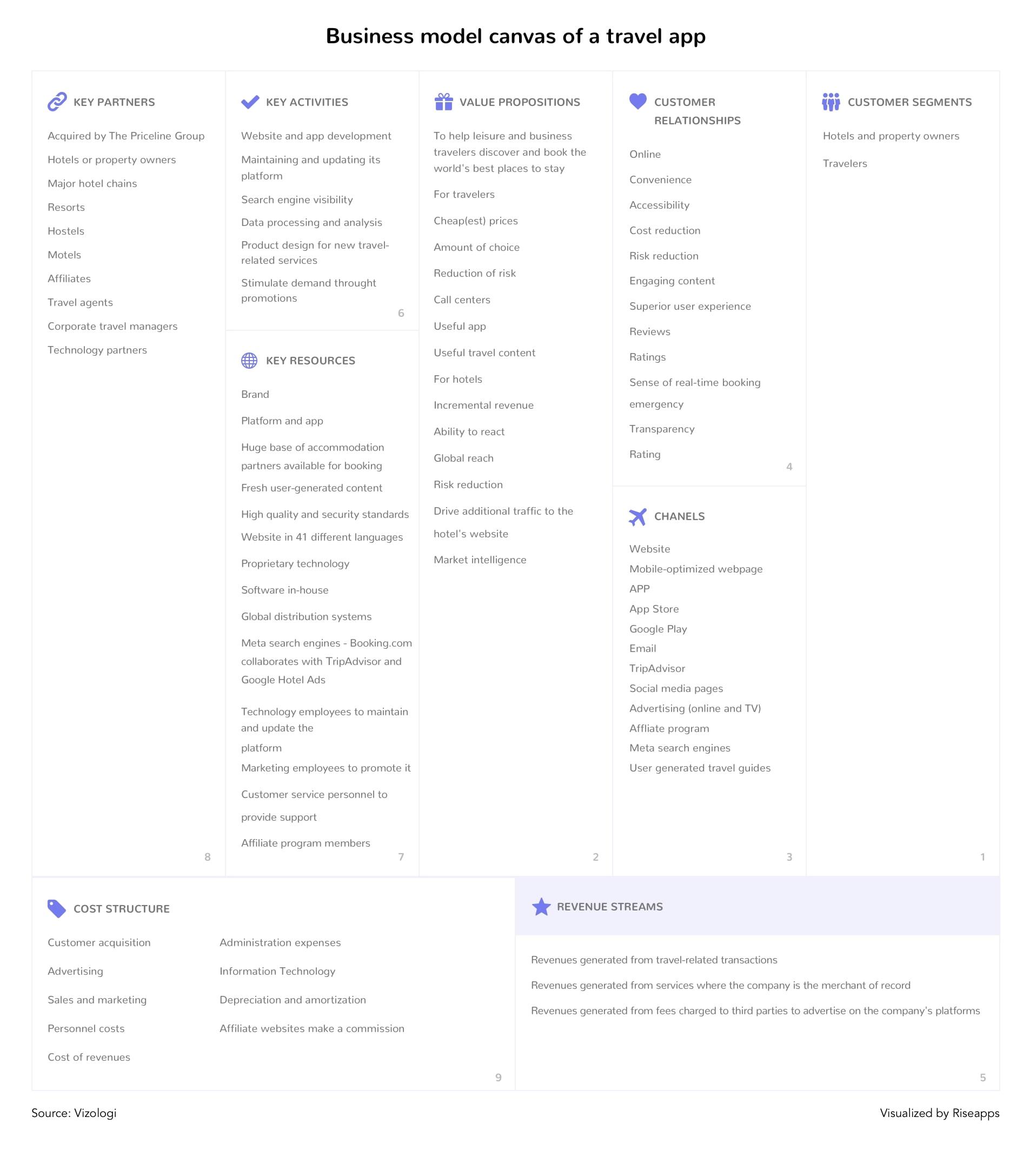 Source: Vizologi
How Do Travel Apps Make Money?
You have already tried out some of the travel apps, and you might have noticed, that they are free. In the majority of cases, travel apps are used as a value-added factor, a platform to supplement already working business models. For instance, you have booked a flight from Wizzair and you have an app to store your boarding pass, get notifications about your flight updates and to ease boarding. The tool itself is free, but the ticket is not. Another example: you are using Airbnb for free, you have free access to all functions, still, you will need to pay in case you want to book an apartment.
We can outline 4 of the most widespread monetization models in the travel industry:
In-app advertising, when using the tool is free, still, you will receive a bunch of ads inside.
Commission, when an owner receives a commission on every booking made via an app.
In-app purchases, when the tool serves as a gateway purchase something, e.g. tickets.
Supporting app for the core business, when it facilitates using already purchased offers. For example, you have purchased an excursion, and the tool gives you access to an audio guide to support this excursion.
How to Create a Truly Successful Travel Application?
We will be succinct here. The secret of how to make a successful travel app:
Knowledge of your target users. The more you know about your customers, the better you can serve their needs.
Thoroughly developed business model. Know your ins and outs and the monetization model. Have regularly updated realistic plans, that you follow.
Trusted partners. Ensure you have trusted partners that can support your endeavor, help and don't overcharge your development. Before choosing travel app developers, take a look at the articles on the difference between in-house development and outsourcing, and Eastern Europe software outsourcing. It will help you choose your path to the app of your dream.
How Much Does It Cost to Develop a Travel App?
We, at Riseapps, have gained experience in how to design travel apps and build them from scratch. We are ready to share key information on the team structure, tech stack, development time and costs. As the difficulty of the process to build a travel app depends a lot on the functions of your app, platforms you will use and the way you will integrate an app into your current business model, we will bring as an example of the cost to develop a travel guide app.
All things considered, take some time to draft the business model canvas for your travel business, get the key information about your target audience and choose the trusted software development company with the relevant experience in the field to enhance your business.
P.S. Developing a travel tool is an exciting and immersive experience, especially when engaging with the right people. Our team is ready to answer any questions you may have about how to make a travel app. Don't hesitate to ask any questions about travel mobile app development.