Globalization is forcing companies to improve their competitive edge by optimizing their costs, providing better services and optimizing efficiency. Thus, the software outsourcing approach has become an increasingly popular and efficient trend among many companies seeking skilled engineers. Many of them tend to outsource development to eastern Europe.
Why Choose Outsourcing?
According to the American Psychological Association, a 40% drop in productivity can be caused by managing multi-tasks. At some point, you are not able to omit to multitask, and it seems pretty normal when a developer, accountant, marketing/sales manager and the owner is only one person. With the company grows bigger, and the tasks multiplying you will need to delegate, simply to stay an adequate human being. At this stage, you can start hiring the team or looking for subcontractors. When you are building a brick and mortar business, you will need people working for you an 8-hour working day and be ready to play the long game. In case it's a digital startup, you go for outsourcing and in a blink of an eye you find yourself googling "the best software development company in city N/ country X". And that seems more than reasonable.  
Read Also: Where to Find Programmers for Startup in 2020?
Another story is that you are outsourcing exact skills, that the company lacks, tech experience in solving issues/ creating projects. In this case, you are supplementing your in-house development with extra force and additional tech stack or hire a team to cover all software engineering for your company.    
Read Aso: In-house vs. Outsourcing Software Development. How to Make the Decision and Avoid Mistakes?
The most commonly outsourced activities are those that are extremely time/budget consuming and are short term oriented. With this in mind, outsourcing can lead to productivity increases and freeing up time for solving other business issues, e.g. marketing, sales, strategic planning, other projects or activities, etc. 
Many companies go for outsourcing in search of decreased costs. This is relevant for most US and European countries where hiring in-house developers is far more expensive and nerve-wracking experience than working with offshore teams. 
While cost efficiency is one of the most obvious reasons to hire offshore teams, there are even more benefits in favor of such a model:
access to the bigger pool of talented developers;
ability to start development straight away;
a perfect choice for SMBs and startups, as well as mature enterprises;
you don't need to manage a team of software engineers yourself, as the hired team typically includes PM, who is responsible for process management within the development team;
embedded legal guaranties.
We have already talked about these benefits in detail in our article here. Follow the link and read more about every point. 
The bottom line: outsourcing model provides companies with a lot of benefits and, thus, stays popular among more than 65% of companies. In order to determine if this model works for your company, we recommend doing the math. It depends a lot on what work you are planning to outsource and where you would be getting the outsourced work from.
Eastern Europe on The Outsourcing Map
Choosing the region for the following skill outsourcing depends on your native region. We would recommend choosing region-based not only on the developers' rates but on cultural similarity, time zone, communication style, and language knowledge. If your business region is an Asian country, chances are you'd prefer to outsource locally, as the cultural differences won't be relevant/significant. For those of you who are from Canada or the USA, consider working with Eastern Europe.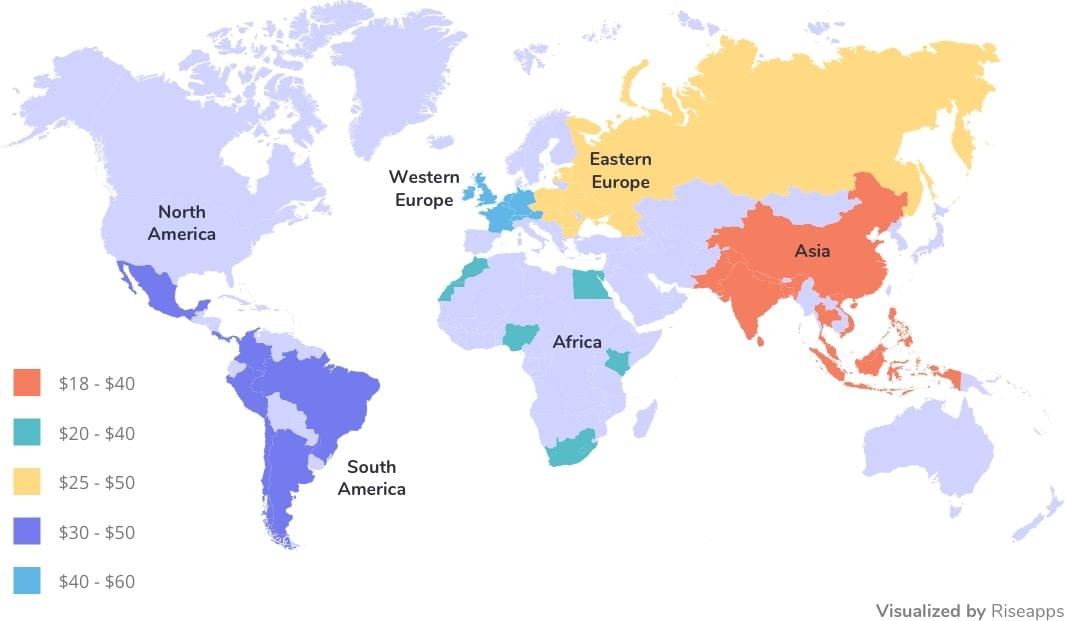 This region is a refreshing outsourcing destination with a solid software outsourcing pedigree. With its strong universities, proximity to the Western world and a close cultural affinity with the West, Eastern Europe is becoming a favorite outsourcing destination. Let's take a brief look at some countries in Eastern Europe, general English level, rates per hour and availability of developers and their level.
English level in the majority of countries is intermediate/upper-intermediate, still, that is enough to support seamless communication during all development. Let's bear in mind, that it is a country's average, for sure you will be able to find developers in Eastern Europe with a high level of English in each country. 
Thanks to a strong educational background, leading to high skilled software developers in Eastern Europe (rank over 80). We admit that this rank might be average too, still, it reveals the general availability of skilled software engineers.
With such background, no wonder many are outsourcing software development to Eastern Europe.
How to Choose the Country for Outsourcing: Top 5 Tips Checklist
Having a quick glance at the general outsourcing map, you might start choosing the best country to outsource from. Here are some tips to help you choose.
Research extensively before selecting an outsourcing vendor
Before choosing a vendor, take a look at the country in general, location, availability of the workforce, an hourly rate and the level of language you are going to use for comfortable communication (it can be not limited to English). Moreover, keep in mind the time difference between you and the software team, the bigger the time overlap is the better. The last but not the least, research about the culture in your target country and whether there are any dominant religious holidays that are a must for the country citizens. For instance, in Italy being away from work in the second half of the day is normal, all the county has siesta; thus, it's vital to negotiate the working hours beforehand.  
Check if the country has sufficient talent pool
The obvious question is whether a given region, the country has enough skilled workers to support your particular outsourcing initiative at a cost that makes sense for your business. Since there will be competition for skilled workers, you must also consider the talent saturation level: will those workers be available to your project, and will there be enough talent to support your growing requirements? 
There is also one important factor to consider – workforce scalability. Does the size of the skilled labor pool meet your immediate needs, and what's even more important will it be able to grow to meet your increasing requirements? Is the workforce mobile enough, both internally and externally, to meet your expectations now and tomorrow?
Consider technological infrastructure 
Many things can cause unexpected failures in computer networks, satellite links, cell towers, power grids, and other infrastructure elements. The result is always the same: expensive and unpredictable downtime that disrupts your business. So, you need to double-check the state of the technological infrastructure and internet coverage in your target region. 
Consider the country's legal maturity 
The World Trade Organization (WTO) has made strides in harmonizing intellectual property (IP) laws worldwide, but legal protections and legal recourse still vary widely from one country to the next. If your outsourcing initiative requires the use of your IP by the service provider, an exchange of IP, or the creation of IP by the service provider's team, be sure the destination country you're considering has adequate enforcement of patent, trademark, and copyright law—or counterfeiting and piracy could go unchecked.
Don't forget about the costs
The hour rates arbitrage is still the key driver. 
Today's costs are always subject to change. It's better to examine key economic trends in any destination country. Are salaries rising? Are housing and property costs increasing? What are the currency exchange rate and the relative inflation rate, and how volatile have they been over the past few years? All these can influence the increase in developers' hour rates, making your development more expensive. So, it's better to estimate those risks and include them in the agreement, as well as agree on the hourly rate and fix it in the agreement. 
How to Make a Right Choice in a Variety of Software Development Companies?
While choosing a country you need to look wide, see the picture in perspective and make additional research about the country. Here it's a bit easier. 
Check the profile websites to get the list of companies available in your target region.
Visit the company's website, investigate their cases and see if they have already developed the project in your sphere. Do they have experience with technologies that you need for your project? What is their degree of expertise? What is the level of their developers? Create a list of criteria and write comments as you go through a website. 
Go to the review sites. To make sure the company has a successful track record, check its profile in the review sites, e.g. GoodFirms, Clutch, Upwork, etc. In case you cannot find the said company on the review websites, pass over and choose another vendor. Such websites are extremely useful for clients, as they provide a brief description of the company, a list of released projects, and the clients' reviews. Here read them carefully and see if the previous clients were satisfied with the provided service.
Check what they post on social media. Social media is the window to see company culture from the inside. Check how they interact with each other. Do they spend time together? What events are they visiting? How do they celebrate special events? Social media will give you a clear understanding of the culture within the company.
Look at the company's presence in the developer community. Prominent developers, CTO's are typically active in the developer community. They organize/ visit meetups, share their knowledge and receive awards, etc. A company with a serious activity in the community has access to the best talent on the market.
Contact company. Check how fast is the response on your request. The seed of the response will reveal the maturity of inner processes and experience of working with leads. Moreover, the amount of time they will need to process your inquiry and estimate your project will reveal their attitude to work and experience in the sector. A piece of advice – choose 10 companies and schedule the call. In this way, you will easily check their attitude to clients and expertise.
The choice is always yours to make. The devil is in detail. Be strict, don't be afraid to say "no" and look further. The best advice here would be to brainstorm the criteria of the ideal software development company you want to have as a partner, choose the "must-have" and "can live without" characteristics. Then go hunting. 
Is Ukraine a Right Choice to Outsource Software Development?
Spoiler: it is.
An International Association of Outsourcing Professionals or IAOP has featured 15 Ukrainian software development companies in their annual rating the Best of the Global Outsourcing 100. Ukrainian companies have been featured on this list for more than a decade now.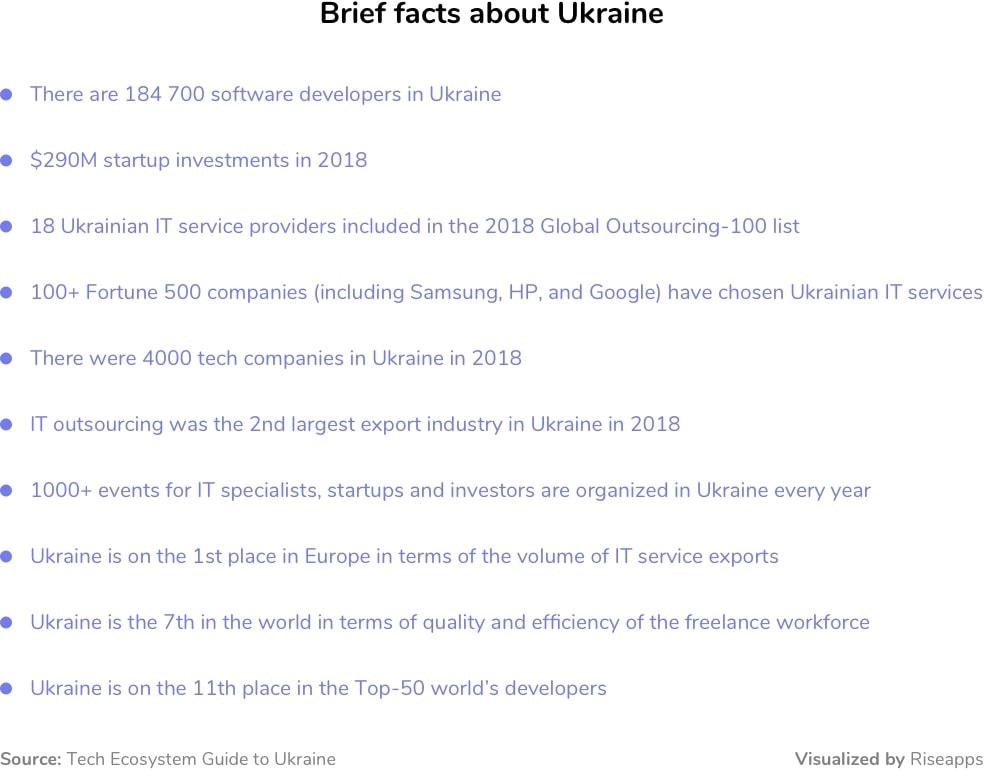 Source: Tech Ecosystem Guide to Ukraine
We think that people are those who make Ukraine a favorable destination for IT outsourcing. At this point, numbers speak better than words. 
More than half of software developers have higher education in either technical/non-technical fields.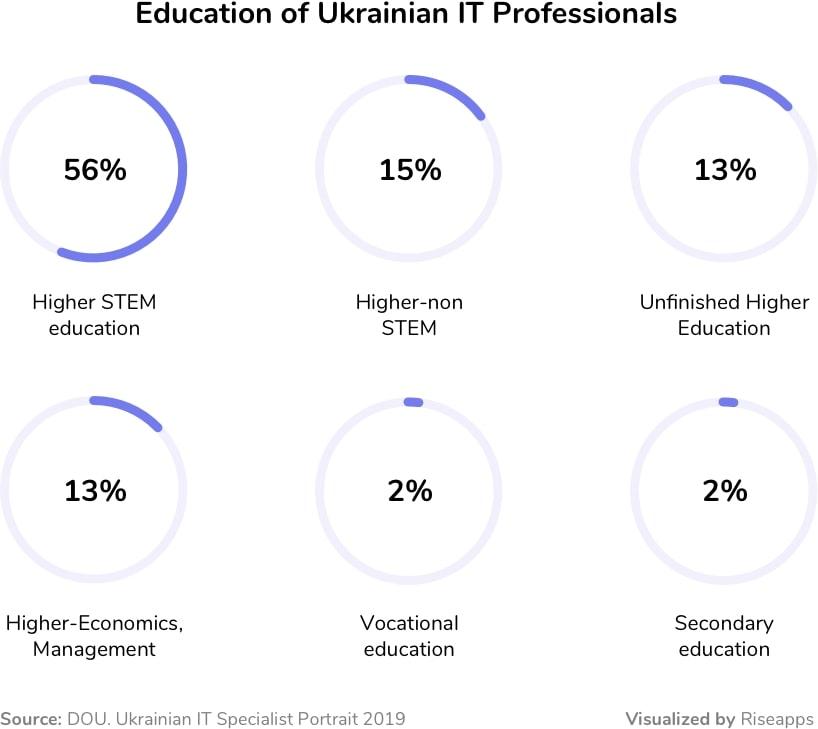 Source: DOU. Ukrainian IT Specialist Portrait 2019
Almost half of the developers have a high level of English, that enables them to cooperate seamlessly with world best economies.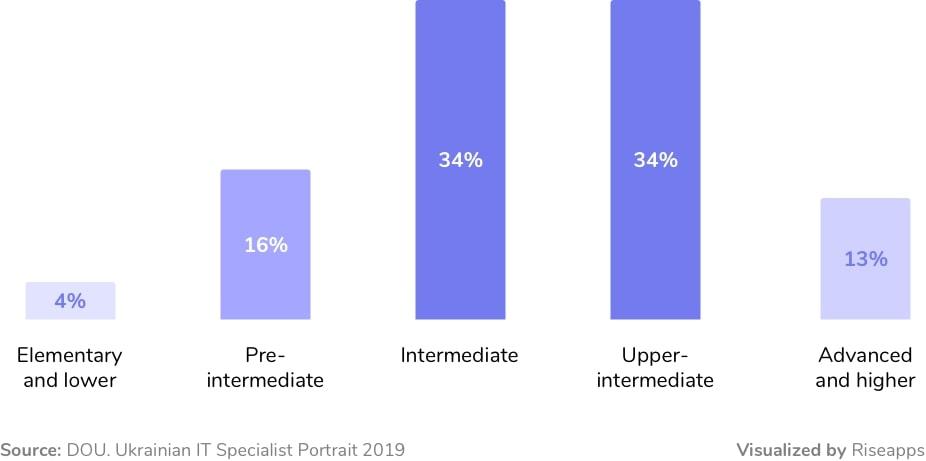 Source: DOU. Ukrainian IT Specialist Portrait 2019
The majority of developers constantly improve their professional skills by reading professional literature (almost 70%), learning online (57%) and visiting tech events (34%).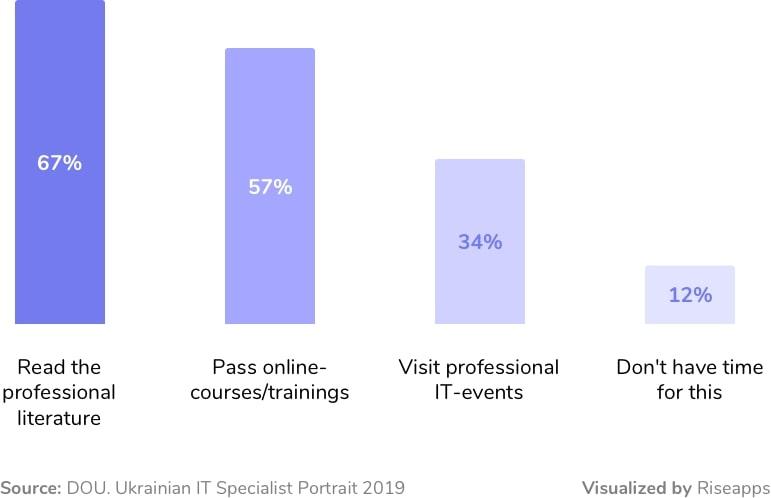 Source: DOU. Ukrainian IT Specialist Portrait 2019
All of these points are supported by relatively low outsourcing software development costs to Eastern Europe, that are possible due to the tax policy and low costs of living.  
Companies that Have Already Outsourced their Product Development to Ukraine
Many companies are choosing Ukrainian firms among others in Eastern Europe for outsourcing software development to build their projects in various business fields. As for today, the USA and Western European countries are the largest target markets of the Ukrainian IT service companies. 

Source: Ukraine. The country that codes.
Ukraine is also home for over a hundred of R&D subsidiaries of global tech giants like Opera Software, Samsung, Adobe, Oracle, Ubisoft, and Wargaming.
Bottom line
When choosing the software development company, keep in mind, that you are choosing a business partner who can implement your ideas into real-life projects. Before choosing the best company in Eastern Europe, make a list of your requirements to sort both a country and Eastern Europe software development companies. 
You can go 2 ways: 
Find the best country in Eastern Europe for outsourcing software development. Find the best tech regions and then choose the best company. 
Go for the profile website, e.g. Сlutch, and filter the results, i.e. by location.    
There are many software development companies in eastern Europe; make the right choice to help you find your partner to outsource software development.
P.S. If you are choosing a reliable software development partner to implement your ideas in the remarkable web and mobile application, don't hesitate to contact us in the form below. Outsource software development for your project with us.