How do you make a website like Airbnb? The key lies in identifying the right features, skillfully managing your budget, and guaranteeing an exceptional user experience. Integrating these elements with custom development, marketing, and team selection may prove challenging for budding entrepreneurs.
In this article, we'll walk you through building an app and website like Airbnb, starting with a minimum viable product and transitioning to a fully-fledged product. But before we delve into the details, let us first examine Airbnb's business model and approach, so you can understand what makes it so successful.
Develop Your Customized Rental Marketplace
Consult Us
Inside Airbnb's Business Model and Structure
Airbnb is a global online platform linking homeowners with travelers seeking short-term rentals, providing diverse, budget-friendly lodging options that promote local experiences while generating additional income for property owners. Users of the services marketplace can search, book, and pay for accommodations through the website or mobile app.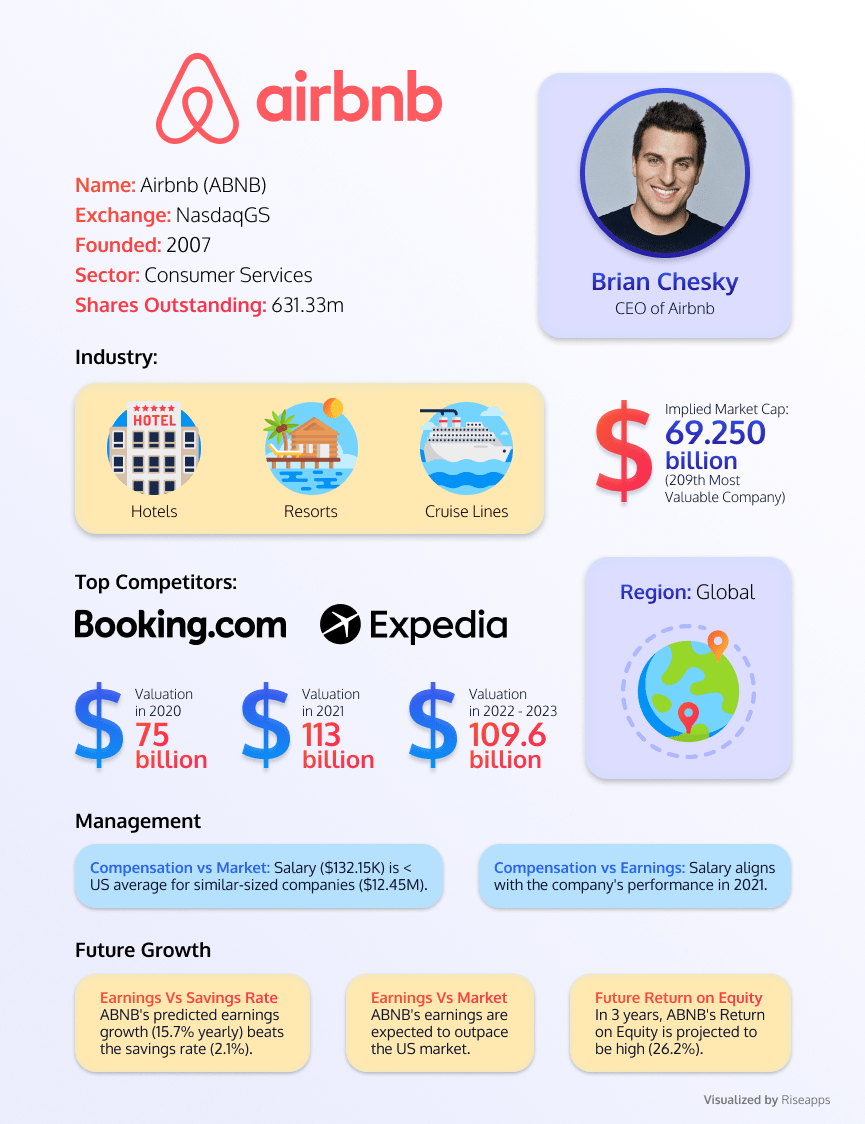 Airbnb in the U.S. & Europe
Airbnb has gained popularity worldwide, despite facing issues like rental shortages for locals, illegal subletting, and safety concerns. This privately-owned accommodation rental and sharing platform offers more affordable and authentic alternatives to hotel rooms. As a result, Airbnb has seen a significant increase in platform users in the U.S. and Europe, two of its main markets, over the past six years.
Airbnb in Emerging Markets
Latin America, the Middle East, Africa, and North America are some of the most profitable markets for Airbnb. In 2020, the average number of nights per Booking was similar across these regions, with guests staying over four nights per Booking.
Airbnb connects hosts and guests for a personalized travel experience. Here's how it works for both parties:
Hosts' Experience
Hosts create a listing with details about their property, such as location, size, amenities, and availability. They set their rates and additional fees and can use Airbnb's Smart Pricing tool for suggestions.
Guests send booking requests, which hosts can review before accepting or declining. Hosts prepare the property for the guest's arrival, provide the necessary information, and coordinate check-in and check-out times. After the stay, hosts can leave reviews for their guests.
Guests' Experience
Guests search for accommodations based on their preferences, such as destination, travel dates, and property type. They send booking requests, use Instant Booking if available, and provide payment information.
Guests communicate with hosts through Airbnb's messaging system and follow the host's instructions for checking in and out. They should respect the host's property and adhere to the house rules. After their stay, guests can leave reviews for their hosts.
Airbnb Business Model Canvas Explained
Here's a breakdown of Airbnb's business model canvas, representing how the company operates and generates revenue.
Target Customers
Airbnb focuses on travelers seeking unique accommodations at an affordable price and property owners (hosts) looking to earn extra income by renting out their spaces.
Value Proposition
Airbnb provides many lodging options for travelers, often at lower prices than traditional hotels. For hosts, it offers a platform to earn additional income by renting their properties.
Platform Channels
Airbnb relies on its website and mobile app to connect travelers and hosts, making searching, Booking management, and paying for accommodations easy.
Building Trust
Airbnb fosters trust through user profiles, reviews, secure messaging, and customer support to resolve transaction issues.
Revenue Generation
Airbnb earns a commission on bookings, typically from guests (booking fee) and hosts (hosting fee).
Key Assets
Airbnb's most crucial assets are its platform, user base, and the data it collects on user behavior and preferences.
Core Activities
Airbnb focuses on improving its platform, expanding into new markets, and maintaining customer satisfaction through support and quality control.
Partnerships
Airbnb partners with companies and organizations to enhance services like payment processors, local tourism boards, and complementary service providers (like experiences or car rentals).
Do Airbnb-Like Businesses Still Stay Profitable to Launch?
Several rental marketplaces have become profitable, securing millions in funding. Let's first examine Airbnb's financial success.
Airbnb Financial Analysis
To understand Airbnb's finances, we need to look at its valuation, which considers management, capital structure, future earnings prospects, and asset market value. 
Valuation
In 2021, Airbnb's value rose to $113 billion from $75 billion the year before. By 2023, the company's value dipped by 1.08% to $109.6 billion. Examining key metrics will provide more insight into its financial position.
P.E. Ratio Compared to Peers
How does Airbnb's P.E. Ratio stack up against its competitors?
Airbnb's P.E. Ratio (36.6x) is higher than the average of its peers (27.1x), making it more expensive.
P.E. Ratio vs. Industry Average
How does Airbnb's P.E. Ratio compare to the U.S. Hospitality Industry?
Airbnb's P.E. Ratio (36.6x) is higher than the industry average (19.7x), making it more expensive.
Share Price vs. Fair Value
How does Airbnb's current share price ($109.69) compare to its estimated fair value ($156.61) based on future cash flows?
Airbnb is trading below its fair value and is over 20% undervalued.
PE Ratio vs. Fair PE Ratio
How does Airbnb's P.E. Ratio (36.6x) compare to its estimated fair P.E. Ratio (38.4x), considering factors like earnings growth, profit margins, and risk?
Airbnb's P.E. Ratio is lower than its fair P.E. Ratio, making it a good value.
Analyst Price Targets
What is the 12-month forecast from analysts, and is there statistical confidence in the consensus price target?
The target price is more than 20% higher than the current share price, and analysts agree within a statistically confident range.
Management 
CEO Experience and Alignment
Brian Chesky co-founded Airbnb in 2008 and serves as its CEO. With a tenure of 15.3 years, he earns a monthly compensation of $132,152. Chesky holds a Bachelor of Fine Arts in industrial design from the Rhode Island School of Design. 
Compensation vs. Market: Brian's pay ($132.15K) is lower than the U.S. average for similar-sized companies ($12.45M).
Compensation vs. Earnings: His salary aligns with the company's performance in 2021.
Leadership & Board
Experienced Management & Board: ABNB's management team & board members are considered experienced (4.4 & 4.6 years average tenure, respectively).
Future Growth
Airbnb's projected annual growth is 15.7% for earnings and 12.4% for revenue. EPS and ROE are also anticipated to rise by 15.5% and 26.2% yearly. Analysts' predictions appear promising. 
Earnings Vs. Savings Rate
ABNB's predicted earnings growth (15.7% yearly) beats the savings rate (2.1%).
Earnings Vs. Market
ABNB's earnings (15.7% yearly) are expected to outpace the U.S. market (15.4% yearly).
High Growth Earnings 
ABNB's earnings growth is anticipated, but only by a little.
Revenue Vs. Market
ABNB's revenue (12.4% yearly) is predicted to exceed the U.S. market growth (7% yearly).
High Growth Revenue 
ABNB's revenue growth (12.4% yearly) is expected to be below 20% yearly.
Future Return on Equity
In 3 years, ABNB's Return on Equity is projected to be high (26.2%).
Rental Marketplaces Success Stories
Zumper: $30M Funding
The COVID-19 pandemic increased remote work flexibility, leading to a shift in demand for short-term rental options. This made Zumper, an online rental marketplace, raise $30 million in a Series D1 round led by Kleiner Perkins to enhance its product and better serve users seeking short-term rentals.
Breeze: €2.2M Seed Round
Berlin-based Breeze, an AI-driven property rental marketplace app that matches landlords with tenants, raised €2.2 million. The platform is free for tenants and charges landlords €89 for a successful rental. Breeze currently operates in Germany, Switzerland, and Austria.
Here: $5M Funding
Here, a fractional vacation real estate marketplace investment platform raised $5 million in seed funding to expand its offerings in over 20 U.S. vacation rental destinations. The platform aims to democratize access to real estate investments and unlock the $1.8 trillion short-term rental market for everyday investors.
Roofstock: $240M Financing
Roofstock, an online marketplace for single-family home investors, raised $240 million in a Series E round led by SoftBank's Vision Fund 2, valuing the company at just under $2 billion. The platform focuses on low- and mid-priced homes, which accounted for over 70% of investor purchases in the past quarter.
How to Make a Website Like Airbnb: MVP Guide
Here's a step-by-step guide for building an Airbnb-style website.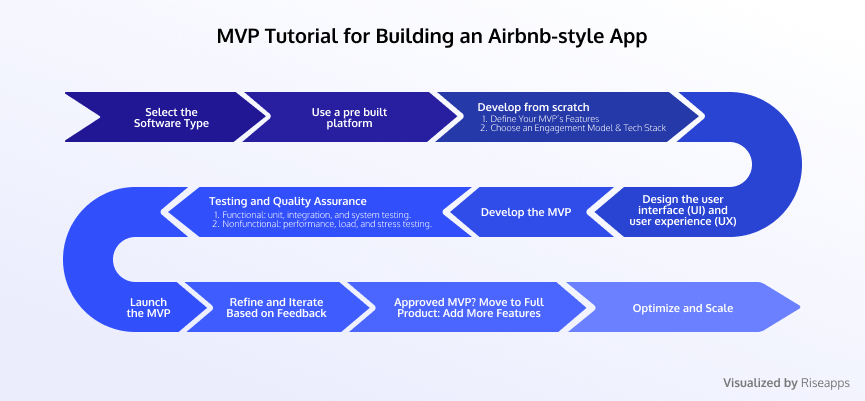 Select the Software Type
When building an app or website like Airbnb, you have two main options:
Use a pre built platform
Develop marketplaces from scratch 
Both choices have pros and cons, depending on your needs and preferences. Let's briefly discuss when and why to use each option as you create an Airbnb-like website.
Prebuilt Platform
If you want to launch your online marketplace business quickly and affordably, a prebuilt template is suitable. You can select either a non-customizable or a customizable template, giving you more flexibility. However, be prepared to scale the product eventually.
Popular solutions to consider include Sharetribe, RocketBazaar, or Shopify. These platforms provide various functionalities, allowing you to choose options that fit your budget while creating an Airbnb-style website. Your marketplace business data will be stored on servers alongside thousands of other websites.
Develop from Scratch
Custom marketplace development is the ideal choice if you need specific business logic and maximum user orientation.
This approach requires more time and money, but in the end, you'll have a fully-functional web application created by an expert software development team. They will consider all your preferences and business requirements.
Define Your Marketplace MVP
Map out your minimum viable product by listing the essential features for hosts and guests that will provide a functional, user-friendly experience. Prioritize the core features that align with your core value proposition and are necessary for initial user testing. Here are the features to include.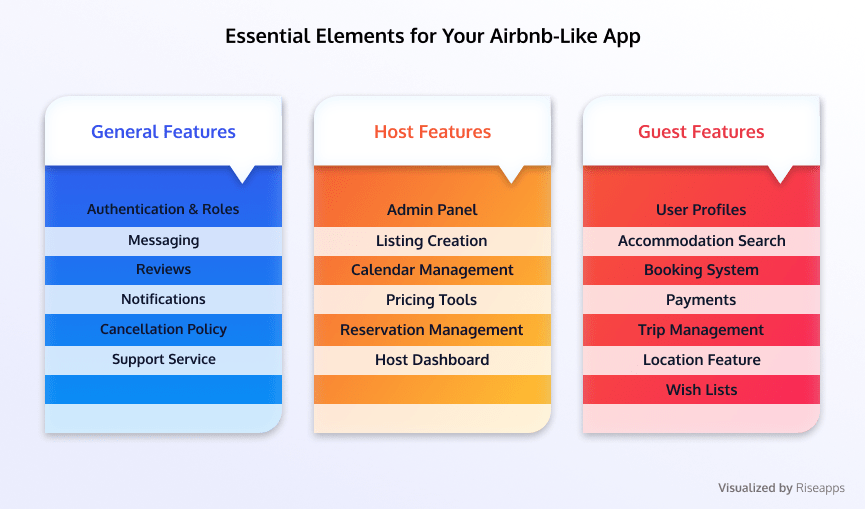 Save and share your favorite rental properties for future reference.
Choose an Engagement Model & Tech Stack
Select an engagement model between freelancing, outsourcing, or offshoring based on your budget, timeline, and technical expertise. Research different providers, compare their offerings, and choose one that best fits your needs.
Your marketplace development team should consist of the following members. 
Project manager: Oversees the project and resources.
Product owner: Defines product vision and priorities.
Developers: Implement features and code.
UI/UX designers: Create visual design and user experience.
Q.A. engineers: Test product and ensure quality.
DevOps engineer: Automates deployment and manages infrastructure.
Remember that team structure depends on project requirements, role availability, and budget.
Regarding the technologies, the infographics below show what Airbnb currently utilizes.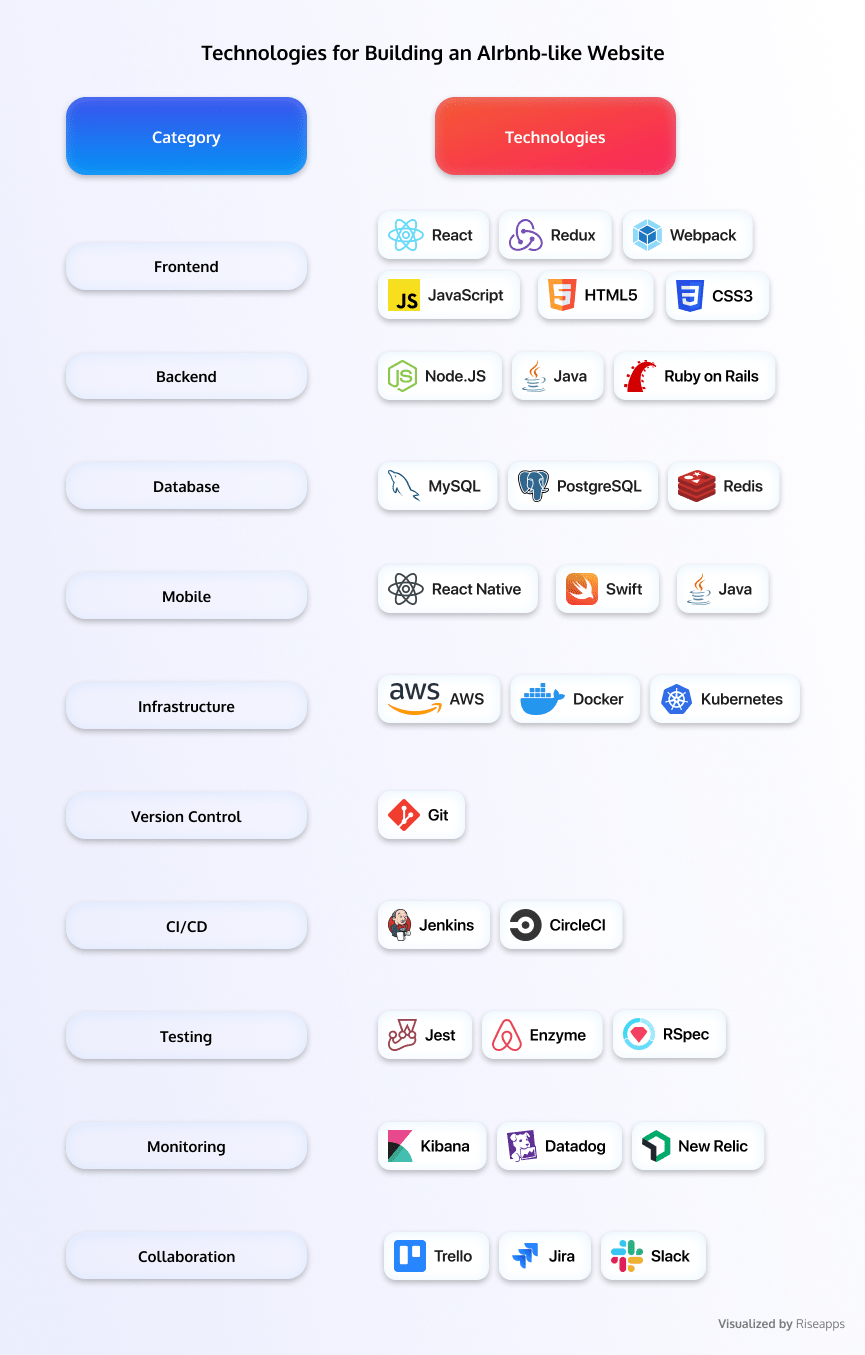 Design the user interface (U.I.) and user experience (UX)
Create wireframes and mockups for the website's layout, navigation, and visual elements. Focus on usability, simplicity, and aesthetics to ensure a seamless experience for hosts and guests. 
Designers typically use tools like Sketch, Adobe X.D., or Figma and collaborate with designers and developers to refine the designs. Additionally, your team should employ these step-by-step guides:
Conduct user research
Carry out market research to understand your target audience's needs, preferences, and pain points.
Create user personas
Build user personas to represent your target audience and guide design decisions.
Develop user stories and use cases
This helps to define the product's basic functionality and user interactions.
Validate designs through usability testing.
Confirm designs by conducting usability testing and gathering feedback from potential users.
Iterate based on user feedback
Design updates should be based on user feedback to improve the experience continuously.
Collaborate with the marketplace development team.
Work closely with the devs to ensure a smooth transition from design to implementation and maintain open communication to address any issues or changes that may arise.
Develop the MVP
Develop the marketplace MVP by implementing the prioritized features using chosen technologies, frameworks, and tools. Build the front-end and back-end of the website, focusing on performance, security, and scalability. Integrate necessary APIs for location, payment processing, and messaging.
Some best practices that dev teams should follow include the following features:
Clean and Modular Code
Write clean, modular, and maintainable code that is easy to understand and update.
Version Control
Implement version control using tools like Git to manage code changes and collaborate effectively.
CI/CD Automation
Use continuous integration and continuous deployment (CI/CD) tools to automate testing, building, and deploying the software.
Code Review and Refactoring
Regularly review and refactor code to improve quality and performance.
Test-Driven Development
Practice TDD by writing tests for each feature before implementing it to ensure robustness and reduce the likelihood of bugs.
Testing and Quality Assurance
Test your MVP by performing thorough checks on various devices, browsers, and resolutions to ensure compatibility and responsiveness. Identify and fix bugs, usability issues, and performance bottlenecks.
Q.A. engineers should run two types of testing:
Functional:
This testing ensures the application's features work as designed, based on requirements. It evaluates output correctness, data manipulation, user interface, and core functionalities. Common types include unit, integration, and system testing.
Non-Functional:
This testing assesses performance and aspects not directly related to user requirements, such as reliability, usability, scalability, and security. Examples include performance, load, and stress testing.
Launch the MVP
Launch the MVP, onboard hosts and guests, gather feedback, and analyze KPIs to improve. Note that Google Play Store and Apple App Store have distinct requirements for app submission.
| | | |
| --- | --- | --- |
| Requirement | Google Play Store (Android) | Apple App Store (iOS) |
| Developer Account | Create a Google Play Developer account ($25 fee) | Enroll in the Apple Developer Program ($99/year) |
| App File | Prepare a signed Android App Bundle (.aab) or APK file | Prepare an iOS App Archive (.ipa) file using Xcode |
| App Icons & Screenshots | Provide a high-resolution app icon, feature graphic, and at least two screenshots | Provide app icons (multiple sizes) and at least one screenshot per device type |
| Description | Write a short and long app description | Write a concise app description |
| Categories & Rating | Select the app category, add tags, and specify the target audience; complete a content rating survey | Select primary and secondary categories and set the age rating |
| Privacy Policy | Provide a privacy policy URL (if needed) | Provide a privacy policy URL |
Refine and Iterate Based on Feedback
Use the insights from the MVP to make data-driven decisions and prioritize additional features and improvements for the full product. 
Five Indications an MVP Can Move to Full Product Stage:
Positive User Feedback
Users find the MVP valuable and provide positive feedback, indicating that the core features have been well-received and the product is ready for further development.
Market Validation
It has to gain traction in the market, proving that there'll be a demand for the product and that it addresses a real problem or need.
Stable and Scalable Architecture
The architecture should be stable and scalable, allowing new features and improvements to be added without major disruptions or rework.
Achievement of Business Objectives
It needs to meet or exceed initial business objectives, such as acquiring a certain number of users, generating revenue, or achieving a specific growth rate.
Availability of Resources
Do you have the resources (e.g., funding, development team, and market insights) to invest in the full product development and expand the product beyond the MVP?
If your MVP passes all five checks, proceed to the full product phase and:
Develop Additional Features and Enhancements
Implement the remaining features and enhancements based on user feedback, market trends, and your long-term vision.
Optimize and Scale
Optimize the website performance for higher traffic and users. Incorporate advanced features like machine learning algorithms for personalized recommendations, analytics, and marketing automation.
How to Monetize Your Peer-to-Peer Rental MarketPlace
Airbnb's business model relies on booking fees.
Guest commission: Guests pay a 6-12% fee based on the reservation size.
Host commission: Hosts are charged 3% per transaction.
Drawing inspiration from Airbnb's monetization strategy, let's explore how your app can generate income.
Airbnb Plus
This program offers a selection of high-quality, well-designed homes with hosts known for their excellent reviews and attention to detail. Hosts pay an application fee to join this program, and Airbnb charges a higher booking commission.
Airbnb Experiences
Hosts can offer unique features or events to guests, and Airbnb takes a commission from the booking fees.
Business Travel
Airbnb partners with companies to offer corporate travel solutions, charging businesses a commission for booking accommodations.
Airbnb Luxe
A luxury accommodation segment that offers high-end homes with premium services. Hosts pay an application fee, and Airbnb charges a higher booking commission.
Co-Hosting
Hosts can partner with co-hosts to manage their listings, with Airbnb taking a percentage of the co-host's earnings.
Sponsored Listings
Hosts can pay for premium placement or visibility in search results, generating additional revenue for Airbnb.
Affiliate Program
Airbnb partners with other websites or apps that refer users to the platform, offering a commission for successful bookings.
Additional Monetization Models
Sign-up Fees
You may charge accommodation providers a one-time sign-up fee for property listing or services on the platform, creating an additional source of revenue.
Package Deals and Bundled Bookings
Provide discounted package deals, encouraging customers to book multiple services together, leading to higher commissions.
B2B Services
You can offer tools and solutions for other accommodation providers and businesses to manage their online presence, charging fees for these services.
Ancillary Services
Generate revenue by offering additional services like car rentals, airport taxis, and experiences, charging commissions or referral fees for bookings.
How Much to Create Your Own Airbnb Website: MVP Pricing Revealed
| | | | |
| --- | --- | --- | --- |
| Development Model | MVP Cost | Full Product Cost | Estimated Hours |
| Low/no-code software | $0 – $5,000 | $5,000 – $15,000 | Depends on the software |
| Custom (Outsourcing/Offshoring)  | $15,000 – $30,000 | $30,000 – $250,000 | 500 – 2,500 hours |
Low/No-Code Development
Pros:
Speed of Development
Enable users to create applications quickly, with prebuilt components and drag-and-drop functionality in hours or days using a low/no-code platform.
Lower Technical Barrier
Users with limited coding knowledge can still build applications, making them more accessible to a wider audience.
Reduced Cost
With faster development time and less reliance on highly skilled developers, low/no-code platforms can be more cost-effective.
Cons:
Limited Customization
Only offer the level of customization that some businesses require, which can result in a trade-off between speed and specific needs.
Vendor Lock-in
Users often depend on the platform provider for updates and support, limiting flexibility and control.
Scalability Concerns
As applications grow, low/no-code platforms may need help to handle increased complexity or may not offer the performance needed for resource-intensive applications.
Performance Limitations
It may sometimes offer a different level of performance than custom-built applications, leading to slower response times, decreased efficiency, and a less optimal user experience.
Reliance on Third-Party Services
Often rely on third-party services and APIs for additional core functionality. This can create potential points of failure if these services experience downtime, security breaches, or other issues.
Security Concerns
While many low/no-code platforms provide built-in security features, the reliance on prebuilt components and third-party services can introduce potential vulnerabilities that may not be as easily addressed as with custom development.
Intellectual Property Issues
Businesses might not have full ownership of the intellectual property related to the application. This can create potential legal issues and limit the ability to monetize or protect the application.
Limited Support for Complex Business Logic
Need help to handle complex business logic or advanced workflows that require custom rules, integrations, or data processing, limiting the platform's suitability for more complex applications.
Less Differentiation
The resulting applications can look similar to others built on the same platform. This can make it difficult for businesses to differentiate themselves and stand out in a crowded marketplace.
Overhead Costs
Although low/no-code platforms can save on initial development costs, they often come with ongoing subscription or usage costs. As the business scales or requires more resources, these ongoing costs can add up and offset some of the initial cost savings.
Custom Software Development
Pros:
High Level of Customization
Allows unlimited flexibility and the ability to tailor the application to specific business needs and end-user requirements.
Enhanced User Experience
With more context to end-users, developers can create a more engaging and personalized experience that meets user expectations and requirements.
Long-term Cost Savings
Although custom development may have higher initial costs, long-term cost savings can be realized through reduced reliance on third-party platforms, greater control over maintenance, and the ability to adapt the application to changing needs without switching to a new platform.
Scalability
It can be designed to scale with the growth of the business, ensuring it can handle increased complexity and performance demands.
Full Control
Developers have complete control over the technology stack, architecture, and underlying infrastructure, which can result in a more robust and secure application.
Increased Revenue
By offering unique features and a more engaging user experience, custom-built applications can help attract and retain customers, increasing revenue.
Cons:
Time-Consuming
Custom development typically takes several months.
Higher Upfront Cost
A custom application requires skilled developers and potentially more resources, making it more expensive than low/no-code alternatives.
How Riseapps Builds High-Value Online Marketplaces: Over $1 Million Cases
Riseapps is a full-cycle development company experienced in healthTech, edTech, fitTech, and online services marketplaces. As we develop applications, we aim to establish a solid foundation for lasting success. A skillfully designed app should drive business growth, bolster the brand, and enhance customer engagement. Some of our distinguished marketplace projects include:
Probuddy – Comprehensive Sports and Health Marketplace
Probuddy is a one-stop shop for sports and health enthusiasts, offering a platform to book in-person and online classes, training facilities, and other services. It helps fitness lovers find the perfect activity, while coaches can connect with their target audience and earn money.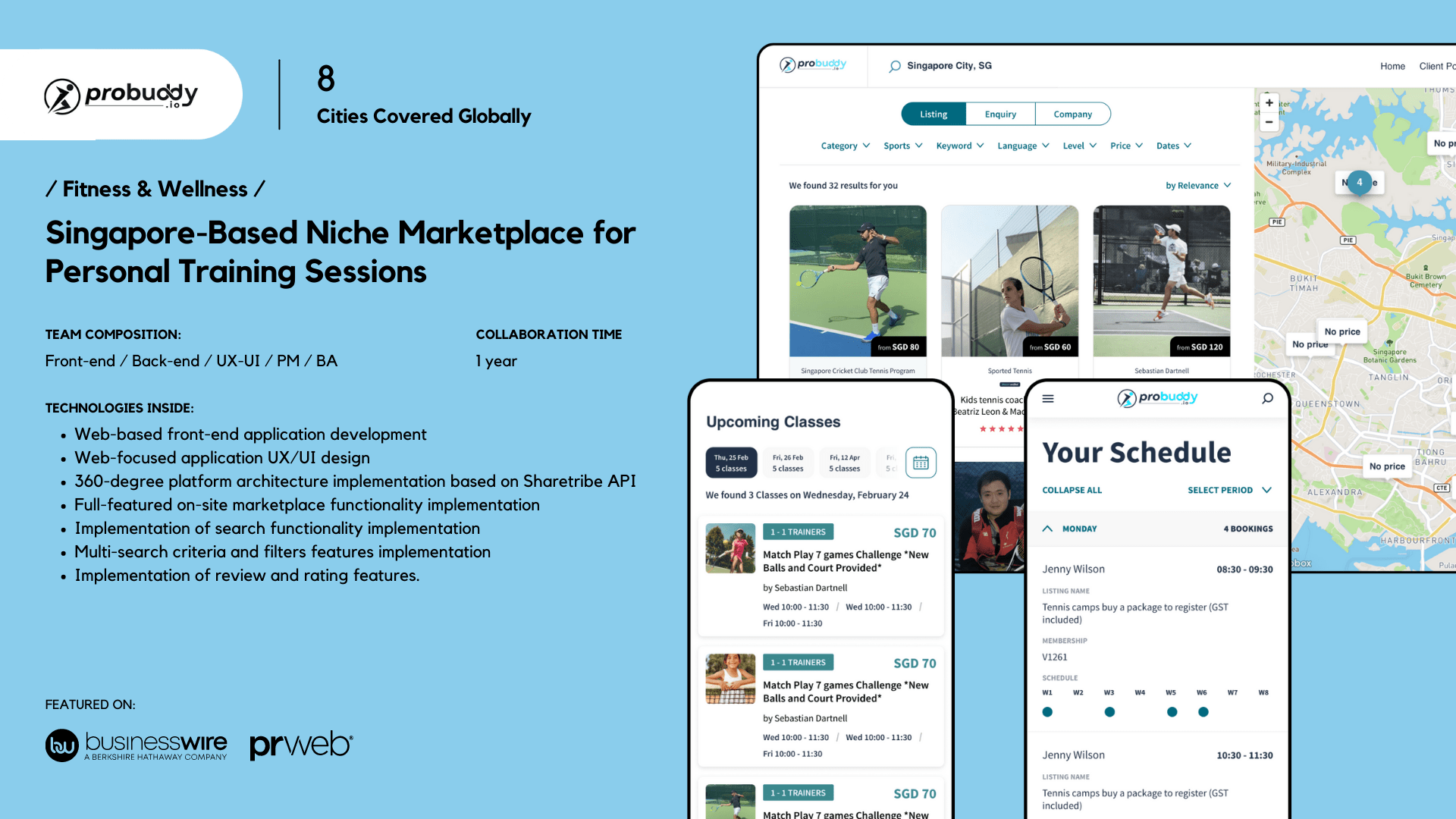 Solutions Offered:
Building platform architecture using Sharetribe API
Revamping the UI/UX design
Enhancing user experience for easier navigation
Adding an extended range of platform features
Integrating an external service for better search capabilities
Our efforts resulted in an upgraded fitness and health booking marketplace with a wider range of features. We introduced tools that empower coaches and clients to manage their time and finances efficiently. The new functionality enhanced the platform's quality by offering a more user-friendly interface and a streamlined user experience. In total, we increased Probuddy's features by 50%. Following the update, user traffic and the monthly transaction value saw a significant boost, with an increase of $60,000.
Matchspace – Swiss Music Lessons Marketplace and Employee Engagement Solution
Matchspace is a Swiss platform that connects people with private music teachers for personalized lessons. It also offers a unique service for companies to boost employee engagement through the power of music. Matchspace has successfully raised two funding rounds, totaling $1 million, with the latest funding received on December 12, 2022, from a grant round. Two investors back the company, IMD Startup Competition and Business Angels Switzerland (BAS).
Matchspace has also established several significant partnerships with Visana Krankenversicherung, which promotes mental and physical health. The platform has been featured in various media outlets like EINBLICK, EU-Startups, Moneycab, and Startup Ticker and counts MusikHug, KPT Insurance, and Enjoy365 as partners.
Solutions Offered:
Tailored user experience design with easy filtering and navigation
Simplified user interface for smooth onboarding
Enhanced performance and security using incremental static regeneration architecture
State-of-the-art technology stack (React Native, Next.js, Angular, Janic) for cost-effective functionality reuse
FAQ
---
How do I make a website like Airbnb?

---

To create a website like Airbnb, you must design and develop a platform connecting property owners and travelers, incorporating key features like search, Booking, and payment systems.
---
How long does it take to build a website like Airbnb?

---

Building a website like Airbnb can take several months to over a year.
---
How much does it cost to build an app like Airbnb?

---

Building an app like Airbnb can range from $10,000 to $250,000+.