Several questions must be answered to build an inclusive and competitive services marketplace platform. What are the challenges facing your service business? How can an online marketplace address these issues? How can you be certain that suppliers and buyers require your product? What strategies have similar online marketplaces implemented to succeed and obtain financial support? Furthermore, should you build a custom solution or invest in ready-made marketplace software to achieve your objectives?
We understand that there is a lot to consider, and we have gathered insights from the service industry experts to assist you. 
This guide by Riseapps includes advice on navigating obstacles, developing a services website, and comparing custom versus low-code alternatives. As a start, we'll show you examples of companies that have tackled obstacles head-on and secured millions in funding.
Is It Worth Launching Your Online Service Marketplace: 6 Startups That Secured Millions In 2023
Launching an online service marketplace is totally worth it. It's an efficient way to attract investor funding and grow your business faster. Let's talk about a few online service marketplace platforms that have raised millions and made it big.
HeadRace
HeadRace is a Texas-based recruiting platform startup that bagged $6M in seed funding. They help organizations hire talent quickly and securely, working with everyone from small IT teams to larger companies. Their unique features let independent recruiters connect with new and existing customers, collaborate on projects, and more.
Brigad
Now, there's Brigad, a French startup that secured $30 million in financing. The online platform serves as a marketplace for restaurants and healthcare facilities looking to find freelancers for short-term gigs. They've become a top choice in France and the UK, helping 15,000+ talented professionals make a living from their skills.
Venwiz
Venwiz is an industrial services SaaS marketplace that raised $8.3 million in Series A funding. They streamline the capex life cycle of manufacturing companies, making vendor discovery, service procurement, and job execution way easier. Venwiz has over 10,000 vendors on board and some pretty big clients like Nestle, TVS, and ITC. They're all set to take their platform experience to the next level with this funding.
Cabify
Cabify, a Madrid-based rideshare platform, obtained $66.4 million from investors and secured a €40 million ($43.6 million) loan from the European Investment Bank. The platform operates in over 40 cities across seven countries and plans to expand further. Cabify offers taxi services for individuals, corporate transport, events, and shipping and logistics.
Jobber
Canadian startup Jobber raised $100 million in a Series D funding round, led by General Atlantic for its home services professional platform. With over 200,000 users, the platform has managed $13 billion in billing and collections in the last year. Jobber will use the funds to develop more tools for its users.
Zavvie
Proptech company Zavvie raised $3.65 million in a funding round led by existing investors, including Second Century Ventures. The Colorado-based firm provides a marketplace of offers from iBuyers and 'power buyers' for real estate agents. With over 65,000 agents in 47 states, Zavvie plans to expand its white-labeled offer platform.
4-Step Checklist in Building a Service Marketplace: Idea to MVP Launch with Paying Customers
Ready to launch your own service marketplace with paying customers? Follow this 4-step checklist to go from nailing down product-market fit to launching your MVP.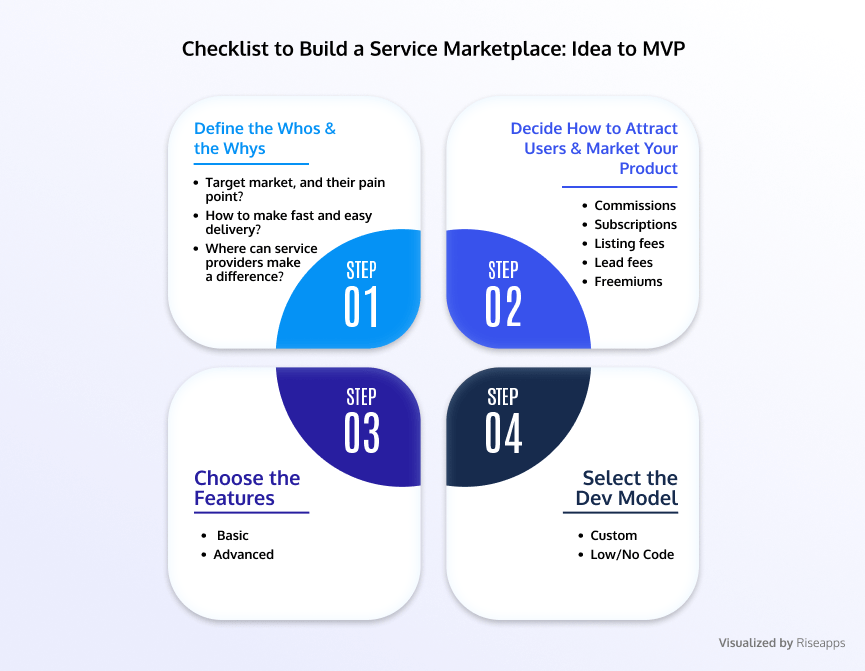 Define the Whos & the Whys
Start by asking yourself:
Who's my target market, and what's their pain point?
How can I make service delivery easier and faster?
Where can a specialist service provider make a positive difference in people's lives?
Why does this matter? Simple: your marketing strategy won't work if you don't know your audience. Figure out demographics like age, background, consumption habits, and more. Browse service marketplace niche blogs, read comments, and see what questions pop up on Quora.
Need more deets? Whip up a market research survey and share it with your network or in relevant Facebook user groups.
Plus, be crystal clear about the problems you're solving. You need a specific problem to tackle if you want to stand out and attract the right people to your platform.
Take Fiverr, for example. Their mission? Helping folks find reputable freelancers in a snap.
Decide How to Attract Users & Market Your Product
Time to choose the right monetization strategy and get sellers and buyers on board. Here are some wallet-friendly ways to do it:
Commissions
Major service marketplaces like Airbnb, Amazon, and Uber widely use the commission business model. In this model, you earn a predetermined percentage or fee from each transaction conducted on the platform. This model offers flexibility and simplicity but can face challenges in predicting revenue and addressing fiscal issues.
Subscriptions
The subscription model provides more predictable revenue based on the number of members and their membership fees. You receive regular payments from users for access to the platform and its features. The challenge lies in balancing membership plans to attract and retain users without sacrificing profits.
Listing Fees
In the listing fee model, users pay to list their products or services on the marketplace. This model promotes fairness among users and can enhance the quality of offerings, but setting the right fee can be challenging to avoid discouraging users or attracting spammers. A food delivery marketplace, Delivery Hero, is an example of a successful marketplace using this model.
Lead Fees
The lead fee marketplace model charges users per lead, such as customer contacts or interactions. This model falls between featured listings and commissions and offers a better value proposition as users only pay when connecting with potential customers. Thumbtack is an example of a platform using this model effectively.
Freemiums
The freemium model offers a free plan for users, with additional paid features available for added value. This model attracts more users due to its free access but requires the paid features to be valuable enough to generate revenue. Peerby, a Dutch exchange service startup, uses the freemium marketplace business model for its platform
Choose Basic vs. Advanced Features 
So, when you're building an online service marketplace business, you've got these two types of features: basic and advanced. The fundamental ones are like the backbone of your marketplace. You absolutely need to have them. Without these, your marketplace wouldn't really function properly, and buyers and sellers wouldn't be able to do their thing.
Now, the advanced features are like the cherry on top. They're not absolutely necessary, but they can really make a difference in how people feel about using your marketplace. 
Basic Features
User Registration and Profiles
A simple and secure registration process for both service providers and customers, with customized features and profiles containing pertinent information, such as expertise, ratings, and reviews.
Search and Filter Functionality
A comprehensive search and filter system that enables users to quickly and efficiently locate relevant professionals based on various parameters, such as location, price, and service category.
Booking and Scheduling
An intuitive booking and scheduling system that allows customers to easily book appointments with service contractors, while offering suppliers the ability to manage their availability and appointments.
Secure Payment Gateway
A robust and secure payment gateway that supports multiple payment methods, ensures smooth transactions and safeguards sensitive financial information.
Ratings and Reviews
A transparent ratings and review system that encourages honest feedback from customers, helping vendors to improve their offerings and enabling potential customers to make informed decisions.
Communication Channels
Integrated communication tools that facilitate seamless interaction, enabling users to discuss project details, negotiate terms, and address any concerns.
Advanced Features
AI-Powered Talent Matching
Leverage AI and ML algorithms to intelligently match suppliers with relevant projects based on their skills, experience, and client preferences, streamlining the process of finding the perfect fit for both parties.
Robust Project Management Tools
Incorporate project management tools that enable clients and freelancers to collaborate effectively, track progress, set milestones, share files, and communicate seamlessly within the platform.
Escrow and Milestone-Based Payments
Establish an escrow system and milestone-based payments that ensure secure transactions while protecting both service providers and buyers from potential disputes and ensuring project completion.
Customizable Workspaces and Dashboards
Provide customizable workspaces and dashboards for users to manage their projects, track earnings, monitor deadlines, and access essential tools, enhancing productivity and organization.
Advanced Reporting and Analytics
Equip users with advanced reporting and analytics features that enable them to monitor their performance, identify trends, and make data-driven decisions to optimize their businesses.
Built-in Video Conferencing and Screen Sharing
Incorporate built-in video conferencing and screen sharing capabilities that foster trust and enhance communication facilitating interviews, project discussions, and collaboration.
API Integration and Marketplace
Create an API for seamless integration with third-party tools, such as CRM, accounting software, and marketing automation systems. Additionally, offer a marketplace for users to access and purchase useful add-ons and extensions.
Gamification and Loyalty Programs
Introduce gamification elements and loyalty programs that reward users for their engagement, encouraging them to maintain a strong presence on the platform and complete more projects.
Select a Software Development Approach
You can either create a service marketplace from scratch or use existing software. 
Let's chat about both options.
Ready-Made Platform Vs. Custom Marketplace App Development
wPre-existing platforms can save you a ton of time on website development, so you won't have to create everything from scratch. You'll skip UX/UI design, development, and testing services.
Some popular template apps include Sharetribe, Adobe Commerce, WooCommerce, and Shopify. These apps come in different forms, like licensed, open-source, cloud-based, or self-hosted. Keep in mind the level of control you want over your service marketplace when choosing a ready-made solution.
Open-source options like Adobe Commerce are popular choices. They give you more control and customization options, with users constantly designing new extensions and plugins.
Why Choosing Custom Development Is the Right Move
If you prefer to have customized business logic for your service marketplace website, custom software development is the way to go. Here's why. 
Fit and Style
You build a custom-fit marketplace app with a design and features that match your unique vision, while pre-built software might feel like you're trying to squeeze into a generic platform that doesn't fit quite right.
Stand Out from the Crowd
Provide a one-of-a-kind service marketplace that sets you apart from competitors. Differently, standard software is like off-the-rack outfits – they're nice, but they don't have that personal touch that makes your service marketplace truly unique.
Customizations
Make adjustments and improvements as your marketplace grows. Commercial solutions might feel more like trying to alter a store-bought concept – you can make some changes, but you're still limited by the original design.
Personalized Support
A dedicated team of developers works on your project. They understand your specific needs and can provide ongoing support. With low-code development, you're mostly left to figure things out on your own.
Security
With tailor-made software development, you have better control over the security of your platform. Low-code platforms offer some protection, but might not have the level of data security you need to keep your service marketplace safe from potential threats.
Integration with Other Systems
Enables you to seamlessly integrate your service marketplace with other tools and software. 
Buying low-code application builders can be more like trying to connect mismatched devices – sometimes they work together, but other times you're left with a frustrating, incompatible mess.
Ownership and Control
Choosing to create a service marketplace from scratch means you own and control your service marketplace. With low-code platforms, you might feel more like you're renting – a few tweaks can be made, but you don't have complete control over the software.
Profitability
A bespoke online services marketplace has a higher initial investment, but the long-term ROI can be much greater. It costs more upfront, but the long-term savings are worth it. On the other hand, low-code platforms may offer a lower initial cost, but the limited customization and functionality can hinder your marketplace's growth potential, impacting the overall ROI.
Tech Background
Custom product marketplace development requires a skilled team of developers, designers, and other professionals to build your service marketplace. Limited-code tools are designed to be more user-friendly and require less technical knowledge. While they can be a great option for users with limited technical expertise, tailored development offers a more robust and professionally-built solution.
Versatility for Diverse Users 
Custom development caters to a wide range of customers with varying needs, as its customizable nature allows for the creation of solutions that suit different preferences and requirements. Minimal-code platforms may be better suited for users who need a quick, simple solution with minimal customization.
Different Engagement Models for Custom Marketplace Development
In-house Development Team
Using an in-house development team is a good option for building your customer service marketplace. It allows for full control over every step of the project and maximum customization potential.
From deciding on features and functionality and hiring skilled developers to design an engaging UI/UX experience, everything comes into play while developing your platform from scratch.
This option may be expensive, but it is worth it.
Freelancing Team
Hiring a team of freelancers to perform the task is a less expensive option. You can find such freelancers on Upwork, Fiverr, PeoplePerHour, or Freelancer.
This approach can help you save costs significantly as there's no need for major investments in infrastructure or workforce training. In addition, you also get access to highly qualified individuals from all over the world who are experts in software development.
The downside of using a freelancing team is the lack of full control. A large part of the project depends on communication and collaboration, which can be difficult to achieve when working with dispersed, remote workers who may have shared goals.
Software Consultancy
Software consultancy offers you assurances of competence and experience. The consultants are equipped with the necessary resources to build a service marketplace platform you can be confident about. They most likely have previously handled from-the-scratch projects like yours.
The expertise and knowledge sharing among engineers, developers, and other stakeholders facilitate the successful completion of projects. Riseapps are trusted software consultants who have built many software platforms at the enterprise level.
How Much Does It Cost to Launch an MVP Service Marketplace: Custom Vs. Low Code/No Code
The cost to launch an MVP service marketplace will vary greatly depending on the development method chosen. Let's look at the breakdown of approximate costs for each approach: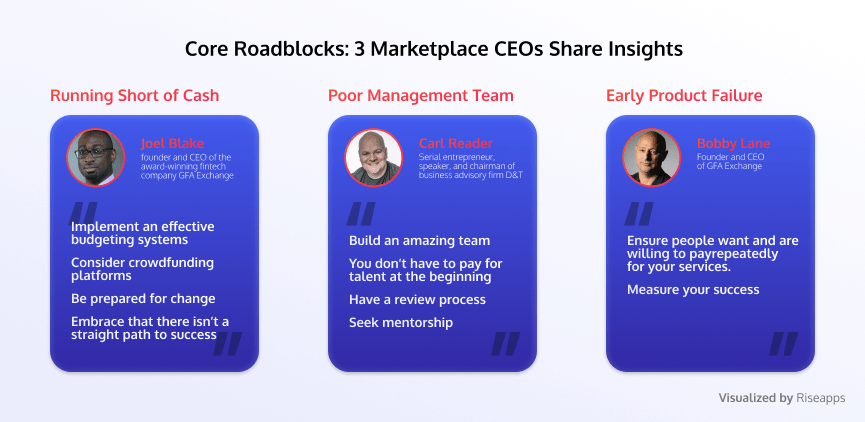 Custom
With custom service platform development, you get tailored functionality that includes both front-end and back-end programming. It takes about 4-6 months of careful design, development, and testing, which means you'll end up with a top-notch product. That's somewhere between 950-2500 working hours. Considering the average Central European hourly rate is $50, the cost could be anywhere from $47,500 – $125,000 or more. 
Low-Code/No-Code
Now, these platforms offer low-code/no-code solutions or scripting capabilities that help you avoid coding from scratch while still allowing some customization. It's tempting, but it might not deliver what you're looking for:
Platforms like Sharetribe and Bubble are popular options. Access to their pro features starts at $25 per month. However, these one-size-fits-all solutions might not be the best fit for your unique business needs.
Sure, you could finish a low-code/no-code MVP in just a few days, but you might sacrifice quality and customization in the process.
In a nutshell, the no/low code solutions are far less expensive. Investments ranging from $1k – $20K would likely be sufficient for building your service marketplace MVP. However, the customization, functionality, and competitive advantage provided by custom marketplace development make it the ideal choice for a robust, high-performing marketplace MVP.
Core Roadblocks to Keep Up With: 3 Marketplace CEOs Share Insights 
Starting and running your service marketplace platform won't always be a breeze. Many service marketplace startups face common roadblocks. Learning from experienced leaders can help you dodge some big mistakes. Here are a few pieces of advice to consider:
Running Short of Cash
So, Joel Blake, the founder and CEO of the award-winning fintech company GFA Exchange, has shared some helpful tips to get your business off the ground and keep it going strong.
You know what they say, cash is king, and it's never been truer than now. A ton of startups fail within the first five years because they run out of money. You really have to make sure you've got enough cash on hand to push your business forward. Sometimes, you might even need to take a step back before you can move forward.
It can be tough, especially when you have to choose which services or products get priority when money's tight. You and your team need to be disciplined when it comes to making financial decisions to avoid running out of cash. And don't forget, having a solid budgeting system in place is a must, so you know exactly how much everything costs and how the cash is flowing.
Oh, and there's always crowdfunding platforms where you can connect with investors online. Give it a shot by talking about your service marketplace platform in a way that grabs people's attention. Who knows? You might just get the funds you need to make your business a success.
Key Takehomes
Implement an effective budgeting system to track project costs and cash flow.
Consider crowdfunding platforms to attract potential investors.
Be prepared to adapt and change as challenges arise.
Embrace the fact that businesses don't follow a straight path to success.
Poor Management Team
Carl Reader is a serial entrepreneur, speaker, and chairman of business advisory firm D&T. He's learned a ton from his experiences, and he's got some advice for us.
Having a solid management team is important for startups. You need folks who know their stuff and have the right skills to make smart decisions. A great management team can really help your service marketplace platform grow and attract potential investors.
Carl's got this simple formula he calls "dream, plan, do, review." It's a great way to sum up what you need to do to turn a business idea into something that works for you every day.
Here's the deal:
Build an Amazing Team
You don't need a huge team right away. Focus on having enough people to help you reach the next level, then invest in more team members as you grow.
You don't always have to pay for talent at the beginning
Your team could include friends, colleagues, or advisers. Just make sure they've got your back and are the right fit.
Have a Review Process
Make sure you're constantly checking in on what's working and what's not. This will help you stay on top of things and make improvements as needed.
Seek Mentorship
Before you start scaling up, talk to people who've been there before. They can help you set the right foundations for success.
Early Product Failure
Bobby Lane, CEO of Factotum, offers valuable advice on how to start strong and maintain momentum.
First things first: Before diving into marketing, investing in a website, building a team, or raising money, take a step back and ask yourself this simple question: "Have I checked if there's a real need for my product or service with my target customers?" Seriously, you don't want to end up with just a crazy expensive hobby.
In a nutshell, make sure people want what you're offering and are willing to pay for it repeatedly. Only then can you be sure you're on the right track.
Now, about measuring success. Of course, cash flow and profitability are important, but what other things are you doing to reach those goals? Take some time to think about the metrics you're tracking daily, weekly, monthly, or even years to make sure you're moving in the right direction. That way, you'll know you're making progress and crushing it.
4 Test-Proven Tips that Will Hold You Back from Failure
Almost 30,000 new products hit the market each year, but 95% of them fail, according to Harvard Business School professor Clayton Christensen. You definitely don't want your service marketplace to go down that path. Our team at Riseapps has come up with some tried-and-true tips based on years of helping marketplace owners succeed and grow.
Teaming Up with a Trustworthy Company
You can't stress enough how vital it is to have a skilled development team or web designing company on your side. They need to know the ins and outs of building your service marketplace minimum viable product from scratch. Make sure they've got solid expertise in all the relevant tech and know how to tackle the unique challenges your target audience might face. A reliable team means a smoother ride through the whole process, from implementation to post-launch maintenance.
Focusing on User Numbers Over Profit
Forget about profit for now – growing your service marketplace is where it's at. Start with a commission margin that'll draw users in. A competitive price makes it easy for sellers to join, which is also great for buyers since there's less markup. Monetize from day one, but also put a lot of effort into building traffic and user experience, getting supply and inventory, and forming long-term relationships to make your marketplace really "sticky."
Juggling Demand & Supply
In the service marketplace world, supply is usually the hungrier side. Sellers are eager to join your platform, so be ready with the tech to onboard them while you attract buyers. However, scaling demand and supply calls for different strategies. For B2B, focus on getting companies on board and building a service marketplace they love. For professionals, create a self-serve product that's scalable.
A smart move is to use a freemium model to quickly boost your supply side, giving you the inventory to draw in buyers – companies looking to hire.
Knowing When Your Platform's Rocking It
Keep an eye on your B2B metrics to see if companies are coming back for more and feeling satisfied. You might not seal the deal on every transaction, but if you're consistently matching candidates to final rounds, that's a big win. The challenge? Getting them to actually go through with the transaction.
Don't forget to look at data-driven reports with engagement metrics, like net promoter scores, to see if you're nailing those "word of mouth" recommendations.
How Riseapps Gets You Covered with Marketplace App Development: $1 Million+ Cases
Riseapps is a full-cycle development company. Besides extensive exploration and success in healthTech, edTech, and fitTech, we have helped companies build online services marketplaces that promote different types of commerce and exchanges.
Here are a few examples:
ProBuddy
Probuddy is a fitness/wellness platform in Singapore providing a marketplace for coaches and personal trainers. They contacted Riseapps to develop a comprehensive platform that will drive fitness commerce between users and professional trainers.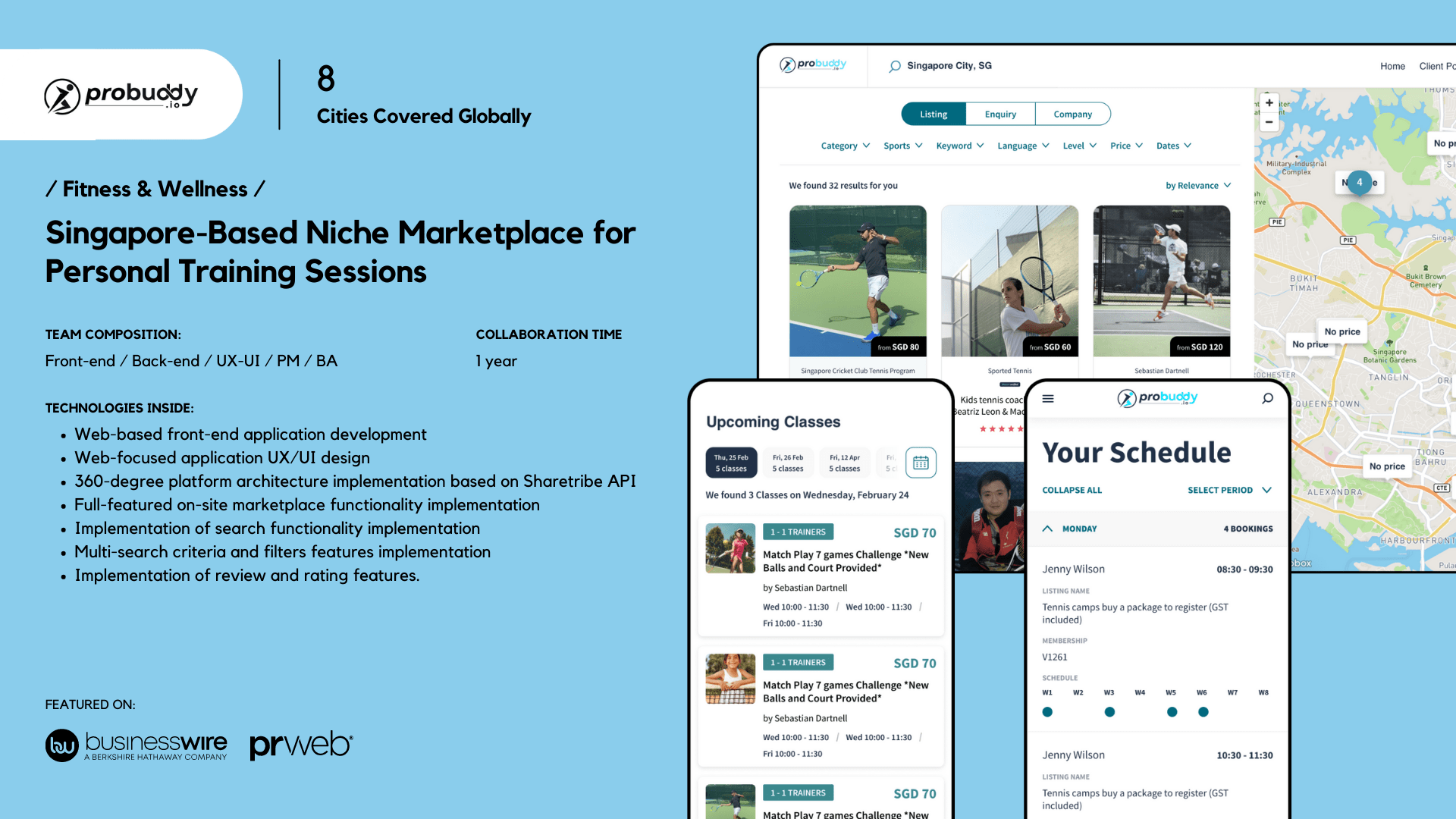 After analysis of the requirements, we built the following solutions: 
Web-based front-end application development. Web-focused application UX/UI design 
360-degree platform architecture implementation based on Sharetribe 
API Full-featured on-site marketplace functionality implementation 
Implementation search functionality implementation Multi-search criteria and filter features implementation. 
Implementation of review and rating features.
Matchspace
Matchspace is a leading go-to service marketplace in Switzerland for private music lessons and teachers. As a top music service provider, they reached out to us to develop an all-in-one software where suppliers and buyers can find all they need from one dashboard.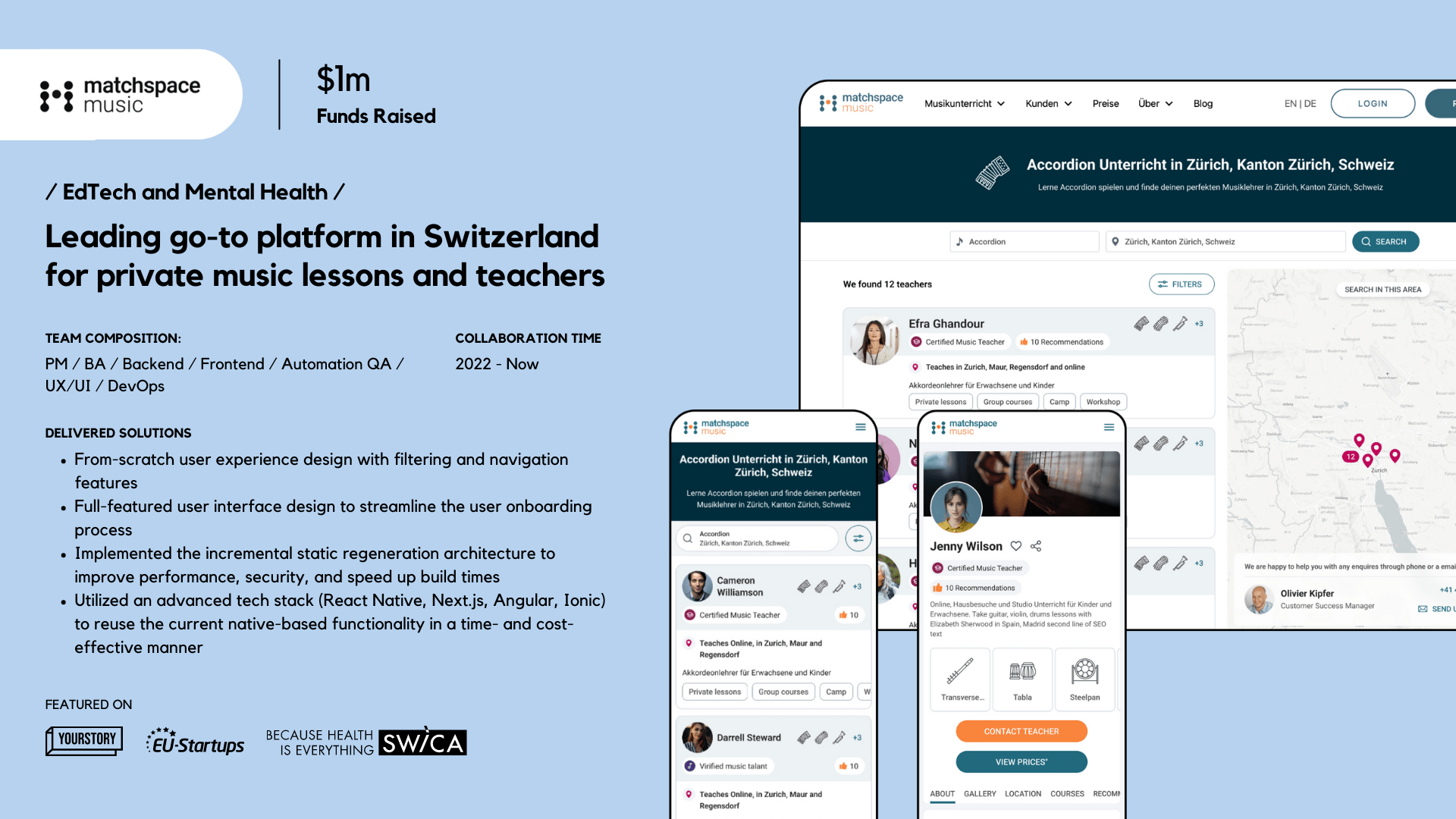 Following an evaluation of the specifications, we made the next solutions
From scratch user experience design with filtering and navigation 
Full-featured user interface design to streamline the user onboarding process
Implemented the incremental static regeneration architecture to improve performance, data security, and speed up build times. 
Utilized an advanced tech stack (React Native, Next.js, Angular, Janic) to reuse the current native-based functionality in a time- and cost- effective manner.
FAQ
---
How do I create an online services marketplace platform?

---

Identifying your target customers and their needs is the first step. Then you'll hire experienced Software Developers to develop a web and/or mobile platform with user profiles, secure messaging, payment integration, review systems, and other features.
---
What is the best platform to build a marketplace?

---

The best platform to build a marketplace would depend on the features, functionality needed for the project, budget, and technical skill requirements. Popular options include devdojo, Sharetribe, softr, and sirchend.
---
How do service marketplaces make money?

---

Service marketplaces make money by taking a percentage of the total cost of selling services as commission fees. They can also charge subscription fees or offer paid advertising services to vendors to generate revenue.