You've likely seen it before: online learning projects failing before they even get started. Often, the problem is a lack of solid planning and project management. What's going to happen if the lines of communication between you and the vendor blur? Or What if your software development goals aren't clear?
These can quickly become hidden pitfalls. Resources get squandered and the software might never make it to the global e learning market.
So, how do you create an online learning platform without hitting these hurdles?
Just like H. Stanley Judd said, "A good plan is like a road map," and this couldn't be truer in eLearning app development. Successful e learning platforms like Udemy and Coursera didn't happen by chance. They're the result of detailed planning and execution.
Before you start building your online learning platform, you need to chart your course. Should you keep development in-house or collaborate with an outside vendor? Will customized training suit your needs, or is an off-the-shelf solution the way to go? Let's help you figure out the best approach.
Create Your Own Online Learning Platform Now
Contact Us
E-Learning Platforms: What's Behind The Numbers
Udemy
Located in: San Francisco, California, USA
Founded in: 2009 by Eren Bali
Domain: Education & Training Services
Subdomain: MOOC
IPO Date: October 29, 2021
Team size: 1,678 
Established in 2009, Udemy has quickly become a leading platform for Massive Online Open Courses (MOOCs), attracting professional adults and students alike. It has a user base of over 57 million and more than 213,000 courses.
What sets Udemy apart from traditional MOOCs is its innovative approach. There's no requirement for providers to maintain affiliations with university institutions or offer courses directly from them.
Instead, Udemy operates much like a marketplace. Instructors develop courses that they can offer directly to the public, either for free or for a fee. It's important to note that Udemy doesn't own existing courses. The ownership of intellectual property belongs to the individuals or organizations that make the courses.
Funding
Udemy, since its inception in 2009, has raised a total of $311.4M through 16 funding rounds. The company took a leap into the global elearning market on October 29, 2021, trading under the NASDAQ symbol UDMY, with its stocks initially priced at $29.00 each. Udemy's valuation after the funding rounds fluctuates between $1B and $10B. The company's most recent investment was a $4.5M funding round for Bizverse on October 14, 2022.
Financial Analysis
In 2022, Udemy's market capitalization was $1.33 billion, and its enterprise value was $900.63 million. The company's revenue increased by 22.00% compared to the previous year, while its losses were 92.3% higher. According to 10 analysts, the average rating for UDMY stock is "Buy," with a 12-month stock price forecast of $15.8, reflecting an increase of 82.87% from the current price.
Coursera
Located in: Mountain View, California, USA
Founded in: 2012
CEO: Jeffrey Nacey Maggioncalda
Domain: Education & Training 
Subdomain: MOOC
IPO Date: Mar 31, 2021
Team size: 1,401 
Coursera, much like Udemy, is considered a leading figure in the MOOC e learning industry and a major contributor to the democratization of education. It has formed partnerships with numerous prestigious universities and institutions, including Stanford, Duke, the University of Michigan, and even corporations such as Google and IBM.
Coursera was founded in 2012 and has since evolved its strategies to keep pace. Initially, they offered free courses, charging only for certification. However, as the global MOOC structure began to shift, Coursera pivoted its focus towards a B2B model. To tap into this new B2B opportunity, the company introduced a paid course for businesses, extending beyond just offering certificates. Today, their primary revenue comes from this enterprise segment.
As of now, Coursera has managed to reach over 100 million learners, irrespective of educational background and has nearly 1,000 enterprise customers.
Funding
In terms of funding, Coursera has raised a staggering $458.9M over 14 rounds. Their most recent round took place on January 1, 2021. Listed on the NYSE under the ticker COUR, the company's stocks debuted at $33.00 in its March 31, 2021, IPO. Coursera's post-money valuation is estimated to be between $1B and $10B as of July 19, 2020. Among their 31 investors, The Garage Syndicate and Global Secure Invest are the newest additions. Coursera also acquired Rhyme.com in August 2019.
Financial Analysis
Coursera's financial performance in 2022 demonstrated a revenue of $523.76 million, a 26.12% increase compared to 2021. However, losses amounted to -$175.36 million, 20.8% higher than the previous year. With ten analysts projecting a "Buy" rating for COUR stock, the 12-month stock price forecast stands at $17.5—an increase of 53.24% from its current price.
5 Types of eLearning Websites and Brand-New Trends that Drive Growth
MOOCs
MOOCs stand for "Massive Open Online Courses." They make high-quality virtual education from prestigious institutions accessible to anyone, regardless of location or income. MOOCs usually consist of online courses designed for large-scale participation, such as video lessons, quizzes, assignments, and peer-to-peer interactions.
Examples of MOOCs include:
FutureLearn
Canvas 
Iversity
Edx
Coursera
Udemy
MOOC Trends
In 2021, major MOOC providers experienced significant shifts. Coursera went public, and edX was bought by 2U for $800 million, losing its non-profit status. While initially relying on universities for course creation, MOOC providers now join forces with corporate giants like Google, Microsoft, Amazon, and Facebook.
In 2022, MOOC providers expanded beyond universities, fueled by the pandemic and increased demand from corporations and governments. Coursera's "enterprise" segment now sees the fastest Growth, with 70% YoY growth compared to 29% for individual students. In 2023, MOOC providers will further diversify their catalogs and businesses through non-university partnerships.
Cohort-Based Courses Platforms
In 2023, one of the important trends in online learning and Development is the growing significance of peer-to-peer learning in upskilling and reskilling efforts within organizations. With this type of engagement, learning transforms from a mandatory, tedious task to an organically evolving experience shared among employees. Cohort-based e learning platforms emphasize community engagement, peer support, and networking opportunities.
Examples of cohort-based online learning platforms are:
Maven Learning
EduFlow
FreshLearn
EducateMe
Cohort Learning Trends
To grasp the direction of CBCs, it's helpful to examine the actions of existing platforms. Take Maven, a new cohort-based course platform founded by the creators of Udemy, altMBA, and Socratic.
In November 2020, Maven secured $4.3 million in funding led by First Round Capital, and it now offers 400+ live-taught cohort-based courses.
One of Maven's latest trends involves shifting focus from courses developed by creators juggling multiple revenue streams and commitments to those created by standout employees within tech organizations. This change follows more than 300 cohorts completed by Maven students, resulting in $9 million in online course sales after 18 months.
Another noteworthy development is Maven Learning's upcoming launch of AI education platform. This initiative will allow students to learn live from the experts spearheading AI innovation at Google, Meta, Amazon Alexa, and numerous cutting-edge AI startups.
Corporate Training Sites
These platforms cater to the professional development needs of companies and organizations. They provide tailored learning solutions, such as courses, workshops, or training materials, to help employees acquire new skills, enhance their abilities, and stay current with IT industry trends. Professional training platforms often offer features like progress tracking, learning analytics, and integration with other enterprise software.
Companies that offer employee training include:
360Learning
Talentlms
Isuite Spring Solutions
Docebo
Corporate Learning Trends
360Learning serves as an excellent example of the evolving landscape of corporate learning. The company recently raised $200 million in funding from Sumeru, SoftBank's Vision Fund 2, and Silver Lake Waterman. Based on the approaches of companies like 360Learning, here are some trends transforming corporate training:
Bite-sized Learning
Microlearning has proven popular among L&D professionals and busy employees, with an average learning session now lasting only eight minutes. The focus is shifting towards more value-centered, human-focused learning to combat digital learning fatigue and respect employees' time.
Blended Learning
As the work landscape changes, blended learning is being refreshed to accommodate various demands. Modern blended learning approaches offer individuals choice and flexibility, maximizing their impact.
Social Learning Through Video Content
Video is a popular medium for L&D teams, with 41% of learning leaders focusing on it. Peer learning, especially in isolated workplace setups, is driving the creation of short, emotionally engaging videos that cover case studies and expert interviews.
Accelerators & Bootcamps
Accelerators and bootcamps are intensive, short-term training programs that teach specific skills, usually in technology or business. They provide hands-on learning experiences, mentorship, and often job placement support. Bootcamps aim to quickly equip participants with job-ready skills, while accelerators typically focus on helping startups grow and scale their businesses.
Some notable accelerators and bootcamps are:
Ycombinator
Techstars
Founders Factory
Trends for Accelerators & Bootcamps
Y Combinator is a renowned accelerator for launching companies like Dropbox, Airbnb, Stripe, etc. As we observe YC's activities and initiatives, three trends emerge in the world of accelerator programs:
Mentorship-Driven Growth
YC has streamlined processes like incorporating, trademarking, and connecting with investors, mainly through software. By offering mentorship and resources, they "edit the DNA" of startups to increase their chances of success. Their techniques have been adopted by numerous accelerators and incubators worldwide.
Broadening Worldviews
YC's approach has significantly impacted technology, business, and culture. Their influence is evident in the growing ambitions of their companies, as small startups now tackle complex problems once reserved for large educational institutions.
Empowering Founders
YC's founder-centric approach was initially unconventional. By focusing on supporting founders rather than replacing them with professional managers, YC has fostered a new perspective on company evaluation and Growth.
Community-Based Online Learning Sites
These online ecosystems magnetize learners from all walks of life, fostering a rich, interactive space where knowledge is absorbed and exchanged. Learning evolves into a shared journey, igniting fresh ideas and sparking profound collaborations.
Good instances of community based learning platforms are:
Mighty Networks
Disco
Circle
Community Learning Trends
Leading community platform Mighty Networks, which has raised $66 million, reveals the key trends driving its expansion. CEO Gina identifies four main strategies:
The Power of Member-Led Marketing
Gina notes that 40% of their new hosts are introduced by existing members, demonstrating the power of their organic, member-led growth model.
Embrace Constant Experimentation
Product experimentation is a regular exercise at Mighty Networks. Weekly tests focusing on user acquisition have successfully doubled their free trial conversion rates.
Interestingly, Gina found that focusing their services on career or professional communities instead of a broad audience accelerated adoption and resulted in a 200% growth in paying hosts within a year. The journey from 100 to 10,000 paying hosts required a shift in focus, but the results speak for themselves.
Virtual Learning Platform Core Features: Admins, Tutors, Students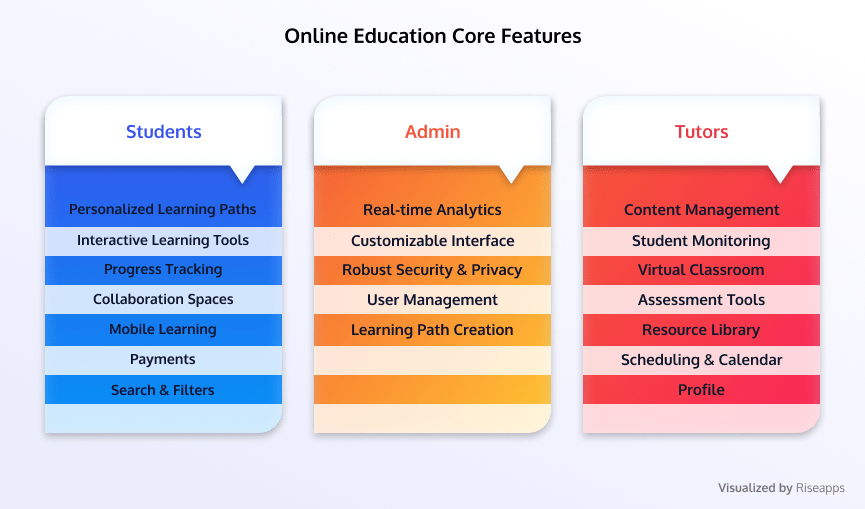 For Learners
Personalized Learning Paths – Students can enjoy an online learning journey crafted to suit their needs, making education a more personal and engaging experience.
Interactive Learning Tools- The virtual learning platform comes to life with access to multimedia resources, quizzes, and simulations.
Easy Communication- Seamless messaging features connect students with tutors and classmates, fostering a vibrant learning community.
Progress Tracking- Visual aids like personalized dashboards and goal-setting tools help students track and visualize their learning journey.
Payments- A streamlined system to monitor and manage transactions, subscriptions, and refunds keeps things simple and transparent.
Collaboration Spaces- Shared spaces foster teamwork and collaboration, enhancing the learning experience.
Mobile Learning- Virtual learning environments compatible with mobile devices ensure learning can happen anytime, anywhere.
Search & Filters- This feature makes it a breeze for students to find relevant courses, tutors, and content.
For Administrators
Real-time Analytics- Get a pulse on student performance with data-driven insights.
Customizable Interface- A platform design that you can personalize to reflect your institution's branding.
Robust Security & Privacy- Rest assured with secure data management and stringent protection of user information.
User Management- An intuitive interface for managing student, tutor, and staff accounts, roles, and permissions.
For Tutors
Content Management- Handy tools for creating, organizing, and sharing educational materials make teaching easy.
Learning Path Creation- Design and structure comprehensive curriculums to suit different learning needs.
Virtual Classroom- Video and audio conferencing brings the classroom right to the student's home.
Resource Library- A collection of teaching resources and reference materials at your fingertips.
Student Monitoring- Keep track of student progress and performance data for better guidance.
Assessment Tools- Streamline the creation and grading of quizzes, tests, and assignments.
Scheduling & Calendar- Efficient planning and management of lessons, office hours, and deadlines.
Profile- A space to showcase your expertise, experience, and credentials, helping you connect better with your students.
Course Performance Insights- Course creators should be able to get students' perspectives to help them craft courses they'd absolutely love. The reports should include what students are searching for, what courses are already out there, and the kind of revenue topics they could generate.
How to Create Your Own e-Learning Platform: Builders vs Custom
To develop an online learning platform, follow these steps:
Idea & Market Analysis
Your first step is to crystallize your idea. What's the unique proposition of your eLearning platform? How will it differentiate from the existing ones?
An oft-encountered challenge here is to identify your target audience more adequately, leading to a mismatch between user needs and platform offerings. To evade this, devote enough time to extensive market research and clearly define your target demographic.
Blueprint & Project Steering
This stage forms the spine of your project. Here, you'll chalk out the project's scope, set goals and objectives, allocate resources, establish timelines, and set communication pathways.
At this stage, the two big issues under the bed are miscommunication and vague objectives. A great way to tackle these issues is to have a devoted project manager to shepherd the project, facilitate clear communication among all stakeholders, and keep the project's objectives in sight.
Carving out Core Features
You'll decide on the must-have features for your eLearning platform. These may include features like course creation catalogs, payment gateways, user registration, progress tracking, and interactivity tools. Remember, these features should align with your target audience's needs.
The lure of feature overload is a common trap at this stage. While stuffing your platform with as many features as possible might be tempting, this can result in a cluttered and baffling platform. Instead, concentrate on the features that bring the most value to your users.
Making the User Interface
The design of your platform should be engaging and user-friendly. This stage includes creating wireframes, choosing color palettes, and designing logos and graphics.
A confusing or unappealing interface can repel users. Avoid this by maintaining a simple, clean, and consistent design. Remember to conduct user testing to get constructive feedback on your design.
MVP Development 
This includes front-end and back-end development, integrating the key features, and setting up databases and servers.
Technical hiccups are common at this stage. Hiring proficient developers with the right technical expertise who can troubleshoot issues as they crop up is essential. Regular testing throughout the development process also helps catch issues early on.
Testing
Before you launch, ensure thorough testing to identify and rectify any bugs. This should include functionality testing, performance testing, usability testing, and security testing.
Ignoring minor bugs can snowball into major problems later. Ensure your testing is comprehensive and includes user feedback to capture potential issues.
Website Builders Or Custom Development: What's Your Best Bet?
Builders are attractive when you're eager to launch an online learning platform. They're quick, easy, and have their fair share of benefits. But let's take a closer look at what lies beneath the surface.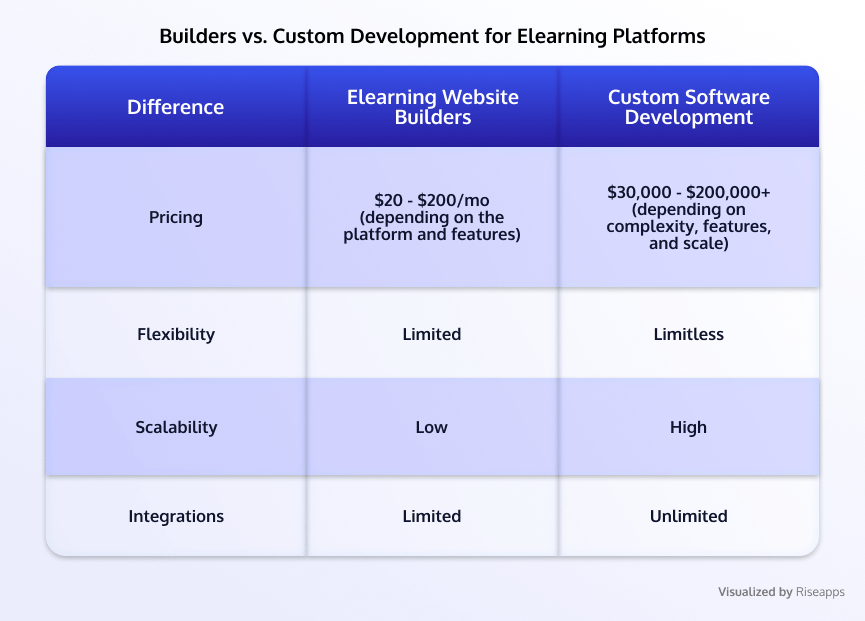 Cost Considerations
Prices for builders can range from a mere $20 to $200 per month. Is it reasonable? But beware – as your platform gains traction and expands, these costs could escalate rapidly, eventually burning a hole in your pocket.
Customization Constraints
While builders offer a degree of customization, they box you in with their pre-designed templates and rigid structures. This could clip your creative wings and curtail the individuality of your platform.
Scalability Snags
Here's where things can get tricky with builders. As your user base grows, builders need help to keep pace. The result? Sluggish load times, potential crashes, and a tarnished reputation.
Integration Issues
When it comes to integrations, builders leave a lot to be desired. You'll find yourself tethered to the integrations they support, which may only cover some of the services you wish to incorporate.
Data Ownership 
When you choose a builder, remember you're not the sole owner of your platform's data. This could raise red flags around data security and privacy, a paramount concern in today's digital era.
Cookie-Cutter User Experience
Since builders are off-the-shelf, user experiences are standardized. This makes it challenging to stand out in the crowd and could lead to dwindling user engagement and satisfaction.
Taking the Custom Software Development Route
Custom software development might seem like a big bite to chew, particularly due to its hefty initial cost. However, the myriad of benefits it offers could justify this investment.
Pricing Perspective
Custom software development can run you between $30,000 to $200,000 or more. But think of it as a one-time investment with significant returns in the pipeline. Plus, there's no nagging monthly or yearly fee.
Unbridled Flexibility
Custom software development is synonymous with limitless flexibility. You can tweak every nook and cranny of your platform to echo your vision and cater to your specific needs. This can set the stage for a unique and influential platform.
Seamless Scalability
With custom software, scalability is a non-issue. Your platform can smoothly accommodate increased traffic, ensuring a reliable and consistent user experience.
Infinite Integrations
The world is your oyster when it comes to integrations with custom software. It can pave the way for a more integrated, streamlined user experience, bolstering your platform's functionality and appeal.
Unquestioned Data Ownership
When you opt for custom software, you hold the reins of your platform's data. You feel a greater sense of security and privacy control, which is crucial for gaining users' trust.
Tailored User Experience
With custom software, you can craft a unique user journey, keeping students engaged and satisfaction. This could be your ticket to outshining your competitors in the bustling online education market.
Cost Efficiency in the Long Run
The initial costs of custom software might be high, but the long-term cost efficiency is worth noting. Freed from the shackles of monthly or yearly subscription fees and with control over updates, you could save substantially in the long run.
Customized Support and Maintenance
One often overlooked advantage of custom software is the personalized support and maintenance services it typically comes with. Quick and effective issue resolution can minimize disruption and keep your platform running smoothly.
In summary, choosing custom development guarantees better ROI, customer experiences, and expanded platform features, especially if you want to scale and compete in the market. On the flip side, using builders gives you a basic elearning website that's unlikely to scale, compete, or meet customized user needs.
Develop Your Custom Online Learning Platform
Get a Quote
How to Make Your Elearning Platform Competitive
Get User Feedback
It can feel overwhelming to process feedback, and deciding what feedback to act upon can be tricky. Tackle this by prioritizing feedback that aligns with your platform's goals and adds value to the user experience.
So, turn your ears to the ground. Listen to your users, gather their thoughts, and use these insights to fine-tune your platform. This not only aids in enhancing your platform but also signals to your users that their voices matter.
Scale Your MVP to a Full Elearning Solution
As your user community grows, your platform must scale accordingly to maintain optimal performance. This might require upgrading server capacity, tweaking/adding basic features for better performance, or even branching out to new markets.
Monetize From Day #1
You can use these business models to make profits from your app.
Pay-per-Course's Strategy
This is as simple as it sounds. Users pay a fee for each course they wish to access. You can tweak the prices based on the course's depth, duration, and the instructor's expertise. A fine example of this approach is the Udemy platform.
Subscription-Based Approach
In this model, users shell out a recurrent fee—monthly or annually—for unrestricted access to a range of courses. Coursera Plus has mastered this model.
Freemium
This tactic offers users complimentary access to basic content, while premium content, such as advanced courses or extra learning resources, comes with a price tag.
Forge Corporate Alliances
Collaborate with corporations to offer courses for their workforce. This could translate into a consistent income stream, particularly if your courses meet the company's needs. A good example is Maven Learning, which partners with C-level executives.
Advertisements
If your platform attracts substantial traffic, you can turn this into a revenue source through ad placements. However, strike a balance—excessive ads can hamper the user experience.
Certificate Sales
Offer the courses at no charge, but levy a fee for certificates of completion. This model allows users to gauge the content quality before investing while rewarding their learning journey with a tangible token of achievement.
Build a Community of Learners
Your platform isn't merely a learning hub; it's a community. Nurture this sense of community by encouraging user interactions, providing support, and fostering a positive and inclusive virtual learning environment. Stay attentive to your community's needs and concerns, and address them promptly and empathetically.
How Much Does It Cost to Build an Online Learning Platform?
There's no one-size-fits-all answer, but to give you a well-rounded understanding, let's compare two key development stages: creating a Minimum Viable Product (MVP) and transforming it into a Full-Fledged Product.
The First Step: A Minimum Viable Product (MVP)
The duration of the MVP development process will impact the cost. A simple MVP may take 3-6 months to develop, while a more complex one could take 6-12 months. With these factors in play, MVP for online learning platforms could cost between $15,000 to $50,000.
The development team will also influence the cost of your MVP. For example, the cost of hiring a development team can vary significantly based on their location, expertise, and experience. Rates range from $50-$250 per hour for a team in North America or Western Europe, while teams in Eastern Europe or Asia charge between $20-$70 per hour.
Full-Fledged Product Development
The cost of developing a full product depends on the following:
Adding advanced features
Customizing the user interface
Regular maintenance and updates.
Considering these aspects, developing a full-fledged online course platform can range from $50,000 to over $200,000.
How Riseapps Helped Create eLearning Websites and Drive $Nm
At Riseapps, we are experts in delivering comprehensive development solutions for the healthTech, edTech, fitTech, and online services marketplaces. Our extensive experience in these fields enables us to create applications that establish a solid foundation for long-term success. Here are a few of our  accomplishments:
Matchspace
Matchspace is a leading go-to service marketplace in Switzerland for private music lessons and teachers. As a top music service provider and elearning platform, they reached out to us to develop an all-in-one software where suppliers and buyers can find all they need from one dashboard.
Following an evaluation of the specifications, we made the next solutions
User experience design with filtering and navigation from scratch
Full-featured user interface design to streamline the user onboarding process
Incremental static regeneration architecture to enhance performance, data security, and speed up build times.
Advanced the tech stack (React Native, Next.js, Angular, Janic) to amplify the current native-based functionality.
PowerToFly
PowerToFly is a femtech award-winning HR tech platform that has raised $37.5M in funding and has been featured in the Washington Post, Investopedia, Cision, and more.PowerToFly's co-founders contacted us to deliver a subscription-based B2B EdTech system that would allow them to sign contracts with award-winning and market-leading brands such as Facebook, Amazon, Google, Siemens, and StackOverflow.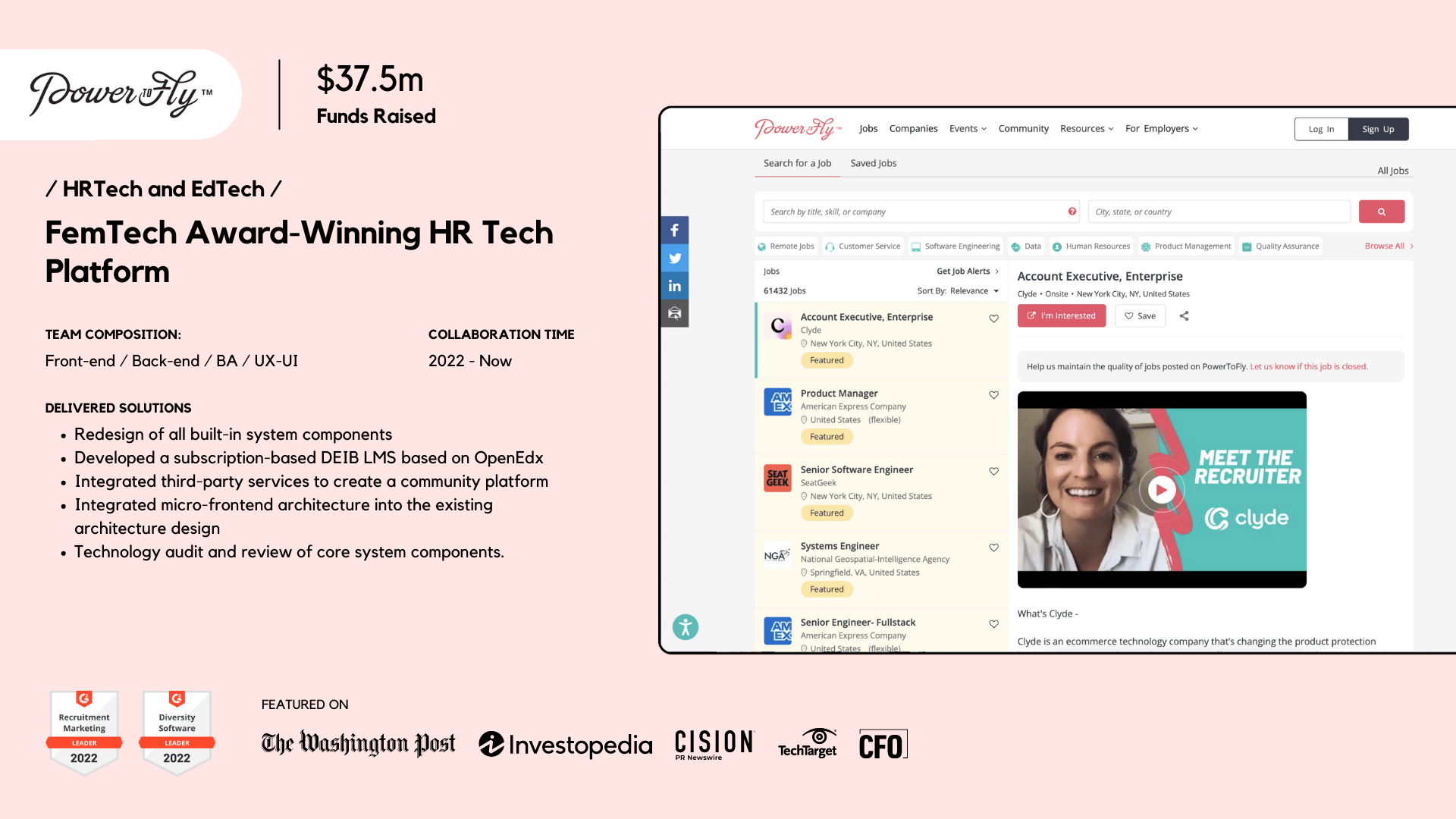 We came up with the following solutions based on the discovery process:
redesigned all built-in system components
developed a subscription-based DEIB LMS based on OpenEdx
integrated third-party services to create a community platform
integrated micro-frontend architecture into the existing architectural design
conducted technology audit and review of core system components.
FAQ
---
What are the main types of e-learning platforms?

---

MOOCs, Cohort based platforms, bootcamps & accelerators, employee development solutions, and community-based learning sites.
---
How to create online learning platform?

---

Custom e-learning website development involves:
1. Defining the target audience.
2. Designing the user interface.
3. Curating or creating specific educational content.
4. Integrating desired functionalities.
5. Testing the platform for user-friendliness and performance
---
What are the features of an e-learning platform?

---

An e-learning platform typically includes the following features:
1. Course catalog
2. User registration and profile management: Content delivery
3. Assessment tools
4. Tracking and reporting