Massive open online courses (MOOC) are rapidly gaining momentum, which raises a demand to create websites like Udemy or Coursera. According to the Data Bridge Market report, by 2027 MOOC market will grow by 40 percent. There are several other key drivers of such growth.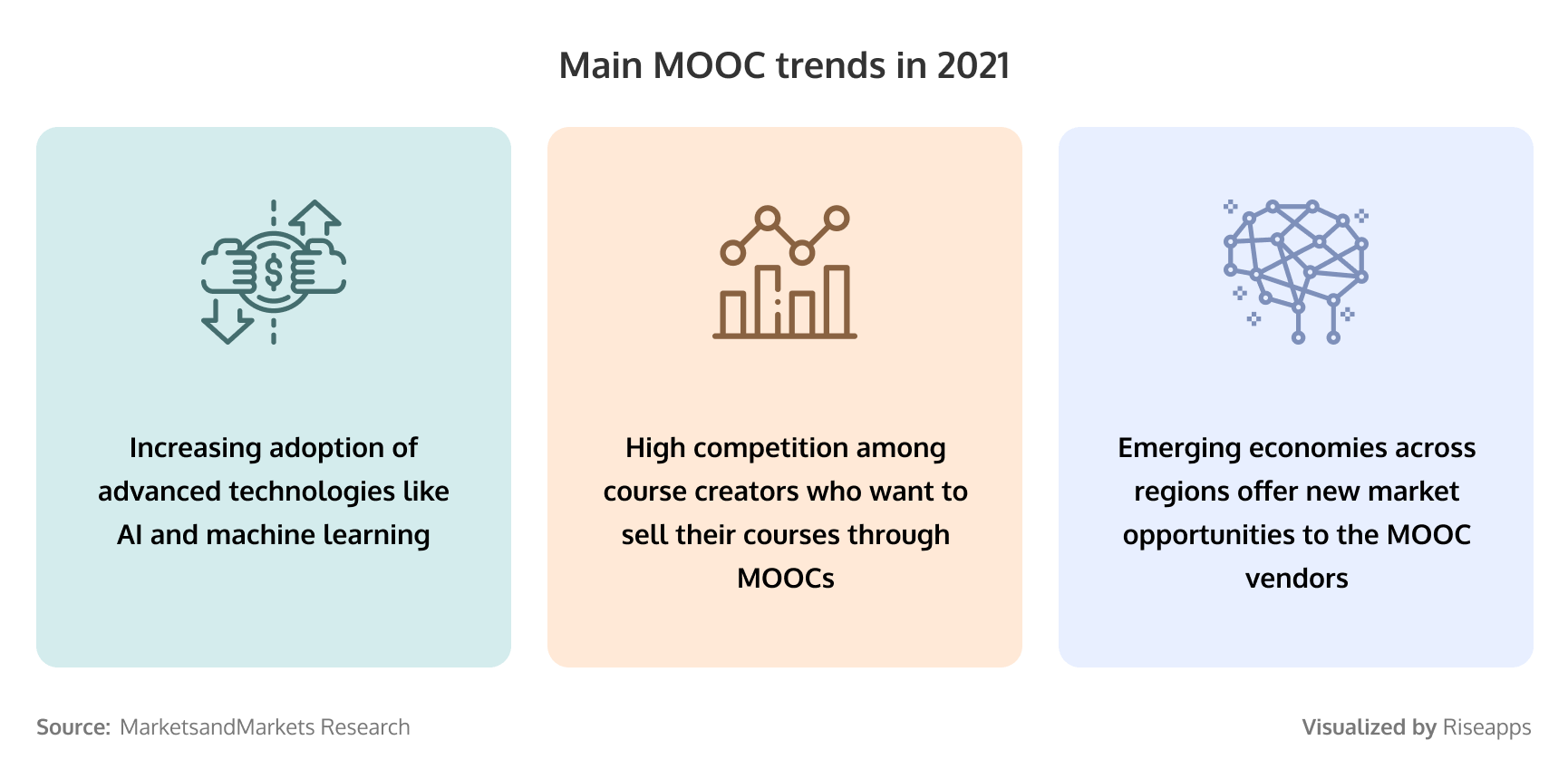 We've prepared insightful information on how to create an online education website like Udemy or Coursera. Keep reading. 
How Online Courses Platforms Like Udemy or Coursera Work
To better understand how to create a website like Coursera or Udemy, let's find out how they work. Both Udemy and Coursera are the best e-learning platforms that provide access to MOOCs for anyone who wants to improve their skills, get new ones, or get a certificate to confirm their knowledge. 
MOOCs are online courses designed for many participants with open online access to traditional learning materials as videos, presentations, readings, and social learning opportunities as forums and community discussions. Udemy and Coursera offer paid and free courses for their users. Let's see how they work from the user and business sides. 
Udemy: Let's see what's inside
Udemy is a global marketplace for online learning and instruction, which offers students and adult professionals learning opportunities. Udemy offers over 157,000 courses and already has over 40 million users. Its revenue for 2020 was $400 million.  
User side
Udemy allows professional educators, tutors, and instructors to place their courses on the Udemy platform to sell them worldwide. Each time a student buys a course, the course creator receives money on their account. Udemy offers tutorials and professional support for those who create courses for the first time.
For students, Udemy provides over 155,000 courses on various topics. Users can learn information about course modules and buy it in a few clicks. After finishing the course, there's an opportunity to receive a certificate that proves gained knowledge. 
Business side
As a marketplace, Udemy takes the commission percentage from tutors for each course sale. There are three options for revenue share at Udemy. If students buy a course with a tutor's promo code, Udemy charges three percent of a course price. When the buyer goes from Google or other channels, where Udemy provides promotions, tutors get charged 50 percent of a course price. For newcomers, Udemy offers marketing programs and takes 75 percent from sales on advertising. Users can opt-out of this service. 
Another source of income for Udemy is providing access to training materials for corporations to provide employee learning.
Udemy handles customer service and payment processing while educators can dedicate more time to create advanced teaching materials. For students, Udemy offers access to the materials at lower prices compared with other channels.
Why Udemy is successful 
The last Udemy fundraising boosted the company's valuation to $3.25 billion. Its course enrollment grew by 425 percent during the COVID-19 outbreak. An easy-to-use learning environment, affordable prices, and trustworthy content make Udemy attractive to people seeking self-development. The main advantages of Udemy are:
Lifetime access to purchased courses.
No need to buy a subscription.
If the content is updated after purchase, the user has access to the new content.
You can ask questions directly to course creators.
Course authors are experts, professors, and current specialists.
Commenting and course rating create competition that increases content quality.
Coursera: Let's see what's inside
Coursera is an e-learning site that offers access to a wide range of courses from different universities worldwide. It's a more sophisticated alternative to Udemy. Coursera has got 76 million users. Its course database has 6,500 courses and yearly revenue for 2020 was $200 million.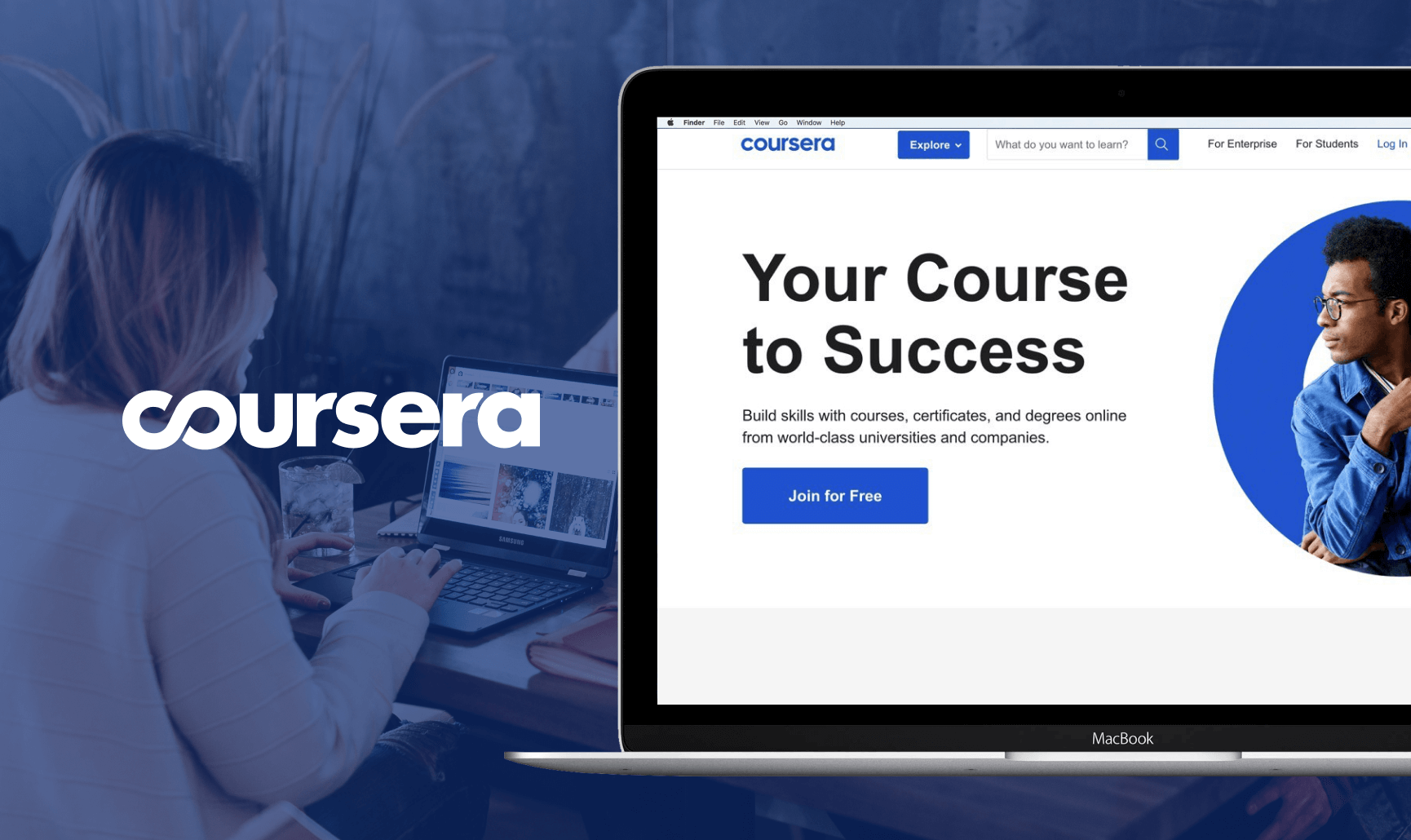 User side
Coursera provides 5,000 courses from short tutorials to master programs in more than 500 specifications from the best universities. Courses are based on video lectures with additional materials and quizzes to test students' knowledge. Anyone can take a course after registration. Students can get learning materials, additional tasks, and community support during course completion for free. If a learner wants to get a certificate, they'll need to pay for the course. There are 5 different types of courses to enroll in: 
Individual classes. Students can take one specific course, with no need to commit to a long-term program.
Specializations. These are courses that consist of several classes related to a specific topic. 
Master Tracks. These courses are close to traditional college and university degree programs and allow students to gain Bachelor's or Master's degrees. 
Professional Certifications. Provided by big companies, these programs are designed for specialists to improve their professional knowledge and prove it with a certificate.   
Business side
Although all Coursera programs are free, to get a certificate and access to assignments, the platform charges a fee. This is the core of Coursera's business model. Students can opt for a one-time payment ($30-$100), access to subscription courses ($39 – $89/month), pay for a bachelor's or master's degree from $15,000. Coursera also offers corporate training access for companies, which costs $400 per employee per year.
Why Coursera is successful
The latest fundraising brought the company $ 130 million, with a company valuation of $ 2.5 billion. In March 2021, Coursera filed for IPO. The advantage of Coursera is that the platform partners up with eminent education providers to grant access to trusted academic study materials and provide certifications. It has an advanced learning environment and high brand awareness, making Coursera one of the leading online learning websites. 
Udemy vs Coursera: Let's Compare
Although Coursera and Udemy are some of the best online education websites, their approaches to service delivery and monetization are different. For clarity, let's consider the business model canvas of both companies.
The business model canvas is a strategic management tool to quickly and easily define and communicate a business idea or concept. Analyzing business models of the best MOOC platforms, you can discover new business opportunities, and add context to your own business strategy. 
Udemy business model canvas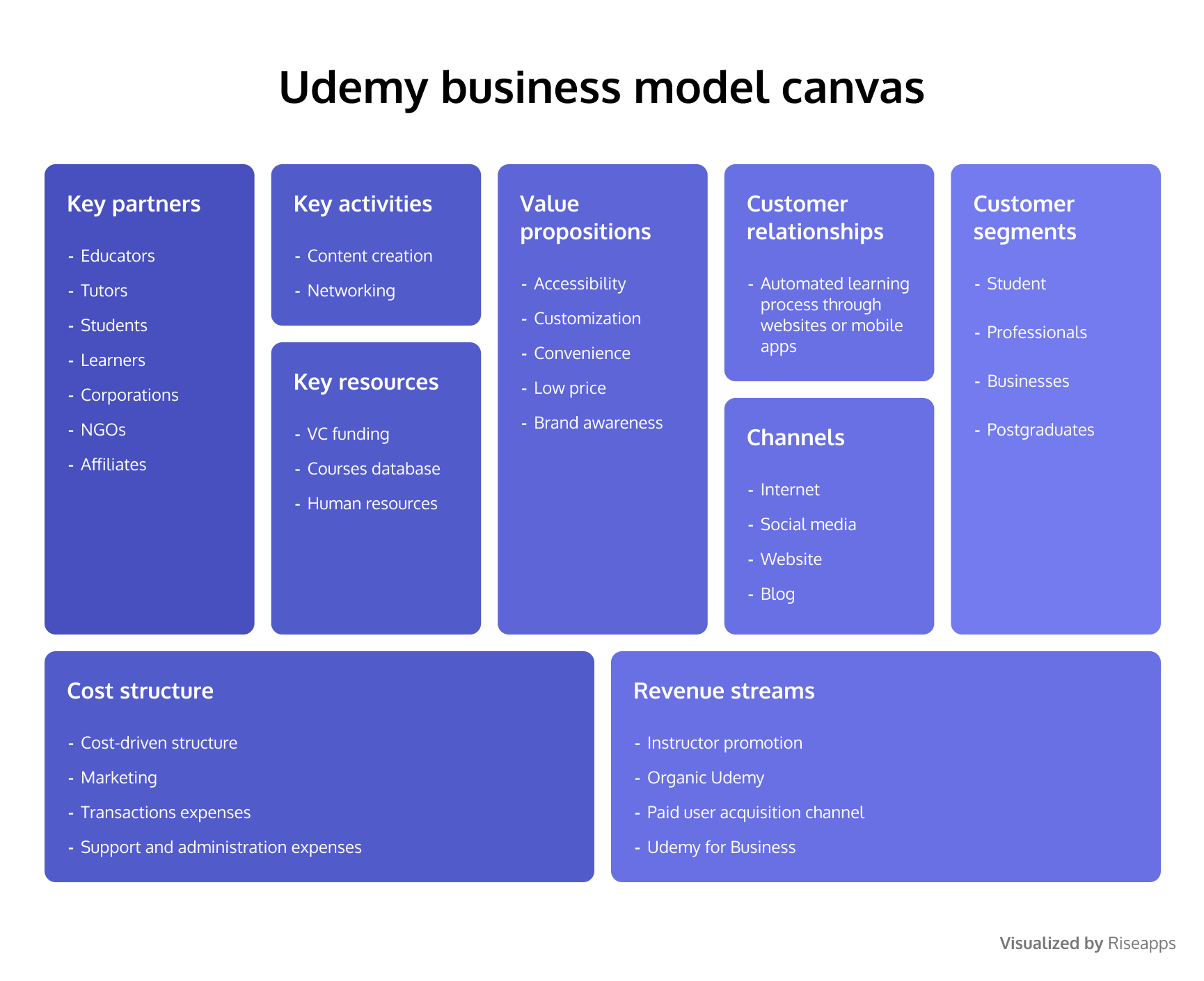 Coursera business model canvas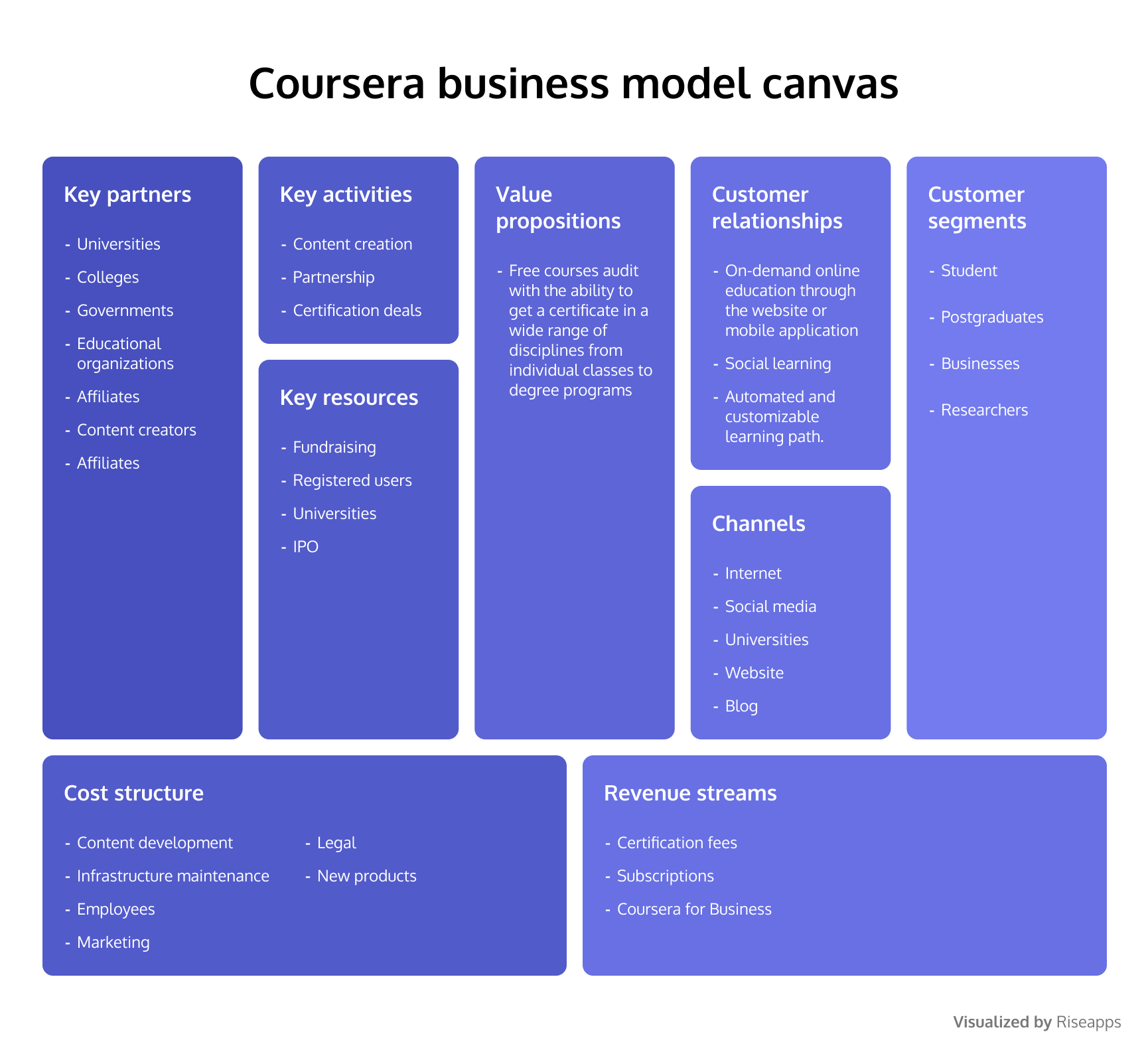 As we can see, Coursera and Udemy have different value propositions and build customer relationships according to their customer segment's needs. So we can make a conclusion that a unique offer to a specific consumer is a prominent factor in developing an educational platform that'll have the potential to succeed.
If you want to build a website like Coursera, consider these business model canvas to develop your own business model. But before you start, learn the risks and challenges you may face on your business path.
What Challenges Websites like Udemy or Coursera Face
Udemy and Coursera's experience shows that problems are inevitable on the road to success in creating an online education website. The difficulties that beginner EdTech entrepreneurs may face can be divided into business challenges and technical challenges. Let's consider what difficulties websites like Udemy and Coursera have to overcome.
MOOC e-learning sites business challenges
Coursera and Udemy were founded in the early 2010s and have already gained a significant customer base and developed brand awareness. Despite this, corporations have to cope with the following problems:
High competition
There are already more than 10 major MOOC providers such as FutureLearn, Khan Academy, edX, etc. similar to Coursera and Udemy on the market, which are not easy to compete with.
Companies have to find ways to enter the market by offering non-standard technology solutions or niche services. As Kadenze did. The platform was launched in 2015, 3 years after the MOOC boom. While other online learning platforms offered courses in programming and business, Kadenze promoted creative and art online learning. The company now offers over 100 courses in this area. Kadenze's latest fundraising brought the company $ 2.8 M.
Course completion rates
Despite the popularity of MOOCs, completion rates are still low. PNAS shared the research that states only 20 percent of interviewed students intend to complete started courses. 
Online course enrollment is so easy that people apply out of curiosity. Even paid programs don't guarantee high student engagement. MOOC providers need to consider how to motivate people to finish courses. Nowadays, a popular tool for increasing engagement is the gamification of the educational process. Students receive mini rewards for completed assignments and compete with other learners to get on the top of leaderboards. 
Accountability and accreditation
When it comes to assessing the knowledge gained, MOOC providers can't check  rules violation of passing the exam. Educational institutions and employers may be skeptical about online course certificates. Given the massiveness of MOOCs, it's quite difficult to keep track of each student. MOOC platforms need to implement technologies that allow exams to be taken under remote control. For example, providers can warn the student that unwanted activity in the browser window will affect the final result, take screenshots with the camera and turn on the microphone.
Accessibility
Most MOOC students already have higher education, and the average age of students is 25 – 35 years old. Why are MOOCs unattractive to the younger generation? Perhaps providers simply don't consider them as a target audience. It's worth thinking about popularizing online course websites among young people.
MOOC startups technical challenges
Every EdTech startup will face questions related to application development. Of course, you will have a business plan, but what technologies will help bring it to life is not a trivial question. What are the challenges awaiting you? Let's see.
Building sustainable platform with required features 
Сarefully choose what features your platform needs, or rather your user needs. You might want to put all the features that seem useful to your application at once. We want to warn you. First, too many features make development long and maintenance difficult after the launch. Secondly, you can confuse users with cluttered UI, and they will leave you. Start by developing a minimum viable product. The MPV development implies the primary creation of functions without which the platform simply cannot work. With this approach, you can assess your application on each iteration, quickly adapt to customer needs and ensure platform sustainability.
Keeping user data safe 
Cybersecurity is a priority for an EdTech startup. What authentication do you use? How do you protect intellectual property and personal data? Do you provide role-based access or not? Consider these questions when creating your MOOC platform. We suggest considering the next cybersecurity tools to make your e-learning website safe: 
IP blocker. Prevent unwanted IP addresses from reaching your website.  
Multi-factor authentication. Just a password alone is not enough for securing accounts. Multi-factor authentication implies using more than one piece of evidence to prove users' identity.    
Anti-spam. With anti-spam tools, your website has fewer risks to become a victim of phishing and malware spread by email.
Data encryption and SSL (Secure Sockets Layer). All data shared through the web will be encrypted and hard to crack.
Your development provider should know all the legal requirements to create e-learning platforms. And how to choose a development partner is your next challenge. 
Finding a reliable development provider 
No matter how promising your business idea is, you can't implement it without a development team. Pick people according to your values and remember that your development partner should:
have experience in developing and launching educational platforms, 
know specific legal requirements,
use modern technology stack,
evaluate your business idea,
be responsible and meet deadlines,
fit your budget.
Need more information on what features to include in a website like Udemy or Coursera?
Read our article
How to Stand Out From the Competition
We have already said that the MOOC market is highly competitive. Therefore, newcomers need to find a way to stand out among the giant companies trusted by millions of users. We suggest starting with the basics.
Make thorough market research 
Study the market and its consumers carefully. As you explore, you will understand the main trends and figure out the main players. For example, currently, MOOC providers use gamification to boost students' engagement and power their e-learning platforms with AI analytics. And well-established players are Coursera, Edureka Udacity, Udemy, LinkedIn, Khan Academy, and others. This information is useful at the stage of evaluating an idea because you will need to attract investors.
Learn your competitors
Your competitors are an important field for research. Get to know their business model, value proposition, and target audience. Maybe, you have an idea how to surpass them with an improved service. Or you will discover which segments are not yet covered. Can you offer a comprehensive solution to user problems? By the way, read what people write about your competitors. This is a treasure trove of valuable information about your rivals' shortcomings.
Create a unique value proposition
Create a unique value proposition based on market and competitor analysis. You should not just create a quality product. Your task is to solve the problems of specific people with the help of your product. Answer the questions: Who are we? What do we offer (product)? For whom? What problem are we solving? Communicate your values to the consumer so that people begin to trust you and want to try your service.
Take as an example Coursera value proposition statement "Coursera (WHO) partners with more than 200 leading universities and companies to bring flexible, affordable, job-relevant online learning (OFFER) to individuals and organizations (FOR WHOM) worldwide."
Tip: You can explore your competitors' value proposition statements on their website in the "about us" section. 
Develop a promotional strategy 
You need to make sure that your target audience knows about you. Think through what platforms you will spread information about you and how people will find you. The channels of attraction can be: a website, a blog, social networks, paid advertising on Google and Facebook, etc. For example, Udemy pays for Google ads to be at the top of the search engine results.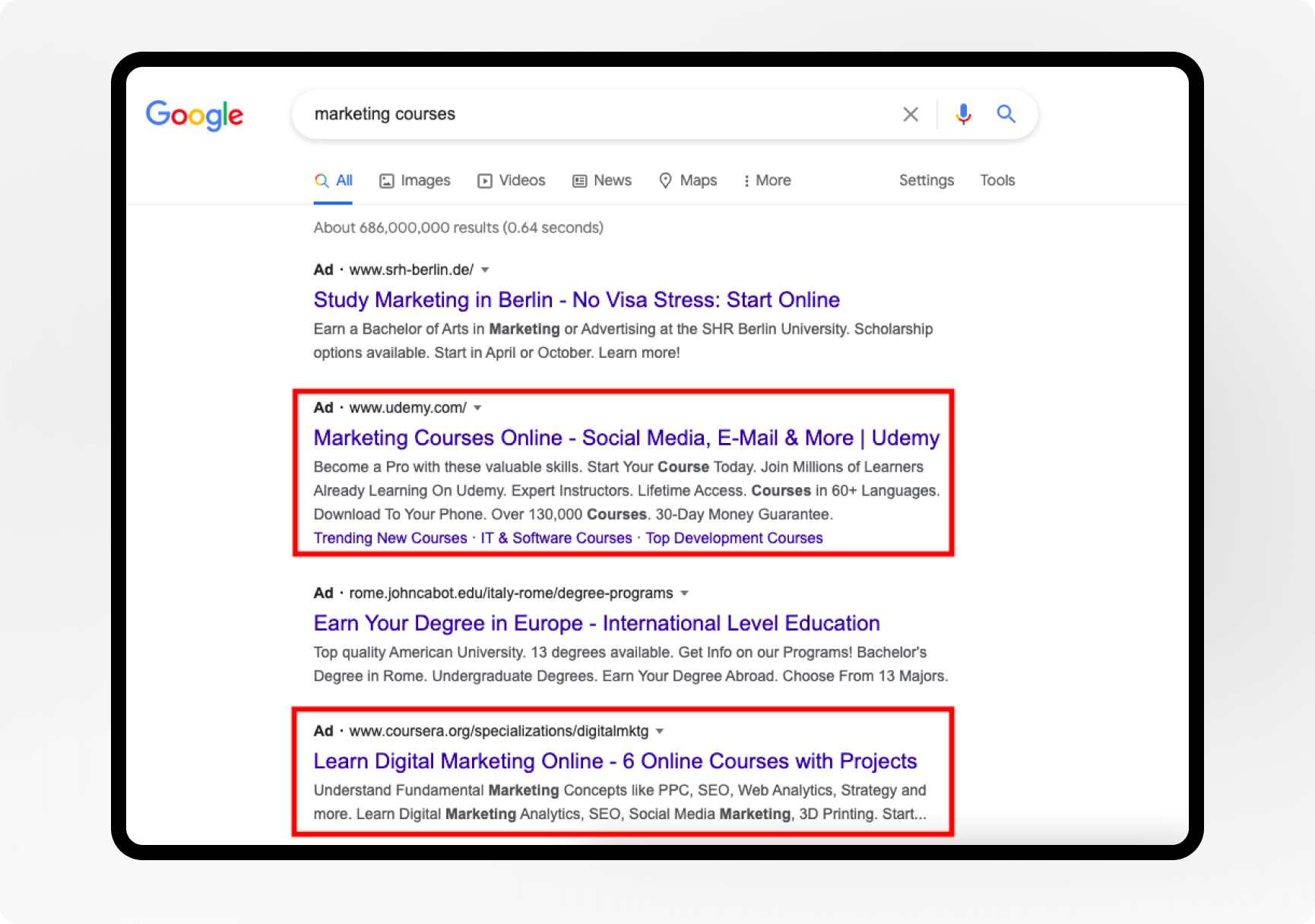 How to Build Websites Like Udemy or Coursera: Key Steps
We figured out why Coursera and Udemy are so successful, looked at what difficulties can arise on the way to creating a MOOC platform, and learned how to stand out from the competition. Let's outline the steps to make a website like Coursera and Udemy.
Know your target audience 
This point echoes the analysis of the market and competitors. When choosing your target audience, check with the target audience of your competitors. So you can understand what user problems are already closed and what needs still need to be satisfied. Imagine what kind of problems students are experiencing when going through the MOOCs. Read forums and blogs where people share their online learning experiences. Create your customer portrait to better understand people you're going to offer your product. 
Choose a monetization model 
The main product offered by MOOC platforms is online courses. In fact, the same course can go through several stages of monetization. On the Coursera business model, we can see that:
Students can audit the course materials for free.
A one-time payment is charged for a single course certificate.
To get the specification, you need to buy a subscription for a series of courses.
Obtaining credits close to the traditional education system is also paid separately.
You can also take a paid program and get a master's or bachelor's degree in the best universities in the world.
Business courses are the last level of monetization when corporations buy access to courses for their employees to improve their qualifications.
It's not necessary to use all of the listed monetization methods. The main thing is to add value to your offer at each stage.
Decide on the features for the platform
After you have decided on a monetization method, choose what features your website should provide. Normally to create a udemy-like website you need to implement the next features: 
A content support system, including course creation tools.
Personalized learning path tied to student profile and visualized with dashboards.
Account management, including registration and authentication.
Mobile learning is provided with mobile apps and responsive web design.
Social learning tools as comments, forums, chats, etc. 
Payment processing tools. 
Assessment tools.
Gamification.
Find out what features other major MOOC providers like Coursera and Udemy add to their websites. See how their courses work from the inside and adapt their techniques to your product.
Choose proper development partner 
Hire a team of developers with proven experience in building online education platforms. An experienced team will explain how to make a website like Udemy faster and with minimal risk. Find out how long the company has been on the market, whether they've developed online learning platforms before, read their customers' reviews, find out developers' skill levels. If the information collected predicts positive outcomes, rest assured that your collaboration with the organization will be fruitful.
Interested in custom e-learning website development?
Learn more
Cost to Develop a Website Like Coursera or Udemy
So you've decided to build a website like Udemy or Coursera. This is not an easy task and requires time and funding. The price of developing such a website depends on several factors: 
Where a development company is located. 
Whether you want to build just a web application, or you need a mobile app too.   
User interface complexity. 
A number of required features.
Many development providers charge their clients hourly rates. The web version of the MOOC MVP with the basic functionality will take about 1,165 hours.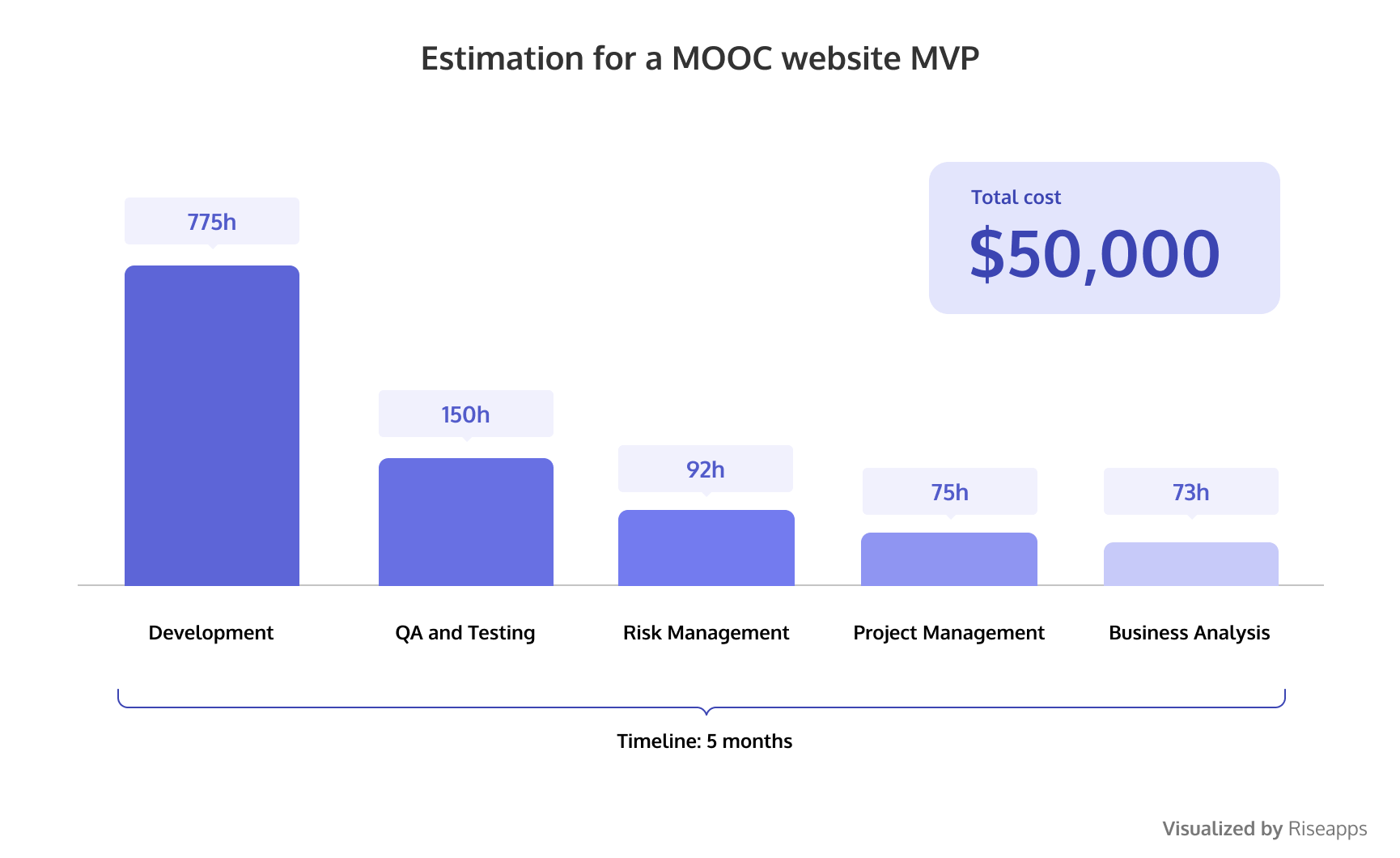 The price of your website may vary depending on the region where your developers work. Some development providers charge their clients by pay per milestone strategy. This means you'll need to pay when the developers achieve an established goal. 
| | | |
| --- | --- | --- |
| Region | Hourly rate | Basic level e-learning website |
| The USA | $100-180 | $116,500-209,700 |
| Great Britain | £100-180 | $159,720-287,500 |
| Western Europe | €80-150 | $112,000-210,000 |
| Eastern Europe | $30-70 | $35,000-81,550 |
| Ukraine | $30-50 | $35,000-58,000 |
| India | $15-30 | $17,500-35,000 |
Learn about the technology stack that your development team is working on because it can influence development speed. For example, React Native framework allows to release two mobile applications quicker than on other similar platforms.  
Wrapping up
MOOC platforms have been around for over 10 years, and the interest of users and investors in them is only growing. We've highlighted the key points about how to create an online education website like Udemy or Coursera. If you have an idea for a unique education platform, you know what to do. Just a little reminder. A trusted development partner can help you create a functional application that your users will appreciate.
Looking for a qualified development partner to build your e-learning platform?
Contact us
FAQs
---
What are Udemy and Coursera?

---

Udemy and Coursera are massive open online course platforms. They're websites where anyone can enroll for a course with massive interactive participation. These courses represent one of the types of distance learning. MOOC providers typically partner with educational institutions and experts to provide qualified content.
---
Is Udemy better or Coursera?

---

Udemy and Coursera are well-known and one of the best online course platforms that provide expert content. Udemy is a marketplace for experts, professors, and teachers where students can take their courses for a fixed price. Coursera collaborates with major universities. Besides taking one-off courses, students can obtain a specification through a series of courses and an online master's or bachelor's degree.
---
How can I make a website like Udemy or Coursera?

---

If you want to create a website like Udemy or Coursera, consider taking the following steps:

Learn your target audience.
Choose a business model and monetization model.
Decide on the features for your website.
Choose a proper development partner. 

If you need professional assistance in creating an e-learning platform, contact our team. We'll gladly answer your questions.
---