Since the COVID-19 pandemic outbreak, the demand for reliable learning management systems has increased. Big companies educate their staff quicker and more efficiently using digital tools. Schools and universities are creating more and more online courses to provide high-quality distance learning. See what the numbers say: 

A learning management system is one of the e-learning tools that helps automate e-learning management and increase learners' engagement. Features of a good LMS provide an advanced learning experience in a convenient environment for students and teachers. 
Issues that should be covered with an LMS features
The need to create LMS arises from the demand within the organization. Before we study the most common LMS features in detail, let's find out what problems companies and educational institutions face regarding e-learning. 
Identifying corporate needs
The best way to identify corporate organizations' educational needs is to analyze what challenges they're currently facing. If your company experiences the problems listed below, you definitely need an LMS: 
Losing track of employees' progress. Most companies need staff training. New employees go through onboarding, and experienced employees are working on their professional development. The number of learners is increasing, and team leaders don't have much time to assess each employee's performance. Progress reports that business owners receive are often incomplete and inaccurate.
Spending a lot of money on training. Traditional training always costs a pretty penny. You need to rent a conference hall, pay trainers, cover transportation costs, provide coffee breaks, etc. Every time you hire new employees or your team needs training for new equipment; you have to pay again.
The training is inconsistent and spread in time. Sometimes people treat professional skills development as a formality. Low interest in training leads to the fact that one course, designed for a month, employees extend for 3-4 months. As a result, the knowledge gained can hardly be called in-depth and systematic.
Educational content clutter. The educational content in big corporations is often disorganized. Some of the guides and presentations are out of date. Usually, materials are hard to find in a company's cloud service.
Identifying education system needs
The pandemic has placed several challenges on the education sector:
Content consistency and relevance. Schools and universities cannot quickly update e-courses information and provide relevant materials to fulfill educational plans. 
Students enrollment. Institutions that depend on entry-level exams for enrolment cannot define adequate acceptance criteria for students in social distance realities.
E-learning platforms accessibility. Not all students have proper digital tools and constant internet access to take online courses.
Lack of communication among students. Educators worry that the absence of live communication with peers and teachers can cause loneliness and isolation among students.
How LMS solves common issues found in organizations 
For big corporations that seek e-learning solutions for staff training, learning management system features help centralize monitoring progress, save money on in-person seminars and increase employees' engagement rates. LMS system features will cover: 
progress control, 
content centralization,
analytics and reporting,
personalized learning paths for employees, etc.
For schools and universities, LMS functionality can provide tools for quick content creation and task assessment. The LMS system can include social learning features to give students the power of teamwork.
We live in an ever-changing world, so new challenges will be arriving. The beauty of a custom LMS is that you can add any functionality based on your needs. Let's take a look at the common features of an LMS.     
Key LMS Features 
The LMS must be convenient and understandable for primary users, students, and teachers. If users are happy, the educational institution will get the desired results. Let's see what LMS platform features users expect to see and why. 
Students need simplicity and entertainment 
One of the challenges that e-learning faces is low student involvement in courses. This challenge can be overcome by providing a fun and easy learning process. Students need: 
access the platform quickly and on any device,
be able to take courses at their own pace,
communicate with other students,
work on assignments in groups,
maintain a high level of motivation. 
You can use the next learning management system features list to meet students' requirements.
Personalized learning path
Many people tend not to finish online courses. An average dropout rate for the five years is 96%. One of the reasons for such indicators is lack of motivation and high academic expectations. Online courses can be superficial and not fulfill learners' needs to get specific knowledge and skills. Lack of individual approach can reduce retention rate. Learners should have the ability to choose educational content to implement their learning plan. 
Top LMS features should provide an opportunity to build a personal learning path. Learning management system should provide features to:
set goals,
tie goals to learning plans,
create several learning programs,
implement self-assessment,
feedback and collaboration.
As a result, learners will be able to improve their performance at a pace that suits them by learning the material they are interested in.  
Mobile learning
Mobile learning is viral nowadays. Seventy-eight percent of online learners use LMS from laptops, and 25% give preference to mobile devices. People tend to finish courses faster when they take them from smartphones. Almost half of the online learners access learning materials from smartphones before going to sleep.  
If your LMS is accessible from mobile devices thanks to a responsive design or a mobile application, the users are likely to use it more frequently. As for a pro feature, make sure courses can be downloaded and viewed offline.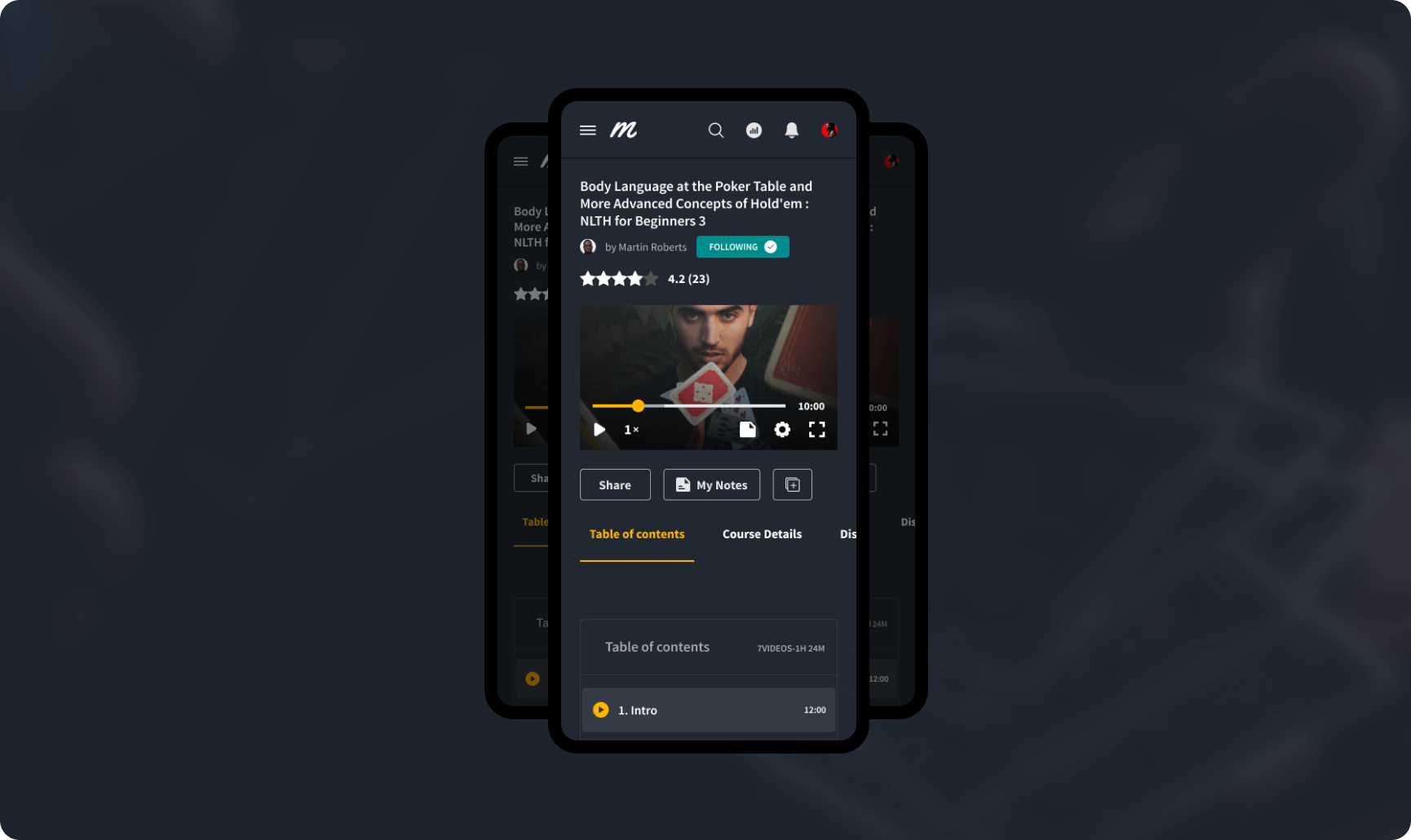 Social learning tools
Mutual assistance during learning is beneficial for skills mastery. By adding the features for content sharing to your LMS, you facilitate knowledge exchange. Learners get the power to help each other and achieve more together.

Allow users to upload user-generated content, so they can exchange tips and best practices. Provide sharable calendars so that students can meet online and discuss specific topics together. Add forums inside your LMS for students to share their learning experiences. 
Gamification
One of the best LMS features is gamification. Gamification is a powerful tool for engaging learners. Mini-games, interactive videos, tests, and quizzes increase course completion rates and influence students' retention.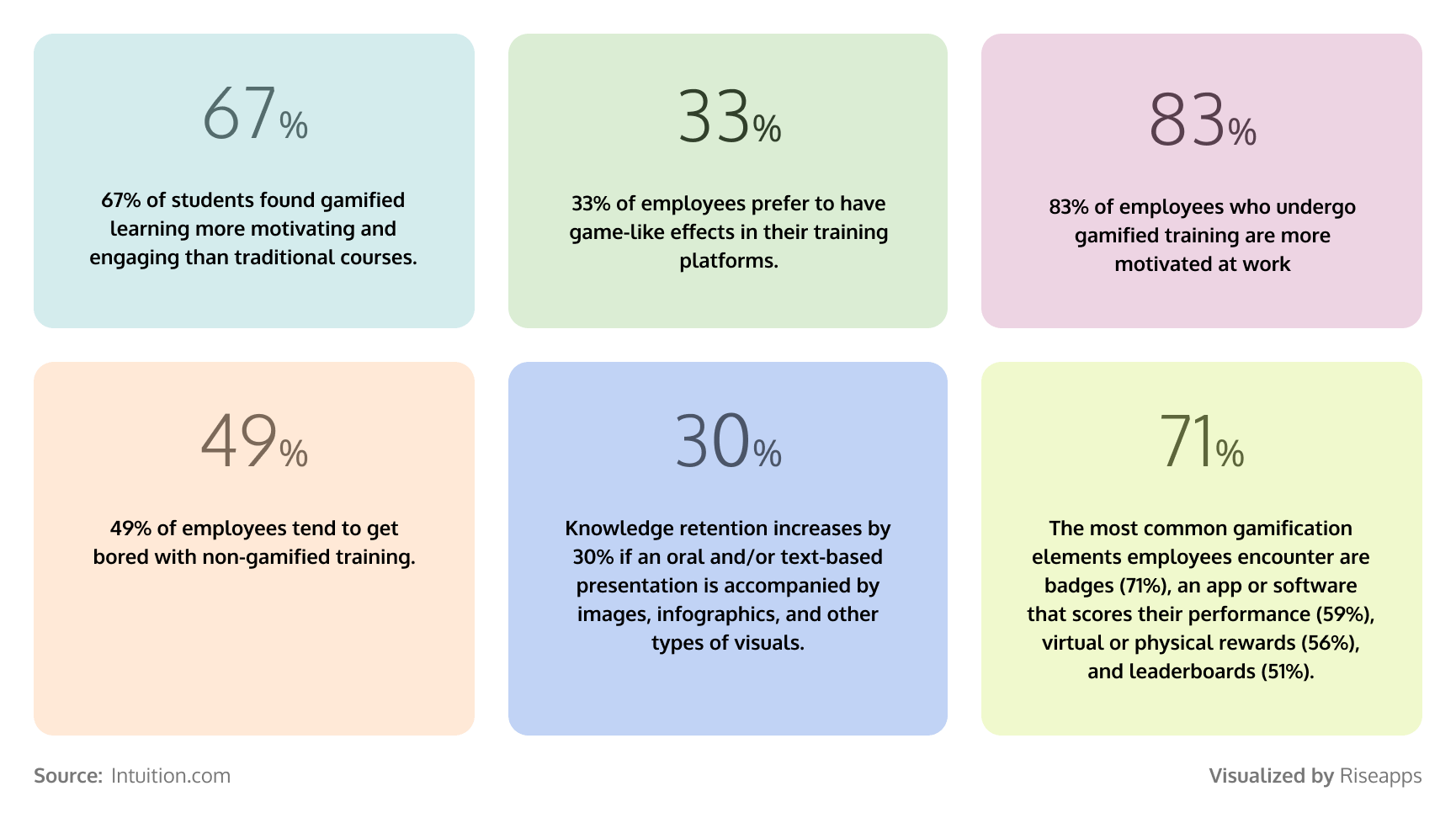 An LMS with a gamification feature should provide interactive tasks, levels and leaderboards, virtual rewards, and points to create healthy competition and a positive learner experience. Here's an example of how Riseapps created a leaderboard for a language learning platform.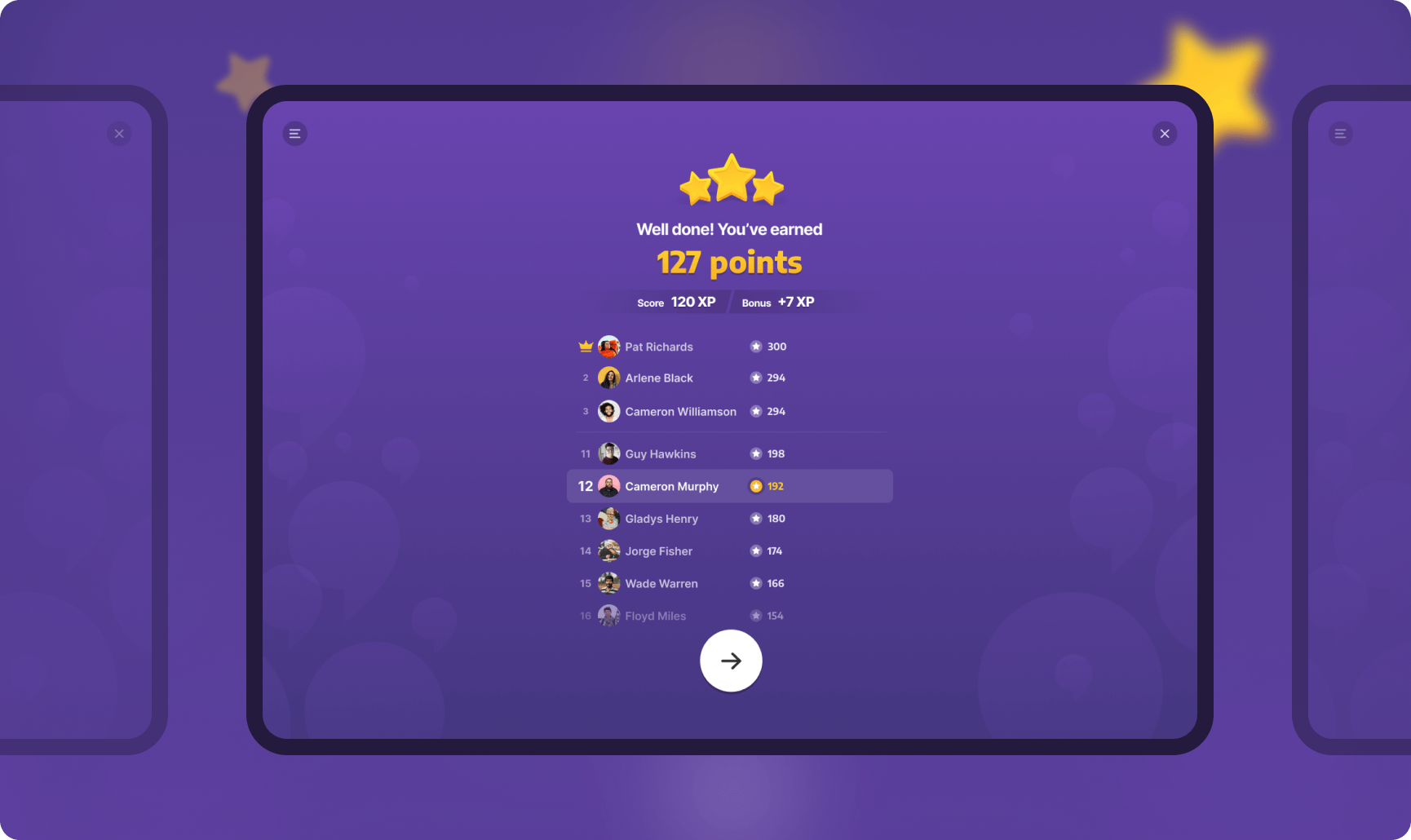 Teachers need advanced management and reporting tools
What problems do teachers face when training staff? The challenge often lies in managing content and the ability to track student progress. Teachers spend a lot of time in management, and progress reports don't provide a complete picture of whether learning is effective. To increase productivity, teachers need:
get quick access to content,
manage their schedules,
work individually and with groups of student remotely,
assess students on a standard grading system,
the ability to work with data and analytics,
adjust the student learning path.
Meet teachers' needs with the following LMS feature list.
E-learning management
Automation of management tasks frees up time to create high-quality educational material. The advanced LMS e-learning management functions include course management, organizational, and role management.
Course management involves creating courses, quickly accessing the entire course base, updating course materials, and managing curricula. Organizational management allows you to scale and adapt educational programs for various groups of students. The LMS software features must provide student enrollment to implement organizational management. To prevent the mess in management, assign roles with limited rights – for example, admin, student, teacher, etc. 
Content support system 
One of the essential features of a good LMS system is a content support system. Each person perceives information individually. Someone quickly grasps visual content (videos, diagrams, and illustrations), the others learn the material faster by ear. To improve students' achievement, teachers need to provide teaching materials in various formats.
An LMS must support different video, audio, and text file formats. Uploading presentations and spreadsheets shouldn't be a problem either. Create an LMS with podcasts, email newsletters, and news feeds for providing a personalized educational experience.
Assessment tools 
Assessment tools help you track student progress. By evaluating students with the general assessment system, you can draw objective conclusions about a particular course's benefits. Grades can motivate students. The rates obtained at the end of the course will help you assess academic performance.
The most common assessment tools in LMS are tests: multiple-choice tasks, true/false tests, extended answers tests. Add time trackers to complicate the task. Teachers should add tests during course creation to do mid-grade assessments. 
You can also add the task options with essays and projects. Students should be able to download the assignment and upload the completed version to the system. Look how interactive feedback helps make an essay review on the LMS platform.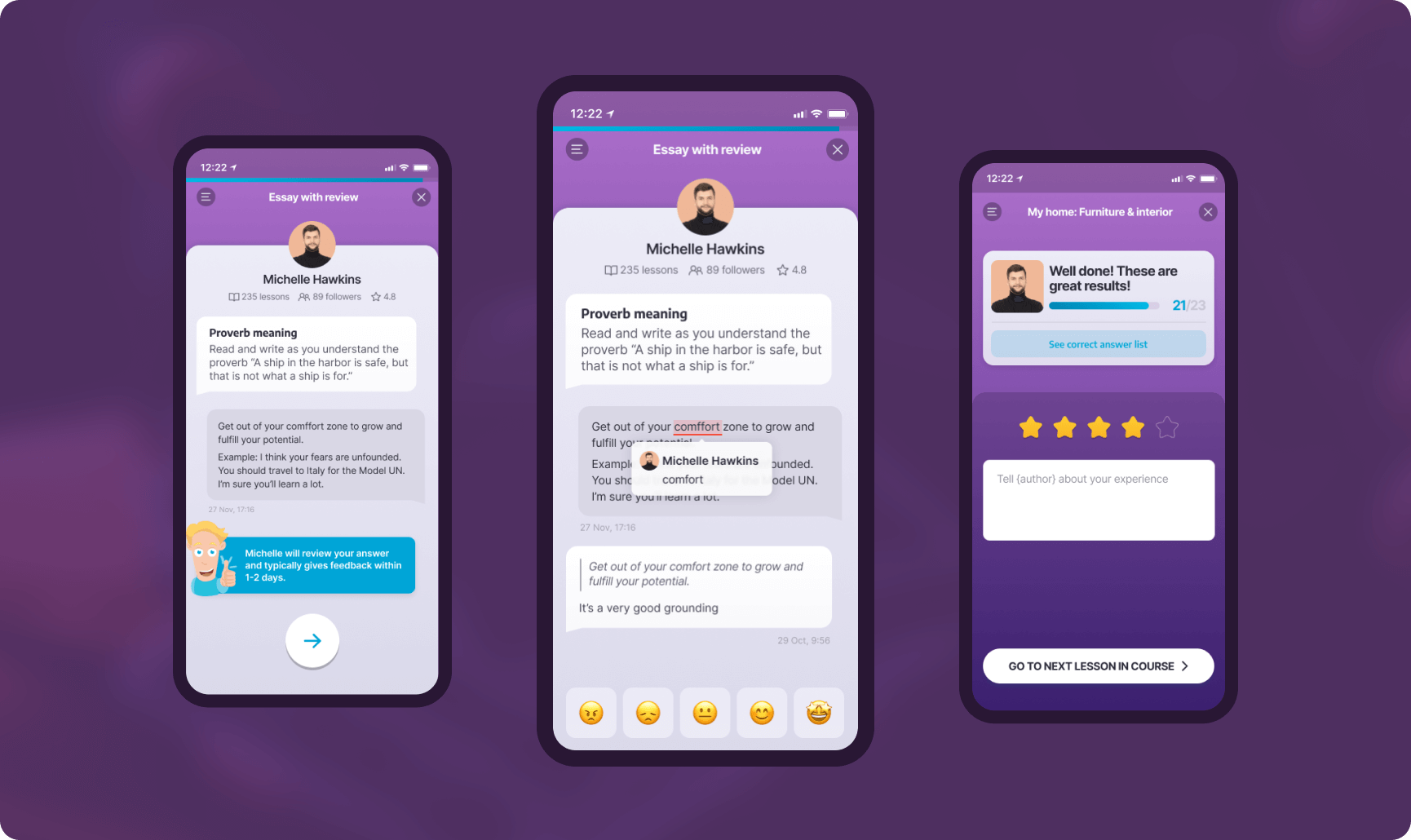 Scheduling tools and notifications 
Automatic scheduling and notification feature free teachers from exhausting meeting coordination. Empower your LMS with an event calendar for each user and let students self-book appointments with teachers. Each teacher should have their own booking panel with available time slots. Set up automatic notifications so users could show up on lectures in time and don't miss the time when their courses begin.
Analytics and reports
Reporting and analytics feature for a learning management system is considered as necessary by 82% of L&D professionals. LMS analytics helps to measure engagement rates and control course quality. L&D professionals can get course program data and analyze each stage of the program to estimate the influence of course structure and content on particular learning results.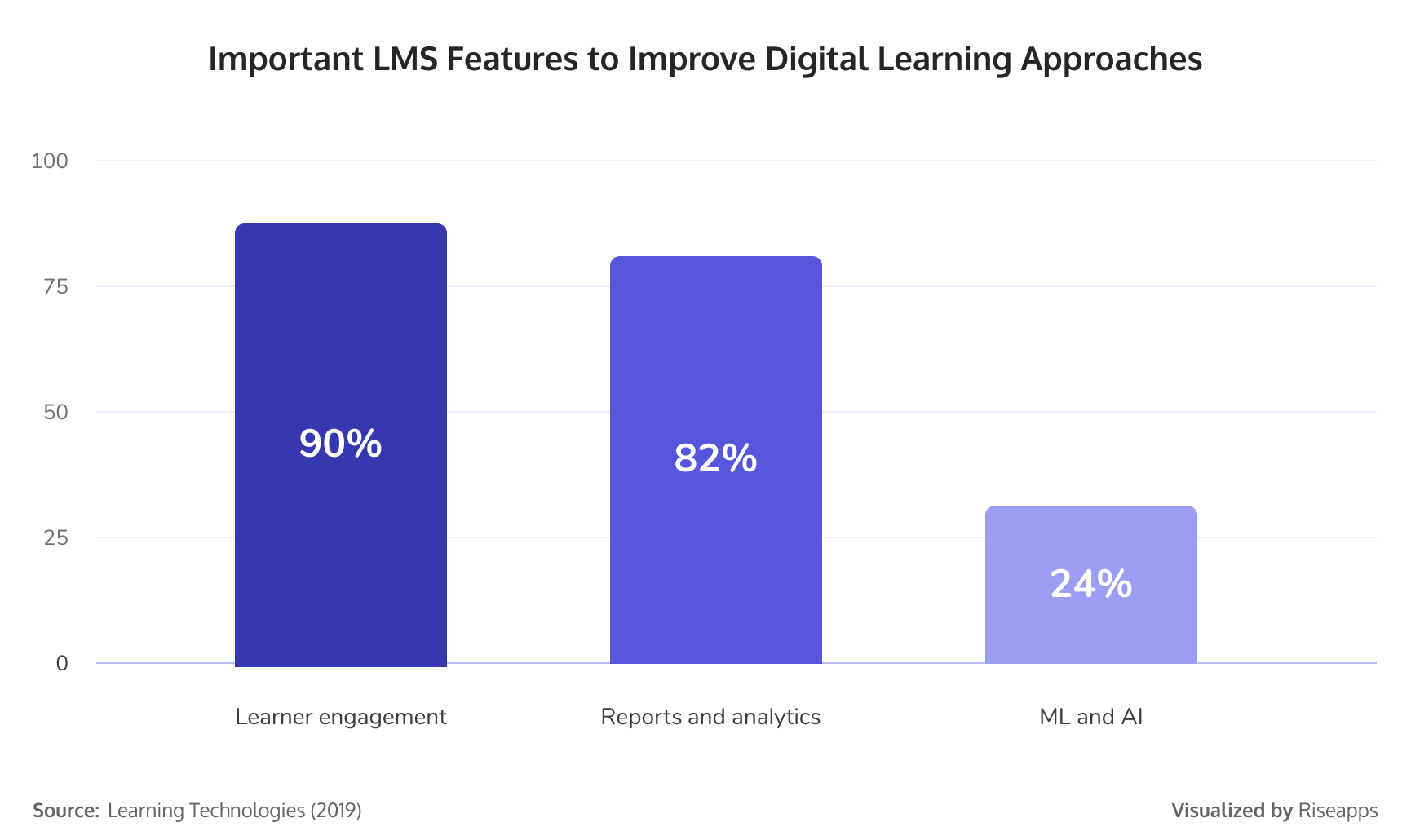 Advanced reporting system within LMS shows data analysis with a user-friendly interface using charts, graphics, and tables. The features' toolkit for LMS analysis and report should include out-of-the-box and on-demand reporting, automatic reports on the set schedule, analytics dashboard, analytics setup docs, resources, etc.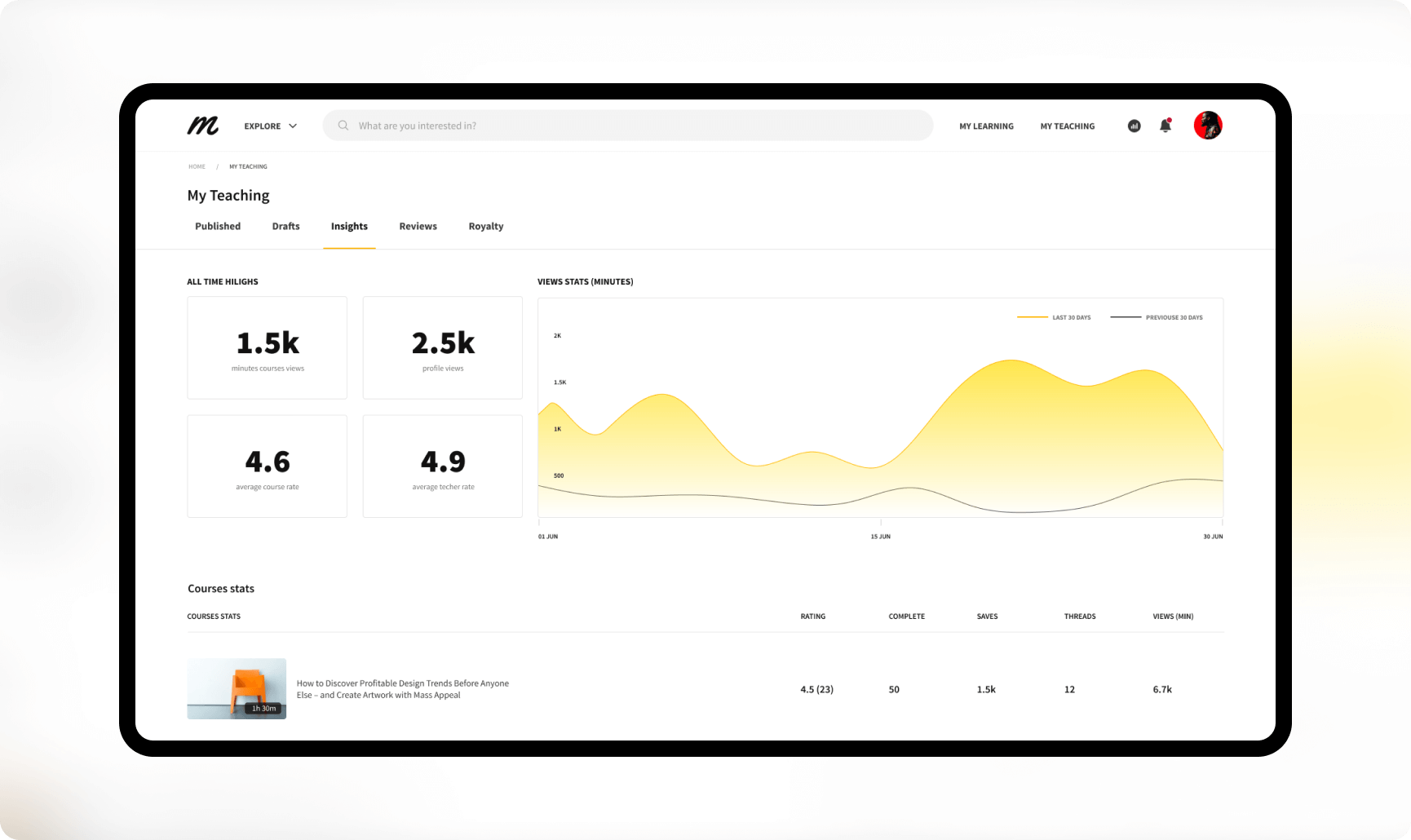 Virtual classrooms
A virtual classroom is an essential tool for remote learning. The virtual classroom is needed for online workshops, seminars, brainstorms, and other collaborations. It is also used for mentoring meetings and individual lessons.
The key features of the LMS virtual classroom are:
video conferencing,
whiteboard for content visualization,
group chat and shared notes,
file-sharing during streaming.
Wrapping Up
Key features of an LMS for e-learning:
For students

Personalized learning path
Mobile learning
Social learning tools
Gamification

For teachers

E-learning management
Content support system
Assessment tools
Scheduling tools and notifications 
Analytics and reports
Virtual classrooms
Advanced LMS Features
The basic set of functions makes the system stable and reliable and allows you to start working with LMS quickly. But where to go next? What can be improved in the system to get more results from training? Here are some advanced features to help you improve your LMS.
Asynchronous learning 
Asynchronous learning means that the student doesn't have to attend the lecture. The student can progress through the material at their own pace using the platform resources. Implement asynchronous learning by adding the event record and saving. So people who couldn't attend a live lecture can watch it later and don't lower their productivity.
Data security 
The users' data security and intellectual property protection are a top priority for each organization. Who can access the system? Will the platform be protected from data theft? All these concerns should be dealt with by the LMS security system. We suggest you arm yourself with the next security features to protect your LMS:
IP blocker to prevent unwanted IP addresses from accessing your website. IP blocker tool allows admins to add specific IPs to the blacklist.
Multi-factor authentication to grant access only to people who can prove their identity. 
Anti-spam to protect your LMS from phishing and malware spread by email.
Data encryption and SSL (Secure Sockets Layer) to share data safely on the web and between apps.
Artificial intelligence
The popularity of artificial intelligence is snowballing. Big corporations as Microsoft and IBM put their investments into AI-powered technology. AI-based hardware and software can simulate human behavior and automate different kinds of processes. AI-featured LMS can automate admin tasks such as content translation to various languages or grouping students by their performance and learning goals. AI helps build a personalized learning path for each student by analyzing their preferences and offering relevant content.     
VR/AR reality
VR/AR technology in teaching is a proactive tool that increases student engagement and provides them with an experience close to reality. When putting learners in real-life simulators, you give them the power to train their skills without any risk involved. With VR and AR interactive elements, you can improve your courses by adding tasks based on scenarios with which students will encounter when doing their jobs. 
Now, Prioritize Features in Terms of Money
Now we know what problems the LMS should cover and with what features. It's time to prioritize which features should be developed first to launch an LMS as soon as possible.
When identifying the most critical features of an LMS, it is important not to chase trendy ones. You need to think well and decide which features are essential for the user to get the main thing – content for training. 
It's also worth considering money and time implementation resources. Think about the results you expect from launching your learning management system. If you try to cram everything into your LMS at once, the risks of technical errors will be high, and the IT team may not have time to solve them. 
The best way to build LMS successfully is to take small steps. Develop vital features first, test how they work, fix bugs, and then think about scaling. Always consult with the development team on the best sequence to develop the LMS. Here is our prioritized checklist of LMS key features in terms of time and money:
Content support system
Personalized learning path
E-learning management
Mobile learning
Social learning tools
Assessment tools
Analytics and reports
Gamification
Create a Roadmap and Start!
Now that we know:
What educational problems organizations have and how they can be solved with LMS.
What key LMS features help to resolve a particular task.
How to prioritize the elements in monetary terms.
Little remains to be done – creating a roadmap and starting your LMS development.
Looking for an experienced team of developers to build your LMS?
Contact us
FAQs
---
What are the basic features of an LMS?

---

Basic features of a learning management system should cover primary user requirements. When creating an LMS portal, provide learners and teachers with:

Content support system
Personalized learning path
E-learning management
Mobile learning
Social learning tools
Assessment tools
Analytics and reports
Gamification
---
What is LMS reporting?

---

The list of ideal LMS features includes reporting and analysis tools. LMS analytics helps to measure engagement rates and control course quality. L&D professionals can get course program data and analyze each stage of the program to estimate the influence of course structure and content on particular learning results.
---
What makes a good LMS system?

---

A good LMS system is a combination of robust functionality and user-friendly interface. Basic LMS features include content management and support, personalization and assessment tools, etc. To make the platform even better, add advanced LMS features:

Asynchronous learning 
Data security 
Artificial intelligence
 VR/AR reality

Need an experienced team of developers to build your LMS? Drop us a line.
---