Many entrepreneurs are currently wondering how to start an edTech company. Why? The education sector has changed tremendously over the last 10 years. Starting from MOOCs boom in 2012, and now when we have to deal with the consequences of the COVID-19 pandemic, the demand for educational innovative solutions increases. Let's have a look at how the edTech market changed over the last decade.
EdTech Market Overview
The pandemic pushed society to the conclusion that technology is more than ever helping people to continue to study and work, even at a distance.
We stopped relying on traditional educational methods and moved on to introduce personalized and social learning. These trends provide excellent ground for you to create an edTech startup. Here's a look at the startup education business market.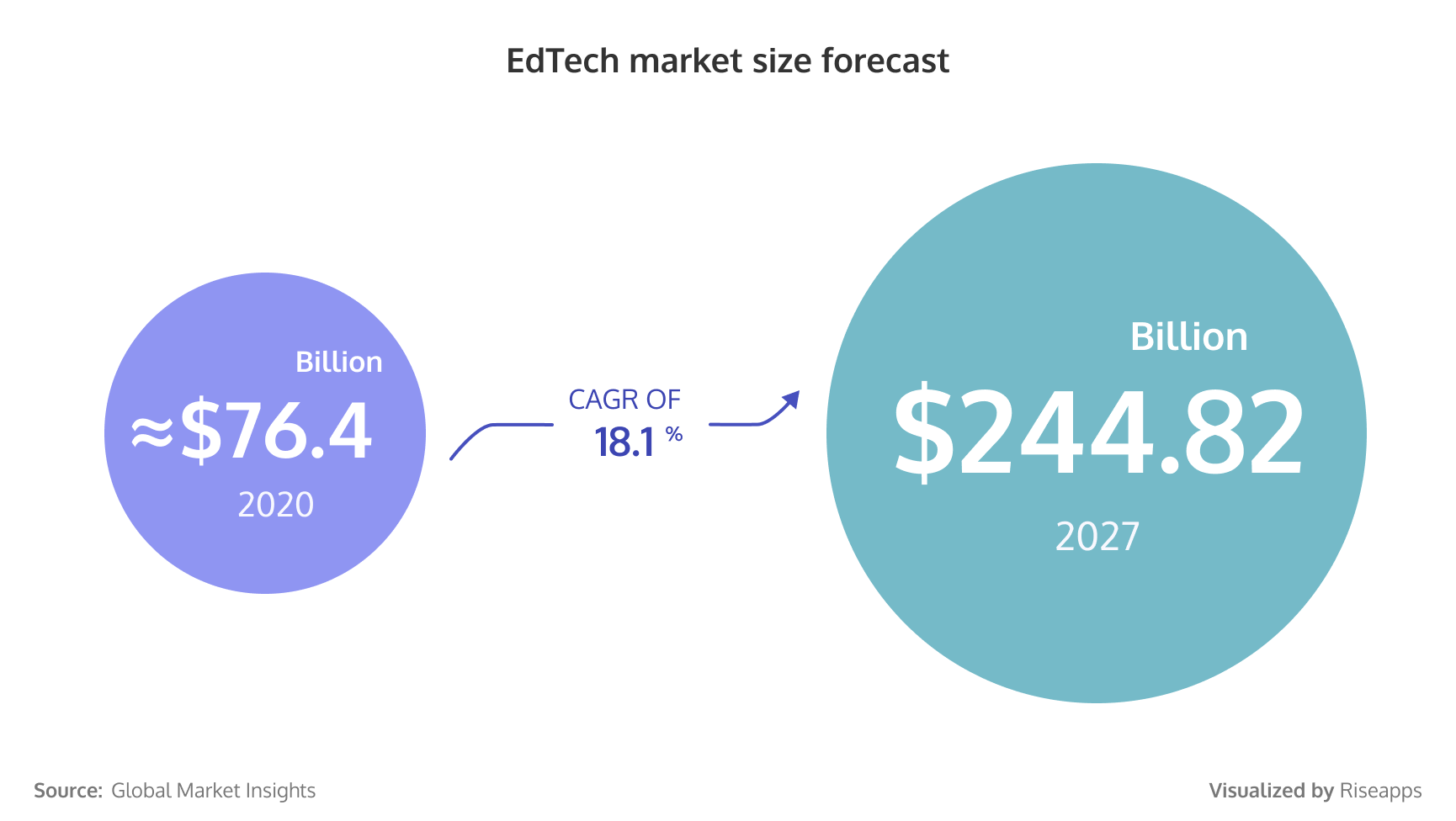 Let's see in detail why it can be profitable to launch an edTech company now.
Reasons to Start an EdTech Company
There are hundreds of uncharted opportunities to launch a startup education business. From offering innovative features as gamification or immersive content to filling the corporate world's demand on LMS platforms to educate the staff, an EdTech product can surely bring you profit. The main thing is to keep your finger on the pulse of the tendencies of the EdTech industry. 
Growing academic and non-academic demand
The K-12 educational sector significantly raised the demand for edTech solutions. Its market size is forecasted to grow at a CAGR of 25.0% during 2021-2026. There are several reasons for such growth:
Schools are seeking for the solutions to adopt remote learning and cut spendings from the school budgets. 
Parents rely on technology to engage their kids in the learning process. 
The number of smart devices is increasing. 
The Internet connection is becoming faster and more accessible.
Corporate e-learning is also contributing to the edTech market size, which is projected to grow at a CAGR of 9.16% by 2025. Educational technology helps corporations to retain employees, save money, and automate recruitment and onboarding. 
People consider education as a lifelong process 
American psychological association shared the statistics, according to which nearly three-quarters of Americans consider themselves lifelong learners. Life-long learning refers to self-motivated knowledge acquisition during life for personal or professional reasons. Modern people tend to constantly improve their professional skills to stay competitive at their work. 

The other reason why people continue to learn is to fulfill their life with the purpose and feel more confident about their achievements. Some people want to make a profit from their hobbies, so they improve their skills. The others seek to dedicate more time to their personal interests. The truth is online education can help anyone achieve their learning goals. It seems that the significance of EdTech products will only increase. 
EdTech attracts investors
"Edtech investment just makes business sense. It's a nascent industry. It has a lot of space for technology to improve education and a lot of startups with promising ideas." – Albert Forn, director of mSchools
According to HolonIQ, Global EdTech Venture Capital increased from 8.2B in 2018 up to 16.1B in 2020. Investors see the opportunities for such technologies as artificial intelligence, augmented and virtual reality, and blockchain to significantly improve an educational process and bring income. A lot of investments go to developing countries, where the demand for edTech solutions is extremely high. 
Young people set the trend 
The Zoomer generation grew up surrounded by digital technology. They get used to relying on quick access to the information they need.  That is why old teaching methods won't work for the younger generation. Educators should provide more video content, which is short, practical, and perceptive. The issue is that a lot of educators are not so flexible with technology as younger tech natives. Building an edTech startup can help teachers and students to find common ground and disrupt educational approaches together.
Democratization of education 
You can do your bit to democratize education if you create an edTech company. With the MOOCs and free online courses, people from underdeveloped countries can access quality education and contribute to society by complementing the world's talent pool. Maybe it's a non-profit advantage, but it's a huge opportunity to make something that matters to the whole world. 
Now, let's see what education startups managed to achieve success and how. 
Top 4 Successful EdTech Startups
Torsh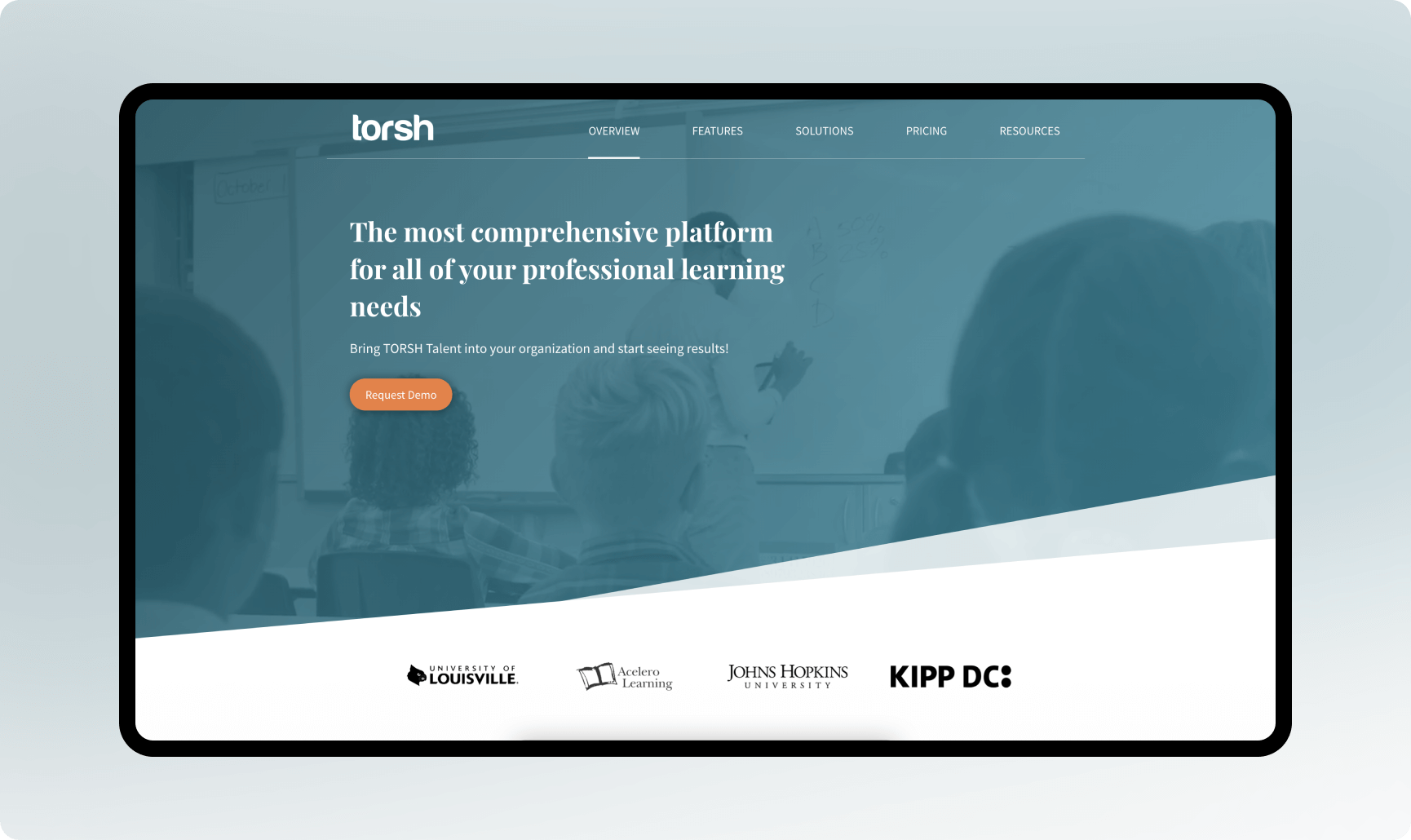 Torsh is a platform to help teachers improve their professional skills through observation and performance tracking. Courtney Williams, the Torsh founder, told Forbes that he came up with the startup idea when he was analyzing his physical training on the videotape back in college. It helped him improve his game on the field, and he thought, why teachers can't do the same to master their pedagogical skills. Now, Torsh Talent offers  K-12 teachers, mentors, principals, and admins solutions for receiving feedback and setting professional goals. Its yearly revenue comprises $77K in 2021. 
VIP Kid
VIP Kid is an online learning platform that offers one-on-one English lessons for Chinese kids with native speakers from the US and Canada. This is the successful Chinese EdTech project that was valued at $3 billion in 2018. The platform allows parents to book video tutoring sessions for their children.
The idea of how to start an edTech startup came to Cyndy Mi when she had difficulties with her math teacher. She saw the opportunity in English because Chinese parents consider this language as the opportunity for their children to succeed in their lives. VIP Kid cares for the teaching quality, and they strictly choose teachers with a bachelor's degree. VIP Kid has a perfect student retention rate of 95%, and the company continues to prosper. 
Guild Education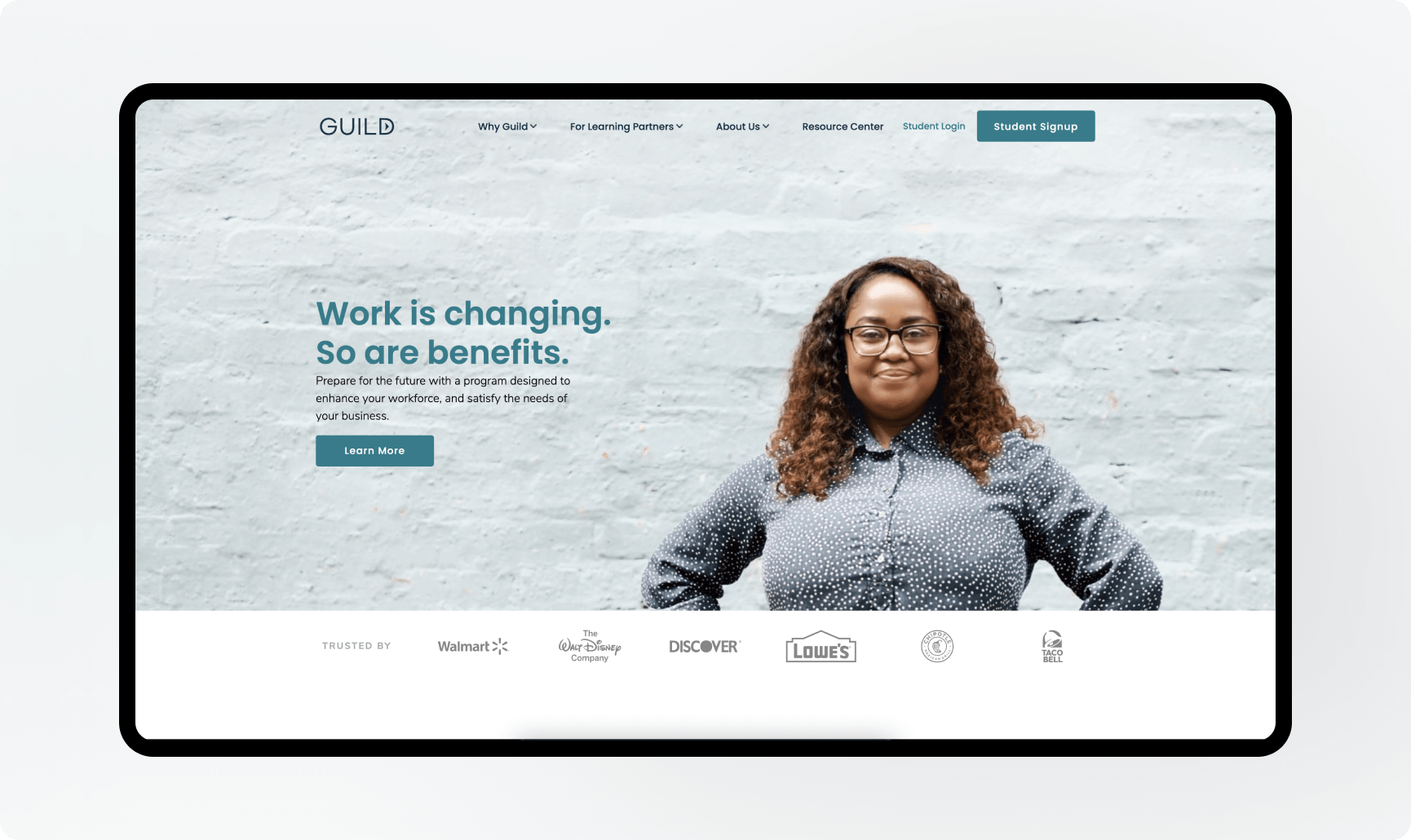 Guild Education represents the brilliant idea for the edTech startup in the corporate world. The platform helps employees work on their professional skills to acquire a new job or get a promotion. Guild Education partnered up with nonprofit universities and learning providers to provide employees with affordable and quality education. The company also helps corporations recruit talent and use their tuition reimbursement to meet their business objectives better.
Guild Education in numbers: 
It received $40.0M in venture funding in July 2018.
The company's annual revenue is currently $107.7M per year.
ApplyBoard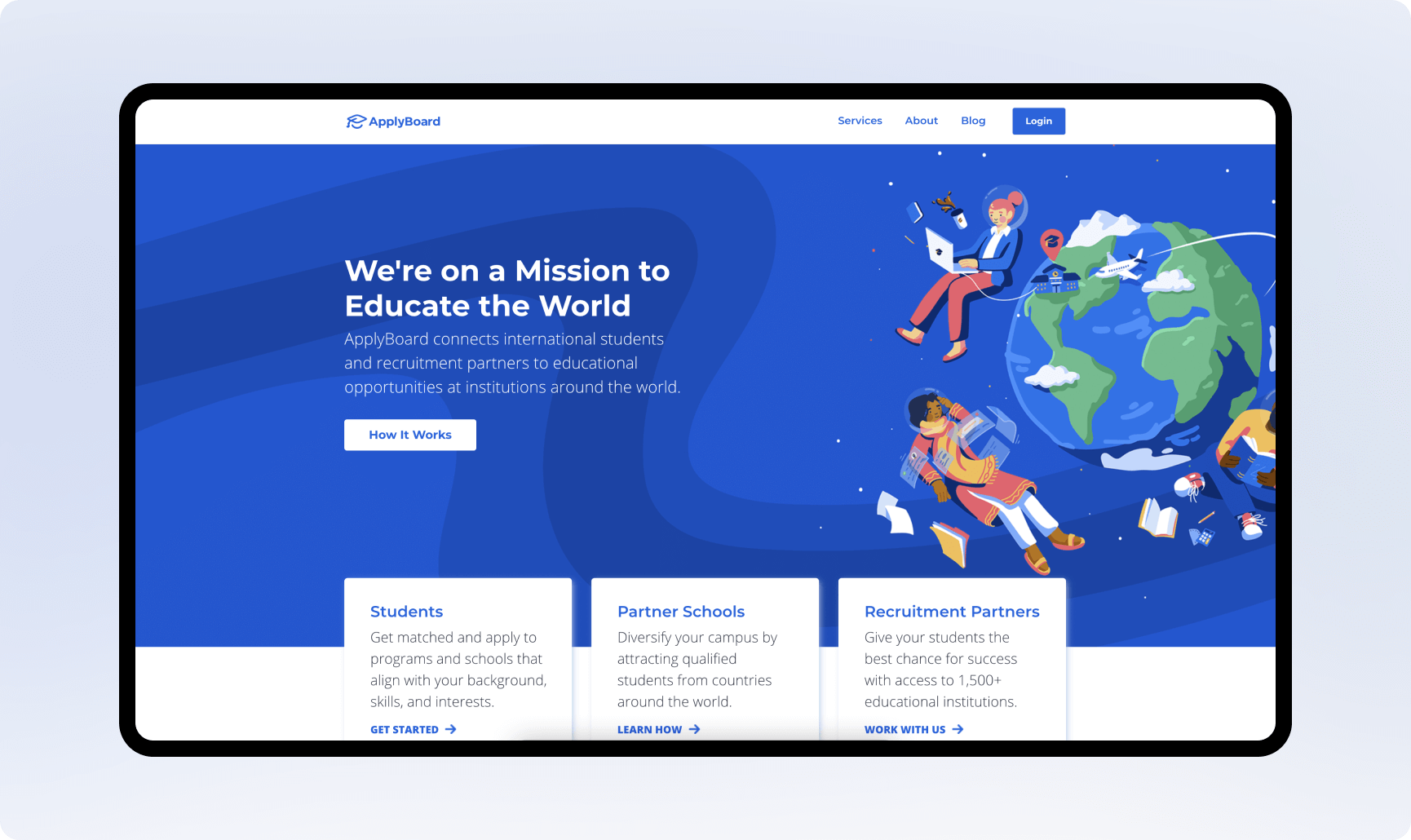 ApplyBoard helps students from all over the world to apply to over 1.200 institutions in the US and Canada. ApplyBoard co-founder and CEO Martin Basiri said there's still a barrier to apply to studying abroad for many prospective international students. He and his brother have launched ApplyBoard to provide broader opportunities to access education for many foreign students. Since 2015, the company has helped over 100,000 students with their education. Now the company is valued at C$2 billion, which makes it another EdTech unicorn.
Top 4 Failed EdTech Startups
inBloom
inBloom was launched in 2013 funded by Bill and Melinda Gates Foundation with $100 million. The idea was to create a centralized platform for schools to share data, learning apps, and curricula. It's supposed to highly impact the educational landscape by simplifying data access to the learning materials.
But why did a well-funded EdTech startup fail? inBloom was shut down in 2014, the year after it was publicly presented. The company was unable to manage the agile development approach and bureaucratic requirements of the school systems. The topic around which school authorities were expressing their concerns was student data protection. inBloom's failure drew attention to data security in education. As a result, Student Data Privacy Consortium (SDPC) was formed in 2015 to address security concerns.
Tutorsphere 
Tutorsphere was a platform for students and educators to connect and cooperate. TutorSphere announced itself loudly, calling itself an Airbnb for teachers, and collected $1 million worth of investments. But things didn't go very well. The company closed just one year after launch, facing challenges such as high competition and seasonal demand for tutors. Plus, students and teachers started leaving the platform to save money. The startup ignored these risks and failed.
KNO
KNO is an example of a company that failed because of a lack of knowledge of digital trends. 
The startup was conceived as mobile learning hardware. But founders missed the trend of popularizing tablets and had to change direction towards digital textbooks. This idea turned out to be a failure, and KNO had to compete with the usual methods of buying and renting paper textbooks. The company was sold to Intel for almost nothing, for $15 million with a startup capital of $73 million.
SharpScholar
SharpScholar had a good mission to help students and teachers find common ground by relying on in-class assessment and data analysis tools. And they almost succeeded. They have reached a student base of 5,000 with professors from the best universities in Canada. But SharpScholar faced several challenges related to the needs of end-users. The teachers wanted to understand how the tool works, and they needed time for that, and the company wanted to increase sales. SharpScholar also didn't consider its users' payment capacity, which led to the collapse of its business model.
It seems that EdTech entrepreneurs miss something out when thinking about how to start an edTech company. Let's inspect common pitfalls each business person should avoid when planning an educational technology startup. 
Why EdTech Startups Fail
From the previous examples, we've learned that lack of funding is not always a reason for EdTech startup failure. Lack of attention to consumer needs can ruin the entire project. But this is just one of the reasons why startup education businesses fail.
Even if you have a brilliant idea and know how to start an education startup, you should carefully study the risks and pitfalls. Here's a list of the main reasons why many edTech companies are quickly leaving the arena.
They neglect market research 
The main problem for EdTech start-up projects is the incorrect assessment of the market. A young company must understand who its direct competitors are in order to offer more value to the users. You also need to carefully study the demand in the educational platform market and look for the most suitable entry points. 
They don't think of educational bureaucracy 
The current educational tech system is reluctant to change. Your product must meet many educational system requirements. The approval process could be very long, especially given the difficulty of materializing the value of your product. It was this omission that led the inBloom to close.
They don't understand the target audience 
If you don't understand who your main сustomer is, expect problems. A startup's success depends on whether you can meet your target audience's needs and whether you can correctly communicate the usefulness of your solution. When you understand your customer's pain points and concerns, you can speak the same language as them. If people see that they are understood and want to help, they are more likely to try your product. The main thing is to clearly define who your customer is and who the user is. Let us remind you that the SchaprScholar didn't understand that the teachers weren't ready to pay the proposed cost. This flaw influenced their closure.
They follow trendy ideas without examining them
It's easy to get excited about a new idea. Especially when it comes to introducing promising modern technologies. Unfortunately, these features don't always benefit the consumer. Before investing in gamification or analytics, it's worth figuring out if these features will solve users' problems. It's a good practice to turn to academics to ask them how certain educational processes go within the system and then decide which features can improve these processes.
They add too many features 
Even if all the product features are relevant and useful, users can drown in their abundance. 
Too many features may cause UI clutter. Users could abandon the applications for a bunch of functions that are difficult to use. It's better to stick to the concept of a minimum viable product, which involves prioritizing features by their ability to cover basic user needs. Limit yourself to a set of functions without which the product simply cannot exist.
They don't support users at the beginning 
Companies that don't communicate with their customers won't be able to affect their engagement and retention. Friendly support improves customer experience and increases user satisfaction. Train your customers on how to use the product and help them adapt faster to your solution. You also need to collect feedback on the strengths and weaknesses of your product to plan further development. Without the help of your customers, you won't last long in the market.
How to Fund an EdTech Startup
The next thing to consider when thinking about how to start an edTech startup is funding. You need to create capital for the development of the project, and there are several options for this.
Crowdfunding
Crowdfunding is a way to get funding for your project from many donors who will find your idea worthy of implementation. People contribute a different amount of money and usually receive some kind of intangible benefit, for example, free use of the product if the implementation is successful. You will need to promote your idea and put together a good pitch to attract contributors. The most popular crowdfunding platforms are:
SeedInvest
Indiegogo
StartEngine
Venture investors 
As we've mentioned in the EdTech market overview, venture capitalists have a high interest in investing in educational technology. If you manage to attract investors to your project, you'll benefit not just from the money, but also from networking and other professional help. Investors risk their money, so they will want a share in your company. The good thing is you don't have to return anything in case of a failure.
The ways to find venture capitalist funding:
Look for venture capitalist associations 
Use your network to get recommendations 
Follow VCs blogs and social media
Check for VC database on the Internet 
To help you find your investors, here are the top 3 VCs who invest in EdTech startups: LearnLaunch, OwlVentures, ReachCapital.
Grants and government fundings
The development of the education sector is a priority for many governments. Perhaps you'll be able to get a grant for your project. There are usually several organizations that want to obtain a grant, so there will be competition and the need to stick to deadlines. Besides, your product will need to meet the criteria that the organization sets. You could apply for funds to Nesta, which supports EdTech innovations with the partnership of the Department of Education.
Partnership 
You can also find like-minded people who want to participate in your project creation or team up with a corporation that wants a partnership. In the first case, you will surround yourself with people who are ready to invest money and their own time, knowledge, and skills to create a valuable product. Partnership with a corporation will help establish connections and processes that you would build on your own for a long time, for example, a marketing strategy.
Go to meetings and conferences, participate in workshops dedicated to EdTech startups to find partners. Join EdTech accelerators and incubators to find mentors and experts. For example, BoomStartup Accelerator from Salt Lake City can help startups with $100,000 for initial funding. For their support, they'll require 6 to 9 percent equity in our organization.   
Interested in custom educational platform development?
Learn more
6 Steps to Launch an EdTech Startup
So how to start an edTech company? Let's summarize the above and highlight the main steps of launching an EdTech company.
Step 1. Create business strategy
Be sure to study the market and your niche inside and out. Your main task here is to offer solutions to problems in the educational field. Whether it's the outdated methods educators use to teach students or the problem of low student engagement in online classes, you need to find a way to save people from these problems. Think about how to start an education startup based on your value proposition for specific people with specific problems. At the same stage, prepare a business plan to present to potential investors.
Step 2. Find your development partner
Due to the specific nature of language learning apps, you should look for a development partner with proven experience in this industry. Working with a trusted company means speeding up the development time, minimizing risks, and ensuring the highest quality of the end product.
To make a well-thought-out decision, consider the following factors:
Has the company worked with e-learning projects? What about language applications?
How long has the company been on the market? Does it have verified reviews on Clutch?
What's the seniority level of the developers in the company?
If the answers to all these questions are positive, you can be sure about the successful outcomes of your cooperation with the selected company.
Step 3. Start with MVP
No matter if you build a learning management system, e-learning website or other EdTech startup, the MVP approach allows for product evaluation and improvement in multiple iterations. It's much more reliable and less stressful than launching a huge platform that no one wants to use.
Step 4. Support your users and collect feedback
Let your users share their impressions of your product. Create a feedback and suggestions section and collect the most valuable information right from the hands of users. Feedback, both positive and negative, is a powerful tool for your development. Often our clients find non-standard solutions to some problems that the whole team cannot think of. After collecting feedback, analyze your findings and implement solutions that will improve your product. By solving user problems, you'll affect their retention. People want to use the product when they know they can count on the help in case of any difficulties.
Step 5. Promote your product
Even if your product is perfect, nobody will use it if people don't know about it. Build a brand and develop a marketing strategy to maintain interest in your product. Here are some ideas for increasing product awareness:
Write a blog with useful content.
Be active on social networks.
Implement email marketing.
Create landing pages for each segment.
Use paid advertising.
Step 6. Never stop improving
Try not to lose your knack, and always look for ways to improve your product. Stay tuned for tech news, EdTech trends, and investment opportunities. Learn to be flexible and adapt to your users' needs, and your company will always be in demand and successful.
How Riseapps Can Help 
If you're thinking of creating an edTech company, here at Riseapps, we have a team of professional developers and business analysts to help you:
evaluate your business idea, 
choose the best technology stack for your business case, 
create a prototype for raising funds, 
build an MVP in 3 months.
We have already created successful EdTech projects for our clients. For example, Melanence, a unique e-learning project that helps entrepreneurs of color share their experience and gain relevant knowledge to improve their businesses. Starting from business analysis and product design, we made sure the platform is scalable and high-performance. 
Melanence provides users with a wide range of features, from course creation to interaction with learning materials.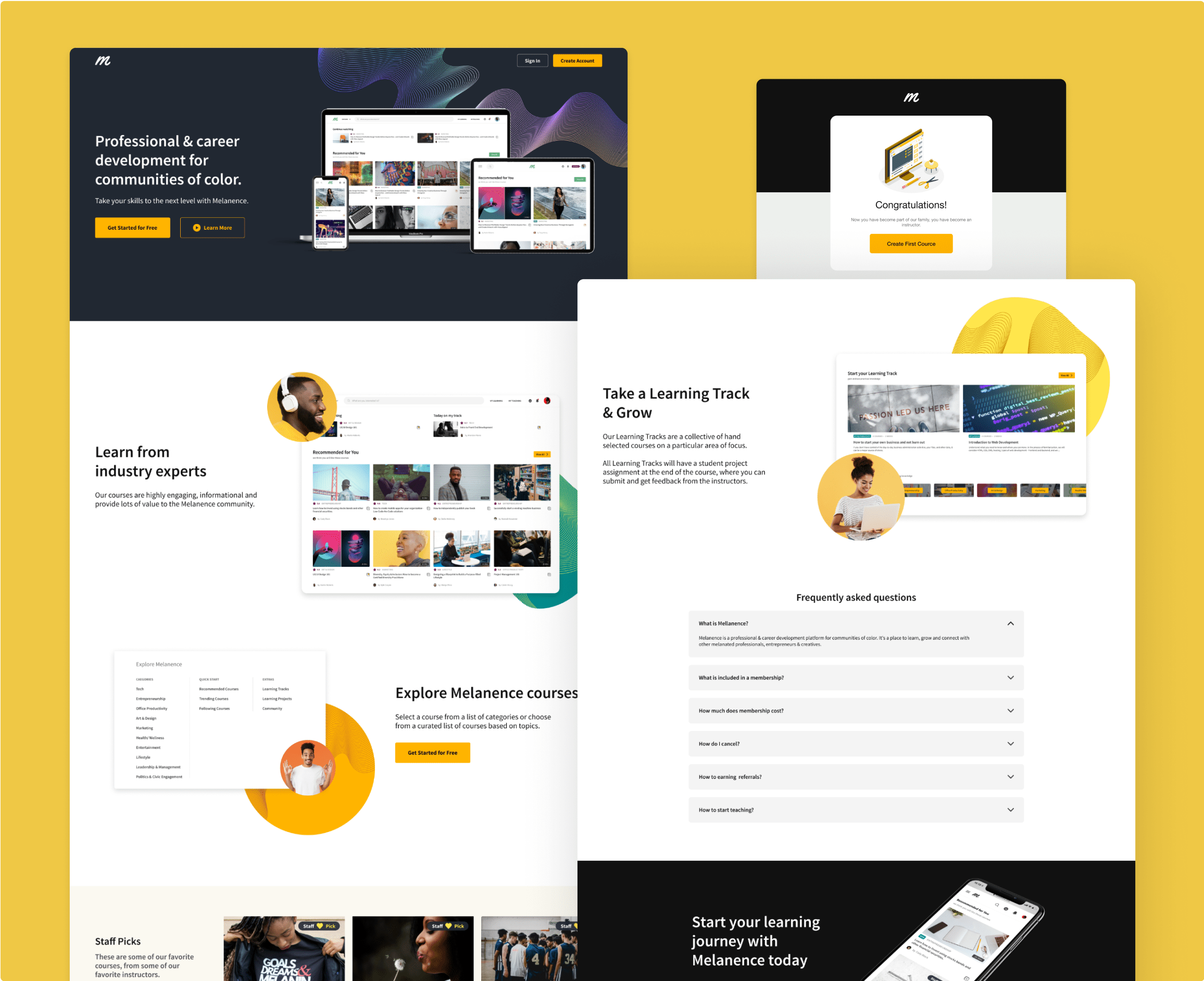 Wrapping up
No doubt, EdTech startups are profitable in 2021. The high interest in the digitalization of the education sector has intensified since the start of the pandemic. And now is the best time to start an EdTech company. The main thing is to be smart about creating an educational startup and find a reliable technical partner.
Looking for an experienced technology partner with proven records in EdTech?
Talk to our experts
FAQs
---
How to start an edTech startup?

---

First of all, you need to come up with an idea that will be useful to users. Next, you need to attract investment in your project. Here are more important steps to help you u understand how to start an edTech company:

Create development strategy
Find your development partner
Start with MVP
Support your users and collect feedback
Promote your product
Never stop improving
---
Why do EdTech startups fail?

---

Many edTech startups lay the foundation for failure even before a project is launched, and here's why:

They don't conduct market research
They don't understand the target audience
They follow trendy ideas without examining them
They add too many features
---
Why starting an EdTech startup is profitable in 2021?

---

The pandemic pushed society to conclude that technology is more than ever helping people continue to study and work, even at a distance. The main reasons why you should launch educational technology startups are:

High academic and non-academic demand
People need a life-long education
EdTech sector is attractive to investors
iGeneration sets the trend
Education requires democratization

Looking for a reliable developer partner skilled in EdTech startups? Talk to our experts.
---