Online learning adoption is booming. Most organizations concluded that technology could improve the learning process and offer alternatives to traditional learning. 67% of educational institutions want to deploy LMS platforms, and 77% of US organizations choose e-learning to provide professional growth for their employees. 
LMS platforms take a prominent place in organizing digital learning. The LMS market is expected to grow to $22.4 billion in 2023 at a CAGR of 19.6%. As the demand is high, the competition is also increasing. That is why you should know how to market an LMS to attract prospects and stand out from competitors.
We've prepared useful information about LMS market peculiarities and marketing strategy tips for you to go to market without a hassle.
What is LMS marketing?
Marketing isn't about convincing people to buy your product. It includes actions and processes aimed to communicate the value of your product to your potential customers. Marketing requires thorough research, planning, and a deep understanding of your target audience and your product. 
When promoting a learning management system, you will interact with the EdTech market, including government, businesses, preschool, K-12, higher education sectors. The main marketing challenge when working with the educational industry is that it's fragmented. This fragmentation means that people who make a buying decision aren't usually end-users of your product.
For example, school administrators, L&D specialists, CEOs often say the final word when buying software, but teachers, students, and employees are the ones who will use it. Such stakeholders' diversity makes LMS marketing challenging as your product communication must appeal to each of them. Therefore, before creating your LMS marketing strategy, you should understand your market.
What you should know before starting the marketing activity
We often hear that a customer is king. But who is your customer? If you try to turn to a general audience when promoting your product, you'll probably fail. Knowing your buyers and users will help you speak the same language as them and solve their problems. Before rolling out any marketing activity, explore your target audience. 
Know your market  
When you developed your LMS, you probably imagined who will use your platform and how it will help people automate processes, facilitate communication, etc. To create a powerful LMS marketing strategy, you need to study your potential users in detail. You can do it by performing market research.
Market research helps you choose a specific audience and research their pain points, needs, and demands. Targeting a particular audience increases your chances of selling your product. On the other hand, neglecting customer needs may cost you your business, as it happened with an EdTech startup named KNO. 
KNO's idea was to change the way students learn by providing interactive e-textbooks. The company raised over $70 million in funding back in 2013. It turned out that students and content providers weren't so interested in such a solution, and KNO failed to communicate its value to the stakeholders. As a result, Intel bought KNO for a minimum price. 
There are several types of market research. To collect valuable data about your target audience, you should conduct the following two studies:  
Buyer persona research. A buyer persona is a representation of your ideal customer, created based on research. It includes a persona's demographics, social status, job information, challenges, and pain points. Buyer persona information will lead all your product development, content creation, and marketing strategy to suit your customers' needs and demands. You can find the data from forums, community meetups, conduct interviews, etc., to describe buyer persona thoroughly. 
Market segmentation research. When searching for information about your buyer persona, you may notice that there isn't one and only ideal customer. Usually, a product addresses its value to several groups of people with different demographics, problems, etc. This differentiation allows marketers to effectively build a communication strategy, highlighting specific values for specific audiences. Customer segmentation gives you the power to develop data-driven targeting, sales funnels, etc. 
Know your competitors 
One more valuable information source for marketing purposes is competitor analysis. Studying your rivals gives you information about how things are going in your industry, what target groups already exist, how products similar to yours build their brands, etc.
The main aim of competitors' research is to find ways to stand out from your rivals. For example, you may find a new target audience, offer advanced features or discover your competitors' customers' pain points that aren't covered yet.
Here's a checklist for conducting competitor analysis: 
Determine your direct and indirect competitors. Direct competitors are products that can substitute yours for the same target audience. Indirect competitors are partially similar products that could satisfy your target audience's needs. 
Learn about your competitors' products. Valuable data about your rivals' products include their pricing, market share, value proposition, distribution strategy, and customer description.
Explore your competitors' marketing strategy. Analyze where and how they communicate their crucial value: blog, website, social media, advertising, etc. 
Get SWOT information. Analyze your rivals' strengths, weaknesses, opportunities, and threats to better position your brand. 
Develop your unique value proposition 
Based on the information from market and competitors' research, you can formulate your unique value proposition. The unique value proposition is a statement that explains to your target audience how your product can address their problems.
You should speak with your audience in the same language and show them you care about them. Try to avoid marketing clichés as 'get a brand-new experience,' 'quality,' 'unique,' etc. Don't draw conclusions about your product for your customers. Let them decide.
Here're some examples of good unique value propositions of EdTech products.
TalentLMS: "The LMS built for success. Build a smarter organization with a training platform designed to help great teams grow."
Duolingo: "It's hard to stay motivated when learning online, so we made Duolingo so fun that people would prefer picking up new skills over playing a game."
The standard template for a unique value proposition could be like this: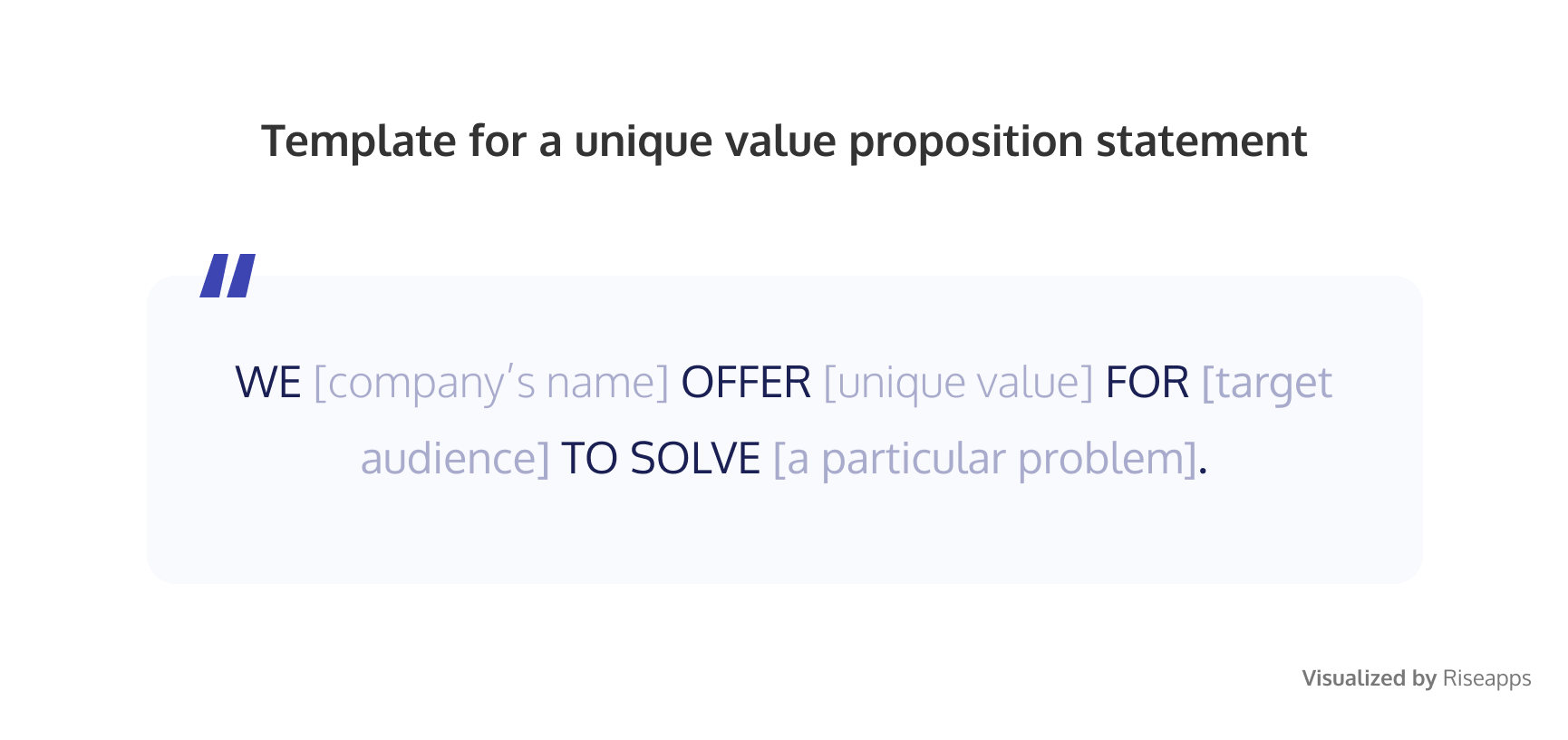 You may use this template or rephrase this statement as you see it for your brand. Just remember to make it appealing to your target audience.
Top reasons LMS marketing campaigns fail
Developing a marketing strategy is a considerable analytics task. Based on the data you collect from the research, you build a hypothesis around your brand and launch several marketing campaigns. Then you check your theory with metrics. Finally, when you fight for customers' attention and search for ways to attract more leads, you may face some challenges.
Although marketing pitfalls may differ for each product, we've collected frequently repeated mistakes in LMS promotion.
Insufficient customer targeting
Some companies choose to target a too generic audience because they assume that their product suits many people. It seems reasonable for learning management systems as online education captures the interest of all generations from different countries.
With a general targeting, you'll attract visitors to your website, but will they pay for your product? Precise targeting should be based on a thorough buyer persona research so that interested people learn about your product, and not just onlookers wandering on the Internet.
Neglected SEO positioning
Search engine optimization is one of the marketing tools that most companies use unwisely. In their pursuit of hitting the top 10 on Google, they oversaturate content with keywords, making it unreadable to potential customers.
When people encounter misused content, they feel a trick and quickly leave web pages. Content should be helpful to your target audience first and foremost. Optimization is also important, but it is better to add keywords naturally to your content.   
Incomplete product description
Imagine that your prospects visit your website hoping to find a solution to all their concerns finally. Instead, they look for a product description and read a few vague sentences as 'the best learning management system for all your needs' or 'our LMS will raise your online learning experience to the next level.' Your potential customers may have questions as: 
Why is this 'the best LMS'?
What 'all my needs' will it cover? 
How do they know what level of experience I have now? 
With poor product descriptions, you won't be able to persuade people to buy your product. You should show that you know your product well and understand your prospects' needs. Show how your product's features improve user experience, how it increases productivity, etc. 
LMS marketing strategy: key points
So how can you build your LMS marketing strategy? First, take all the information you've collected from market research and create an image of your brand to show your target audience.
Tie marketing goals with metrics 
As most marketing activities are based on hypotheses, it's crucial to assess the impact of your marketing efforts on business. We cannot say that brand positioning is successful if we do not have objective evidence. That is why you should reinforce your marketing activities with measurable goals.
For example, if you want to create a blog with valuable articles on your website, you'll expect people to read it. How many leads do you want to get from your blog within the first month, quarter, year? Your potential customers will go through several stages before they decide to buy your product. Each stage has its metrics. 
Marketing metrics for customer journey stages

Stage
Metrics
Awareness
Impressions are the number of times your content is displayed on the web

Reach is the number of people that saw your content 

Site traffic is the number of visitors your website had

Mentions are references to your brand on the Internet 

Followers are people who subscribed to receive your updates

Engagement
Clicks show how many users clicked on your ads. 

Views display how many people watched your content for 3 seconds and more. 

Comments are messages that users post on your blog or social media. 

Time on the page indicates how long users interact with your content. 

Consideration
Leads generated are a number of potential customers attracted on the awareness stage. 

Lead-to-customer conversion rate measures how many leads are transformed to paying customers.

Inbound calls are the calls you received from potential customers. 

Email engagement tracks views and opens the emails you sent to your prospects. 

Decision 
A number of demo requests and free trials. 

Win rate is the percentage of closed deals divided by the total number of deals. 

ROI is a ratio of benefits you receive from the marketing campaigns and resources you spent.
Metrics not only help you stick to your goals. Based on the numbers, you can understand where your strategy needs improvements.
Let's say you advertise on Google, the number of clicks on the ads shows that people are interested in your offer, but when they go to your website, they leave it quickly. You may conclude that you target the wrong audience or your website doesn't communicate your product's value.
Build your brand 
Branding is a way to tell people about your company, build a reputation and stand out from your competitors. Building a solid brand benefits a business because: 
it promotes your company's recognition,
it makes a visual anchor associated with your company, 
it generates referrals, 
it helps to build long-term relationships with your customers.
Four essential brand components help to build a consistent company's image:
Brand identity. What do you want people to think of your company? Share your values, mission, and vision to show people what to expect when interacting with your brand. Then, add visual components like a logo and color palette to make the right impression. 
Brand image. Brand image builds the reputation around your product. The ways to create your image are public relations strategies, social media presence, and quality content. 
Brand culture. Show your prospects what is vital for you as a learning management system provider. Establish your core values and communicate them. Take TalentLMS as an example. They promote the idea of changing the way people think about learning. 
Brand personality. Develop a tone of voice for your brand. You should speak the same language as your audience, so remember to build your tone of voice based on buyer persona research. You can also develop a brand avatar to humanize your business. 
Choose marketing activities
Not all marketing activities can benefit your company. You should choose how to market an LMS, considering your target audience's digital presence and marketing budget. 
You can do some marketing activities for free, but if you have not much time to go to market, prepare to spend some money on paid ads. Choose marketing activities according to your marketing goals.
For example, social media marketing and content marketing help to establish a brand reputation. For lead generation, you can launch paid ads, develop sales funnels and use search engine optimization. To know more about marketing activities, we suggest reading beginner guides about marketing tools and processes. 
Develop your marketing plan 
You've worked hard on your marketing strategy. And there's one more step left before you roll out your first campaign. You should create your marketing plan to store your goals, tactics, and metrics so you can easily reach them anytime. Marketing plan also includes the data from marketing research and your thoughts and ideas.
Here's a template for you to create a simple marketing plan.  

Launch, evaluate results, improve 
You've developed a great LMS that helps people, and now it's time to show it to the world. With a marketing plan in hand, you can set a timeline for your marketing activities and launch your campaigns. With measurable goals and defined metrics, you can easily make adjustments and improve your marketing strategy to boost your business and make a profit. 
LMS marketing: tips and tricks 
Learning management systems are in high demand. However, as the market offers many similar products, standing out from competitors can be an obstacle. Luckily, we have some ideas on how to impress customers and yet bring value. 
Promote LMS engagement 
90% of learning and development professionals say tools for boosting learner engagement are in an LMS platform. Low completion rates of learning activities show that education needs to make learning attractive and easy to follow.
Learning management systems with gamification and artificial intelligence features can solve these problems. Gamification elements such as badges, leaderboards, scores, etc., motivate learners to complete tasks faster. Gamified exercises drive memory retention and make learning fun and easy.
Riseapps team has experience in implementing gamification elements to a web and mobile-based language learning platform. Levels, leaderboards, and interactive tasks helped the platform to increase user completion rates.  
Artificial intelligence helps provide a personalized learning experience, so learners don't feel overwhelmed by unnecessary information. So if you want to look attractive to potential customers, implement gamification and AI features. 
Provide content diversity
Applicable and expert content helps to build trusting relationships with your customers. You can implement a brilliant content strategy for your blog, but an article is just one type of content you can benefit from.
Providing content diversity increases your chances of generating more leads at any stage of decision-making. For example, downloadable content such as white papers, checklists, templates, etc., can be a prerequisite for collecting information about your prospects.
Here is how it works. You offer a piece of content for a person in exchange for personal information: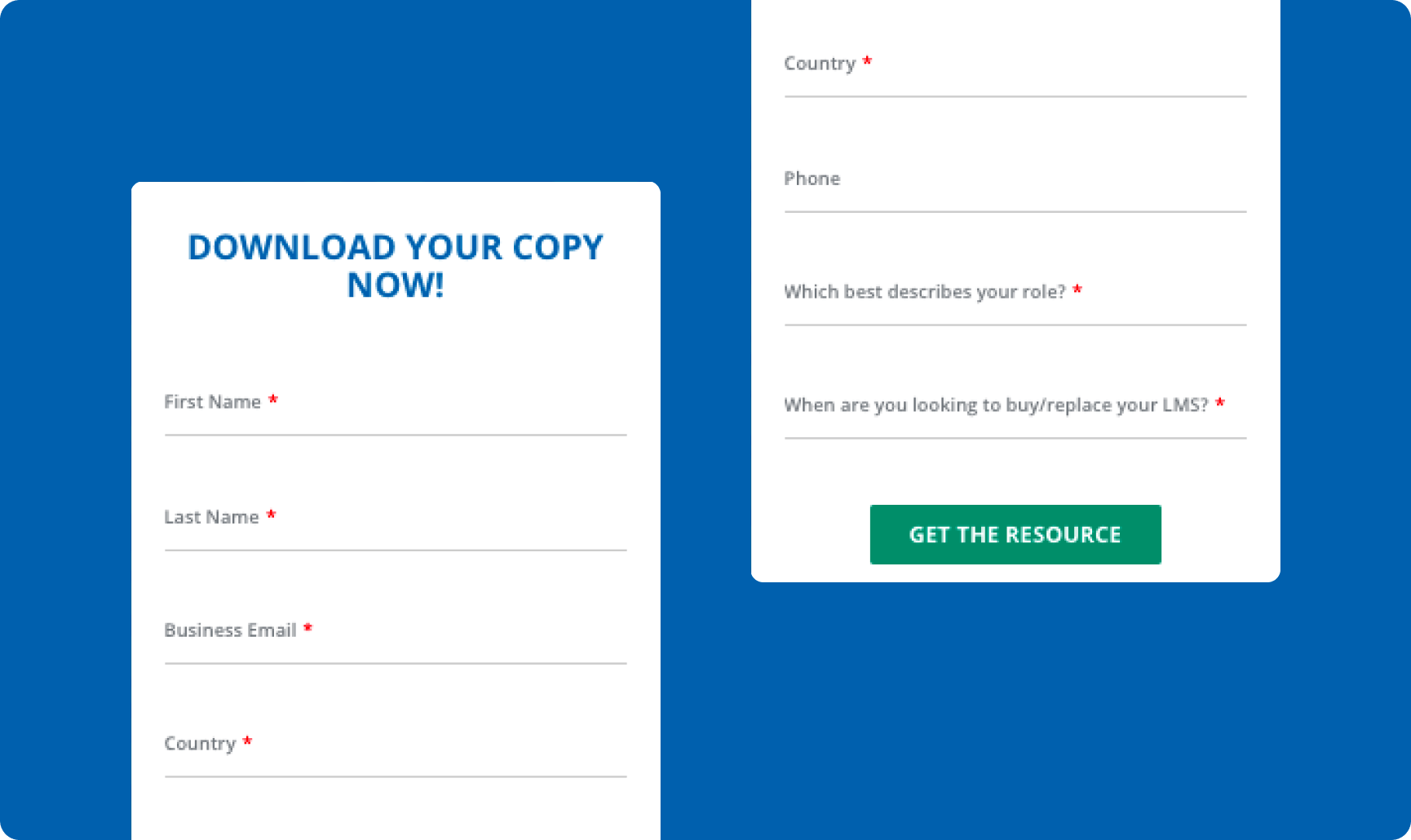 There is a lot of content you can produce for your customers and gain the reputation of a respected brand: emails, case studies, videos, demos, podcasts. Don't be afraid to develop the community around your product, even if it has just basic functionality. People will appreciate your efforts and are likely to become loyal customers.  
How can Riseapps help you with your LMS marketing plan?
Creating a brilliant LMS is halfway to establishing a successful business. A strong marketing strategy helps show your product's value to people and build the community around it. 
Here at Riseapps, we care about our clients' success. That's why we provide development services in combination with business analytics and marketing services. We can offer landing pages for marketing purposes, as we did for the e-learning system we've created to connect people of color who want to learn.
For Melanence, we set up a separate website based on WordPress CMS to help our client market and acquire the first instructors and students.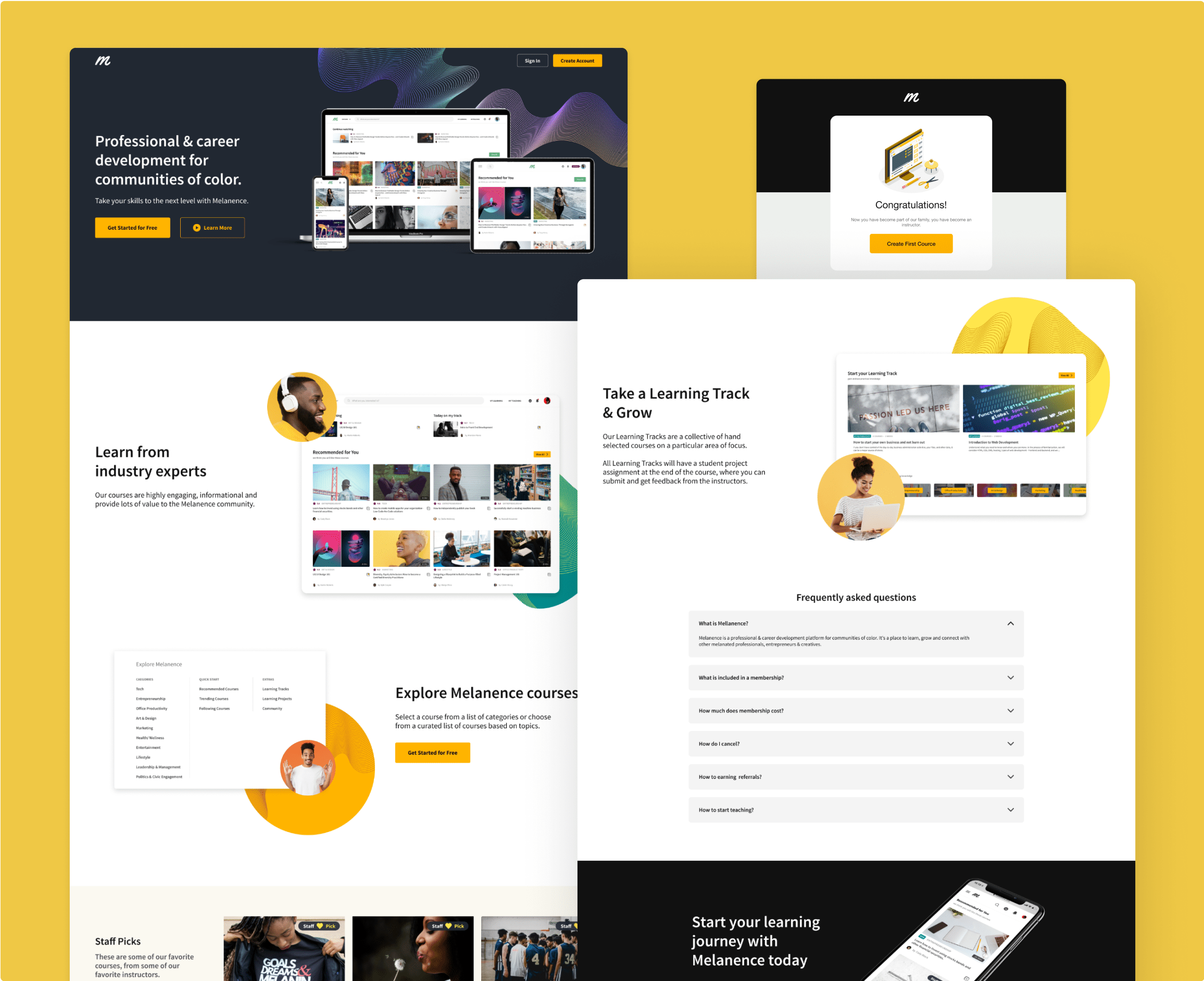 Melanence now is a successful e-learning platform that connects over 1,000 users. In just several months, Melanence has collected over $100,000 in venture funding. As of January 2021, the platform was valued at around $4.5 million.
Wrapping up 
LMS marketing strategy is an essential component for business success. When choosing marketing activities, you should rely on thorough marketing research. Remember that the EdTech audience is fragmented and requires different approaches for each target audience. 
Once you've created a valuable learning management system, you need to sell it, and now you know how to do it. Promote wisely, and you'll succeed. 
Have an idea of a unique LMS and need help with building it?
Contact us
FAQ
---
What is LMS digital marketing?

---

LMS digital marketing includes processes and activities to communicate your product's unique value to a specific audience. For example, launching advertisements, developing a blog and social media, tracking user activities on your website are digital marketing activities.
---
How do I market my LMS?

---

Before you start any marketing activity, you should conduct marketing research which includes buyer's persona, market segmentation, and competitors analysis. Based on the information from the study, develop your LMS marketing strategy. You can do it by setting up your marketing goals, developing your brand, and outline your unique value proposition. Choose how you'll evaluate success and make an LMS marketing plan. With a marketing plan in hand, you can roll out your first marketing campaigns.

Looking for a reliable development provider to build your LMS? Contact us.
---