The benefits of remote patient monitoring stimulate most providers to adopt cutting-edge and innovation-driven solutions. This enables both startups, SMBs, and enterprise-level organizations to streamline and unlock new revenue streams.
RPM is on everybody's lips today after the COVID-19 public health emergency. According to a survey by MSI International, 80% of Americans favor using RPMs. Implementing remote patient monitoring helps remotely monitor a patient's health conditions and collect data for precision medicine and scientific research.
But why is it so crucial, and what are remote patient monitoring benefits for patients and healthcare providers? Keep reading the post to know the latest insights on the RPM landscape.
Remote Patient Monitoring: Benefits for Patients
MSI International polled Americans to find out which remote patient monitoring benefits they valued the most. Truly, RPM is an innovative technology created to bring outstanding healthcare experiences for patients. What else can be achieved with the help of RPM? The following list of benefits of remote patient monitoring explains it in detail.
Streamlined access to healthcare
People with chronic diseases must have regular checkups to stay healthy. Unfortunately, getting to a doctor in some remote areas can be difficult. RPM applications can collect information such as a patient's blood pressure cuffs, sugar level, and body temperature and send it directly to the doctor. Another issue that RPM addresses are managing patients with mobility issues so that they do not have to make special efforts to see their doctor. Similarly, RPM is extremely beneficial to the elderly population. Consider how technology can make their lives easier, given that 80% of older adults have at least one of the chronic conditions.
Improved quality of care
RPM, which is loaded with advanced analytic features, provides valuable data to healthcare providers. RPM tools collect data from patients in real-time. The analytical reports assist in providing more accurate chronic care plans. Furthermore, because of the immediate connection with patients, physicians can assist their patients in the event of a critical situation.
The goal of modern RPM applications is to increase patient engagement. For example, gamification and notifications encourage patients to take charge of their health. Patients are rewarded if they take their health indicators five days in a row. More participation means more data for healthcare providers, which leads to better treatment.
Constant professional assistance
RPM is more than just collecting data. Most RPM solutions include communication tools such as chats, video calls, and so on. When patients participate in remote patient monitoring programs, they can receive continuous professional assistance with their emotional and physical chronic conditions.
Enhanced patient involvement
RPM gives patients tools to help them understand their chronic conditions better. And when a patient understands what precautions should be taken and accepts responsibility for his own health, he will see positive results. Furthermore, easy access to materials promotes such involvement.
Reduced risks of getting diseases in hospitals
RPM eliminates the need for patients to visit a hospital or clinic where they could become susceptible to infection. The absence of the need for a personal visit reduces the risk of infection. The absence of in-person visits is especially beneficial for the geriatric population and those patients suffering from diseases, including pregnant or immunocompromised patients.
Improved user experience & satisfaction
RPM enables more patients to receive telehealth services where they are. RPM services allow them to avoid going to the hospital and instead receive effective and safe treatment from the comfort of their own home.
Streamlined doctor-patient relationships
Remote monitoring increase communication opportunities between primary care teams and patients and connect patients with docs. As a result, patient loyalty and job satisfaction improve. Besides, an established relationship demonstrates to patients that their care team monitors and cares for them.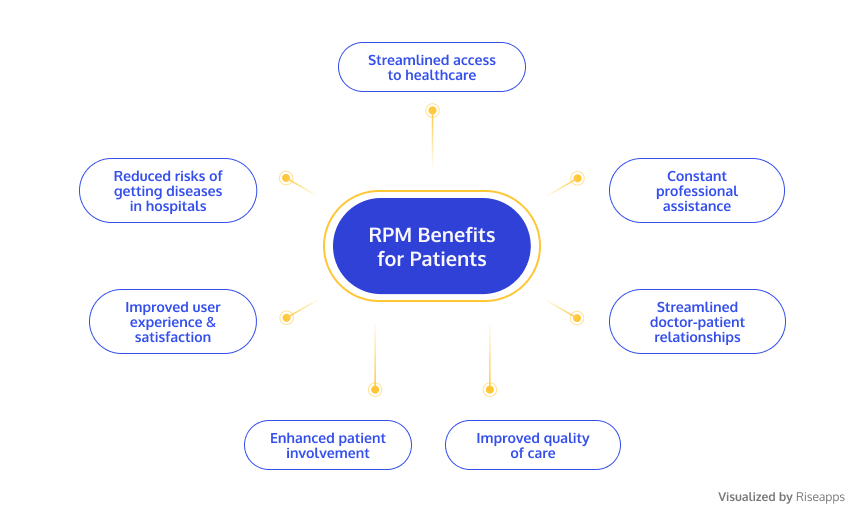 Want to launch your remote patient monitoring startup?
Learn more
Benefits of RPM for Healthcare Providers
It could be argued that RPM is very helpful for healthcare institutions because it promotes virtual care in patient's homes. The benefits of remote patient monitoring for healthcare providers are the following:
Lower readmission rates
America's Health Insurance Plans' survey reports that 40% of senior citizens enrolled in RPM programs reduced hospital admissions and readmission, and 76% were less likely to be readmitted to a hospital. 
The Trinity Health RPM program is described in detail below.
The Trinity program is a 30-day trial for patients who have received episodic Medicare discharges. The patients were encouraged to interact with an automated virtual assistant who directed them to self-report their health data. Readmission rates dropped from 18% to 8% by the end of the RPM program, demonstrating that RPM produces positive results quickly.
Severe conditions monitoring
Acute and chronic conditions, such as heart disease or Chronic Obstructive Pulmonary Disease (COPD), necessitate specialized chronic care that can be expensive or even out of reach for some patients. RPM devices such as a pulse oximeter, smart scales, and blood pressure aid in the detection of chronic disease side effects such as low oxygen levels and sudden gain in weight scales, which indicate vital signs and changes in COPD and heart failure patients.
Enhanced medical data processing
Daily, healthcare professionals deal with a deluge of patient information. Since manual patient data collection and analysis require time and human resources, RPM can handle routine tasks. For example, questionnaire applications collect physiologic data quickly. Precision medicine applications structure and analyze anonymized patient data. RPM apps and IoT devices collect data from patients, such as blood pressure, and send it directly to the auxiliary personnel. The automated data collection and analysis approach frees up practitioners' time to provide quality care.
Improved patient outcomes
Cost-effectiveness is one of the benefits of healthcare facilities.
Because hospitalization and acute care are expensive, the benefits of monitoring can help reduce readmission rates and keep acute disease from worsening. This could result in an affordable care act for a healthcare provider. A report estimating RPM's annual cost savings at more than USD 6 billion demonstrates this.
Another benefit is reducing the financial burden of treating common but costly chronic diseases in the United States, such as diabetes and obesity in rural residents. The American Diabetes Association estimates the annual cost of diabetes treatment at USD 327 billion, while the CDC puts the cost of obesity treatment at USD 147 billion.
In this instance, the application of RPM significantly reduces patient outcomes by aiding practitioners in addressing patients' health issues promptly.
Data-Driven Clinical Decision-Making
RPM benefits medical professionals by providing biometric data that can be used to make informed treatment decisions. A doctor can track a patient's progress and respond appropriately based on data such as the emergence of new symptoms or the progression of existing ones.
Increased Clinical Staff
The lack of staff is making it hard to monitor patients remotely. RPM can help cut down on the number of scheduled in-person office visits by letting the disease care team give this kind of care delivery online.
Streamlined retention & referral rates
One frequently overlooked benefit of remote patient monitoring for doctors is that it increases both referrals and revenue. Patients' convenient access to IT healthcare will improve care management and attract new customers. As a result, patients become more loyal to hospitals that meet their need for convenience.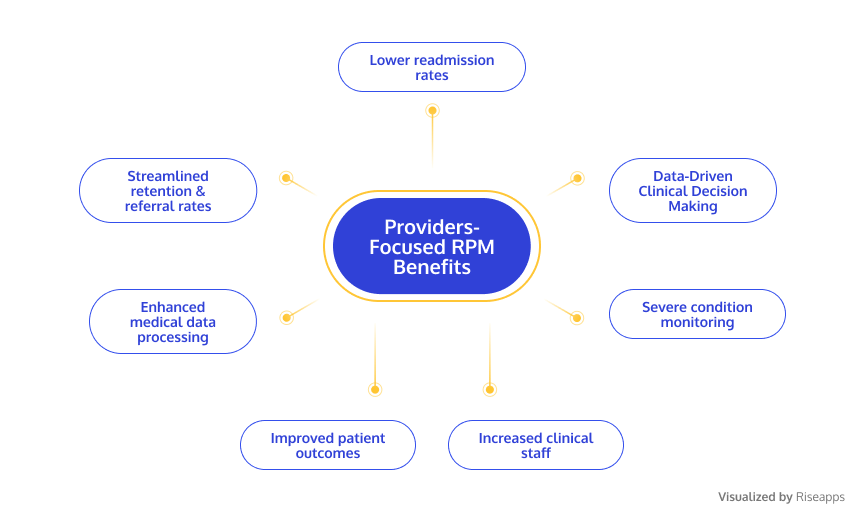 Remote Patient Monitoring Benefits for Key Organizations that Need RPM Systems
Currently, about 88% of hospitals are spending or planning to invest in monitoring. According to the Consumer Technology Association (CTA), 68% of healthcare organizations are fully willing to use monitoring solutions to help providers keep high-risk patients healthy. So who can implement RPM systems into a business?
For pharmaceutical companies that develop new ways of healing and treatment, it is a way for them to increase sales.
For clinics and doctors, RPM is the possibility to improve their quality of service and reputation by better protecting themselves from patient suits.
For insurance companies, this is an opportunity to reduce the number of insured events by strengthening the responsibility of the patient. And this is a good reason for insurance companies to start investing in the implementation of such health systems.
For manufacturers of equipment, this is a chance to enter a new market for mass products, as well as develop their competence.
Meanwhile, hospitals are implementing bedside monitoring solutions and using remote controls. Some facilities use extension cords to install specialized monitors and infusion pumps outside of rooms. This technology is used, for example, in the ICU at the Northwell Clinic in New York. The Philips ICCA platform automatically collects RPM data from patients' bedside equipment, analyzes it, and presents it to professionals in a convenient format.
How RPM Benefits Will Affect the Future of the HealthTech Market 
RPM adoption is just getting started. The interest of healthcare providers in investing in RPM is high. The RPM market is worth USD 1.2 billion in 2021 and is expected to grow to more than USD 4 billion by 2028. We have witnessed rapid market growth since Medicare added the RPM program to its coverage in April 2021.
As the evolution continues, miniaturization will be the next big thing in RPM. This will put more wearable technology in the hands of users. Wearable RPM technology will also educate and guide providers and patients. It will assist providers in better understanding patient health information.
In addition to wearables, blockchain-based EHRs, telehealth, AI, patient portals, and analytics will drive the digital health sector's expansion.
Some experts already strongly advise that patients be monitored at home. Remotely managing patients saves time and effort, while also lowering hospital costs for treating common diseases.
Analysts predict that the market for RPM devices for diseases will soon be worth billions of dollars, particularly in regions of the world where the aging population is rapidly increasing.
Hence, telehealth solutions providers should prioritize the following technology and medical device:
Automatic remote monitoring. Data from bedside monitors can be fed into a centralized workstation for analysis using automation tools. These RPM devices reduce the need for staff to move around the hospital and lower the risk of employee infection.
Portable wireless monitors. Wireless monitoring is especially important when the patient must be transferred between departments. If a stationary monitor is used, information will not be available while driving. A lack of data can have a significant impact on health outcomes. Wireless monitors also enable doctors to always have the most up-to-date and accurate information about human health at their fingertips.
Comprehensive intelligent monitoring. This technology allows clinical pharmacists to see a complete picture of the patient's acute and chronic conditions and simplifies data analysis and collection.
Contactless solutions. The best way to understand how contactless technologies work is to imagine a set of wearable biosensors or video camera-based health systems. These technologies reduce the number of staff contacts with infected patients. In the future, they will be useful for remote monitoring of people's health, particularly those with diseases.
According to experts, the primary drivers of market growth are:
Development of information and communication technology infrastructure in leading countries. In particular, this includes the rapid digitalization of healthcare and the use of social media.
Strong demand for wearable electronics and medical RPM device options.
The need for medical institutions to enhance patient interaction by implementing real-time monitoring technologies.
Work towards optimizing care management or population health teams and reducing the number of human errors.
The global market's development is hampered by a lack of insurance coverage, awareness among healthcare workers in some parts of the world, as well as the high cost of such developments in comparison to traditional methods. Furthermore, the adoption of new technologies is accompanied by worries about health data leaks and the emergence of cyber threats.
We can expect implants that are responsible for the growth and restoration of bone tissue in the event of bone damage or removal, remote patient monitoring devices that suppress hunger, insulin pumps, remote-controlled defibrillators, migraine neutralizers, oxygen saturation levels, and much more.
Mobile health and miniaturization will lead to RPM development innovations as more people use mobile devices in their daily lives. RPM providers should be prepared to deliver compliant and research-driven solutions that are backed up by necessary patents.
Why Riseapps as Your RPM Software Development Partner 
At Riseapps, we help startups, SMBs, and enterprise-level companies transform their ideas or existing systems systems into full-featured, pitch-ready, and HIPAA-compliant digital products with our healthcare mobile application development expertise. With 7 years in the telemedicine industry, our main focus is on the creation of dependable and adaptable custom RPMs that meet your specific needs. More than that, we use the latest technology and guarantee you better health outcomes with the help of the Remote Patient Monitoring App.
Based on our healthcare expertise, we deliver:
RPM Systems
AI/ML-powered health tech platforms
Telemedicine/Telehealth products
mHealth solutions
Medication and e-prescribing.
For example, CareHalo – a world-class RPM web monitoring module for a patient care platform. Ranking first place by FedEx, it includes such solutions:
Web-based RPM platform development
Client-focused platform user experience and interface design
Implemented HIPAA-compliant data access for collecting, starting, and managing patients' sensitive information.

Healthcare Software Development for CareHalo
Also, Skinpick – a market-leading mental health platform for excoriation disorder treatment. During 3 years, we have helped the platform to get featured in Psychology Today, PsychCentral, and the TLC Foundation, and raise more than $1M in funding.
So, the core project engagement activities included:
Transformed an MVP-based version into a full-featured product
Full-fledged UI/UX design to renovate the platform's look-n-feel
SMM and marketing materials design
Adopted a brand-new treatment plan system and got a 35% of provider and patient satisfaction rate growth
Redesigned the user experience and navigation to get a 200% platform usage growth
30% conversion rate boost in the first 30 after-release dates.

Healthcare Software Development for Skinpick
Want to see more of our success stories? You can view our comprehensive portfolio on Clutch.
Wrapping Up
RPM is an effective tool for providing advanced patient care to people with diseases. The RPM healthcare system is intended to collect vital health information from patients at a distance, improving medical care quality while saving healthcare organizations money. Several recent studies have demonstrated the clinical benefits that influenced the lost productivity annually. However, our industry still needs reimbursement reform.
The benefits of monitoring have been proved by several researchers lately. So, planning to build an RPM system? We have the resources to assemble a dedicated development team fluent in HIPAA regulations and with experience in health system development.
Need professional assistance in creating your RPM?
Contact us
FAQs
---
What is the purpose of remote monitoring?

---

The goal of remote monitoring is to monitor patients outside of regular clinical locations, such as at home or in a remote area, which can increase access to care and reduce healthcare costs.
---
Why is the patient monitoring system important?

---

The patient monitoring system allows doctors to monitor the progress of the disease in real-time using special software, sensors, the clinic's data center, the patient's smartphone, and a telecom operator's service.
---
What are the rpm benefits?

---

The battle-tested benefits of monitoring include:

Quality improvement
Convenience
Efficiency
Control over personal health
Greater accuracy
Peace of mind.