Despite multiple global circumstances, barriers, impactful factors, and the global recession, the IT services market is still striving to help brands deliver the technology solutions they need to revolutionize the industry-specific market and provide value to millions of users. We're glad we could help startups, SMBs, medium-sized companies, and enterprise-level organizations transform their business ideas into market-ready digital solutions to secure funds and seize the markets.
Leading B2B Service Providers in Estonia
We're happy to share that Clutch named RiseApps as the Leading Service Provider In Estonia among 30 top-rated companies. It's a pleasure to get recognized by the market-leading B2B ratings and review platform and we'd like to thank our clients, partners, colleagues, and top-rated platforms for showing their gratitude and affection.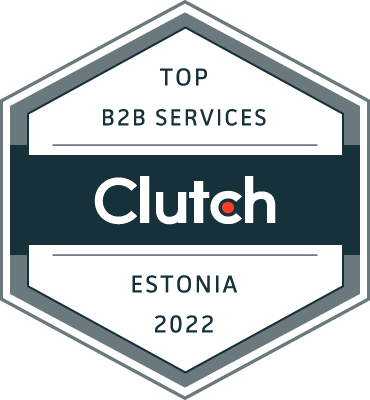 The core factors Clutch considers to feature RiseApps in the ranking are:
Quantity, quality, and relevance of reviews from partners
The choice of client companies we worked with
The services offered and experience in providing them
Brand reputation and visibility within target markets.
So, we currently have the following profile numbers:
Overall Clutch score: 4.9 out of 5
Verified reviews from clients: 43
Average client reviews rate: 4.8
Designed cases in portfolio: 36
RiseApps is intended to focus on delivering even a higher level of service and way more complex products for our clients to facilitate technology development and their business growth.
You're welcome to visit our Clutch profile and explore the reviews, awards, and services we provide.
"We appreciate being named a leading B2B sevice company on Clutch. This reward is a great evaluation to our team, and enthusiasm we put in working with every project. We are happy to deliver great apps for our clients. Always hungry for more projects, collaboration and success stories we will be happy to be a part of."

– Vladlen Shulepov, CEO of Riseapps.
Want to Know More About RiseApps and How We Work?
We're at your service. Just contact us and we'll schedule an intro meeting.
Contact Us