Kitchenful
$1.9M Secured & Expanded to New Markets for a Foodtech Platform
Client:

Kitchenful, a Germany-based foodtech startup

Industry:

FoodTech

Platform:

iOS, Android and Web
Client's Background
Kitchenful is a Germany-based foodtech startup helping millions of users around the globe to solve both grocery delivery and home cooking in one place. The app allows users to browse recipes from food bloggers and have personalized meal plans created, adjustable to preferences and dietary requirements.
More than that, the Kitchenful's app provides personalized recommendations of recipes, which gets users the ingredients delivered from their local supermarket. The algorithm always suggests the most popular recipes that are 40% cheaper than meal kits.
Backed by $2M in funding, the startup got trusted by Google, Livestorm, YCombinator, and TechCrunch, and became a 2021 ProductHunt Golden Kitty Winner.
Initial Kitchenful's Requests
Kitchenful reached out to Riseapps to help them deliver a cross-platform mobile application from the ground up, secure funding rounds, and expand into EU and North America markets.
– Design, develop, and launch the startup mobile product from the ground up in less than 6 months
– Ideate and implement navigation flows) for 3 target audiences (cooking fans, meal-planning lovers, and event cooking addicts
– Hire a dedicated team of UI/UX designers and software engineers and kick off the project delivery phase in less than 1 month
– Integrate the application with Walmart, AmazonFresh, WholeFoods, and Trader Joe's to provide in-app online grocery shopping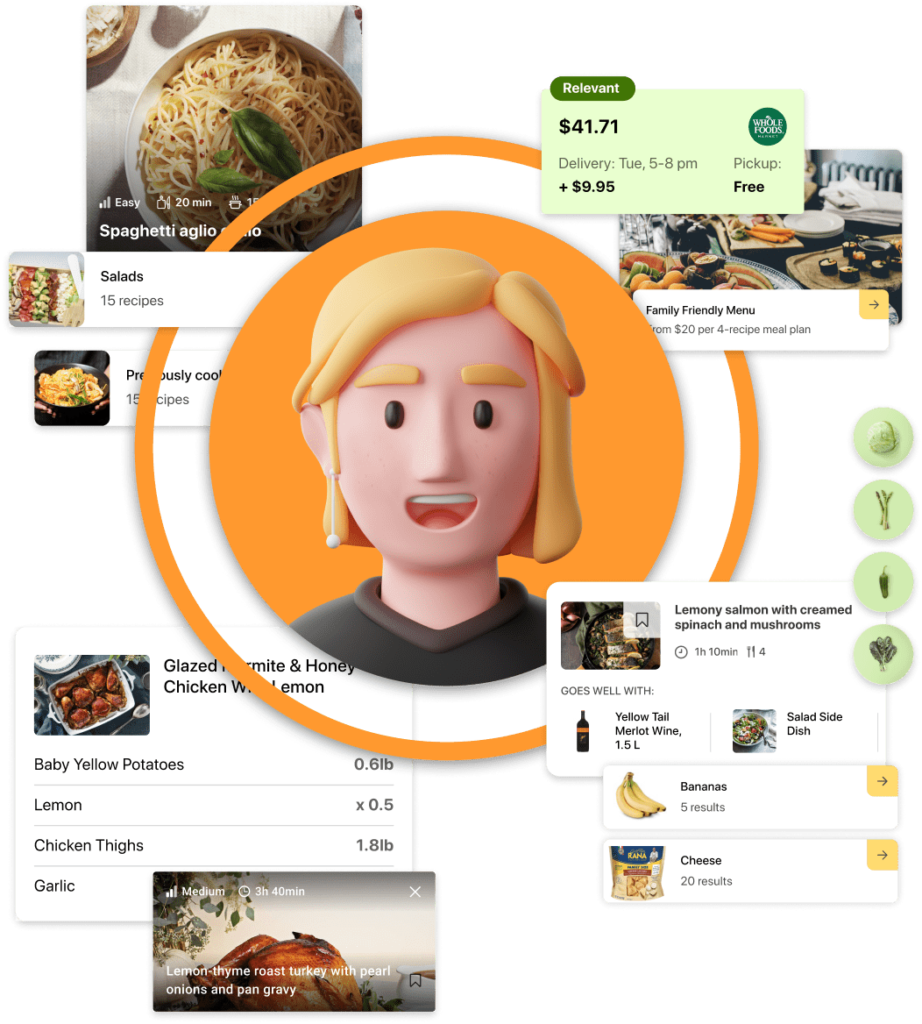 Challenges
– Staff a dedicated team of UI/UX designers and devs to help the startup build and launch a cross-platform mobile application from scratch in less than 6 months.
– Implement multiple scenarios for several target audiences and integrate the app with Walmart, AmazonFresh, WholeFoods, and Trader Joe's to provide in-app online grocery shopping.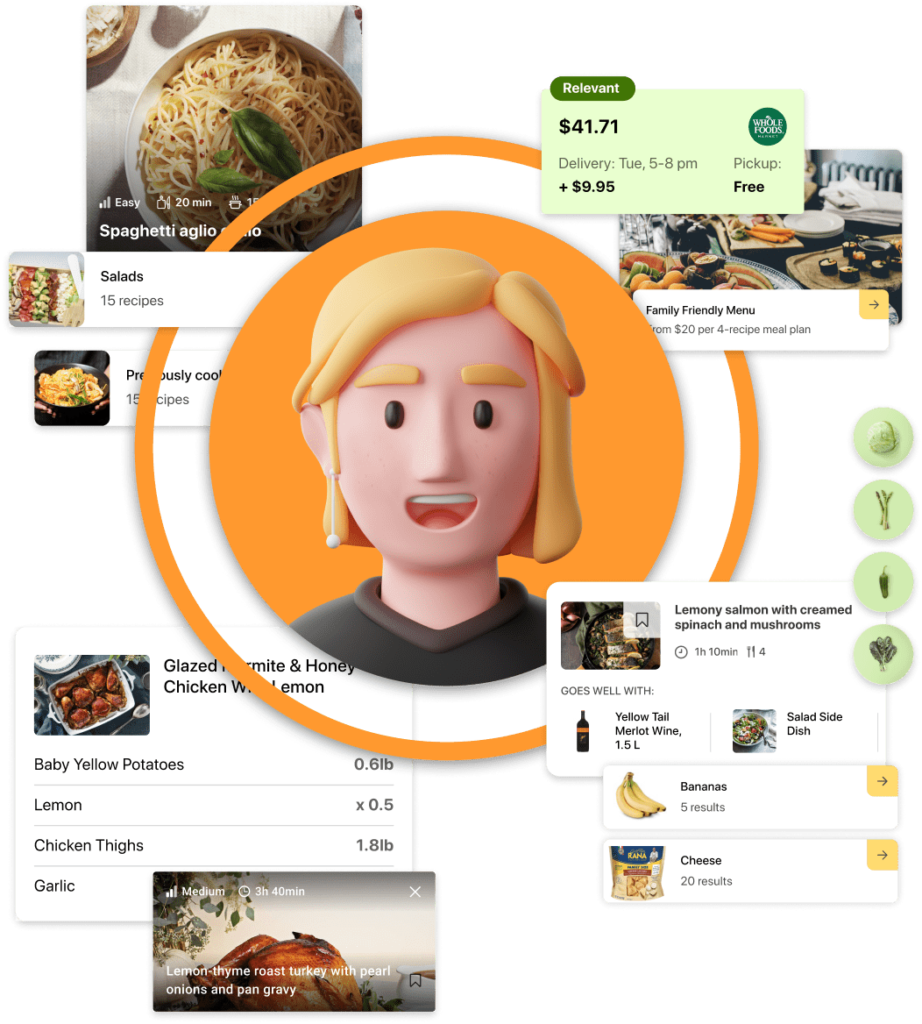 Solutions
Full-Featured Navigation for Cooking Fans
As one of the core buyer personas, cooking fans can now browse through thousands of recipes within multiple cuisines, add them to their favorites or bookmarks, see the PFC (protein, fat, carbs) for each ingredient, adjust the desired cooking guide, alter both the ingredients and quantity and much more.
It's never been easier for cooking lovers to explore, learn, and transform recipes into tasty meals right in one place.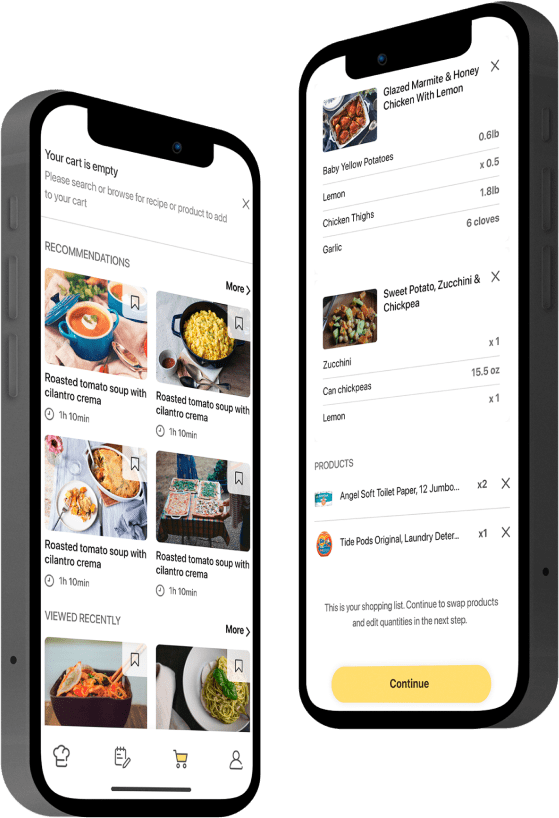 Functionality Module for Event Cooking Addicts
As mostly cook for family or national holidays, event-cooking addicts now can access tons of family-friendly recipes and guides for a whole company with pre-calculated ingredients, prices, adjustable pantries, video how-tos, and one-stop in-app grocery shopping to take the ingredients away and just start cooking.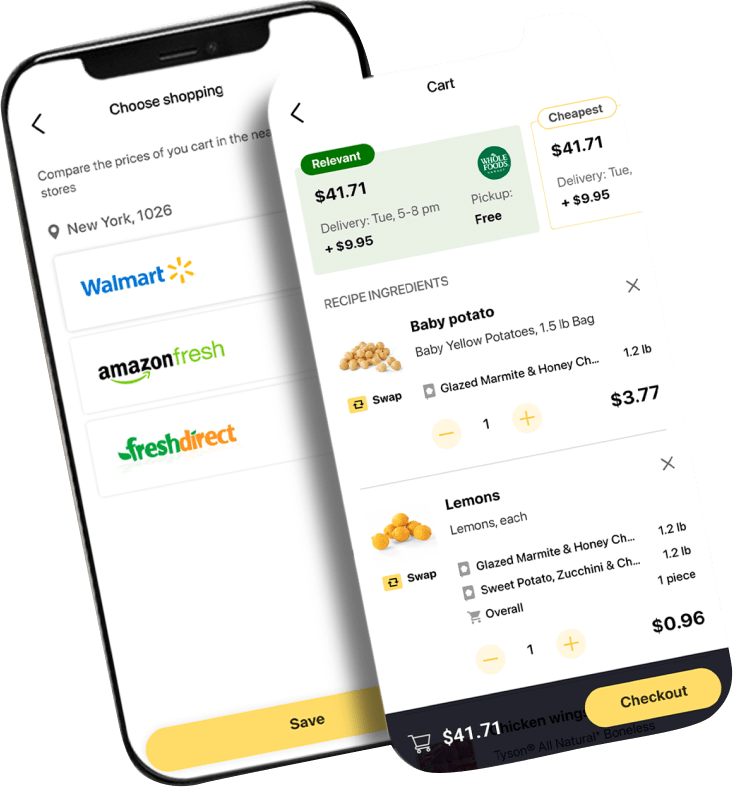 In-App Online Grocery Shopping
With COVID-19 entering the landscape, Kitchenful decided to hold users back from in-person-only grocery shopping by offering seamless integration with AmazonFresh, Whole Foods Market, Trader Joe's, and Walmart.
We've completed the integration and now users can order and purchase in one place without any personal touch and COVID-19 risks.
Whether customers want to pick ingredients up or go through delivery, the Kitchneful app gets them covered.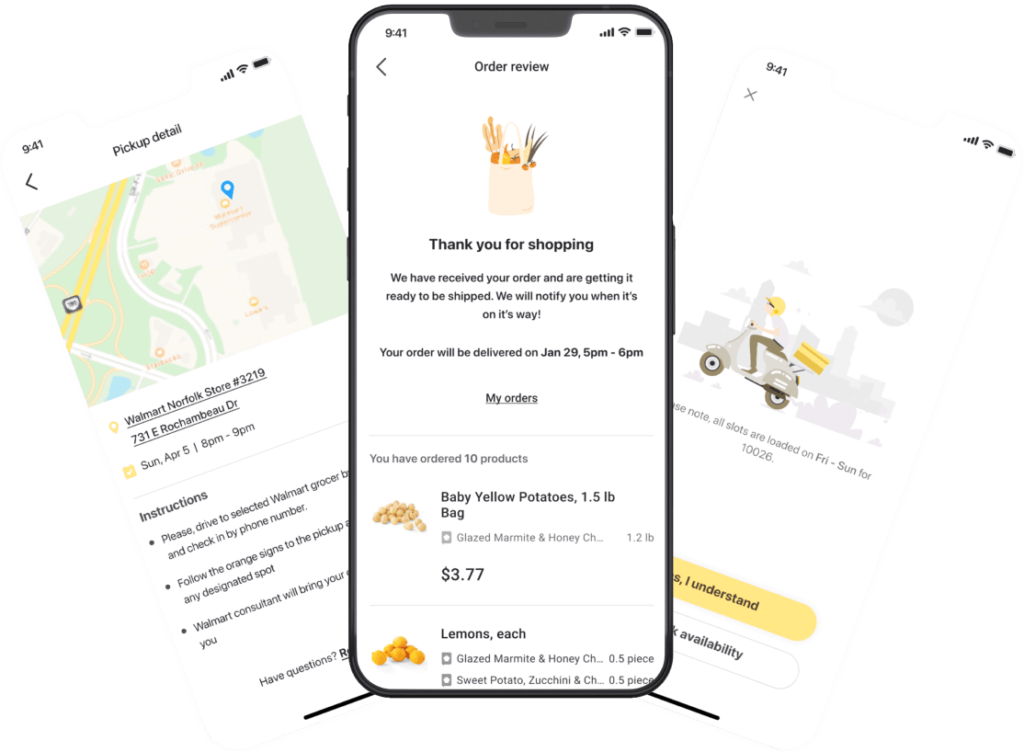 Pantry Leftover Management
We helped Kitchenful go the extra mile with managing customers' pantry leftovers. Once users select a meal plan, adjust the pantry, and purchase ingredients, the application analyzes their pantry resource allocation and creates recommendations on how to effectively utilize the leftovers.
For instance, users get personalized pantry-based recipes to cook out from their leftovers. This way, customers go through waste-free cooking thus optimizing budget costs and automating leftover management at hand.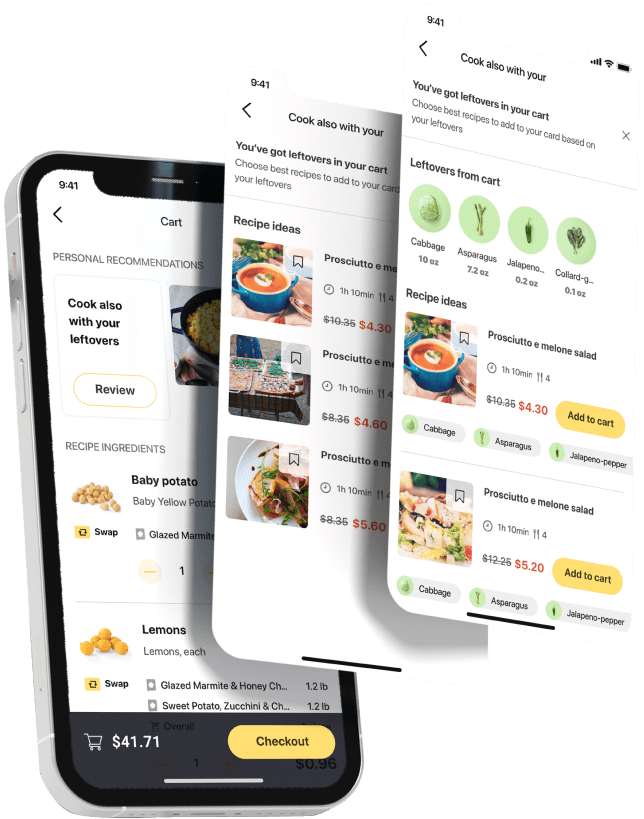 Shopping Cart / Pantry Builder
We designed and implemented a two-way shopping cart/pantry builder through a) recipes and b) ingredients.
If a recipe-based option is intuitive, building your pantry through ingredients now allows for:
– Automated price comparison (within integrated supermarkets)
– Sorting by organicity/relevance/price
– Automated alternative ingredient suggestions
– And many others.
Gamified Onboarding that Impacts Recommendations and Guides
Once users sign up, they go through a detailed onboarding process filling in multiple data like:
– Household information
– Favorite cuisines
– Dieting preferences
– Allergy details
– Local service by ZIP code
– Many others.
Once completed, users get personalized-only recipes, meal plans, and recommendations.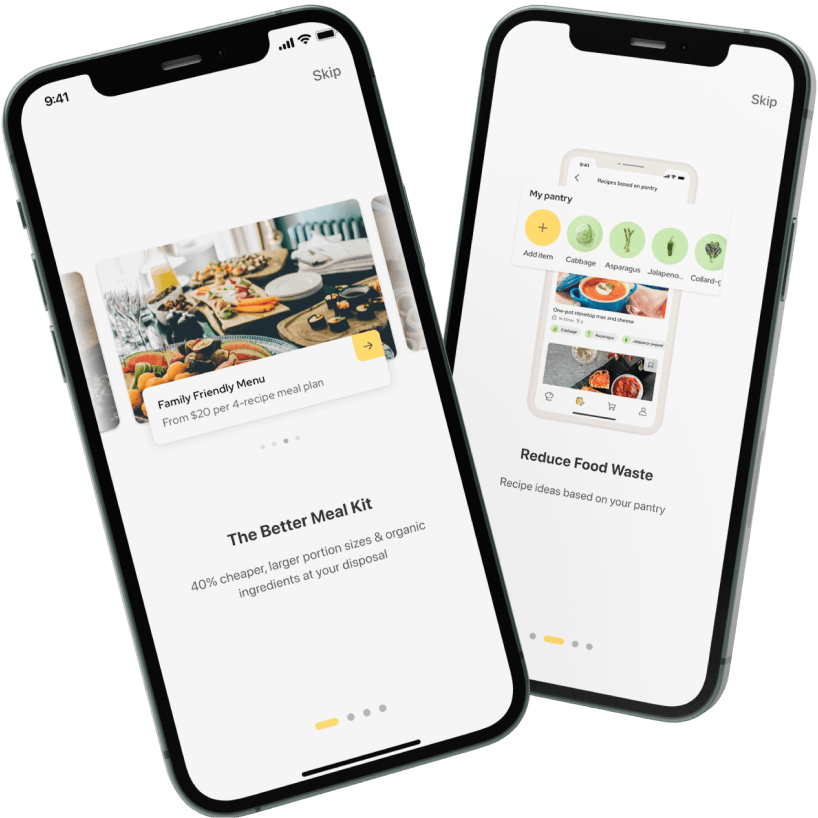 Results
$1.9m Funds Raised and Backed by YCombinator
Riseapps helped Kitchenful develop and launch their full-featured mobile applications and secure over $1.9m in funds from VentureFriends, YCombinator, and 7 more investors.
Expansion to EU & North Americas Markets
With the help of Riseapps' dedicated expertise, Kitchenful started expanding its product to new markets like North America and Western Europe.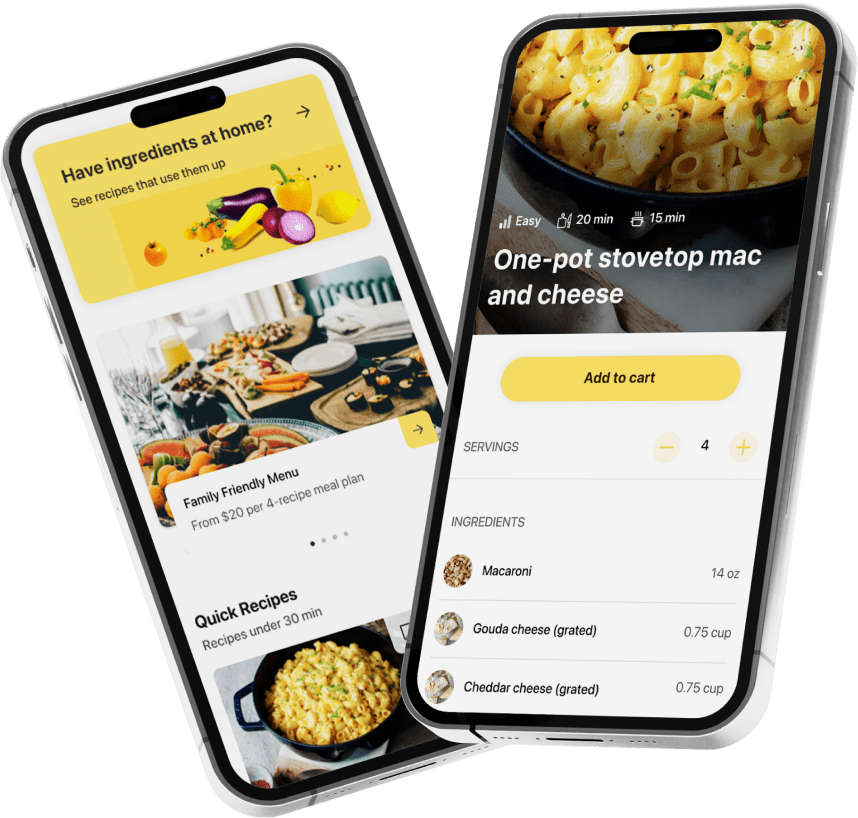 Ready to collaborate?
Drop us a line