Today, the edtech market offers startups and SMEs a lot of affordable custom learning solutions through custom LMS development. Due to training industry modernization, elearning development companies take leading positions in the market for several years and are now continuing to experience huge growth.
The reason for such a boom in education software development companies is strongly linked to the heightened demand for convenience among customers.  However, finding the best enterprise learning solution and elearning development company to boost your product can be tricky. These and many other concerns will be addressed in this post.
Must-Read List of 8 Education Software Development Companies
Custom elearning development means creating software applications for enterprise-level vendors that are looking for elearning partners. It involves the ordering, development, and release of a software product.
A modern online learning platform must match the needs of start-ups, SMEs, and enterprise-level vendors. And depending on the user, the dynamic and customizable platform requires different functions, since the requirements for elearning content development companies are also different. But how to choose the right one and how to start an edtech startup?
To make this decision easier for you, we have prepared a tailor-made list of 8 top elearning content development companies based on Clutch reviews. Below you will find paid and free development services and learning solutions that offer custom software elearning development starting from the very creation of the product to its further supply.
Riseapps 
Founded: 2016
Location: Estonia, Poland, Ukraine
Services: Custom software development, e learning development team augmentation, UI/UX design, product reengineering & support
Core domains: eLearning, Healthcare, FitTech, HR Tech
Hourly rates: $25-$49
Riseapps helps education technology startups, SMBs, and enterprise-level elearning providers streamline their online learning practice. A full-cycle edtech software elearning app development company delivers and scales ISLE-compliant solutions using all the benefits of gamification elearning and such technologies:
Internet of Things
Data Science & Machine Learning
Computer Vision
Natural Language Processing.
With over 6 years of experience in e-learning, this elearning software development company offers edtech legacy system modernization, elearning product consulting & audit, edtech-enabled dedicated teams, UI/UX design, quality assurance & testing, DevOps & cloud migration, and online learning platform support. 
Riseapps provides edtech startups and elearning providers with practice in full and strict compliance with the required industry-wide standards. Following all the necessary regulations, the elearning company guarantees that the final mobile learning product will meet patient data privacy requirements.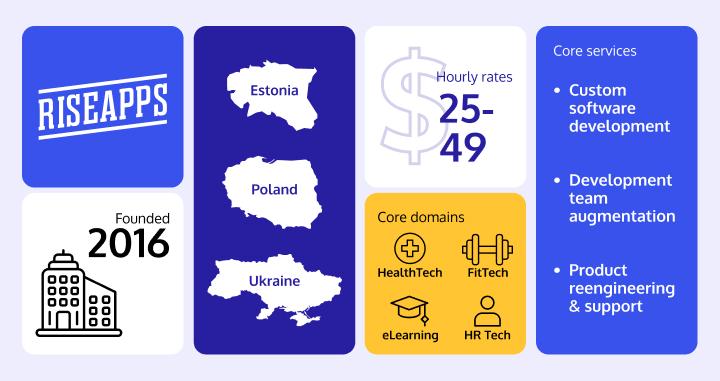 Innofied Solution 
Founded: 2012
Location: USA, Australia, India, UK
Services: eLearning development, Web development, UI/UX Design
Core domains: Mobile app Development, Web Development, Game Development Technologies, UI/UX Design
Hourly rates: $25-$49
Innofied Solution is a custom elearning development company with offices around the world. One of the best companies in the USA offers the development of various elearning solutions for other industries. One of the unique e-learning products they created is Barnoparichay, a foreign language online education app for kids, and Pupil Aspire academic monitoring system.
Geniusee 
Founded: 2017
Location: Ukraine, Poland
Services: UI/UX, business analysis and development, building, delivering, and supporting web solutions
Core domains: Software and App Development, FitTech, HR Tech
Hourly rates: $25-$49
Geniusee is Ukraine-based software and product development company that is mainly focused on FinTech, EdTech, and other industries. The elearning company is a certified AWS Consulting Partner, and AWS Advanced Tiery Service Partner. The top corporate training company also offers developing products and services, as well as consulting and support for various clients and partners worldwide, including USA, UK, Germany, Switzerland, Japan, and Singapore.
Experion Technologies 
Founded: 2006
Location: North America, Europe, UK, Asia, Australia
Services: product development, UI/UX engineering services, technology consulting services
Core domains: Healthcare and Life Sciences, Financial Services, EduTech
Hourly rates: $25-$49
Experion Technologies is occupied with digital product engineering. One the most popular companies in the USA with 350 clients from 35 countries provides customers with Web, Data Science, Analytics, ML, AI, Cloud, IoT & Mobile technologies. Their capabilities range from:
Product Incubation
Learning Strategies and Consulting
Instructional Design Services
Digital Product Engineering
Insights and Automation
Testing and Quality Assurance
Product Maintenance Services.
iTechArt Group 
Founded: 2002
Location: USA, UK, Poland, Austria, Poland, Ukraine
Services: Web/Mobile development, QA and testing, Cloud development, UI/UX design, 
Core domains: FitTech, Tech
Hourly rates: $50-$99
iTechArt Group comprises a team of professionals in the development, testing, and service support of software products, modernization, and integration of business applications. One of the most well-known companies in the USA develops elearning solutions to help clients solve business problems while also providing startups and legacy businesses with technical expertise to speed up their work process. iTechArt Group is home to over 3,500 engineers, consultants, and specialists who deliver deep and innovative expertise. Among their clients are Gain Capital, Oracle, ClassPass, and Blackboard.
Radixweb 
Founded: 2000
Location: USA, Canada, Australia, Denmark, Morocco
Services: software product development, re-engineering, enhancement & maintenance, enterprise application development, implementation, and integration learning solution services
Core domains: Web and Mobile Development
Hourly rates: $25-$49
Radixweb is one of the most attractive companies in the USA and helps both startups and large companies by assembling software engineers who digitally transform these businesses using real-time applications delivered on the Cloud or as a SaaS product. Having expertise in web, mobile, cloud, DevOps, and emerging technologies, the team of 650+ developers delivers high-performing elearning solutions and ROI. Other services and digital learning solutions include:
cloud computing
enterprise services
learning management systems software
embedded development
driver Development. 
Incora 
Founded: 2015
Location: Ukraine
Services: Web/Mobile App Development, Discovery phase, DevOps, UI/UX Design, and QA
Core domains: EduTech, HealthTech, eCommerce, FinTech
Hourly rates: $25-$49
Incora is considered a full-service software elearning development company with experience in delivering different software programs. Its field of expertise (7 years) cuts across Delivery & Shipping, EduTech, HealthTech, eCommerce, and FinTech. 
RNF Technologies 
Founded: 2009
Location: USA, India
Services: eLearning development, mobile app development, staff augmentation
Core domains: Healthcare, Telecom, IT
Hourly rates: $25-$49
RNF Technologies is one of the companies in the USA. The eLearning development company builds cutting-edge elearning solutions for clients in diverse industries. The satisfied customers note the good quality of software products as well as the professional team of developers and instructional designers.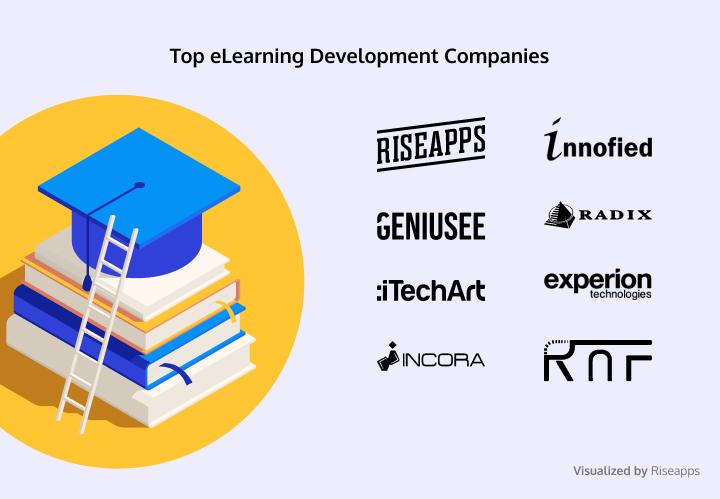 How to Choose The Right-Fit eLearning Development Company 
Today, top elearning companies are the main tool of the elearning industry transformation process. So, how to choose a competent company that will help you achieve your core goals and take your elearning business to the next level? Finding the perfect elearning partner always takes time and deep analysis. Here are some tips to help you in your elearning development company research.
Determine requirements
First of all, you must clearly define your requests. Before you provide your selected company with a plan for your elearning project, find answers to two key questions: What do you need? Who can successfully complete these tasks?
Write a business strategy
Think it out with the following questions:
Are you considering a short or long-term partnership?
Do you have any principles regarding the elearning development of the project?
How often would you like to be in touch with the team to track results?
How often would you like to receive progress reports on your project?
This understanding will make it easier for you to negotiate in the future because you will have a clear set of requirements.
Write a brief
In a brief description, describe in detail your task for developers, and demand from them an estimate of your expenses in return. The response from the elearning companies will show that the team is ready to provide you with everything you need even before cooperation. This will prevent overpaying or a false price.
Turn to references
Ask your familiar partners about the mobile app development companies, they are working with or have worked with. They can advise you on several options based on their work experience. Discuss in detail with them their cooperation: how satisfied they were and what were the key reasons they preferred the elearning company. Finally, analyze how these benefits can help your team and then draw conclusions.
Analyze reviews
Once you have selected a few suitable options, check out their previous online learning experience by analyzing various reviews. These should be reviews from reliable resources that are publicly available on the Internet. They can be located both on the main page of the website and in the comments section. In addition to social networks, you can check Clutch and Upwork where each verified IT company has its profile.
On these platforms, you will find information about the problems faced by clients and you will understand what to expect during the cooperation. Try to communicate with the best elearning companies on social media and blogs to find out as much info as possible.
Ask elearning companies for portfolios
Always check the company's knowledge of the technologies you are interested in, and experience in different areas. The portfolio should feature a wide range of elearning projects in the elearning niche. Read all the information carefully and evaluate the examples. 
Check community involvement in events
The fact that the company actively participates in various events and is interested in the IT community shows that you can trust the company. For example, the company participates in conferences/conducts webinars where it shares useful tools/issues manuals, and publications on its blog/has numerous awards.
Look at active accounts on social media
It is very important that the company has an active blog with posts that are regularly updated (always check the date). This shows the experience of a company that can provide additional information about its services and learning solutions. In addition, users can evaluate the qualifications of the company. We advise you to pay attention to LinkedIn where you can find out the location, team, and other details of the company.
Analyze the technologies offered by the company
Find out what technologies the company works with and whether they can be implemented in your project. After all, different projects require different innovative solutions, and often even the best elearning companies may not have the technology you need to achieve your professional goals. In addition, it is very important that the company is aware of all the latest technologies because the tools are constantly changing and it is essential to keep track of these changes.
Look at the learning management system tools that the company offers
With the help of learning management system tools, the team can fulfill your requirements and also follow time limits. A reliable company always provides a transparent report and access to the project management tools where they manage: Slack, Jira, Confluence, etc.
Study the elearning company's structure
Find out more about the team members who will work with your product. Request a list of key professionals: Product Manager, UI/UX Specialist, Developer Specialists, Business Analysts, Quality Assurance Engineers, and Solution Architect. Having a full team, where there are all the necessary specialists, will provide a successful finished product that will meet all your expectations and even more.
Ask elearning companies how the work process is going
Find out more about everyday communication: what is the call schedule, what tracking tools will be used during the development process, and with whom from the team will your meetings take place.
Pay attention to work ethic
Pay attention to the values ​​of the people you are going to work with – ask questions that interest you and look at how they react.
Ask elearning companies about security matters
A reliable IT vendor has a security policy so you can monitor all ongoing operations. Consider only elearning companies that comply with the ISO/IEC 27001 security standard.
Why Riseapps Among Other eLearning Development Companies
Riseapps is an end-to-end edtech product development company headquartered in Estonia boasting 6+ years of hands-on experience in creating custom eLearning solutions. Riseapps is a reliable product development partner, adviser, and implementer focused on helping clients boost their e-learning practice to a completely new level.
The elearning software development company covers the technology needs of edtech startups, leading elearning providers, and elearning companies who are determined to succeed in their niche by implementing an LMS marketing strategy that digitizes work. Riseapps is trusted by hundreds of global organizations, including PowertoFly, Enroly, Melanence, and much more for its outstanding expertise, transparency & commitment.
Lingu – a language learning platform. Raising $1M in funding, the LMS-based platform is also featured in The Local. During our engagement with Lingu, we delivered the following technology solutions:
From-scratch frontend-focused eLearning mobile app development
Gamification of the social learning process and experiences
Business analysis and project management delivery.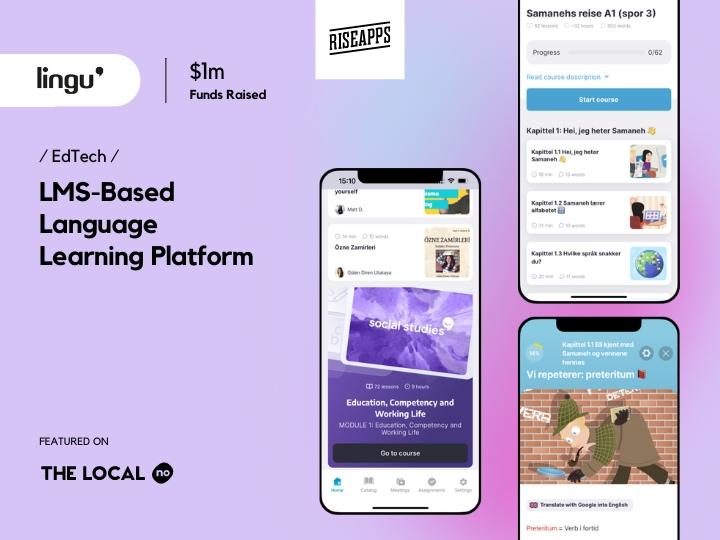 Also, MatchSpace Music – is a leading platform in Switzerland for private music lessons and teachers. During the collaboration with the platform that provides online courses, we have helped the Edtech and Mental Health platform raise over $1M in funding.
So, the core project engagement activities included:
From-scratch user experience instructional design with filtering and navigation features
Full-featured user interface design to streamline the user onboarding process
Implemented the incremental static regeneration architecture to improve performance, security, and speed up build times
Utilized an advanced tech stack to reuse the current native-based functionality in a time- and cost-effective manner.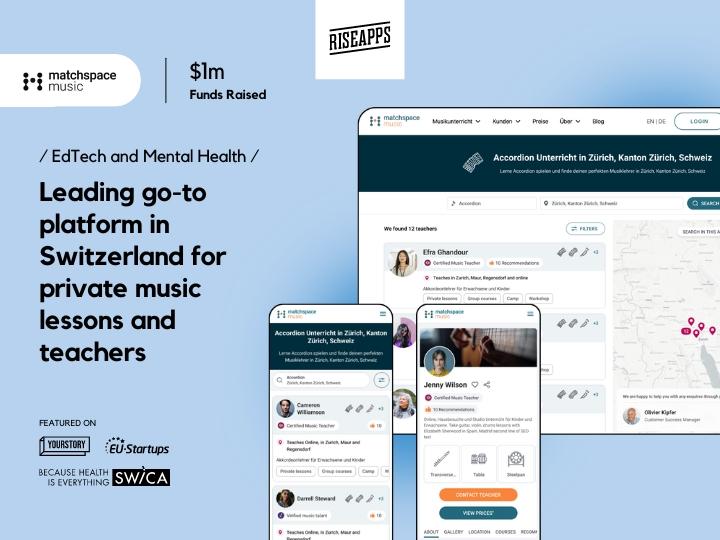 Matchspace – eLearning development
Wrapping Up
The quality of elearning development company reflects your brand idea and influences its further reputation. That is why choosing the right elearning development company is the key to success. All the top elearning development companies described above differ not only in the specific services they offer but also in the problems they can solve.
You have already read that a reliable company must tailor all your product needs and keep you informed of all changes during the collaboration period. What's more, the perfect digital learning partner should offer a wide range to choose from, as well as examples, and trusted reviews.
And Riseapps meets all the requirements. A market-leading elearning app development company offers worthy services that stand out from other educational software development companies at an affordable price and quality. Do you still have doubts? Drop us a line, and we will answer all your questions.
Looking for an eLearning Development Team?
Contact us
FAQ
---
What is an e learning company?

---

E learning company delivers full-service educational design and elearning development, as well as other innovative elearning solutions to various organizations (small/medium/big companies, enterprises, startups, etc).
---
What is eLearn LMS?

---

eLearn LMS manages, documents, monitors, generates reports, automates, and delivers elearning online courses & corporate training programs.
---
What is eLearning content development?

---

eLearning content development by custom elearning development companies is a process of making digital custom elearning content that exists only in a digital space where learners can use it through digital means.