Learn 8 hand-picked custom eLearning development companies in 2023 to get help in streamlining your edtech solution backed by years of hands-on experience. The featured list in 2023 includes:
Riseapps
Innofied Solutions
iTechArt Group
Geniusse
Raccoon Gang
Radix Web
Incora
EVNE Developers LLC.
Keep reading the post to get them compared by hourly rates, domain expertise, locations, Clutch rating, and e-learning expertise helping other vendors and startups with custom development, migration, or upgrades.
8 eLearning Development Companies In 2023: Rates, Locations, Background
To give you a total on-the-mark view, we categorized our top eLearning development companies based on established date, location, services, core domains, Clutch ratings, and ed-tech background.
Riseapps
Founded: 2016
Location: Estonia, Poland, Ukraine
Services: Custom eLearning software development, legacy system modernization, UI/UX design, eLearning product consulting & audit.
Core domains: Learning management system, language learning, assessment, MOOCs, digital curriculum
Hourly rates: $25-$49
Clutch Rating: 4.9
Riseapps is a custom education software development company delivering ISTE-compliant EdTech solutions to technology startups, SMEs, and enterprise-level providers looking to improve their internal corporate training products, develop and launch tailor-made LMS solutions with rockstar design and gamification, deliver engaging, 6-figure language learning apps, and advanced exam prep systems to boost career development.
We help eLearning-focused brands design, develop, automate, and scale multiple learning solutions including custom LMS development solutions, e-learning portals, corporate training systems, exam prep and tutoring platforms, talent management products, language learning apps, and many others.
With over 7 years of extensive hands-on experience, we have helped many educational institutions and tech-fueled startups like PowerToFly, Enroly, Matchspace, Lingu, and Melanence deliver mobile learning and metrics-driven design systems, cut costs by 3x with affordable development teams, boosted conversion rates, and secured more funding.
We worked with PowerToFly, a leading B2B edtech platform for D&I professionals, develop a subscription-based DEIB LMS based on OpenEdx, redesign built-in corporate training system components, and integrate 3rd party services for a community platform. As a result, the system has secured over $37.5M in funding and become trusted by market behemoths like Facebook, Amazon, Google, Siemens, and StackOverflow.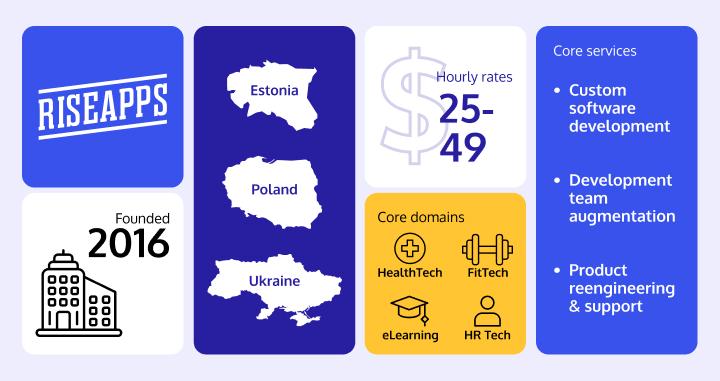 Innofied Solutions
Founded: 2012
Location: USA, Australia, India, UK
Core domains: Educational institutions, and eLearning companies, Educational software companies
Hourly rates: $25-$49
Clutch Rating: 4.9
Innofied Solution is an eLearning app development company known for developing award-winning educational applications, such as Barnoparichay, a language learning software designed to help kids learn the alphabet, numbers, and more. They're also the designers of DFP Games – an Arabic gaming app for kids to learn letters and numbers and experiment with new vocabulary, using picture-matching games and awesome graphics. 
iTechArt Group
Founded: 2002
Location: Poland, Belarus, Ukraine, Lithuania, Austria, UK, USA
Core domains: eLearning companies, eLearning providers, Educational software companies, Nonprofits
Hourly rates: $50-$99
Clutch Rating: 4.9
For over 15 years, iTechArt Group has provided edtech expertise to various educational companies like Avallian, National Geographic Learning, and Oxford University Press. 
The education software development company collaborated with Community Brands, a leading provider of cloud-based software for nonprofits and K-12 schools, to upgrade their CRM, build a transaction verification and budget management system, and so on. As a result, Community Brand was able to triple its clients' productivity. And now, over 1,800 active educational establishments worldwide can provide their services more quickly and efficiently!
Geniusee
Founded: 2017
Location: Ukraine, Poland
Core domains: eLearning companies, Educational software companies
Hourly rates: $25-$49
Clutch Rating: 5.0
Geniusee is an online education and software development company, providing custom eLearning solutions and software to the educational sector for the past six years. They have gained recognition from numerous noteworthy e-learning platforms, including student.com and Zebulon. According to their customers, one of the major advantages of Geniusee is their capability to tackle any educational technology-related problems.
Raccoon Gang
Founded: 2014
Location: USA, Ukraine
Core domains: eLearning companies, Educational institutions, MOOCS.
Hourly rates: $50 – $99
Clutch Rating: 5.0
Raccoon Gang is an eLearning software development company that provides custom solutions based on the custom LMS- Open edX platform. The company has completed a few noble projects. One is the Gamma Project, a comprehensive learning gamification system that uses various game components and Integration Tools to make learning strategies improve engagement while teaching employees new skills and knowledge.
They've also done projects for well-known organizations like Aljazeera and Harrow, a major international private school network in the United Kingdom, to name a few.
Radixweb
Founded: 2000
Location: USA, Canada, Australia, Denmark, Morocco
Core domains: Edtech Startups, Schools, Tutorial centers, Colleges, Nonprofits, Education institutions
Hourly rates: $25-$49
Clutch Review: 4.8
Drawing on 22 years of expertise, Rabidex offers cutting-edge eLearning app development services to facilitate efficient participation and streamline educational operations. Their expertise has been recognized by international enterprises such as Versitiare. Examples of their work include collaborating with US-based customers to create an e-commerce platform and integrate it with a Learning Management System for expanded user access.
Incora
Founded: 2015
Location: Ukraine
Core domains: edTech, eLearning companies, MOOCS.
Hourly rates: $25-$49
Clutch Rating: 4.8
Incora is a full-service eLearning development company with experience delivering different software programs. Its field of expertise (7 years) cuts across EduTech. Incora's clients include Edutech, an online learning and tutoring platform with whom they collaborated to fix bugs and implement new functionalities such as adding group courses, improving a private lessons section, debugging, code refactoring, etc.
This eLearning development software company also collaborated with Squibler, an online writing tool, to provide the full software development cycle, including project architecture and database structure, technical stack decision, front-end/back-end, development process, and quality assurance.
EVNE Developers, LLC
Founded: 2011
Location: Estonia
Core domains: edTech, eLearning companies, MOOCs
Hourly rates: $50 – $99
Clutch Rating: 4.8
EVNE Developers has 11 years of experience developing 50+ comprehensive custom software products and SaaS solutions for startups and enterprises in the Edtech industry.
One example is how they assisted a German educational facility in developing an eLearning app that provided a rich and dynamic blended learning environment for learners to collaborate, develop critical thinking and problem-solving skills, and share their knowledge with others outside of traditional universities. As a result, user interest increased by 32%, 5 new educational facilities joined the platform, and over 500 educational programs are already running smoothly.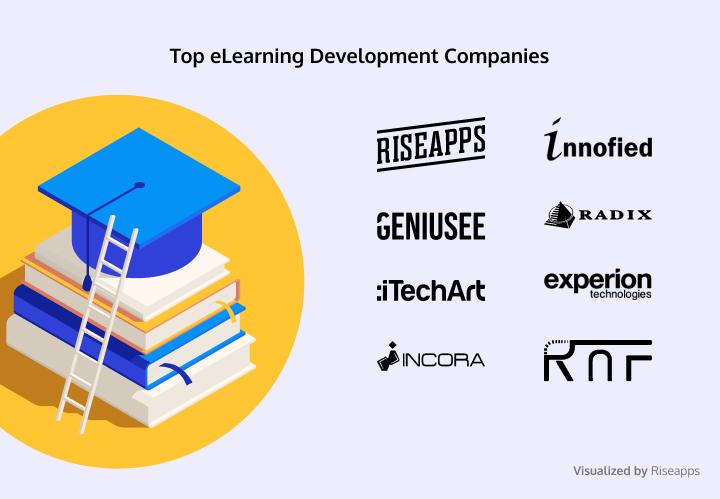 eLearning development companies
Why Choose Riseapps as Your eLearning Development Company?
At Riseapps, we deliver EdTech software development solutions to eLearning industry startups, SMBs, and enterprise-level organizations looking to optimize their product strategy through tech-fueled innovations. 
With a full-cycle delivery model under the hood, we facilitate all stages of a project's growth: from discovery, ideation, and prototyping to full-featured UX/UI design, MVP development, full-scale product launch, and post-takeoff support.
We have implemented a wide range of innovative solutions of educational solutions that include:
Learning Management Systems (gamification, communication interfaces, assessment engines, etc.)
E-learning Portals (assessments, quizzes, reporting dashboards, content recommendation engines)
Proctoring Systems (real-time audio/video monitoring, browser patrolling, incident alerts)
Student Information Systems (scheduling, attendance tracking, course sign-up, transcripts, etc.)
Analytics platforms (learning progress, performance reporting, user activity dashboards).
Backed with 7 years of EdTech expertise, we've helped multiple YC/TechStars eLearning startups and medium-sized vendors like PowerToFly, Enroly, Matchspace, and Melanence solve budget constraints by reducing the time-to-market period and dev overheads to ship fast and raise funds in months, not years. 
PowerToFly
PowerToFly is a femtech award-winning HR tech platform that has raised $37.5M in funding and has been featured in the Washington Post, Investopedia, Cision, and more. As a result of their achievements, PowertoFly has been named Recruitment Marketing Leader (2022) and Diversity Software Leader (2022).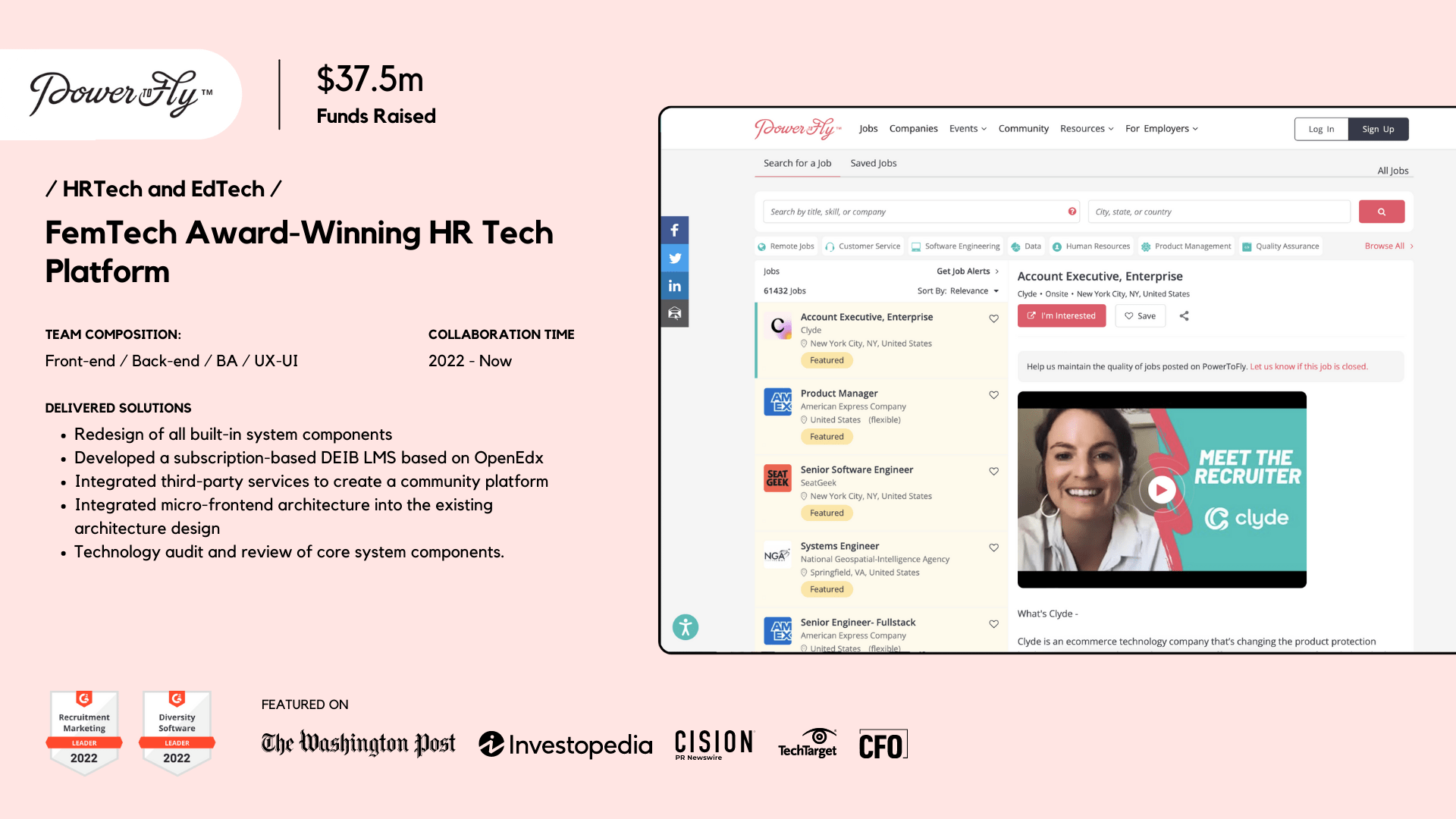 PowerToFly co-founders Milena Berry and Katharine Zaleski contacted Riseapps to:
Deliver a subscription-based B2B EdTech system that would allow them to sign contracts with award-winning and market-leading brands such as Facebook, Amazon, Google, Siemens, and StackOverflow.
Provide an all-in-one solution for networking, job searching, receiving feedback, competing, and upskilling in order to broaden the diversity hiring market. 
We came up with the following solutions based on the discovery process:
redesigning all built-in system components
developing a subscription-based DEIB LMS based on OpenEdx
integrating third-party services to create a community platform
integrating micro-frontend architecture into the existing architectural design
conducting technology audit and review of core system components
As a result, Riseapps helped the leading HR and EdTech startup to:
Deliver Subscription-based B2B EdTech platform for market-leading and award-winning corporations like Facebook, Amazon, Google, Siemens, and StackOverflow. The goal was to build a brand-new diversity hiring solution designed specifically for tech mastodons to address their unique pain points in recruitment.
Launch an advanced learning management system for diversity hiring that includes features like course management, reporting, gamification, certificate generating, and multiple integrations. 
Enroly
Enroly is a market-leading edtech offer-to-arrival platform for universities that annually assists over 150,000 international students at the University of Leicester, East London, Oxford, Hertfordshire, and Aston.
Enroly, the PIEoneer Awards 2022 technology winner, EdTechX startup winner 2021, Digital Education Awards 2021 finalist, and EdTech Breakthrough Award winner opted to redesign their B2B education software to expand further.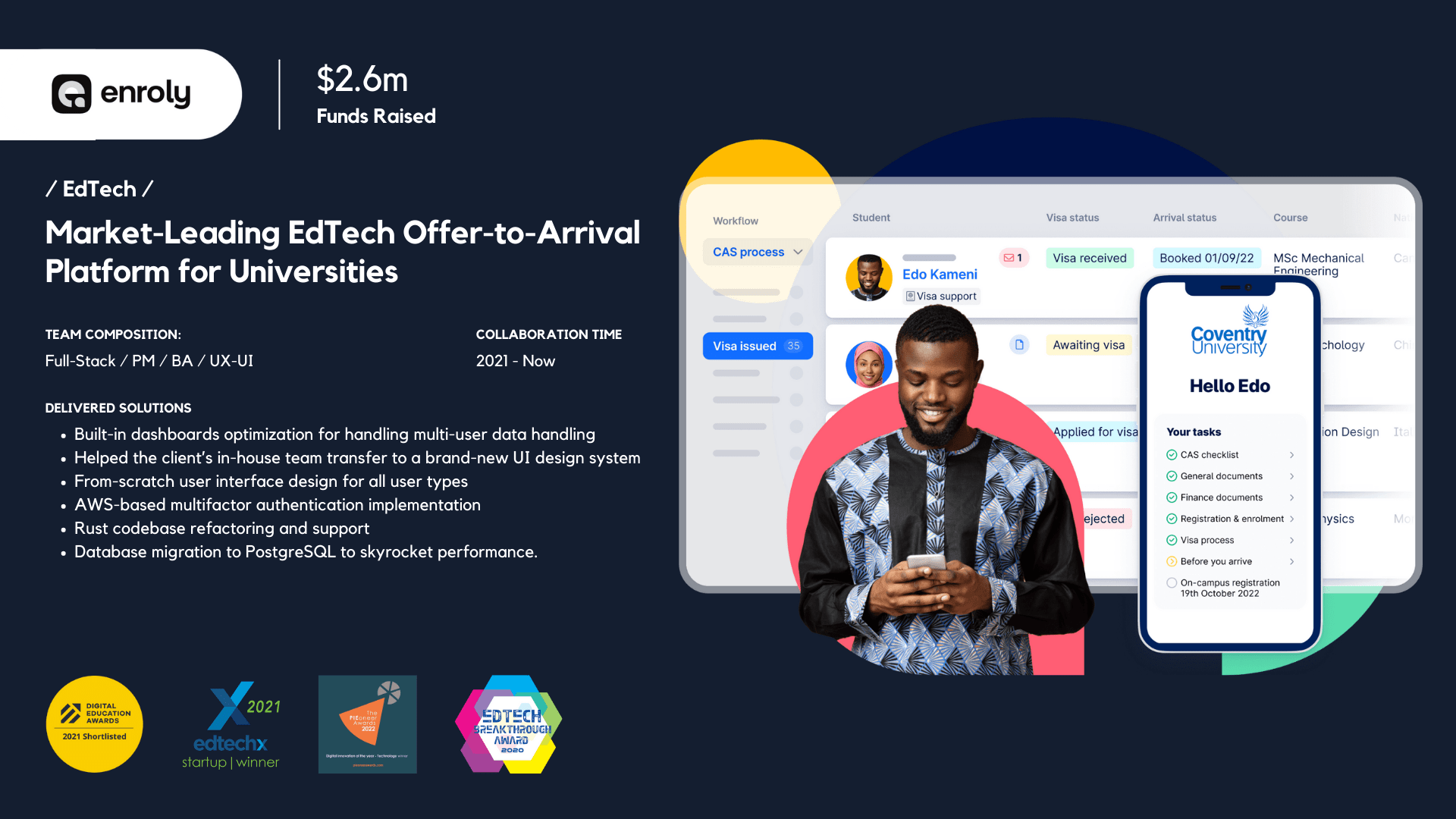 The client reached out to Riseapps to:
Optimize database load to accelerate the response rate and skyrocket client-facing platform performance by migrating from DynamoDB to PostgreSQL.
Refactor and revamp the outdated user interface, enhancing the existing functionality level with brand-new features and adopting the Blueprint.js library. 
Boost the server-side response rate performance using Rust to process database-related responses after JavaScript code operations.
We came up with the following solutions after analyzing the requirements:
optimization of built-in dashboards for multi-user data handling
the transition of the client's in-house team to a brand-new UI design system
creation of a from-scratch user interface design for all user types
implementation of an AWS-based multi-factor authentication system
refactoring and support of a Rust codebase
migration of a database to PostgreSQL to improve performance
As a result, Riseapps helped Enroly:
Deliver a full-featured user interface redesign to streamline the product's look-n-feel, deliver engaging user experiences, and provide modern navigation flows. We leveraged Blueprint.js to save the existing functionality level and enhance it with brand-new eLearning features.
Cut product maintenance costs by 74% by leveraging AWS Cloud Development Kit to optimize AWS infrastructure, simplify development operations, and streamline codebase management.
Boost security systems by 300% through implementing multi-factor authentication services with full compliance to ISO standards that now enable Enroly to skyrocket data security and avoid data leakage risks at scale. 
Facilitate the visual user experience through full-cycle mobile and web-based platform UI redesign that now provides end-users with intuitive, engaging, and user-friendly features at their fingertips.
Raise over $2.6m in funding within months.
Looking for an eLearning Development Team?
Contact us
FAQ
---
What is an elearning company?

---

An elearning company delivers full-service educational, instructional design, and elearning development, as well as other innovative elearning solutions to various organizations (small/medium/big companies, enterprises, startups, etc).
---
What is an eLearning developer?

---

An eLearning developer is a development specialist with solid domain background ensuring the course design, user interface, experiences, studying processes, and system performance meet the demands of both students and platform admins without downtime, stuttering, and other issues.
---
What is eLearning content development?

---

eLearning content development is a process of making digital custom elearning content that exists only in a digital space where learners can use it through digital means.