Gamification is broadly used in retail, banking, IT, education, and healthcare. Implementation of game mechanics boosts people's engagement and helps them achieve their goals. Game-based learning is quickly developing for academic and corporate training sectors, and the benefits of gamification in elearning are immense.
We've provided an advanced explanation of what gamification is and how to build a successful gamification strategy for elearning.
What are the benefits of elearning gamification?
Gamification implies adding game mechanics to specific environments such as workplaces, websites, businesses, education, community, etc. It brings engaging experience, allowing learners to improve problem-solving skills and retain information. Usually, elements of gamification in elearning are levels, scores, rewards, etc. 
Adding gamified elements to learning makes the education process simple and fun, which improves user retention and increases productivity. For example, companies that implemented gamification for corporate learning can increase employee productivity by 43%, which, in turn, stimulates revenue growth by 23%. 
Nota bene! Gamifying learning is not about game creation. It's about implementing game techniques to add interactivity and immersion into existing environment mechanisms. Besides providing game elements such as badges, points, and leaderboards, elearning gamification should help learners achieve their educational goals. Let's look at how gamification and elearning works with examples.
How does gamification work in online learning?
Gamification in digital learning is a powerful tool to challenge learners and enhance their motivation. Game-based elements raise natural curiosity and provide immediate feedback, motivating learners to track their success and willingly re-engage studying. Some of the most popular gamification elements are badges, levels, points, leaderboards, avatars, quests, puzzles, etc. You can implement them in a learning environment on different levels: 
Partial implementation. Adding game elements to a traditional e-learning course or a program is the simplest way to raise learners' engagement. This means that some of the course modules include quizzes, assessments, and gamified activities. MOOCs usually offer in-course quizzes and tests to track learners' progress and provide instant feedback.
Game-based learning. With this approach, users achieve their studying objectives by playing a game. Gamification improves game-based learning by adding role-play components such as avatars and level systems to a learning path. Basically, this means creating a game based on a lesson or course plan. You can see how this approach works with Minecraft: Education Edition, where teachers can create mini-games based on lessons' content.    
A gamified learning path. This means improving a learning path with gaming elements to help learners achieve proficiency on different levels. It includes scores, points, leaderboards, and other components. This approach is usually used in corporate learning to teach employees professional skills. For Example, Deloitte added leaderboards and badges to the leadership program for their executives and increased daily interactions with the elearning website by 43%. 
Gamified portals. Such an approach combines gamification components of the previous levels with advanced functionality as social learning, personalized learning, and microlearning. For example, Adsorb Infuse is a learning management system that provides courses with rewards and collaboration tools for employee onboarding, compliance, customer training, and more. 
Learning objectives should dictate which gamification level to choose and where to stick with traditional learning approaches. Take a look at how different learning environments use gamification to boost user engagement and help learners grasp knowledge and skill.
The benefits of gamification in elearning
Distance education gamification provides a wide range of learning opportunities, making it effective, engaging, fun, and creative. As Intuition reports, 67% of learners said that gamified learning is more engaging and motivating than traditional classes. Let's see why people prefer gamified learning to conventional approaches and what are the benefits of elearning gamification for businesses. 
How learners benefit from gamification 
People love to play games. That's why gamified learning is attractive to most of us. But does it help to gain knowledge? Here're some benefits of gamification in elearning for those who study.
Gamification improves the learning experience
Passive learning from books and lectures doesn't always help understand complicated subjects; it only causes additional frustration. Gamification can transform the learning experience and explain complex concepts through visualizations and examples. This approach allows learners to form associations with the material being studied and memorize it quickly.
Learning path powered by gamification motivates users to study consistently, receive rewards for successfully completed tasks, and share their achievements with each other. The competition encourages them to get advanced challenges and enjoy victories.
Learners retain knowledge better
International Journal of Human-Computer Studies reports that challenge-based gamification raised learners 'performance by up to 89.45% compared to those who only learned by lectures. Gamification allows learners to gain knowledge in portions because of levels or quizzes at the end of each course module. This helps learners to avoid overloading their brain and memorize more information than during long monotonous lectures.
Instant feedback is a great motivator
When learners study some topic by themselves, it's difficult for them to assess their own knowledge. In face-to-face classes, teachers don't have much time to give feedback to each learner. Gamification can provide instant feedback through training quizzes, in-between rewards, pop-ups with result confirmation. This is a great motivation for learners as they understand they're moving in the right direction and keep learning. 
How businesses benefit from gamification 
Gamification isn't just an effective way to teach people something. It's also a good business tool. Gamified learning environment can help you improve user experience and grow your client base. 
Increased user engagement and improved retention
We've already mentioned that gamification for online learning is a powerful tool for increasing learners' engagement in the learning process. ELearning Learning states that gamified elearning programs can increase the level of engagement by 60%. Gamification helps people stay consistent with the courses, which is good for business.  If you build a learning platform and want users to spend more time on it, implement gamification components like leaderboards, points, and rewards to motivate people to continue learning.
Attracting new users
Gamification combined with social learning can be a tool to attract new users. When learners achieve progress, they may want to share their success on social media. Simply adding a 'share' feature can boost brand awareness and attract new users to the digital learning platform. The 'Invite' option is also a great way to get new users, as learners may want to compete with their peers or employees and ask them to join the platform. 
New monetization opportunities
Besides main ways to monetize elearning applications like subscriptions or one-time purchases, businesses can profit by adding in-game monetization. You can offer learners extra quizzes, advanced learning materials, or other game elements for an additional cost. For example, Duolingo offers unlimited hearts and access to mastery quizzes for a Duolingo Plus subscription. This means you can keep learning even if you make mistakes. In the free package, users have 5 hearts.
How corporations benefit from gamification 
Companies often use gamification in corporate training to motivate employees to improve their skills. Besides knowledge retention and increased engagement, there are few more benefits of corporate elearning gamification.
Improving learning process 
Employees don't always meet corporate training formats such as seminars, lectures, or training with enthusiasm. These are usually massive and intense events that bring stress and fatigue. Adding such a gamification element as levels to the learning process allows employees to learn information by blocks and at their own pace. 
Employee achievements recognition
Review 42 reports that 72% of employees claim that gamification motivates them to work harder. Gamification allows you to celebrate the success of your employees instantly. By rewarding employees' achievements, you motivate the employee to develop their professional skills and achieve more. 
Simplified onboarding 
Gamification of onboarding helps new employees quickly adapt to work, learn the company's internal processes, and customize their workspace. Also, gamification can be a powerful tool for introducing new technologies. Simple gamified instructions help employees get to know the software interface and functions and get started faster.
Examples of gamification in online education
The gamification approach allows creating exceptional e-learning environments to serve different educational purposes. Memory training, problem-solving skills development, tasks that provide a lifelike experience, and critical thinking can be implemented to a learning process with gamification.
Khan Academy
Khan Academy is a massive open online courses platform that uses such gamification elements as badges, points, and goals to motivate learners. Learners receive badges at remarkable points on their learning path as finishing a quiz. The application tracks learners' progress and shows it with progress bars. 
Khan Academy was created in 2008 as a non-profit organization supported by philanthropists. It provides access to more than 4200 free video lectures on different subjects. In 2011 Khan Academy started to use gamification elements as levels and awards for completed challenges, helping learners visualize their progress. In 2010, before gamifying their website, the platform's annual revenue was $1.8 million. In 2011, the number increased to $11.8 million thanks to game-based learning introduction. Gamification attracted donations and allowed the company to grow further.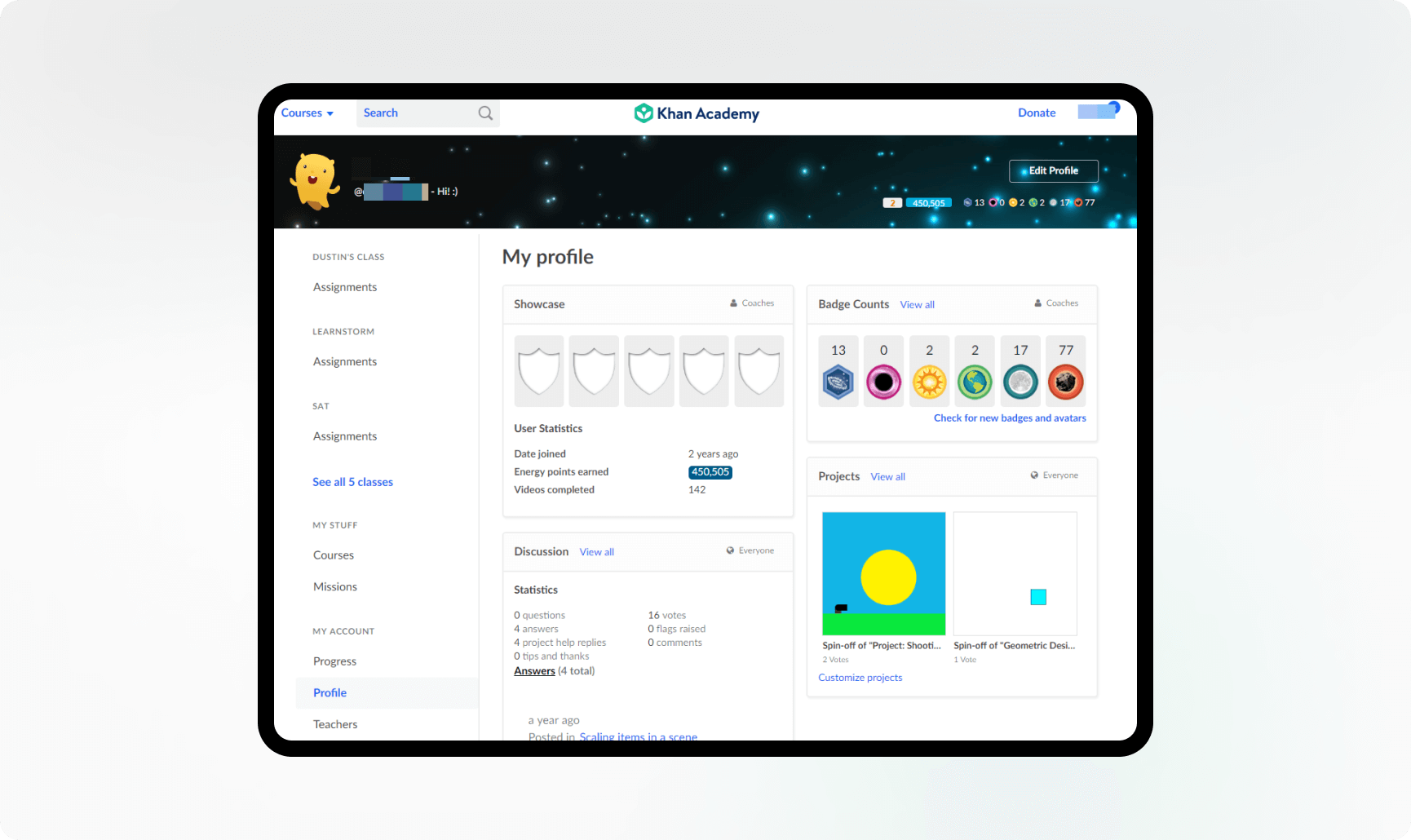 Siemens Plantville
Plantville is an engaging online platform that simulates plant management experience. Siemens launched this game to help their employees better understand how the organization works.
Players get to solve real-life situations concerning manufacturing processes. The platform includes social learning features and assessment tools as quizzes so users can test gained knowledge.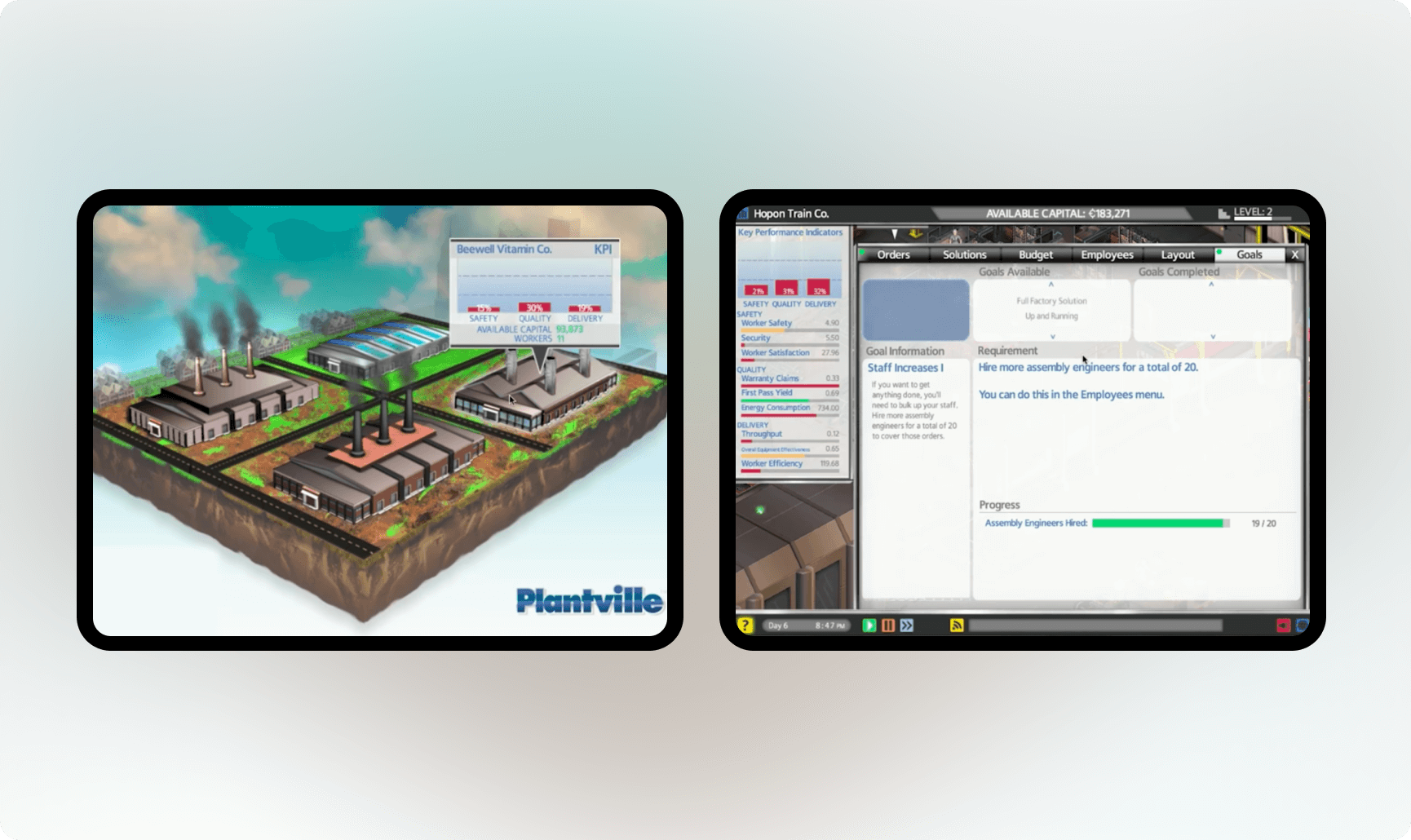 Minecraft: Education Edition
The popular game Minecraft offers an education edition for teachers. It allows teachers to download premade worlds to integrate them into the learning process.
Teachers can add whiteboards and helpers into a game environment to let learners gather information or create a story for learners to retell. When learners play the game, they encounter information to learn, puzzles to solve, and gain in-game achievements. It's a great tool to appeal to learners' curiosity and help them memorize rules or stories easily.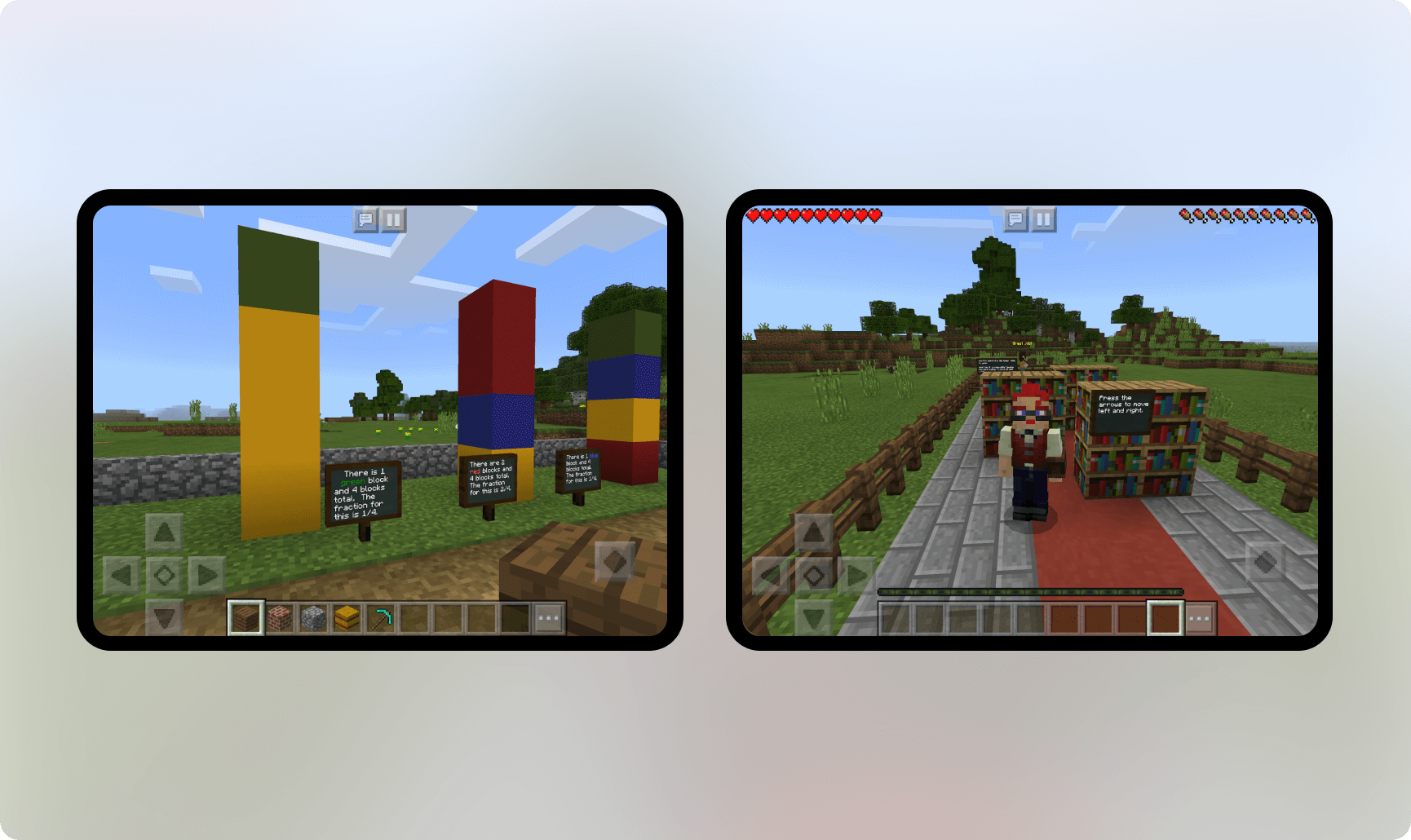 The most popular mistakes: how to avoid!
The role of gamification in online education is to make it fun and easy. However, keep in mind that learning should not be transformed into a game. The main purpose of gamified education is to help people gain knowledge and skills with game mechanisms.
Don't stretch the competition over time 
Imagine that there are a lot of learners taking the course at once. They all receive scores for their learning achievements and compete with each other. Imagine how long a leaderboard would be. It's hard to get to the top of the list in such courses, and people who are at the very bottom of the ranking may lose motivation. To avoid learners' dropout, create weekly ratings, ratings by knowledge category, etc.
Don't add too many gamification elements 
The gamification toolkit is so broad and interesting that you can get carried away with adding too many game elements to the training programs, which confuses users.
Gamification should be simple, logical, and intuitive. If learners don't understand the process of increasing the rating, they will quickly lose interest in the game and, therefore, in studying. Introduce points and leaderboards, quests, and puzzles based on the learning context and only when necessary to emphasize learner performance.
Don't set unclear goals and rewards
Learners may lose enthusiasm when completing a course if you plan it without setting specific and measurable goals. Google News Reader failed to encourage users to read more news using this app. They implemented badges that had no use to people except showing how many articles they've read. People quickly lost interest, and the initiative failed. To avoid similar mistakes in elearning, implement gaming elements only to acknowledge learners' real results. Tell learners about the learning objectives and scope, what challenges await them, and how to receive rewards. Provide introductory tutorials to your courses to keep learners interested.
Don't prioritize rewards over results
Receiving awards is not the most important thing in gamified education. Points and badges are just tools to motivate learners and encourage them to learn. The gamification strategy should be built around the learning objectives and help users go through the course smoothly and entertainingly.
Gamification strategy for elearning: our advice
As mentioned earlier, gamification is only useful when it serves educational purposes. We recommend using this approach considering your business goals.
Here's a simple example. What would you choose: a gamification element, which helps the learner to remember information quickly, or a gamification element, which does the same AND increases your income? It's the second option for us. Let's see what steps you need to take to get the desired result.
5 steps to gamify elearning
To gamify an elearning environment, you should take the following steps:
Start with analytics
Choose gamification activities and elements
Create gamified system structure
Choose implementation strategy
Implement and evaluate results 
Step 1. Start with analytics 
To effectively implement gamification in online learning, you first need to collect some data. Explore the learning context in detail, talk to course creators, hire an educational expert, and get their opinion on where to apply game mechanics in a given educational context. Clarify learning goals to tie specific gamification techniques to them. Create a portrait of the end-user: 
their age and gender, 
job title,
educational background,
interests and hobbies,
their educational goals,
challenges and pain points.
This will help you at the stage of choosing the gamification elements.
Step 2. Choose gamification activities and elements
Based on the information gathered, select gamification activities and elements. Remember not to implement too many gamification features to the learning path and only choose those that will benefit your users. Here is an extended table of gamification elements to choose from.
Game element 
Realization
Examples 
Achievements 
Leaderboards 

Progress bars

Duolingo, Khan Academy
Rewards 
Bonuses 

Points

Scores

Badges 

Todoist, Codeacademy Go
Storylines
Quests 

In-app characters 

Avatars 

Minecraft: Education Edition, PlantVille
Adventure 
Puzzles

Quizzes 

Leveling

Grasshopper, Memrise
Suppose your idea is to create a learning app for children. In that case, you can build a storyline based on kids' preferences and apply quests and avatars around learning content to let kids learn while immersing in an exciting adventure. 
Step 3. Create gamified system structure 
With an arsenal of gamification elements in place, we can move towards building a gamified system structure. Such a system is needed to create the application logic and its further development. The structure consists of the following elements: 
The road map aligns online learning course progress and helps users track their achievements through visualization. 
The learning guide provides a quick and engaging course introduction.
The log is an overview of user goals and their correlation with the road map progress. 
The game implies all motivation mechanics to help users progress through the course (points, badges, quizzes, etc.).
The community is an additional feedback system that includes social learning features to encourage learners to achieve their learning objectives. 
You should build gamified system structure based on the previously conducted analysis. Add to the structure the elements you selected in the previous step. It doesn't matter if you're building an application from scratch or if you already have a learning management system. The gamification framework should be built around learning content. Programmers will convert this content into a suitable format at the development stage and create a gaming engine that is optimal for your business and learners' goals. To summarize, here are things you need to prepare before choosing a developer partner: 
Business goals – what benefits you want to get. 
Learning goals – what your client will get.
Learning content. 
An approximate gamified system structure.
Step 4. Choose implementation strategy 
After building a gamification structure, the next step is to implement it in your learning course, app, or platform. You can do this in two ways: use a premade solution or build your gamification structure from scratch. 
Ready-made gamification solution 
Gamification structure built from scratch
How it works
There are a lot of SaaS solutions that offer gamification implementation to business and learning environments. 
The approach implies hiring a development team to introduce gamification elements to your learning environment. 
Pros

Simple to use
Quick setup 
Cost-efficient 

Gives flexibility with choosing gamification elements 
Provides better security 
You don't depend on SaaS provider cost politics
You own the source code
You don't depend on SaaS breakdowns

Cons 

Platform features may not fit your goals completely 
You have to trust a third-party organization with your users' data
You depend on fees and subscription conditions

Requires more time to implement
Can be more expensive depending on your gamification structure
Step 5. Implement and evaluate the results
After you have implemented gamification, start collecting feedback from users to identify possible errors and inaccuracies. This final step in gamification for elearning is useful for improvements and further strategic planning. Ask the learners about what they would like to see on the platform. Based on this feedback, you can plan further learning platform development and reach new heights.
Interested in custom learning app development?
Learn more
How can Riseapps help you with gamification for elearning?
Riseapps team has advanced experience in creating a language learning application with gamification elements. Our client needed a custom solution that would satisfy the needs of his target audience. Our team worked on the web and mobile application design.
To accomplish this task quickly, we used the React Native framework. It allows developers to reuse code and create apps for iOS and Android 1.5 times faster than with native technologies.
The goal was to provide users with an engaging and fun learning path. We set up lesson levels, experience points, and leaderboards to motivate learners to study languages.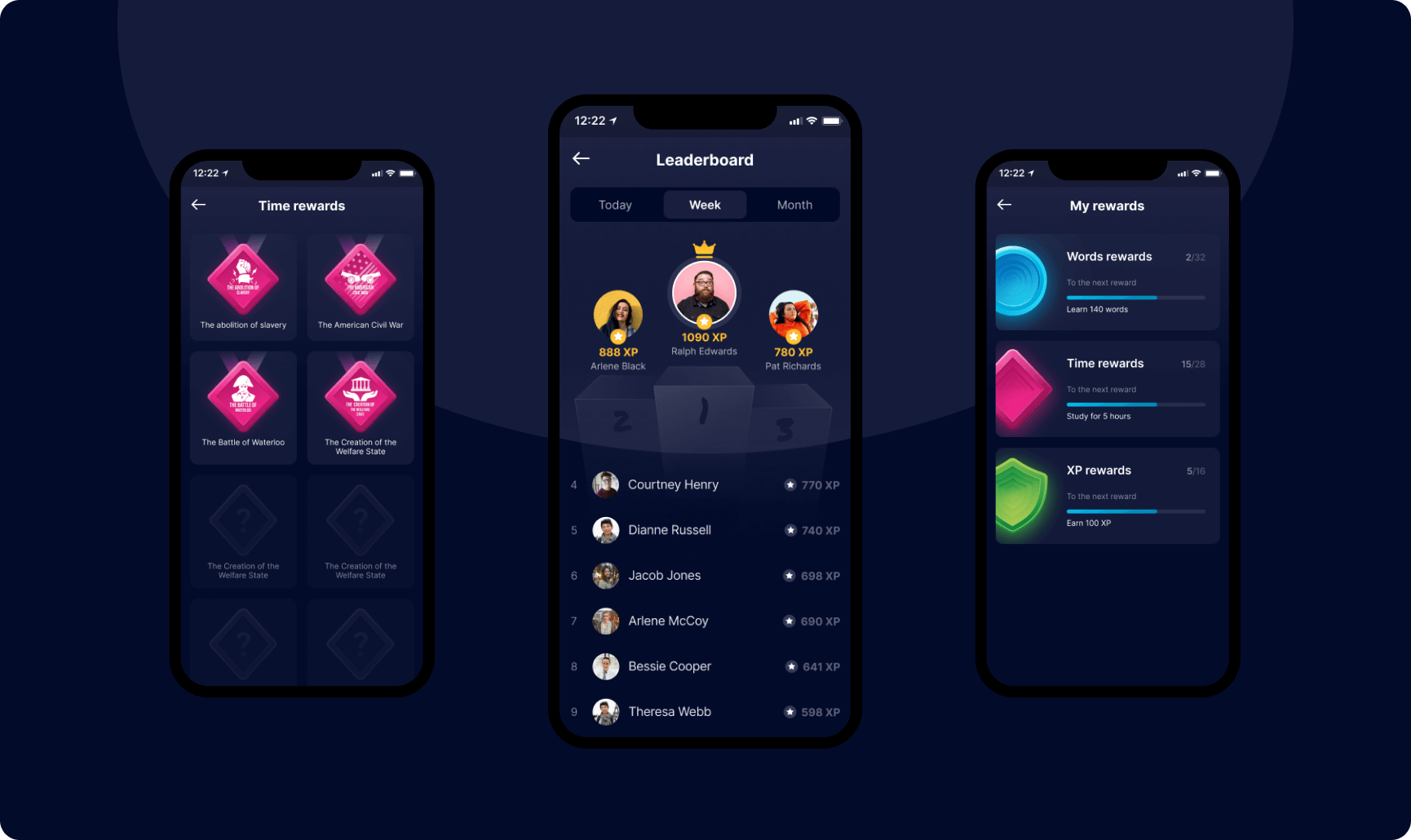 As a result, our client received a customizable and reliable cross-platform learning app powered by gamification elements. The company raised around $1.2 million in funding for the application.
Key takeaways 
Let's highlight key points about gamification in online education: 
Gamification is a way to apply game mechanics to improve digital learning. It provides engaging and entertaining features that facilitate learner journey through educational material.
Game-based elements include puzzles, tests, leaderboards, coins, points, badges, avatars, etc. 
Gamification is not about creating a game. First and foremost, you need to fulfill learning objectives. 
Gamification is a great way to add value to your elearning platform and achieve your business goals. 
Developing a custom solution is beneficial for platform flexibility and accessibility. 
Looking for a development partner to build a gamified learning app?
Let's talk
FAQ
---
What is gamification in elearning?

---

Gamification implies adding game mechanisms to a specific environment such as a workplace, website, business, distance learning, community, etc. Gamification in online education brings engaging experience, allowing learners to improve problem-solving skills and retain information. Usually, gamification elements in education are levels, scores, rewards, etc.
---
What is an example of gamification?

---

You can get the benefits of elearning gamification in a training environment on different levels:

Traditional elearning course or a program with gamification elements like quizzes, tests, and rewards. 
Lessons can be built based on storyline components such as avatars and level systems to a learning path. 
A learning path can be improved with gamification features to help learners achieve proficiency on different levels. Some of the features are scores, points, leaderboards, and other components. 
Learning portals combine gamification elements of all previous levels with advanced functionality like social learning, personalized learning, and microlearning.
---
What are the benefits of elearning gamification?

---

Gamification for online learning provides a wide range of educational opportunities, making it effective, engaging, fun, and creative. The main benefits of gamification in elearning are:

For learners

Gamification improves the learning experience
Learners retain knowledge better
Instant feedback is a great motivator

For businesses

Increased user engagement and improved retention
Gamification helps attract users
Gamification can be an extra way to monetize elearning

Contact us if you need help with implementing gamification in your online learning app. 
---