There are many successful apps in the language learning category. However, one application dominates the market: Duolingo. As of Q1 2021, it's the world's most downloaded educational app with over 500 million total users and around 40 million monthly active users.
If you're wondering how to create a language learning app to enter the market, you've come to the right place. This article offers a full breakdown of the development process, cost, monetization strategies, and more.
We advise discovering how you can make your own language app on the example of Duolingo as it's so successful. Let's begin with a few secrets behind this application.
Duolingo success secrets
Duolingo was founded in 2011 by Luis von Ahn and Severin Hacker, both computer scientists. As stated on their official website, the Duolingo team's mission is "to give everyone access to a private tutor experience through technology".
To achieve such a goal, the app's creators chose three primary tactics:
1. Making lessons short and quick
Traditional language courses often fail because completing an hour class feels like a burden to many. Duolingo offers a great alternative: lessons that only take a few minutes to finish. Besides, they are grouped by topic, which makes remembering new words easier as they relate to one another.  
If you want to make a language learning app successful, follow Duolingo's example and break the course down into short lessons. 
2. Adding gamification elements
Gamification plays a crucial role in digital foreign language learning. Achievements and leaderboards replace the human encouragement element when learners study by themselves. The learner is more motivated to complete the course if their progress is recognized.
The more gamification features you include in your application, the better. Even though these features can be costly, you can always start with only lesson levels and points and extend the gamification options later.
3. Mimicing real conversations
Duolingo introduced chatbots in 2016. This feature is considered the key reason for the continued growth of the app. A chatbot allows users to practice conversational skills and prepare for real-life situations.
Chatbots were a novelty back when Duolingo introduced them. Now, we highly advise you to shortlist this feature when deciding to build a language app.
How does Duolingo work?
When the user first opens Duolingo, they're asked a few questions to set up the course. Besides the language itself, the user can choose why they want to learn it, get an overview of the offered content, and pick daily studying goals.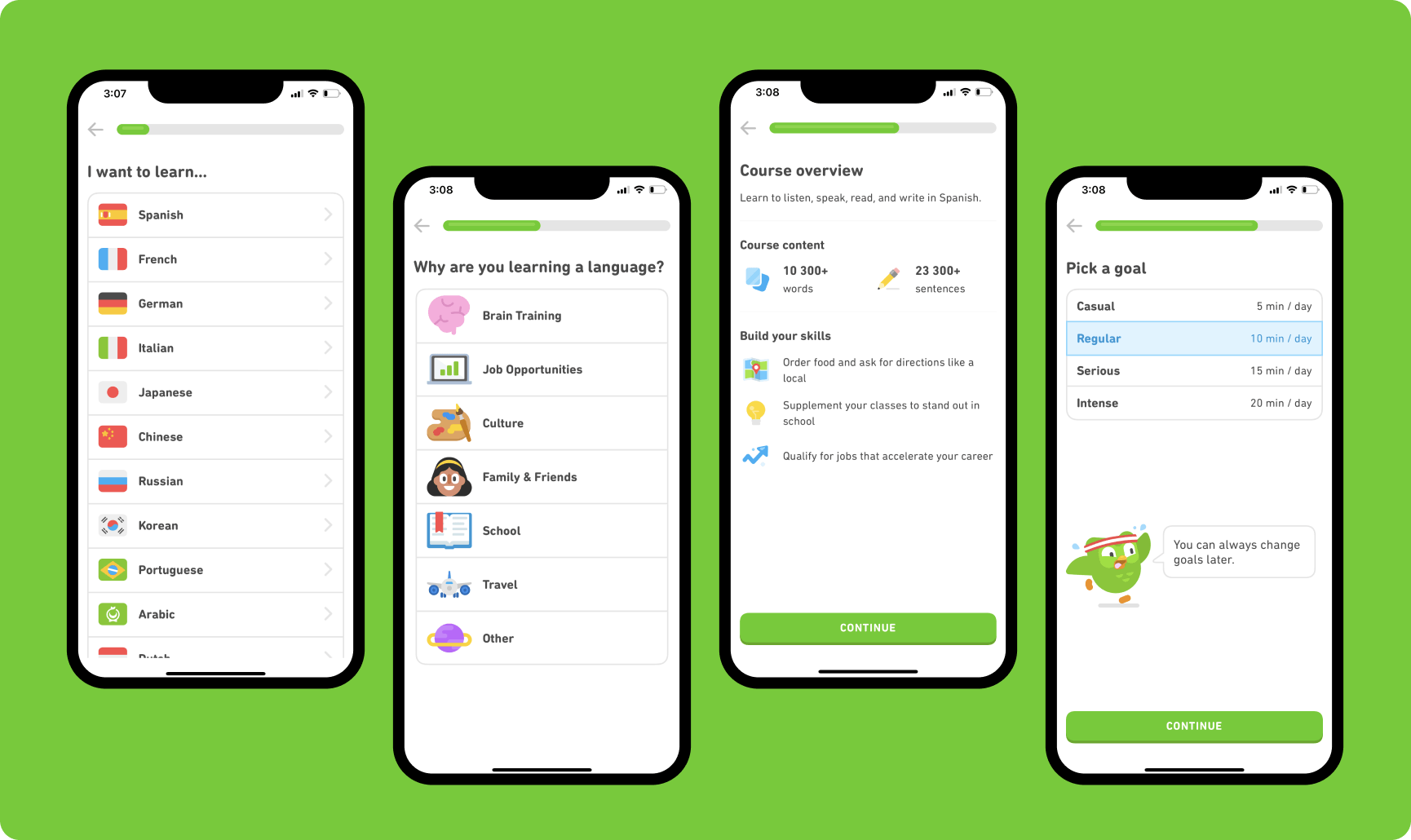 After the course is set up, the user can access the lessons grouped by topic. Every lesson consists of different tasks: vocabulary, grammar, listening, and speaking. The app also features a chatbot, audio lessons, and stories – a type of class where users follow a storyline to learn phrases in context.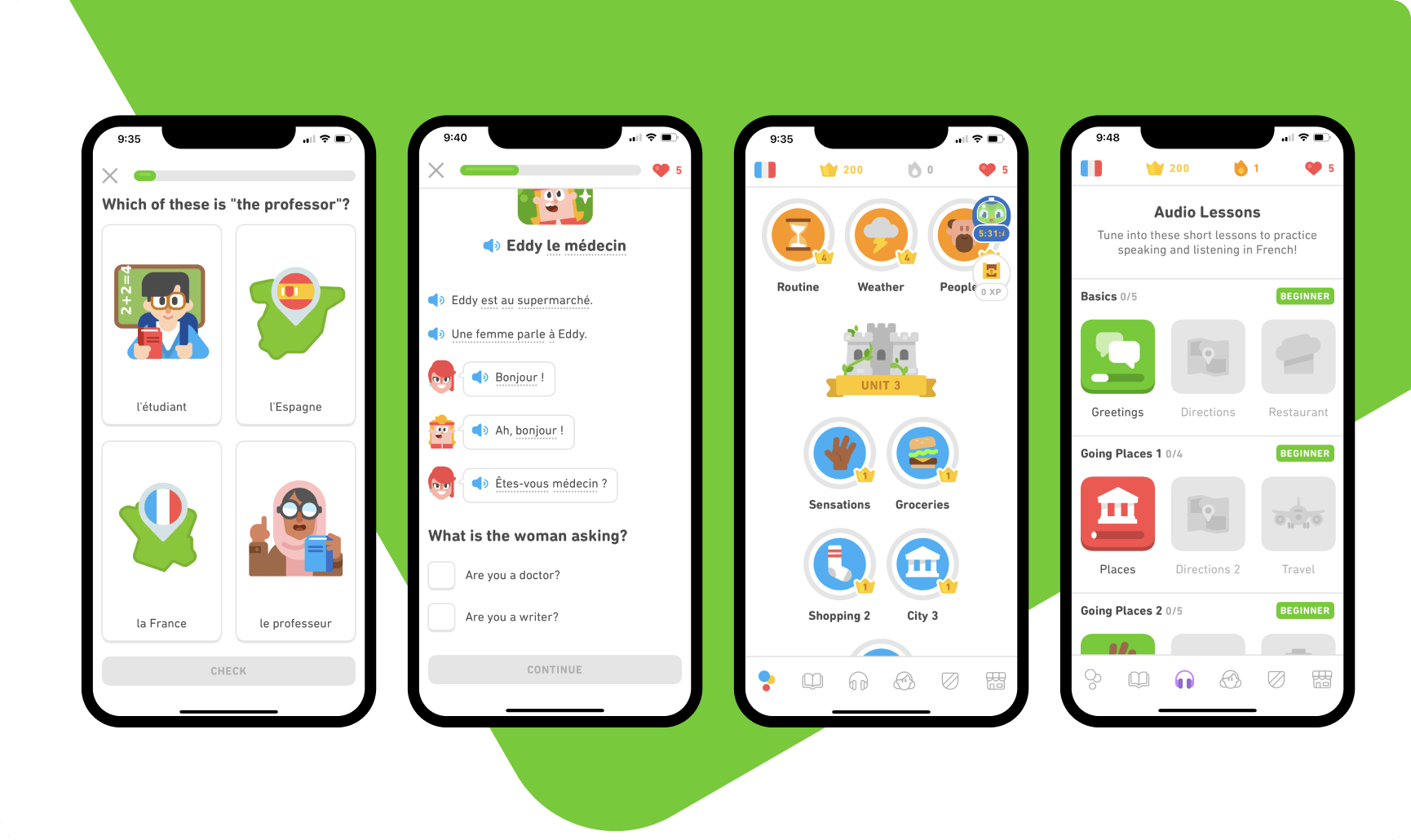 The app offers one of the best sets of gamified elements on the market: health and experience points, in-app currency, leaderboards, and more. For instance, health points allow you to only make several mistakes before having to end a lesson. There are also social learning features in the application, as users can follow each other and invite friends to use Duolingo.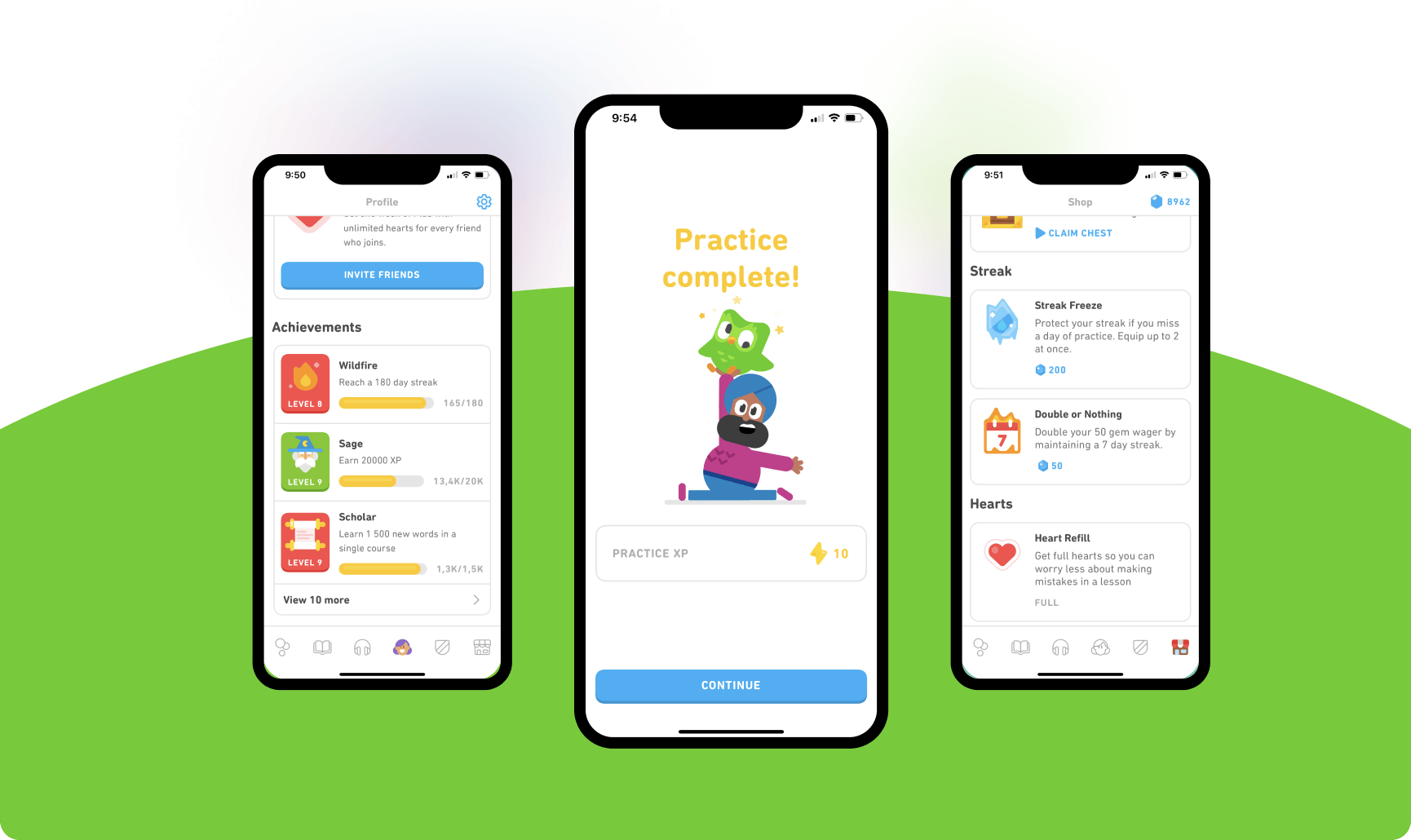 Let's move on to the full list of features you can choose from to build an app like Duolingo.
Main features for your language learning app like Duolingo
We'll describe the essential functionality required to create a language app and advanced features to make your educational product stand out.
Sign-up/sign-in
This is the first step for a language application. Simplify the sign-up and sign-in as much as possible and include social login options, like Facebook, LinkedIn, Twitter, Google+, etc. Users don't want to fill out tons of personal info; they want to get straight to the learning.
User profile
Besides personal info, the user profile should include information about the courses taken. You can add usage statistics and progress reports to the account section to let users understand how far they've come with their course.
Onboarding
Showing users how to operate your software is crucial. Straightforward onboarding lets users know about all the functions of your application. This way, they can focus on the learning instead of figuring out how to use the app later on.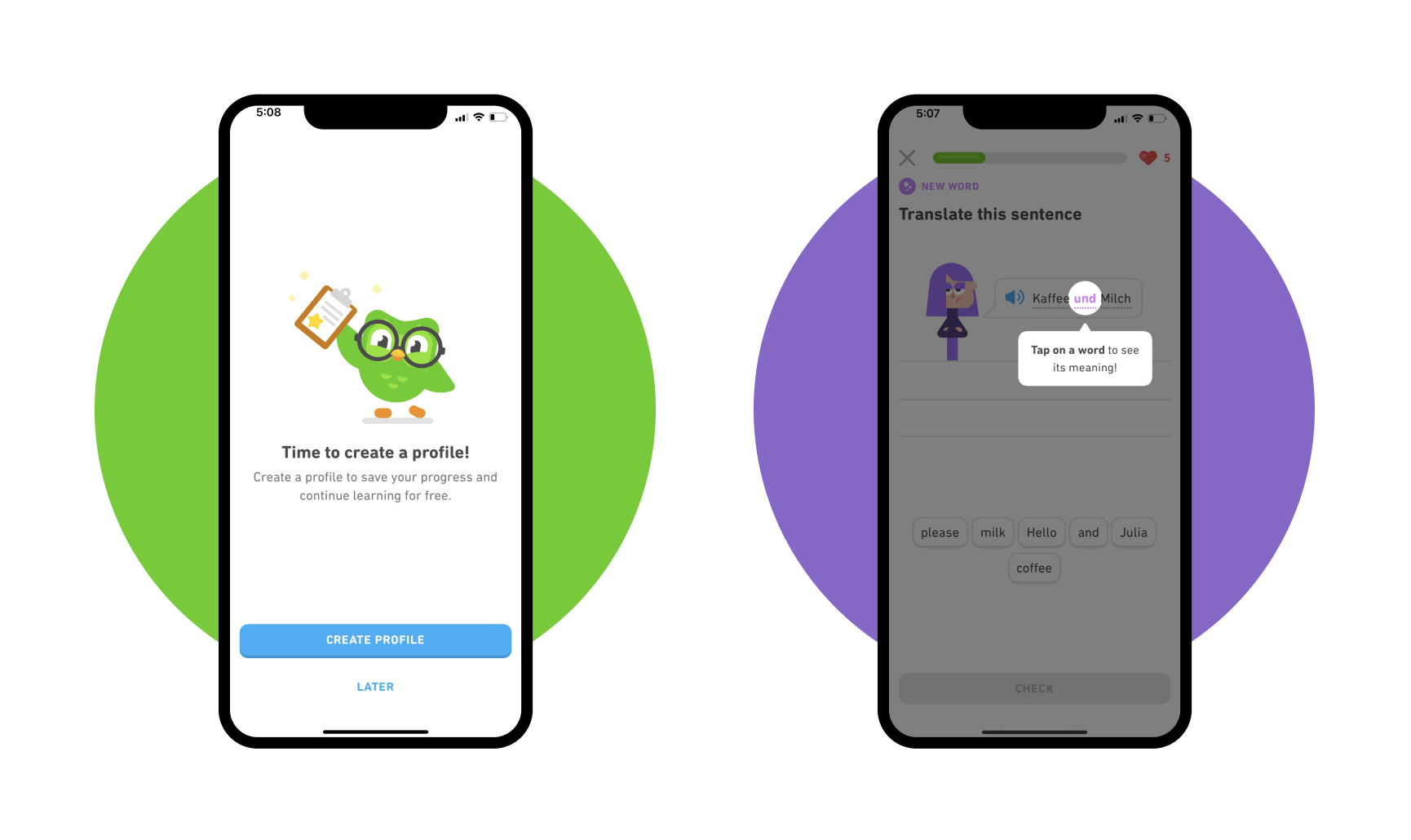 Lessons and tasks
Diverse tasks for practicing different language skills make the basis of a good educational application. Implement several lesson and assignment formats to ensure course effectiveness.
Vocabulary practice is essential when a learner starts studying a new language. In Duolingo, the first few lessons of the course mostly consist of tasks for learning new words. It's also crucial to choose the vocabulary based on your target audience. For instance, if your app is for adults, start with words that they can use in everyday life.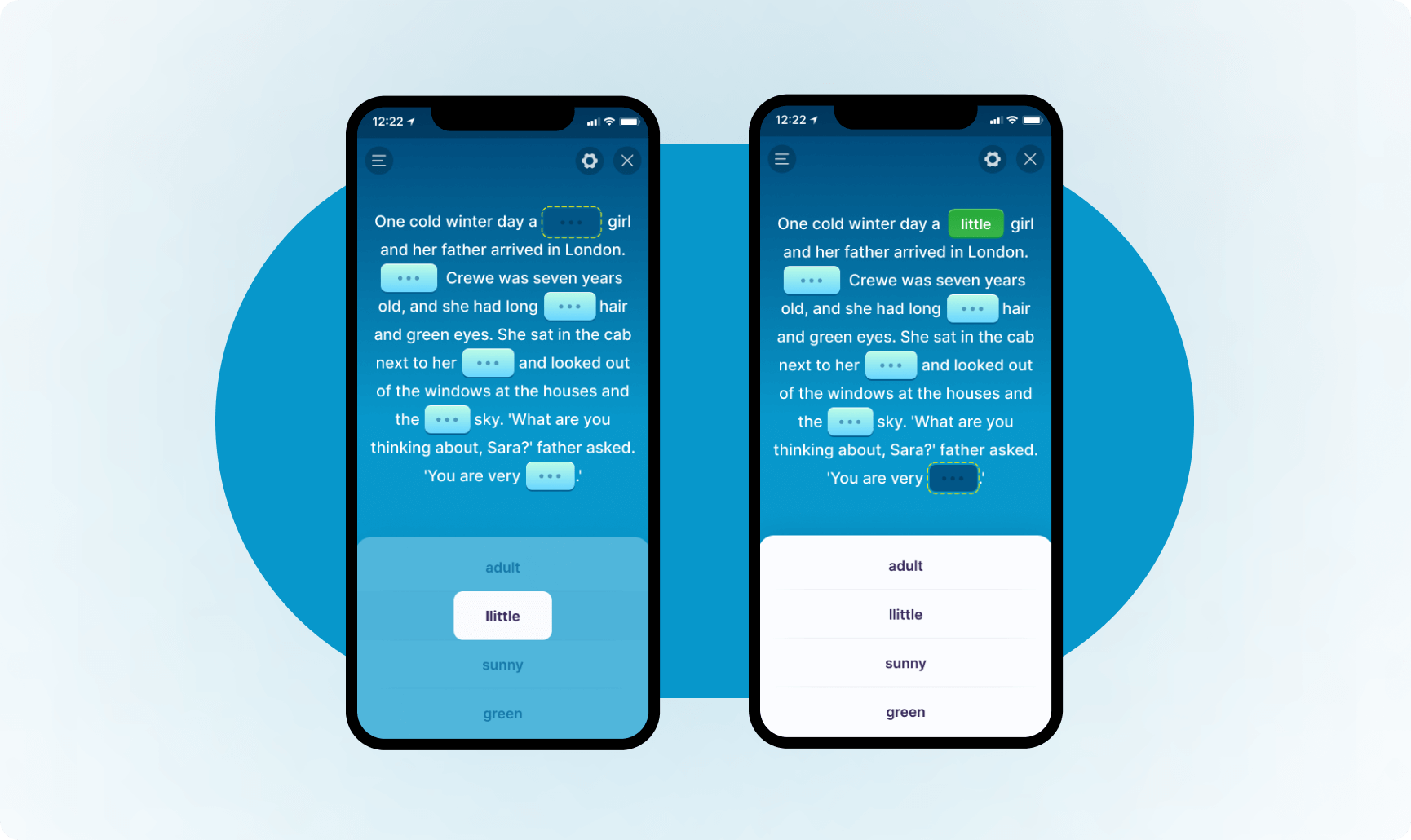 Knowing a language primarily relies on understanding what we hear. Provide your users with plenty of listening practice with both single words and complete sentences.
An effective language learning application must include exercises for speaking practice. Make sure they are not entirely skippable. For instance, Duolingo lets its users turn off speaking exercises for one hour and then turns them on again.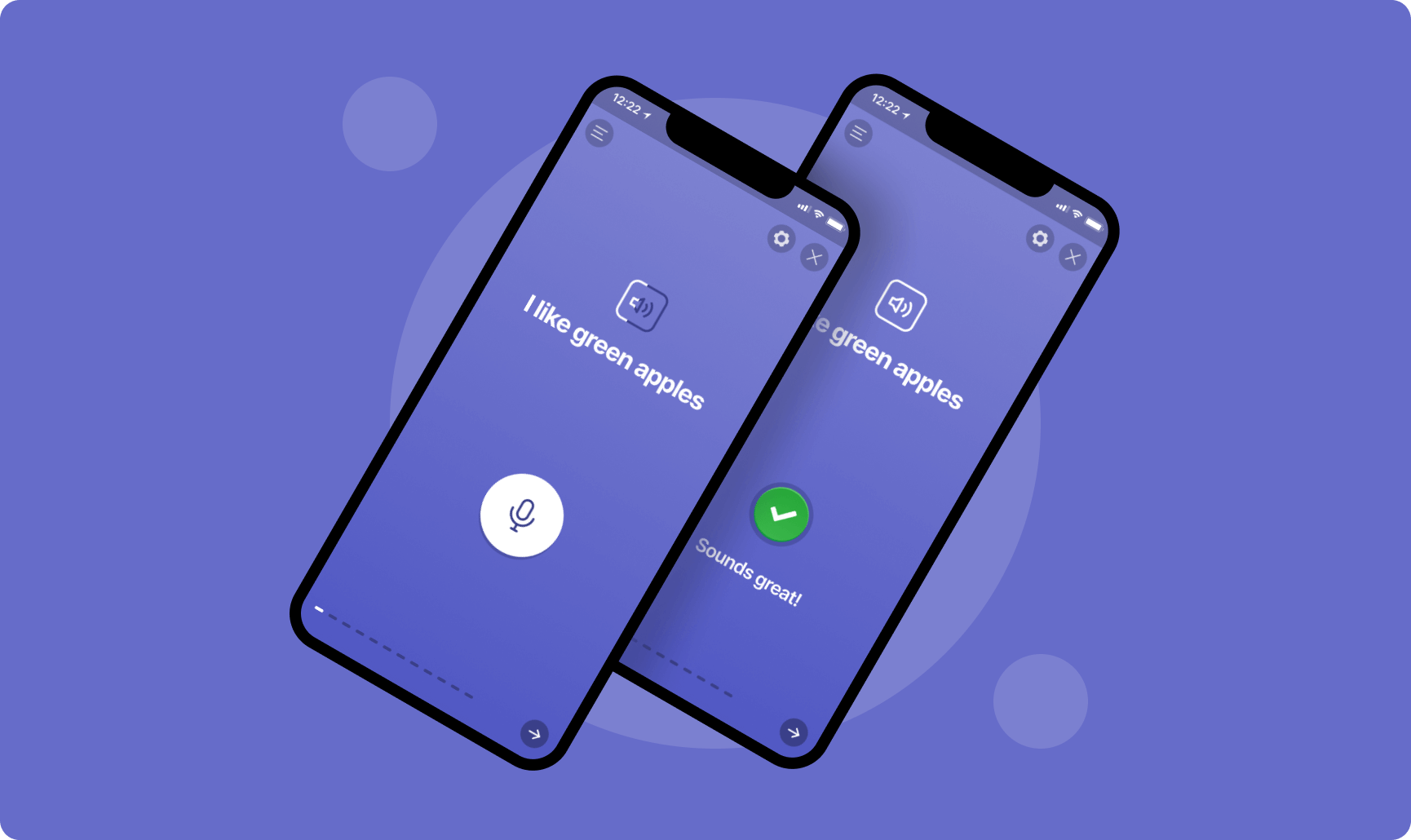 Though grammar practice is last on this list, it's as essential as the previous task types. When developing your app, include task types where the user has to write out words and not just choose the correct option. This approach majorly increases grammar knowledge retention.
Tests
Knowledge assessments are necessary to let your users know how well their language learning is going. To make tests more helpful, allow users to review the results and suggest how to avoid the same mistakes.
Notifications
Push notifications match their name: they push users to keep learning and return to the app, decreasing user churn. Duolingo is notorious for its study reminders that sometimes come off as passive-aggressive, but you don't have to make your notifications so assertive. Implement regular push notifications for increased course completion rates.
Advanced features
Gamification features are among the best ways to make your language learning app engaging and effective. Here's how Duolingo describes their approach to gamifying language learning: 
"Our free, bite-size lessons feel more like a game than a textbook, and that's by design: Learning is easier when you're having fun."
Below is a detailed table of gamification elements you can add to your educational product.
Game element
Examples
Achievement (Progression)

Points
Badges
Leveling
Leaderboards
Progression bars

Rewards

Equipment, tools, and other resources to use in-game
Collectibles
Bonuses

Story

In-app characters 
Quest: The hero's journey

Time
Personalization

Avatar selection
Avatar customization
Character naming
Interactive conversation (ICI)

Microinteractions

Special effects
Toggles
Animated rollovers
Easter eggs
A chatbot is a great feature for language learners to practice both listening and speaking at once. This tool helps users improve their conversational skills without talking to an actual person. A chatbot also makes learning with your app more personalized and makes the application more technologically-advanced.
The initial assessment can be a part of the language app onboarding. Such a feature will allow your application to provide users with customized courses. You can also include questions about your customers' specific reasons to learn a language to offer tailored lessons. 
Live streaming makes your language software more engaging. Users can listen or talk to native speakers right in your app to practice speaking skills. Another use of live streaming is Q&A sessions with professional instructors to make the self-study learning process more effective.
Networking can be an excellent motivator for users to learn a language in your app. It's much easier to stay on track with the course when there's a feeling of community. Provide users with the ability to follow each other, join groups, or even chat right in the application.
Business model canvas for an app like Duolingo
Before development, we advise you to make a business model canvas covering areas of your project like key partners and resources, value propositions, cost structure, etc. Let's have an overview of a business model you can use to create an app like Duolingo.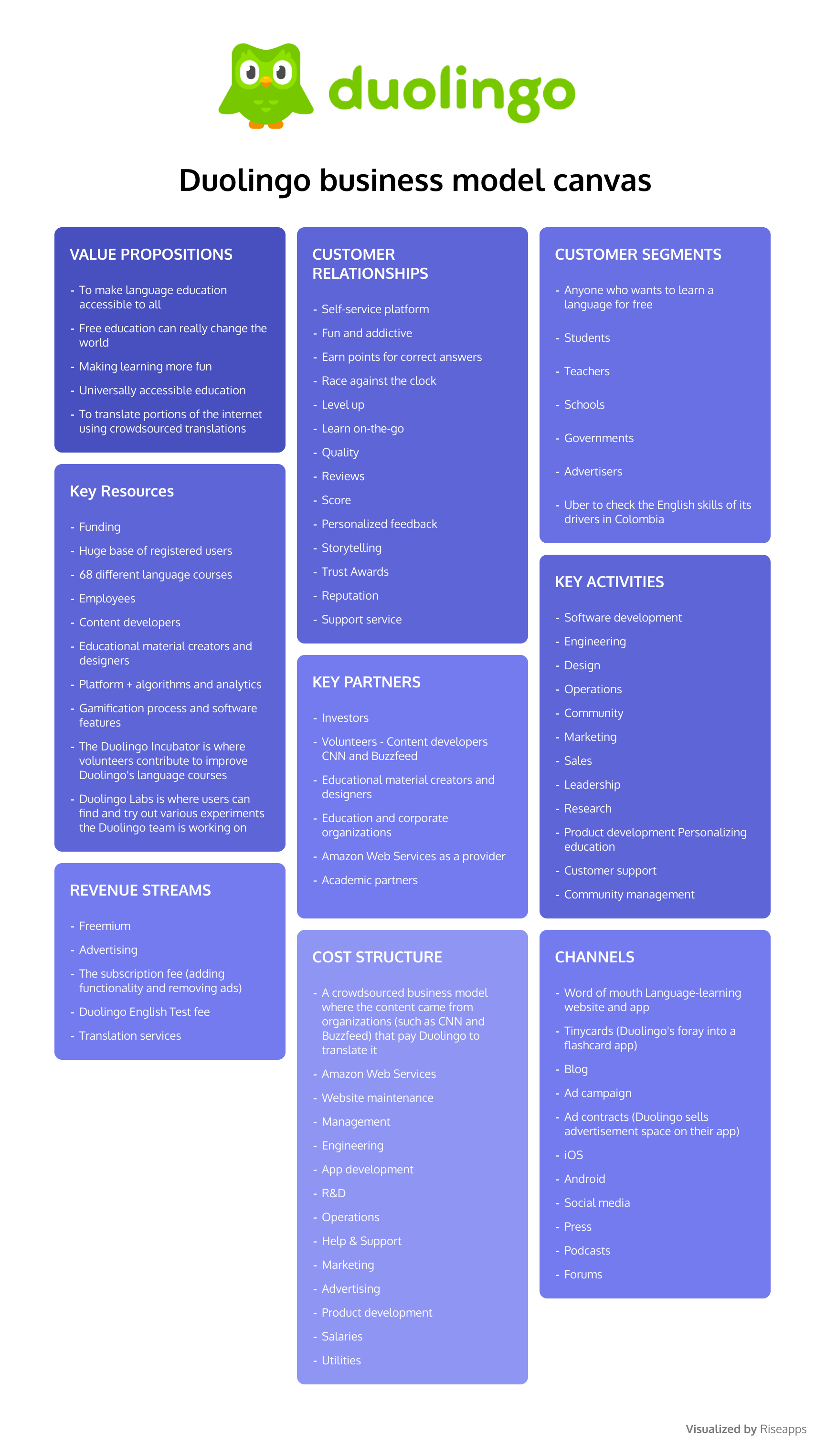 Think about every segment of the business model canvas before developing your language app. Define what will make your application stand out, your target audience, which resources are required, etc.
Right revenue streams are vital to make your app successful. Below, we offer you the five most common ways to monetize a language app. You can choose one of them or combine a few for increased profitability.
6 steps to build a language learning app like Duolingo
When you're ready to make your own language learning app, we advise following these steps:
Development partner search
Business analysis & project planning
Development
Quality assurance
Launch and further updates
Let's explore each of the stages in more detail. 
1. Development partner search
Due to the specific nature of language learning apps, you should look for a development partner with proven experience in this industry. Working with a trusted company means speeding up the development time, minimizing risks, and ensuring the highest quality of the end product.
To make a well-thought-out decision, consider the following factors:
Has the company worked with e-learning projects? What about language applications?
How long has the company been on the market? Does it have verified reviews on Clutch?
What's the seniority level of the developers in the company?
If the answers to all these questions are positive, you can be sure about the successful outcomes of your cooperation with the selected company.
2. Business analysis & project planning
When you've chosen the development partner, you'll first work with the business analysis team to prepare the requirements for your software.
The requirements for an app can be functional and non-functional. Here's a look at what each category means.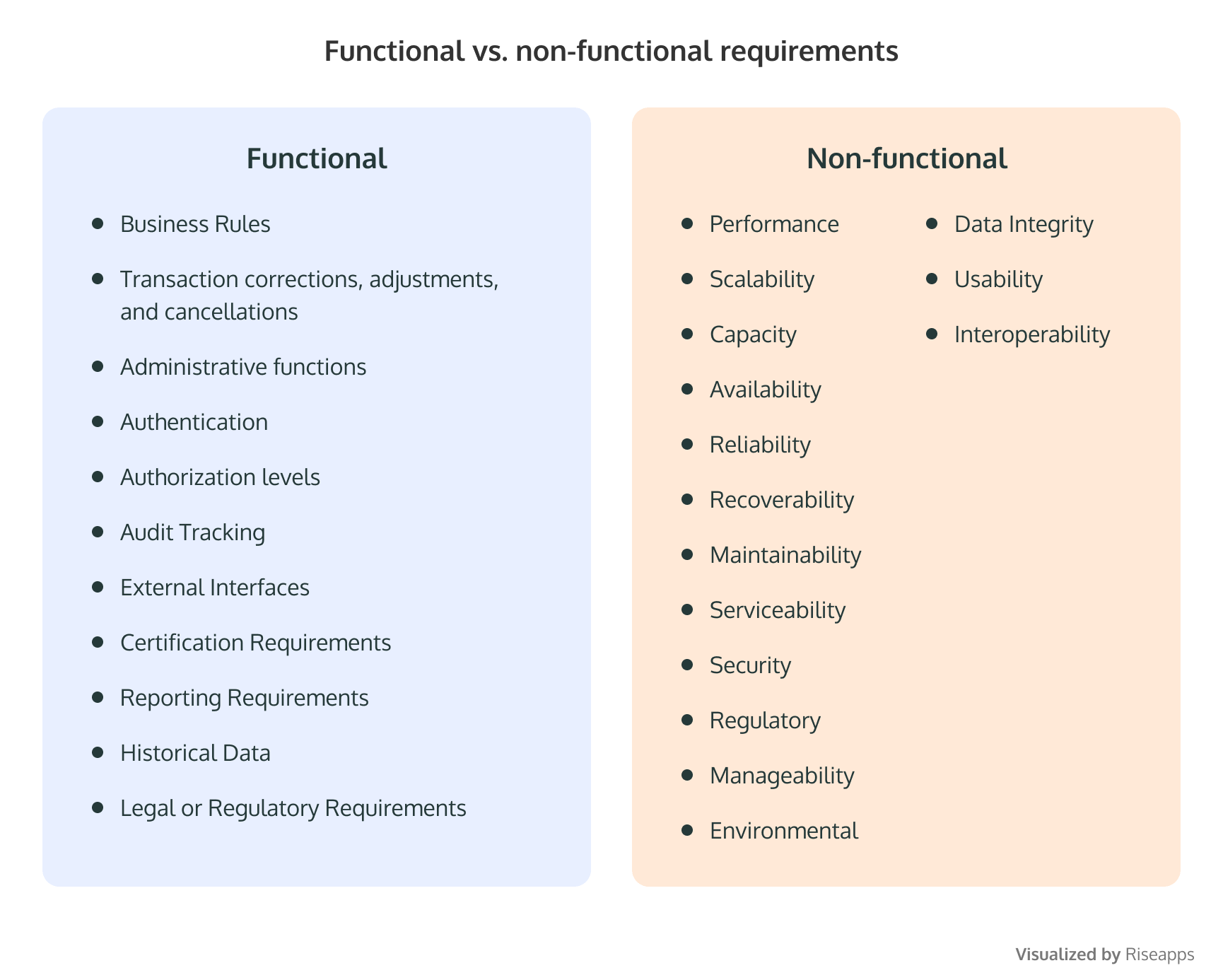 Based on your requirements, the BA creates a detailed estimate of the application. A project plan is created afterward with the number of phases depending on the complexity of your app.
Using an agile methodology like Scrum can speed up the development process. So consult with your project manager about the best approach to your specific project. 
3. UI/UX design
The design comes next after business analysis in full-cycle development. It starts with wireframing, the process of creating your app's page schemes and overall blueprint. Once the wireframe is ready, it can be turned into UI/UX design.
User experience and user interface affect the success of your software a lot. This is especially relevant for educational applications, as they have to be easy to use and highly engaging at the same time.
In a language application, UI/UX matters to each type of user. Learners need an easily understandable design with gamification features. Tutors and content creators need a convenient admin panel to create, manage, and customize courses quickly.
There's so much to cover in terms of good UI/UX for e-learning apps it deserves a separate article. We've already written one; check it out below!
4. Development
Next after the design is the most time-consuming part: the development itself. Its scope and length depend on factors like your target platform, functionality, and scalability of the software. If you plan to make a language app MVP, the development will take much faster.
An MVP, or minimum viable product, is a basic version of an application released to test out the software and get initial user feedback. Creating an MVP helps you understand how to improve your software and what features to add for its best performance.
The development timeframe also varies based on the size and seniority of your team. More experienced devs who have practical knowledge of your chosen tech stack will build an online learning platform much faster.
Speaking of the tech stack, let's look at an example of this key development element. This is what the primary tech stack of Duolingo consists of.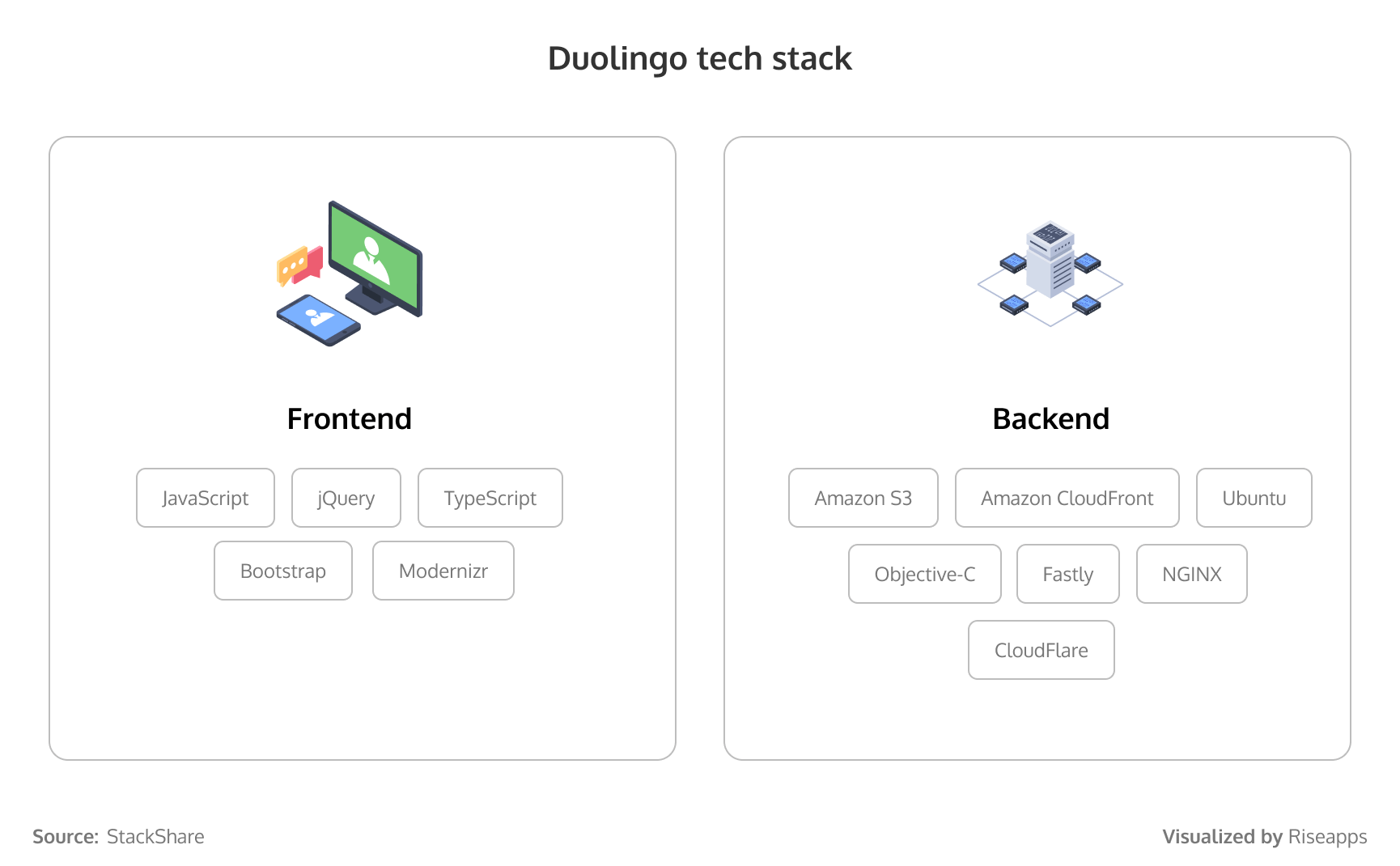 As you can see, Duolingo's iOS version is built in Objective-C, and the web version uses JavaScript. Although not stated above, the Android version of the application is written in Kotlin, meaning Duolingo uses native technologies for each platform.
Native is the best development option when your budget allows it. If you want to cover all platforms but spend less, go for a cross-platform framework like React Native. It will enable speeding the development time significantly and will cut the cost of it. When the codebase for your language app is ready, it's time to test it.
5. Quality assurance
Any educational app should work perfectly. Otherwise, users will immediately dislike it and will look for an alternative. Our advised time spent for quality assurance is at least 20% of the total development time. QA engineers will be able to check the software thoroughly, sometimes several times, which eliminates the possibility of a buggy app.
6. Launch and further updates
The last step of language application development is the launch. After your software is released, make sure to collect feedback from users, and don't worry if some of the feedback is negative. Such reviews can help you fix any existing problems within the app to make it better and more successful in the future.
Also, pay attention to the latest industry trends. For example, language learning apps can benefit from emerging technologies like AI/ML to improve chatbots.
How to monetize your app
Think about how to make a profit with your application in advance. We chose the five most popular ways to make money with your language learning app.
A paid app
Making your application paid may seem like the easiest way to monetize it. However, you have to do a lot of work to convince users to pay for the app before they've even installed it. Think about promotion in advance: a good marketing campaign will highlight all the reasons to purchase your app.
If the characteristics of your product differentiate it from competitors, consider this monetization strategy. For example, AnkiMobile is a paid language app that offers users flashcards with advanced settings for improved learning efficiency.
Freemium model
Duolingo is the prime example of freemium. Users can access nearly all app features for free. However, if the user wants to get unlimited health points, use courses offline, or get advanced progress tracking, they'll have to pay.
This monetization model works well because it lets the user try your app out before spending any money. If you create a platform with engaging content, users won't doubt paying for additional features to make the learning even more effective.
Subscriptions
This is another monetization approach Duolingo uses. The paid version is subscription-based, and users can choose whether to pay for the app monthly or annually.
Offering a subscription to your application may be the best monetization option. Your customers are likely to use the app more if they are determined to finish the course. To achieve their goal, they'll stay subscribed to the application.
Tutoring
If you include live streaming in your app, tutoring can be a great revenue stream for both you and your users. One example of such a platform is italki where anyone eligible can become a language teacher.
This monetization technique makes your application stand out to people who either can offer their teaching services or look for a private language instructor. To make such an app profitable, you'll charge a commission for the tutors' lessons. 
In-app ads
Finally, you can provide ad space inside your application. Advertisements allow users to access the full version of your app free of charge. Duolingo uses this monetization method, showing ads after each lesson in the free version of the app.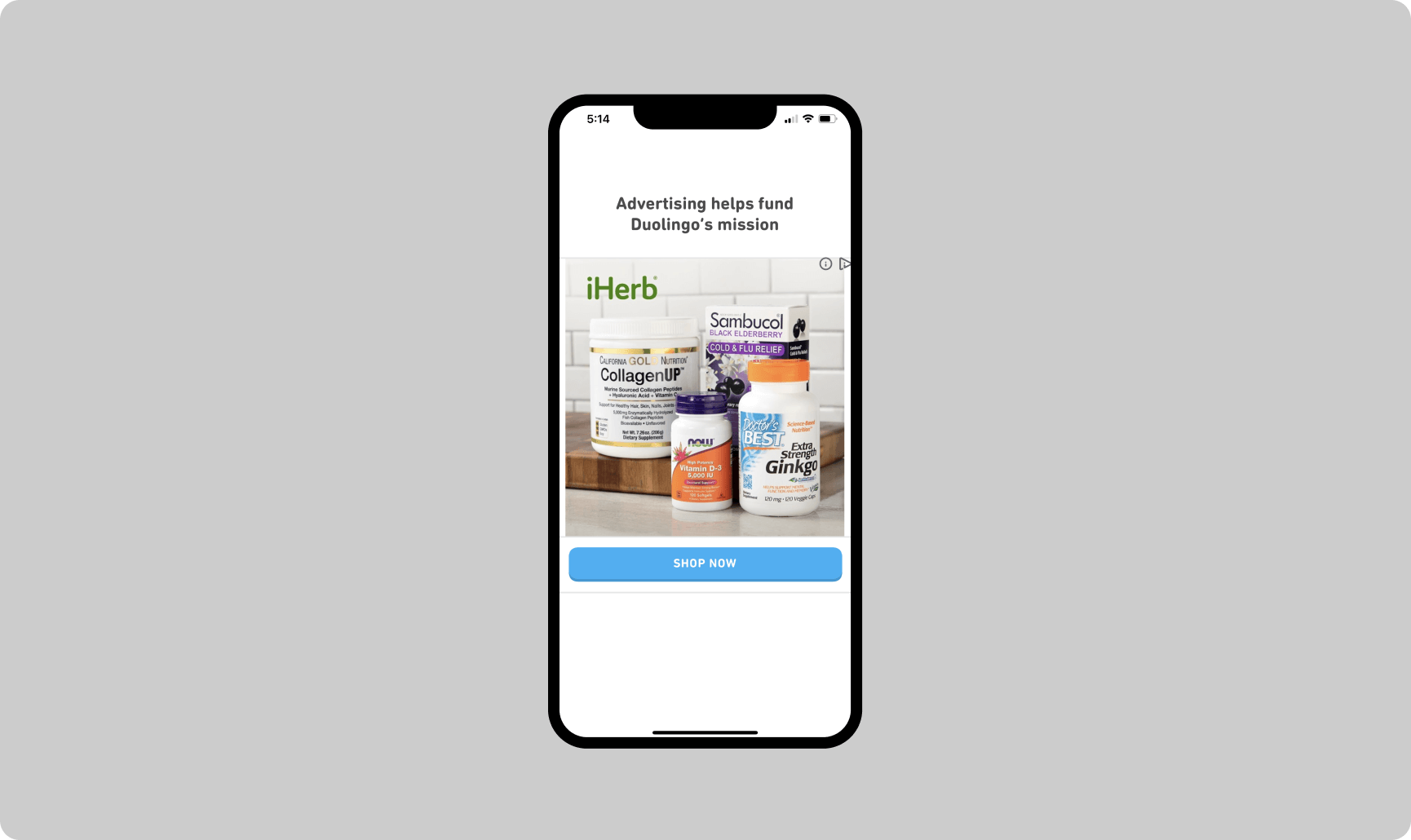 Interested in custom learning app development?
Learn more
Time and cost to develop a language learning app
When you have a clear idea of your language application, you can calculate the budget for it. The price and development timeframe of an educational app vary from project to project. The application price mostly depends on the covered platforms, the included features, team size, seniority, and location.
Below is an approximate estimate of the cost to develop a language learning app and the development timeframe.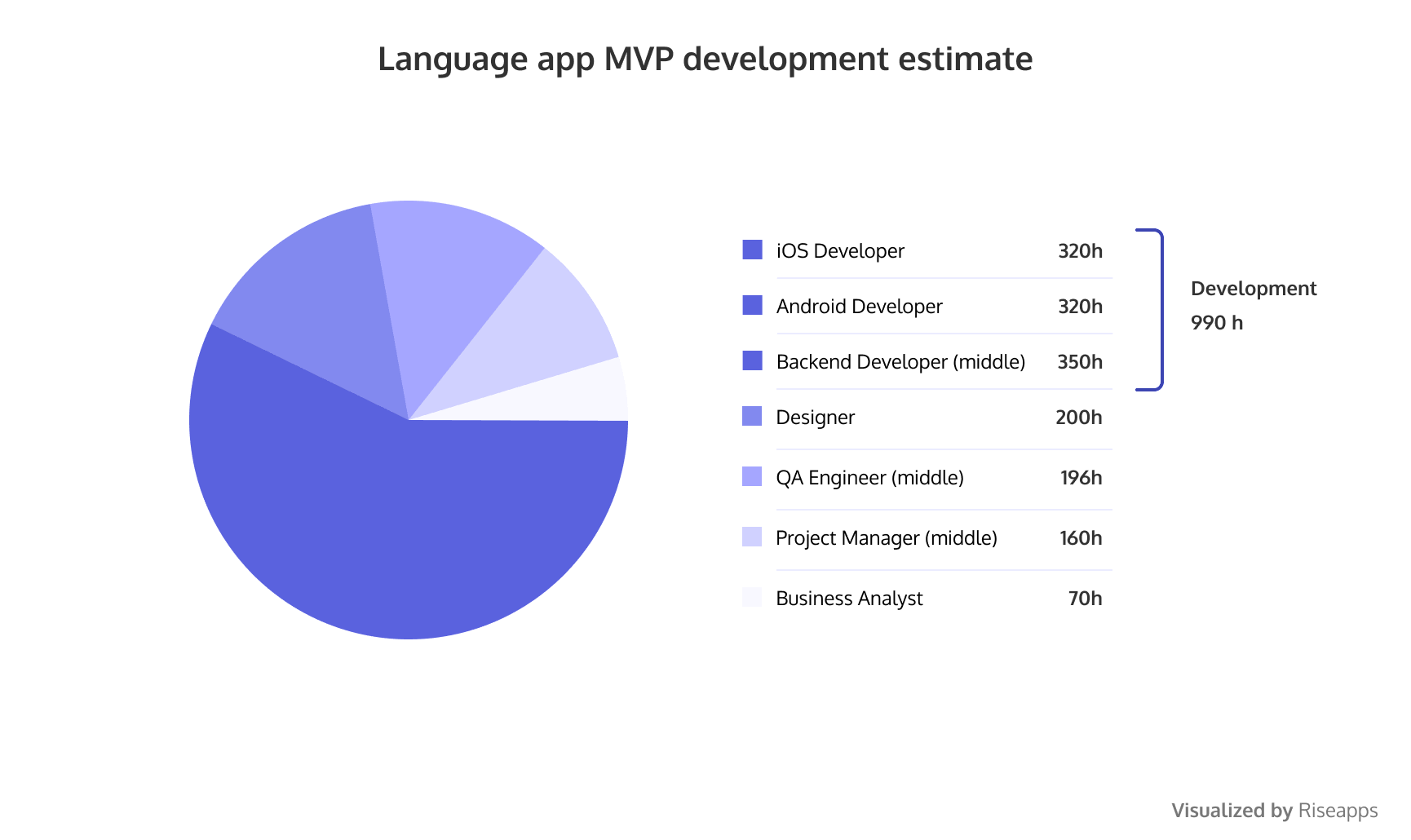 We also prepared a rate comparison based on the development company location. 
| | | |
| --- | --- | --- |
| Region | Hourly rate | Basic level language app |
| The USA | $100-180 | $160,000-290,000 |
| Great Britain | £100-180 | $225,000-400,000 |
| Western Europe | €80-150 | $160,000-290,000 |
| Eastern Europe | $30-70 | $50,000-113,000 |
| Ukraine | $30-50 | $50,000-81,000 |
| India | $15-30 | $24,000-50,000 |
Our experience
Riseapps team has first-hand experience in creating a language learning app.
We helped one of our clients build a language application suitable for self-studying and classroom use. He needed a custom solution with many complex features to make the platform convenient and appealing to the target audience. We were responsible for the design, front end, and mobile version of the language learning app.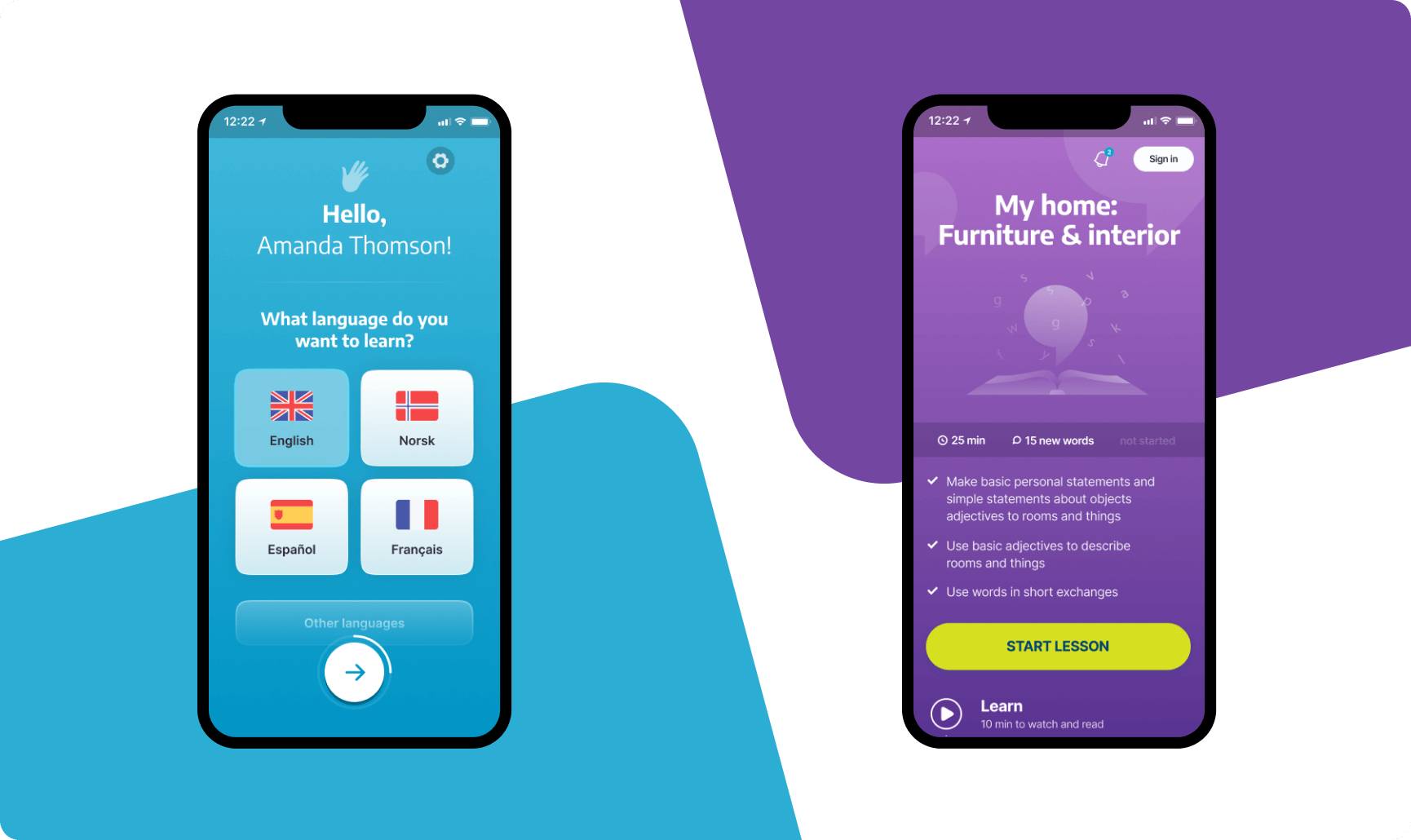 We chose React Native for Web for this project, as it allowed us to reuse the code base between the web and mobile app. The framework helps build both mobile and web versions of an application 1.5 times faster than with native technologies.
With this project, we also focused on gamification to make the application engaging for students of any age. We set up lesson levels, experience points, leaderboards, and more to make learning with this app fun and effective.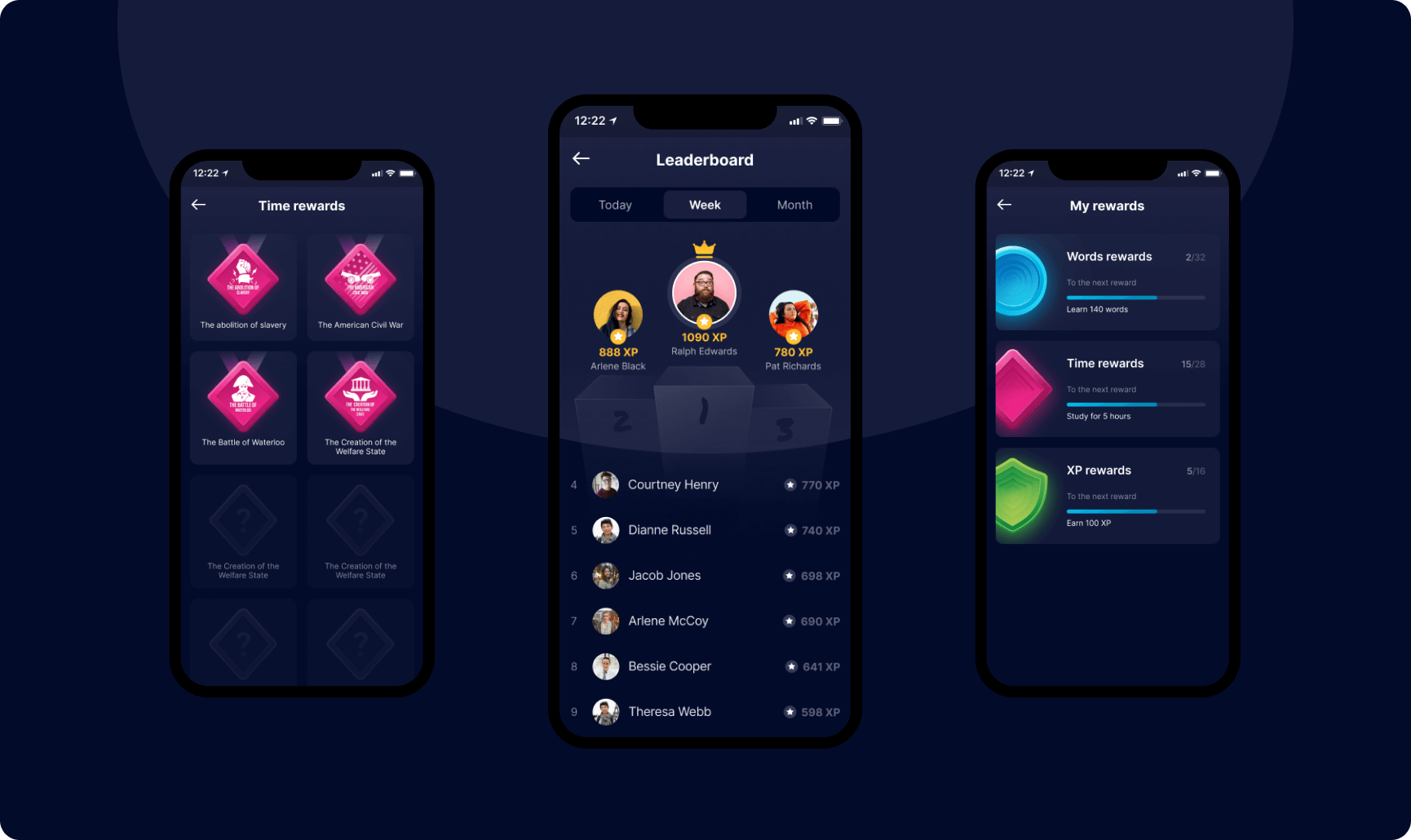 As Riseapps completed the work, our client received a language learning website that stands out among competitors due to its customizability and reliability. This cross-platform project offers users web and mobile versions of the app to teach and learn on the go.
Conclusion
In conclusion, we'll provide you with a recap of our main tips on how to build a language learning app:
Study the successful language application cases like Duolingo. If you do it, you can get useful ideas on making your software better.
Choose a solid set of features. A language learning app should include a mix of basic and advanced features to differentiate it from others.
Create a business model canvas for your project and choose the monetization strategy.
Build your app. The full-cycle development process will include business analysis, UI/UX design, the development itself, QA.
Launch the application. Collect user feedback to update the software and follow industry trends to add modern features to it.
We hope you enjoyed our guide and found it helpful. Good luck with your language learning app!
Looking for developers to make a language app?
Contact us
FAQ
---
How did Duolingo become so successful?

---

Some of Duolingo's success secrets are the lesson format, gamification features, and the chatbot.
---
What are the main stages of language application development?

---

The optimal steps you should take to build a mobile app for learning a language are:

Development partner search
Business analysis & project planning
UI/UX design
Development
Quality assurance
Launch and further updates
---
How can I monetize my language learning software?

---

To make your application profitable, choose between a paid app, freemium model, subscriptions, tutoring, or in-app ads. You can also combine several of these monetization approaches.
---
How much does it cost to create your own language app, and how long does it take?

---

The approximate cost and time required to develop a language learning app are $65,000 and five months.

Contact us if you need a detailed estimate for your language learning software.
---