What makes Duolingo so successful, and how can you use that knowledge to build your own language learning app? You're in the right place.
Not long ago, Rosetta Stone enjoyed a near-monopoly of the language software industry, earning over $200 million in revenue annually from its high-end learners. 
However, they should have recognized the importance of an affordable option for their customers. 
This gap in the market created a lucrative opportunity for Duolingo, who swooped in with their free app and quickly amassed 25 million monthly active users. 
This eventually grew into a multi-million dollar venture, with Duolingo building a $700 million company without asking its users a cent. 
The success of Duolingo is credited to two factors: tapping into huge markets and decision-making based on data. 
Other major companies, such as Preply and Babbel, have also managed to capture market share by utilizing user data and providing high-quality content.
This post will not only illustrate the stratagems employed by the most successful businesses in the industry, but it will also give an understanding of how to create a business-ready language app.
We will examine the current market prospects, the various monetization models, and the cost of creating a language app.
Pre-Development Checklist: What You Should Do Before Building a Language App
Before you jump into creating a language app, take the time to do the following: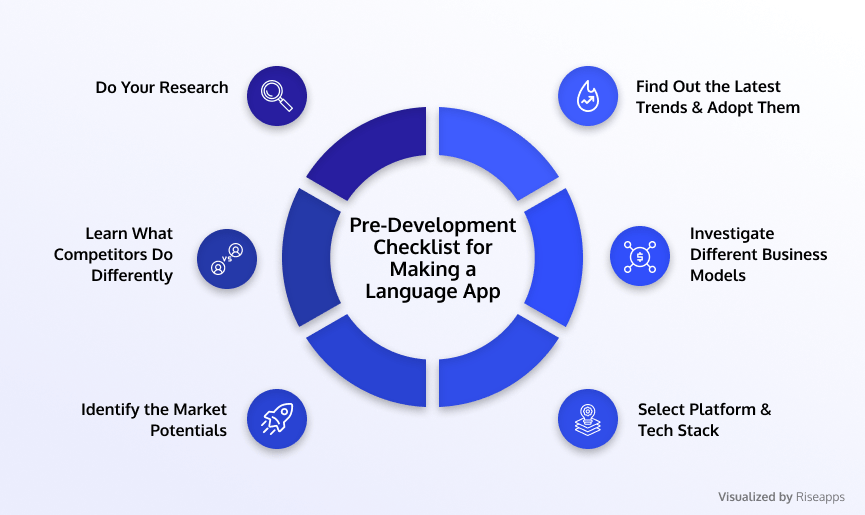 Do Your Research and Analyze the Market
First, understand what problems the users are trying to solve. For example:
Corporate training: Out of the 92% of execs surveyed, almost all agree that their organization benefits from learning languages – especially travel and hospitality companies and customer service businesses.
School work: Preply found that the majority of surveyed respondents, 31%, had to learn a foreign language because their school said so.
Personal growth: 35% of Rosetta Stone users said they decided to expand their linguistic capabilities for career advancement.
Users often need help finding flexible, convenient, and affordable solutions. Furthermore, those who are too busy to commit to a full-time course may prefer to learn at their own pace.
When creating a language learning app, it is important to identify these pain points and build a solution that addresses them. It would help if you also grasped your potential users' demographics.
Here are some interesting facts.
U.S. citizens of all generations have something in common: Spanish is their language of choice to study. After that, however, the differences in interests become quite evident. For example, Generation Z learners opt for Japanese classes, while their parents and grandparents prefer Italian.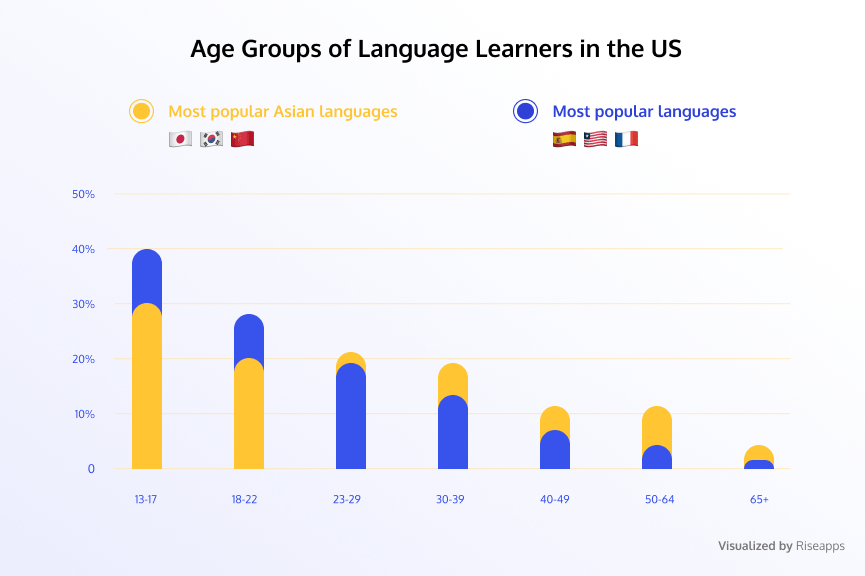 Japanese takes the third spot in popularity among 13-22-year-old learners but drops off a bit for older age groups and isn't even in the top 10 for those over sixty.
Much like Japanese, Korean is most popular with the 13-17 year-olds, ranking 6th, but loses traction with the more mature demographic.
How about the most active learners?
The Asia-Pacific region is expected to reach the highest market share shortly. Factors like the widespread online enrollment for higher education, the swift global company expansion, and a massive young crowd searching for better career chances.
There are also enablers, such as skyrocketing smartphone penetration, a shortage of teachers in rapidly developing countries, government strategies for the national online learning process, networks, and the continuous digitalization of content.
Observe the Winning Strategies of  Top Companies
Duolingo was the most downloaded language learning app in 2021, with 63% of all downloads.
They conducted a study featuring insights from over 500 million users to support this remarkable statistic further.
How have Duolingo and other key players achieved such success?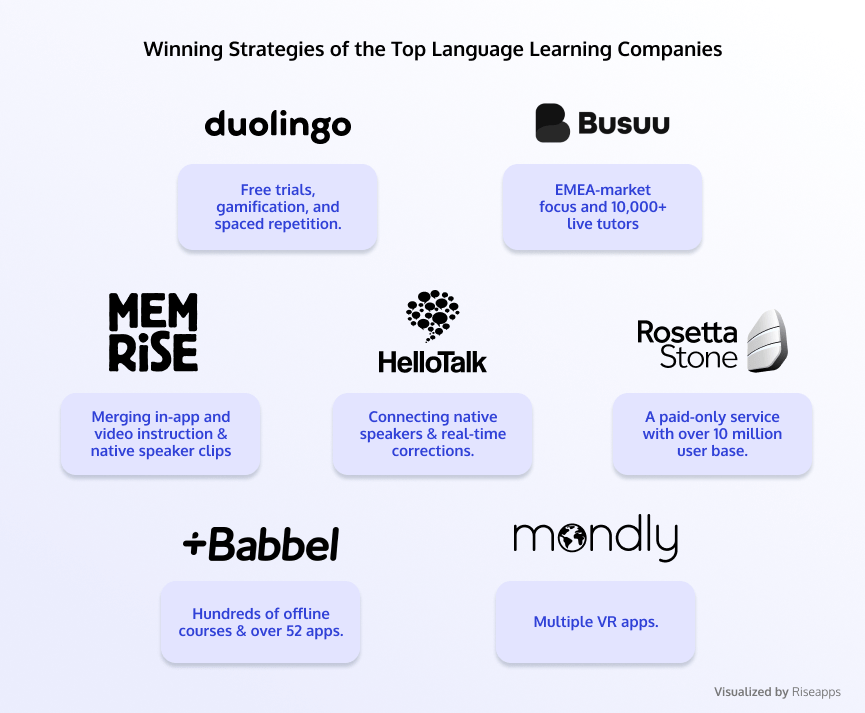 Here are the winning strategies of the top language learning companies
Duolingo: Free trials, gamification, and spaced repetition.
Busuu: EMEA-market focus with 10,000+ tutors who can provide one-on-one instruction remotely.
Memrise: Pioneers of merging in-app and video instruction, plus native speaker clips for a realistic experience.
HelloTalk: Connecting native speakers through interactive conversations with real-time corrections.
Rosetta Stone: Longtime language teaching pros with hundreds of offline courses and over 52 language learning apps.
Babbel: A paid-only service with over 10 million user base.
Mondly: Taking language learning to a whole other level with multiple V.R. language learning apps
Identify Potentials and Exploit Them
First, revenue for the language learning industry skyrocketed 32% in 2021, reaching $8.21 billion. Online services accounted for 12% of the total gains within this sector.
In February 2022, in-app purchases of language learning apps had already generated $27 million globally. Duolingo accounted for most of this sum, raking in USD 13.38 million.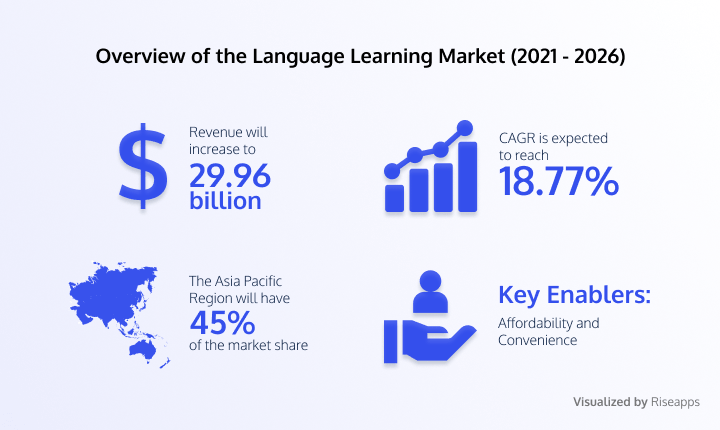 Industry analysts anticipate the market will grow further, rising to 26.6 billion by 2026.
Investors should remember that there are other potential market possibilities besides the growing revenue from language services.
And in February 2022, the top language learning apps have already pulled in $27 million from users worldwide via in-app purchases.
Duolingo alone was responsible for half of that sum – amassing $13.38 million U.S. dollars. The market is predicted to expand further, reaching 26.6 billion by 2026.
Nonetheless, investors should recognize that other prospective market opportunities exist besides the burgeoning revenue from language solutions.
English and Chinese Are the Most Sought-after Languages
In 2021, the English language was expected to dominate in language use.
This surge in demand can be attributed to several factors, such as the increase in globalization, the acknowledgment of English as a common language, and the growing awareness of the significance of being fluent in English.
Courses Are the Most Coveted Product for Self-paced Learners
Breaking it down by product, the online language learning market report is divided into courses, solutions, and language learning apps.
Of the three, courses are predicted to have the highest growth potential throughout the forecast period.
Much of this success can be attributed to the rising trend of self-paced e-learning in the education sector.
Find Out the Latest Trends and Technologies & Adopt Them For Your App Development
With the internet and mobile phone usage skyrocketing and a higher demand for bilingual staff from multinational companies, opportunities for participants in the online language learning industry are abundant. Two important elements are contributing to this growth.
First, there's consumer acceptance of technology-based products that are more cost-effective and flexible than traditional offline programs.
Online language courses have numerous advantages, like easy enrolment, chats, forums, instant feedback on tests and quizzes, and self-paced studying.
Second, Artificial Intelligence (A.I.) is the revolutionizing language learning process, reducing the time it takes to acquire a new language compared to traditional methods.
A.I. will surely shake up the online language learning space in the future.
For example, A.I. Adaptive course delivery is the way of the future. With AI, personalized lesson plans tailored to each user's learning style, progress, and preferences can be created with ease.
LinkedIn says A.I. can be used for anything from language to economics to science courses.
As investments in EdTech from public and private sectors rise, the global A.I. in education market size is expected to reach a whopping 36.0% CAGR by 2030.
Other emerging edtech trends ready to be tapped into for your app development include: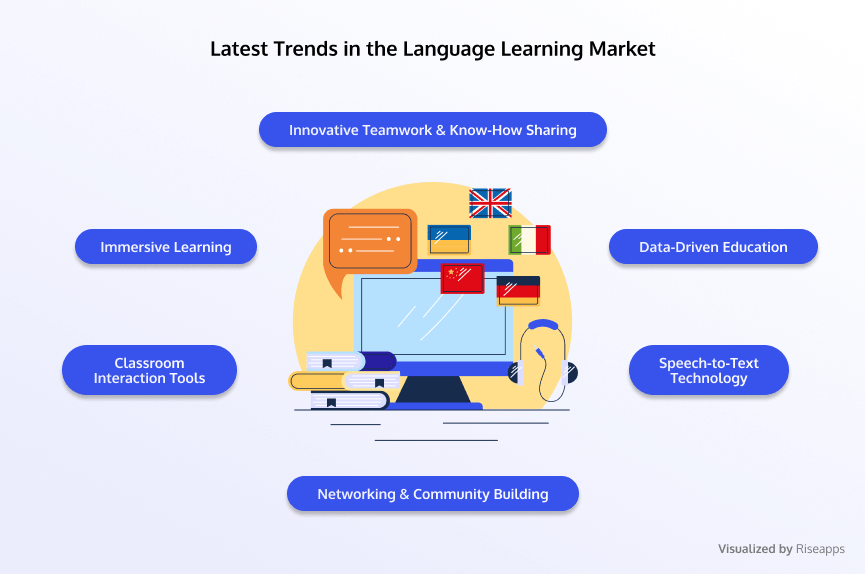 Innovative Teamwork & Know-How Sharing
The worldwide team collaboration software market is set to skyrocket to an astounding $40.79 billion by 2028 – language apps are a huge part of that.
To make the most of this market, language learning apps should be designed to facilitate collaborative work and virtual team projects.
Students can work together on language tasks, exchange knowledge, and provide feedback.
Networking & Community Building
One creative way to incorporate technology into language learning app design is to build a platform that links language learners with a network of peers who can help each other practice and develop their linguistic abilities.
A survey revealed an average 19 percent rise in usage of these learning technologies since the COVID-19 pandemic began.
Social media-like discussion platforms and virtual study groups, which promote connectivity and community, experienced the most significant jump in use—49 percent—followed by group work tools, which saw an increase of 29 percent.
Immersive Learning
The Augmented Reality & Virtual Reality education market is set to hit $32.94 billion by 2026.
Although AR/VR hasn't taken over the language learning process yet, 37 percent of students said they were "most excited" about its potential in the classroom.
Eighty-eight percent of others think it will make studying way more appealing, but only 5 percent reckon it will help them ace their content.
If you want to get creative and bring something special to your app, utilizing A.R. & V.R. technology could allow for awesome immersive language learning experiences.
For instance, learners can scan real-world objects and see translations in the target language with A.R. or explore foreign locations and practice speaking & listening in context with V.R.
Data-Driven Education
Many universities are jumping on the data train and reaping the benefits of data-backed solutions – identifying pain points in student experience or allocating resources more efficiently.
Machine Learning algorithms are taking things to the next level, allowing for personalized learning experiences based on predictive modeling.
Western Governors University in Utah is a great example of this, having increased its graduation rate by five percentage points between 2018 and 2020.
Advanced analytics with Machine Learning can even detect at-risk student types that may have been overlooked using traditional methods – as seen in the image below.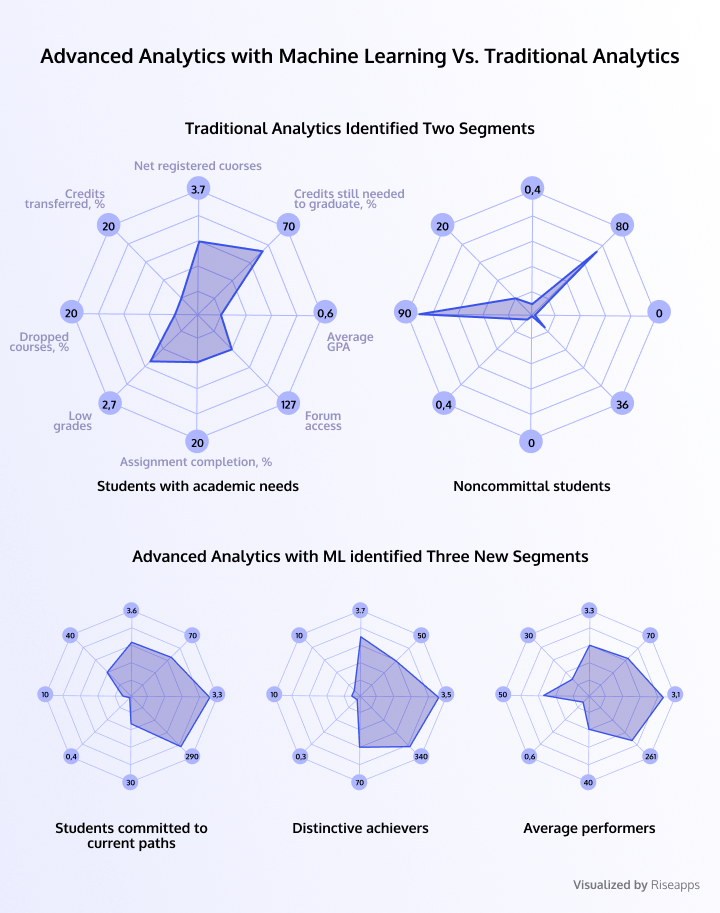 Classroom Interaction Tools
Interaction is a cornerstone of any educational journey, and online classrooms are no exception. Before the pandemic, real-time chatting, polling, and breakout room were the most popular interactive tools – and that hasn't changed.
According to a survey, 67% of people still use these tools in their virtual classrooms, with Facebook, Zoom, and Microsoft having fully integrated the trio.
Taking a peek at the Facebook break rooms, we can see how members and admins can easily create rooms from the Groups composer.
Each group can have multiple chat rooms, but once a room reaches 50 members, no additional ones can be added – even admins.
To further spruce up the learning process and environment, polls are available to vote or decide on topics – making it fun and interactive for everyone.
Speech-to-Text Technology
Margery Mayer, former Scholastic president of education, may have been spot on in her 2021 white paper when she dubbed 2021 the "year of speech recognition" in education.
The rise of edtech developers in the first half of 2021 suggests that technology plays an important role in engaging students and transforming how early literacy instruction is conducted.
To illustrate, Waverly Labs is taking the mission to bridge language barriers to the next level with their new app, Forum.
Whether used in a lecture hall or virtual meetings, this mobile and web-based solution enables users to communicate easily in 20 languages and 42 dialects.
Investigate Different Business Models & Consider How to Meet Financial Objectives
Ensure your monetary goals complement the bigger-picture business objectives. Here are monetization models that will help you do so.
If you're hoping for your language learning app to succeed, you'd better ensure your monetary goals complement the bigger-picture business objectives.
Here are monetization models that will help you do so.
Make Your App Free
Offering a free trial can take different shapes.
Opt-in free trials let them use the language learning application without committing any payment info.
Opt-out trials require users to enter payment details upfront before they can immediately try the fully functional product or feature.
But there are other ways to access free products.
The freemium model allows foreign language learners to access the product but with time restrictions. Free trials, however, are only available for a limited time but often offer more exclusive features.
Take Duolingo, for example. Only a small portion of their users end up paying for advanced features, yet 72% of their 2021 revenue was generated without subscription plans.
What did Duolingo do? They adopted a freemium monetization strategy, giving their users access to basic features for free while also offering paid subscriptions for additional perks.
Get Subscribers
Offer your customers the chance to subscribe.
Take Babbel, for instance; they deliver a traditional digital language course with typical dialogues and exercises concentrated on grammar.
With the free trial period they offer, they mainly make money by selling lengthy subscription packages to users and controlling in-app ads to ensure they have a great experience.
Subscriptions come in three forms: fixed, unlimited, and pay-as-you-go.
Fixed gives a set fee for a specific amount of services for a preset time frame.
Unlimited is one set price for unending access to a product/service.
Pay-as-you-go is when customers purchase services from time to time without any long-term obligations.
Ask People to Refer Friends
Set up a referral program to get current users to spread the word and incentivize new users.
For example, italki has a great Affiliate program for influencers, bloggers, and YouTubers to make some cash.
If a new user registers via one of your affiliate links and spends at least $20 on italki Credits, you'll earn a minimum of $10 commission.
Use Focused Ads
You can set up an account with an advertising network and start displaying third-party ads on your language app.
You'll get paid each time someone clicks on an ad. This can range from banner ads to sponsored posts and more.
Cash In On In-App Purchases
You can sell additional features, subscriptions, or upgrades without having users leave the app. In Memrise, for example, users can buy learning credit and extra abilities and spend real money on in-game characters.
Source All the Resources You'll Need in the App Development Process
At this point, you should choose the platform and technology stack to utilize.
Selecting Your Operating System
A language learning app can be designed to run on various operating systems, including:
iOS
The app can be built for iPhones and iPads using Swift or Objective-C programming languages.
Android
The app can be built for Android smartphones and tablets using Java or Kotlin programming languages.
Web
The app can be accessed from a web browser and run on computers with different operating systems, such as Windows, macOS, or Linux.
Hybrid
React Native or Flutter are popular hybrid technologies allowing your app to work on multiple platforms with one codebase.
Picking the Appropriate Tech Stack
To build a language learning app, the following technology stack can be considered as the core:
Front-end: React Native, Flutter, or native platforms' language (Swift or Java) for building the user interface.
Back-end: Node.js or Ruby on Rails for building the server-side logic and REST APIs.
Database: MongoDB or PostgreSQL for storing the data.
Speech recognition: Google Cloud Speech-to-Text API or Amazon Transcribe for speech recognition.
Natural Language Processing (NLP): Google Cloud Natural Language API or Stanford NLP for text processing and analysis.
Text-to-Speech (TTS): Google Cloud Text-to-Speech API or Amazon Polly for TTS.
Machine learning: TensorFlow or PyTorch for building and training language learning models.
Deployment: Amazon Web Services (AWS) or Google Cloud Platform (GCP) for deploying the application.
Delivery Roadmap: Eight Steps to Create a Language Learning App
Here's a step-by-step guide to building your own language learning app.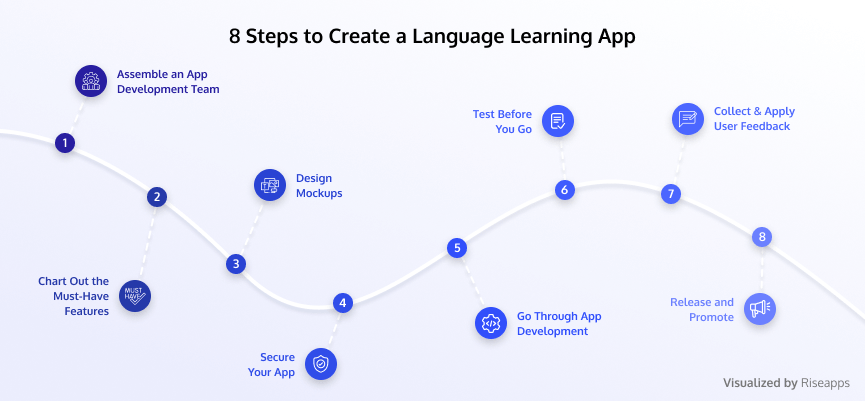 Assemble an App Development Team
If you want to build a language learning app with the brightest independent minds, consider creating a distributed team. 
You'll have access to specialized skill sets and global talent to create something extraordinary. Consider your budget and where you need the most help forming your team. 
Hiring an edtech app development company is a great way to ensure that your app is user-friendly and within your budget. 
At a minimum, your development team should include the following:
Product Manager 
UX/UI Designer 
DevOps 
Business/Technical Analyst 
Software Developers 
Quality Assurance Engineers
Chart Out the Must-Have Features
Build functionalities that both learners and admins can use.
Features for Admins
Here are five key features of language learning apps that are specifically designed for admins:
Customizable Access
Admins can easily grant or revoke access to different users, allowing them to control who has access to the language app.
Automatic Updates
Admins can set up automatic updates to ensure that the language app is always up-to-date with the latest features and bug fixes.
User Management
Admins can manage users, including creating and deleting user accounts, setting up user roles, and more.
Analytics
Admins can track the language app's usage and performance to ensure it's running smoothly and efficiently.
Security
Admins can set up security protocols to protect the language learning app from unauthorized access.
Features for Users
Here are the main features of language apps that can help users learn a language.
Personalized Lessons
Offer personalized lessons that allow users to focus on the topics that are most important to them.
Interactive Games
Include fun and engaging games to help you practice and review your skills.
Audio Recordings
Let learners hear how native speakers pronounce words and phrases, giving a better understanding of the language.
Flashcards
Help users to practice and review vocabulary even on the go. 
Grammar Explanations
Comprise explanations of grammar rules and structures to help with understanding the language better.
Quizzes
Test the learner's knowledge and review what they've learned. 
Writing Exercises
Assist users in practicing writing the language in real-world situations. 
Design Mockups
During this step, it's crucial to have a U.I. & UX designer put together a mockup, template, and sometimes even a tutorial to give you an idea of what the language learning app should look like. 
The mockup is a map of how the app will appear, featuring a matching color palette and typography, images, the basic structure, and lots more. 
When done correctly, everyone involved in the app development process can get a good sense of the app's style and function.
The benefits of a mockup include the following:
Gives the dev team a chance to refine the app's appearance.
If you're searching for investors, it'll give them a preview before coding.
Clarifies the dev team's expectations.
Secure Your App
Make sure your mobile app and platform are both secure in the following ways:
Encrypted Data
Safety measures should involve encrypting any local databases, cache, or API communication. 
Certified APIs
Ensure the APIs used for your language learning app are authorized.
Fortify Authentication
Leverage the proper cryptographic key administration and applicable user session authorization processes—or tokens—to guarantee safety. 
Tamper-Proofing Software
To thwart hackers, including mobile-specific security tools such as anti-tampering and other third-party software. 
Continuous Checking for Possible Infiltrations
Most importantly, make sure to monitor for any breaches diligently. While crafting the app, audit your code regularly. Pinpoint any security vulnerabilities before a hacker does when the app goes live.
Start Coding
If you're ready to dive into coding, you should know a few things. At the most basic level, you need to consider both the front end and back end of your app. The front end is about what the user sees, whereas the back end is about how the app works.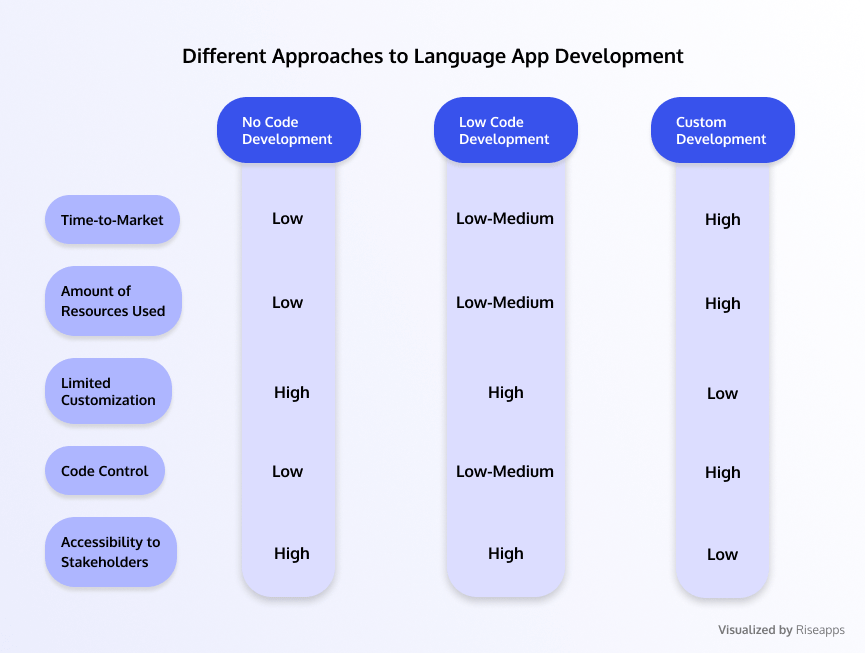 If you're managing a team of coders, use an Agile project management technique. It's usually best to go with custom software development, but you can also consider other approaches to see what's best for you.
Low Code Language Learning App Development:
Pros:
Speeds up the application development process, making it more efficient and accessible, even for non-technical stakeholders.
Saves money by streamlining the development process and reducing the need for manual coding.
Cons:
Limitations in terms of customization and control over the development process can impact the final outcome of the application.
Restricted functionality and the underlying code may not be as robust as in traditional development.
No Code Language Learning App Development:
Pros:
No code makes language learning application development even more accessible and even faster than low code, as it eliminates manual coding altogether.
It also provides collaboration tools and can lead to cost savings.
Cons:
No code development may have limitations in terms of customization and control, as well as limitations in functionality.
Applications developed using no code can become dependent on the platform, making it difficult to migrate to other systems.
Traditional Language Learning App Development:
Pros:
Traditional development provides greater customization and control over the app development process and can handle complex requirements.
Applications developed using traditional methods are typically easier to transfer to other systems.
Cons:
Traditional development is slower and requires more time and resources and a high level of coding expertise.
It can also increase the risk of errors and be more expensive than low-code or no-code development.
Run Different QA Tests
Be sure the test environment is comprehensive – it should encompass the database server, front-end environment, operating system, and network. For an added layer of assurance, implement a bug-reporting tool to ensure crystal-clear results. As far as the Q.A. team is concerned, here are a few things to consider during the testing process:
U.I. vs. UX
Is the app visually appealing and intuitive for users? And is the app functioning as it's designed to behind the scenes? 
Platform Compatibility
Does the language learning app run smoothly on the intended platform—iOS, Android, or both? 
Interoperability
Is the integration with other features, such as the user's camera or another app, running seamlessly? 
Hybrid Capabilities
If this app can be mobile and web, it must be tested for proper functionality across both platforms. 
Installation & Storage
Does the language learning app install correctly and take up the amount of storage on the device and O.S. it's meant for? 
Security
Ensure data is secure by validating source code, conducting penetration testing, and input validation. Plus, confirm additional security measures are taken.
Collect & Apply User Feedback
It's imperative to put the language learning application through its paces with a test group of users before releasing it to the public. 
This way, the app development team can get a good handle on user expectations and ensure the app is up to snuff.
Once it's live, carry on collecting feedback – analytics can prove useful for getting a grip on customer behavior and pinpointing any tricky areas that need tweaking before you hit the market.
Release on the App Store
The last stages are putting the finishing touches on your app and submitting it to the app store. Depending on the particular app store you choose, the requirements for approval may vary. 
You may target just the Google Play Store or the Apple App Store to make development easier, but that could mean limiting your audience. 
Although both app stores have positives and negatives, creating a cross-platform app gives you a greater chance of visibility and more potential users.
The Cost of Creation: Crunching Numbers for Crafting Language Software
The cost of creating language learning apps varies based on the developer's locality, their level of proficiency, the platforms and technologies selected, and of course, the project's scope.
Learning App Development Costs: Region and Rates Breakdown
Region
Average Hourly Rate
Average learning app MVP costs
North America
$150
$75,000-$90,000
Central Europe
$90
$55,000-$70,000 
Latin America
$50
$30,000-$50,000 
Eastern Europe 
$45
$25,000-$45,000
Breaking the Million-Dollar Mark: Riseapps Language Learning App Development
At Riseapps, we specialize in bringing EdTech startups, SMBs, and enterprise-level providers to the next level by developing the tools they need to streamline their eLearning practice.
We're proud to have helped several EdTech providers raise millions. One of them is PowerToFly, a women-led, award-winning H.R. tech platform that helps diverse talent connect with decision-makers in the job market.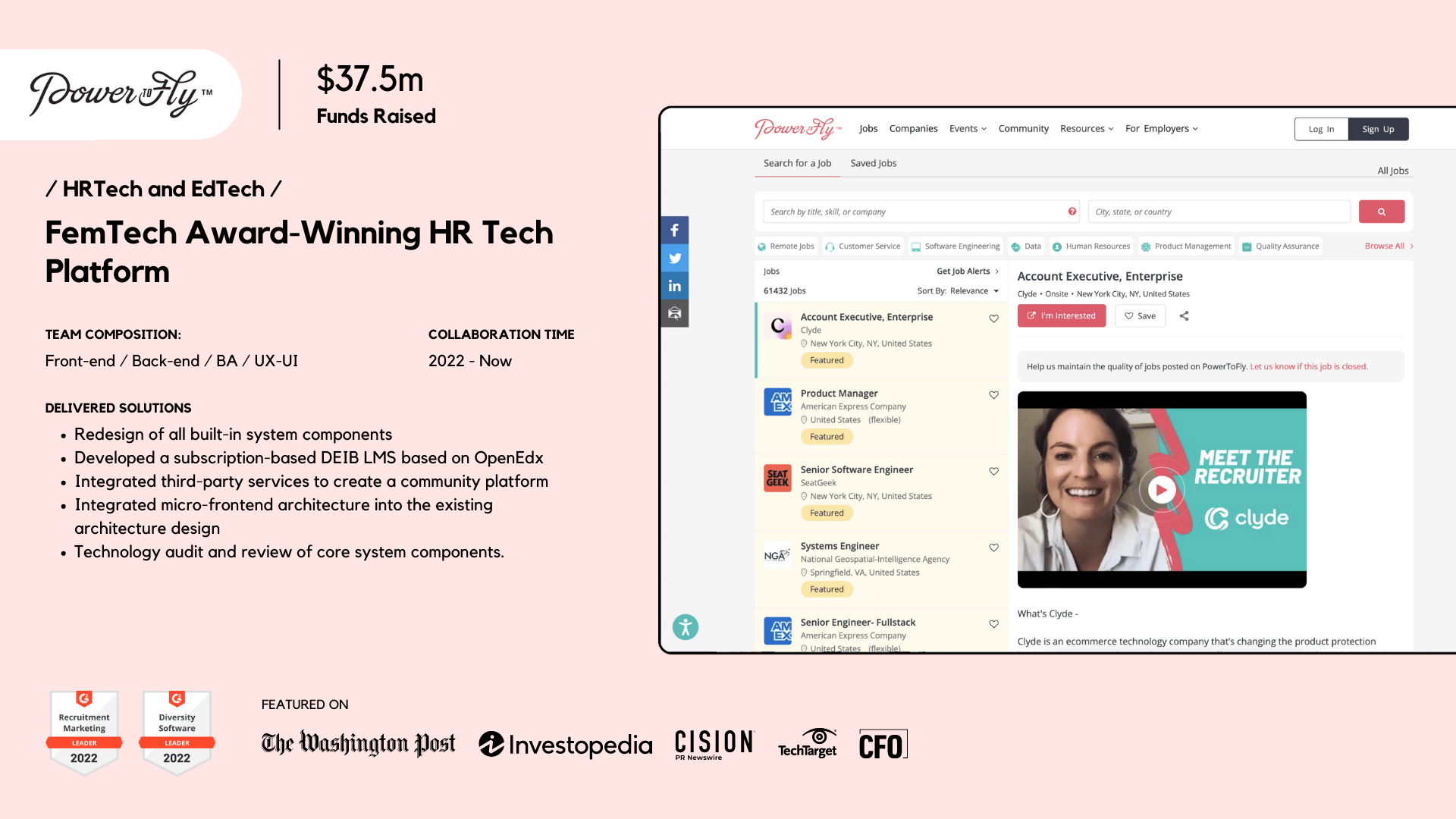 Thanks to our partnership, they raised 37.5M in funding and have been featured in the Washington Post, Investopedia, Cision, TechTarget, and CFO, and are rated as Recruitment Marketing Leader (2022) and Diversity Software Leader (2022).
We had the privilege of lending a helping hand to PowerToFly, and here's what we accomplished: 
Spruced up all preexisting system parts. 
Constructed a subscription-based DEIB LMS powered by OpenEdx. 
Blended several third-party services to make a top-notch community platform. 
Incorporated micro-frontend architecture into the existing architectural design.
Performed a tech audit and examined the core system components.
We've also had the pleasure of working with Enroly, a market-leading edtech offer-to-arrival platform for universities.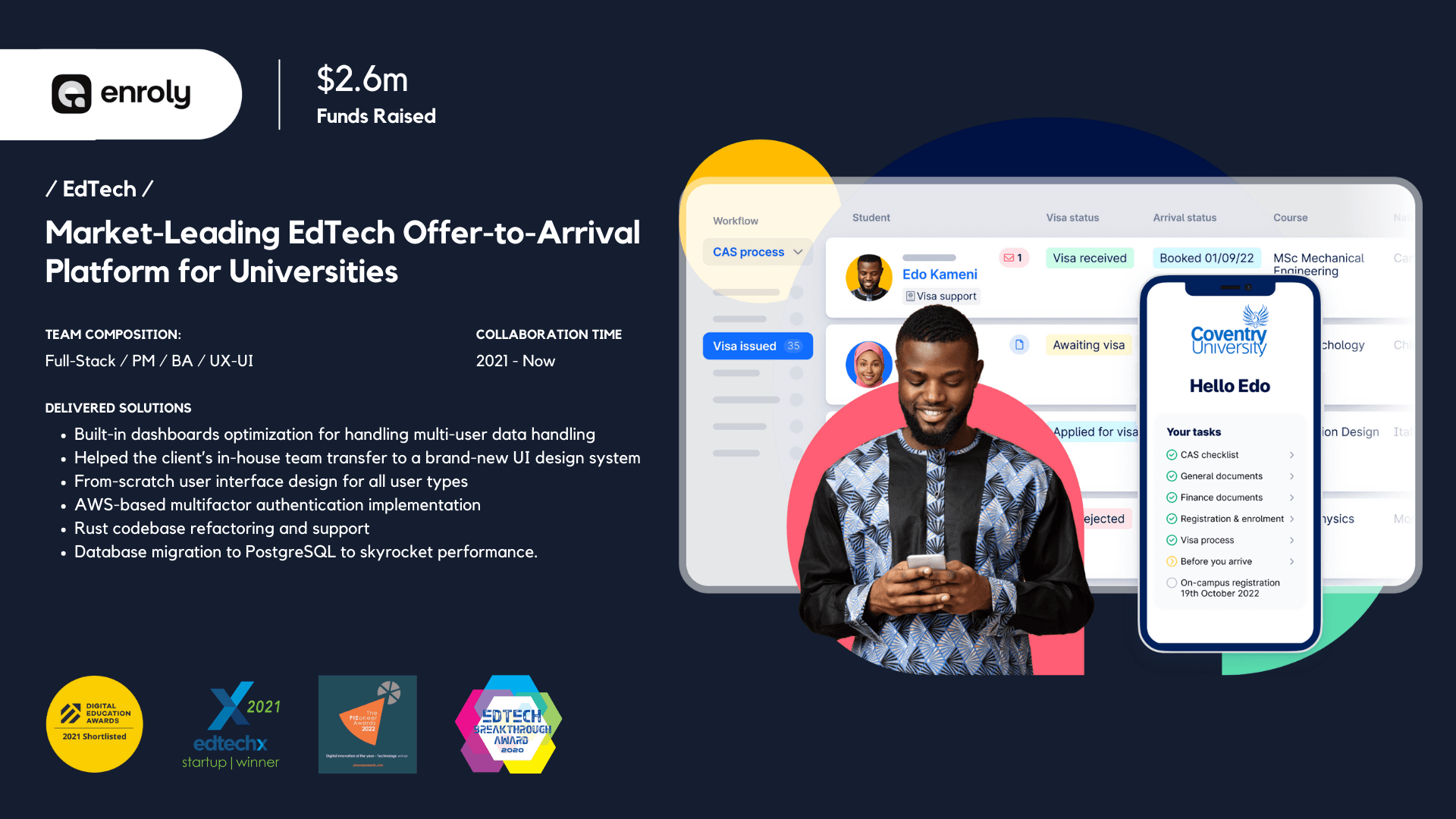 During our collaboration, we've had the honor of helping them raise over $2.6M in funding. To make that happen, we: 
Supercharged their dashboards to manage data like a pro. 
Transferred their in-house team to a new U.I. design system. 
Created custom user interfaces for all types of users. 
Implemented AWS-based multi-factor authentication. 
Refactored and supported their Rust codebase.
FAQ
---
How to create your language learning app like Duolingo?

---

Identify your ideal users and demographic.
Select the best educational app development platform for you. 
Incorporate the latest tech stacks.
Visuals are key – make sure your UX/UI is attractive. 
Begin building the e-learning app of your dreams. 
Assess the performance of your mobile app.
Launch your language learning app.
---
How much does it cost to make an app like Duolingo?

---

Developing language learning apps like Duolingo for just one platform, like Android or iOS, can cost you between $25K and $100K.

But if you want to get it done for a hybrid platform, it could cost between $80K and $150K.
---
How long does it take to build an app like Duolingo?

---

It takes 18 – 26 weeks to build a language app, taking into account all the stages of the SDLC.
---