The world of education is changing. The rapid development of online education in the 2010s and the recent switch to distance learning have led to large amounts of data accumulation.
Students install software to do the tasks, and employees work on their professional development via learning platforms. People search for courses and programs online to learn new skills and try some hobbies. Software, search engines, mobile phones collect all the data about user activities, preferences, engagement.
The role of Big Data in education is significant as it helps to improve the learning process and make educational content more efficient. We've prepared comprehensive information about Big Data strengths and flaws and what to expect in Big Data analysis in the near future.
Big Data in education: a trend or a new necessity
A sudden shift to online learning revealed that the US education system isn't designed to provide a decent remote learning experience. 42% of students say staying motivated while working on an online course is a significant problem. A lack of tools that offer a personalized learning experience and immersive learning has led to low course completion rates and poor knowledge retention. 
Big Data, when analyzed, brings benefits for educational institutions and companies. Big Data helps to reach out to learners to find out more about their needs, preferences, and education experience.
Big Data in the education industry can: 
Improve learning management. Tracking how much time learners spend on tasks, tests, and exams helps to customize curricula efficiently. Big Data also helps categorize students by their interests and group them for projects or other group activities.
Improve students' performance. Leveraging data about learners' performance helps educators develop personalized learning paths. Relying on data, educators can offer additional materials for learners with different learning paces and engage them with relevant content. As a result, learners are more dedicated and increase their academic performance. 
Provide data-driven decision-making. Implementing new methodologies into the learning process becomes easy with Data Science. As educators can track student performance during a particular course, they can compare previous results with the course outcomes they want to implement. Therefore, they improve learning programs by picking a program that has proof of its efficiency. 
Predict learning outcomes. Instant data analysis helps educators to track students who require more attention during a particular program. In that case, educators can influence learners' performance by developing learners' skills in which they fall behind.
Big Data isn't just a trend that attracts organizations. It's become an essential tool for designing educational programs and providing a learning experience people have never had before. Besides, Big Data is a source of valuable insights for improving user experience and marketing strategy to boost business profitability.
How Big Data is used in digital learning: use cases and examples
When backing up decisions with Big Data, companies and educational institutions gain more results in learners' performance and retention. Let's take a look at a few examples of how Big Data helps organizations become stronger.
Learning categorization and personalization
A personalized learning path is an approach that helps learners to keep up with academic programs and yet study at their pace and using appealing content. It's a great tool to build such critical skills as creativity and adaptive problem-solving, self-studying, etc. 
Personalized learning wouldn't be possible without data mining and analysis. Such digital tools as KnowRe leverage learners' data to make a personalized curriculum for each learner based on their previous results.
KnowRe encourages behaviors like persistence and self-drivenness, which are things I want to instill in my students.
Mr. Paul Payne, a Math teacher at Los Angeles River School
Besides that, Knowre helps educators to categorize students by their performance, perceptive skills, and social-emotional peculiarities to tailor learning plans.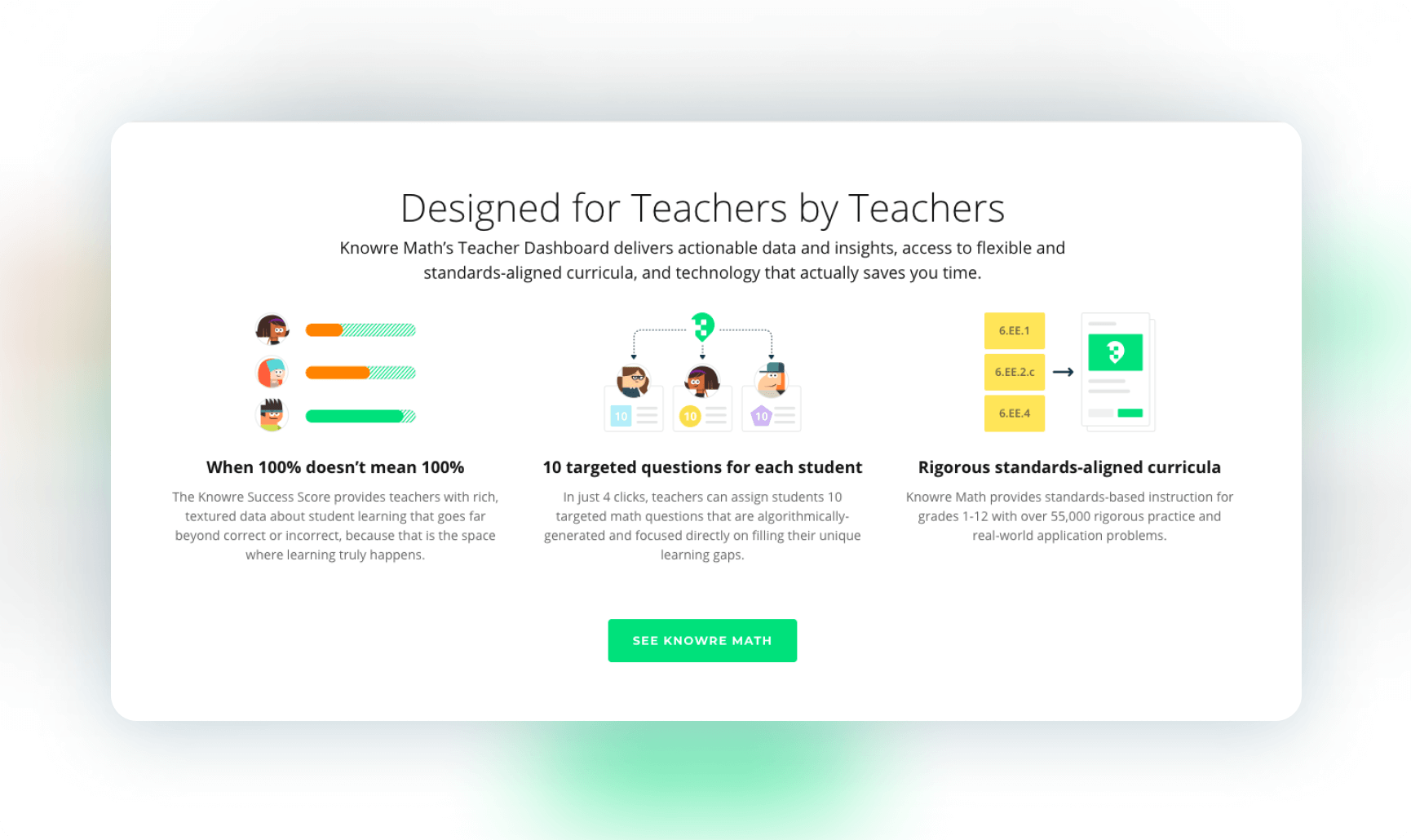 Improved student results
Big Data in education can track learners' performance by subjects on individual and group levels. This information helps educators implement insightful solutions to learning plans, guide learners on their education and career path and influence their academic performance. 
Georgia State University faced the problem of students collecting credits but not heading towards graduation. So the administration decided to turn to Big Data to deal with the situation. They implemented a system that tracks students' decision-making process and predicts their academic results. As a result, students' average time for graduation decreased by half. 
Efficient grading system 
Big Data allows researchers to trail learners' behavior and performance for a long time. The patterns learners repeat when passing exams, tests, and other assignments show the gaps in task creation, making it possible to strengthen them in future iterations. 
Illuminate Education utilizes a data-driven approach to provide assessment, management, and real-time feedback solutions for K-12 education all over the country. Their assessment engine called "DNA" helps educators get quick feedback from learners, improve lesson planning and pace, influence learners' progress, and adapt to learners' needs.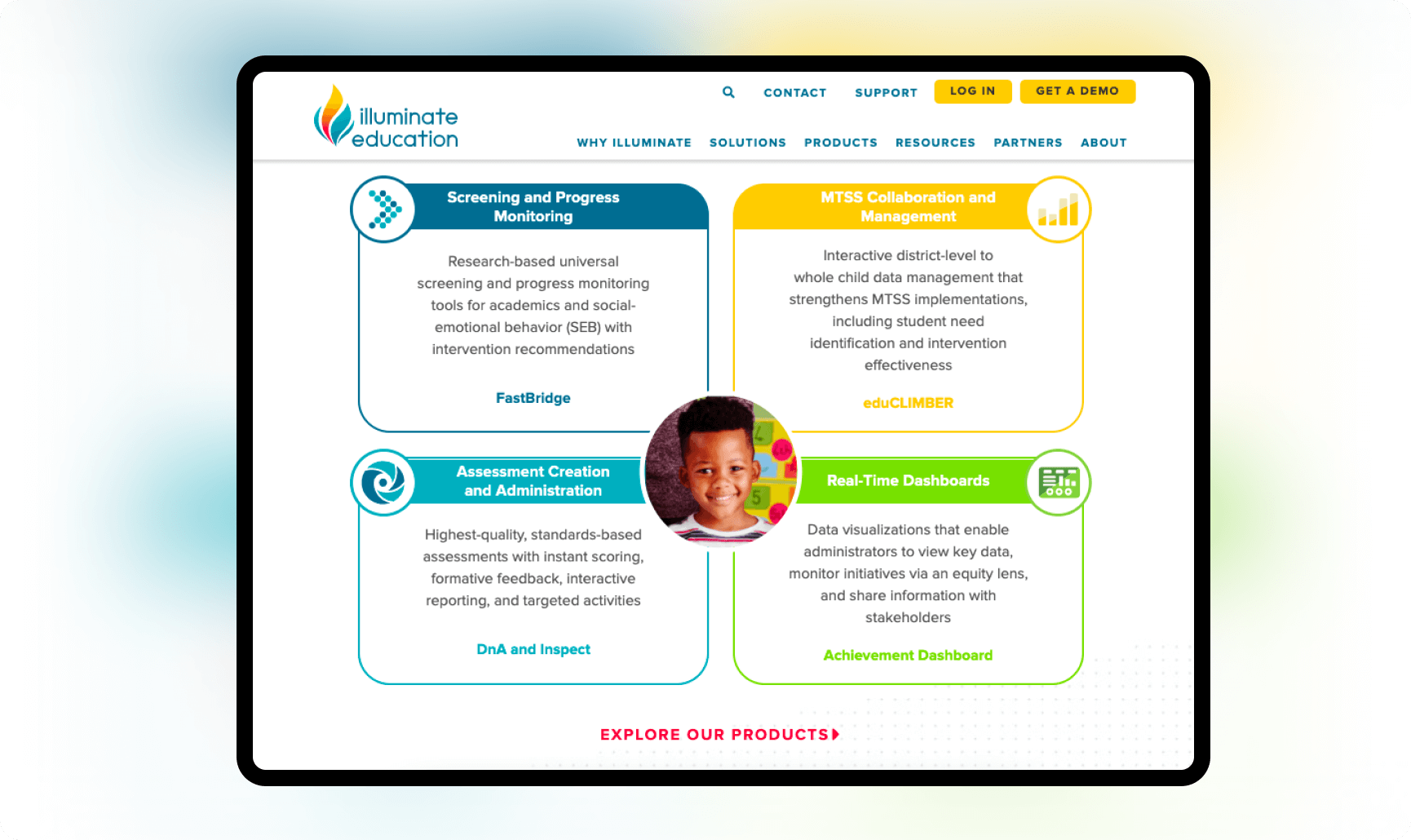 For example, Monterey County schools in California use Illuminate to collect learners' data, record their grades, and receive custom reports.
Adaptive dynamic learning
Adaptive learning means using computer algorithms to provide learners with an individual learning experience. For example, ML and AI process Big Data collected from users' previous interactions with software and deliver personalized content and learning activities for each learner. 
Pearson, a publishing and educational company from London, decided to accelerate digital learning by providing higher education with a learning platform based on learners' behavior. 
The company chose Apache Spark, the analytic engine for Big Data processing, to implement an adaptive learning approach. The algorithm processes both learners' and educators' activities from several learning apps and gets it together to improve the learning model of each learner. 
Lowered dropout rates
Predictive analytics uses historical data to anticipate future outcomes. In education, the algorithms track learners' grades over several years. They can calculate the percentage of learners who get low rates on a particular subject and how it influences their graduation success.
Georgia State University spent ten years examining data from over 140 thousand students. As a result, the university had found 800 factors that influence students' likelihood of a dropout. To combat this problem, they've provided students who needed attention with counseling and lowered dropout rates by 32 percent.
Limitations of Big Data usage in e-learning
The opportunities and advantages that Big Data brings for the educational sector cannot be underestimated. Data-driven learning approaches can improve learners' knowledge and help build qualified professionals ready for ever-changing work environments.
Even though Big Data brings value to the education system, there are several barriers to utilizing it for educational purposes. 
Data availability 
Data analysis results do not always meet expectations, so there's a risk the research won't bring desirable benefits or findings and won't apply to a particular demand. Besides, educational institutions may face the challenge of limited fundings, so they'll have to scale back the research. The least harmful outcome that can happen is delays in receiving the results, as analysis takes time. 
Security concerns
Data integrity and safety are some of the biggest concerns for educational institutions. Data corruption, ransomware attacks, cyber threats, and scams could hit schools and universities as their systems are vulnerable and mostly outdated.
Big data analytics process large volumes of data. Although Big Data doesn't work with unprotected, vulnerable information, there's a risk of errors and breaches that may lead cybercriminals to sensitive data.
When delivering data to analytic algorithms, educational institutions should take into account legal requirements for data transition. The Family Educational Rights and Privacy Act (FERPA) protects learners' data. FERPA doesn't pose strict requirements on schools and universities. Still, data leaks can lead to FERPA violations and associated consequences.
Lack of specialists
School and institution managers may not be ready to apply the big data analytics results in their day-to-day work.
Lack of decision-making and data interpretation skills may lead to superficial and subjective recommendations. Lack of technical skills can cause system implementation delays and poor outcomes as educators may not be ready to adopt new technology. 
How to minimize the challenges
School ministries should develop a Big Data adoption plan to establish funding, policies, and expected outcomes to make data available and valuable. Making Big Data implementation predictable helps to adapt to changes quickly and without significant losses.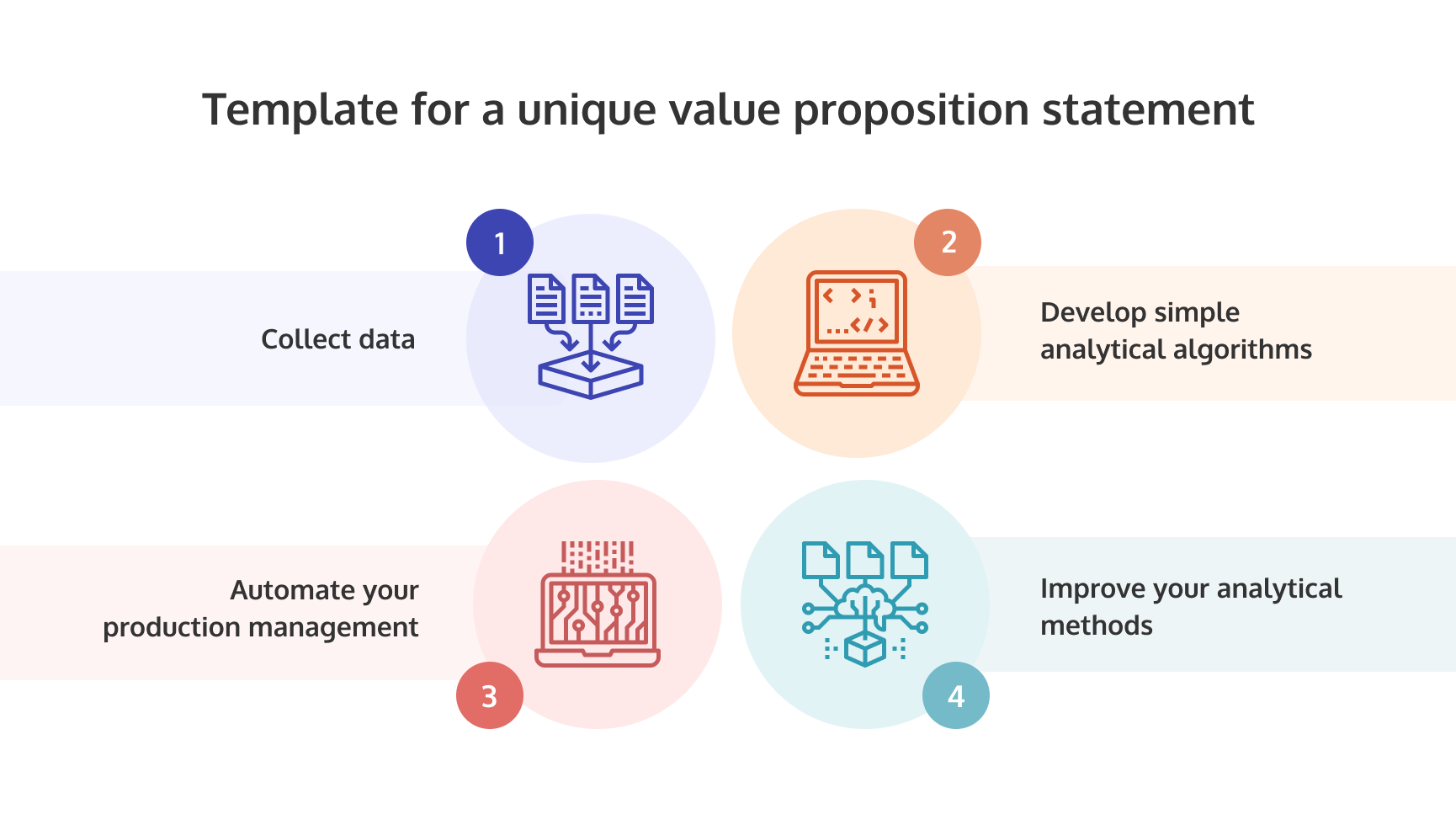 Big data analytics implementation should be backed up with robust security policies, where all security protocols are considered. And finally, educational institutions should invest time and money in personnel education to prepare the staff for new tech realities. 
The future of Big Data in education
"One size fits all" education is losing its position. Adaptive learning powered by technology is leading the way. We're already receiving benefits from personalized approaches in education in better students' engagement and grade improvement.
Soon, technology will guide us on our career path, suggesting disciplines that we're fond of and where we show the best results. Companies will acquire talent based on data they'll receive from the universities. Artificial intelligence will influence the educational approach, speeding up the learning process. Big Data makes these significant changes possible. 
We may see the era of gaining skills and knowledge without attending lessons. We've already seen online graduates who gained professional skills with MOOCs, etc. Technology will continue to bring new comprehensive experiences to transform the way we learn.
Conclusion
There's no way educational institutions can escape Big Data adoption. Moreover, to keep up with the industry, schools and universities should turn to technology. E-learning providers boost their solutions with Big Data to meet education sector demands.
So, if you're launching an EdTech startup, consider using analytic algorithms to drive your project to success. 
Looking for a reliable developers' team to improve your EdTech app?
Contact us
FAQ
---
How big data is used in education?

---

In combination with predictive analytics, Data Science, and Machine Learning, Big Data in education serves as a source of data-driven ideas on how to improve the educational process.

Big data algorithms can track students' performance, learning pace, and preferences to provide personalized learning paths for each student. For example, the system can track what type of content is preferable to a particular person (video, text, audio, etc.) and suggest it for the next lesson.
---
The role of big data in education?

---

Big Data is changing education significantly. "One size fits all" education becomes irrelevant as technology shows the opportunities to speed up the educational process, make it engaging and fruitful.

Data-driven education allows learners to receive practical knowledge and work on the gaps in particular subjects. In the near future, technology will lead us through our career paths, suggesting jobs that fit our skills. 
---
What are the examples of big data in education?

---

Big Data implies tracking, collecting and processing large amounts of data to get insightful ideas on how to improve the educational system. Big Data brings a lot of benefits for education from providing learning personalization to improving students' results.

To illustrate how Big Data works, let's consider a digital tool called KnowRe as an example. It leverages learners' data to make a personalized curriculum for each learner based on their previous results. So each student can dedicate more time to work on their personal gaps on a particular subject.

Need a hand with developing an EdTech startup? Contact us.
---