The modern Healthcare & Life Sciences system places a premium on the collection of precise and efficient data. While precise data is necessary for timely diagnosis, treatment, and prevention, innovative strategies are required to accelerate these vital processes and meet time constraints. Therefore, technologically-driven healthcare services are rising to the occasion. An example of such technologies is health information technology consulting.
Already, the market's size, infrastructure, and revenue are expanding at a breakneck rate. Analytics indicate that between 2021 and 2029, market share will increase by 18.67%, while infrastructure will increase by 12.5%. Undoubtedly, the growth and infrastructure projections and technologies of the health tech consulting market are optimistic, but it may be the revenue projections that seal the deal. Mordor Intelligence places the value between 95 and 192.64 billion dollars.
Healthcare tech consultants must now rise above the din and adapt to a dynamic market, but amidst the boom, uncertainty persists. In essence, what is med tech consulting, why do you need it, and how can you incorporate it into your own projects? The Riseapps Team addresses these concerns and other insights in this section.
What Is Healthcare Technology Consulting
Health information technology consulting integrates the processes of exchanging IT experience and consulting between businesses and healthcare organizations managing. In turn, a healthcare technology consultant instructs people how to work with any technical device and helps in the development of a competitive strategy and its operation.
The primary goal is to assist such healthcare facilities in growing and improving their healthcare services through the use of healthcare technology adoption. A medical consulting company helps organizations switch to digital transformation as smooth as possible.
Here are some examples of such integration:
A healthcare-focused digital platform
A digital platform researches electronic health records and notifies healthcare professionals of the need for additional assistance. This unique vision of digital transformation can be implemented in patient care.
Healthcare systems require specialized software and technologies to collect, manage, and disseminate information about a patient's history, diagnosis, and treatment options.
Computerized provider order entry
Caregivers, therapists, and pharmacists can collaborate more effectively when they have access to a centralized database of record order entries for all tests, medications, procedures, and services that their consumers require.
The latest innovations and unique vision
Modern medical innovations enable patients to take an active role in their own care, virtually and without assistance.
An electronic record facilitates the management of a patient's health data by docs and other trained personnel.
Electronic prescribing enables nurses to enter medication information electronically. The prescription will be securely transmitted to the dispensing pharmacies. However, electronically prescribing management substances necessitates the use of specialized software that complies with all DEA regulations.
Innovations-enabled communication
Effective communication is critical for the smooth management of the many divisions of healthcare technology consulting. For example, management of your healthcare organization is possible using computers and mobile devices, thereby enhancing the quality of clinical services.
These procedures contain information about customers' health. And the use of information in healthcare systems can improve the quality of services provided, as well as their cost efficiency.
Interested in Custom Healthcare Tech Consulting?
Learn more
Who Needs to Hire Healthcare IT Consultants
Health IT consultants carry out in-depth analysis, evaluate the competitive landscape, and conduct recruitment for different hospitals and docs. In general, their work based on the evaluation is aimed at reducing costs to increase the productivity of the system. Healthcare consultants are often a part of a collaboration with a healthcare firm that signs contracts (when it is needed) with a clinical company.
Starting from medical professionals to health insurance companies, they all need medical IT consultants' insights and assessment. In general, most IT consultants in the Healthcare & Life Sciences sector focus on strategic management. But their jobs also include such areas as finance, accounting, human resources, IT technologies management, etc.
Here is a core list of healthcare companies that regularly leverage healthcare IT consulting services:
hospitals or other healthcare organizations
clinics
provider's offices
nursing homes
pharmaceutical manufacturers
medical device manufacturers
state healthcare institutions
health insurance companies.
The sensitive nature of clinical procedures makes it essential for healthcare organizations to have access to experts. For instance, employing a medical technology consultant can facilitate the timely and high-quality data research required to improve patient care. Nonetheless, it can be difficult to locate and hire qualified healthcare technology consultants.
This is where healthcare technology consulting companies or service providers step in. They make it simpler to find and hire the required talent and expertise. Hiring a healthcare technology expert can help a healthcare systems provider circumvent technical challenges when developing a clinical product. The healthcare consultant's responsibilities also include comprehending unique user cases, researching them, and then recommending technical services to the challenges.
Patients may also benefit from having expert healthcare consultants teach them how to use sophisticated devices and applications. These healthcare consultants can find and fix any challenges with the software while patients use it.
Professional services offered by medical technology consulting firms extend beyond just giving insights and making recommendations in assessment; they also provide consumer training master classes, as well as phone and in-person healthcare consultations.
In a nutshell, working with a healthcare technology consulting company helps hospitals increase revenue and enhance the productivity of their clinical staff. A few of the prominent healthcare technology providers include:
Allscripts Healthcare & Life Sciences Solutions
Cerner Corporation
Cognizant Innovation Technology Solutions
Deloitte Touche Tohmatsu
Epic Systems
GE Healthcare
IBM.
Notably, the majority of healthcare consulting companies focus on strategic management, but they also have jobs in finance, accounting, human resources, IT, and managing.
9 Perks of Utilizing Medical Tech Consulting Services
Healthcare providers are under pressure to develop new, outcomes-effective methods of management care. As a result, the need for providers to adopt a more frugal spending system is ever-present. Utilizing healthcare technology can help reach this objective.
Regrettably, the rate of innovations and technologies increases the complexity of HIPAA compliance. The primary obstacle to the growth of the market for IT consulting services in the healthcare industry is the concern for the privacy of data used by healthcare businesses.
Regular Healthcare & Life Sciences reforms, the complexity of patient issues, and economic difficulties compel hospitals and clinics to operate under such difficult circumstances. Information technology consultants for healthcare propose novel strategies for overcoming the challenges.
Here are nine examples of how the health technology consulting process is contributing to the improvement and why your business should consider employing such health tech consultants:
Advanced System Understanding & Intuitive Navigation
Medical technology consultants will assist you in identifying gaps that are invisible to the untrained eye. In addition, they will advise you on the right technologies for your healthcare company and assist you in making an investment-worthy decision.
Enhanced Medical Care for Patients
Patient care is the most important and challenging objective process for every healthcare facility. Due to the hectic schedules of pharmaceutical professionals, it can be challenging to monitor patients regularly, maintain accurate medical records, and share information. Medical IT consulting provides effective care services to address all of these obstacles. Healthcare consultants also provide technology solutions to automate internal practices, allowing physicians to devote more time to providing quality patient care.
Lightning-Fast Access to Healthcare & Life Sciences Solutions
Even professionals face a lack of quick access to medical services. This in turn leads to long waiting times for clients, especially when they need an immediate examination. Information technology consultants for healthcare will advise you on various innovation and technologies solutions so that all your employees can quickly access them at any time. As a result, your medical staff will be highly productive.
Improved Tracking Efficiency & Reporting
Skilled health tech consultants will create specialized platforms to optimize the managing of patient medical records and other time-intensive tasks. With the assistance of health tech consulting services for the implementation of the EHR system and other technologies, such tasks can be completed quickly.
Fast Transition to a PCMH-Centered Service Model
By adopting this standard, you will be able to enhance primary health care, including community support, enhanced access, regulatory care, and more. Medical technology consultants can help your organization implement custom software technologies. It aims to expanse your healthcare business.
Allocated Time for Core Company Operations
Skilled health tech consultants will help free internal employees to spend time exploring outcomes opportunities for the healthcare business. Thus, they are not distracted by tasks that do not coincide with their main job functions.
Streamlined Medical-Focused Operations
Medical staff can focus on the care of clients without being distracted by other tasks. With the help of health tech consulting on innovations, such tasks can be completed quickly.
Smooth-Running Communications
According to research, communication issues led to 44,000-98,000 patient deaths per year (only in American hospitals). Therefore, constant communication within the organization is a very important component of the effectiveness of health care. With health tech consulting, you will receive the appropriate platforms to facilitate communication within your healthcare business.
Decreased Operating Costs
Healthcare technology consulting is guaranteed to cut your costs with systems properly installed from the start. In addition, IT technology will help to get rid of paperwork and medical professionals will have access to patient records anywhere and at any time. This, in turn, will prevent overprescribing of medications and eliminate unnecessary testing. As a result, your finances will be spent accurately and only on essential things.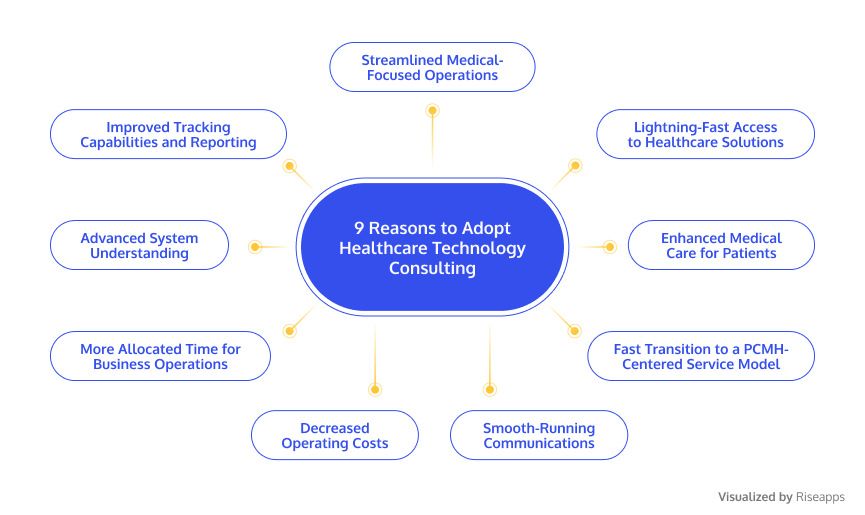 How to Find a Health Tech Consulting Company
Step #1. Conduct market research. Analyze business profiles, their services, social media accounts, and customer feedback.
Step #2. Create a list of the most reliable healthcare providers and proceed to the next step. Healthcare technology research will educate you on numerous health technologies supported by these vendors.
Step #3. Review the background of potential partners. Take a further step in vetting potential health tech consulting firms by checking out their credentials and previous projects.
Step #4. Initiate communication. Get in touch with the medical technology consulting firms that make the most sense for your needs and give them the specifics of your project's scope, goals, and budget. You can learn about the team's resolve and other important characteristics through open dialogue with its members.
Step #5. Select a medical technology consulting vendor. Choose a partner based on your specific requirements and how well they align with the healthcare business's value proposition.
We've outlined the top five features of a comprehensive healthcare technology consulting service below.
Healthcare technology consulting services should have skills in processing PHI. The fact is that health information requires stricter security measures than the public cloud.
Multi-channel skills of experience and knowledge to combine all social networks and communications into a single competitive strategy.
Healthcare technology consulting services should be integration into new software systems with existing programs.
Healthcare consulting firms should be able to regulate and comply with regulations and requirements, as well as keep you up to date with new developments.
Healthcare consulting agencies must have an innovative philosophy and be aware of all the new trends to motivate their organization with innovations.
Why Riseapps As Your Medical Technology Consultant
At Riseapps, we help brands in the healthcare industry deliver EMR, EHR, PHR, RPM, HMS, HIS, and e-Prescribing solutions with lightning-fast staff augmentation, MVP design, and full-featured product development. With 7 years of telemedicine app development expertise, we've created over 20 HIPAA-compliant digital products with both patients and clinicians in mind to make the solutions and processes pitch-ready, investment-worthy, and user-focused. 
For example, Kego – a mobile and web-based online urgent care clinic app. During 3 years, we helped the award-winning healthcare provider transform their healthcare business idea and vision into a visually-appealing and market-ready health tech product including such technologies:
From-scratch mobile-based app development for sick customers
Full-featured web-based application development for doctors
Payment gateway integrations for users to pay in a seamless way
Highly-compliant data encryption protocol performance and technologies setup
Telemedicine functionality performance with video calls and real-time chats
Cloud-based documentation storage implementation.
Continue reading the full case study on urgent clinic app development for Kego here.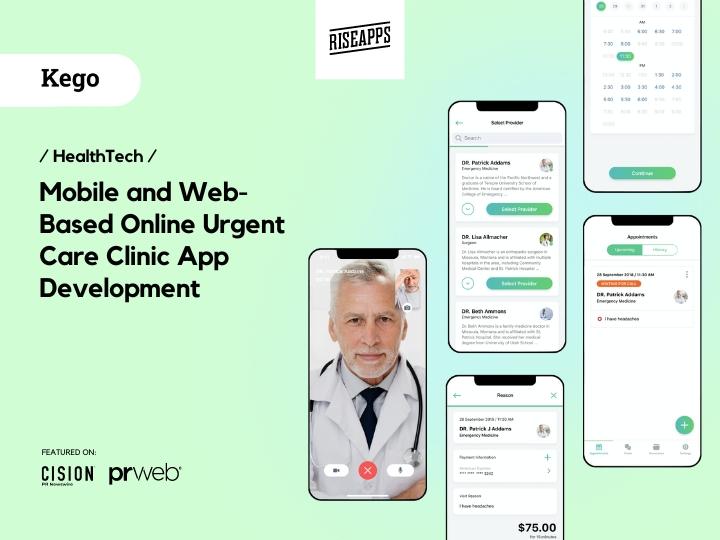 Also, Noho Med – a US-based digital home solution for COPD-sick customers. We've helped the healthcare and respiratory healthcare provider deliver a patient-focused and market-ready web-based platform and get featured in Forbes, Mount Sinai, and Summit Health, and raise over $27.2m in outcomes (according to analytics).
So, the full list of project engagement includes such technologies:
Full-featured web-based application development
Implementation of an advanced patient regulatory system
Responsive UX/UI design for web, mobile, and tablet users
Telemedicine functionality implementation for real-time chatting and video calls
Advanced analytics implementation for table and graph-based data view.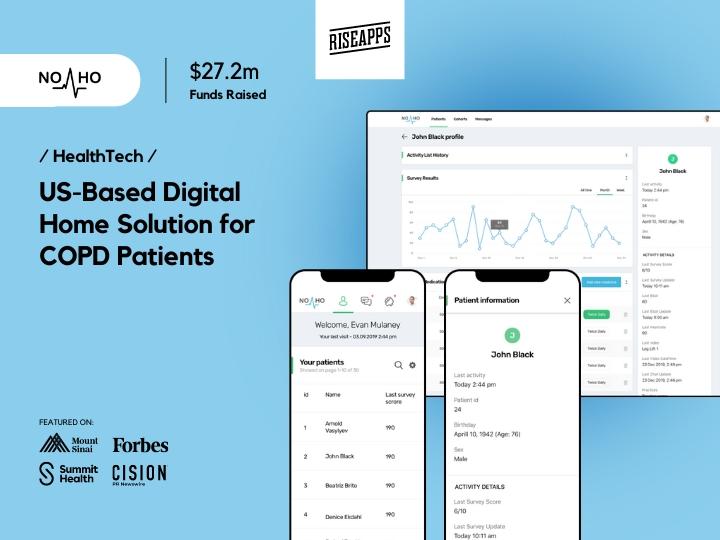 Wrapping Up
To sum up, the use of innovations in the healthcare niche is rapidly growing, and the state is also supporting IT solutions in healthcare. At the same time, spending on medical innovations, funding, and demand is increasing, according to research.
Health information technology consulting certainly makes the jobs of medical clinics or centers more productive. The process of registration of medical documentation takes a minimum amount of time and thereby increases patient service. In addition, healthcare consultants and other innovations in healthcare systems significantly affect the quality of life of our population.
So, to simplify the workflow of your healthcare business, Riseapps will deliver the best medical consultation services and technologies. As innovations and internet access are developing fast, applications for healthcare are now extremely valuable. It doesn't matter what your medical field is, an application featuring powerful Healthcare & Life Sciences technology can improve patient results and boost the delivery of personalized care. Contact Us to know more!
Want to Implement Healthcare Tech Consulting?
Contact Us
FAQs
---
What does a healthcare consultant do?


---

Medical technology consultants contribute to collaboration with consumers and strive to help them to switch to digital transformation. These digital transformations are aimed at lowering outcomes and maximizing the use of tech opportunities.
---
Which healthcare consulting firm is best for healthcare?

---

According to Clutch research, Riseapps is among the best healthcare technology consulting firms having helped 30+ health tech providers close their tech gaps, digitize business practices, and streamline patient care delivery quality.
---
What is medical technology consulting?

---

Med tech consulting means sharing experiences and advising in making healthcare business decisions in order to grow and benefit both consumers and patients.