Artificial intelligence and machine learning are becoming an ordinary part of human lives in the 21st century. Gartner's analysts recently named AI as a top strategic technology trend. 
Moreover, according to ResearchAndMarkets' report on COVID-19 Growth and Change, the global artificial intelligence market is expected to grow more than twice in just a couple of years.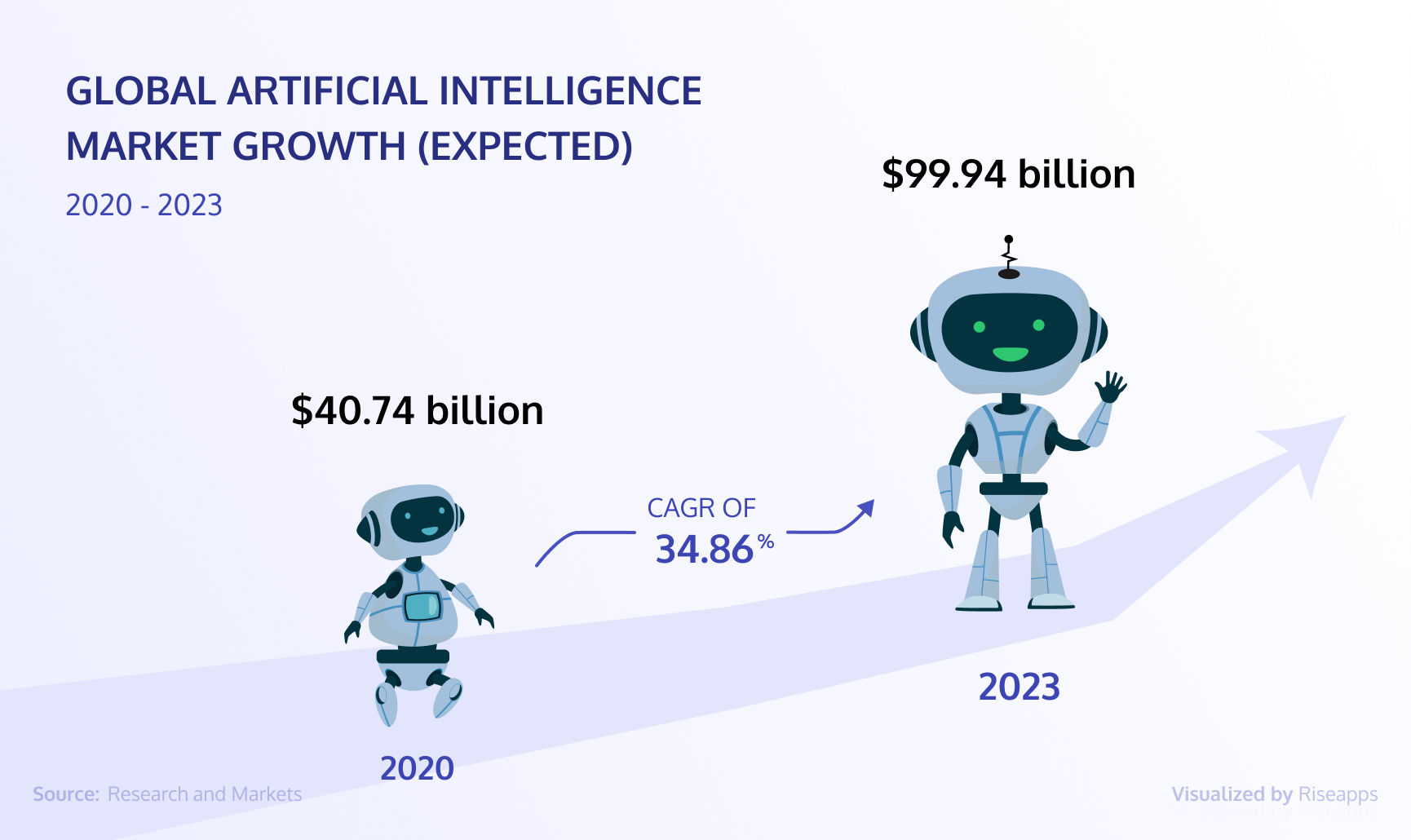 That being said, AI penetrates into a host of industries, and in this article we'll discuss artificial intelligence and fitness. So if you want to build a personal trainer, club and management app or wearable, and consider whether to implement AI and machine learning features in it, you are in the right place. 
As we'll see, machine learning and artificial intelligence are becoming the major components of the modern fitness programs.  What would be the best way to utilize them? What are the advantages of having this functionality in your app? Read on to find out.
What's AI and machine learning?
If you are a complete novice to the topic of AI and machine learning, you might be all at sea when building an app featuring this kind of functionality. What is the difference between the concepts? Here's a short disclaimer. 
AI is a branch of computer science concerned with replicating human intelligence in machines. Implementing AI means asking yourself a question: how does a computer system might do things that people can do, such as think and make decisions? When applied to fitness app development, this might mean whether an app can "decide" on the workload, amount of reps, offer a suitable set of exercises, etc. 
Machine learning, however, might be called a way of creating AI. It provides the context in the form of data, while AI responds to that context within a set of parameters. Machine learning relies on automating the analysis of statistics to make sense of very large sets of data, using complex algorithms to find specific patterns. 
Deep learning for a gym is another concept you might come across within the topic. Basically, it is a subfield of machine learning concerned with algorithms inspired by the structure and function of the human brain, and it's all about artificial neural networks. Often, deep learning for fitness is the hardest part of building an app – for example, when crafting a particular model frame for the human pose estimation.
Since AI and machine learning in the fitness industry have a plethora of solutions to offer, let's have a closer look at just one of them, using the example of Freeletics, billed as Europe's #1 fitness app. 
As explained by the vendor's CEO, the app's AI works by 
taking input from fitness professionals and adapting that insight
analyzing the constantly-changing outcomes of tens of millions of users, comparing them to a user's specific exercise abilities and goals. To grow those abilities, the AI estimates what a customer might be able to do and pushes them towards the result. 
This might be called a "human-augmented AI approach." Software engineers combine causal inference modeling with data mining techniques. This generates a tailor-made training experience based on user source data.  
At the same time, the purpose, and functionality of each AI-driven app are unique, so specific solutions should be crafted depending on the requirements of the software. What's the vision and goals of your app? Tell us!
Want to Build an AI Fitness App?
Lean on Riseapps - a fitness app development company with hands-on experience in delivering custom fitness solutions.
Contact Us
Why Build an AI Fitness App?
AI, health and fitness have become inextricably linked. As technologists claim, artificial intelligence makes everything better. When it comes to fitness, it can empower the app, significantly improving engagement, which potentially brings sustainable revenue. 
The app with the AI features can provide users with some specific benefits. For example, it can save money for a fitness buff, because an AI fitness trainer is cheaper than a personal trainer, while joining a gym can be costly or difficult to fit into our busy lives. Moreover, an AI-driven fitness app can make a workout more engaging and fun. 
Machine Learning and AI for Personal Training
It's commonly known that people have taken fitness to their apartments and houses. Interactive home gym fitness apps are a more viable option for those who are not able to visit a mortar-and-brick studio, especially in pandemic times. 
Talking about the big players in the home fitness software market, needless to say that AI features are utilized by the majority of them. For example, 
Tonal claims to learn from their users and adapts guidance in real-time, so they can see results faster and feel stronger.
JaxJox – a smart personalized home gym – uses AI to track and improve performance and give its customers a wellness score.
Tempo Studio uses 3D motion capture and artificial intelligence technology to provide customers with some biomechanical analysis and insights.
We'll continue with the examples of fitness software in a few paragraphs below. Now, let's see what pieces of functionality most commonly used when it comes to machine learning. What does implementing AI features could do for you? 
Predict what exercises your users are able and want to do. This might be based on getting a very short profile from a user.
Create workouts out of sets of exercises while learning how your users respond and what results they get. For example, AI may figure underdeveloped muscles and leverage the overall ability of users to reshape their habits by applying necessary fitness data.
Adjust workouts based on available equipment, as your app users probably have less gear at home than in your gym.
Provide human pose estimation, which is a popular solution that AI has to offer. It is used to determine the position and orientation of the human body, its movements given an image containing a person. 
At the same time, most of these solutions are often utilized not only in the home fitness industry, but also in gym training. 
Machine Learning and Artificial Intelligence for Gym Management
There is a view that AI-driven fitness can make gyms obsolete. However, it seems like artificial intelligence in gyms can only empower the benefit of practice in a health club of any kind. 
Basically, your software can work as an adaptive recommendation engine and assist gym coaches. It can tell them how well the program is working for their clients. An app can adapt and make adjustments based on a client's performance. 
Coaches could also use apps and connected fitness equipment to learn how an individual uses each machine, provide motivation and customize workouts. This novelty factor alone could maintain gym memberships and private trainer clientele at a high level. 
When it comes to gym management, AI-driven software can personalize many processes, making them easier and lowering costs for customer service. 
At the same time, utilizing machine learning in gym management allows to
automate many time-intensive tasks — an important consideration for customer service and client onboarding. 
help avoid human error, which is perhaps more important for human health services than in any other industry.
Moreover, AI applied to the health club industry has the potential to boost sales and marketing, improving decision-making among company leadership. 
Want to Build an AI Fitness App?
Lean on Riseapps - a fitness app development company with hands-on experience in delivering custom fitness solutions.
Contact Us
AI-powered diets are still in their early days, but the technology is developing quickly. Today, we can already see software relying on machine learning and data analytics to create meal plans. 
The self-adjusting diet algorithms are usually based on a model that maps and forecasts the progress of a user and makes intelligent adjustments (weekly or monthly) based on the gathered data. 
AI can analyze the user's digestive system or metabolism to create an ideal meal plan for their needs. This might be especially useful for bodybuilding activities. Moreover, a solution like this could potentially save millions of lives by preventing diabetes, heart disease, and other conditions caused by malnutrition.
FitGenie could serve as an example of an AI-driven nutrition software. It's an iOS app billed as a "smart calorie counter". The machine learning algorithms are applied to simplify nutrition planning for people wanting to achieve a certain weight or fitness goal.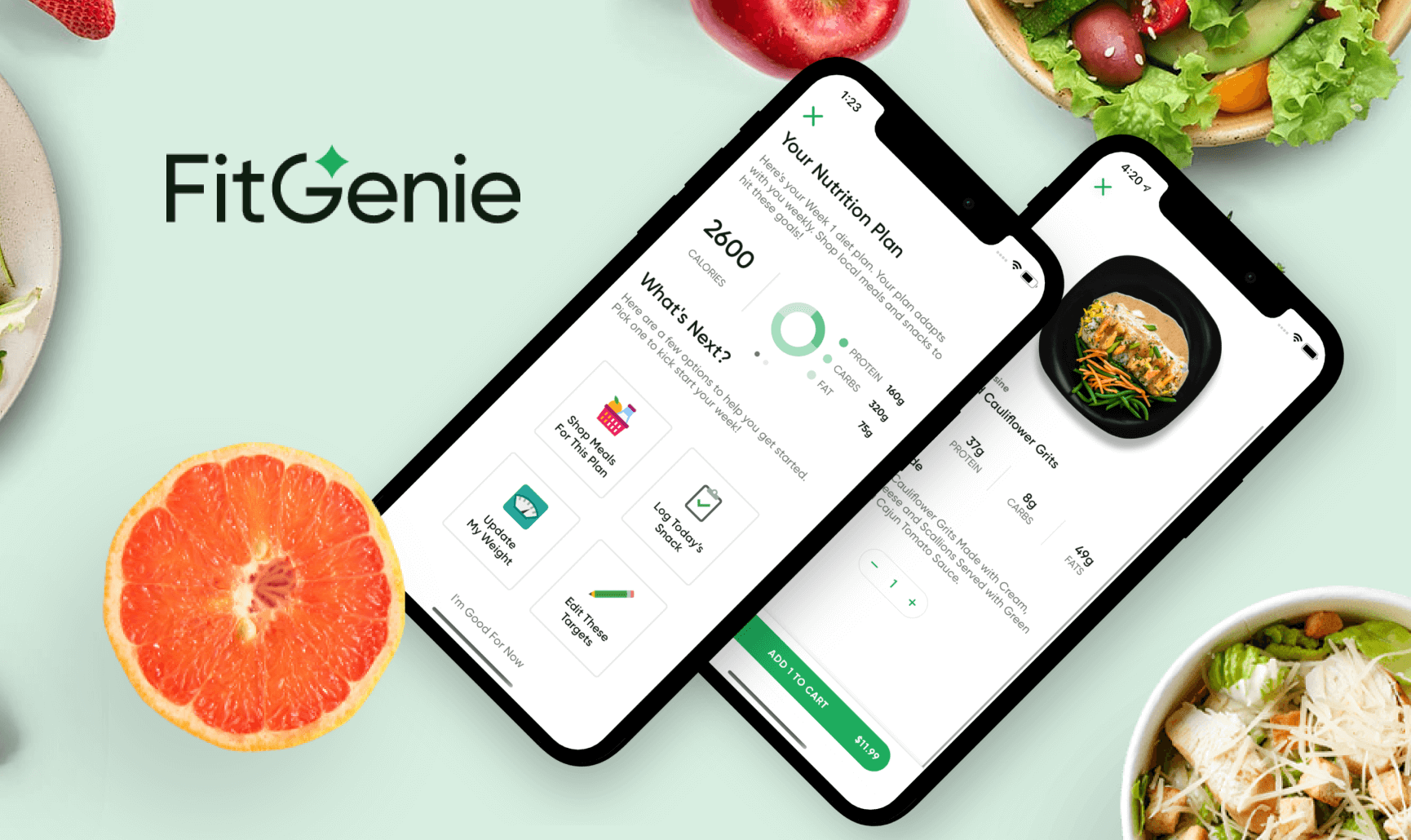 Another trending application of AI in fitness is that it makes wearable devices smarter. E.g. Apple Watch and Fitbit are moving towards more than just collecting data. They are now being tuned to discover irregular heartbeats that might lead to a stroke or detect signs of too much sugar in one's blood. 
Also, many smart wearables are designed in a way to keep records of the time customers have spent exercising or their workout improvements. Users can easily share these data with their coaches using smartphones and tablets 
It's also expected that wearables will soon be able to connect with electronic medical reports and virtual assistants will be providing even more specific instructions to the users. 
In short, AI-driven wearables are now able to offer more specific and personalized suggestions to improve habits that require some changes. 
Top 6 Successful Fitness Solutions Using Machine Learning and AI
Now, let's look at some more apps and solutions that might show you the power of artificial intelligence for the fitness industry. Maybe, by discovering them you could get some ideas about building your app?
1. FitnessAI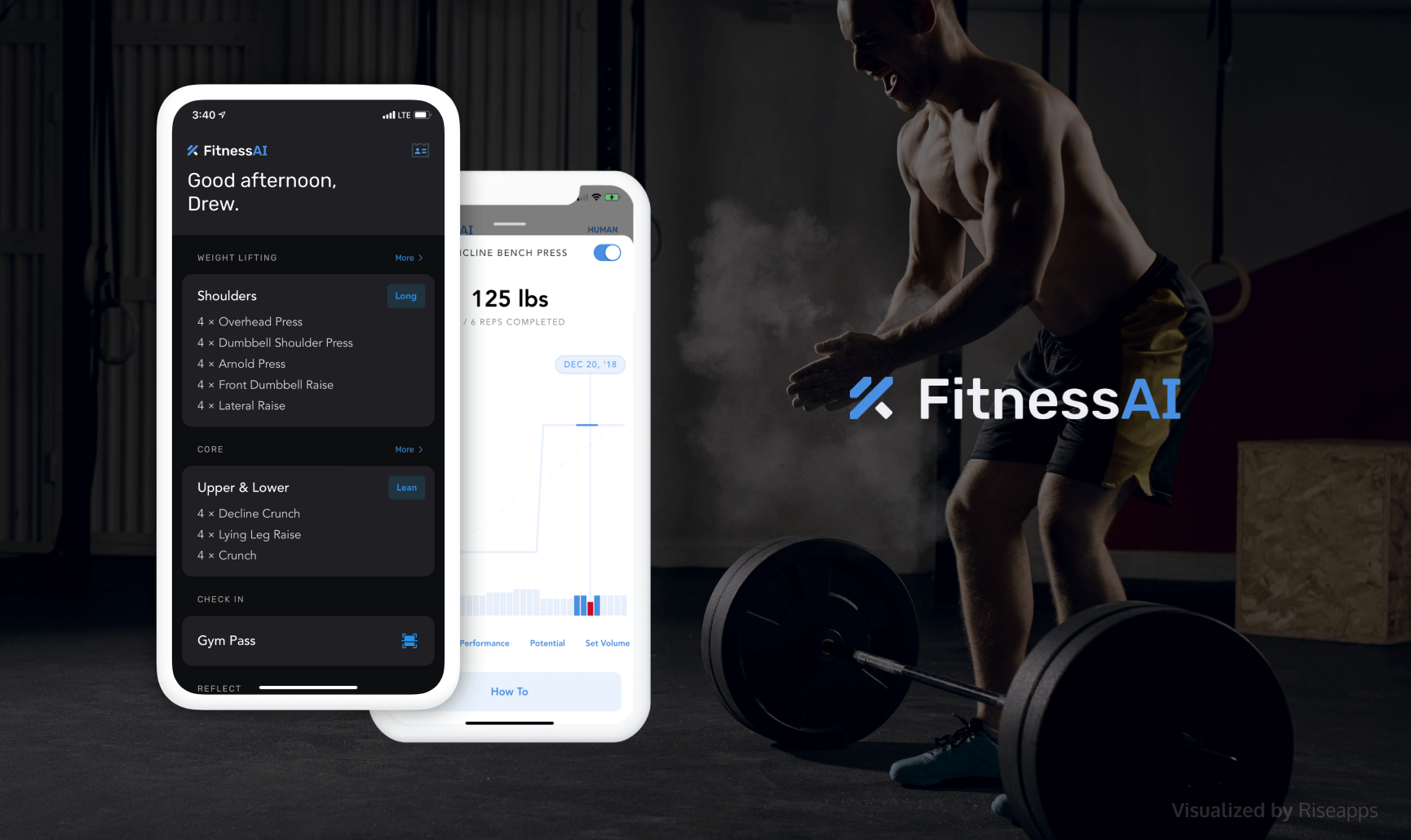 FitnessAI is an app with customized workout plans created for each individual by AI. This app started out as a gym only software but they recently changed gears to meet the demand for at-home fitness. Put simply, FitnessAI automatically optimizes weight lifting sets, reps and weights for each exercise every time a user works out — pushing them to build muscles efficiently. In other words, the example of this app shows us how machine learning for a workout plan could be implemented. As the vendor claims, the algorithm of this software has been trained on 5.9 million workouts. 10M+ sets, reps and weights from over 30k advanced weight lifters and gym-goers over a 3-year period were taken into account. The app is billed to have and one of the largest weightlifting datasets in the world and claims to be "sure to out-perform any human personal trainer."
2. Freeletics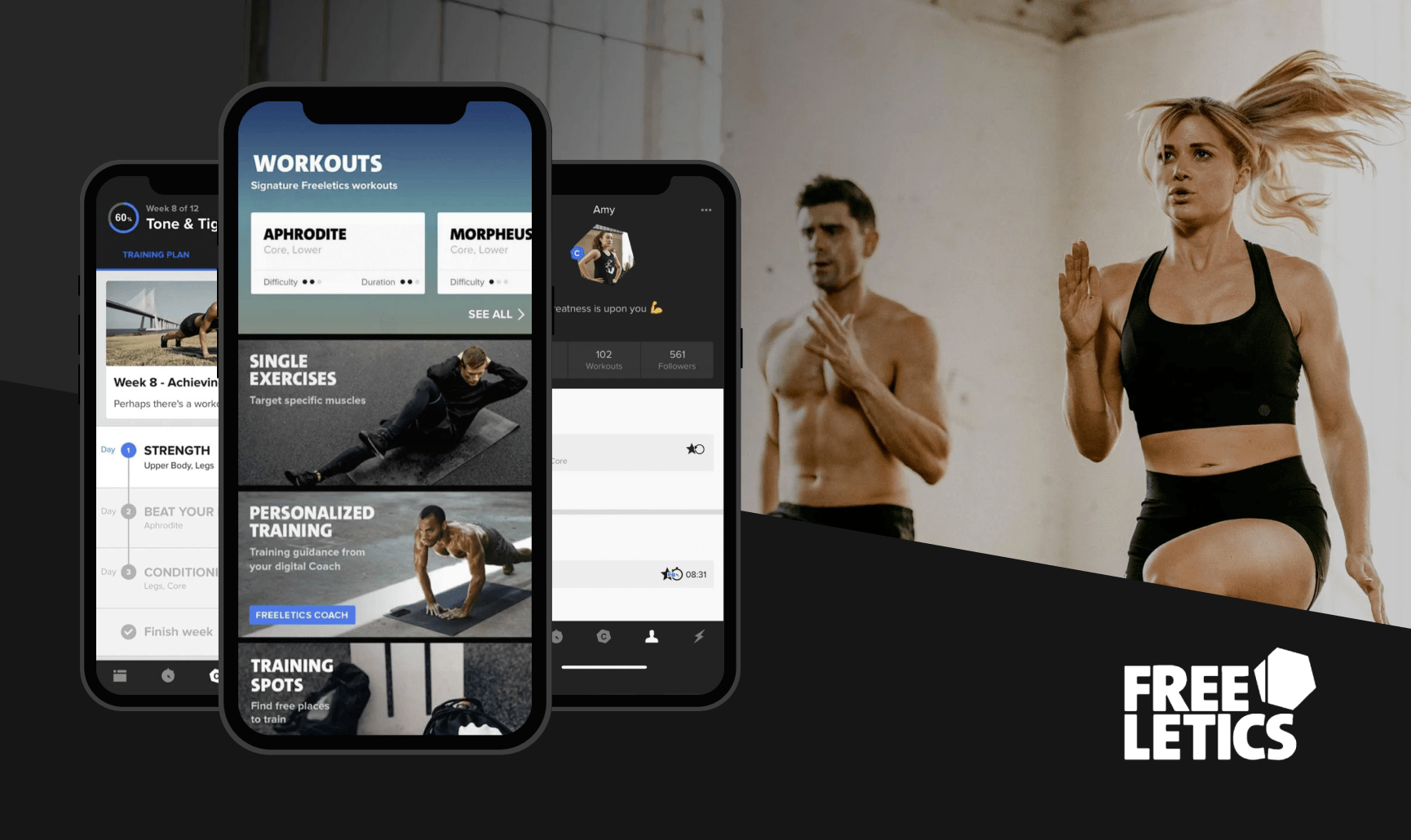 Unlike Fitness AI, Freeletics doesn't claim to be better than a human trainer. Yet, it is billed as Europe's #1 fitness app, allowing its users to work anywhere and have physical fitness training using AI. The app's coaching algorithm gives fitness and nutrition tips based on personal preferences, user feedback and scientific research. A unique workout is said to be created from over 3.5 million different options. Freeletics' CEO claims that 85% of the time users like the workout the AI creates, rating it "perfect" afterwards.Beyond fitness coaching, Freeletics has a community page where people can connect, share results and motivate each other.
3. Aaptiv Coach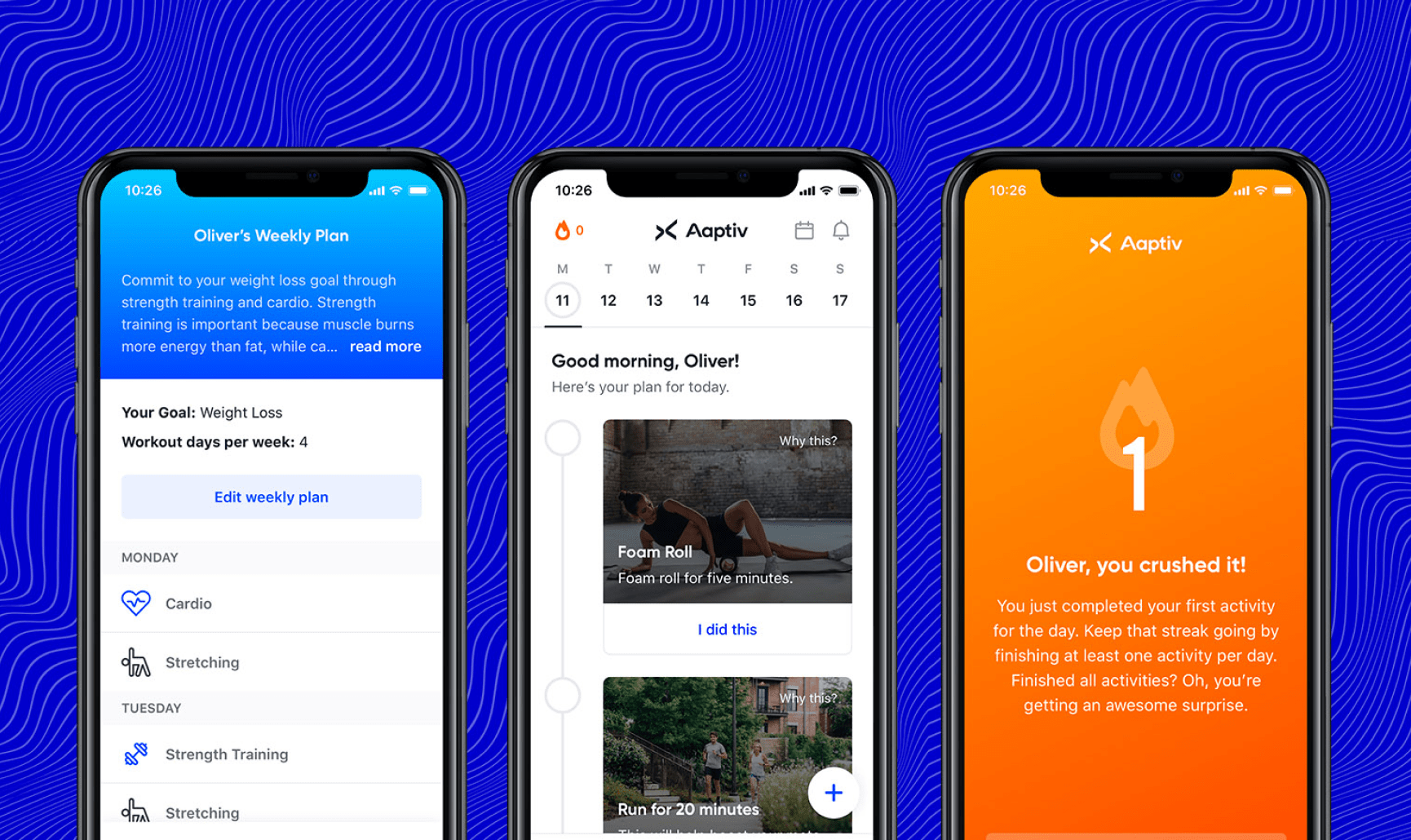 The startup behind a popular audio-based fitness app, recently announced the launch of a new service called Aaptiv Coach. It required three years of development and is Aaptiv's most significant product novelty since the company's inception. The service is powered by proprietary recommendation algorithms and engagement data. An AI-based assistant offers personalised fitness and lifestyle plans tailored specifically to each user in accordance with their individual goals, current fitness levels, eating habits, and data obtained from wearable devices, such as a smartwatch or fitness tracker.
4. Cure.fit
This is India's most popular health and workout app. The app creators lean heavily on big data and AI to drive user experience and growth, using machine learning to create fitness routines. The app's backend is claimed to be an intricate collection of over 100 subsystems or "microservices", with each one modified to address a particular problem. They are improved by harnessing some powerful machine learning models that have been trained on "millions and billions of data points" to achieve better results over time.
5. Whoop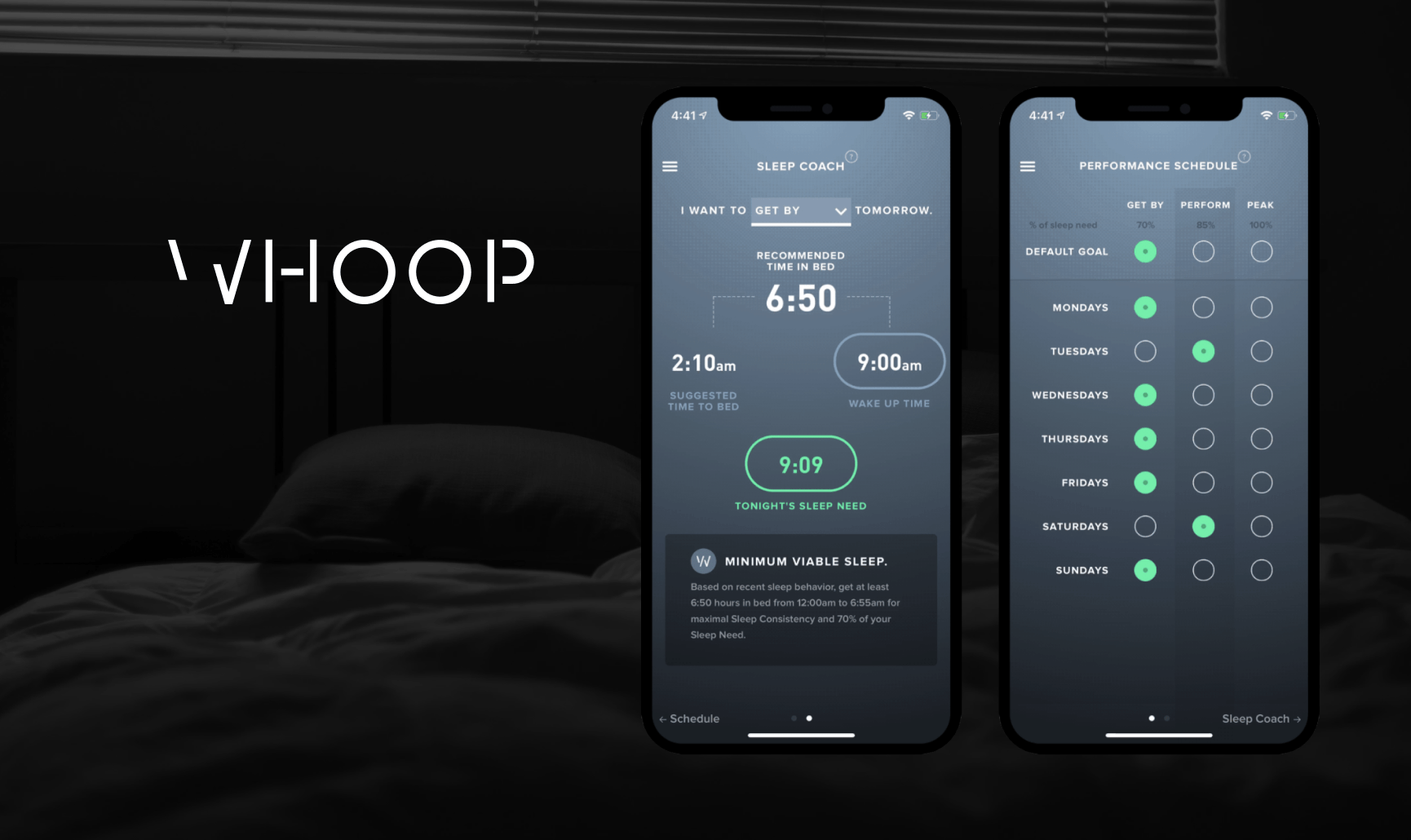 Whoop is a fitness band that is approved for in-game use by professional baseball. The vendor claims that Whoop's key advantage over other fitness bands is the amount of data it collects and pushes into the cloud for processing, which is up to 100 megabytes per user per day. The wearable can be utilized to enhance sleep and recovery. Whoop's developers used training machine learning algorithms to reproduce the sleep stages manually assigned by the polysomnography technicians. This creates the automated sleep-staging experience provided by the app. It can also estimate performance strain on day one by comparing a user to others in a team, and over time, thanks to A.I., it actually learns how they respond and help them get back on your feet.
6. Asensei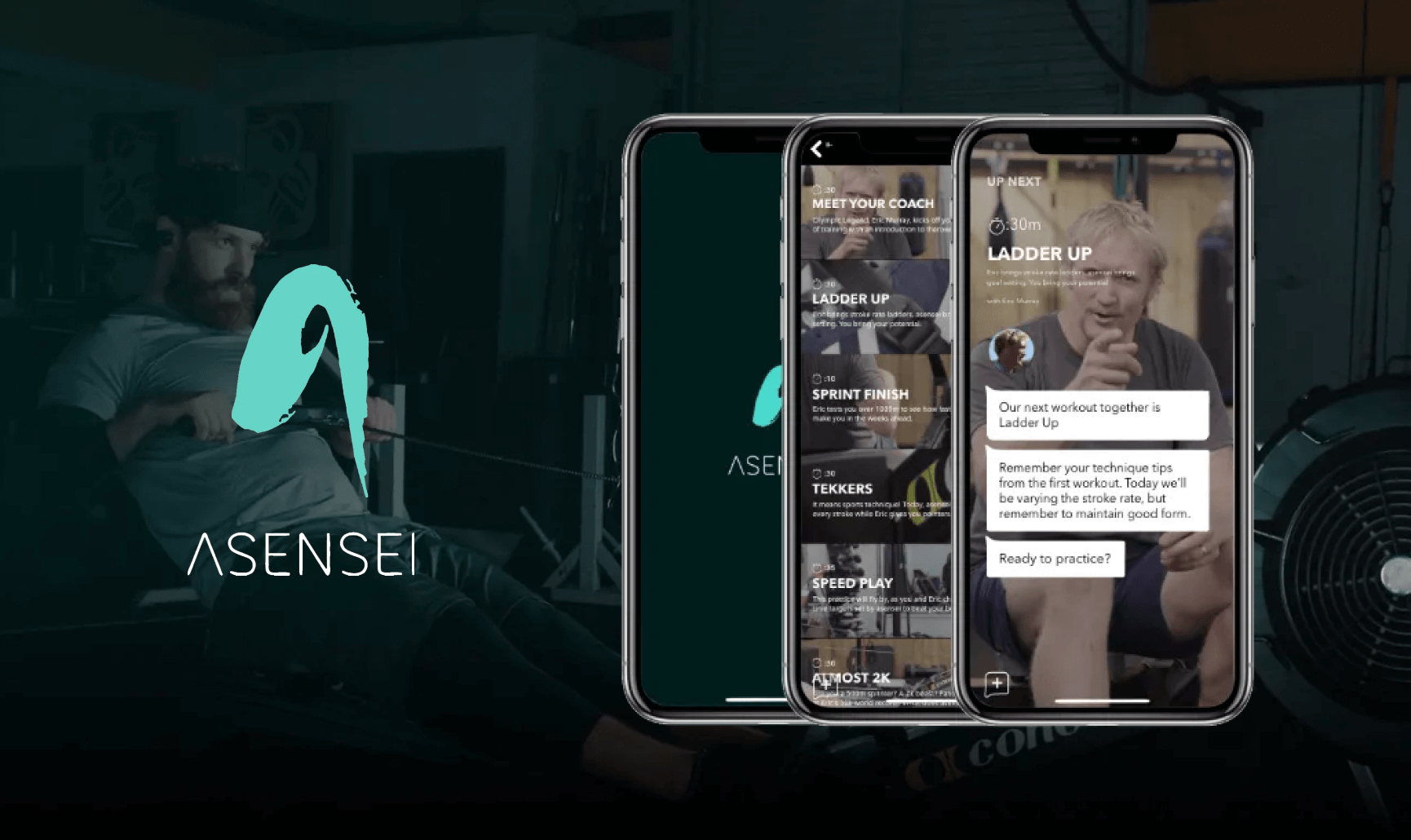 Asensei is a connected iOS coaching app that allows world class trainers and Olympic athletes to guide and monitor their practice. The app uses motion capture sensors in regular sports apparel to guide and correct a user's workout. This enables customers to follow coaching programmes, being empowered by the latest AI technologies.
Why Riseapps As Your AI Fitness App Developer
As you probably know, Riseapps is a software development company specializing in fitness. Recently, we helped a vibrant US-based startup tackle lack of IT infrastructure and resources to create innovative AI fitness software. 
Our backend software developer played a key role in building Carbon Trainer – a piece of software with 3D motion capture, performance tracking, image recognition, and many other features. 
Our team created a well-informed cloud strategy and managed the adoption process. As a side task, we made an admin panel for trainers to guide their clients through training sessions. With solid cloud architecture, it became possible to achieve the key goal of the app, which is delivering smart and high-quality personal fitness training. 
The work performed by our team allowed the app owners to work on implementing other advanced software features to make the training system more engaging and profitable. 
Want to Build an AI Fitness App?
Lean on Riseapps - a fitness app development company with hands-on experience in delivering custom fitness solutions.
Contact Us
FAQ
How much does it cost to develop an AI-driven app? 
Needless to say, the price depends on your goals, requirements and specific resources you already have. We've seen software development budgets as small as $20,000. However, in these cases, the customer already had the necessary data, and the primary goal was to train the AI model. 
We've also worked with project budgets of $60,000 and more. 
How long does it take to develop an AI app? 
In the case when there's a ready AI model that needs to be trained, it might only take several weeks. However, it's rather an exception to the rule. The last project we did took 5 months. 
The delivery time also depends on the training accuracy you want to have.  Reaching the accuracy of 90% might take much less time than, let's say, 98%. 
What methodology might be used when implementing machine learning?
ML development usually goes with the help of the CRISP-DM. It is an open standard process model that describes common approaches used by data mining experts. 
Is it possible to augment your staff to build an AI-powered app? 
Sure. We can cover some specific services you might need like supporting and maintaining your app. We could rewrite it to another programming language, enrich it with AI or machine learning in health and fitness features, take care of UI/UX, etc. so it becomes up-to-date and beautifully efficient.
Conclusion 
In this article, we looked at how artificial intelligence and machine learning are used in fitness. 
We consider AI for fitness is an exciting and high-potential trend, becoming a part and parcel of the industry. The software development process of an AI-driven app can be challenging but rewarding. This kind of software can empower both – a smart gym and home workout practice. 
A digital fitness coach (empowered by machine learning) has many solutions to offer, such as creating workouts out of sets of exercises, adjusting them based on available equipment, providing human pose estimation, and more.   
Whatever app you want to build – AI fitness coach software or wearable, we are here to help. 
Riseapps is a fitness software development company. All our engineers are middles or seniors, whose expertise allows us to take on the most sophisticated projects and work with the latest technologies. 
We offer a range of collaboration models, always trying to find the most cost-effective yet viable solution. Ping us with a form below to discover how we can assist you in building your AI-powered app.