You may have heard about the EHR market's exciting potential and have decided to transition from paper to digital health records. Your current electronic health record system might also need to be updated, necessitating an upgrade. So, how do you build an EHR system? There are several costs and benefits when weighing the options of purchasing "turnkey" products, building from scratch, or upgrading legacy systems.
Regardless, you must ensure that your EHR system complies with HIPAA regulations. Indeed, growing concerns about patient safety make EHR software development even more critical. You will need a software development company with similar experience to meet the data privacy standards of EHR software.
RiseApps experts share their knowledge on how to build an EHR system to help you get started on the right foot. To take it a step further, we'll answer some of the most frequently asked questions about EHRs, such as EHR benefits, features, development costs, and differences from electronic medical records. 
Want to skip the reading and get right to work on your project?
EHR vs. EMR System: Choosing the Right One for Your Business
A common misconception is that the terms—"electronic health record" (EHR) and "electronic medical record" (EMR)—are synonymous. But they aren't. An electronic medical record and an electronic health record system differ in the following ways:
What do they mean? 
What is their purpose?
Who has access to medical records? 
What is an EMR system?
An electronic medical record is a digital version of the paper charts kept in a doctor's office. They record a patient's diagnosis and treatment at a single medical facility.
What is an EHR system?
An EHR system is an improvement over paper records. Electronic health records take a more comprehensive approach to patient care than paper charts, incorporating information that goes beyond what is typically obtained during an office visit.
What is their purpose?
According to the ONC, the terms "EHR" and "electronic health records" are interchangeable; however, we can use health as a broader term than medical. In this context, "Medical Records" refer to documentation created by clinicians for diagnosis and treatment, whereas "Health Records" refer to any documentation about an individual's overall health. 
Who has access to medical records?
All parties involved in a patient's care, including laboratories, hospitals, clinics, and even the patient, have access to EHR data.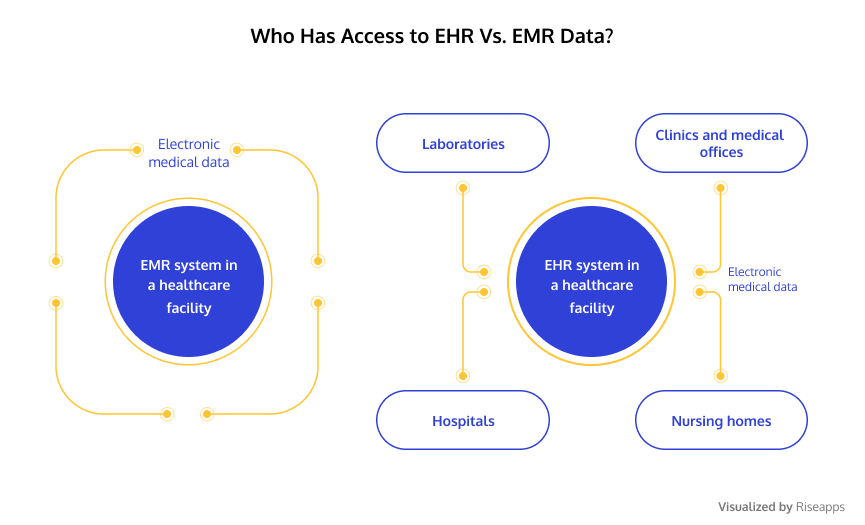 Because EMR software is designed solely for internal use, data cannot be easily shared between facilities.
EHR Market Size, Segments, and Factors Shaping It
While the market has grown significantly, it is critical to consider the current industry factors before beginning your EHR development.
Size
Experts predicted that the global market for EHR systems would be worth $29 billion in 2020; by 2027, that figure is expected to rise to $47 billion. The advancements in software technology and the healthcare sector are driving the growth of the global EHR software market.
Segments
What are the different types of EMR systems? Looking at the EHR market segments, the primary electronic medical record systems types are inpatient and outpatient. Nevertheless, the segment can be further subdivided into products, applications, and regions.
Product: On-Premises and Cloud
Application: Clinical, administrative, reporting, financing, and research.
Region: North America, Europe, Asia-Pacific, and LAMEA.
The Primary Factors
Aside from R&D cloud technology, AI, and the COVID-19 pandemic, the market is driven by the rising geriatric population, high EHR costs, and data security concerns.
Whether you need an EMR or an EHR platform, a reliable software engineering firm can help you streamline and ramp up the development process.
Out-of-the-Box Software Vs. Custom EHR Solutions
The million-dollar question is whether we should build or buy an EHR system. Let's weigh the advantages and disadvantages of each option.
Out-of-the-Box Software
"Out-of-the-box" software is pre-configured for a specific industry and is ready to use upon installation.
Core Benefits
An out-of-the-box electronic medical record is typically less expensive to implement than custom solutions. 
Companies in well-known industries like food service or retail typically have little difficulty locating and purchasing off-the-shelf solutions. 
They're supported by a large user base and the software developer's support and quality assurance team. 
These kinds of EHR software are simple to set up. The only steps missing from ready-made software are installation and configuration.
There is no prerequisite knowledge of the technology required. As long as you can make minor changes, you can use the software without the help of an IT expert.
Key Downsides
Out-of-the-box EHR software may need to improve key workflow features for your company's unique processes or be overburdened with options you'll never use. 
The annual licensing fee and subsequent upgrade and support costs frequently obscure the initial cost of subscription-based software.
Customized EMR/EHR Platforms
When prepackaged programs do not suffice, custom software is the best bet. Custom solutions are software applications created from the ground up to address specific problems. Enterprise software customization is required when: 
Changes are made to existing programs to automate previously time-consuming tasks.
The team plans to add new integrations between existing software packages. 
Interfaces, programs, or modules must be created in conjunction with existing solutions rather than in place of them. 
You require comprehensive software applications.
Benefits
While a custom solution may be more expensive initially, it may save you money in the long run if you can avoid the ongoing licensing fees associated with commercial software. 
Custom software is a long-term solution that will not need to be replaced after a few years, as an off-the-shelf program may. 
You can communicate directly with the EHR developer to have any requested improvements implemented immediately.
Personalized EHR software boosts productivity significantly because it is designed specifically for your company. It saves time and improves the data quality and communications with third parties (suppliers and service providers). 
When you build an EHR system, you provide users with a better experience and gain a market share advantage.
Drawbacks
Many times, updates or changes to packaged software will take precedence over customizations, requiring the latter to be verified and updated at each upgrade. 
Creating a separate part for each function is tempting, but this results in overbuilt, complicated, and high-maintenance systems.
5 Core Drivers to Build Your Own EHR/EMR System
So, why are EHR systems important? Let's go over the benefits.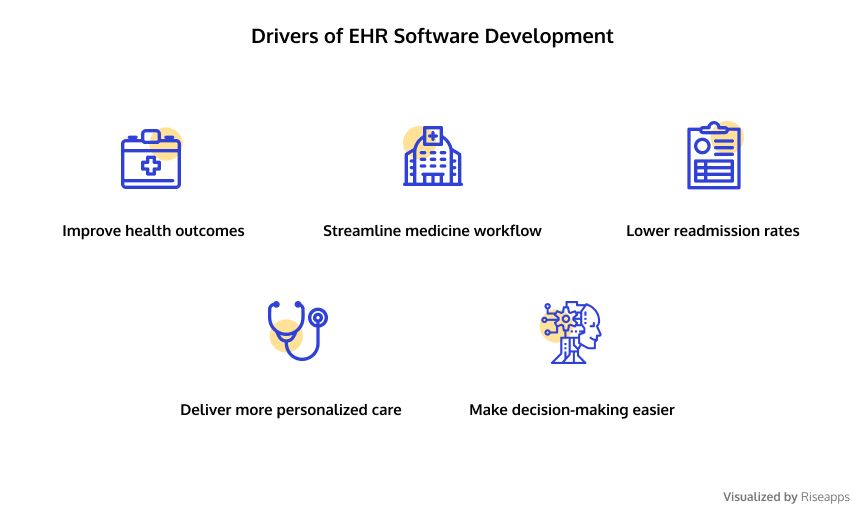 Doctors Make More Rapid Decisions
EHR software can send patient data to other hospitals, nursing homes, states, and countries. Remote access to records allows doctors to make better and faster decisions.
Healthcare Providers Improve Workflow
Electronic record systems automate various processes, including form filling, allowing doctors to focus on patients. Computers and smartphones can manage appointments. An electronic medical record also expedites phone calls and medication refills.
Improves the Outcomes of Patient Care
Better healthcare outcomes can be achieved through increased doctor-patient cooperation enabled by electronic systems allowing patients to access their medical records, schedule appointments, and do other things.
Hospitals Have Lower Readmission Rates
The primary goal of creating EHR software is to improve patient health outcomes. As a result, the number of patients admitted to hospitals falls dramatically.
Healthcare Organizations Provide More Personalized Care
When EHR system development enables doctors and patients to monitor data closely, personalized care can be provided.
Tailoring treatment to specific testing and diagnosis can improve the patient's experience and satisfaction.
As outlined above, market trends and benefits all point to the need for and value of a custom electronic health record (EHR) system.
5 Target Groups that Need EHR/EMR Solutions
Target groups of EHR solutions include:
Hospitals: Using EHR data, 94 percent of hospitals completed hospital tasks that influenced clinical practice. Hospitals frequently use this data to support quality improvement (82 percent) and track patients' data. Compared to those not participating in these interoperability domains, hospitals that could send, find, receive, or integrate external patient data were twice as likely to use their EHR data.
Clinics: When the patient's condition improves and they no longer need to be hospitalized, the health chart can be transferred to a local clinic where the patient can be easily managed.
Patients: Patients can go home after receiving treatment at outpatient clinics while their current health charts are continuously viewed and monitored. This allows them to remain alert and, if necessary, seek immediate medical attention.
Specialty centers: An EHR system may be used by specialty care centers to assess the severity of a patient's condition and make diagnoses in the appropriate specialty area. For example, patients suffering from heart disease should be taken to a specialty center where they will be cared for by specialized cardiologists.
Health care providers: EHR software can help doctors reduce the errors that are more common in paper records. Instead of searching through multiple records, doctors get a consolidated view of the patient's data.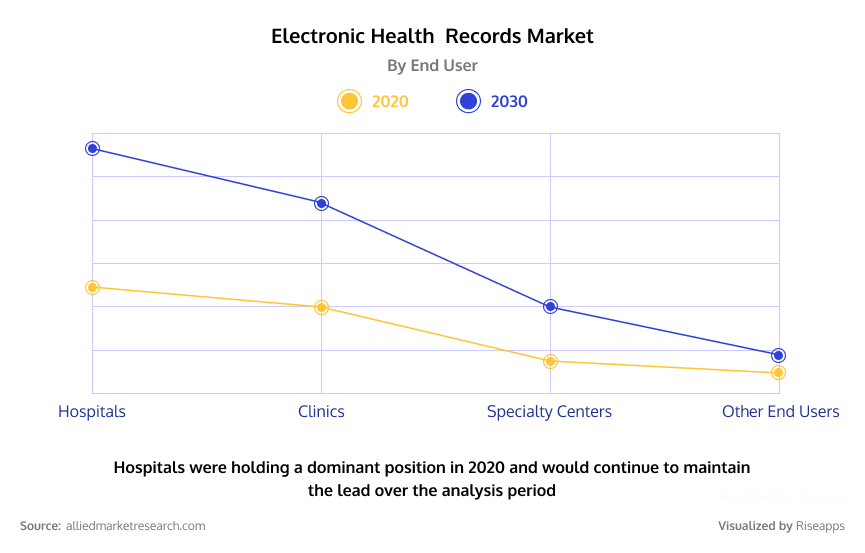 Hospitals were the market's largest end user in 2020 and are expected to lead the market for the remainder of the forecast period. The growth drivers are hospital expansion, infrastructure improvements, and government and private licensing initiatives. Simultaneously, clinics are expected to expand significantly due to increased demand for high-tech healthcare facilities and an increase in clinics.
How to Build an EHR System: 7 Crucial Steps to Succeed
Here is an action plan to help you understand how to develop EHR.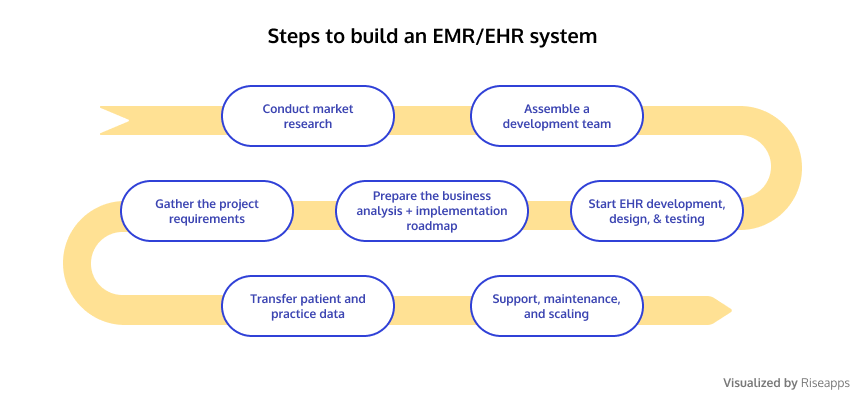 Perform Market Research 
Begin by researching your target market and the EHR developer who best meets your requirements. Assess their background, portfolio, customer feedback, EHR development, and HIPAA compliance experience. This helps you decide which company to work with
Assemble a Software Development Team 
Your EHR system development partner should create a full software development team that knows how to build an EMR system. The project's complexity determines the size and structure of the team. All the same, key members should include
Developers 
UX/UI designer
Project manager
QA engineer
Business/technical analyst 
DevOps.
Compile the Project Requirements for EHR Development
A tech talk with highly skilled technology officers will take place following an initial phone call to discuss your goals and needs for EHR system development. The NDA ensures confidentiality. This stage entails selecting the features of your EHR. 
Prepare the Roadmap for EMR Software implementation 
This stage ensures proper analysis and development while minimizing budget, schedule, and technical risks so that you can begin developing an EMR system. The primary tasks include:
product vision & scope document;
product breakdown structure;
UML context diagram;
prioritized product backlog;
documented functional requirements (in user stories & acceptance criteria format);
documented non-functional requirements;
lo-fi wireframes (made in Balsamiq);
product roadmap;
BPMN diagram and various UML diagrams.
We also identify security and privacy concerns to ensure your future EHR/EMR system meets all standards.
Start EHR Development, Design, & Testing
It is now time to build your own EMR/EHR system. To begin, design the "look and feel" with clear paths to satisfy future customers. User stories, scenarios, and storyboarding are all required for EMR software design. Front-end and back-end developers collaborate, and QA tests the systems manually and automatically.  
The EHR development stages and scope are determined by your objectives, while sprints and customer journey maps give you engineering control. Keep in mind that all of the necessary features must be implemented. They are listed below if you were wondering what the most important capabilities were.
Defining the Core Features for an EMR/EHR System: Patients & Vendors
Here are the essential EHR software features.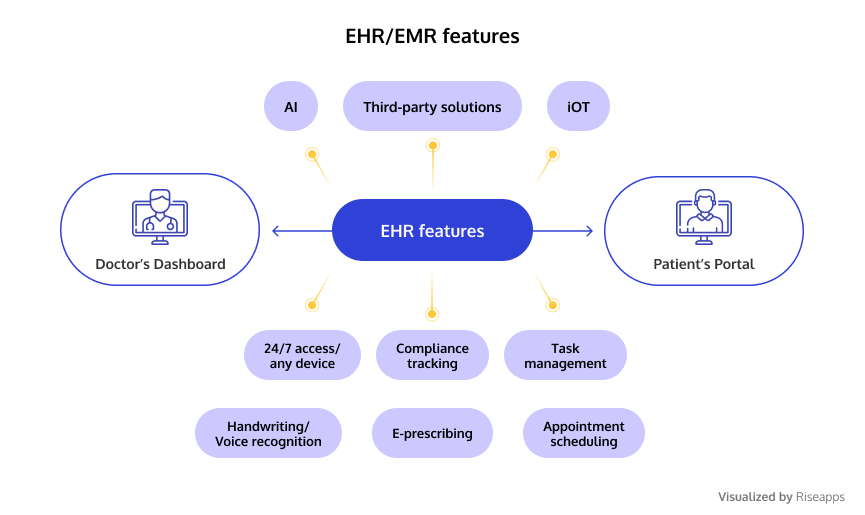 Whatever features your EMR/EHR platform might need, be sure to entrust their development to a software company with a wealth of experience.
EHR System Features for Doctors
E-prescribing and order entry
E-prescribing allows doctors to send prescriptions to pharmacies as quickly as possible. It saves time and eliminates human error. The module includes subfeatures such as prior electronic approval, interaction, event alerts, medication decision support, and more.
Appointment scheduling
Basic appointment scheduling is critical for practice management. It allows doctors to see their appointments, manage waitlists and no-shows, and reschedule them.
Compliance Tracking
Compliance is important for medical software. Ensure you consider the functionality for monitoring essential practice operations and ensuring that they are carried out per healthcare sector rules and regulations during EHR system development.
Clinical Dashboard
The dashboard displays key practice performance indicators, providing a comprehensive picture of healthcare practice. Data from the practice analysis can be tabulated or graphical. This helps doctors and other healthcare providers to detect negative patterns and act quickly.
Role-based access сontrol
This EHR feature grants hospital administrators, specialists, and physicians access at their respective levels, enhancing privacy and security.
Task Management
Doctors and other medical professionals can use task managers to access all of their most frequently used features in one place, making it easier to manage their day-to-day operations. Interactions with patients can take the form of video, audio, text, chat, or visuals.
Patient History and Profile
In EHR software, doctors should have a good location to store their patient's clinical data, including their medical history and health issues. Demographics, patient location, vital signs, medications, treatment, laboratory notes, and anything else a doctor requires may be included.
EHR System Features for Patients 
Patient Portal
Most electronic health record technology includes a patient portal through which patients can schedule appointments, communicate with their doctor, receive test results and prescriptions, and pay.
24/7 Access
Access to digital healthcare tools is required around the clock to provide medical services. Any urgent needs should be met by EMR software. 
Transfer Patient and Practice Information 
At this stage, ensure that the integration of an EHR system into your existing infrastructure goes smoothly so that you can successfully automate document management processes and focus on providing personalized medical care.
Support, Maintain, and Scale
DevOps will need to maintain the system after it has been moved to the cloud. Even better if the EHR software development company can also support cloud infrastructure. Otherwise, you'll have to hire a second team for routine maintenance and debugging.
Top Considerations for Building an EHR System
Here are some things to consider when creating an EMR/EHR system.
Data Migration
Data must be transferred from legacy records to the new EHR system. Clinic owners can hire employees to help them with this routine task. Hiring an administrator to manage EHR software and upload patients' medication histories is also recommended.
Design Responsiveness
Mobile devices are increasingly used to research hospitals, clinics, and doctors. As a result, ensure that the EHR development company you select uses a mobile-first approach. Mobile-friendly medical websites make it easy for patients to find and navigate vital information. If visitors to your website cannot navigate it, your patient base will suffer.
Sync with the App and Google Play Stores
Apple has updated its app store policies to include stricter guidelines for digital health apps in light of recent security flaws. Apps submitted to the App Store must follow the App Store Review Guidelines and the Apple Developer Program License Agreement. 
Before they can be published on the Play Store, all apps must adhere to Google's Developer Program Policies and Developer Distribution Policies. 
Google currently places no restrictions on health-related apps. However, their developer program's Privacy and Security guidelines state that special procedures must be followed when sensitive data is involved. 
The submission guidelines for apps to the Google Play store are much less stringent. You will only find a little vetting on Google Play if you're looking for a health app. Normal app release procedures, however, remain in effect.
Tech Stack
The image below illustrates the comprehensive technology stack for EHR software development.
Databases: MySQL, PostgreSQL.
Frameworks: Angular, Django, Node.js
Utilities: Amazon 53, Microsoft Azure, Cloudflare.
Payment gateways: Braintree, PayPal, Stripe.
Analytics: Amazon EMR, Google Analytics 
Web servers: Apache, Nginx.
EHR/EMR and HIPAA Compliance
Because EHR/EMR software handle patient health information, these records are protected under federal law. The Health Insurance Portability and Accountability Act, or HIPAA, protects and preserves PHI. The Health Information Technology for Economic and Clinical Health Act of 2009 was passed to expand and modernize a 1996 law. This rule applies to "covered entities" and "business associates." 
More information about the HIPAA act can be found on this page, but some experts refer to it as the 800-pound gorilla in the room. It may be challenging to meet all HIPAA requirements for EMR software. As a result, if you need help with how to create an EHR securely, you should seek professional assistance. 
HIPAA is divided into two parts: security and privacy. 
The Security Rule specifies how protected health information of patients must be safeguarded. It includes physical, technical, and administrative safeguards you can implement if you develop an electronic health record application. More information about the Security Rule's restrictions can be found here. 
The purpose of the Privacy Rule is to establish the procedures and requirements for access to PHI. It gives patients control over their health data and limits how their EMR/EHR-stored health information can be used and shared. Here is more information on the Privacy Rule.
A Breach Notification Rule exists in addition to the HIPAA Privacy and Security Rules for EHR systems. Business associates and HIPAA-covered entities are required to notify in the event of a breach of unencrypted protected health information. 
Any breaches of HIPAA-protected health information must be reported to the HHS. A data breach involving at least 500 records is documented in a public HHS database. 
Implementing HIPAA regulations is critical when developing an EMR or EHR software tool. Consult a reputable software development company when developing an EMR/EHR tool to reduce the possibility of security breaches.
In a nutshell, HIPAA has two components: security and privacy.
The Security Rule sets rules for how the health information of the patients must be kept safe. It's filled with physical, technical, and administrative safeguards you can apply if you make an electronic health records application. You can find more information about restrictions in the Security Rule.
The Privacy Rule is designed to set the processes and standards for access to PHI. It gives patients rights concerning their health data and sets limits on how their health information stored in an EMR/EHR system can be used and shared with others. More information about the Privacy Rule.
Apart from HIPAA Privacy and Security Rules for electronic health records, there's a Breach Notification Rule. It requires business associates and HIPAA covered entities to provide notifications in case of a breach of unsecured protected health information. The law states that if there's a breach of health information protected under HIPAA, it needs to be reported to the HHS. When a breach includes 500 or more records, it's tracked in a public HHS database.
To wrap it up, when it comes to building an EMR or EHR software tool, the implementation of HIPAA rules is of the essence. To minimize the risks of breaches when building an EMR/EHR tool, turn to a trusted healthcare software development company. 
Building standards-compliant EHR/EMR system
HIPAA is one of many standards to consider when developing an electronic health record system.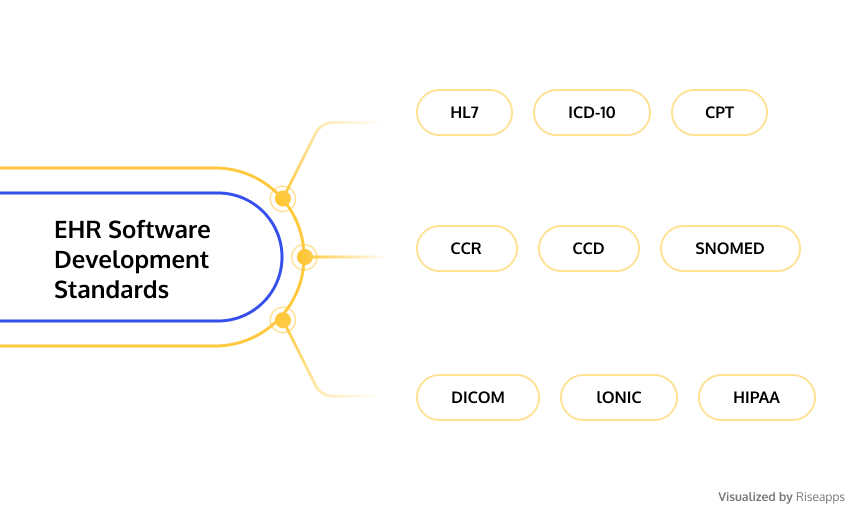 It is critical to study the others if you're still figuring out how to create EHR software.
HL7: Transfers documents between healthcare apps to fulfill a request. This ability to exchange information and move data reduces geographically isolated medical care, allows medical device innovation, and makes patient care safer.
ICD-10: Death certificates are coded using ICD-10. The World Health Organization publishes and copyrights the classification. WHO has authorized a U.S. government ICD-10 adaptation.
SNOMED: Systematized medical nomenclature. It is a systematic, computer-processable collection of medical terms, codes, definitions, and synonyms for anatomy, diseases, discoveries, procedures, microorganisms, and substances.
DICOM: Medical imaging and data management standard.
LOINC: Health measurements, documents, and observations international standard. LOINC helps hospitals, labs, government agencies, and insurers identify and transfer data.
Challenges of HIPAA Compliance
Regional and national governments are still drafting legislation and revising patient data privacy policies. These regulations frequently conflict and add another layer of compliance responsibility for healthcare providers. Aside from that, all EMR/EHR vendors and developers face the following challenges: 
Usability issues: Modern EHR software is useless, which exhausts healthcare workers. Many EHR software necessitates that users search multiple screens for relevant data. That is why technology and software companies need help to provide simple solutions to doctors and nurses. Adopting AI-based technologies is one method of increasing EHR usability. 
Improving EHR interoperability: Clinicians, researchers, public health officials, and regulatory agencies must collaborate to share critical patient data, particularly during pandemics. While system-wide interoperability improvements may be postponed, healthcare leaders can add third-party solutions to their EHR software to help transfer and exchange clinical information. 
Clean data: Healthcare leaders can reduce clinician frustration and burnout by reducing redundant or irrelevant data in clinical systems. Doctors and nurses can provide better care when they have a patient's complete medical history.
To face these obstacles head-on, contact a healthcare software development company if you need help navigating the maze of EHR software development.
EHR/EMR System Development Costs Explained
Project Complexity, Team Size, EHR Developer Location, Platforms, and Technologies heavily influence the cost of EHR development.
Looking at the costs associated with setup, rollout, and upkeep allows us to calculate an approximate TCO.
Cost of Maintaining Electronic Health Records
According to a study, monthly maintenance costs averaged $1,500 per doctor. For cloud-based systems, the cost breakdown of system maintenance is primarily the responsibility of your EHR system provider. However, the cost of maintaining and ensuring the security of your data through an IT department, as well as the costs of support and training, additional servers, and the cost of additional hardware, should be considered.
Cost of Deploying EHR Systems: Cloud vs. on-Premise
The long-term cost of an EHR may vary depending on how the EHR software is deployed. According to the five-year TCO for on-premise and cloud-based systems, the cloud-based option costs $58,000, while the office-based option costs $48,000. The cloud-based system had lower upfront costs ($26,000) than the office-based system, which had higher upfront costs ($33,000). 
However, reliability, the hardware investment, EHR maintenance costs, and security all play a significant role when considering additional factors beyond the total cost of ownership (TCO) of a cloud-based or on-premises system. These were not taken into account in the study.
Cost of Implementing EHR Systems
The average cost of EHR implementation is difficult to provide because it varies greatly depending on context and implementation strategy. Implementation costs can be difficult to predict, but case studies can help. According to the same Health Affairs study, the average cost of implementing an EHR in a multi-physician practice is $162,000, with an additional $85,500 needed for the first year of maintenance. 
According to the teams in charge of EHR software implementation, 611 hours were spent "planning and implementing" the EHR system. Across the 30 primary care practices in the Medical Economics study, an average of $5,900 was spent on hardware, software, peripherals, and network connections. An additional $3,094 was spent on "IT and other outside support" by roughly half of the practices. 
The average cost of implementing electronic health records in hospitals would rise as the scale increased. According to a survey conducted by Community Hospital 100 and Anthelio, these costs for community hospitals range from less than $5 million to more than $20 million.
Why Hire Riseapps As Your EHR Development Company
Riseapps is a healthcare-focused software development company. Our team offers cutting-edge engineering technologies and a wealth of experience. We can develop EMR software, EHR software, and other healthcare solutions for companies in the United States, Canada, Israel, the United Kingdom, and other parts of Europe.
Let's look at Kego as one example of a HIPAA-compliant healthcare app, among many others.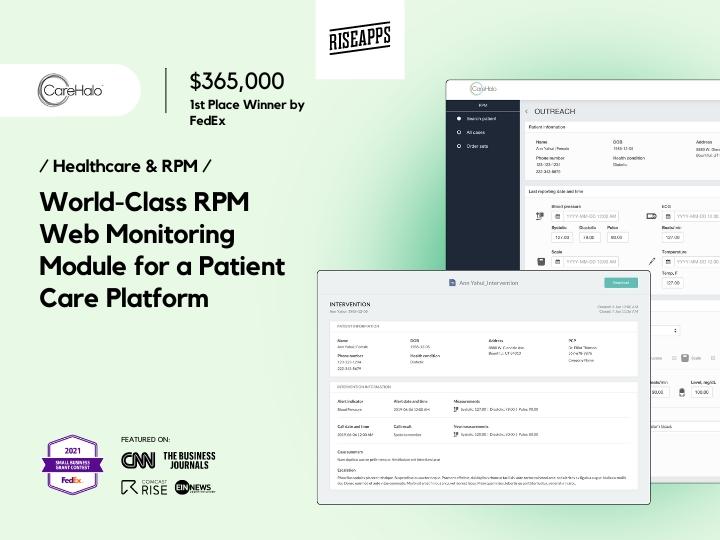 Kego is a customer-billed, on-demand urgent care service. During three years, we helped the award-winning healthcare provider transform their business idea into a visually appealing and market-ready health tech product, including:
From-scratch mobile-based app development for patients.
Full-featured web-based application development for doctors.
Payment gateway integrations for users to pay seamlessly.
Highly-compliant data encryption protocol implementation and setup.
Telemedicine functionality implementation with video calls and real-time chats.
Cloud-based documentation storage implementation.
Virtual doctor's appointments are now available to patients. Appointments can be scheduled, medical records can be digitally stored, and consultations with healthcare professionals can occur thanks to the internet and mobile apps.
We also collaborated with Noho Med, a US-based digital home solution for COPD patients. The healthcare and respiratory care provider was able to complete the development of a patient-centered, market-ready, and web-based platform with our assistance. They gained exposure in Forbes, Mount Sinai, and Summit Health and secured over $27.2 million in funding. 
The complete list of project engagements comprises the following:
Development of web applications with all of their features 
Implementation of a cutting-edge patient management system. 
Responsive UX/UI design for web, mobile, and tablet users. 
Implementation of telemedicine functionality for real-time chats and video calls. 
Advanced analytics for data tables and graphs implementation
Conclusion 
We discussed how to build an EHR system, including the benefits, features, and technology stacks so that you can make informed project decisions.
While some healthcare organizations may prefer to buy software from third-party developers, building an EHR system from the ground up has numerous advantages. The pre-built systems may only meet some of your needs. 
As a result, developing your own system may be more cost-effective. Furthermore, if you develop your own EMR or EHR solution, you can quickly make changes and add new features. 
Tell us about your needs and requirements so that we can provide you with the best service possible.
FAQ
---
What are the features of EHR software?

The key features of EHR include appointment scheduling, charting, e-prescribing, a patient portal, HIPAA compliance, and more. Artificial intelligence (AI)-based technologies are a powerful way to improve EHR usability. Third-party solutions can facilitate the transfer and exchange of clinical information. 
---
What is EHR software?

EHR software is designed to help healthcare organizations maximize clinical productivity and enhance the quality of patient care, at the same time streamlining revenue through electronic collections and analysis of data. 
---
How to build your own EHR system?

Conduct market research 
Assemble a development team
Gather the project requirements
Prepare the business analysis + implementation roadmap
Start Ehr development, design, & testing
Transfer patient and practice data
Support, maintenance, and scaling
---