Nowadays, EHRs and EMRs are part and parcel of the medical field. Hospitals and health care providers all over the world implement and use these systems to digitize their health data and processes.  
When one needs an EHR/EMR system, some turn to the software vendors to buy a ready-made solution. However many healthcare providers venture to create electronic health records software of their own, which has a lot of advantages.  
Maybe your healthcare organization is finally ready to eliminate the use of paper records? Or you already have an EMR or EHR system, but it needs to be upgraded to a new version? No matter your present-day situation, you can put yourself in the driver's seat with your healthcare solution. 
All you need is a software development company with in-depth experience in the healthcare industry and software engineers who understand the unique challenges of managing healthcare practice. 
In this article, we'll try and answer some basic questions about EHR/EMR systems and explore how to create EHR software. What are the exact steps of building this kind of platform? How much does it cost and what would be its main features? Let's see.
The Difference Between EHR And EMR Software
For those who just started digging into the topic, let's discuss some basics. Is there actually a difference between EMR and EHR systems?
In truth, the names of these platforms are often used interchangeably. At the same time, the difference between the two systems is quite important.
The key to understanding the distinction lies in the gap between the words "health" and "medical". The former covers much more territory, so EHRs go a lot further than EMRs, as explained in the official article written by the ONC experts. 
In short, here's the main difference:
In EHRs, data is created and managed by authorized clinicians and medical personnel across more than one healthcare organization. EMR systems, however, are designed to be used within one organization only – the information within them doesn't travel easily out of the practice.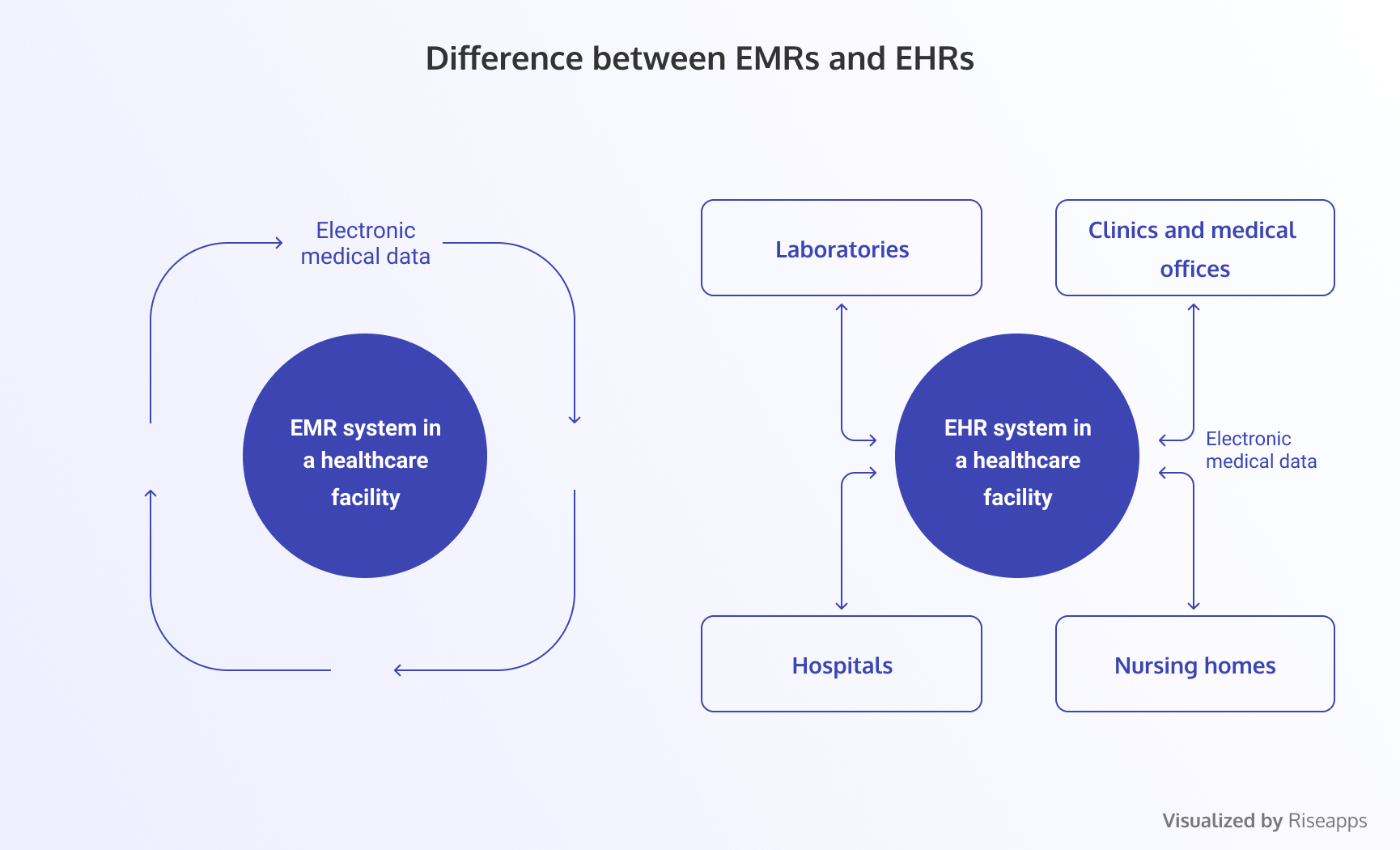 At the same time, since the functionality of EHR and EMR systems is very much alike,  it often seems reasonable for the terms to be mutually substituted. 
In general, EHRs provide more benefits to a hospital, physician, or healthcare organization than EMRs. It is a good idea to keep that in mind if you are choosing between the two.
Moreover, EHR applications include more features and integrations than EMRs and thus require more time and resources to develop.
Whether you need an EMR or EHR platform – with a trusted software engineering company your development process can be smooth and fast.
Electronic Health and Medical Record Software Market
The EHR software market is constantly expanding and enforced by the new vendors. According to the Business Intelligence report, the $30 billion global EHR market will reach over $38.3 billion by 2025. At the same time, its lion's share based on revenue or subscriber metrics is controlled by a small group of vendors. 
According to Signify Research, there are three biggest players on the EHR market – Cerner, Epic, and Allscripts. The first two also hold the largest share of the acute care hospital EHR market. The ambulatory market offers considerably more diversity in the number of vendors who hold a meaningful share with Epic Systems Corporation, Allscripts and eClinicalWorks being ahead of the curve. 
As you'll see there are some sensible solutions to purchase and trustworthy vendors to collaborate with. Then why develop your own EHR (or EMR) system?
EHR/EMR systems – to build or buy?
While there are many reasons for purchasing a ready-made EHR or EMR system, there are just as many valid arguments for building your own platform.
Here are the possible drivers and motivations
The tailor-made systems don't cater to your specific needs.
For example, you might need to have complete control over your EHR or EMR system, and it's not even a subject for discussion. Needless to say, this is a common case with some private and public health services.
Quicker customization and improvements in functionality.
Developing your EMR or EHR system could allow you to fine-tune it according to your exact requirements.
It can be more cost-effective to create your own EMR/EHR system.
If you have some seasoned health software developers at hand, it would make sense to develop your own platform. It would allow you not to shell out a once-off or even on-going, monthly fees for a system that might not live up to your expectations. According to Capterra, most products in the market are priced on a "per user, per month" basis, which base plans can reach $225. To sum it up, the high costs involved, as well as being caught up in long contracts, are the major factors that spur up healthcare providers to start EMR or EHR software of their own. Overall, organizations and governments in many countries are largely hesitant to implement systems from big providers, which is due to the factor of challenging customization.
Advantages of EMR/EHR Systems
The appearance of EMRs and EHRs was probably inevitable, as records in any industry are rarely kept with pen and ink nowadays. However, these systems are not just convenient – they bring plenty of benefits to the whole healthcare field.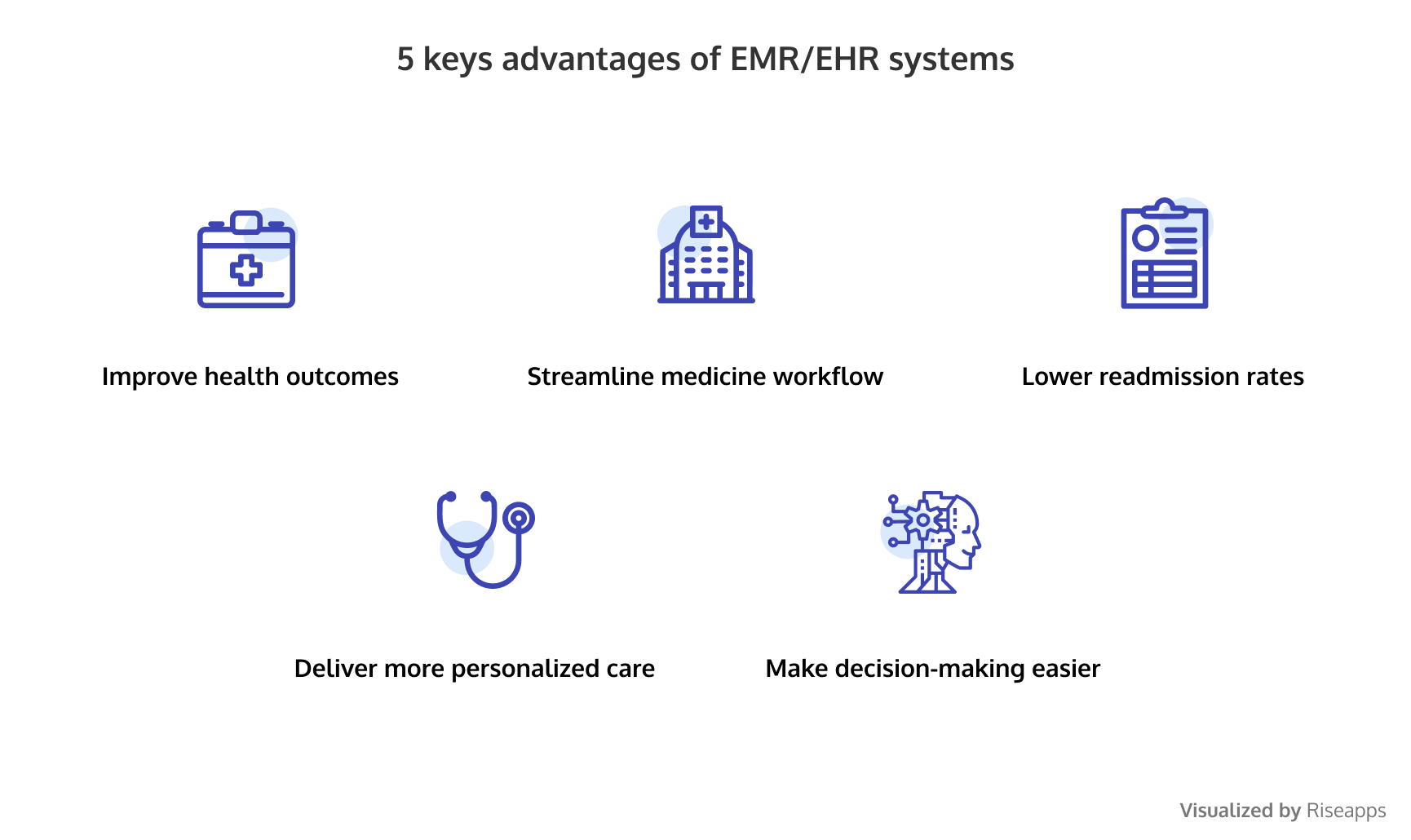 Now, let's get more specific and see what possibilities do EMR and EHR systems provide their users with.
EMR benefits for healthcare organizations
First, let's talk about EMR software. As we know, in the EMR systems data does not easily travel out of practice, however, these platforms can immensely help medical practices,  save their time and effort by digitally recording patient details and reducing manual data entry. In a nutshell, EMR systems allow to 
Track information over time
Seamlessly identify the patients who are due for preventive screenings or checkups, streamlining the medical workflow 
Check how the patients are doing on certain parameters, such as temperature, blood pressure, or explore their vaccination schedule
Overall, if you are going to develop an electronic medical records software, have every confidence that it'll help practitioners to monitor and improve the overall quality of care within the practice. 
EHR Advantages for Hospitals and Healthcare Providers
As we learned, electronic health records can do the same things as EMRs – and more. 
EHRs focus on the total health of the patient and go beyond standard clinical data collected in the provider's office, focusing on a broader view of a patient's care. EHR systems have become an essential part of hospitals to maintain patient data owing to increased productivity and enhanced convenience.
Put it briefly, EHR software helps:
digitize health data and processes
EHR software allows patients and doctors to record information electronically, which doesn't take up any physical space. This saves the records from physical damage, being misplaced, or lost, which leads to better record management and fewer medical errors
Usually, medical records are shared across departments for discussions, further tests, or billing. With EHRs, not only data can be shared within the facility, but also transferred to another hospital, the nursing home, the next state, or even across the country. Besides, records can be accessed remotely in case a doctor or patient is traveling.
EMR software helps practices accurately bill patients for the treatments and services delivered by the doctors. It also automates filling forms, giving practitioners more time to look after patients instead of being drowned in paperwork. The appointments can be managed from any computer or smartphone. Moreover EMRs help in reducing the turnaround time for phone call messages and medication refills. 
You can get more clues about the advantages of EMRs for doctors by discovering their features, which we'll do a few paragraphs below.
EHR Advantages for Patients
Most EHR systems have a patient-facing interface. They enable patients to communicate with their providers, view test results, schedule visits, and more. 
In short, the advantages of EHR for patients are the following:
 getting medical help quickly as only the authorized clinicians have access to EHR at any point of the globe
book appointments (and get notifications for the visit) 
track lab results, prescriptions, and notes
get bill reminders as well to patients and fill in the intake forms
Overall, EHRs help improve collaboration between the patients and doctors, which leads to more efficient health care. 
EHR/EMR building and employment challenges
Needless to say, it's early days for digital health. Regional and national governments are still crafting laws and making changes to the privacy policies around patient data access. These regulations, which often conflict with each other, add another layer of responsibility for healthcare providers to ensure compliance. 
Apart from that, there are some specific challenges encountered by all EMR/EHRs vendors and developers:
Building an EHR or EMR system with high usability 
Most modern EHRs lack usability, which is a huge problem nowadays, leading to burnout of healthcare workers. Many EHRs require users to search through multiple screens to find relevant data. That's why technology providers and software companies struggle to provide physicians and nurses with solutions that are as easy-to-use as possible. One way to improve EHR usability is to introduce artificial intelligence (AI)-based technologies, which we'll discuss later.
Enhancing interoperability in an EHR system 
Clinicians, researchers, public health officials, and regulatory agencies have an increased need to share critical patient information, especially in pandemic times. 
While health care leaders may have to delay system-wide interoperability enhancements, they can add third-party solutions to their existing EHRs to facilitate the transfer and exchange of clinical information. 
Clinician frustration and burnout can also be diminished if health care leaders can leverage technology to reduce a plethora of redundant or irrelevant data in clinical systems. Patient care can be optimized when physicians and nurses have access to a patient's complete medical history. 
To navigate all these challenges, it's recommended to choose a trusted software development company with a wealth of experience in healthcare. 
Electronic Health Record Software Features
Must-have features
Now, let's look at the most essential characteristics of the electronic health record systems
Patient history and profile
Probably, the key feature of any EMR/EHR system is charting. A platform should have a dignified space where doctors keep records of the patients' clinical data, the medical history that includes all the necessary facts and details about their health challenges. The information may include demographics, location of a patient, their vital signs, medications, treatment, laboratory notes, and basically anything that serves a doctor.
E-prescribing and order entry
Either treatment instructions or medical orders can be entered and sent electronically from within the application. E-prescribing provides doctors with the fastest way to send the prescription to the pharmacies. It saves time and reduces the possibility of a human error. The module can have many subfeatures like electronic prior approval, interaction, event alerts, medication decision support, and more.
Appointment scheduling
Appointment scheduling is a simple but rather vital feature for practice management. It allows booking appointments, displaying them on a calendar, managing waitlists, and no-shows, as well as rescheduling requests.
Compliance tracking
Healthcare is all about compliance. The platforms might have a special module that tracks core practice operations to ensure that they are performed in accordance with the medical industry standards and regulations. We'll touch on the topic of compliance in the next section of the article.
Self-service portal
Nowadays, most platforms offer a dedicated portal for patients where they can book appointments, communicate with their doctor, receive test results and prescriptions, as well as make payments.
24/7 Access
Providing medical services comes with numerous requirements that include 24/7 access to digital healthcare tools. The EHR/EMR should be able to address any urgent needs regardless of the time of day or day of week.
Cloud-hosting
Cloud hosting allows healthcare providers to access their EMR/EHR from anywhere, on any of their favorite devices: iPhone, iPad, Android device, or any tablet or computer. Cloud solutions make a platform completely mobile and help practitioners to avoid upfront infrastructure costs and on-the-ground maintenance.
Task management
The feature helps clinicians and physicians to streamline their routine tasks into an all-embracing to-do list and provides a single, structured point of access to any of their common activities – from authorizing prescriptions to interaction with staff. Communication options might include video, voice or text messages, chat, and images.
Role-based access сontrol
This feature provides all the hospital administrators, specialists, physicians with access at their level, which automatically builds up the privacy and security of the tool.
Clinical dashboard
The dashboard provides a holistic view of one's healthcare practice, as it lists the data on the key practice performance indicators. The information can be provided in a tabular or graphical view for quick practice analysis. This allows a doctor to quickly detect any negative trend development and take immediate action.
Advanced features
Apart from the must-have pieces of functionality, most EMRs and EHRs have some advanced features. In particular, they provide doctors the relevant information to support their decisions about patient care. 
Artificial intellingence
Introducing artificial intelligence (AI)-based technologies is a proven way of enhancing EHR usability. It helps enhance the workflows and make patient and problem-specific information more accessible at the point of care. As you probably know, many EHRs require users to search through numerous screens to find relevant data. Such inefficiencies can decrease clinician productivity and take away from direct patient care.By adding AI-powered technologies, organizations can improve the usability of their platforms. They can use such tools to quickly identify and interpret clinical information from multiple sources to improve patient care and minimize the frustration of the clinicians.
Internet of medical things
According to Statista, almost 161 million IoT devices are estimated to be shipped worldwide for installation in the year 2020 – all in the healthcare industry. The number keeps growing because of the numerous opportunities in the medical sector. Doctors can attach multiple sensory devices to patients during treatment for live monitoring of key indicators such as the heart rate, body temperature, and blood pressure. EHRs and EMRs can be built with access to all this data.
Third-party solutions
While healthcare providers may have to delay system-wide interoperability improvements, they can add third-party solutions to the EHRs to facilitate the transfer and exchange of clinical information. E.g. applying mapping tools to some clinical concepts would result in medical information becoming standardized within the EHR, so users can then gain instant access to the important data they need.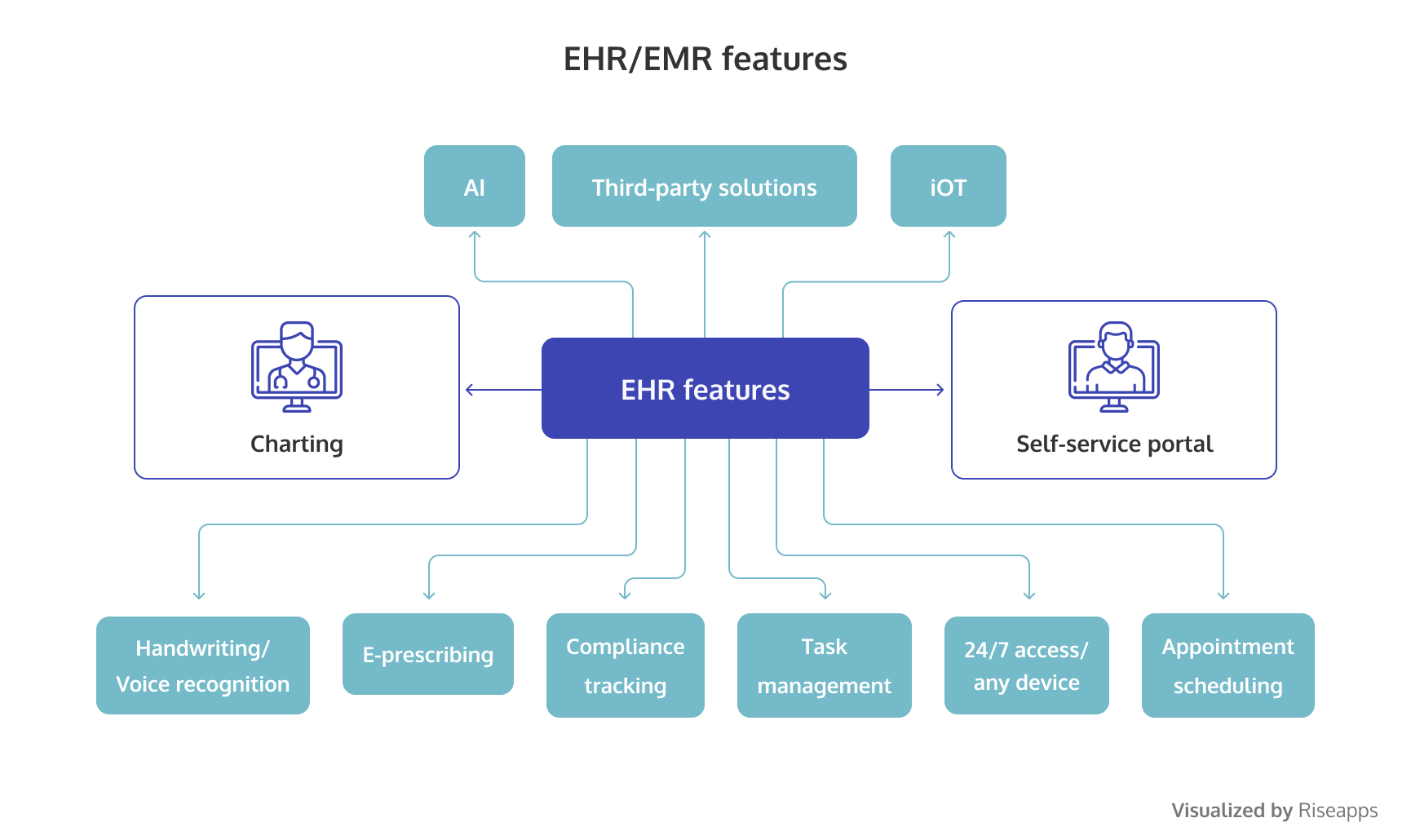 Whatever features your EMR/EHR platform might need, be sure to entrust their development to a software company with a wealth of experience.
EHR/EMR and HIPAA Compliance
HIPAA and electronic medical records cannot be considered separately. 
Since EHR/EMR systems are operating patient health information, these kinds of records are under federal protection. The law that guards and preserves PHI is the Health Insurance Portability and Accountability Act or just HIPAA.
This legislative action was adopted in 1996 and then expanded and updated with the Health Information Technology for Economic and Clinical Health Act of 2009. It applies to "covered entities" and "business associates". You can explore the HIPAA act yourself here, but some experts fairly refer to it as "the 800-pound gorilla in the room." It might not be easy to comply with all HIPAA requirements for electronic medical or electronic health records. So, if you wonder how to make your tool safe, it's a good idea to turn to experts.
In a nutshell, HIPAA has two components: security and privacy.
The Security Rule sets rules for how the health information of the patients must be kept safe. It's filled with physical, technical, and administrative safeguards you can apply if you make an electronic health records application. You can find more information about restrictions in the Security Rule here.
The Privacy Rule is designed to set the processes and standards for access to PHI. It gives patients rights concerning their health data and sets limits on how their health information stored in an EMR/EHR system can be used and shared with others. More information about the Privacy Rule is available here.
Apart from HIPAA Privacy and Security Rules for electronic health records, there's a Breach Notification Rule. It requires business associates and HIPAA covered entities to provide notifications in case of a breach of unsecured protected health information. The law states that if there's a breach of health information protected under HIPAA, it needs to be reported to the HHS. When a breach includes 500 or more records, it's tracked in a public HHS database.
To wrap it up, when it comes to building an EMR or EHR software tool, the implementation of HIPAA rules is of the essence. To minimize the risks of breaches when building an EMR/EHR tool, turn to a trusted healthcare software development company. 
Building standards-compliant EHR/EMR system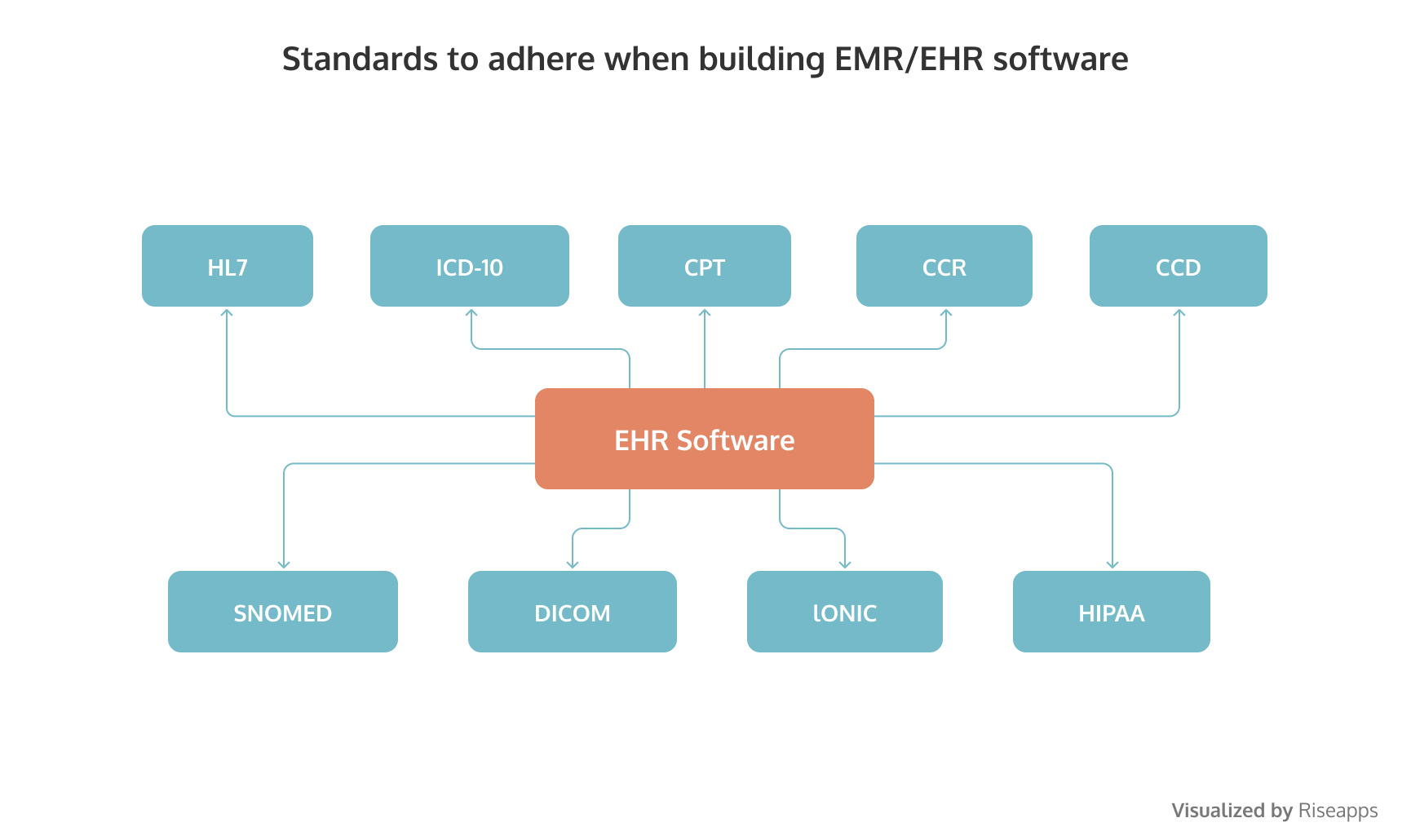 Apart from HIPAA, there are other standards to keep in mind when building an electronic health record system. If you are figuring out how to develop an EHR system, it might be rather important to explore them.   
HL7
Using Health Level Seven or HL7 standards, the system can transfer different documents across many healthcare apps to fulfill a particular request. This ability to exchange information and move data is called to minimize geographically isolated medical healthcare, enable medical device innovation, and, ultimately, make caring for patients safer.
ICD-10
ICD-10 is used to classify and code mortality data from death certificates. It is copyrighted by the World Health Organization, which owns and publishes the classification. WHO has authorized the development of an adaptation of ICD-10 for use in the United States for U.S. government purposes.
SNOMED
SNOMED stands for the systematized nomenclature of medicine. It is a systematic, computer-processable collection of medical terms to provide terms, codes, definitions, and synonyms, which cover anatomy, diseases, discoveries, procedures, microorganisms, substances, etc.
DICOM
DICOM is the standard for the management of medical imaging information and related information.
LOINC
The international standard for identifying health measurements, documents, and observations. Healthcare providers, laboratories, government agencies, insurance companies use LOINC to identify data and move it easily between systems.
More standards include CCD, CCR, CPT, and others
If you are all at sea when it comes to healthcare standards, get in touch with a healthcare software development company. 
4 Steps to Create Your Own EHR/EMR Software
Let's assume you've already found a trustworthy technology partner with in-depth experience in healthcare like Riseapps. What happens next?
Now let's examine these stages in more detail. Here's a general roadmap that can give you a hint on how to build an EHR system.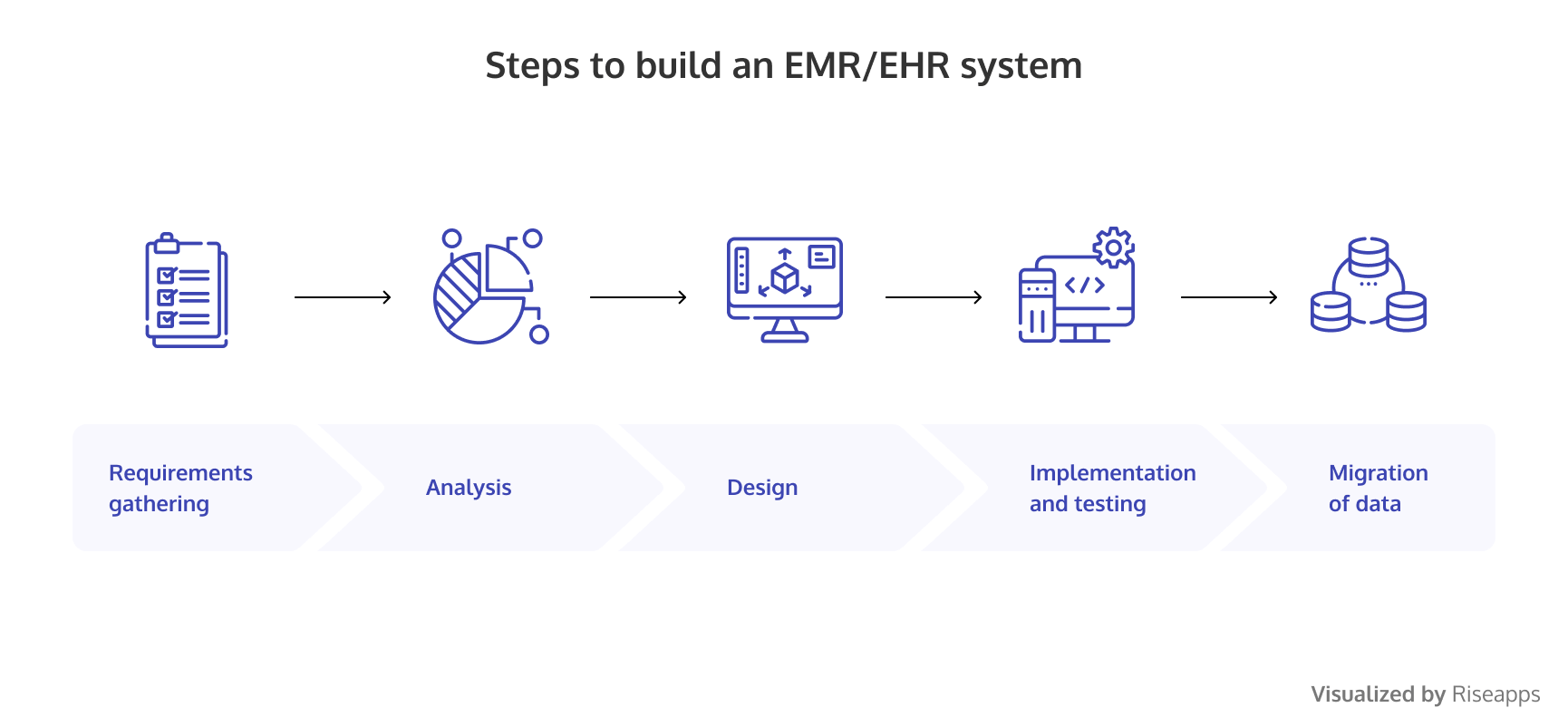 Let's assume you've already found a trustworthy technology partner with in-depth experience in healthcare like Riseapps. What happens next?
Requirements gathering
Usually, it all starts with the introductory call when you share your overall goals and needs – and then a tech talk with highly skilled technology officers. The NDA is signed, so your privacy is strictly protected. This stage refers to the process of determining what pieces of functionality your tool requires. Together with the software development company, you envision your future EHR or EMR.
Business analysis and implementation roadmap
The goal of this stage is to ensure proper analysis and development plan, thus minimizing budget, schedule, and technical risks, which enables to actually start your EMR system development.
The deliverables at this stage might include:
product vision & scope document;
product breakdown structure;
UML context diagram;
prioritized product backlog;
documented functional requirements (in user stories & acceptance criteria format);
documented non-functional requirements;
lo-fi wireframes (made in Balsamiq);
product roadmap;
BPMN diagram and various UML diagrams.
At this stage, we also identify possible security and privacy concerns, making sure your future EHR/EMR system meets all necessary standards.
Development and testing
Now, it's time to actually create an electronic medical record system (or electronic health record system) of your own. First, the goal is to establish the best 'look and feel' for your platform with clear pathways that satisfy your future customers. To design EMR software, it's necessary to embrace user stories, scenarios, and storyboarding.
At the same time, the front-end and back-end developers set to work. A lot of manual and automation tests are performed. The scope and terms of work, as well as the exact EHR software development stages, depends on your goals and requirements. However, with sprints and customer journey maps you are in control of the engineering process.
Migration of patient and practice data
It's time to make sure the implementation of an EHR system in your existing infrastructure is seamless, so you successfully automate document management processes and focus on providing personalized medical care.
Our Experience 
At Riseapps, we have considerable experience in building HIPAA compliant tools that document a patient's health information. 
Among many cases in building HIPAA compliant healthcare apps, let's mention Kego. 
It's an on-demand service billed by the customer as an 'urgent care clinic'. It enables patients to consult physicians via video conference. The web and mobile apps allow patients to book appointments, store their healthcare data in digital form, as well as chat with experts. 
Riseapps built Kego apps for Android, iOS, and web, providing design, software development, QA, and other services. For messaging and videoconferencing, we used Twilio and its SDK.
So how did we ensure the privacy and security of the tool? With this question, we turned to Dmytro, a senior iOS developer with 15-year experience in software engineering, who was the head of the project. Here's what he mentioned: 
The automatic logoff was implemented to secure the app when it is left unattended for some time. This serves as an effective way to prevent unauthorized users from accessing PHI.  
When building the app for the iOS platform, we used a Keychain framework that allows storing encrypted PHI data. 
We used HTTPS – communication protocol encrypting data with SSL/TLS for PHI transmission. 
Going forward, we are proud to have built a safe and solid HIPAA compliant software for the US market.
Conclusion 
In this article, we reviewed the main points regarding electronic health records software development. 
Although some healthcare providers turn to software vendors for a ready-made solution, designing an EHR system of your own has a lot of advantages. The ready-made systems might not cater to your specific needs. So it can be more cost-effective to create your own system. Moreover, developing your EMR or EHR solution could result in quicker customization and improvements in functionality. 
The key features of EHR include appointment scheduling, charting, e-prescribing, a self-service portal, HIPAA compliance, and more. Artificial intelligence (AI)-based technologies are a powerful way to improve EHR usability. Third-party solutions can facilitate the transfer and exchange of clinical information.  EHR platform can help your healthcare organization maximize clinical productivity and enhance the quality of patient care, at the same time streamlining the revenue. 
Riseapps is a software development company specializing in healthcare. Our team offers the latest technologies and extensive experience in engineering. We can build EMR software, EHR software, or any other healthcare solutions for businesses from the USA, Canada, Israel, the UK, and other European countries. Tell us about your needs and requirements, so we can offer you our best expertise. Ping us with a message using the form below. 
FAQ
---
How long does it take to develop and implement an EHR/EMR platform?

The typical time necessary for developing an EMR or EHR system varies according to the product and resources available. There's no standard timeline for either engineering or implementation. A certain amount of uncertainty can be dissolved during the business analysis process when all the requirements are assessed.

Overall, creating an EMR might take less time than building an EHR. In any case, it's a good idea to start with an MVP of a product. We've seen the minimum viable versions of some EMR systems built in 6 months.
---
How much does it cost to develop an EHR?

The cost to develop an EMR (or EHR) platform can vary greatly depending on your requirements. For the last year, we've seen budgets as small as $80.000-95.000. However, this might be relevant if you choose a reliable software vendor from Eastern Europe – not the U.S.

Electronic medical records system development costs usually less. However, EMRs are often designed as an integral part of the practice management software suite.
---
What if I need an integration?

If you are not ready to create EMR software from scratch and only looking for your records' integration with existing systems, it's a feasible task as well. Our experienced healthcare developers can ensure data migration and integration through web service APIs or by other means.
---