React.js Development Company
Unveil Power of Robust Web Development with React.js
React.js is the JavaScript open-source library used to enhance UI and create tech advanced frontend, especially for single-page applications. It is also used to handle a view layer for both web and mobile applications.
React.js supports large web apps without reloading the page. Being fast, scalable and yet simple, it works perfectly with HTML, СSS, JavaScript libraries and frameworks, e.g. React Native.
Our React.js development company will serve your web project.
Key ReactJS Benefits
Created with the business aims in mind, this JavaScript library leverage fast web page load, code reusability, and SEO friendliness. Advanced nature makes React.js a reasonable choice for any business.

Fast Rendering
In heavy apps, a structure may impact performance. React.js omits bottlenecks using Virtual DOM (Document Object Model). With this tech included, web pages are represented in the virtual memory, and only after that, the final page is rendered. All changes are done to the Virtual DOM, before the real DOM is altered. With this method, you can get better UX and app performance.

Reusable Components Included
React.js is based on reusable components, which makes it easier to develop and support an app. It means you can use the same components for other applications with the same functionality. It becomes handy if you have several trademarks or branches under one brand.

Code Stability
Leveraging only downward data flow, this library makes sure any changes in child structures don't affect parent ones. It allows for updating only particular components. Such data structure adds to continuous app performance and decreases time to implement changes.

SEO friendliness
This technology deals with the failure of search engines to read JavaScript-heavy apps. React.js runs on the server, renders and returns the Virtual DOM to browser, as a regular page. It also helps develop UI that is great to browse on various search engines. That becomes vital as such web spaces as Facebook, Slack or Twitter mainly depend on SSR and don't execute JS.
Ready to hire ReactJS developers?
Request a quote for our ReactJS development services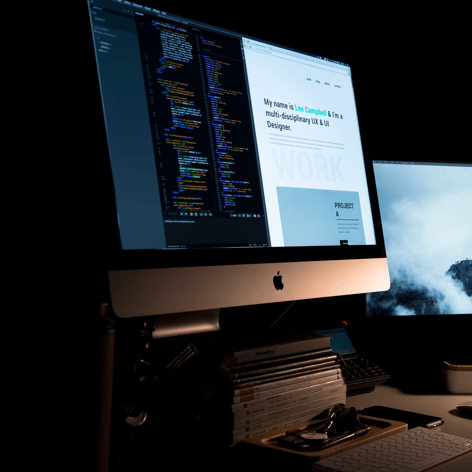 Working with ReactJS Development Company
Our aim is to provide our clients with the best solutions. Understanding that sometimes the project demands a unique approach, we are ready to review your ideas for cooperation.
Our React.js app development company typically cooperates with our clients in 3 ways.
Offering turnkey solutions based on your idea. We are working in tight cooperation to make sure the process goes how it was planned. Our company is responsible for all stages of product development.
Helping you to cover only one service that you need, e.g. design, etc. We manage the delivery of this service in a timely manner according to your requirements, using the best Agile practices.
Providing our a team of developers or one/ two developers with the expertise you need. All the process lifecycle is managed by you and our specialists follow the tasks of your engineers.
How would you like to work with our development company?
We are open to other forms of collaboration and ready to adjust according to your project needs.
Let's talk
Our Projects
Standing at the front-end of mobile development, we have already offered development services for various companies in healthcare, wellness, on-demand business segments.
Dmitriy

Tech Lead

Choosing optimal technologies and writing complex algorithms

Vladlen

CEO

Delivering tailored software solutions to meet your needs and fulfill the expectations of end-users

Alex

Design Lead

Never sacrifice user experience in favor of fancy interactions
Clients Trust Us
Our team is an extra force that helps to translate your ideas into remarkable applications.
We believe that transparency and trust are the base of any successful cooperation to build outstanding projects.
And that's what our clients say.
Articles from Developers Who Mastered React.js
Guides, fresh industry updates, and insights. Check the best articles from our developers and top management.
Fast, convenient, and accessible from anywhere. It is how we want to receive services. Re...

Is there still a  market for healthcare apps? Should you opt for medical app development?...
Ready to collaborate?
Drop us a line