Electronic health record (EHR) and electronic medical record (EMR) software assists healthcare providers in maintaining accurate and current patient records with minimal effort. Despite addressing the same problems and sharing many similarities, the two concepts are distinct and should not be used interchangeably.
So, what is the difference between EMR vs. EHR systems? EMRs constitute normative clinical and medical data from the provider's office, which is the primary distinction. Electronic health records comprise a patient's medical history, not just the information documented during an office visit. EMRs and EHRs diverge significantly beyond the scope of information that can be accessed.
As a healthcare development company, RiseApps explores the differences between an EMR vs. EHR system, its benefits, and the costs of integrating them. This exposition will guide you in comprehending and determining the optimal fit for your organization.
Ready to Make Your Own EHR Software?
Begin with a cost-free consultation and project estimate.
Contact Us
What Is EHR vs. EMR: Differentiating Meanings Revealed
Before this point, health institutions were forced to deal with the burden of paper records. EMRs and EHRS were developed in response to the challenges associated with the manual collection and storage of health records and the misrepresentations associated with the traditional documentation of health records. Therefore, digitally collecting and maintaining patient information reduces the risk of losing, stealing, compromising, or tampering with sensitive health data. 
If we are to do justice to the argument regarding the difference between EHR and EMR, we must examine both concepts under distinct headings.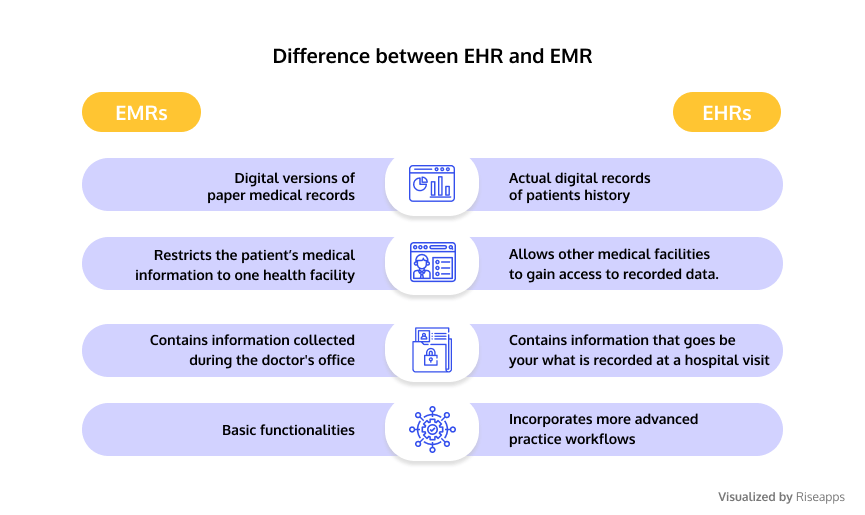 EMR in Brief
Electronic medical records are the online version of paper medical records. In simple terms, EMR software is a digital library that houses a patient's medical history within a specific health facility. EMR software houses patients' data like demographic data, medications history, allergies, vaccinations, lab reports, imaging reports, medical appointments, billing and insurance information, etc. It contains every data necessary for proper diagnosis, care management, and follow-ups. 
The traditional method of entering and re-entering health data raises several concerns for healthcare organizations. For instance, documentation can consume a significant amount of time and effort for healthcare professionals, leaving them with less time to focus on patient engagement and care management. Installing an EMR technology in your medical facility will assist different healthcare providers in keeping patient health data secured and updated. 
However, using EMR in a health facility restricts the patient's medical information to just that facility with the EMR installed. Thus, the patient's medical history in a facility that uses EMR can not be electronically accessed by other health care providers from other health institutions. This issue defeats the purpose of health digitalization brought in by the birth of EMR. But, well, that is why EHR came in.
EHR in Brief
EHR was birthed to solve the inefficiencies and difficulties healthcare organizations face using EMRs. EHR software is a digital library that houses a patient's medical history
but can be accessed by multiple health facilities. Although electronic health records serve the same purpose as electronic medical records, EMRs are restrictive in their usage and access. But EHRs offer more accessibility and coverage. 
EHR allows a healthcare business to access a patient's health records from other health care providers and facilities, making it possible to achieve fast and enhanced medical care.
By installing and using EHR software, caregivers not only access the complete health data of their patients from other healthcare centers, but they also get to share patients' data internally and externally.
EHR software is developed to enhance the interoperability of health data. This makes the real-time transfer of patients' health data between healthcare institutions possible and seamless. With the presence of EHR, patients do not have to physically carry their health reports around when changing to new health facilities. This is because healthcare facilities connected to EHR technology can access the complete health history, down to the patient's treatment routine, from their previous care team. 
Within the last two decades, most EHRs have made provisions for patient portals. This portal allows patients to stay abreast with their medical history, monitor their treatment, and participate more in their health journey. Most EHRs will notify care teams anytime they prescribe medications that may counteract other medications previously prescribed to the patient.
Why EHR and EMR Are Important for Healthcare Providers
According to Statista, the total revenues from mHealth grossed $28 billion worldwide and are projected to increase to around $247 billion by 2025.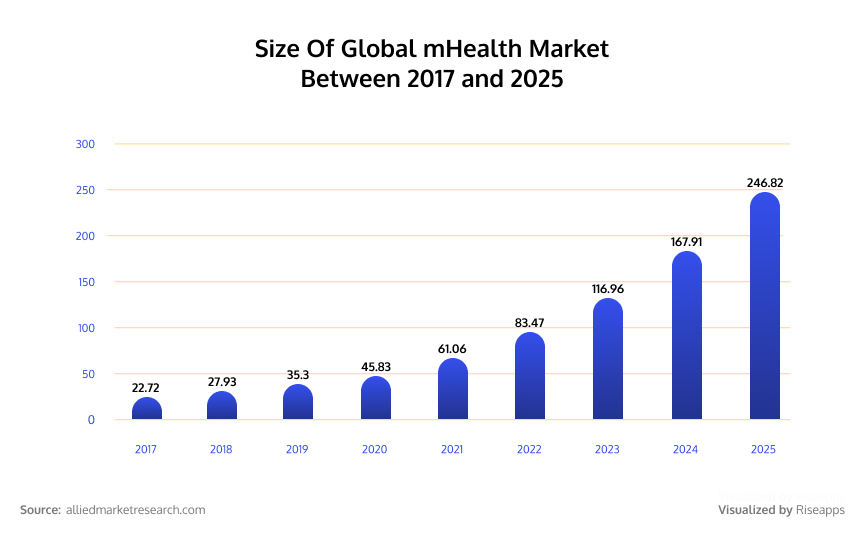 As mentioned, EHRs and EMR systems offer a healthcare organization the ability to transfer and access health data digitally. Aside from providing healthcare institutions with improved access to patients' health history, they also assist medical facilities in achieving better clinical outcomes and offering enhanced medical conditions in the following ways.
EHR and EMR systems offer healthcare providers accurate, up-to-date, and comprehensive health/medical histories of their patients.
Providing immediate access to patient health records to provide more synchronized and high-quality care.
EHR and EMR systems make sharing protected health data with medical professionals, caregivers, or providers more secure.
EHR and EMR assist a healthcare business in accurately diagnosing patients, reducing medical errors, and providing safer care management.
Enhancing interaction and communication between patients and providers.
Making prescribing safer and more reliable. For instance, EHR and EMR software will notify the care team whenever a prescription counteracts a previous prescription.
Assisting in promoting precise and clear health documentation and providing a reliable billing system.
Since most EHR and EMRs are HIPAA compliant, they help improve data privacy and security of patients' health records.
Implementing the patient's EHR helps healthcare providers increase work productivity and improve work-life balance. As a result, achieving business goals and objectives becomes a walk in the park.
Using these technologies helps a healthcare organization save money by reducing the reliance on paperwork and testing duplications.
And what's more? Authorized providers can also earn from EHR incentive programs. All they need to do is implement these systems and ensure they are HIPAA compliant.
Core Benefits of EHR and EMR
EHR and EMR systems are required to reduce healthcare costs and increase efficiency in healthcare delivery. Some of their core benefits are:
Accurate-Only Medical Data Entrances
EHRs and EMRs make the patient's medical history clearer since data entry is done electronically. Every entry on the software shows the exact time and date such entry occurred. Of greater importance is that these electronic systems can arrange data in chronological order with just a little click. So, your nurses and other healthcare professionals can use this functionality to immediately ascertain the patient's current medical requirements and provide the best possible care.
Streamlined Transition of Patients Data
EHRs provide HIPAA-compliant methods for getting patient data into the hands of other practitioners. This solves the problem of requiring patients to come with hard copies of their medical records before meeting a specialist. It also makes it possible to easily transfer the patient's medical history who has changed providers for whatever reason. 
Patient Involvement
EHR enables patients' involvement in their medical affairs. This software allows patients access to their medical information, unlike traditional records. Accessing your medical data becomes helpful when you wish to spend some time at home to look at the treatment options available for a critical medical condition you are experiencing.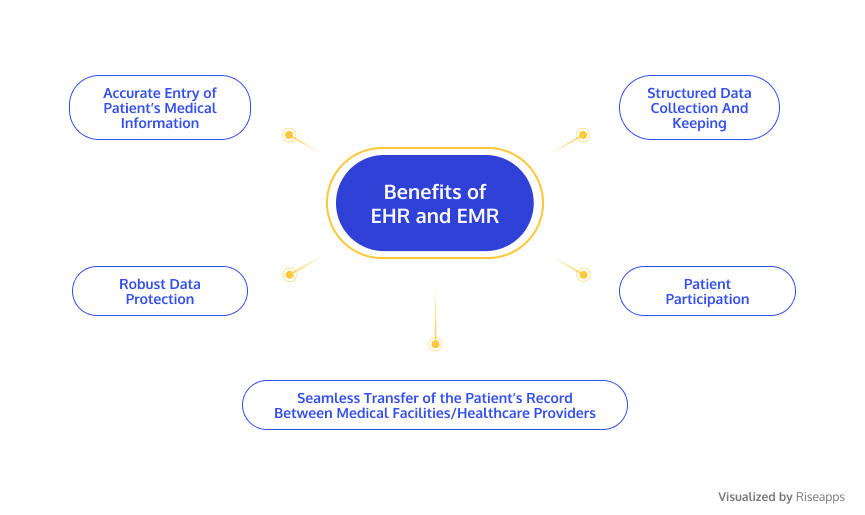 Strong Data Security 
EHR ensures strong data security as the best health care delivery system is HIPAA compliant. So, as a healthcare provider, you don't have to worry about violating a patient's privacy when you provide them optimum care because their data safety and security policies adhere to federal government regulations. These data protection measures make it significantly more difficult for criminals to obtain than documented records. 
Inclusion of PMS
EHR software also includes practice management tools. The PMS platforms allow you to automate many front-office processes, like appointment scheduling and patient registration. It can improve the effectiveness of your medical billing by giving coders and billers direct access to your clinical data. You can also create customizable reports to help you improve the financial success of your practice.
Medical software firms usually buy separate EMR and PMS programs, while some, like Kareo, give all paying customers full access to both.
No Disorganized or Cluttered Paper Records
Non-digital records don't fit in busy, emergency-prone, high-volume environments like hospitals and medical offices. But with EHRs and EMRs, the problem is solved as medical records are kept in EHRs and EMRs systems. These systems eradicate paper clutter, and since practitioner notes are typed rather than handwritten, they reduce the chance of misinterpretation. At the moment, digital record-keeping is the trend.
Ready to Make Your Own EHR Software?
Begin with a cost-free consultation and project estimate.
Contact Us
When To Adopt EMR Vs. EHR Based On Your Needs
For accurate medical and treatment history documentation, not just for treatment but also for future references, many conditions must be considered for the right format to be chosen. 
Let's delve into factors that ought to be considered when choosing the preferred form of clerking based on your needs.
Preciseness
Electronic medical records take the lead in this angle because while EHR deals with a patient's overall health, appointments, patient medical history, and much more, EMR narrows down to the patient's specific medical record. Hence if you are seeking a 'straight-to-the-point' method, EMR comes in handy.
Accessibility Needs
Suppose it involves an interdisciplinary firm where various fields come together to proffer diagnosis and treatment. In that case, EHR is most suitable as it grants access to the clinicians involved, but if it is a self-contained practice that treats a particular condition, EMR is advisable.
Medico-Legal Inference
 EHR provides more detailed documentation of patient screenings and, as such, would be of greater advantage in evidence provision.
Size of Industry
The larger the field, it is advised that the Electronic Health Record is adopted.
Doctor-Patient Relationship
The EHR boosts the doctor-patient relationship because of its exhaustive nature in all fields. It builds confidence that arises from proper knowledge of the patient's chart.
Confidentiality
An electronic medical record system is made to be accessed by a single provider, thus making it a better option in confidential or security-threatening situations.
Market-Leading Examples of EHR/EHR Solutions
Here are some examples of EHRs and EMRs that are currently leading the market.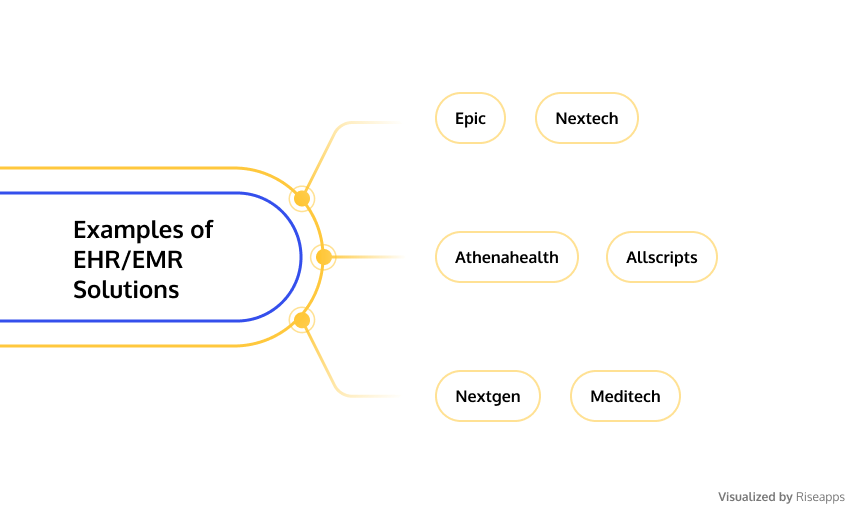 Epic 
Epic Systems was one of the first providers of electronic health records since its founding in 1979. Epic mainly focuses on medical groups such as community hospitals, academic medical centers, multi-specialty groups, independent practices, and rehab centers. KLAS has ranked Epic's EHR as the best in KLAS for five years in the largest segment. The company is employee-owned and developer-led, with its built-in software house.
Nextech
Nextech EMR is a full-featured EMR and Practice Management solution for medical practices. Nextech has been in the game for the best EMR application for over 20 years. As one of the leading EMR software, Nextechs seamlessly integrates and enhances productivity. It is fully integrated with an Electronic Medical Record and Practice Management software. Nextech increases efficiency in all functional areas of practice.
Athenahealth
Athenahealth is a cloud-based service for electronic health records (EHR), revenue cycle management & medical billing, as well as Epocrates and other point-of-care mobile apps. It is suitable for small to mid-sized practices. It offers five solutions: Athenaclinicals, AthenaCollector, AthenaCommunicator, AthenaCoordinator, and AthenaClarity.
Allscripts
Allscripts Healthcare Solutions was founded in 1982 as Medic Computer Systems but rebranded to its current form in 1986. They provide electronic health records to a wide variety of small to medium-sized practices, hospitals, and medical professionals. In addition, Allscripts is consistently ranked number one by Black Book for ambulatory EHR vendors. Allscripts provides the industry's only platform not tied to the products of any specific manufacturer.
Nextgen
NextGen has been operating as an electronic health records service since 1976 and assists nearly 155,000 physicians with its software. NextGen focuses on improving ambulatory care with its nearly 2,900 employees. In addition, NextGen focuses on improving financial management for its clients.
Meditech
Founded in 1969, MEDITECH is a privately held Healthcare IT vendor focusing on small to medium-sized hospitals (under 100 beds up to 200 beds) offering both cloud and server-based Billing, revenue cycle management (RCM), and EHR in addition to LIS and PACs solutions. 
Ready to Make Your Own EHR Software?
Begin with a cost-free consultation and project estimate.
Contact Us
The Actual Cost of Integrating EMR and EHR Systems
Recently, EMRs and EHRs have been rapidly adopted by health organizations of all sizes. Due to its vast features and flexibility, healthcare has become much easier, and errors in patient charts have been reduced to the barest minimum. The 2019 national electronic health record survey shows that 88.9% of office-based physicians use the EMR/EHR system, while only 72.3% have certified EMR/EHR systems. This shows that most health organizations realize how time-managing and cost-effectiveness the EMR/EHR system can be.
Step-by-Step Procedures for Knowing the Cost of Integrating and Installing the EMR/EHR
You may have randomly checked out a couple of EMR/EHR products and found a suitable one to buy. You're waiting for the right time to purchase while you investigate further. Well, here is something you may have skipped! – Integrating the EMR/EHR system doesn't have to do with the cost of the system alone but also the cost of installing and maintaining it. The installation of health information technology might go wrong if you don't prepare well for all the costs involved.
The cost of integrating an EMR and an EHR system can be categorized into the following:
Direct Cost
This includes the initial (purchasing), operational and maintainable cost of installing the EMR/EHR technologies. The prices may vary based on the vendor and your chosen deployment method. The deployment method determines if you will host the EHR on your server or your vendor will handle the hosting. You must purchase a license if you intend to handle the hosting. If your vendor will, you will pay for storage, servers, security, etc. Studies show that a typical organization will spend roughly $162,000 to implement the EMR/EHR, with $85,000 as the first-year maintenance cost.
Indirect Cost
This includes an organization's hidden cost of integrating the EMR/EHR. Indirect costs include training your staff on how to use health information technology. This may take time and reduce the productivity of your staff, as it is better to train them slowly rather than rushing them and risking errors. The indirect cost could also include setting up or expanding your IT team to keep up with the demands of the new system.
Miscellaneous Cost
Things sometimes go differently than planned, and one cannot fully predict every cost that will be made during the EHR integration. Instead of having a strict financial budget, it is best to save money for extra expenses.
Do you want to learn about the critical implementation stages of the EMR/EHR system? Check out our article. You'll be glad you did.
RiseApps Expertise in EMR and EHR Integration
Like any other software, choosing health software is frequently perplexing and nerve-racking. With so many alternatives struggling for your attention, narrowing your search to the right EMR or EHR will take work. However, it could be a walk in the park if you choose to work with the right software development company. 
At Riseapps, we have established our brand as a force to be reckoned with in custom health and wellness software development. With over 70+in house developers, our team boasts the right flair necessary to convert your software needs into actual possibilities. Aside from that, our expertise in developing health and wellness apps makes us the ideal partner for your EHR and EMR needs. Even better, we have successfully launched 90+ projects and committed over 200k hours of development time.
Conclusion
The question "is EHR and EMR the same thing?" can safely be answered in the negative. Although most people fondly use EHR in place of EMR and vice versa, there is a clear-cut difference between EHR and EMR. While EHR has a wider coverage and encourages interoperability between multiple health institutions, EMR is localized and can only be used within the confines of a particular healthcare provider.
Are you prepared to incorporate EHRs or EMR systems into your healthcare institution? We'd love to work with you to help you meet your health technology goals and provide you with more information on overcoming integration challenges and selecting the best EMR and EHR systems.
Ready to Make Your Own EHR Software?
Begin with a cost-free consultation and project estimate.
Contact Us
FAQ
---
Which is better: EMR or EHR?

---

If the operation of your healthcare facilities is such that everything about a patient's medical care is managed internally, then go for EMRs. But if adopting electronic healthcare data is ideal for carrying out your patient care needs, collaboration is needed with other medical professionals outside your space.
---
What is the difference between EMR and EHRs in terms of HIPAA?

---

EMR is a system that a healthcare provider uses to collect and track data about the patient in their facility. Thus, EMRs restrict access to patient information to a single provider. EHRs, on the other hand, collect information from all healthcare providers and professionals embroiled in the patient's care.
---
What is the difference between EMR & EHR?

---

An EMR (electronic medical record) is a digitized iteration of a paper chart containing patient data, while an EHR (electronic health record) is a digital patient data record.
---
Do hospitals use EMR or EHR?

---

While hospitals and larger health organizations traditionally utilize EHRs to present a detailed view of digital patient charts, they may also choose EMRs to track patient-specific data over time to assist in developing health plans.