You might assume that every medical company has a custom-built healthcare learning management system, but surprisingly, that's not always true. Sometimes, training systems are only partially implemented, making them ineffective or entirely useless to the workforce.
Take CardioNet, a cardiac monitoring clinic, as an example. They faced a $2.5 million penalty when an employee's laptop containing over 1,300 patient medical records was stolen from their parked car. Although risk management training policies were drafted, they were never put into action while the clinic operated. Following the settlement, CardioNet agreed to set up a Corrective Action Plan (CAP) to improve its digital device and data security policies.
Developing a healthcare LMS is a complex task. The software must be comprehensive enough to support the team through the creation, launch, and distribution of customized content. There are two development approaches to consider: choosing a white-labeled solution or partnering with a software development vendor who has specialized expertise in healthcare. In making either choice, certain factors play a role. Let's walk you through understanding the steps and deciding the best fit for your organization.
Build Healthcare LMS with Industry Experts
Contact Us
Growth & Trends of the Healthcare LMS Market
The market for healthcare elearning solutions is brimming with potential for innovation and investment. Here's a closer look at the growth and trends in this sector.
Market Size
The Healthcare LMS Market is projected to reach $2.2 billion by 2026, expanding at a CAGR of 24.7% from 2021 to 2026. The value chain for the healthcare LMS industry encompasses a complex, interdependent network that includes LMS providers, healthcare market providers, cloud service providers, and more.
Market Segments
Delivery: Self-learning, instructor-led Learning, blended
Deployment: Cloud, on-premises, hybrid
Application: Care course training, compliance, culture sensitivity courses, pharmaceutical product education, etc.
End Use Industry: Educational institutes, healthcare facilities, corporate training facilities, pharmaceutical facilities
Geography: North America, South America, Europe, Asia Pacific, and Middle East and Africa.
Trends
Mobile Learning
The use of mobile devices for training in the healthcare industry has gained traction in recent years, with mobile apps playing a key role in decision-making, time management, and fostering strong doctor-patient relationships.
Virtual and Augmented Reality
Integrating videos, interactive animations, and AR/VR elements into healthcare LMS enables medical professionals to effectively utilize new medical equipment.
Gamification
The focus on gamification in Healthcare LMS has driven demand, especially during Covid-19 lockdowns.
Drivers
Rise in Health Informatics
As the health informatics sector experiences job growth, the demand for specialized training solutions and healthcare LMS has increased. Standardized training materials improve quality and reduce risk, contributing to market expansion.
New Educational Models adoption due to Covid-19
The pandemic has disrupted education systems worldwide, disproportionately affecting low and lower-middle-income countries. This has accelerated the adoption of adaptive and blended learning models, a trend expected to continue beyond the pandemic and result in the establishment of new educational models.
LMS Systems for Healthcare: Cost Factors
It's crucial to understand that cost estimates can differ based on factors such as project scope, complexity, development team location, and expertise. A simple LMS with basic features and minimal customization may cost between $15,000 to $30,000, while a complex solution with advanced features, integrations, and customizations could range from $50,000 to $200,000 or more.
Here's a rough breakdown of costs for each stage of healthcare LMS development:
Discovery and planning: $3,000 – $15,000
Design and User Experience (UX): $5,000 – $25,000
Core development: $20,000 – $150,000
Integration and customization: $5,000 – $50,000
Testing and Quality Assurance: $4,000 – $20,000
Deployment and training: $3,000 – $10,000
Ongoing maintenance and support: $5,000 – $25,000 per year
The cost of developing a healthcare LMS can also vary across different global regions due to factors such as labor costs, expertise, and regional economic conditions. Here's a general overview of cost differences for healthcare LMS development in various regions:
North America (U.S. and Canada)
Hourly rates for development teams in this region are typically higher, ranging from $100 to $250 per hour. The total cost for a healthcare LMS project can be between $50,000 and $300,000 or more.
Western Europe (UK, Germany, France, etc.)
Hourly rates for development teams in Western Europe may range from $50 to $150 per hour. The total cost for a healthcare LMS project can be between $40,000 and $250,000.
Eastern Europe (Ukraine, Poland, Romania, etc.)
Development teams in Eastern Europe offer more competitive rates, usually ranging from $25 to $75 per hour. The total cost for a healthcare LMS project can be between $25,000 and $150,000.
Asia (India, China, Philippines, etc.)
Asian countries often have lower labor costs, with hourly rates for development teams ranging from $15 to $50 per hour. The total cost for a healthcare LMS project can be between $15,000 and $100,000.
Latin America (Brazil, Argentina, Mexico, etc.)
Hourly rates for development teams in Latin America may range from $20 to $70 per hour. The total cost for a healthcare LMS project can be between $20,000 and $120,000.
Estimate the Cost of Developing Healthcare LMS
Get a Quote
How to Create a Healthcare LMS: White Label Vs. Custom Development 
First, choose between rebranding a pre-made solution or creating hospital-focused software. A white-label platform (usually premade) offers a basic LMS for healthcare organizations, while a custom LMS caters to specific client needs and preferences. Let's compare them further.
Customization & Branding
Suppose your healthcare business discovered additional features that could improve the learning experience and decided to integrate them into the system. Rest assured, there's only so much you can add to a white-label LMS solution. For more flexible capacity, a custom system fits better. 
Implementation Time & Cost
There's a common misconception surrounding time and cost in software development. Faster and cheaper doesn't always equate to efficiency and long-term savings. Reseller LMS has a shorter implementation time and lower upfront costs, but without much long term benefits. In contrast, building a system from scratch requires higher initial costs and a longer development period, but the potential advantages make it worthwhile.
Scalability & Updates
It's easy to see why many medical organizations prefer to invest in their own learning platforms rather than settle for white-label solutions. Scalability plays a critical role as the business experiences growth and transformation. The company's objectives, workforce, patients, and requirements will undoubtedly evolve over time. If the chosen LMS solution cannot adapt to these changes, problems can surface rapidly.
Support & Maintenance
Once the LMS is launched, staff will require support to utilize the platform effectively, and the software will need maintenance to address any glitches that emerge. Without adequate support and maintenance, the hospital may need to hire additional teams, increasing expenses. Partnering with a software development company can help alleviate this burden by providing ongoing assistance without extra costs for the organization.
Now, let's explore how developing a custom healthcare LMS works in practice.
Requirement Gathering and Analysis 
Your organization's needs and objectives are identified. Stakeholders, including healthcare professionals, administrative staff, management, and compliance officers, are consulted in meetings and workshops. Their input is documented and transformed into a requirement specification document that serves as a reference for the development team.
Design and Planning 
The system architecture is outlined, including database structures, application layers, and the necessary technologies. User interfaces are designed, encompassing wireframes, mockups, and navigation flows. The required features and functionalities are planned out, taking into account aspects such as content delivery, progress tracking, reporting, and user management. A detailed project plan, including milestones, timelines, and resource allocation, is developed.
The image below shows the core features to include based on the user needs: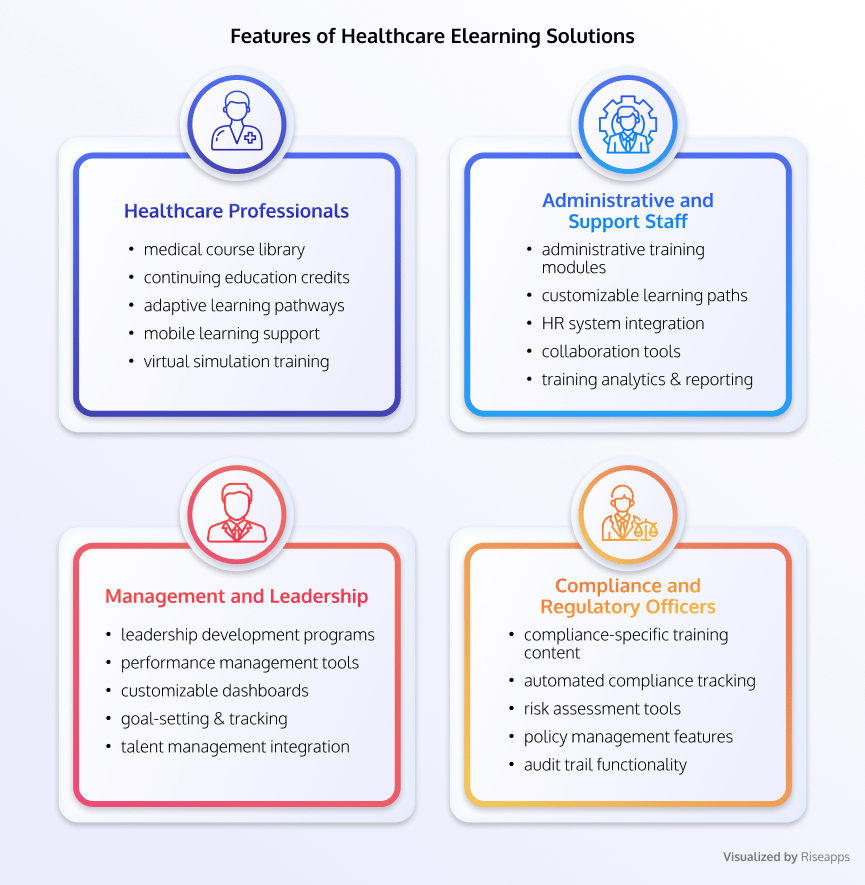 LMS Development
Core functionalities of the LMS, such as user authentication, content management, and progress tracking, are built. Third-party services, like video conferencing, payment processing, or analytics tools, are integrated as needed. Custom features specific to the organization's needs are implemented, ensuring adherence to coding standards and best practices throughout the development process.
Customization and Integration 
Branding elements, such as logos, color schemes, and typography, are applied. Workflows and features are customized to align with the organization's processes and requirements. The LMS is integrated with existing systems, including electronic health records (EHR), human resources management systems (HRMS), or other relevant platforms.
Testing and QA
Start Quality Assurance. Functional testing ensures all features work as intended. Usability testing evaluates the user experience and identifies potential improvements. Security testing is conducted to identify and mitigate potential vulnerabilities, while performance testing assesses the system's scalability and stability under different loads.
Deployment and Launch 
The healthcare LMS is deployed to the chosen hosting environment (cloud or on-premises), and final checks and validations are performed before launching the system for end users. User guides and documentation are prepared for the staff.
Training and Support 
Training sessions are provided to the organization's staff on using and managing the new LMS. Ongoing technical support is offered to address any issues or implement updates and improvements. System performance and user feedback are monitored to identify areas for enhancement.
Healthcare LMS Vs. All-Purpose Systems
At first glance, Learning Management Systems may appear similar, but healthcare LMSs possess distinct characteristics that differentiate them from other systems. 
Here's what sets them apart.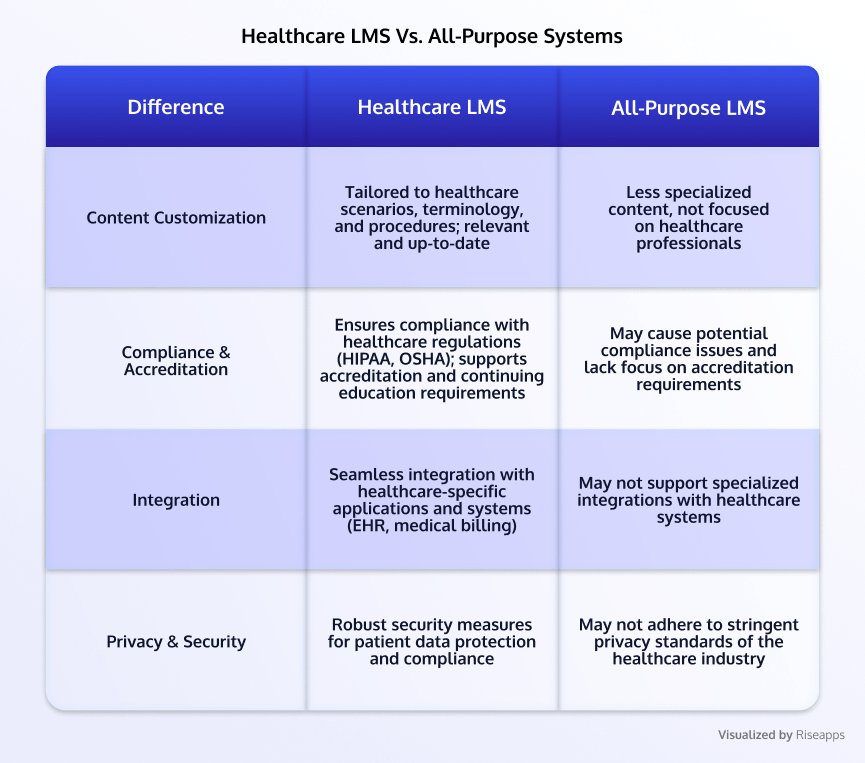 Content Customization
A healthcare learning management system is specifically designed to cater to the unique needs of healthcare professionals. It offers content that is tailored to healthcare scenarios, terminology, and procedures, ensuring that the information provided is relevant and up-to-date.
An all-purpose LMS is designed to serve a broader audience, and its content may not be specialized or tailored to healthcare professionals. This can result in less relevant content and a less effective learning experience for those in the healthcare field.
Compliance and Accreditation
Medical training programs are built to ensure that the courses and training materials comply with various healthcare regulations, such as HIPAA, OSHA, and other industry-specific standards. They also facilitate accreditation and continuing education requirements for healthcare professionals.
Lacking focus on specific healthcare regulations or accreditation requirements, one-size-fit-all solutions may cause potential compliance issues for healthcare organizations and professionals.
Integration with Healthcare Systems
Customizable lmss are essential for seamless integration with healthcare-specific applications and systems, such as Electronic Health Records (EHR) and medical billing systems. These integrations foster enhanced collaboration and data exchange among healthcare professionals and organizations.
Conversely, multi-purpose platforms may not support specialized integrations, complicating healthcare organizations' ability to efficiently manage their training and coordinate with other systems.
Privacy and Security
Given the sensitive nature of patient data and the strict privacy requirements of the healthcare industry, healthcare LMSs must have robust security measures in place to protect data and ensure compliance with regulations.
While general-purpose LMSs might include security features, they may not adhere to the stringent privacy standards of the healthcare industry, thereby increasing the vulnerability of sensitive information.
Top 5 LMS Solutions for Medical Workforce Training
Various e-learning healthcare solutions have been designed to cater to diverse specialties. Here are the leading medical platforms for training employees. 
HealthStream
Industry: IT Services and IT Consulting
Company size: 501-1,000 
Founded: 1990
Specialties: Online healthcare learning, healthcare performance management, and healthcare simulation training.
HealthStream has made a name for itself as an IT service and consulting firm dedicated to healthcare e-learning, performance management, and simulation training. With numerous accolades under its belt, including Brandon Hall Excellence in Technology Awards, Healthstream's commitment to advancing healthcare workforce development through technology is clear.
Dossier
Industry: IT Services and IT Consulting
Company size:11-50
Founded: 2000
Specialties: Talent management, Software as a Service, performance management, cloud computing, learning and compliance, and competency management
Dossier's cloud-based healthcare competency management software streamlines the process of implementing, tracking, and monitoring competencies across various healthcare departments and systems. Serving more than 500,000 healthcare professionals worldwide, Dossier's user-friendly dashboard and real-time reporting have made it a trusted partner for multinational companies.
Med Trainer
Industry: Technology, Information, and Internet
Company size: 201-500 
Founded: 2013
Specialties: E-learning, OSHA compliance, regulatory compliance, learning management, risk prevention, and risk mitigation.
Established in 2013, MedTrainer  specializes in e-learning, OSHA compliance, regulatory compliance, learning management, risk prevention, and risk mitigation for healthcare organizations. As a market leader, MedTrainer's single platform solution has empowered healthcare providers through compliance automation and earned a loyal customer base.
Simplr
Industry: IT Services and IT Consulting
Company size: 1,001-5,000 
Founded: 2006
Specialties: Provider enrollment, provider privileging software, healthcare credentialing, and workforce management.
With over two decades of experience, Symplr specializes in healthcare-specific software solutions and professional services, including vendor credentialing, provider enrollment, peer review software, provider privileging software, healthcare credentialing, and workforce management. Their integrated, enterprise-wide operational efficiency approach has made them a trusted partner in healthcare operations.
CareAcademy
Industry: E-Learning Providers
Company size: 51-200 
Founded: 2016
Specialties: Eldercare, geriatrics, assisted living, caregiver training, and home health aides. Focused on eldercare, geriatrics, assisted living, caregiver training, and home health aides, CareAcademy has transformed the training of essential caregivers since its founding in 2016. Their care enablement platform offers engaging training content, streamlined technology solutions, and measurable insights, earning the trust of over 2,000 home care, home health, and assisted living provider organizations.
LMS in the Healthcare Sector: 5 Impactful Use Cases
Here are specific scenarios or situations where an LMS for healthcare be applied to solve a problem or achieve a desired outcome.
Continuing Education
Continuing education improves care delivery and outcomes while helping clinicians meet licensing and certification requirements. By offering CE and CME at no cost to clinicians across various specialties, healthcare organizations can attract talent in a competitive landscape marked by high employee turnover.
Results
Promoting Lifelong Learning
Exposing staff to innovative ideas and strategies allows them to continuously reassess and expand their knowledge in a fast-paced environment. Providing CE and CME not just for recertification or license maintenance but also to foster a mindset of continuous learning and improvement among healthcare professionals.
Compliance Training
Keeping up with regulatory medical compliance is crucial and time-consuming for healthcare businesses. A clinical learning management system can manage and track compliance training requirements, allowing staff to focus on delivering excellent performance and clinical outcomes.
Results
Essential Health Training
Organizations provide engaging, compliant learning content in line with state and federal regulations.
Streamlined Policy Management
LMS simplifies policy and procedure management, replacing manual tracking for improved efficiency. Facilities can upload, assign, review, and report digitally, granting staff access to the latest versions.
Value-Based Payments
An integrated performance management platform for healthcare can help organizations leverage insights to deliver optimal care. With user-friendly dashboards and advanced performance metrics, lms platforms use actionable data to drive better outcomes.
Results 
Promoting Accountability
Linking performance data to organizational goals and value-based metrics encourages a culture of responsibility.
Focused Initiatives
The platform identifies high-impact changes and aligns evidence-based best practices with learning paths to close gaps faster.
Management & Leadership Training
Management and leadership are crucial drivers of staff satisfaction, engagement, and retention. However, many staff members are often placed in managerial roles without adequate preparation or education. A healthcare learning management system offers innovative learning tools and courses to ensure managers and leaders are confident and well-prepared to build high-performing teams.
Results
Identifying Managers & Leaders
Healthcare LMS measures competencies for management and leadership roles, pinpointing staff with suitable traits.
Growth Strategies
Management-focused development plans guide staff through role transitions, promoting ongoing growth and improvement.
Minimizing Management Risks
Healthcare LMS offers learning paths to mitigate risks and teaches best practices for interviews, performance reviews, and challenging conversations.
Addressing Rising Readmissions
Reducing preventable hospital readmissions necessitates collaboration among providers across the continuum of care. Health LMS offer targeted learning resources to ensure staff members have the proper knowledge and skills for preventive interventions, timely assessment and treatment, and smooth care coordination and transitions.
Results
Enhanced Clinical Knowledge
The system offers in-depth content on key conditions linked to readmissions, including heart failure, pneumonia, myocardial infarctions, COPD, and elective THA/THK.
Improved Care Transitions
Smooth transitions between hospitals and other facilities are facilitated through better communication, safe medication practices, and care coordination.
Patient & Resident Empowerment
Staff receives targeted learning resources to boost patient education and engagement in discharge planning, promoting effective medication management and follow-up appointment adherence.
Selecting the Ideal Partner for Your Healthcare Elearning Solutions: Riseapps' Success Stories
Here's how to choose a software development partner for your healthcare LMS.
Research Potential Vendors
Conduct thorough research on LMS development companies that specialize in healthcare. Look for information on their expertise, experience, and previous projects related to healthcare LMS solutions.
Request Proposals 
Contact the shortlisted providers and request detailed proposals, including information on their approach to developing a healthcare LMS, project timeline, cost estimates, and examples of their previous work.
Once the proposals are sent, assess them based on the company's understanding of your requirements, their proposed solution, technical capabilities, compliance expertise, and pricing.
Check References
Speak with the company's past clients to gain insights into their satisfaction with the company's services, professionalism, and ability to deliver on time and within budget.
Conduct Interviews
Meet with vendors to discuss proposals, clarify doubts, and assess communication skills and understanding.
Compare and Negotiate
Compare the shortlisted vendors based on factors such as experience, expertise, proposed solution, cost, and client feedback. Negotiate pricing, timeline, and other project details to reach a mutually agreeable contract.
Riseapps As Your Trusted Ally
Riseapps specializes in providing comprehensive EdTech software development solutions to eLearning startups, small and medium-sized businesses, as well as large organizations. Our aim is to help optimize their product strategy through innovative technology-driven solutions.
Our full-cycle delivery model covers all aspects of a project's growth, including discovery, ideation, prototyping, UX/UI design, MVP development, full-scale product launch, and ongoing support after product takeoff.
We have a strong track record in implementing a diverse range of cutting-edge educational solutions such as Learning Management Systems, E-learning Portals, Proctoring Systems, Student Information Systems, and Analytics platforms.
Over the past 7 years, we have worked with several YC/TechStars eLearning startups and mid-sized vendors like PowerToFly, Enroly, Matchspace, and Melanence. Our solutions have helped them overcome budget constraints, reduce time-to-market, and minimize development overheads.
PowerToFly
PowerToFly, an award-winning femtech HR tech platform, partnered with Riseapps to create a subscription-based B2B EdTech system and an all-in-one platform for networking, job searching, feedback, competition, and upskilling. Our solutions allowed them to expand their diverse hiring market and collaborate with major brands such as Facebook, Amazon, Google, Siemens, and StackOverflow.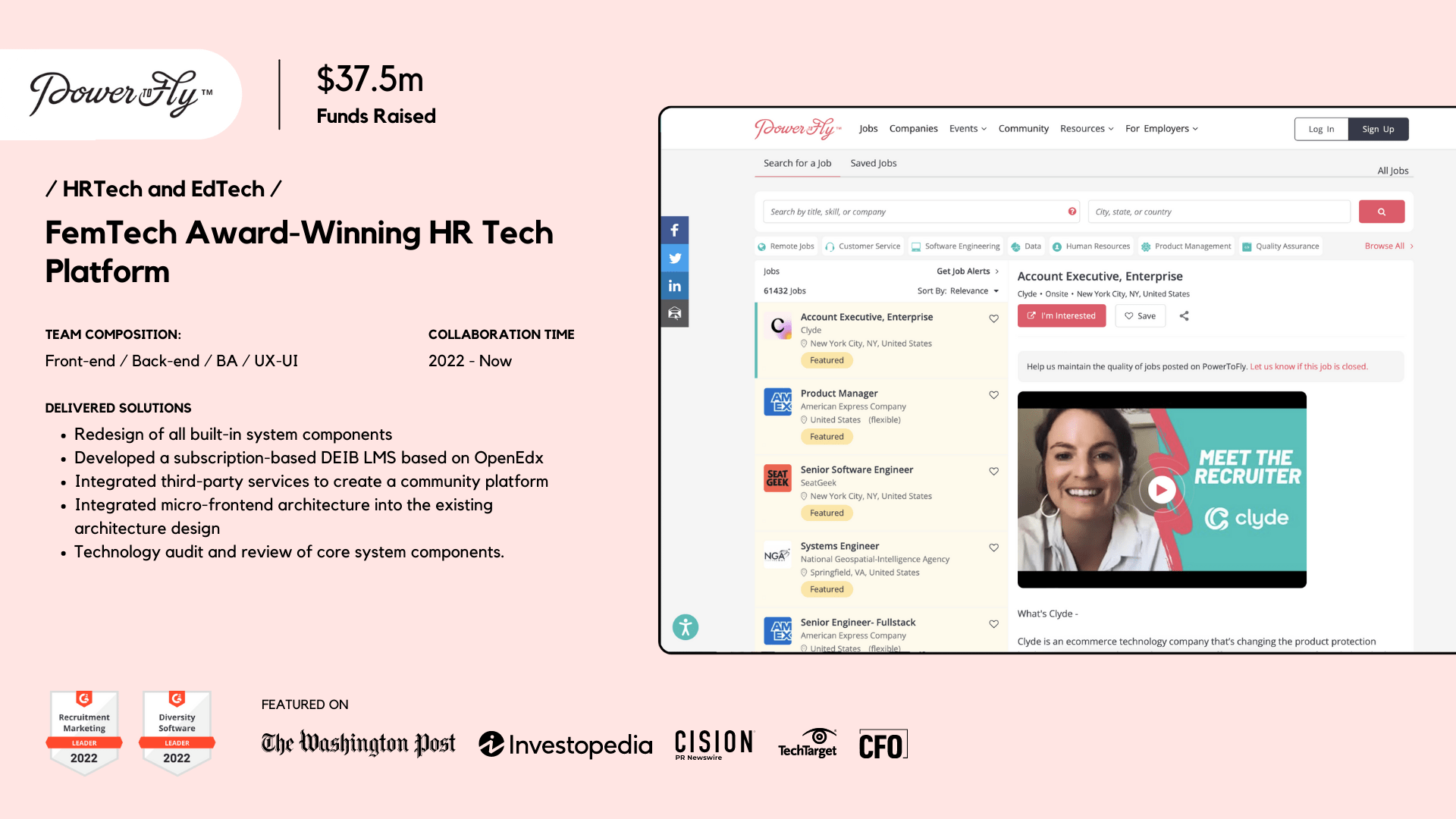 Based on our discovery process, we proposed the following solutions for PowerToFly:
Redesign all built-in system components.
Develop a subscription-based DEIB LMS based on OpenEdx.
Integrate third-party services to build a community platform.
Incorporate micro-frontend architecture into the existing design.
Conduct a technology audit and review core system components.
As a result, Riseapps helped PowerToFly launch a subscription-based B2B EdTech platform for major corporations and develop an advanced learning management system for diversity hiring with features like course management, reporting, gamification, certificate generation, and multiple integrations.
Enroly
Enroly, a top-tier edtech offer-to-arrival platform for universities, aimed to redesign their B2B education software for further expansion. They sought our help in optimizing their database load, refactoring and revamping their outdated user interface, and boosting server-side response rate performance using Rust.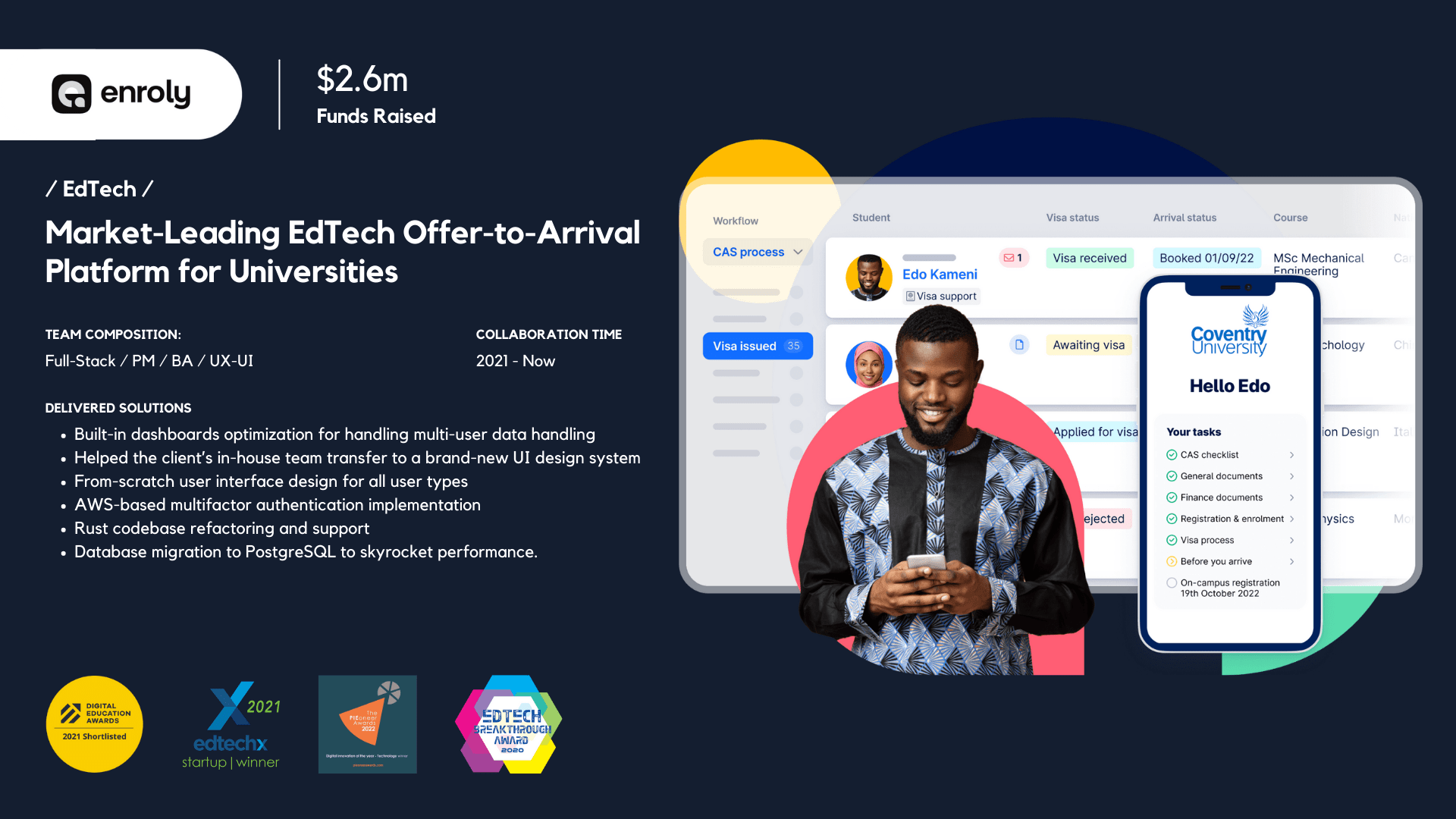 We analyzed the requirements and proposed the following solutions for Enroly:
Optimize built-in dashboards for multi-user data handling.
Transition the client's in-house team to a new UI design system.
Create a new user interface design for all user types.
Implement an AWS-based multi-factor authentication system.
Refactor and support a Rust codebase.
Migrate the database to PostgreSQL to enhance performance.
Ultimately, Riseapps assisted Enroly in achieving a completely revamped user interface, significantly reduced product maintenance costs, and improved data security measures.
Create Custom Healthcare Elearning Solutions
Let's Talk
FAQ
---
What is healthcare LMS software?

---

Healthcare LMS software is a customized platform designed to manage, deliver, and track training for healthcare professionals. For instance, Relias provides training solutions for diverse healthcare sectors such as hospitals, long-term care, and behavioral health. By 2026, the healthcare LMS market will be worth $2.2 billion.
---
Which features are essential in healthcare learning management systems?

---

Essential features include compliance management, customizable e-learning content, mobile compatibility, reporting and analytics, HR system integration, and security measures.
---
How do you prioritize factors in vendor selection of LMS for healthcare?

---

When selecting a company for healthcare LMS software development, consider the following factors:

Domain expertise
Technical proficiency
Post-implementation support
Communication and project management
Portfolio and client testimonials
Budget and pricing