Right now, e-commerce is the fastest growing business model in the world. Many companies choose to sell their products online because this is a preferred way to shop for many people.
Users especially like buying goods through mobile store apps. Around 80% of customers use their mobile phones instead of both a physical store and a desktop website to shop. People like making purchases through their mobile devices as it is convenient and can be done very quickly.
The main reason for the surge in online shopping is changing customer habits. Due to some of the current global events, the COVID-19 pandemic specifically, everybody is turning to online shopping. People buy such necessities as groceries and medicine online. Office supplies stores are 90% more popular than before the quarantine. Various products ranging from self-care to gift baskets and flowers are being increasingly searched for by shoppers.
While physical retail will inevitably be negatively impacted by the lockdown, companies that have an online store might benefit from the current situation. This is why now is just the right time to create your own shopping app.
While adapting your website for phones and tablets is very important, building a separate application for your store is a better way to appeal to buyers. In this article, we want to provide you with a step-by-step guide on how to create an online shopping app that will help you attract customers, increase sales, and make your business more successful overall.
How to Make Your Own Shopping App?
Analyze the market and your main competitors
Choose what specific features the app should have
Decide on the preferred platform and technological framework
Allocate the funding for the development
Promote the app
Step 1. Analyze the market and your main competitors
In 2019, e-commerce accounted for $3.5 trillion of all retail sales worldwide. This number is expected to nearly double by 2023, meaning people are increasingly switching to online shopping. Some of the most popular product categories
include apparel and accessories, consumer electronics, cosmetics as well as books, music, movies, and games.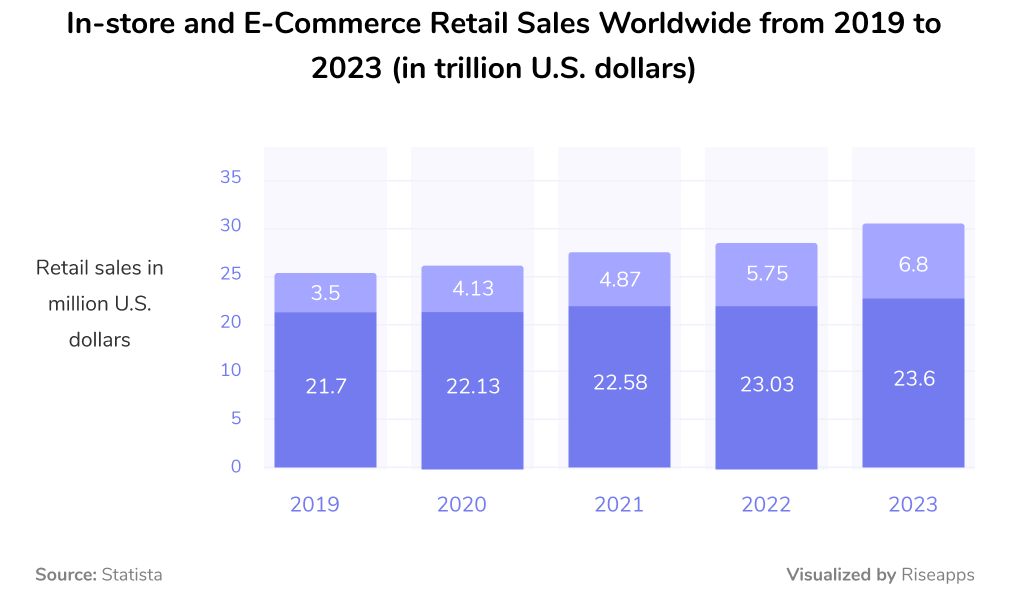 There are various types of companies that need to make a store app, from international retail platforms to individual brands. Businesses of all scales can benefit majorly if they build a shopping app and use it as one of their retail outlets.
Digital-first retailers are the most popular type of shopping apps, with more than a two-thirds share of the retail app market. Peer-to-peer marketplaces represent a quarter of the market. Store-based merchants and coupons and third-party loyalty apps account for less than ten percent of the market.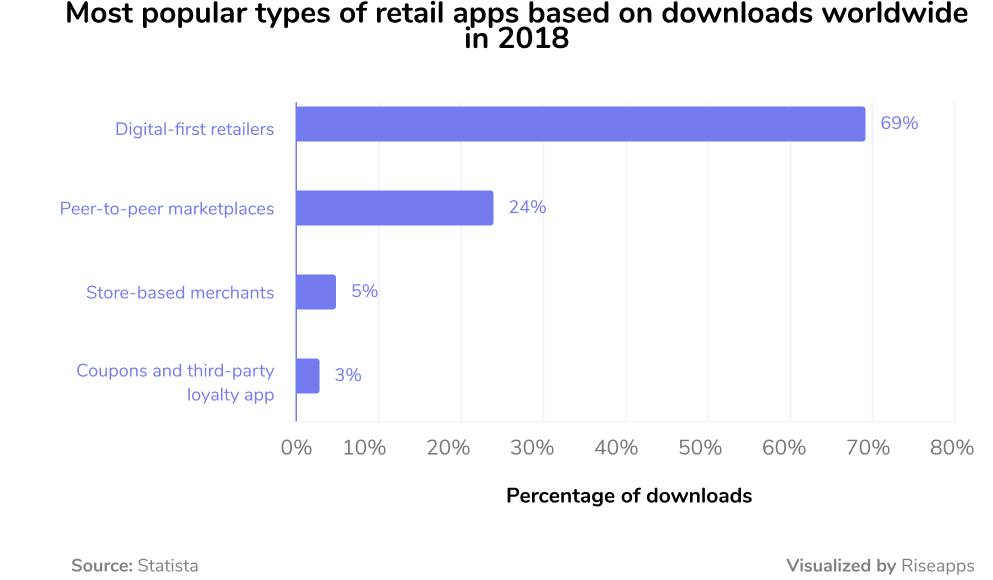 Don't forget to look at what competitors in your specific area of expertise are doing. Doing preliminary market research is a fundamental step in the process of mobile shopping app development.
The Most Successful Online Store Apps
Here are four great examples of companies that have their own shopping apps:
Asos, a digital-first clothing and accessories retailer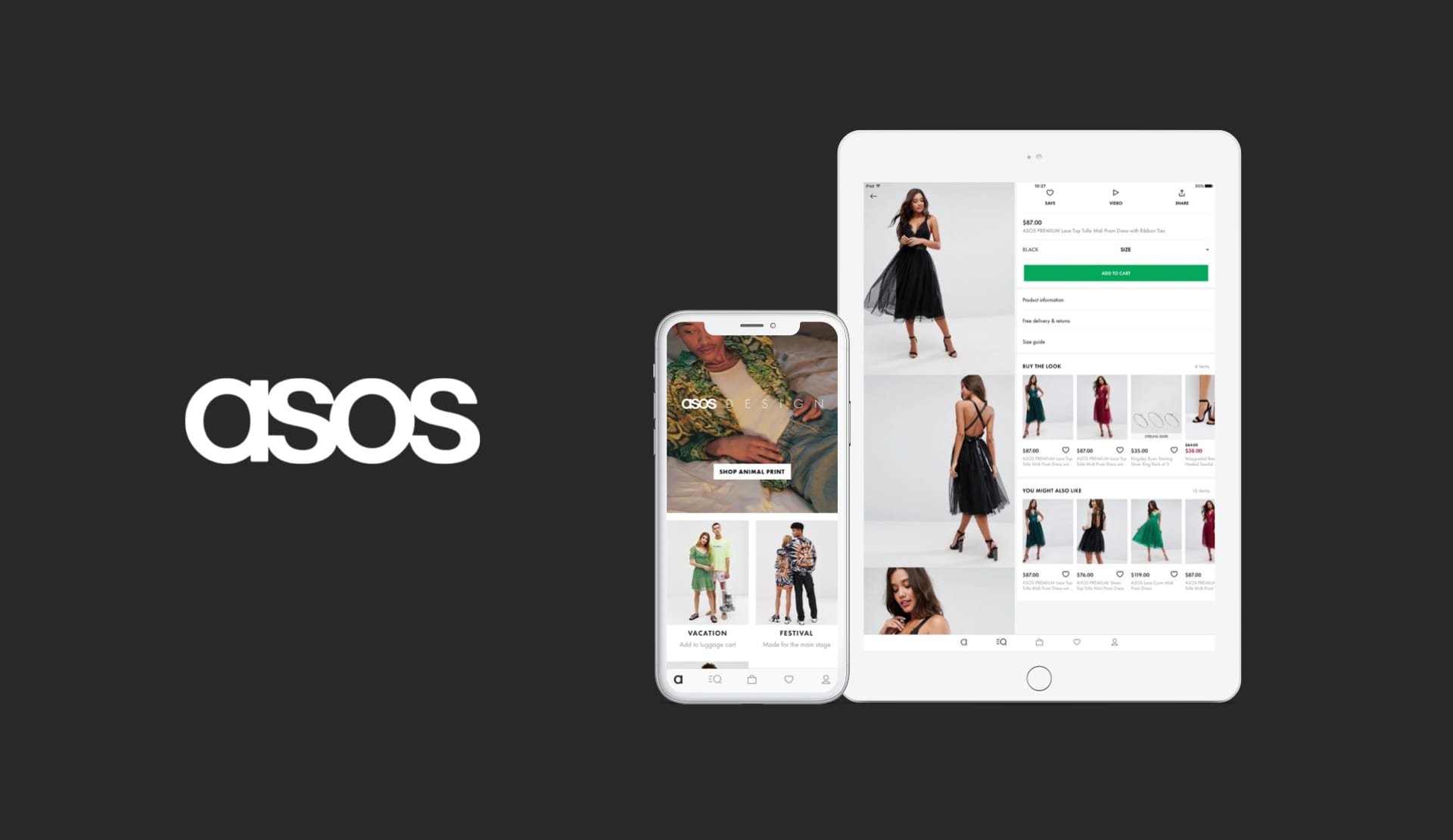 Asos is a popular British fashion retailer of clothing, accessories, and more. The company's mobile app:
offers more than 850 international brands to customers;
is built in-house;
has more than 10 million downloads.
It provides users with a smooth shopping experience with the help of features like:
a personalized selection of items;
an AI-driven product search;
a built-in credit card scanner. 
Some unique features Asos has added to its mobile app include a visual search tool and a virtual catwalk. The first function allows users to scan a picture of an item to find something similar in the product range. The second one shows an AR-model anywhere the customer wants. Constant improvement of its services, including the mobile shopping app, helped the company outperform its competitors like Zara and H&M.
Etsy, a C2C-oriented e-commerce platform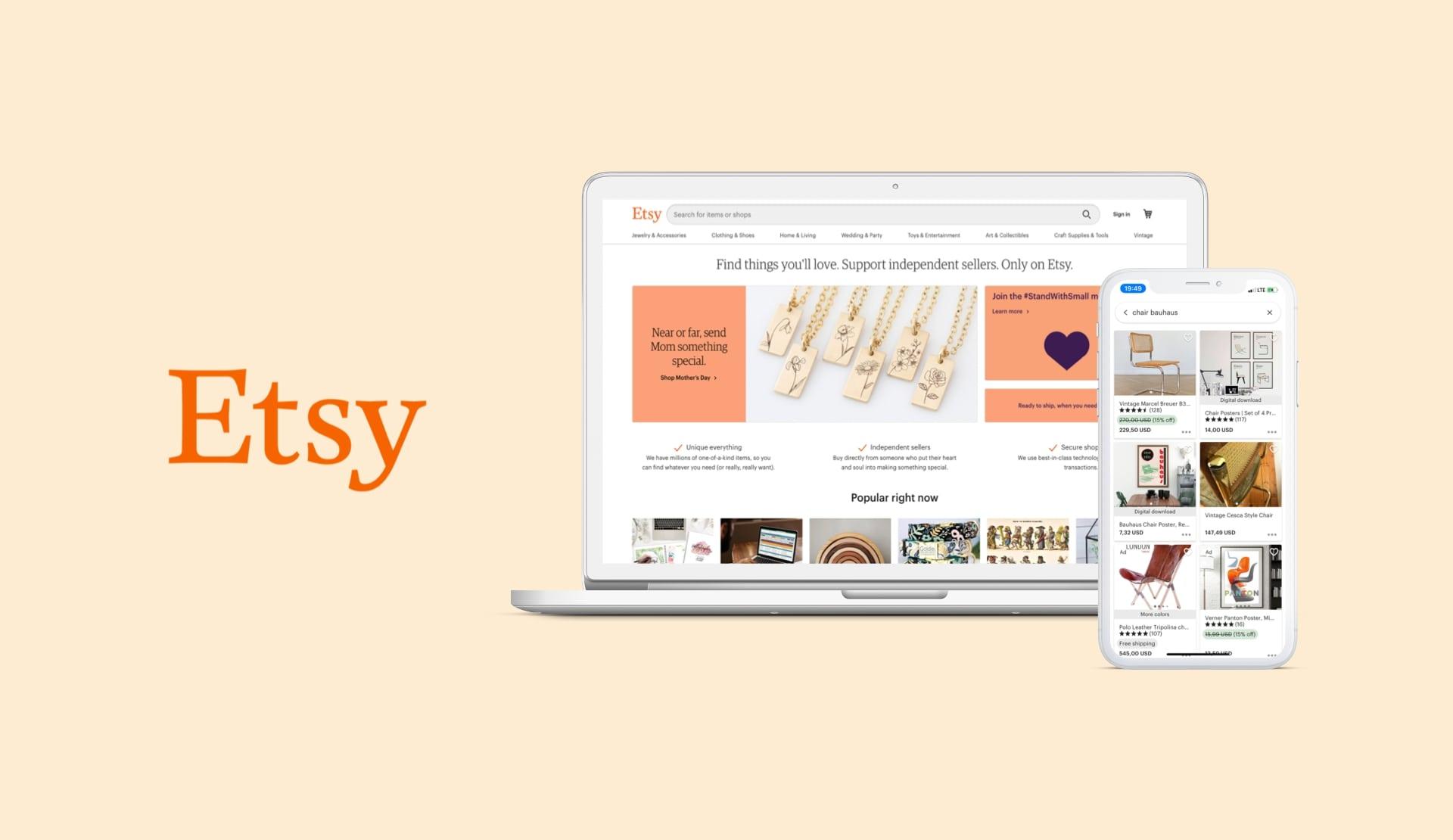 Etsy is an online marketplace that was created as a place for selling handmade and vintage goods. Because of its C2C approach, the American platform lets individuals set up their personal stores and charges vendors a 0.20 US dollar fee per item to make a profit.
Etsy's mobile app offers a great set of features to the user. In addition to the typical functions, customers can:
chat directly with store owners;
get customized items;
see their order's shipping and delivery information.
The company has a great feature that promotes customers to shop locally, too. Only available on desktop first, this function was since implemented in the company's mobile app. Also, there is a separate Sell on Etsy app for the vendors.
Zara, a leading fashion brand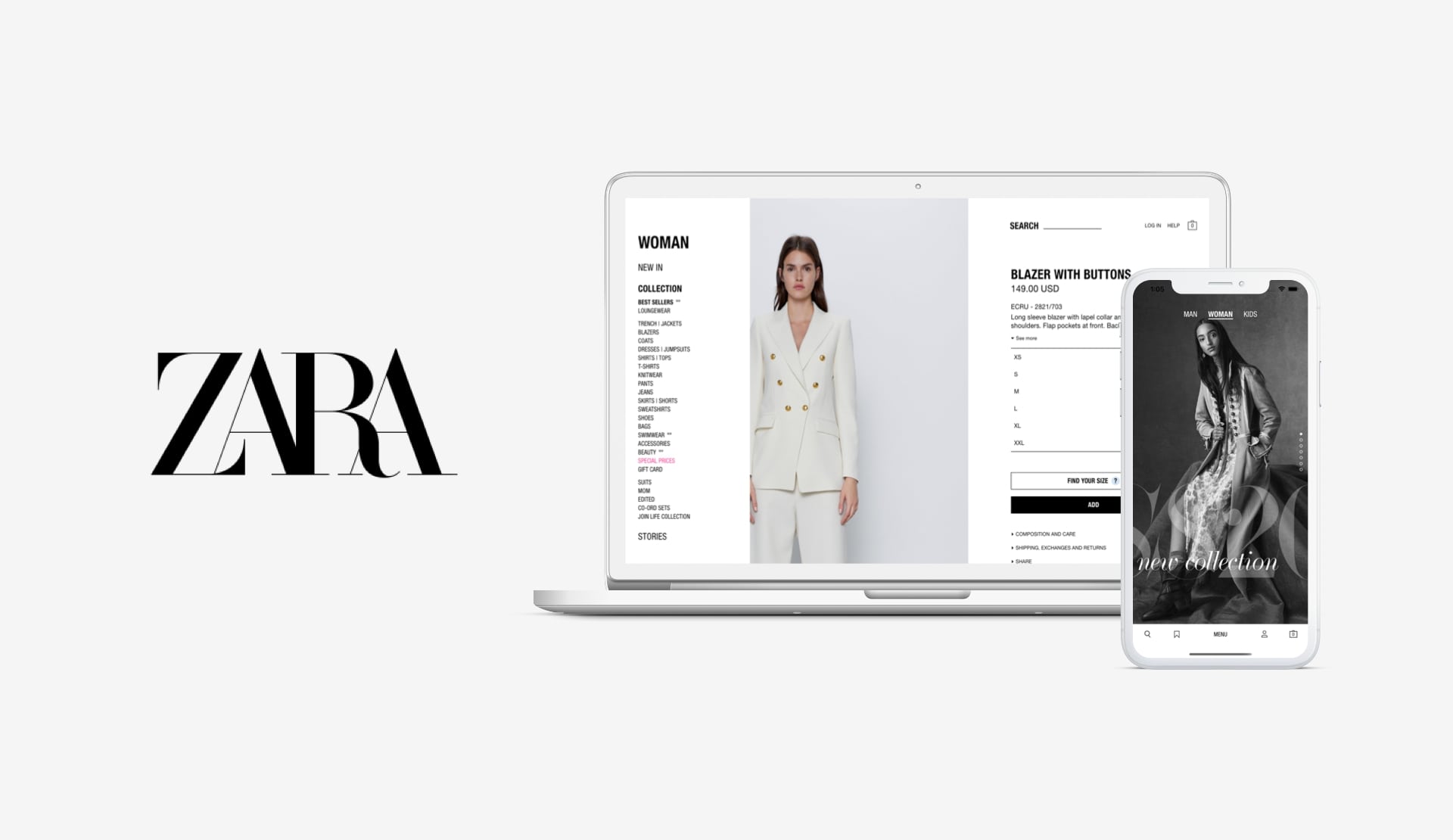 Zara is one of the biggest and most well-known brands in the fashion industry. The company's shopping app has a high ranking in mobile application stores. It appeals to users by its minimalist interface and intuitive navigation. Some of the app's advantages are:
it is multilingual and available in 100+ countries;
a wide range of payment options is included to make shopping convenient;
there are photos of models wearing the clothes, as well as close-up images of items;
the app has a GPS integration to provide customers with information about the nearest stores;
finally, the app allows its users to have an AR fitting by just pointing their device's camera at a clothing item.
The Coupons App, a tool for finding discounts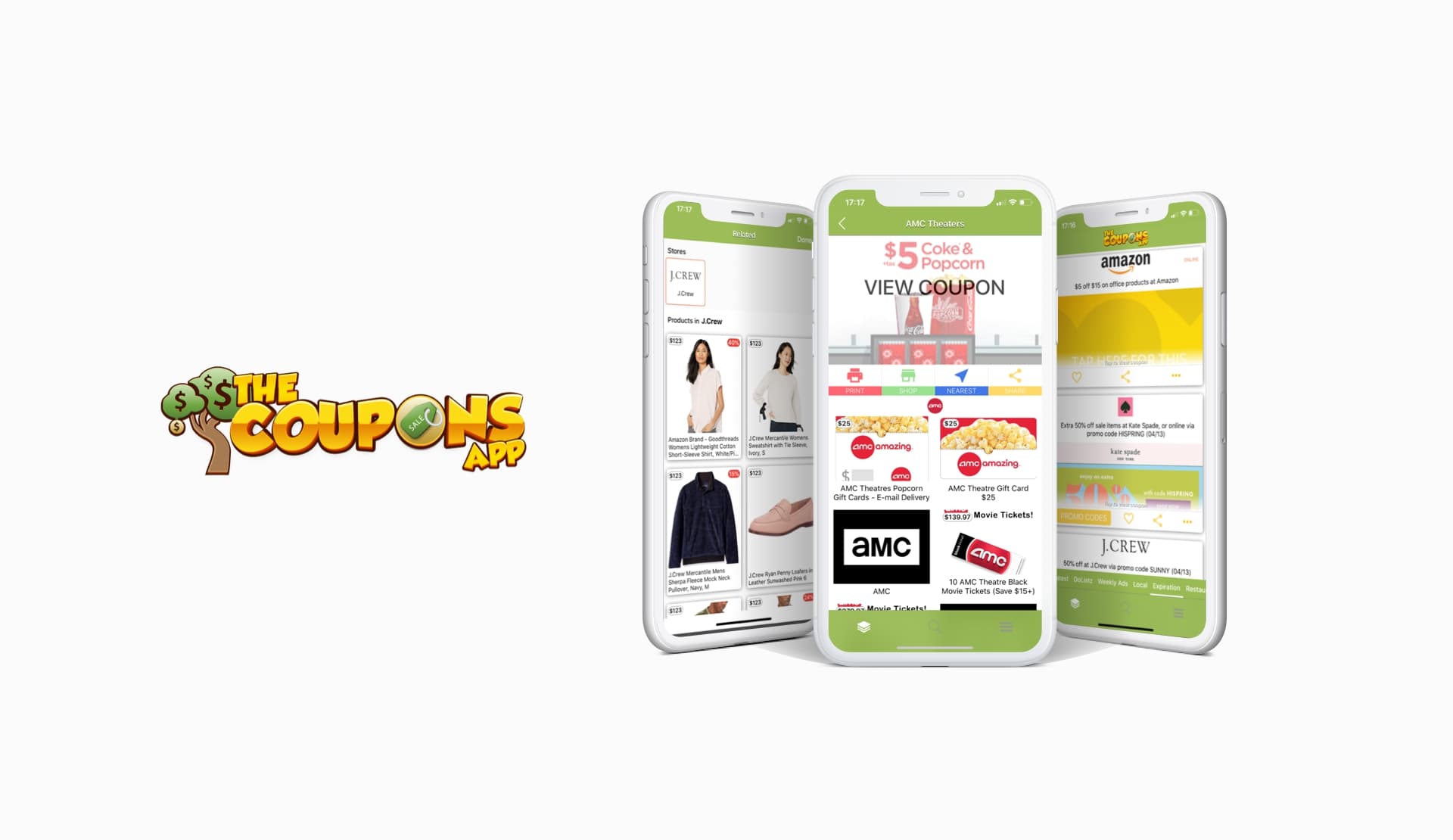 The Coupons App offers users a lot of features to save some money when shopping. The database is updated daily and provides more than 100,000 coupons to ensure all the latest deals are available to clients. The main functions of the app are:
finding promo codes and discounts for stores, restaurants, and more;
managing user's grocery shopping lists and coupons;
sending notifications about new deals and sales;
alerting customers about current discounts when they walk into a store;
checking gas prices based on user's current location;
tracking promotions from customer's favorite stores.
Step 2. Choose what specific features the app should have
Just like with any other mobile application, it is necessary to decide on the MVP to start an online shopping app. Here are some essential functions that will allow users to get what they came for and have an enjoyable purchasing experience.
Login options
While signing up often means more convenient shopping in the future, it is important not to force users to create an account as soon as they open your app. Many retailers let customers browse and even check out as guests. An option to register with an email or existing social media account is worth including in an online store application.
Also, users need to know whether the company can deliver the purchased goods to their country, so an ability to choose your location at the first launch of the app is vital.
Search
The search feature is a necessity for any shopping application. This is the main tool for users to find what they want on the app. The results should be shown at once, and there should be plenty of filters and sorting options to make the search easier for the customer.
Wishlist
Due to the wide range of items shops offer nowadays, many users may spend some time choosing the product they want to purchase. Wishlist is helpful in this case. Such a feature allows customers to quickly buy the items they ended up selecting and can be an amazing way to generate sales, too.
Reviews
This is a feature that lets customers be 100% sure about the purchase they are about to make. It is also proven to increase sales. Reviews and ratings not only help users find out more information on the product and make a shopping app more trustworthy. They frequently provide the retailer with valuable feedback about the things that can be improved.
Notifications
In mobile shopping apps, push notifications may serve a few purposes. Firstly, notifications are the best way to remind customers about the items in their cart or wishlist, especially if those have been marked down. Secondly, shops can inform the app users about sales or new items in stock. Finally, if someone has not used your application for a while, a push notification about a personal discount or coupon might be just the right way to engage with customers.
Customer support
As most of the users often have some questions about specific items, shipping, or other topics, customer support is one of the core features required to build a store app. A frequently asked questions page is great, but an interactive way to get the desired information at any moment is much better. In-app chat is easier to implement yet requires real support agents to be available at all times. Meanwhile, a chatbot takes more time to develop but allows customers to get automated answers, for example, at night.
Checkout
Easy and quick checkout is what affects the final purchasing decision of the customer. If this process is broken down into steps, users can better understand how long exactly it will take them to finish their online shopping trip.
There is no need for unnecessary questions and too much personal data entry. Allow customers to checkout as guests with minimum effort. For registered users, have the information from their accounts filled out automatically. Lastly, a clear price breakdown is vital. Whether it is an applied discount or an additional shipping fee, users should see the final cost they have to pay.
Payment options
Customers must be sure their money is going directly to its final destination. Incorporating a secured way to enter the user's credit card details as well as a popular and safe payment gateway like Stripe is necessary. This will ensure the clients' trust and eliminate payment-related issues.
Optional features
For those who want to create an online store app that truly stands out, some additional features will be necessary. Look no further than AR and AI. These technologies can add majorly to the development of a truly groundbreaking shopping application.
Augmented reality brings in features like 3D preview of items or even an interactive fitting of clothes or accessories, like with an app we created Print My Glasses. Artificial intelligence allows accurately showing goods similar to those the user has viewed.
Read Also: How to Build an Augmented Reality App
Step 3. Decide on the preferred platform and technological framework
Generally, choosing a platform for your shopping app depends on what market is targeted. In many parts of the world, either iOS or Android is preferred. For example, iPhones and iPads are widely used in the United States, and Android devices are popular in China.
However, if you want to reach a larger number of users, choosing to develop a cross-platform application can be the best decision. In this case, an app can be built with React Native or Flutter.
Developing a cross-platform app
Writing shared code for both iOS and Android not only means the application will be available to more users. Such a practice also allows involving a smaller team, thus helping you cut down the costs. Also, native apps are easier to manage in the future, as, just like with the initial development, changing something or implementing new features will only have to be done once.
Here are some tools if you choose the develop a cross-platform app using the React Native framework: 
| | |
| --- | --- |
| User authorization | JWT Authentication, Auth0, Social authorization |
| Push notification module | Firebase Cloud Messages |
| In-app communication/Chat | Twilio |
| Security | react-native-keychain |
| Payment integration | PayPal, Stripe, Apple Pay |
| Geolocation | react-native-geolocation |
As most online store apps require the waterfall development model, it may take longer and be way less cost-efficient to create two separate applications. Using shared code means dealing less with platform-specific issues, so there is more time to focus on UI/UX design, some additional features, and enhancements.
Cross-platform development also guarantees consistent layout, design, and interaction, meaning users will be familiar with the app if they switch devices and operational systems.
Main components, like search, product view, and customer support should also work seamlessly on any phone or tablet. This is to make sure customers will be satisfied with their shopping experience. And, as mentioned before, adding new features to one cross-platform app for both iOS and Android is much easier than two separate applications.
After the initial development process is done, the app should be tested to ensure it functions properly. Quality assurance includes functional and integration testing, end-user testing, device and unit testing, and bug fixing.
Supporting and Updating the App
To provide general technical maintenance, you should keep track of how well all the components of the app work and is it fast enough, as well as constantly control the security of the app. Also, releasing updates and including support of new features is crucial to keep your app ahead of the competition.
Step 4. Allocate the funding for the development
If you decide to develop an online shopping app, the cost hugely depends on the exact functionality you want the application to have, platform(s) the app will be built for, and the time available to create the end result. Moreover, there are usually further spendings on support, updates, promotion of the app, and more.
The asking price for the work of each software development company is also different, normally based on its location and the seniority level of the staff.
| | | |
| --- | --- | --- |
| Region | Hourly rate | Basic level shopping app |
| The USA | $100-180 | $80,000-160,000 |
| Great Britain | £100-180 | $120,000-170,000 |
| Western Europe | €80-150 | $130,000-160,000 |
| Eastern Europe | $30-70 | $40,000-55,000 |
| Ukraine | $30-50 | $35,000-40,000 |
| India | $15-30 | $20,000-30,000 |
The size of the required team also affects the cost of development. Usually, a team required to make an online shopping app includes an iOS/Android developer, a back-end developer, a QA engineer, a UI/UX designer, and a project manager. Here, a cross-platform app allows involving fewer people and spending less time than when creating multiple apps for different platforms.
When making a basic level mobile online store app, the average cost would be $40k. If the application must include more complex features, it could significantly add up to the price. The time required to create a shopping app is usually around four months.
If you want to find an online shopping app developer that is highly-skilled and trustworthy, look no further than Riseapps. Our team has experience in creating iOS, Android, and cross-platform store apps. They range from standard shopping applications to cashback and specialized tools with AR features.
With more than 50 completed projects, we build apps from start to finish and offer 24/7 access to project status, 2-month code guarantee after release, and more.
Step 5. Promote the app
Development of the app might be the main focus for many retailers, but marketing the newly built shopping application is the key to increasing user engagement. The promotion process may even take more time than the creation of the app itself, so be patient and create a solid marketing strategy.
The initial step is to make the new app available on the App Store/Play Market and use optimization to make your application more appealing to users. After that, utilize the marketing tools of your preference. Some of the most effective promotion channels include advertisements, social media marketing, and email marketing.
Don't forget to mention the shopping app on your website and provide quick download links for mobile users. If you have a company blog, use content marketing to promote the application. Offer a special discount to those who download the app for the first time.
Companies can also collaborate with influencers to promote an online store app. Recently, this has been a widely used and highly effective promotion method. However, be sure that you choose a person with an audience who will be interested in your products.
Our Experience in Mobile Shopping App Development
Our team at Riseapps has considerable experience in creating shopping apps with examples like Print My Glasses and Modasti.
Print My Glasses
For this project, our client needed an app to allow clients to design a frame for glasses via a mobile app. The application uses 3D face scanning to share a model of the customer's face with an optician and create customized eyewear based on individual measurements. 
3D face modeling was integrated for the glasses configuration process, and an in-app payment system was implemented for the convenience of clients. Modern design and user-friendly interface make this app popular among customers who need a new pair of glasses.
Modasti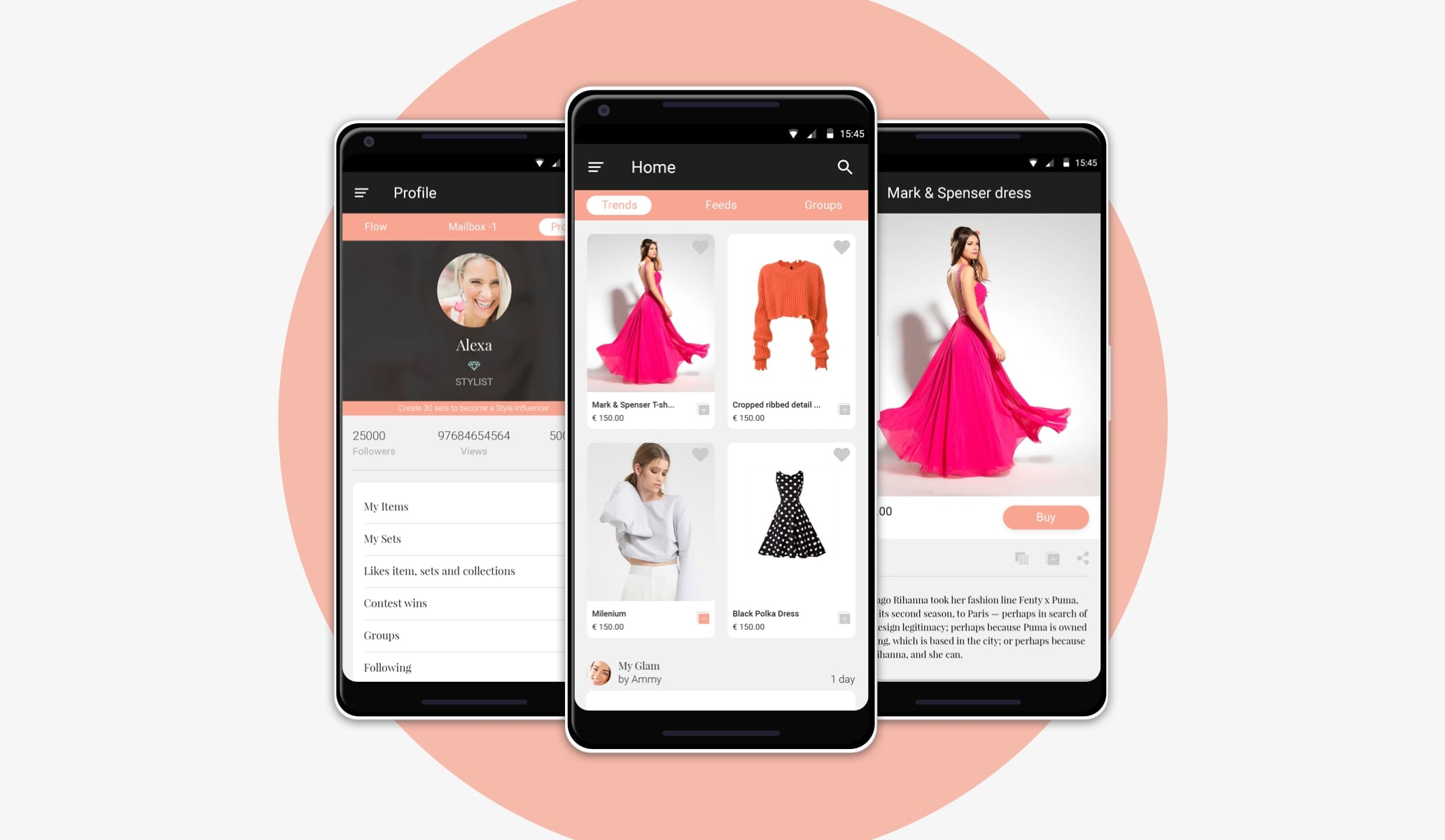 Modasti is an online shopping app and social media hybrid created by our team to increase the clients' engagement with the store. The marketplace offers fans of modest fashion to choose the clothing they like, combine it into sets, and share these creations with others.
There are networking and search features in the app and created sets go into newsfeed to help users find those who share their interests. An integrated payment system provides customers with an easy and smooth shopping experience.
Conclusion
Technological advancement has changed how people shop in recent years, and retailers must consider these changes to stay profitable and face their competitors.
This article highlighted the most important steps of an online shop app creation process. These are market research, deciding on features and developing the application, and promoting it. Hopefully, we provided you with some helpful information on the topic.
For those, who see online shopping app development as something challenging, RiseApps is ready to help. Our experienced team will make sure to create a perfect application for you, so all that will be left for you is to enjoy the end result. Don't hesitate to contact us and tell us about your ideas and requirements for a new online store app.