Medical imaging is beneficial in healthcare. It provides a non-invasive way to administer safe, precise, and timely radiation treatment. According to studies, 43% of US citizens are expected to become regular telehealth users by 2025, while 48% of physicians now say that they are treating patients via telemedicine.
Though healthcare providers have adopted digital imaging technologies, data overload has also become one of the biggest challenges for the industry. The sheer number of medical images grows so fast that practitioners can't keep up with interpreting them. For instance, Academic Radiology published a study suggesting that a radiologist has to process one image in three to four seconds during a workday to meet workload demands.
Healthcare facilities should consider investing in advanced medical imaging software to better manage the high volumes of data. With this, they can offer improved patient outcomes. But the tougher challenge lies in building medical imaging software.
This article discusses the medical imaging technological perspective and critical points to consider in medical imaging software development. Riseapps, the telehealth app development company, answers all the questions below.
How Medical Imaging Software Drives Healthcare Transformation
The latest Market Research Future (MRFR) report suggests that the medical imaging software market is ready to expand significantly in the coming years. In addition, the medical image analysis software market is expected to grow by an average of 8.4% this year.
Growth factors and key barriers
There has been a surge in demand for medical imaging software to provide advanced treatment for patients with cancer, arthritis, etc., which has resulted in cutting-edge software releases around the world. The enhanced image displayed by this software is used to improve patient care, in addition to improving work productivity by helping physicians and other healthcare professionals gain more knowledge about the patient's condition.
With the growing trend of electronic health records for storing, sharing, and managing patient health information through medical imaging, the global medical imaging software market will likely gain enormous popularity. This statement is true because medical imaging software is used in hospitals and clinics to track the patient, based on which appropriate medical imaging solutions can be provided to patients.
For example, in November 2018, Philips launched a series of innovations in radiology imaging software that enabled accurate diagnosis along with increased productivity. Medical imaging software is designed to connect people to technology and data, and meet the demand for improved outcomes, better patient care, increased staff satisfaction, and reduced healthcare costs.
Despite these favorable factors, the shortage of qualified medical professionals may slow down the growth rate of the global market in the coming years. However, developments in 3D/4D platforms and multimodal imaging platforms are expected to act as catalysts for the medical image analysis software market growth in the future.
Regional analytics
Leading the global medical imaging software market, the USA controls the largest share of the overall market due to high clinical research and development (R&D) budgets from both the government, public, and private organizations, the growing adoption of sophisticated technologies also drives the country's medical imaging sector.
In addition, the surge in the prevalence of the elderly population with the subsequent increase in the incidence of various diseases will contribute to the further growth of the market. According to the World Health Organization (WHO), by 2030, more than 20% of the total population in the United States will be over 65 years of age. Thus, the growing pool of older patients in the region is expected to boost the market during the forecast period.
Ranked second in the global market, Europe is projected to be one of the strong contenders with the second largest share. Established academic and research base with growing research funding in its countries influence the adoption of imaging technologies. The European Research Council (ERC) provides huge funds for the development of technology as well as scientific research that takes place in the European Union (EU).
Moreover, the heightened number of diagnostic healthcare centers, robust healthcare infrastructure, and increased awareness of the general population about the early detection of diseases will be favorable factors supporting the regional market's expansion during the evaluation period.
The medical imaging software market in Asia Pacific can be broken down into countries such as India, Japan, China, Australia, the Republic of Korea, and the rest of the region.
The regional market is expected to have the fastest growth rate during the reporting period, based on the growing demand for technologically sophisticated software, high healthcare infrastructure standards, and increased growth opportunities for well-known industry vendors seeking to build their base in the region.
Finally, the Middle East and Africa will have the lowest share of the global medical imaging software market. A significant portion of the regional market will belong to the Middle East due to growing government initiatives to expand the healthcare sector in the region.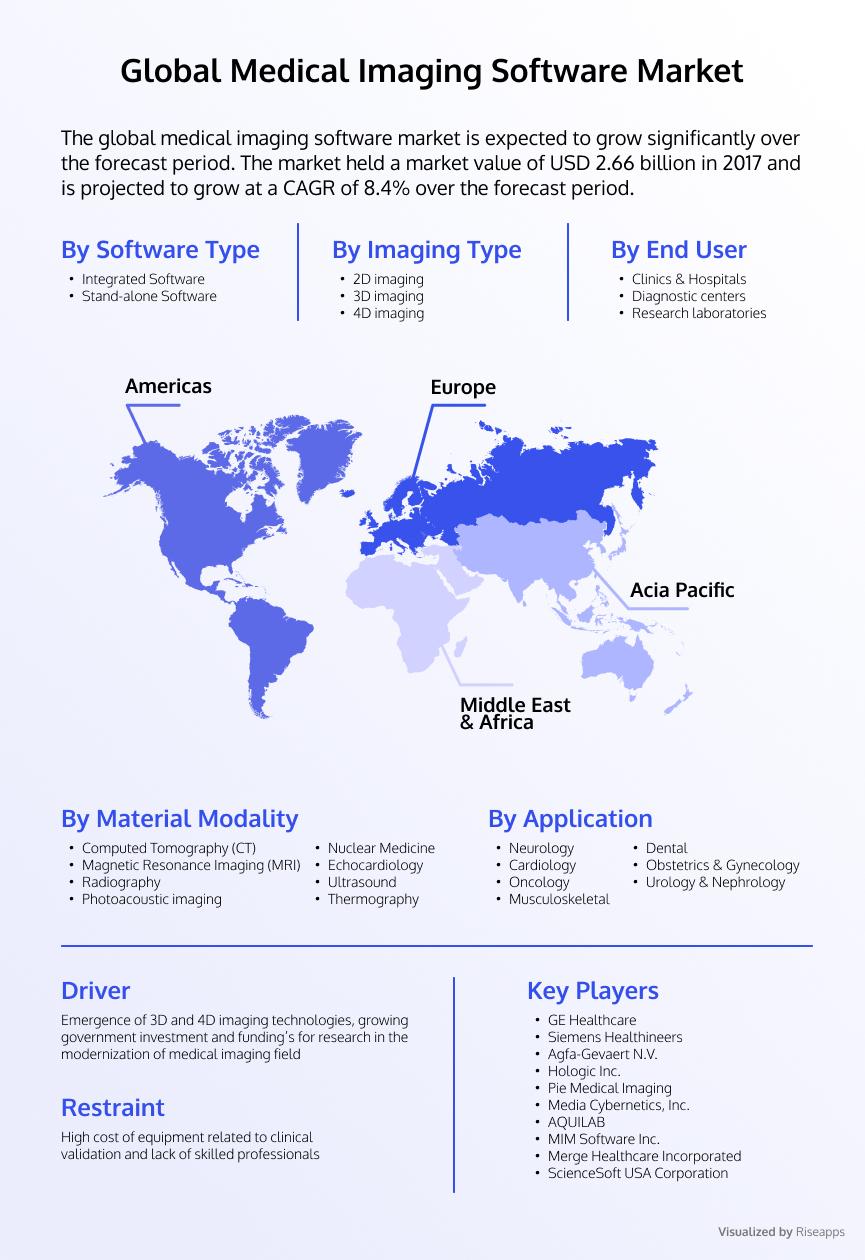 8 Core Trends of Medical Imaging Software that Thrive In 2023
Medical imaging software helps to save a lot of lives. That is why big corporations are interested in investing in the development of the telehealth market, which is estimated at $194.1 billion. And by 2030, this index will reach $459.8 billion, according to statistics. IT engineers use advanced technology to provide the healthcare industry with better medical image analysis and processing experience. Examples of such top medical technologies include AI (32%), Real-time conversations (18%), Remote Patient Monitoring (38%), Voice-based care (12%), 3D, AR/VR, cloud computing, and more. 
Artificial intelligence
Artificial intelligence is a crucial technology for faster and more accurate image analysis. A well-designed computer algorithm can process a large amount of related data and result in precise information it was asked for. AI in medical imaging is applicable for:
Disease diagnosis. AI can detect abnormalities in scans quicker and more accurately than human eyes. It facilitates decision-making and reduces diagnosis clinical errors. For example, in neurobiology, analyzing different parts of the brain is difficult and time-consuming. AI helps to automate this process, giving more precise results.
Cancer screening. Artificial intelligence can perform tumor detection, characterization, and monitoring to improve treatment planning. Based on these tumor images, AI can detect malignant nodules, suggest radiation doses, reduce the number of biopsies and avoid unnecessary procedures.
Image quality improvement. Healthcare providers often give up scanning quality to get patient's images faster, but this affects diagnosis accuracy. Computed algorithms can quickly improve image resolution by removing distortions, and reducing noise and artifacts.
Take ProFound AI or SubtlePET medical imaging solutions as an example. ProFound AI is an AI-based solution for digital breast tomosynthesis. This software helps radiologists to detect malignant lesions, assists them in clinical decision-making and reduces workload. SubtlePET is a medical image-enhancing software that uses AI to reduce noise and artifacts in biomedical images. The software eliminates the number of repeated scans, which is beneficial for patients as well.
What's more, AI helps read x-rays and allows us to pinpoint multiple diseases way more accurately than a tired doctor at the end of the day looking at X-RAY. Maria Kunstadter (CEO at The Teledentists) believes in telehealth as a major player in the healthcare industry 10 years from now. She also believes virtual-first primary care will define the future of healthcare go.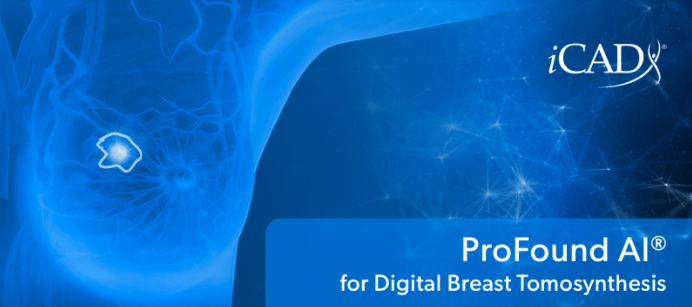 3D computer graphics based on the 3D medical imaging software
Three-dimensional patient's images have become widespread in healthcare as they provide better abnormalities detection. Some malignant nodules can look similar to healthy tissues. Since they overlap in 2D images, it might be challenging to distinguish malignant zones. 3D graphics allow for an overview of ill organs from different angles, and if powered by AI, can significantly enhance disease diagnosis and treatment planning.
Take EchoPixel, for example. This medical imaging platform transforms standard medical images into 3D models, which physicians can inspect using a VR headset or 3D glasses. Such technology allows healthcare providers to reduce unnecessary procedures for diagnosis, give a better understanding of the health condition of a patient, and make decisions faster.
Augmented reality and virtual reality
As we've mentioned above, physicians use virtual reality to analyze patients' medical conditions. AR/VR technology not only helps with establishing a diagnosis, but it is also highly applicable in surgery. Surgeons rely on scans and radiologists' medical conclusions to perform the further treatment. Virtual reality empowers surgeons with quality 3D images while operating on a patient. They use holographic projection on the person's body to find their target fast and accurately. For instance, NOVARA OpenSight AR surgeon navigation uses cameras and sensors to help practitioners see through the patient's body and perform surgery with greater accuracy.

Cloud computing
Image data volumes require a lot of space for storing images and considering long-term retention policies, imaging data formats keep piling up and overload electronic software systems in healthcare facilities. Despite security concerns that bother healthcare providers, cloud computing is taking over. Cloud computing provides flexible implementation and scalability. It's also cost-effective and predictable. That's why healthcare providers have started to apply cloud architecture. With Amazon Web Services, healthcare providers can seamlessly integrate their medical imaging workflows on the cloud and get cost-effective image storage.
Integrated software
Advanced medical technology isn't easy to maintain. It also requires medical staff to be familiar with how it works. Educating employees and managing different software providers is costly and time-consuming. That's why implementing other medical imaging software solutions for medical image processing, imaging analysis, storage, and resource management can be a burden for providers. Integrated software allows for developing a toolkit, which includes all necessary imaging technology to improve physicians' work. So, if you decide to start medical imaging software development, make sure your app is open for integration with other medical software.
Real-time communication system technologies
Video calls, live chats, and real-time notifications across multiple platforms will also be in great demand, MG (CTO at OmCare) asserts. These technologies are going to expand as the healthcare world becomes more distributed, yet synergized. According to statistics, 76% of US hospitals connect with patients through video appointments.
Remote Patient Monitoring
RPM is also among the core trends we see right now. According to Jyotsna Mehta (CEO & Founder at KevaHealth), it helps provide high-quality remote care that enables gathering and analyzing medical image data formats from multiple sensors and building predictive treatment and care models.
Voice technology
Right now everything in healthcare is done using conventional and outdated methods as patients still receive data formats via text or email notifications. So, Shaun Mitra (founder at BrioCare) believes voice technology is an advanced means of communication even when you are trying to educate patients on self-care. He predicts that voice AI-based products will dominate in the next few years.
Medical Imaging Analytics: Applicable Areas that Improve Patient Care
Medical imaging is a method and process of creating visual representations of the inner body for clinical analysis and medical intervention in addition to visual representations of the functions of certain organs or tissues (physiology). Medical imaging aims to detect internal structures hidden by skin and bones, as well as to diagnose and treat diseases. Medical Imaging also creates a database of natural anatomy and physiology so that abnormalities can be identified.
As science advances, medical imaging expands to meet the needs of various physicians in diagnosing patients and knowledge of underlying diseases, and the most important of these methods is MRI. Magnetic Resonance Imaging is a type of medical imaging that uses a magnetic field and radio waves generated by a computer vision to create detailed multiple images of your body's organs and tissues. An MRI is a non-surgical method that your doctor uses to examine organs, tissues, and the skeletal system. It produces high-resolution images from the body that helps diagnose various problems.
Most MRI machines are large tube-shaped magnets. When a patient lies inside the MRI machine, the magnetic field temporarily rearranges the water molecules in the patient's body. Radio waves cause these nearby atoms to produce weak signals that are used to create CT scans of, for example, slices of a loaf of bread. The MRI device can also create 3D images that can be viewed from different angles.
Cardiology
MRI directed at the heart or blood vessels can assess:
Size and function of the heart compartments
Thickness and mobility of the heart walls
Degree of damage caused by heart attacks or heart disease
Structural problems in the aorta such as aneurysms or anatomical
Inflammation or blockage of blood vessels.
Orthopedics
An MRI of the bones and joints can help evaluate:
Joint deformities due to repeated trauma, such as torn cartilage or ligaments
Spinal disc deformities
Bone infections
Tumors of bones and soft tissues.
Dentistry
Dentistry is one of the most challenging areas as the oral cavity is filled with tiny forms. In addition, teeth usually vary in size, shape, and place, which makes analysis tough. For maximum accuracy and speed, dentists use medical image software. These tools are especially useful for detecting caries, osteoporosis, and other pathologies. Not only the tools are used to detect anomalies, but also to design orthodontic appliances and dentures.
Neurology
MRI is the most commonly used imaging modality for the brain and spinal cord. It is often used to diagnose:
Brain aneurysms
Diseases of the eye and inner ear
Multiple sclerosis
Diseases of the spinal cord
Stroke
Tumors
Traumatic brain injury.
Functional Magnetic Resonance Imaging of the brain creates biomedical images of blood flow in specific areas of the brain. It can be used for deep learning of the anatomy of the brain and identifying the parts of the brain responsible for critical functions. This helps identify important areas of language and movement control in the brains of people planning brain surgery. Functional MRI can also be used to evaluate the damage caused by head trauma or diseases such as Alzheimer's disease.
Breast cancer
MRI with mammography can be used to detect breast cancer, especially in women with dense breast tissue or who may be more likely to develop the disease.
Other examples of important imaging applications for medical techniques include:
Projection X-rays – for detecting bone fractures, pathological changes in the lungs, and diagnosing some types of colon cancer.
Fluoroscopy – for obtaining real-time images of various internal parts and structures of the human body.
Scintigraphy – to capture two-dimensional images from the radiation emitted by injected radioisotopes to identify areas of biological activity that may be associated with the disease.
Positron emission tomography (PET) – to diagnose or treat various pathologies. Positron emission tomography uses certain properties of isotopes and energetic particles released from radioactive material.
Medical ultrasound examination – to produce images of the fetus, abdominal organs, heart, chest, muscles, tendons, arteries, and veins for diagnostic purposes.
Elastography is a reflection of the elastic properties of soft tissues in the body.
Tactile Imaging – to create images of the prostate, breasts, vagina, pelvic floor support structures, and myofascial trigger points in muscles by converting sense into digital images.
Photoacoustic imaging – for in-vivo monitoring of tumor angiogenesis, blood oxygenation mapping, functional imaging of the brain, and detection of skin melanoma.
Thermography methods – to detect breast tumors using programs such as telethermography, contact thermography, and dynamic angiothermography.
Tomography methods – to produce images of the structures of thin sections of the body (CT, PET scan).
Echocardiography – to see detailed structures of the heart, including chamber size, heart function, heart valves, and pericardium.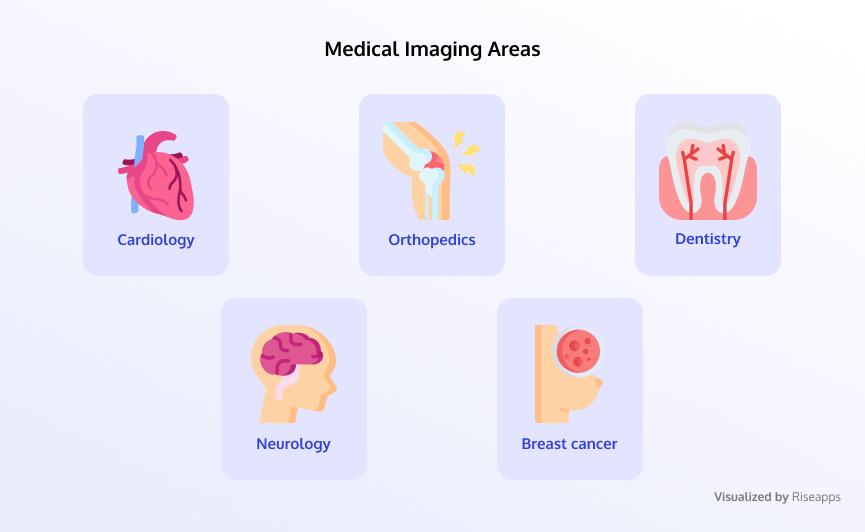 Medical Imaging Software Development: Step-by-Step Guide Revealed
Developing medical imaging software requires thorough preparation. A medical software developer should clearly understand what type of medical imaging he is dealing with, assess all requirements of a healthcare provider, and provide an analysis software compliance with standard regulations.
It all starts with the analysis of the idea and the market in general. It is also important to understand the monetization of the chosen platform, on the basis of which the list of features can be compelled. Finally, all you have to do is recruit an in-house team or choose a third-party contractor, release the MVP version, support, and scale. 
The analysis of the idea and the market
The imaging niche is diverse. And there is no universal technological solution for it. The very first step is to determine what problems and niches you will work on, and then select the appropriate tools.
The list of features
After you finished analyzing the market, you can start compiling a list of core features that can be added to your software. Here are some of the most important ones: 
The idea of ​​the project which is described in detail
Problems that the proposed product can solve
Questions and suggestions
Concepts, patterns.
Monetization
Software monetization is an ongoing process used by software vendors to get the most out of their products and services. Here are some easy ways:
Selling the programs, for which people pay you money to use.
Sale of extensions to programs and additional modules.
Paid analysis software support, technical support, and product updates at an additional cost.
Completion of programs and additional services provided.
Recruit an in-house team
Hire a reliable development team. Software development is based on technology and you need to constantly upgrade the processes. The optimal solution is a team that has experience in healthcare software development.
The MVP version
When the analysis software is ready and has passed internal testing, release the MVP version. You need to offer a new product for testing to several interested people so that they give feedback on the problems they encountered. Once you understand that users like the product, proceed to launch.
Support and scale
Once you develop medical imaging software, you will learn and generate new ideas as you use it. Even if the product launch was successful, you should not relax – develop and release new versions of it. Periodic releases are a necessary condition for any technological product.
But before you start creating such software, you need to decide on the type of platform. This will affect the features that will be developed, as well as your product and its final budget. Accordingly, there are such types of medical image analysis software from which you can choose.
Types of medical imaging
Medical imaging is a tool for better examination of the human body. It plays a prominent role in disease diagnosis by visualizing abnormalities in patients' organisms that are hard to notice with the human eye. Medical imaging is used for fast diagnosis, tracking disease development, treatment planning, and more. Modern medical imaging uses a detecting camera to capture the image and display it on a screen. The most used medical imaging tools include:
ultrasound
computed tomography
magnetic resonance imaging
nuclear medicine imaging.
Medical imaging software can be of different types. These tools use different types of waves (sound, electromagnetic, etc.) to receive images of other organs inside our bodies. All these images are handled by special medical image analysis software created by medical imaging software engineers.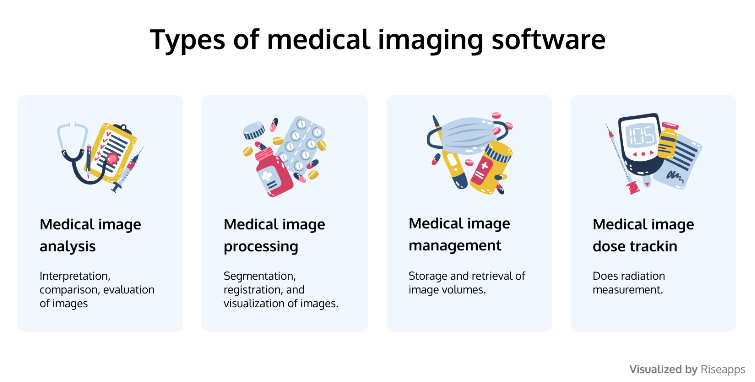 Critical features of medical imaging analysis software
The medical imaging software market offers many software solutions to process medical images, which differ in functionality and technical complexity. Still, there are core features that each medical imaging software should have.
Quality improvement
Clinical image analysis must deliver high-quality images that help doctors detect tricky details with greater accuracy. With improved and clearer quality, medical images can be analyzed without blur, noise, artifacts, contrast, or distortion. This visibility of the image plays an important role in the diagnosis and well-being of the patient.
Segmentation
Segmentation means dividing medical images into separate parts (tissues, organs, bones, or blood vessels). This process aims to reduce the complexity of the images and prepares the images for additional processing and study. Segmentation also helps uncover pathologies in such areas as nodules, tumors, and other abnormalities that are of interest to physicians.
Registration
Image registration includes collecting data from numerous images to provide geometric alignment. Image registration uses the overlay of two or more images shot at different angles from the same or different medical imaging equipment. This function helps to merge images in two ways:
Image data from different sources are connected by image fusion.
This feature aligns images taken at different periods. This method helps track both long-term changes and changes in health status during sessions.
3D reconstruction and 2D visualization
This feature helps to connect numerous 2D images that show the same spot from different angles into one single image. This allows clinicians to view one part of the image in 3D to effectively diagnose abnormalities.
2D rendering, in turn, breaks down 3D or 4D renderings into 2D parts or breaks down 2D images into smaller elements to obtain more detailed information.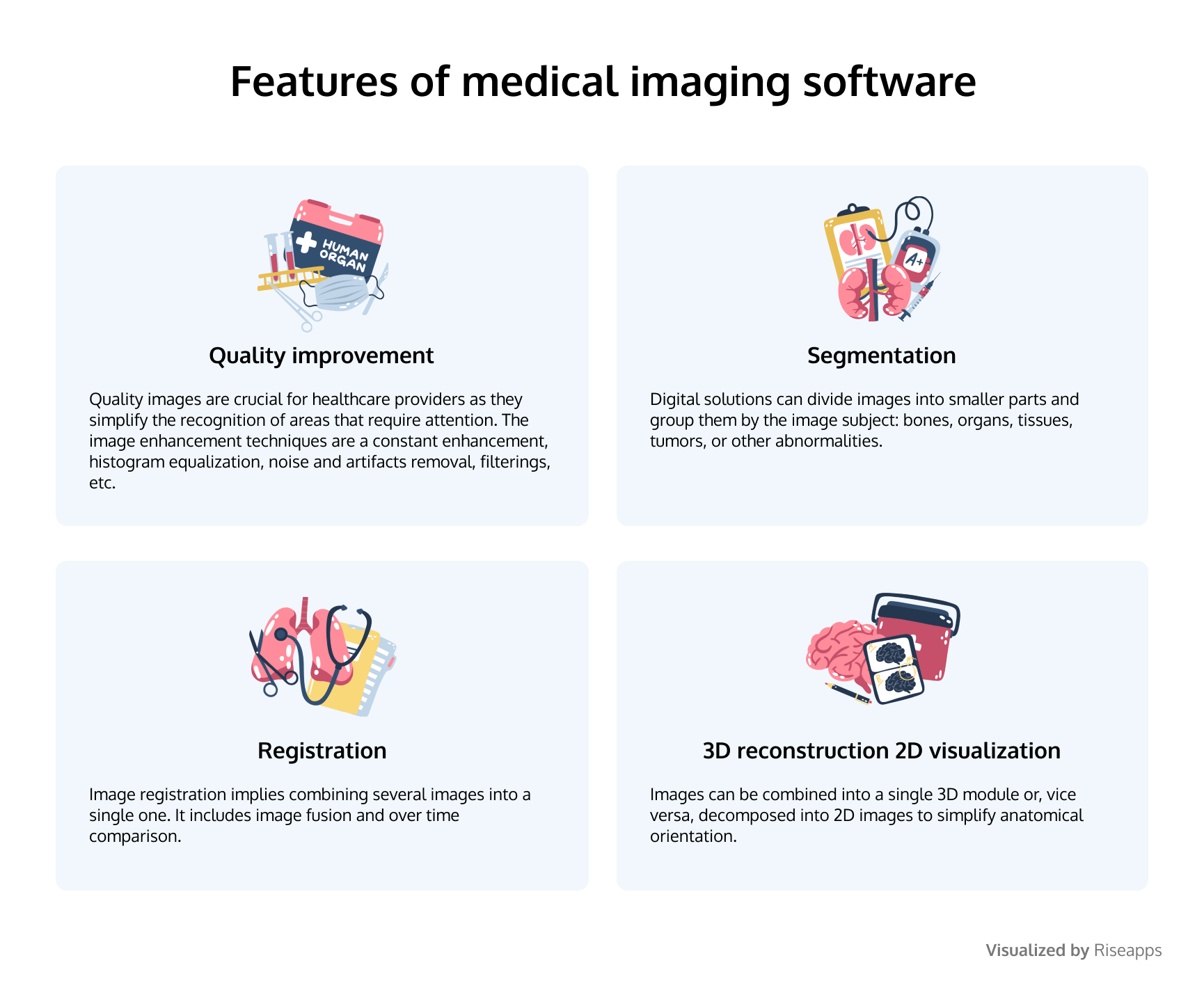 These features provide better image processing and make medical imaging software efficient. Consider them when planning your medical imaging software development process.
Core Medical Practice to Consider While Building Healthcare Imaging Software
Data security and privacy: Healthcare imaging software deals with sensitive patient data and it is crucial to guarantee that the medical image processing software fulfills all appropriate rules and standards for data security and privacy.
Compliance with regulatory standards: Healthcare imaging software must comply with various regulatory standards such as HIPAA, DICOM, and HL7. It's important to understand these standards and integrate them into the development process.
Image quality: Imaging software should be able to manage, process, and display high-quality images clearly and accurately.
Scalability: Medical image processing software should be able to control a large volume of data and users, and should be able to scale up or down.
Integration with other systems: Integration with other imaging systems such as electronic health records (EHRs), radiology information systems (RIS), and picture archiving and communication system (PACS) is essential for seamless workflow and data sharing.
User experience: User interface and user experience should be instinctive and easy to use for both patients and healthcare professionals.
Workflow optimization: Medical image processing software should optimize your workflow and help you to make more informed decisions.
Support for multiple devices: Medical image management software should be compatible with a wide range of devices, including desktops, laptops, tablets, and mobile devices, to provide accessibility.
Reporting and analytics: Operating system should have built-in reporting and analytics capabilities to help you track and analyze patient data.
Maintenance and support: Imaging software should be easy to maintain and have a plan in place for ongoing support and updates.
In such an important and precise area as the medical landscape, it is necessary to preserve all information and minimize any human factor. Imaging software solutions help to automate and optimize all processes, ensuring the safety and availability of all data, all while implementing artificial intelligence in early diagnostics and maintaining a closer and stronger relationship between a doctor or clinic and a patient.
Automated workflows
Most routine work can be automated, to speed up processes and increase employee productivity. Digital health records, online appointment booking, automatic notification of test results, or next appointment to patients.
Remote patient monitoring
Wearable devices and medical mobile applications will help to collect information about patients at any time, without the need for constant visits to the clinic. This system will also help notify patients when a health condition has changed and it is time to visit their doctor.
Secure data storage and analytics
When all data is in a single secure system, you always know that all the information will be available at any convenient time, and nothing will be lost.  By collecting data that manual processing would not take time to collect, you can more accurately measure your process performance, customer satisfaction, and loyalty.
Reducing additional costs
The software will help reduce health risks. These health risks include human errors, which can lead to unexpected costs and save you from losing data and having tore-analyze it, as well as helps reduce the cost of routine tasks for your employees, freeing up their time for more important ones, profitable and beneficial activities.
Riseapps' Case Studies: $38,5M Funds Raised for Viemed & RxPhoto
Riseapps is a full-cycle telehealth and telemedicine software development company that helps healthtech-enabled startups, SMBs, and enterprise-level providers streamline their medical practice by revamping, delivering, and scaling HIPAA-compliant healthcare technology solutions. We have strong expertise in developing stable and effective healthcare solutions, which are in demand and bring profit to their owners. We care about our products' quality, so we carefully assess the business idea to choose a personalized tech stack to get the best outcomes for our clients. All our imaging applications meet required security protocols such as HIPAA to protect users and the owners of medical imaging software companies from cyber fraud.
We also offer:
EHR/EMR Integrations
Healthcare Product Consulting & Audit
HealthTech-Enabled Dedicated Teams
Quality Assurance & Testing
DevOps & Cloud Migration
Medical Platform Support.
With 7 years in the industry, we develop medical imaging software and offer a broad range of medical imaging solutions, such as treatment/patient support, management software, internal operability, and provided to patients.
For example, Viemed – a multi-component EHR and telemedicine platform for COPD patients. Raising $37.5M in funding, the platform is also featured on Yahoo Finance and Nasdaq. For 4 years of collaboration, we delivered to Viemed:
Developed mobile-based telemedicine-related Proofs of Concept (POC) 
Implemented a full-service patient-facing application for respiratory therapists
Delivered multi-user platforms for patients, caregivers, and clinicians.

VieMed – Medical Imaging Software Development
RxPhoto – a HIPAA-compliant cloud storage photo management software. We have helped the HealthTech & clinical photography management product to raise $1M and get featured on Minbody, PatientNow, AppAdvice, Nextech, and much more. For this period, we delivered such medical imaging solutions:
Full-featured web app development 
Patient-focused iOS-based mobile app development 
EMR integrations with Streamline, eClinical, and Greenway platforms
Highly secure data encryption and HIPPA (Health Insurance Portability and Accountability Act of 1996)  compliance that has general data protection regulation
Payment gateway integrations for seamless in-app purchases
Full-cycle UX/UI system design.

PxPhoto – Medical Imaging Software Development
Need a hand in developing top-notch medical imaging software?
Learn more
Wrapping up
Medical imaging software is in high demand. As the volume of medical content grows, practitioners require efficient medical imaging solutions to speed up medical image processing and analysis. Medical imaging powered by AI and cloud computing gives providers tools for fast and accurate analysis and radiation treatment. Medical imaging software development could be profitable for your business and bring significant results for the healthcare industry, such as lower readmission rates, increased life expectancy, and more. Don't hesitate to reach out to our team and we will tailor all your needs.
FAQs
---
Which software is used for medical imaging?

---

Based on the reviews, Nova RIS (4.3), NovaPACS (4.2), and UltraLinq (4.6) rank in the top 3 positions in the list of Best Medical Imaging Software 2023.
---
What are the 4 types of medical imaging?

---

X-rays, CT (computed tomography) scans, MRI (magnetic resonance imaging), and ultrasound are considered the four main types of medical engagement. Each of them operates on a different technology to create a final image.
---
What are the features of medical imaging software?

---

The core features that each medical imaging software should have include:

Quality improvement
Image segmentation means dividing pictures into smaller parts and grouping them by the image subjects
Registration
3D reconstruction 2D visualization.

---
Interested in imaging software development?
Contact us