Imagine dedicating countless hours to researching healthcare technology trends and investments, only to feel lost and overwhelmed amidst the ever-changing landscape.
No clear investment strategy. No grasp of emerging healthcare trends. No guidance.
This means missed opportunities, suboptimal investment strategies, and a lack of expert insights. In reality, this is a common challenge for many healthcare startups and investors. But it doesn't have to be. Armed with the right insights, you can overcome these hurdles in no time.
In our analysis of healthcare industry trends for 2023, we provide a market overview, gather valuable insights from esteemed C-Level executives, and reveal top-funded healthtech companies that have successfully applied these trends to create innovative products.
Healthcare Technology Industry Today: Market Overview
Three key factors, innovations, post-COVID pandemic impact, and emerging markets, will define the healthcare industry landscape. 
Driving Forces and Innovations in the Global Healthcare IT Market
The global healthcare IT market, valued at USD 142.7 billion between 2022 and Q1 in 2023, is projected to exhibit a CAGR of 17.9% during the forecast period. It is estimated to reach $974.5 billion by 2027, growing at a CAGR of 19.8% in the upcoming years. 
Factors driving market growth include:
Increasing digitalization in healthcare
Rising demand for preventive care digital solutions, growing partnerships and funding
Advancements in network connectivity and infrastructure. 
Thus, the key market players are focusing on innovative product development strategies and emerging technologies in healthcare, such as integrating big data, IoT, AI, and ML algorithms to enhance healthcare processes.
COVID-19 Pandemic's Impact and Telehealthcare's Dominance in the Market
The healthcare IT market experienced a growth rate of 16.7% from 2019 to 2020, with estimates suggesting a year-on-year growth ranging from 20.5% to 31.6% in the next five years. 
The COVID-19 pandemic accelerated new med tech trends and adoption of virtual care solutions such as telemedicine and teleconsultation. Telehealthcare dominated the market in 2022 & 2023, accounting for a revenue share of 52.2%, and is expected to register the fastest growth rate of 23.5% in the coming years.
Regional Market Overview: North America and Emerging Opportunities in MEA
Regionally, North America dominated the healthcare IT market in 2022 with a revenue share of 52% and is anticipated to register the fastest growth in the future. The Middle East and Africa are expected to witness rapid growth, driven by the development of healthcare facilities in emerging economies and increased healthcare expenditure.
Healthcare IT Market Technology Trends 2023: Experts Spill The Tea
Below, you'll find 9 takeaways from some of the most renowned names in mobile technology and the digitization of healthcare.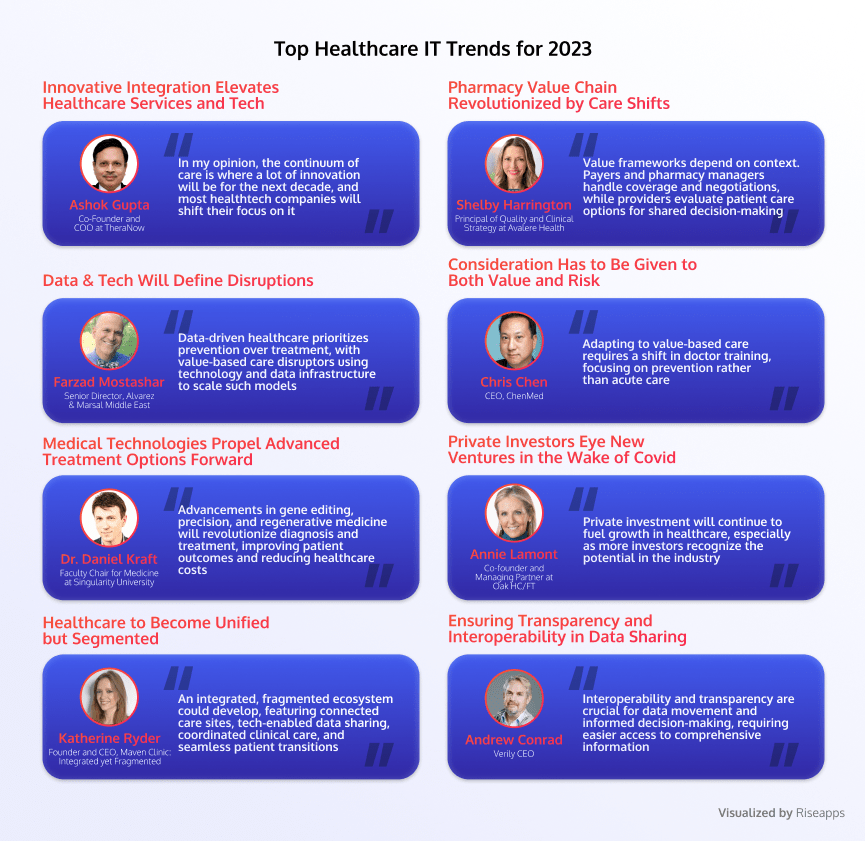 Ashok Gupta: Innovative Integration Elevates Healthcare Services and Tech
"In my opinion, the continuum of care is where a lot of innovation will be for the next decade, and most healthtech companies will shift their focus on it."
Ashok Gupta, Co-Founder and COO at TheraNow.
Since 2014, the healthcare sector has seen over 580 deals worth $83 billion, mainly driven by venture capital and private health equity firms. This investment has led to growth and transformation in various healthcare technology and service sub-segments.
For instance, in the data and analytics sub-segment, areas such as behavioral health and social determinants of health have driven innovation, while payer and provider investment in at-scale data and analytics platforms has driven deeper integration with existing core platforms. Other sub-segments, such as patient engagement and population health management, have exhibited high innovation but lower integration.
Traditional players can capitalize on these technology trends in healthcare to modernize their business models, while new and non-traditional players continue to drive innovation across different sub-segments and capabilities.
Shelby Harrington: Pharmacy Value Chain Revolutionized by Care Shifts
Value frameworks differ in context. 
"With payers and pharmacy benefit managers, you're looking at overall coverage decisions, utilization management practices, negotiating rates, and managing formularies. For providers, it's a systematic way to compare care options and care pathways for their patient populations. Similarly for individual patients, it can support shared decision-making." 
Shelby Harrington, Principal of Quality and Clinical Strategy at Avalere Health.
Indeed, innovations in pharmaceutical distribution and delivery are rapidly increasing as non-traditional and traditional healthcare players enter the direct-to-consumer pharmacy space. Companies like Amazon and UnitedHealth Group have joined the fray to enhance efficiency and customer experience.
The COVID-19 pandemic has accelerated new models of drug delivery, with growth in tele-prescribing, home-based pharmaceutical care, and digital tools for managing care. Providers are expanding in-home offerings, shifting toward home-first models of care delivery, including oncology treatments.
Emerging models aim to better integrate pharmaceutical and medical care, with payers and technology providers collaborating to develop insights and coordinate care. Access to comprehensive patient data and advanced analytics enables personalization and targeting in care delivery. Cross-segment partnerships, acquisitions, and alliances are essential to effectively integrate components and deliver higher-value care.
Farhan Mirza: Providers To Rethink Outpatient Care
"Hospitals are the most expensive of all possible care settings and not the most cost-effective choice for long-term care. Left unaddressed, the higher burden on the state and on health insurers will pass on to taxpayers and employers, who may choose to sacrifice access and quality of care for the sake of affordability".
Farhan Mirza, Senior Director, Alvarez & Marsal Middle East.
Health systems that adopt diversified business models, including a range of care delivery assets such as physician practices, ambulatory surgery centers, and urgent care centers, are generating returns above expectations. These systems lower costs, enhance coordination, and improve the patient experience while maintaining or enhancing service quality. Market share plays a role in outperformance, with high market share systems leveraging economies of scale to drive efficiency.
Outperformance varies by market type, with the increase in value provided by non-acute settings being more significant for bottom-quartile players. Smaller providers and new entrants can succeed by integrating offerings across the care continuum, embracing non-acute, technology-enabled, and multichannel care delivery models.
Consumer adoption of telehealth has surged, with up to $250 billion of current US spend potentially virtualizable. This new healthcare information technology initiative suggests a shift towards innovative tech-enabled care that integrates digital and non-acute settings for comprehensive, coordinated, and lower-cost offerings. The potential of technology and alternative settings raises questions about the role of existing acute-focused providers in a more integrated and digital world.
Chris Chen: Consideration Has to Be Given to Both Value and Risk
"Adapting to value-based care requires a shift in doctor training, focusing on prevention rather than acute care." 
Chris Chen, CEO, ChenMed.
Lifestyle and behavior changes contribute significantly to population health, and a strong emphasis on primary care can prevent many common health issues, such as heart failure. This new approach to healthcare requires time and investment to teach doctors how to effectively prevent problems through a comprehensive, value-based system.
Value-based care models are expected to grow significantly, with the proportion of the insured population in "at risk" contracts projected to increase by 10% annually from 2021 to 2025. 
This growth will be seen across various care model segments and payer types, including management services organizations, capitated risk staff, employed risk models, and accountable care organizations. By 2025, value-based contracts are anticipated to cover 22% of insured lives, reaching nearly 65 million people in the United States.
Farzad Mostashar: Data & Tech Will Define Disruptions 
"Data and analytics will drive a healthcare system that prioritizes preventive measures over treatments, as value-based care disruptors leverage technology and data infrastructure to scale these models."
Farzad Mostashari, CEO of Aledade.
New healthcare technologies have generally increased costs, but as these technologies improve and scale, this trend may shift. By 2028, healthcare spending could potentially be $280 billion to $550 billion less than current projections, thanks to labor productivity gains driven by advancements in care delivery technologies.
Technology enables more virtualized, value-linked, personalized, and seamless care by facilitating remote patient monitoring, integrating patient data into workflows, using analytics to deliver targeted messages, and enhancing the patient journey. 
Dr. Daniel Kraft: Medical Technologies Propel Advanced Treatment Options Forward
"Advances in medical technologies, such as gene editing, precision medicine, and regenerative medicine, will revolutionize the way we diagnose and treat various diseases. They will deliver personalized and effective treatments, ultimately improving patient outcomes and reducing healthcare costs".
Dr. Daniel Kraft, Faculty Chair for Medicine at Singularity University.
Medical technologies are revolutionizing patient care in three key ways. Firstly, new products and services, such as wearable technology for blood sugar tracking, are creating self-service opportunities, potentially enabling continuous care for chronic condition management.
Secondly, advances in automation, like remote patient monitoring and robotic technologies, are reducing the number of patient touch points and supporting the transition to virtual reality and home-based care. These technologies also facilitate the shift to lower-acuity sites of care, making procedures more predictable and cost-effective. 
Lastly, new medical technologies help reduce care delivery costs, as seen with cardiac monitoring patches and self-service colon cancer screenings, which are significantly more affordable than traditional methods.
Annie Lamont: Private Investors Eye New Ventures in the Wake of Covid
"Private investment will continue to fuel growth in healthcare, especially as more investors recognize the potential in the industry." 
Annie Lamont, Co-founder and Managing Partner at Oak HC/FT.
Private investment in healthcare has evolved over the past decade, with a focus on consolidating fragmented assets and optimizing back-end functions in the early 2010s. Since 2018, investments shifted towards business model expansion, such as platform models, ancillary offerings, and care delivery innovations like digital enablement, ambulatory care, and value-based models.
Healthcare's private equity and venture capital deal volume is growing faster than the US industry average, with a 29% annualized growth rate from 2014 to 2021 compared to just 2% for all private equity and venture capital deals. This growth highlights the sector's potential for continued expansion.
Katherine Ryder: Healthcare to Become Unified but Segmented
"Over time, a new type of integrated yet fragmented ecosystem may develop, featuring atomized sites of care working together, tech-enabled platforms for easy data transfer and sharing, harmonized clinical care, and seamless patient transitions." 
Katherine Ryder Founder and CEO, Maven Clinic: Integrated yet Fragmented
As women make 80% of healthcare decisions for their families, focusing on their decision-making process can drive systemic change across the healthcare industry.
As such, the U.S. healthcare system is evolving towards greater patient centricity and on-demand accessibility, with "one-stop shop" innovators emerging in care management and coordination. 
These players collaborate with payers, providers, and even employers to simplify the navigation of complex care journeys. However, the shift towards integrated models will take time, with consolidation occurring as payer incumbents invest in data-driven startups and hospital systems acquire provider groups to support value-based care strategies.
Andrew Conrad: Ensuring Transparency and Interoperability in Data Sharing
"The key is interoperability, which is the ability to move data around from one place to another, and we need to make it easier for that to happen. Transparency is also critical. If you want to make data-driven decisions, you need to have all the information available."
Andrew Conrad, Verily CEO.
Recent regulatory changes have led to three primary themes in the healthcare industry: price transparency, data interoperability, and data access. Hospitals have started publishing negotiated-rate information, with about 70% of them disclosing some form of negotiated rate by the payer. Another wave of negotiated-rate information from payers is expected in 2023.
Interoperability rules, which came into effect in 2021, prevent data blocking between providers and mandate CMS-regulated payers to make encounter and claims data available through publicly accessible APIs.
By the end of 2023, electronic health record vendors will be required to make structured data, including clinical components, accessible to consumers. Third parties such as payers, providers, and technology companies will also be able to access these datasets, offering valuable insights to inform decision-making processes.
Incorporating Trends In Health: 4 Examples That Raised Millions
After learning about the predicted trends, you may wonder- how technology can help healthcare. Some companies have already embraced these technologies and secured funding. Check out the products that made it happen for them.
Verana Health 
Domain: Remote Monitoring & Data Analytics
Funds Raised: $150 Million
Verana Health secured $150 million in Series E funding as it expands into new medical data domains and focuses on organizing complex information, such as physician notes, on deriving actionable insights from Electronic Health Records (EHRs). Partnering with three professional organizations, the American Academy of Ophthalmology, the American Academy of Neurology, and the American Urological Association, Verana Health offers valuable insights to practitioners, researchers, and life sciences companies as their exclusive data management partner since 2018, according to CEO Sujay Jadhav.
Moxe Health
Domain: Interoperability 
Funds Raised: $30 Million
Health tech firm Moxe Health acquired $30 million in a Series B funding round led by Piper Sandler Merchant Banking and Vensana Capital, with participation from existing investors such as Safeguard Scientifics, UPMC Enterprises, 3M Ventures, and Apollo. The funds will be used to expand the team and invest in technology. Additionally, managing directors from Piper Sandler Merchant Banking and Vensana will join Moxe's board. Established in 2012, Moxe aims to enhance secure clinical data exchange among healthcare stakeholders by utilizing digitized medical charts and bidirectional data exchange or interoperability, resulting in improved collaboration and streamlined workflows.
SURGE
Domain: Cancer ImmunoTherapy
Funds Raised: $26 Million
With fresh healthcare IT industry trends springing up, The AACR predicts an increase in cancer immunotherapy treatments that combine agents targeting separate cellular pathways for synergistic effects. SURGE Therapeutics is already exploring this approach to address the common issue of cancer recurrence and metastasis after surgery. As Dr. Michael Goldberg, CEO & Founder of SURGE Therapeutics, points out, 40% of cancer patients relapse within five years of surgery.
SURGE is working on immunotherapies that can be injected directly into the tumor resection site (intraoperative immunotherapy) to enhance patient survival and potentially redefine the standard of care. The company raised $26M in Series A financing to further develop its intraoperative immunotherapy approach, expand its team, and initiate clinical trials for its first two programs.
Medtronic
Domain: Tech-Engineered Diabetes Treatment 
Funds Raised: $337 Million
Medtronic announced plans to boost R&D funding for its Diabetes Group, securing $337 million from Blackstone Life Sciences and co-investors to advance innovative products aimed at easing diabetes management. The company's diabetes device portfolio focuses on enhancing patient outcomes and offering greater lifestyle flexibility for the approximately 22 million Type 1 diabetes patients worldwide, including 1.5 million in the United States.
In 2021, Medtronic received FDA clearance for its extended-wear infusion set, designed to last over twice as long as existing sets connecting traditional tubed pumps to the body for insulin delivery. The company highlights a "novel and proprietary approach" that tackles insulin degradation, preservative loss, and occlusions, which can lead to disrupted insulin delivery and elevated blood sugar levels.
Inspired? Turn Your Dreams into a Million-Dollar Reality
Start Here
What Trends In Healthcare IT Are No Longer Up & Running
Healthcare technology tools are always changing, leading to a shift away from old trends. We need to determine what to leave behind in 2023 and which future trends will replace them.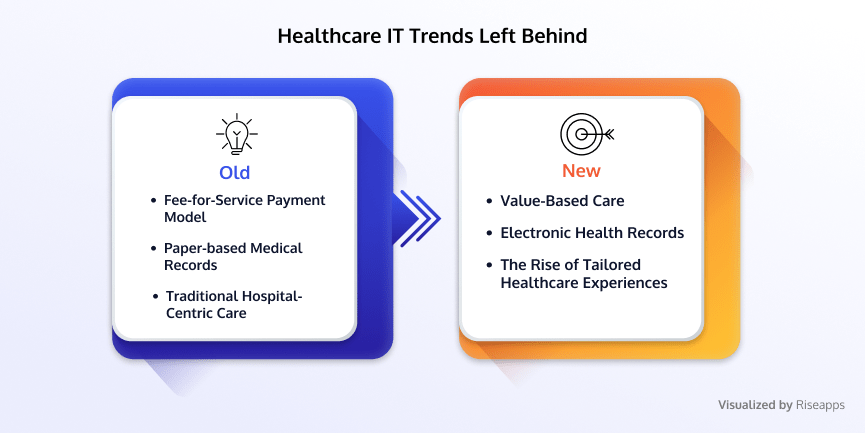 Fee-for-Service Payment Model
In the fee-for-service model, healthcare providers are paid for each individual service they provide to a patient, regardless of the overall outcome or value of care. Providers have an incentive to perform more tests, procedures, and treatments, even if they are unnecessary or do not improve the patient's health. The fee-for-service model is often criticized for driving up costs and leading to the overutilization of services.
Value-Based Care: The Future of Health Services
Value-based care is a future healthcare trend that aims to provide better quality care at a lower cost. In value-based care, healthcare providers are reimbursed based on the value of care they provide to patients rather than the volume of services. This means that providers are incentivized to focus on patient outcomes rather than simply providing more services. Value-based care often involves a variety of strategies, such as preventive care, care coordination, and patient engagement, to improve patient outcomes and reduce costs.
Paper-based Medical Records
Dr. Robert Wachter, Chair of the Department of Medicine at the University of California, San Francisco, has advocated for the adoption of EHRs, saying that "the digitization of healthcare records will lead to more accurate diagnoses, better treatment plans, and improved overall patient care."
Paper-based records are physical documents that contain information about a patient's medical history, including diagnoses, treatments, test results, and other relevant information. These records are typically stored in filing cabinets or other physical storage systems and can be difficult to manage, organize, and access.
New Age Electronic Health Solutions
Electronic health records are digital records that contain the same information as paper-based records but are stored and managed electronically. EHRs can be accessed from anywhere with an internet connection, allowing healthcare providers to view and update patient information in real time. EHRs can also be easily shared between different providers and healthcare organizations while observing HIPAA standards. 
The use of paper-based medical records is becoming obsolete as integrating electronic health records offers numerous benefits, including easier access to patient data, improved communication between healthcare providers, and reduced risk of errors. The transition to EHRs is driven by the need for more efficient and accurate management of medical data.
Traditional Hospital-Centric Care
Traditional hospital-centric care is centered on treating patients in hospitals or clinics, frequently employing a one-size-fits-all approach to medical diagnosis and treatment. This model can be impersonal and may not consider the unique needs and preferences of individual patients, with an emphasis on treating acute conditions rather than preventing disease or promoting overall wellness.
The Rise of Tailored Healthcare Experiences
We are increasingly shifting to personalized care, which focuses on providing services tailored to each patient's unique needs, preferences, and circumstances. It highlights patient-centered care, prioritizing prevention and overall wellness over merely treating acute conditions.
Personalized care frequently adopts a more holistic approach, incorporating lifestyle factors, social determinants of health, and patient preferences into care plans. As traditional healthcare delivery models are phased out, patient-centered, community-based care models, supported by healthcare executives who recognize the need for innovation and improved care delivery, are emerging. These new models concentrate on preventive care, early intervention, and better management of chronic conditions to reduce hospitalizations and offer more cost-effective care.
Shun the Old; Advance Digital Healthcare with Riseapps
Connect Now
Proven Tips By Digital Health Experts: What Healthcare Trends Will Change the Game This Year
In 2023, new health information technology trends have emerged. Not only is the landscape changing, but experts also have some insights to share.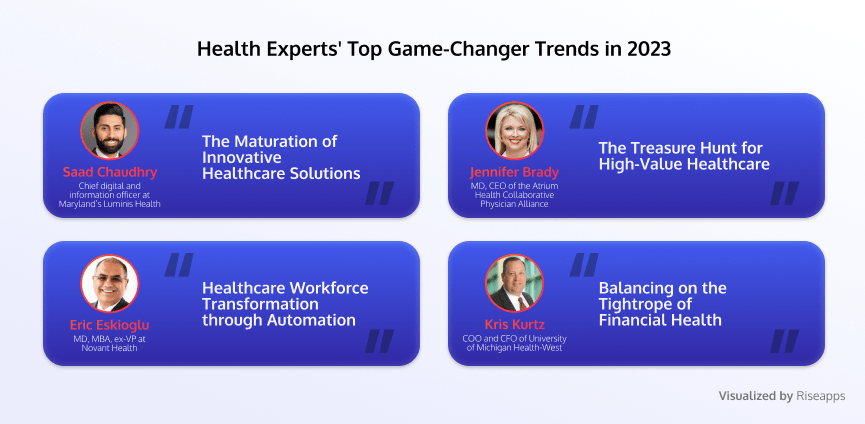 The Maturation of Innovative Healthcare Solutions
"How do you invest in your organization for growth while continuing to support the needs of your communities [when] the only innovation you're looking for right now is how do I get back to good health?" 
"You can have a beautiful hospital, but it is shutting down [without innovation]," 
Saad Chaudhry, chief digital and information officer at Maryland's Luminis Health.
In 2023, healthcare innovation will be shaped by valuable lessons learned from COVID-19, particularly in virtual reality care and digital health. While novel technologies have demonstrated their significance, they have also created parallel processes that may burden health systems with additional tasks.
Healthcare organizations will move beyond the digital front door concept in 2023, focusing on how these processes improve access to care and the care itself. The priority will be to ensure digital initiatives don't create unnecessary tasks. This year will be about maturing, as organizations will expect hard data proving that new technology and processes save money, enhance workflows, and improve clinical outcomes, rather than relying on promises.
The Treasure Hunt for High-Value Healthcare
"While COVID pushed us forward in value-based care in a number of ways — we had to quickly think about how we could provide care differently, more virtually — the financial burden now on medical systems across the country is going to impact organizations' ability to invest in value-based care," says Jennifer Brady, MD, CEO of the Atrium Health Collaborative Physician Alliance
As providers grapple with the aftermath of the COVID-19 pandemic, investing in value-based care (VBC) becomes more challenging. However, the benefits of implementing VBC are evident, with the Medicare Shared Savings Program saving $1.66 billion in 2021 through accountable care organizations.
To advance VBC in 2023, a combination of determination and action is needed, as time alone hasn't been sufficient. Without taking these necessary steps, the U.S. healthcare system risks continuing on a less desirable path, reminiscent of Captain Ahab's story.
Healthcare Workforce Transformation through Automation
Healthcare systems and hospitals that embrace digital solutions to their workforce shortage problems will have a competitive advantage, Eskioglu says. "I predict toward the middle of 2023 you are going to start to see a separation between the healthcare systems that modernize and automate workforce functions and those that don't. The innovative healthcare systems are going to attract staff by being able to create a work environment that is inviting and less prone to burnout."
Eric Eskioglu, MD, MBA, is the former executive vice president and chief medical and scientific officer at Novant Health. He suggests that automation can help alleviate the nursing shortage. By focusing on areas like natural language processing for documentation, which can consume up to 50% of a nurse's shift, the burden on nursing staff can be reduced.
Additionally, Eskioglu points out the potential of wearable devices to address workforce shortages. These devices can transmit vital signs and provide behavioral nudges, such as ideal bedtimes. Incorporating such devices into acute care medical facilities could reduce the need for nurses to frequently visit patients and manually record vital signs, ultimately improving efficiency and patient experience.
Balancing the Tightrope of Financial Health
A crucial part of healthcare trends in 2023 is striking a fit between long-term expansion and funding,
"Sustainability and stability are interconnected. Recent unpredictability has encouraged hospitals and health systems to be proactive, think creatively, and expect the unexpected to maintain their financial well-being."  
Kris Kurtz, COO and CFO of the University of Michigan Health-West
Kris Kurtz emphasizes the importance of financial stability and sustainability for their $1 billion revenue acute care facility. According to him, maintaining a consistent margin is crucial for reinvestment in new programs, capital replacement, and employee development. Consistency is also vital for long-range planning, as sudden changes can disrupt plans.
This indicates the need to explore alternative revenue streams, such as specialty and retail pharmacies and direct-to-employer contracting. While larger organizations may delve into private equity, smaller institutions can focus on other opportunities and potential joint ventures in the future.
Final Words
In 2023, we're welcoming emerging healthcare technology trends and saying goodbye to old ones. Startups need to keep up by focusing on cutting-edge areas like automation, AI/ML, value-based care, and telehealth.
To stay ahead, it's essential to constantly expand your knowledge, either by collaborating with healthcare tech development experts or learning on your own.
For those just starting out, joining forces with an experienced team like Riseapps can make all the difference in navigating the competitive landscape.
Ready to make a foray into healthcare? We're here to support you.
Let's start this journey together.
FAQ
---
How big is the digital healthcare market?

---

Healthcare market size in comparison to 2023 will reach $974.5 billion by 2027, growing at a CAGR of 19.8% in the upcoming years.
---
What are technology trends in healthcare?

---

Technology trends in healthcare are future or current tendencies that aim to disrupt care delivery and management. Every year, new tech trends rock the healthcare landscape, and in 2023, we will see a shift towards at-home care, ambulatory, and telehealth services.
---
What are the 5 trends in health care?

---

The 5 biggest trends in health care include datafication, interoperability, automation, a balance between sustainability and funding, AI/ML, and, most importantly the rise of value-based care in which all stakeholders can make a decision.