Integrating technology into intricate healthcare systems is no walk in the park for healthcare professionals, startups, and organizations investing in web-based healthcare solutions.
To determine the best approach for healthcare web app development, choosing between low-code/no-code or custom healthcare web design, and identifying essential features during the process are all important considerations.
That said, the Riseapps team is here to help in every step of the web apps building process. This guide includes the analysis of prominent trends, industry scope, and solutions to primary roadblocks healthcare players may encounter before getting started on the medical web development journey.  In addition, you'll learn how to successfully launch a minimum viable product (MVP) to ensure project readiness.
Let's Innovate Healthcare. Together. Need a Dev Team to Build Your Healthcare Web App?
Contact Us
Healthcare Website Development Apps: Industry Scope & Funded Firms
Healthcare web application development has experienced remarkable growth in recent years. Market research indicates that the health IT market is anticipated to reach $974.5 billion in 2027, with a global CAGR of 19.8%. Investors must grasp this sector's primary drivers, segments, and emerging trends before investing in healthcare.
Key Drivers
Growing adoption of e-prescribing, telehealth, and other health IT solutions, accelerated by the pandemic's impact on healthcare organizations worldwide. COVID-19 has increased the demand for remote patient monitoring, hospital capacity management, and telehealth solutions.
Market Segmentation
Component
Software and hardware services
Product
Healthcare provider solutions
Non-clinical healthcare IT solutions
Healthcare payer solutions
HCIT outsourcing services
(Healthcare provider solutions are expected to experience the highest growth)
End User
Healthcare providers
Home healthcare agencies & assisted living facilities
Diagnostic & imaging centers
Pharmacies
Healthcare payers
(Healthcare providers segment accounted for the largest share)
Region
North America
Asia Pacific
Latin America
Middle East & Africa
(North America holds the largest market share.)
Top Healthcare Web Products that Attracted Millions in Investment
Check out these top healthcare web companies that secured funding. They are blueprints for potential investors to build innovative digital health solutions worth funding.
HealthAtom
Product: Healthcare Administration Software
Funds raised: $10 million
HealthAtom, a healthcare provider management SaaS company, raised a $10 million Series A funding round led by Kayyak Ventures and participated by FJ Labs, Soma, Amador, Taram, and angels. The funds aim to accelerate HealthAtom's expansion in Latin America and the creation of a comprehensive solution addressing the region's medical issues, benefiting up to 300 million patients annually. The healthcare website interconnects clinics with the healthcare and financial ecosystem, offering patients superior healthcare coverage and payment options.
Speedoc
Product: Telehealth Platform
Funds raised: 28 million
Singapore-based Speedoc, a health tech product bringing hospital care to homes, raised $28 million in pre-Series B funding, with participation from investors such as Bertelsmann Investments, Shinhan Venture Investment, and Mars Growth. The company offers telemedicine consultations, on-site doctor and nurse visits, virtual hospital wards, and ambulance hailing across nine cities, including eight in Malaysia.
54gene
Service: Drug Discovery Platform
Funds raised: $25 Million
54gene, the African genomics startup addressing disparities in the global genomics market, raised $25 million in Series B funding, following previous rounds of $15 million in Series A and $4.5 million in seed funding. The company has raised over $45 million since its inception.
Medwing
Product: HealthTech Recruitment Marketplace
Funds Raised: $47 Million
Medwing, the Berlin-based startup offering a digital recruitment marketplace for healthcare professionals, raised $47 million in a Series C funding round. The platform matches nurses, caregivers, doctors, midwives, pharmacists, and similar professionals with hospitals and clinics in Germany and the UK, providing an entirely digital workflow for job search, contracts, signatures, and timesheets. Medwing has gained 5,500 registered medical employers and 500,000 healthcare professionals across the UK and Germany.
KixCare
Product: Pediatric Virtual Care Platform
Funds Raised: $2 Million
KixCare, a Canadian pediatric virtual healthcare site, raised $2 million in seed funding led by Esplanade Ventures, with participation from Horizon Capital and angel investors. They connect families with pediatric telehealth services, offering expert pediatric care, including pediatricians, psychologists, behavioral therapists, and more. Operating in Ontario, KixCare aims to provide equitable access to quality healthcare for Canadian children and plans to expand nationwide.
Juno
Product: Family Care Platform
Funds Raised: $12 Million
Juno, led by physician Hinson, competes with established healthcare providers, offering a healthcare model that provides in-person care to diverse communities nationwide. The startup secured $12 million in a Series A funding round co-led by Serena Ventures and NEXT Ventures. Unlike One Medical and CityBlock Health, Juno's healthcare services aim to cover 99% of the population that does not fall under Medicaid, Medicare, or exclusive membership programs.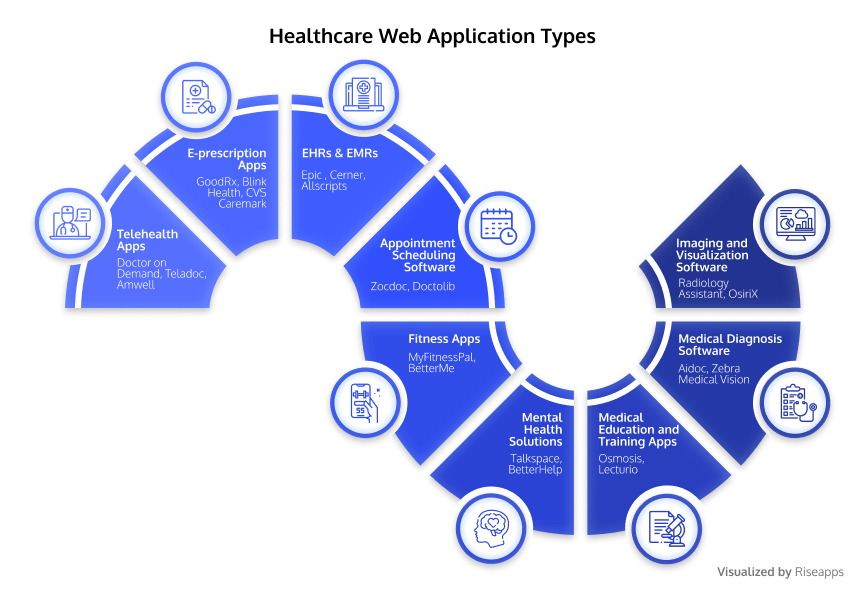 Ever Wish You Could Build a Visually-Appealing UI Healthcare App?
Contact Us
Healthcare Web Development Trends That Can Drive Entrepreneurial Success
Adopting these trends can enhance your entrepreneurial potential and create innovative solutions that make a difference in medicine.
Hospital at Home, Ambulatory Care, and Telehealth Solutions Take Center Stage
The pandemic has accelerated the trend toward home and telemedicine. More elderly patients prefer to age comfortably at home and receive acute care remotely, such as post-surgical and cancer treatment. Companies like DispatchHealth invest in hospital care at home by leveraging medical web development to deliver remote monitoring, virtual consultations, and home-based care.
However, entrepreneurs in healthcare must also expand their services to include higher acuity services such as Outpatient Therapy at Home and Home-Based Mental Health. For example, Philips, an electronics company specializing in health informatics, has made predictions for healthcare system trends over the next three years based on labor market trends and the growth of hospital-at-home services.
Healthcare executives are increasingly endorsing these trends. Here are some examples:
Roy Jakobs, chief business leader of Connected Care at Philips,
Predicts that 40% of providers will shift 20% of hospital beds to patients' homes within the next three years. By 2025, a common marketplace will connect consumers, payers, and providers. Jakobs also emphasizes the importance of expanding virtual visits and remote monitoring programs to serve patients at home due to cybersecurity risks that three-quarters of health systems are susceptible to.
Jack Reynolds, the CEO of BiloumSciences,
Emphasizes the significance of remote patient monitoring in the patient's home, recognizing the value of data transfer, cloud storage, and AI solutions in analyzing biomarker concentrations and optimizing treatment plans.
Leveraging Technology Partnerships for Business Success
As a healthcare organization, you should seek innovative tech partnerships to enhance your capabilities, since cutting-edge technologies like AI/ML, blockchain, VR/AR, and cloud computing are increasingly gaining traction. 
While traditional partnerships between health systems and physicians or other health systems have been the norm in the past, a new class of partners is emerging as the industry embraces digital transformation. Experts also share insights on this subject.
Laura Deitch, CEO of BioTrace Medical (Menlo Park, Calif.)
Believes that as new medical devices and technologies are developed, doctors and physicians must adapt to using them on unfamiliar platforms. She suggests that partnerships between the industry and healthcare providers facilitate this transition. 
Take these collaborations as an example:
Microsoft's partnering with GSK's consumer health spinoff, Haleon, to improve accessibility for people with vision impairments, while Google Cloud's teamed up with Hackensack Meridian Health to enhance cancer detection using AI. 
However, the challenge remains in establishing effective partnerships in the medtech industry. Here are some tips we have gathered to assist.
Assess Various Prospective Allies
Healthcare providers must weigh the pros and cons when choosing a technology partner. Startups offer competitive pricing and risk-sharing models but may require a leap of faith, while established companies offer more comprehensive solutions but less partnership flexibility. Provider culture and needs determine the choice.
Examine Different Partnership Frameworks
Healthcare providers should consider various options and trade-offs when seeking a technology partnership, including whether to work with a startup or established player and choosing a broad or narrow focus. To determine the best partnership option, providers should ask themselves:
Urgency: If quick capabilities are needed, consider a vendor relationship.
Exclusivity: A preferred/exclusive model may be suitable if an exclusive relationship is desired.
Financial control: If willing to invest resources, options include tester/developer, joint venture, or licensing arrangement.
Guarantee Mutual Benefit Proposition
Healthcare providers should establish mutually beneficial relationships with technology-oriented companies by assessing partners' business models, competitive landscape, and their own organizational needs.
Web Apps for Primary & Behavioral Care Integration
Nurse Journal depicts the 2023 trend of integrating primary care and behavioral health, driven by mental health needs, holistic care, and provider shortages. Healthcare web development facilitates data exchange, enhances communication, and promotes patient engagement. By employing web solutions, providers can generate data-driven insights, create patient-facing portals for real-time access, and ultimately improve the patient experience.
Experts have guided the optimal approach for achieving effective integration in the healthcare sector, specifically within nursing.
Kate Pascucci, VP of Marketing at TeamIDS 
Underscores the importance of investing in technology to alleviate nursing department burdens amid staffing shortages exacerbated by the COVID-19 pandemic. Implementing monitoring technology and AI solutions, such as MedSitter, to automate manual tasks can enhance nursing efficiency and enable simultaneous task management.
Strengthening Cybersecurity Measures in Healthcare Networks
The healthcare industry is particularly vulnerable to cyber attacks, with recent statistics indicating that 89% of organizations experienced at least one attack in 2020, with an average of 43 attacks reported. 
The cost of a breach is high, with a single attack accruing as much as $4.4 million, and the average total cost of a data breach in healthcare reaching $10.1 million, representing a 42% increase since 2020. Personal data, medical records, and credentials are the most targeted infrastructures, with 58%, 46%, and 29% of attacks, respectively. To address these challenges, hospitals, and medical facilities must implement next-level security measures to protect their data and secure their infrastructure against cyber attacks.
Here are eight must-have strategies. 
Promote safety culture
Secure mobile devices
Utilize firewalls
Maintain updated antivirus software
Prepare for contingencies
Manage access to sensitive health data
Limit network access
Oversee physical access to information
In response to security demands, MHS GENESIS, the Defense Health Agency's novel EHR system, was deployed to 18 additional clinics and hospitals in September 2022, expanding its reach to 97 sites.
Linda Ennis, Release Manager for VA's EHRM Integration Office
We're building security into the federal EHR system through template-based site connections, securely transmitting data across the enterprise. Organizations should address potential troubleshooting complexities in extensive software to reduce risks.
Samuel Rubinsztain, President of ChronWell
Highlights the importance of security and authentication services in light of the prominence of interconnectivity and open APIs managing future operations.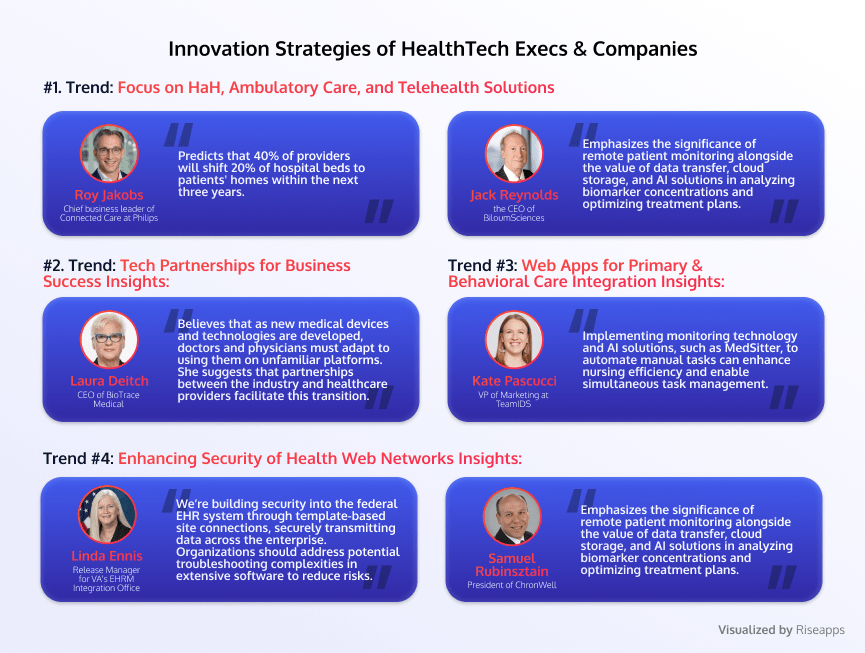 Healthcare Web Application Types
Each healthcare web app addresses distinct issues. Consider the following app categories:
Telehealth 
Telehealth apps address limited healthcare access in remote areas, enabling cost-effective remote connections between patients and professionals. Offering services from primary care to mental health, these apps enhance patient outcomes and satisfaction. Examples of Telehealth apps include:
Doctor on Demand
Teladoc
Amwell
E-prescription 
E-prescription apps securely and efficiently send electronic prescriptions to pharmacies, solving issues related to paper-based prescriptions. These web apps offer features such as medication reminders, refill options, and delivery services for improved patient medication management. Examples of E-prescription apps are:
GoodRx
Blink Health
CVS Caremark
EHRs & EMRs
EHR and EMR software consolidates fragmented medical records, offering a unified access point for comprehensive patient data. These solutions enhance patient safety and care coordination by facilitating efficient collaboration among healthcare professionals. Examples of EHR & EMR Software include:
Appointment Scheduling
Healthcare appointment scheduling apps enhance patient satisfaction and minimize wait times by optimizing booking processes and reducing the likelihood of no-shows. Examples of these apps include the."
Fitness 
Fitness apps assist users in tracking and monitoring their physical activity, nutrition, and overall health through personalized workout plans, nutritional guidance, and progress tracking. Some popular examples of fitness apps are:
Mental Health 
Mental Health Apps provide a convenient and cost-effective platform for users to access support and resources, bridging the gap for those with limited access to health services. These apps allow users to connect with professionals, track their progress, and receive therapy. Examples include:
Medical Education and Training
Medical education web apps offer on-demand access to resources like interactive tools, videos, and podcasts for healthcare professionals, overcoming limited access and keeping them up-to-date with the latest medical knowledge. Examples are:
Medical Diagnosis 
Medical diagnosis software uses AI and machine learning algorithms to provide an accurate and timely diagnosis. It can help healthcare professionals to identify potential diseases and conditions, reducing healthcare costs and improving patient outcomes. Examples include:
Aidoc
Zebra Medical Vision
Imaging and Visualization
Imaging and visualization apps offer healthcare professionals a convenient way to access and manipulate medical images and create 3D models for surgical planning and medical education. Some imaging apps are:
Radiology Assistant
OsiriX
Main Hurdles to Evaluate Before Building Your Medical Web App
Here are the challenges and solutions for mitigating potential medical web development risks.
Locating Expert Healthcare Collaborators
Health tech investors and entrepreneurs face the daunting task of selecting the ideal partner with extensive industry experience. A lack of expertise can lead to suboptimal healthcare web development process, misunderstandings of industry requirements, and potential regulatory violations.
Solutions:
Rigorous Vetting of Prospective Partners
When seeking potential partners for healthcare web development, conducting thorough background checks is essential, as assessing their industry knowledge and previous projects and seeking references from industry peers and clients.
Establish Strategic Alliances with Healthcare Institutions
Collaborate with hospitals, clinics, or other healthcare providers and leverage these partnerships to gain industry insights and access to expertise.
Ensuring HIPAA Compliance in Health Data Management
You must contend with the complexities of handling sensitive health data while adhering to stringent regulations such as the Health Insurance Portability and Accountability Act (HIPAA).
Solutions: 
Implement Robust Data Management Practices
To ensure the secure management of sensitive data, establish secure data storage and transmission protocols, and regularly audit data management systems for compliance and vulnerabilities.
Consult with Compliance Experts
Engage legal and compliance professionals with healthcare expertise to develop strategies to address current and future regulatory requirements.
Identifying the Right Business Model for Your Goals
Selecting the most suitable business model is critical; an inappropriate one may result in inadequate market penetration, limited user adoption, and unsustainable financial performance.
Solutions:
In-depth Market Analysis and Validation
Creating successful healthcare solutions requires comprehensive market research to identify user needs and opportunities and validate the business model through user testing and feedback to ensure the solutions meet their needs.
Adopt a Flexible and Iterative Approach
Consider a flexible and adaptive business model that aligns with market trends, and continuously review and refine it to ensure it aligns with your goals for long-term success in healthcare.
Incorporating Technologies 
Before investing in medical website development, you must navigate the complexities of integrating various technologies to create seamless, user-friendly web apps.
Solutions:
Leverage Emerging Technologies
To stay competitive and provide innovative solutions, it's crucial to stay informed about emerging technologies in the industry and evaluate their potential benefits and risks for incorporation into your healthcare web app.
Prioritize Interoperability
The healthcare web development process should adopt industry-standard protocols and data formats to ensure seamless integration with existing healthcare systems.
Securing Funding for Your Medical Web App
More funding poses a major challenge for most healthcare website projects. It can compromise product quality, project delays, and even failure.
Solutions:
Develop a Comprehensive Business Plan
Successful medical web development requires a detailed business plan outlining project goals, market potential, revenue projections, and a clear, unique value proposition to differentiate it from competitors.
Explore Diverse Funding Sources
Explore funding options like venture capital and government grants, network with industry professionals, and attend healthcare events to find potential investors for your project.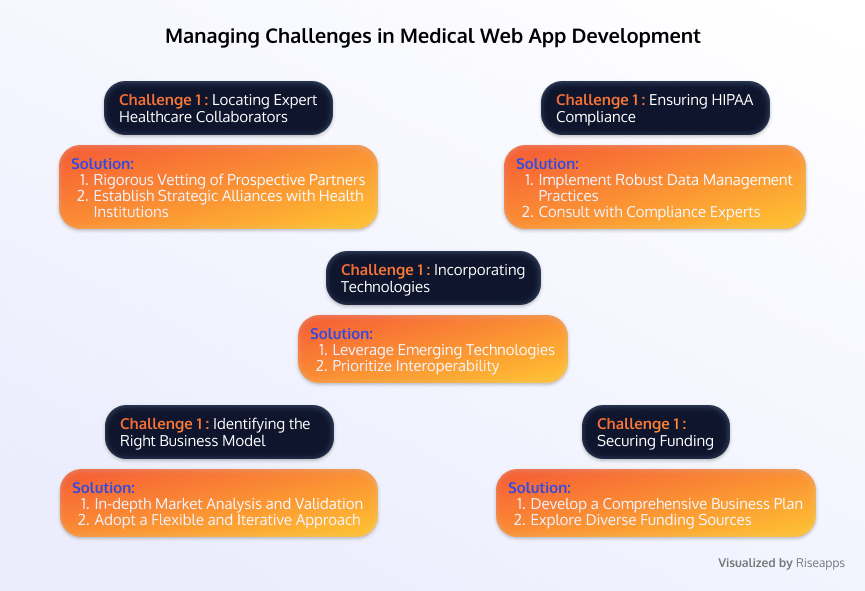 Healthcare Web Development: From an Idea to an MVP Launch
Developing a healthcare web application necessitates meticulous strategizing, implementation, and evaluation. Here is an all-encompassing blueprint for healthcare website development.
Define Your Vision and Goals
When developing a medical web app, clearly identify primary goals, target audience, and desired outcomes. Also, assess how the app fits within the healthcare ecosystem.
Conduct Thorough Market Research
Analyze existing healthcare web apps and competitors, determine market gaps and opportunities, and identify user preferences, needs, and pain points. Use these insights to refine the idea for your healthcare website concept and develop a unique value proposition.
Assemble a Multidisciplinary Team
Collaborate with a diverse team of experts to ensure all aspects of web development are effectively addressed. This includes:
Health care practitioners
UX/UI designers
Software developers
Project managers
Quality assurance specialists
Legal and compliance experts
Develop a Robust Technical Architecture
Design a secure and scalable technical infrastructure for your healthcare web app, including the appropriate technology stack, functionalities, and integration plan with existing healthcare systems.
Design an Intuitive and Accessible User Experience
To ensure a user-centric healthcare website, prioritize design principles that put the user first, create user personas to guide design decisions, and develop wireframes and prototypes for user testing. Remember to iterate on designs based on feedback and best practices in healthcare UX.
Implement Agile Methodologies
Employ iterative and incremental development processes that encourage cross-functional collaboration and open communication. Also, regularly review and adapt plans based on changing requirements or user feedback, and ensure continuous delivery of high-quality, tested features.
Start Your Medical Web Development
This stage's approach will depend on whether it's high code, low code, or no code, and the following comparison table outlines the distinctions.
Ensure Data Privacy and Security
Safeguard your healthcare web app with HIPAA. It requires adherence to industry-standard security protocols and practices, strong authentication and authorization mechanisms, regular security audits and vulnerability assessments, and staying updated on healthcare technology regulatory changes and security trends.
Conduct Rigorous Testing and Quality Assurance
To ensure app quality and stability, implement automated testing processes for continuous integration and deployment, thoroughly test functionality, performance, security, and usability, and promptly address any issues or bugs found during testing.
Plan for Post-Launch Support and Maintenance
To maintain the healthcare app's success, develop a maintenance strategy, monitor performance, user feedback, and market trends, refine the app based on user needs and the healthcare landscape, and provide user support, promptly addressing technical issues.
Start Small: Give Us a Pilot Healthcare Project
Contact Us
Medical Website Development & Design with Riseapps: $189M Raised
Riseapps is a leader in healthcare web development and one of the top 1000 global companies. Our team's skills in building HIPAA-compliant solutions on the scale have amounted to $189M in funds raised for our clients. A few of the success stories worth a peek include:
Black Doctor 24/7
Black Doctor 24/7 is a HIPAA-compliant telemedicine platform that integrates virtual assistant technology to improve patient-doctor relationships and provide amputation-prevention care. 
Black Doctor contacted Riseapps to decrease care delivery overheads by 40%, reduce patient service time by 65%, and maintain 100% HIPAA compliance.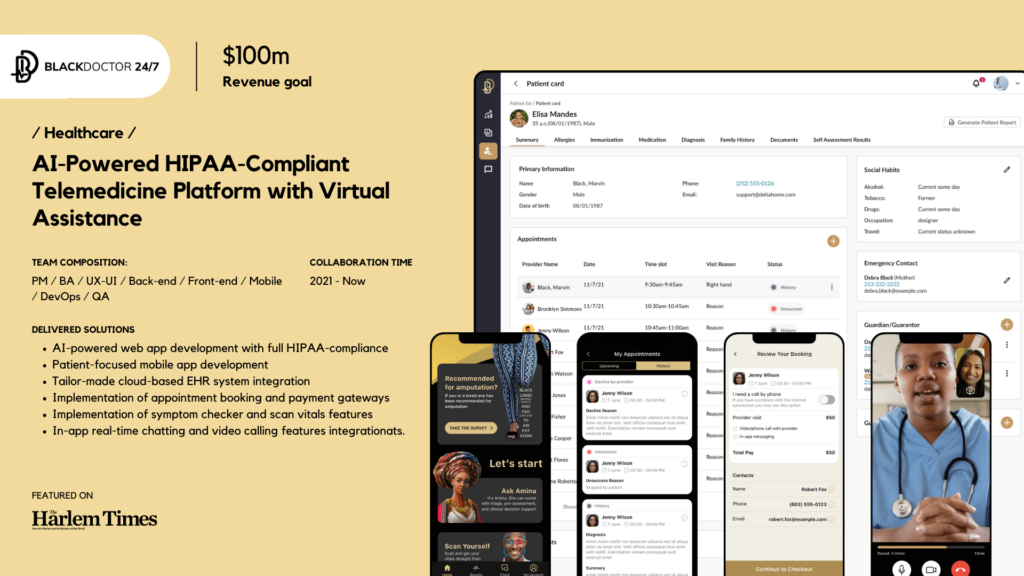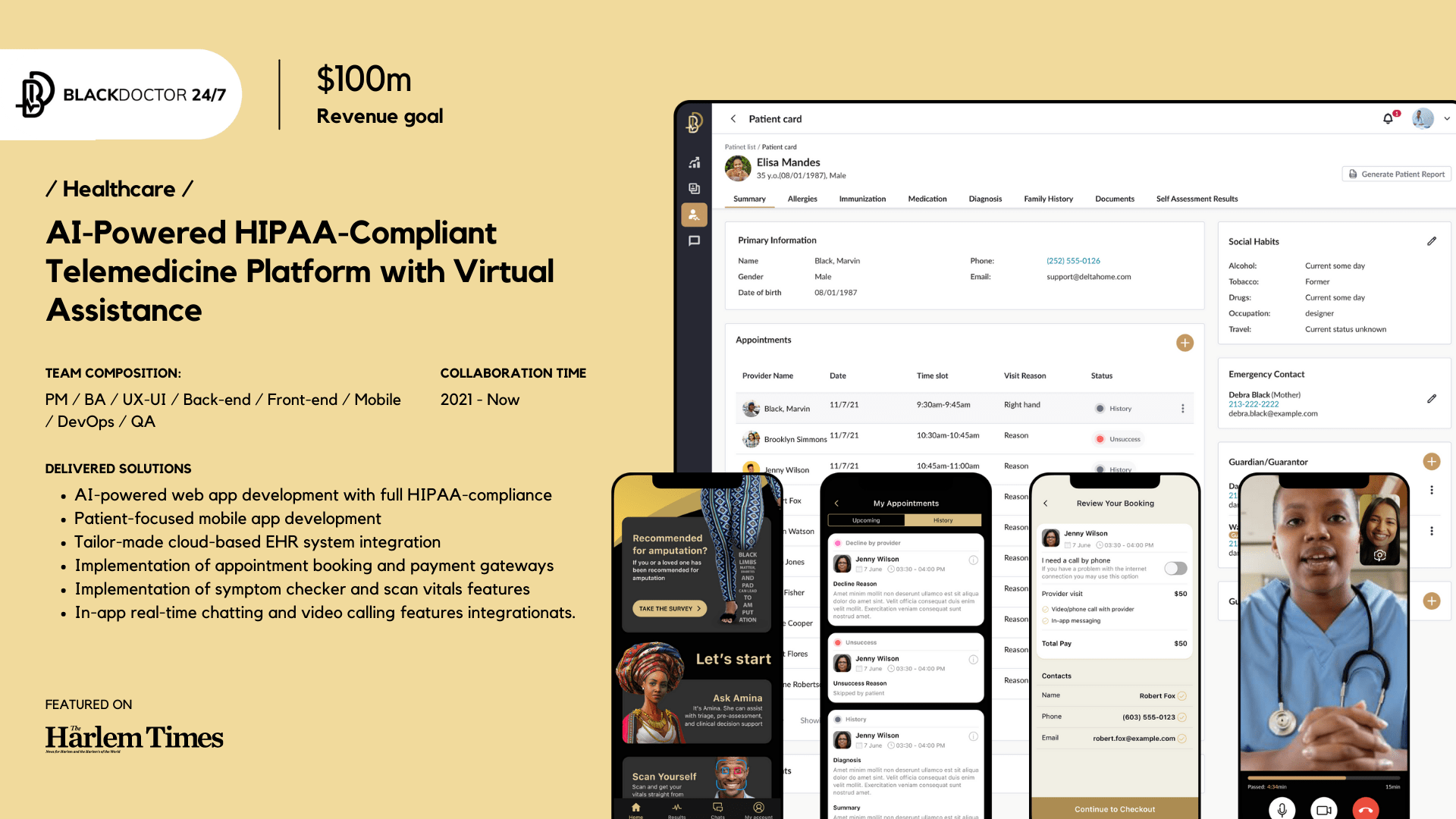 Through the discovery process, Riseapps developed several solutions:
AI-powered HIPAA-compliant healthcare web app
Patient-focused mobile app development
Custom cloud-based EHR integration
Appointment and payment gateways
Symptom checker and scan vitals implementation
In-app real-time chat and video integrations.
AI-Powered HIPAA-Compliant Telemedicine Platform with Virtual Assistance
As a result, Riseapps helped the telemedicine platform to:
Improve UI/UX for Healthcare Providers and Patients
Build advanced integration for patient-centered care
Design automated patient care with a virtual assistant called Amina
Let's Innovate Healthcare. Together. Need a Dev Team to Build Your Healthcare Web App?
Get a Quote
FAQ
---
How much does it cost to build a healthcare website?

---

A healthcare web app with backend infrastructure and design costs approximately $100,000, including product management, QA, and team communication services, with final price variations depending on complexity and team location. Outsourcing to West Europe (Ukraine) can be more cost-effective than the USA.
---
How much does healthcare web development and design cost?

---

The cost of medical web development depends on the team's complexity, size, features, and experience. A healthcare organization would expect costs in the range of $5,000 to $20,000 or more.
---
What should a healthcare website include?

---

A healthcare website must have a secure patient login, appointment scheduling, health records, electronic prescriptions, imaging, and payment and educational content. It should also provide a messaging service for communication with healthcare providers, telemedicine services, and care plan management.