The rise of high tech has kick-started a new wave of industry leaders dead-set on tackling the antiquated healthcare system and elevating patient care to top priority. This spark of modernity has created a cool space for healthtech companies to come in and offer innovative, tech-savvy solutions that will make far-reaching changes in the industry. On average, over the 2021-30 period, National Health Expenditures (NHE) and Gross Domestic Product (GDP) are both projected to grow by 5.1% per year, presenting immense opportunities for a variety of interested parties.
Suppose you're a healthcare professional looking to stay ahead of the trends, an investor scouting for the next big break, or a business expert intrigued by enhancing patient results and smoothing out healthcare conveyance. In that case, you're probably wondering what's driving the healthcare revolution. What's the market map for the industry? How are medical companies taking strides toward innovation? And how are these initiatives being financed?
Well, this article will give you the answers and shed some light on the top healthtech organizations and startups that have secured millions in funding. Keep reading to know what healthcare and technology investing could potentially entail, as well as the sweet spots to explore.
Build Your Healthcare Software with Riseapps
Contact Us
HealthTech Ecosystem: Market Map Key Players
Though there's no one-size-fits-all way to categorize the healthcare ecosystem, three key sectors tend to stand out: providers, financiers, and Pharmaceuticals & related segments.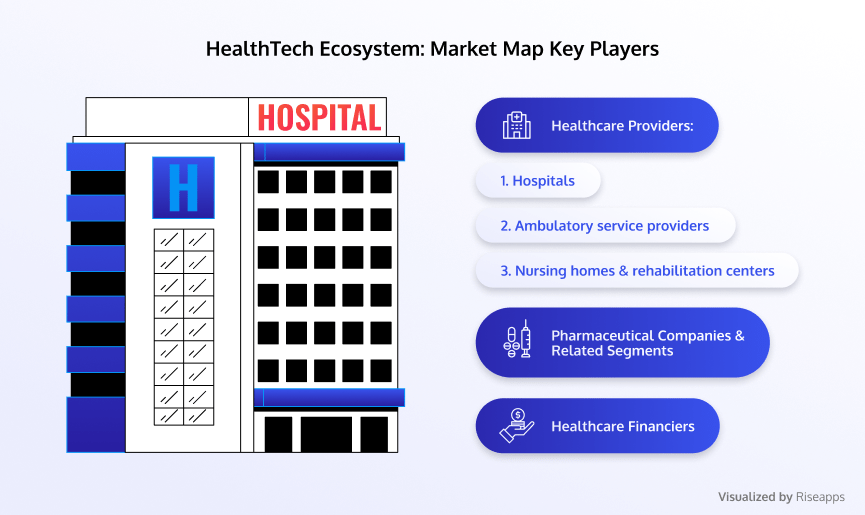 Providers
This category encompasses hospitals, nursing homes, and ambulatory service providers.
Hospitals
Hospitals are responsible for diagnosing and treating diseases, teaching, researching, and providing medical training. They also have medical equipment and facilities, including operating theaters where medical personnel perform major surgical procedures. Beth Israel Deaconess Medical Center in Boston is an example of a player in the hospital sector. This Center, in partnership with a squadron of operations researchers from MIT, has implemented predictive dashboards to help guide admission and transfer determinations, which show the census of each ward as well as the projected amount of discharges.
Nursing Homes and Rehabilitation Centers
Nursing facilities offer both short and long-term care services. Short-term care may involve rehabilitative services following surgery, illness, or injury, including physical therapy, occupational therapy, and speech-language therapy. Long-term care is available to the ill, elderly, and disabled.
Ambulatory Service Providers
Physicians and other healthcare professionals are in charge of providing outpatient medical services or non-hospital care. A patient who needs medical attention but does not require overnight hospitalization can receive it by making an appointment at an outpatient clinic or hospital.
Financiers
These government and private entities are responsible for providing health insurance policies and overseeing payments for services rendered, determining healthcare access, coverage type, and allocation of healthcare services. And many service providers are adopting digital solutions to enhance their services. For instance, Anthem's 'Anthem Anywhere' app allows customers to find healthcare providers and pharmacies covered by their policy, while Oscar's cloud-first health insurance business has a mobile app that helps customers manage their health by booking appointments, reviewing medical history and paying bills.
Pharma Companies & Related Segments
This includes pharmaceutical companies that produce drugs and other chemical products, manufacturers creating high-tech medical equipment, and biotechnology firms researching and developing new drugs, equipment, and treatment methods. Pharma companies drive digital transformation in several ways. For example, AstraZeneca invested £25m in Huma for digital 'hospitals at home' and decentralized clinical trials, and Pfizer Australia acquired ResApp Health for A$100m for smartphone apps that diagnose respiratory conditions.
7 Innovative HealthTech Companies that Seize Digital Health
Here are the enterprises transforming global healthcare through their innovative solutions.
M2GEN
Founded: 2006
Country: USA
Funding: $75 million
Technologies: Java, Javascript, Perl, Python, Scala, R, Azure Cloud, React, Typescript, Shell, PySpark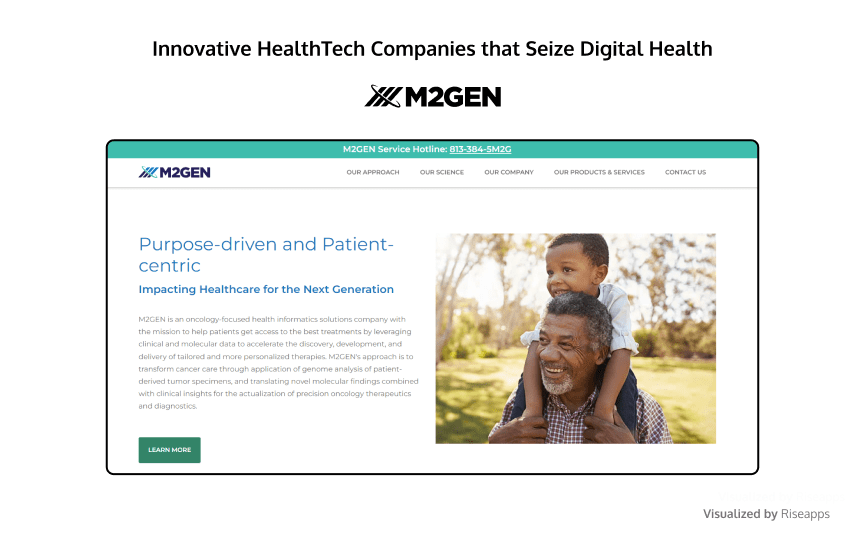 M2GEN is a health informatics solutions company that specializes in oncology, aiming to provide patients with the most effective treatments through personalized therapies and diagnostics. They leverage clinical and molecular data to expedite the discovery, development, and delivery of precision medicine. M2GEN works with 18 leading cancer centers through the Oncology Research Information Exchange Network® to offer oncology informatics-based solutions that accelerate the development and delivery of precision medicine. They utilize the IRB-approved Total Cancer Care® protocol to create a cohesive clinical research environment, increase patient involvement, and assist researchers in tackling complex cancer-related issues.
DearDoc
Founded: 2018
Country: USA
Total funding: $150,000 – $2.5 million
Technologies: Java, JavaScript, jQuery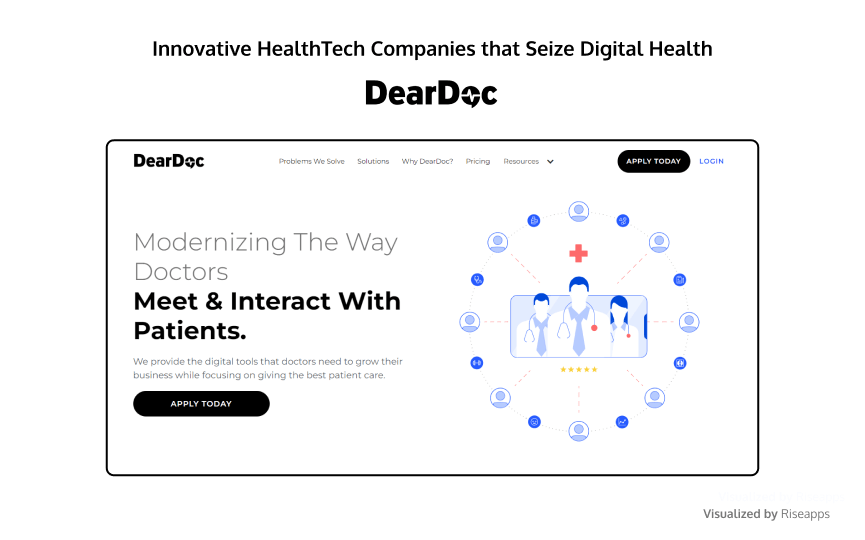 DearDoc is a technological-based growth management company designed to serve small to medium-sized private medical practices by creating various internet-based products.
The idea was born when Joe Brown (Founder & C.E.O.), noticed that Fortune 500 companies were utilizing chat functionality on their websites – something the healthcare industry needed to include as well. He then integrated A.I Chat on his granddad's website, and within just one month, there was a 200% increase in new patients.
The cloud-based platform currently partners with WebMD Care and Vitals Directories to facilitate direct patient-to-practitioner communication through its AI Chatbot technology.
connectRN
Founded: 2014
Country: USA
Total Funding: $3.6 million
Technologies: Golang, MySQL, React, Redux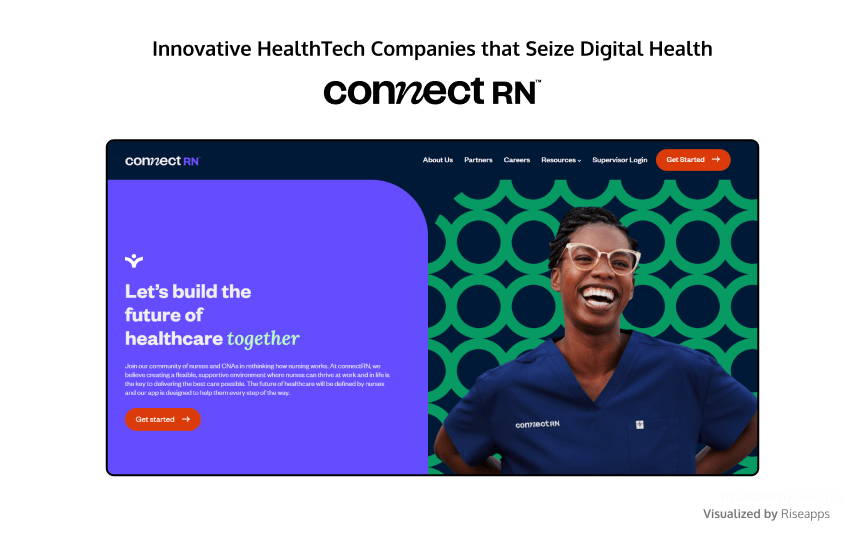 ConnectRN is a reliable provider of specialist nurses and C.N.A.s at competitive prices, helping to ease staffing difficulties in healthcare settings. ConnectRN is modernizing how healthcare professionals look for work as the foremost nursing community. Using technology, the platform offers access to job opportunities and essential tools that nurses need to develop successful careers. They are devoted to the notion that nurses and nursing professionals are at the core of healthcare. With this innovative technology, a community of caregivers can create their timetables, access new career possibilities, and join a global network of clinicians. The medical facility partners count on them for immediate access to dependable clinicians and a trustworthy platform.
Wellframe
Founded: 2011
Country: USA
Total funding: $45 million
Technologies: Scala, Cassandra, Java, Kotlin, Spark, Ruby, Node.js, PostgreSQL, Python, Ruby on Rails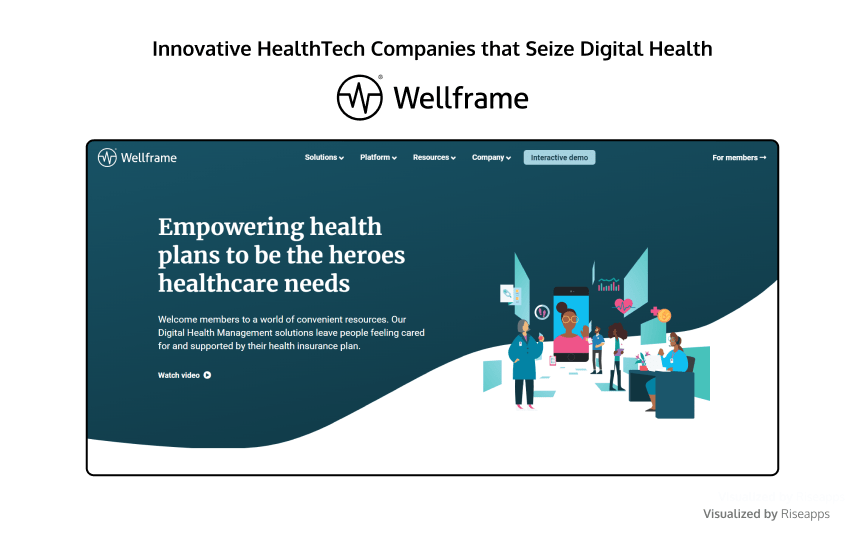 Wellframe is transforming the relationship between healthcare and individuals by introducing a high-tech approach to personalized support. This approach is referred to as "Digital Health Management". Wellframe offers a wide range of digital health management solutions including care management, advocacy, and navigation. To ensure that people have access to the healthcare they need, they also provide health insurance plans. Their technology works to bridge the gap between content, integrations, data science, analytics, and customer partnership to create meaningful person-to-person connections and an optimal healthcare system.
Podimetrics
Founded: 2011
Country: USA
Total Funding: $98.3 million
Technologies: C#, jQuery UI, Python, React, Vue.js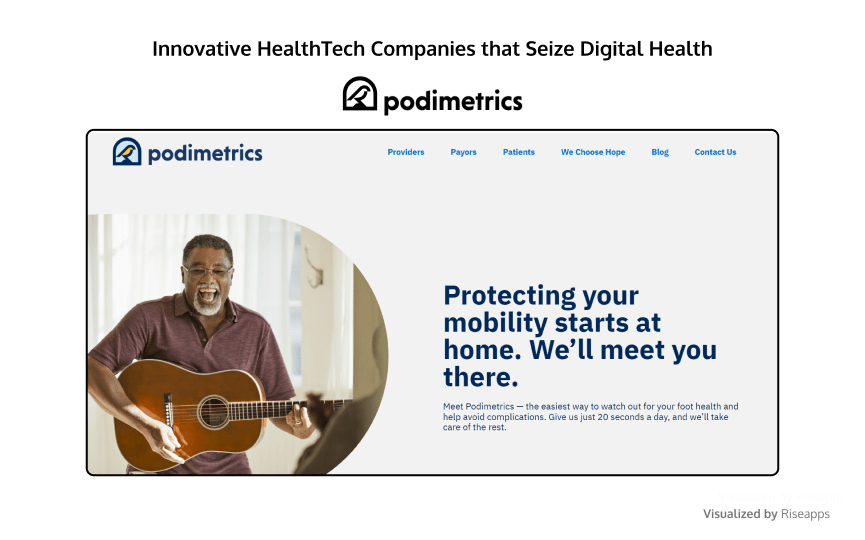 Podimetrics is a virtual care management and technology company focused on improving the lives of people with diabetes. Its FDA-cleared SmartMat™ is used to help prevent costly diabetic amputations, and patients simply need to place their feet on the mat for 20 seconds a day to transmit health data to Podimetrics' care management team. The healthtech company partners with payers and providers, including the Veterans Health Administration, to deliver exceptional care management and advanced technology that promotes high patient engagement and improves outcomes while keeping vulnerable individuals healthy at home and saving lives and money.
CertifyOS
Founded: 2021
Country: USA
Total funding: $20 million
Technologies: Javascript, Lodash, Java, React, Redux, NestJS, Google Cloud.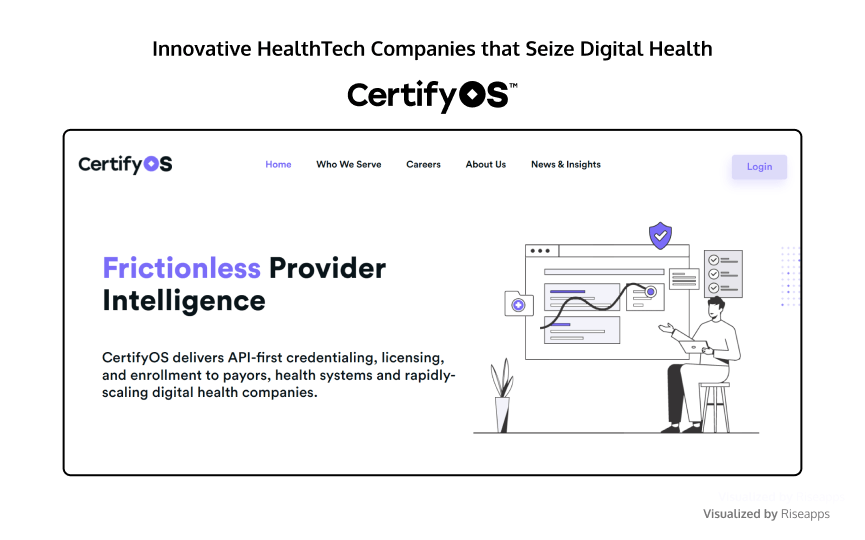 CertifyOS is a healthcare technology platform offering API-based credentialing, licensing, and enrollment services to payors, health systems, and digital health companies. It's the first of its kind, with hundreds of verified data points and API integrations designed to simplify the process of licensing, credentialing, and network monitoring. The team has over 25 years of experience building provider data systems at companies like Oscar Health, and they're backed by venture capital firms who share their vision of creating a new standard for provider intelligence in healthcare. CertifyOS aims to reduce healthcare costs by streamlining access to provider data and minimizing administrative and regulatory burdens on healthcare professionals.
Wheel
Founded: 2018
Country: USA
Total funding: $215.6 million
Technologies: Node.js, PostgreSQL, React, Ruby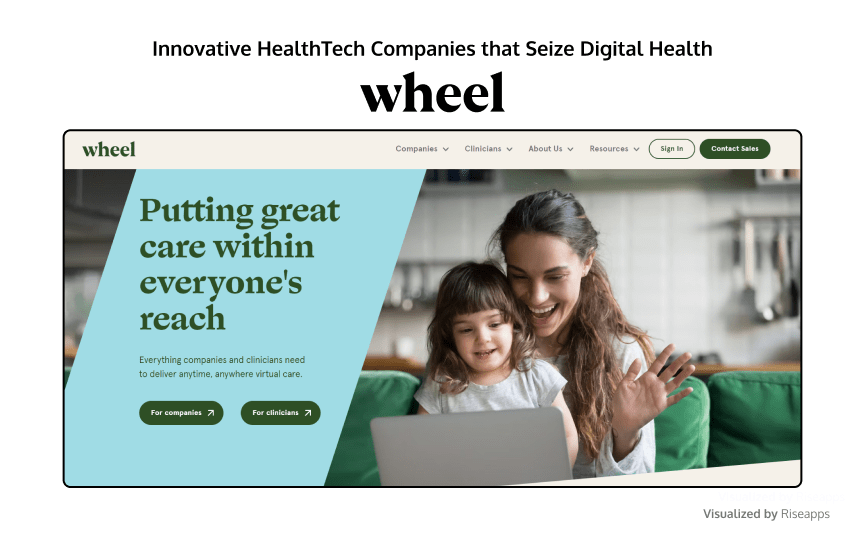 Michelle Davey and Griffin Mulcahey founded Wheel after recognizing that the clinicians at the forefront of healthcare were not being adequately supported. In response, they created the first model for delivering high-quality virtual care at scale and established a platform for healthcare companies to launch their own virtual care services. Wheel also provides clinicians with an optimal workplace for virtual care. Their efforts are not only expanding access to care but also connecting patients with the most suitable clinician for their health needs.
Need Help with Healthcare Software Development?
Contact us
HealthTech startups have been making headlines with the millions they've raised. Check out the numbers these companies are bringing in.
Real
Founding year: 2019
Country: U.S
Total funding: $53 million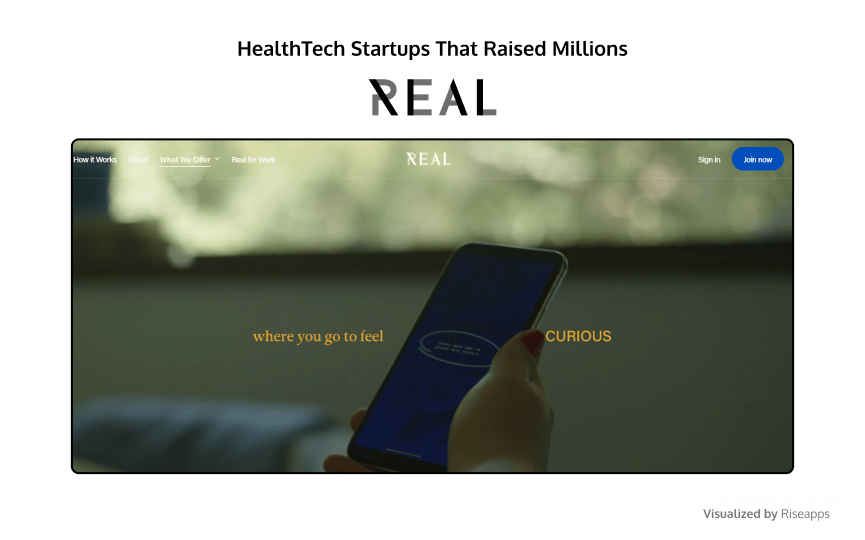 Real, a mental health platform in the U.S., recently raised $37 million in Series B funding and has a total funding of $53 million. The app focuses on creating a culturally diverse therapist base and offers Pathways for topics such as relationships, anxiety, careers, stress, body image, and depression. Each Pathway consists of several sessions and educational information, and at the end of each session, users are prompted to complete activities from Real's toolkit, such as journaling questions and breathing exercises. The company also organizes events on topics like "Opting Out of Explaining Oppression to the Oppressor."
Kry
Founding year: 2015
Country: Sweden
Total funding: $729.4 million – $2 billion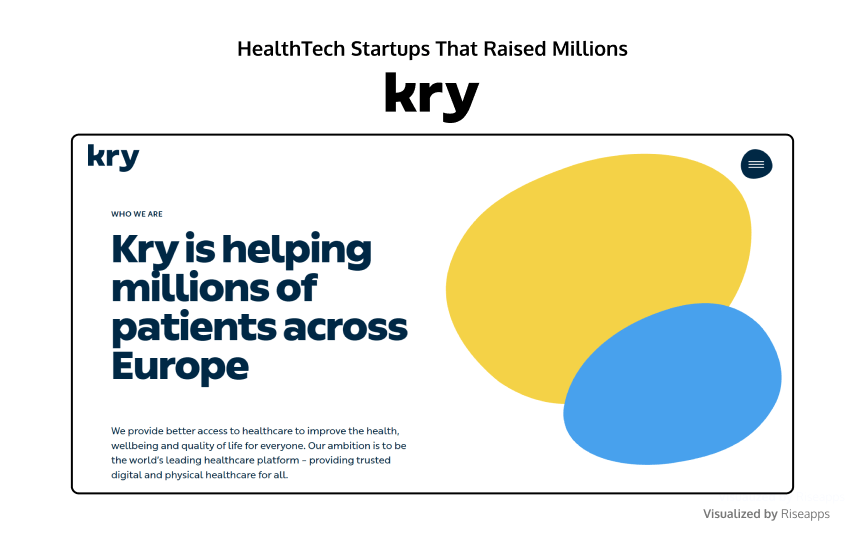 In 2021, Swedish telehealth startup Kry raised $300 million in a major funding round as investors take advantage of the COVID-19-driven surge in digital healthcare services.  Kry is one of Europe's biggest providers of virtual doctor appointments, known as Kry in Sweden, Norway, and Germany and, under a different brand called Livi, in the U.K. and France. Last year, Kry also moved into the U.S with the launch of Livi Connect – a free video consultation platform – though Schildt said the company's primary focus remains on Europe. According to CNBC, the company is now valued $2 billion – almost three times the $700 million it was worth in the 2020 round. Notable existing investors, including Ontario Teachers' Pension Plan, Index Ventures, and Accel, also supported Kry in this latest round.
Pattern  Health
Founding year: 2012
Country: U.S
Total funding: $4.8 million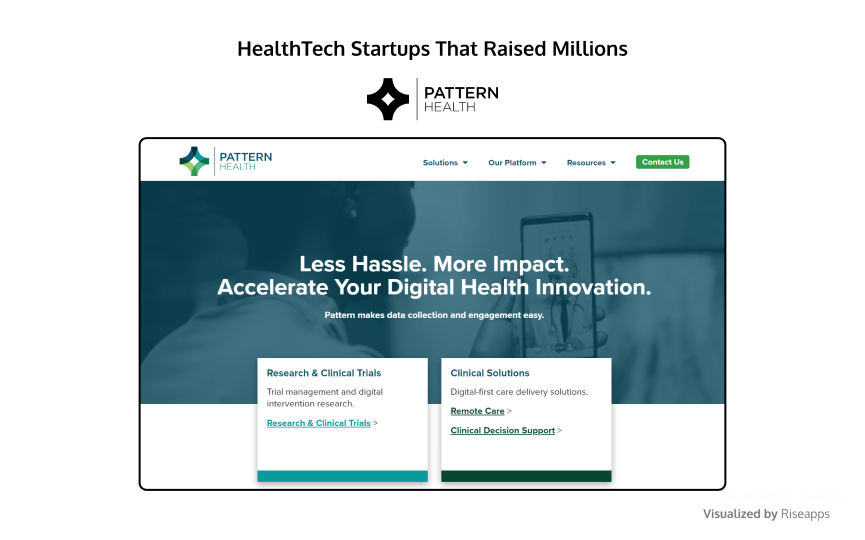 Pattern Health, a platform for building digital health tools, secured $3.3 million in its Series A funding in September 2022. Led by the Dr. William H. Joyce Family Office, the round was supported by Cofounders Capital, Launch Place, and Triangle Tweener Fund. This is in addition to the $1.5 million raised earlier in 2021. Pattern's no-code platform enables clinicians and researchers to create digital health programs such as apps, clinical trials support tools, and surveys. It also has a distribution service for licensing and an exchange platform to facilitate the discovery of programs developed using its platform. For instance, one tool available on the exchange is a home-based cardiac rehabilitation program created by a specialist from Duke University.
Zoe
Founding year: 2017
Country: U.S/UK
Total funding: $77 million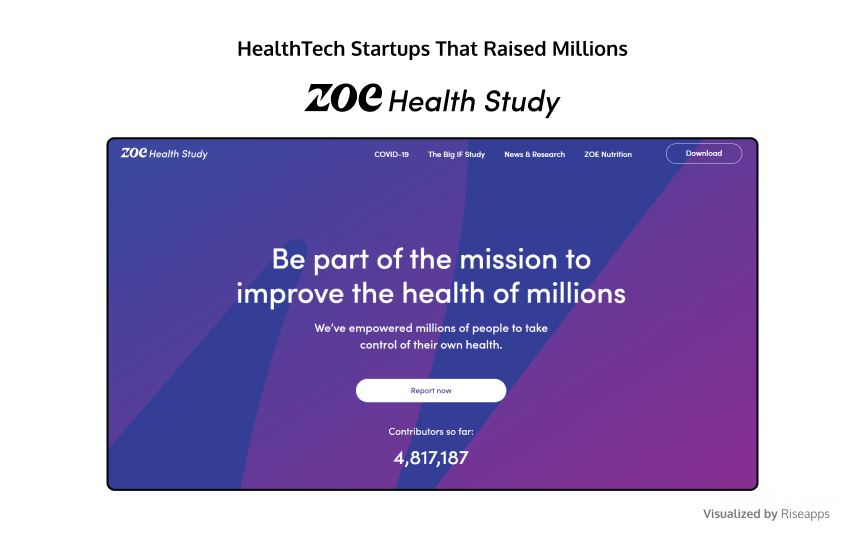 Nutrition start-up, Zoe, gained notoriety during the pandemic for its self-reporting COVID-19 app, which provided insights into how the virus spread and its long-term effects. Zoe raised $20 million in a Series B funding round and is now transitioning back to its original mission of using self-reporting technology to study the microbiome and generate personalized nutrition insights for users. Zoe announced a £25m investment to onboard 250,000 people from its waiting list, valuing the company at $250m (£209m). The London and Boston-based company was formed by doctors for clinical research and has gained popularity among consumers and researchers alike.
Flo
Founding year: 2016
Country: United Kingdom
Total funding: $75.5 million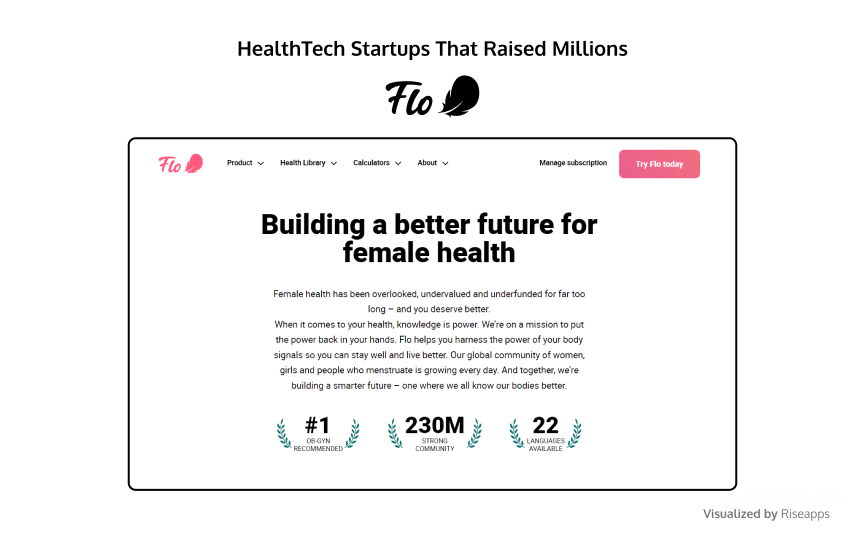 Flo raised $50 million in its latest funding round. As V.N.V. Global and Target Global led the series B funding, the company has now raised $65 million, valuing the startup at $800 million. Company executives have stated that the funds will improve the app's personalization capabilities and give users personalized insights and patterns regarding their menstrual cycles and overall health. The app uses artificial intelligence to provide users with period and ovulation predictions and is based in London. According to a press release, Flo also plans to expand its employee numbers in product, engineering, and medical roles, with its workforce across Europe and the United States more than doubled to 250 employees in the last two years.
Temedica
Founding year: 2016
Country: Germany
Total funding: $42 million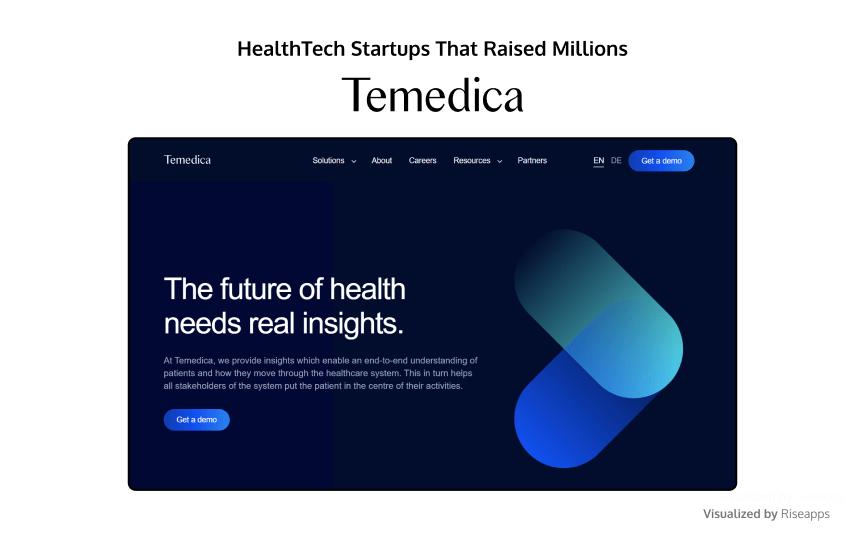 Temedica, a Munich-based medtech company that offers insights to enable a comprehensive comprehension of patients and their journey through the healthcare system. This facilitates all healthcare stakeholders in putting the patient at the heart of their operations. Temedica raised €17 million in a funding event that was ed by M.I.G., a V.C.V.C. situated in Munich. In addition, Santo Venture Capital, Salvia, and the existing investors G+J Digital Ventures and Bernd. Wendeln, a Munich business angel, participated in this round. The digital health startup has created a suite of apps for the German healthcare sector, including Pelvina, an online program for women to exercise their pelvic floor; Mineo, for back training; and Waya, an app that helps with weight loss. The company has certifications and agreements with many German health insurance providers, making its apps frequently free for users. Temedica plans to use the new funds to expand its staff from 40 to around 100.
Build a HIPAA-Compliant System Worth Funding
Contact Us
How HealthTech Execs and Companies Approach Innovation
Healthcare industry stakeholders predict investors will be more prudent with their spending in 2023. Although startup funding will remain accessible, the telemedicine sector will be held to more rigorous clinical standards. Regarding telehealth, we recently held an ABM study to learn what 13 C-level executives think about the current landscape. It was enlightening to get their insights into business-related issues and solutions.
The American Medical Association (A.M.A.) has also outlined a few potential risks to keep in mind, but executives and organizations remain optimistic that technology can improve healthcare quality in the United States come 2023. Here's how they are approaching innovation.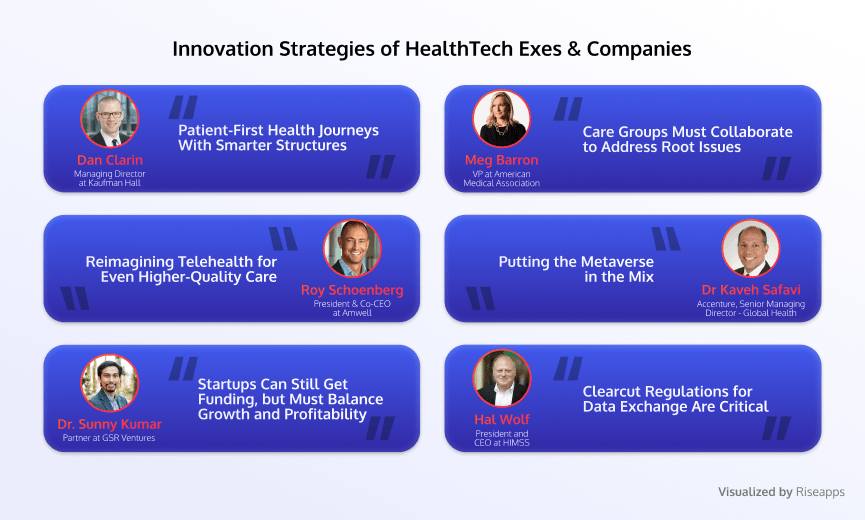 Dan Clarin: Applying Patient-First Health Journeys With Smarter Structures
Dan Clarin, the Managing Director of Kaufman Hall's Strategic and Financial Planning practice, is of the opinion that healthcare competitors with substantial resources are currently employing customer-centric strategies to secure a foothold in the market. Institutions that integrate customer insights into their services will be best positioned to compete in the future. New healthcare entrants are innovating beyond the boundaries of medical institutions and are expected to collaborate with existing systems. 
Such businesses typically start by offering out-of-pocket services and later enter into B2B arrangements with insurance providers. This trend is expected to grow, enabling healthcare entrepreneurs, clinicians, and researchers to deliver better, more personalized care. Additionally, a new wave of healthcare technology infrastructure companies is emerging to support virtual-first healthcare innovators. We are indeed convinced that the competition will be shaped by a patient-focused strategy that is based on meaningful insights.
Roy Schoenberg: Reimagining Telehealth for Even Higher-Quality Care
Research indicates that the utilization of telehealth has declined since it peaked in the spring of 2020. Despite a decline in consumer utilization since its peak in 2020, telehealth is expected to expand and become more prevalent for long-term chronic care, with a focus on quality and safety standards; Amwell CEO, Roy Schoenberg anticipates a booming market for virtual care in 2023, largely driven by clinicians using telehealth for high-value, long-term care.
Examples include consulting specialists in other systems, providing care for those undergoing chemotherapy, and monitoring patients post-surgery. Amwell has seen a continual rise in clinicians using telehealth for high-value, long-term care, leading the company to anticipate even further volume in 2023.
The healthcare industry is expected to grow rapidly as it is reimagined to meet the needs of patients and clinicians, with a focus on quality and safety. As such, regulatory bodies will be increasingly vigilant about enforcing standards, particularly given past accusations of some companies operating as pill mills. In conclusion, the potential for telehealth to revolutionize healthcare delivery and improve patient outcomes remains significant, particularly for chronic care management.
Dr. Sunny Kumar: Startups Can Still Get Funding, but They Must Balance Growth and Profitability
Dr. Sunny Kumar, Partner at GSR Ventures, Dr. Sunny Kumar, Partner at GSR Ventures, discussed the 2022 digital health funding landscape and expectations for 2023, noting that investors will favor startups with established business models and a route to profitability. According to a Dr. Sunny Kumar, "Though growth is still paramount, there must be a better equilibrium between progress and financial gain."  As such, investors will be more discerning and favor firms with established business models and histories of steadiness and a route to profitability. 
This trend is expected to stabilize digital health funding levels, though they may register a minor decline compared to previous years. Mental and behavioral health, family planning, and femtech are forecasted to be primary areas for capital allocation. Companies seeking funding in 2023 are likely to accept a down round and find it challenging to secure financing as the year advances, with the higher rate atmosphere putting pressure on valuations. Despite the setbacks, digital health companies have the biggest near-term opportunity from the provider wallet.
Meg Barron: Care Groups Must Collaborate to Address Root Issues
Historically, healthcare delivery has been fragmented due to limited collaboration between practitioners. For instance, regarding women's health, a patient would visit their OB/GYN and then be referred externally to a lactation consultant, who would then refer them to other specialists. Women's health innovators are now working towards providing multi-disciplinary services. Working together and exchanging information between healthcare providers can provide access to assessments and treatment plans to guide their counsel. Emphasizing the importance of collaboration, Meg Barron, Vice President of Digital Health Strategy and Innovations for the American Medical Association, noted:
The American Medical Association representatives presented insights from a joint report called "Future of Health: Closing the Digital Health Disconnect." It's based on interviews with over 40 stakeholders from different sectors such as physician practice, health systems, digital health companies, venture funds, employers, and health plan sectors.
In summary, practitioners must begin unifying medical expertise in order to best prepare for technological developments going forward.
Dr Kaveh Safavi: Putting the Metaverse in the Mix
Nearly all healthcare executives (97%) have recognized that technological advances are more reliable than economic, political, and social trends when developing their long-term strategy. Medical organizations may be empowered to take part in, or even shape, the forthcoming phase of the internet with a high-functioning digital core, paving the way for improved access, experiences, and health outcomes with people as the focal point. 
To provide further context, Dr. Kaveh Safavi has presented a 2022 report titled "Meet Me in the Metaverse- How the continuum of technology and experience is reshaping healthcare," which examines the consequences of digitally evolved places and operations in healthcare. He predicts that the metaverse, which includes the "Internet of Place" and "Internet of Ownership," will enable us to virtually interact with healthcare providers and peers as more companies move certain tasks to it, allowing for novel levels of collaboration and teleworking.
Hal Wolf: Clearcut Regulations for Data Exchange Are Critical 
The Healthcare Information and Management System Society (HIMSS) emphasizes the importance of data exchange standards to reduce costs and improve patient outcomes. 
Wolf, HIMSS Ceo stated, "We must prioritize standardization to reduce costs. The most costly part of I.T. implementation is typically data infrastructure integration. If we minimize this, it will greatly benefit those utilizing the technology."
Ultimately, incorporating external health data, such as from smartphones, into the system is crucial for effective digital recording. Although it may take time for hospitals to start transforming digitally, starting later has advantages. Continual planning for digital health is necessary, and hospital leaders should not delay. By prioritizing standardization and effective use of data, hospitals can improve patient care and reduce costs.
Wolf noted that those implementing E.M.R.s nowadays spend a fraction of the money to get systems that are of much higher quality than when they were first introduced twenty years ago.
Conquer the HealthTech Market with Technology
Contact Us
How Riseapps Helps HealthTech Companies & Startups Raise Millions
We at Riseapps are your tech pals for all things healthtech. Our team of developers, designers, and strategists is ready to help you sail the seas of healthtech innovation and craft the perfect solution for your company. With our inventive healthcare solutions, startuppers and established businesses alike have pocketed millions in venture capital. Let's take a peek at some of these success stories.
Wound Pros
The Wound Pros is a US-based, AI-driven wound care management services company and Medicare Part B Biller that specializes in providing high-quality wound care management and standardization. As an accredited supplier of Durable Medical Equipment, Prosthetics, Orthotics, and Supplies (DMEPOS), The Wound Pros is renowned for delivering advanced wound care dressings in a comprehensive manner.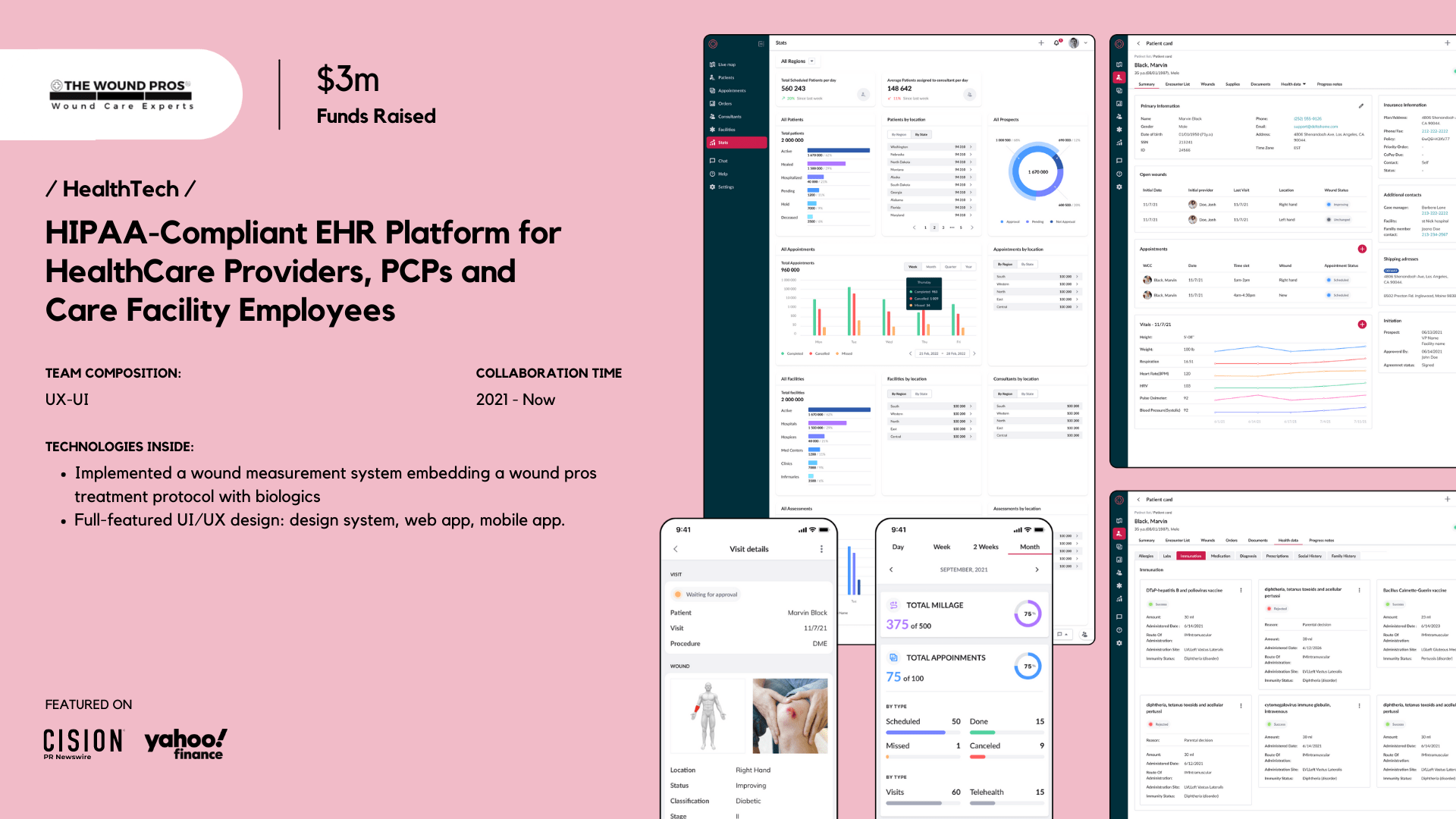 The organization's vision is to revolutionize the way non-healing wounds are treated and managed through the utilization of improved data visualization, decision-making, and streamlined documentation. Following our collaboration, they were able to secure $3 million in financing. Our work for them involved:
Implementing a wound measurement system which includes The Wound Pros treatment protocol with biologics;
Developing a full-featured UI/UX design comprising a design system, web app, and mobile apps.
Crafting an in-depth appointment schedule module from the ground up to facilitate on-the-go planning of visits in a digital and remote-based manner.
Designing a supply ordering/tracking system to facilitate supply delivery in a centralized way.
Building a patient-related report generation module with insightful and cross-platform compatible data views
Implementing a hospital/clinic-centric management dashboard functionality.
SkinPick
SkinPick is a leading Israeli mental health startup that offers three innovative treatments for skin picking (dermatillomania), hair pulling (trichotillomania), and obsessive-compulsive disorder (OCD). Their mission is to provide individuals experiencing these disorders with access to advanced tools and methodologies to support their journeys in treatment and developing coping skills.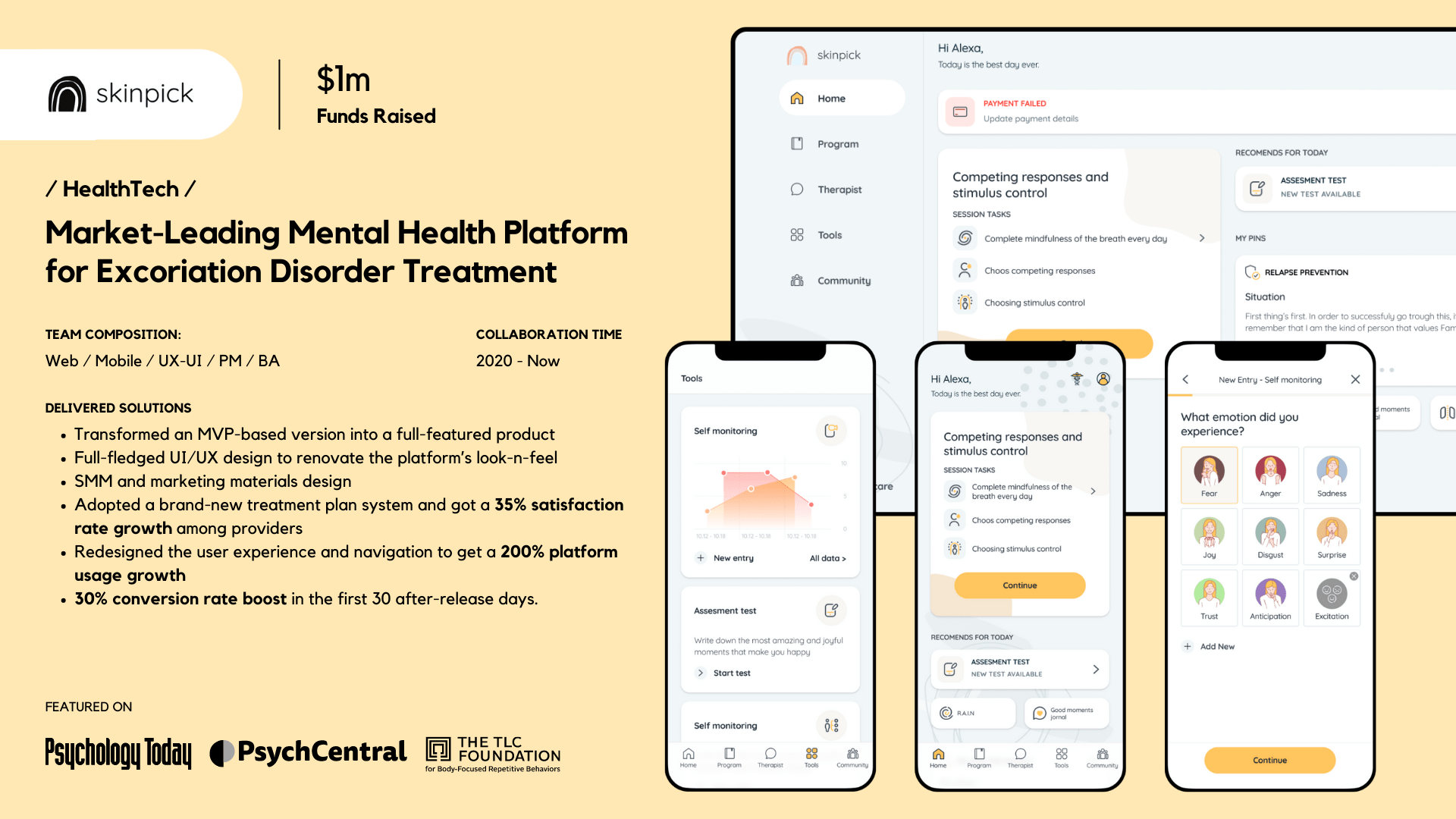 Through our partnership, we were able to contribute to their success in obtaining 1 million in funding. Here are the implementations we made:
Transforming an MVP-based version into a full-featured product
Redesigned the UI/UX
Created SMM and marketing materials
Adopted a new treatment plan system that increased provider satisfaction by 35%
Enhanced user experience and navigation, resulting in a 200% platform usage growth 
30% conversion rate boost in the first 30 after-release days.
At Riseapps, we are sure that the fate of medicine is in technology's hands. So, we are enthusiastic about developing patient-first products that really boost outcomes for patients and slash expenses. Get in touch today to discover more about how we can help you make a difference and bring more value to healthcare.
Looking for Dev Teams Backed By Healthcare Expertise?
Contact Us
FAQ
---
What is a healthcare company?

---

Healthcare companies include organizations that produce medical products, such as drugs and devices and those that provide medical services, such as health insurance or hospital administration.
---
What is a healthcare startup?

---

These are a set of new businesses that are emerging in the healthcare industry. The majority of them are transforming global healthcare and providing innovative solutions through the use of technologies such as AI, blockchain, and data integration to provide health-related products and services.
---
What are the top health tech companies?

---

M2GEN – they offer oncology-focused patient care
DearDoc – they deliver innovative solutions using artificial intelligence
Flo – a platform that delivers actionable insights on women's menstrual cycles 
ConnectRN – one of the leading healthcare staffing companies
Zoe – global healthcare nutrition and wellness
Temedica – healthcare technology company passionate about providing physician and facility insights
Patten Health – a technology firm focused on clinical trial success.
Kry – uses interactive response technology to assist patient care
Wellframe – they provide digital health management solutions