Willing to know how to develop a mental health app? Riseapps know the answer! Nowadays, mental health app development is making waves nationally. The spread of awareness about the importance of well-being and the rapid development of technology increase in demand for mental health applications in all countries.
The potential audience for mental health app development is vast. According to the World Health Organization, about 1 billion people in the world suffer from mental and eating disorders. This is almost 11% of the world's population. One of the most common is depression, which is diagnosed in nearly 5% of the population.
So, why is the mental health industry so popular, what are its benefits, and what ideas are the most relevant to your business? Let's get down to business.
Mental Health Business Ideas: Market Transformation
Humans know how to deal with common health issues; they turn to a practitioner for help when someone's got the flu. But what if they experience solitude or sadness? These feelings could be a signal of mental health issues. According to the National Institute of Mental Health, Nearly, one in five U.S. adults live with a mental illness (51.5 million in 2019).
Most people with mental health crisis aren't aware that depression or anxiety are psychological disorders. And even fewer can recognize the symptoms. Mental health software is a modern way to provide mental health awareness and improve human well-being. Practitioners say applications can facilitate therapy because "a lot of work happens outside the office."
The demand for mental disorder apps is growing every year. For example, the need for such apps in the UK increased by 566% between 2014 and 2018. In 2021, the total mental health market was estimated at 4.2 billion dollars. According to a recent study by Acumen Research and Consulting, it is expected to reach 5.2 billion dollars in 2022 and 17.5 billion dollars by 2027.
The most popular operating system for such applications: iOS
Most popular region: North America
Most Popular Niche: Managing depression and anxiety symptoms
There are many undiscovered niches on the market now. For example, there is a lack of modern and effective applications for people with obsessive-compulsive disorder. From a business standpoint, this is an attractive market. Therefore, there is no doubt that entrepreneurs, investors, and technology companies are paying more attention to this sector.
The mental wellness app has become a lifesaver for both patients and healthcare professionals. They help users develop positive thinking, relaxation, and stress relief. A lot of apps are also adding elements of gamification to engage users and distract them from self-destructive thoughts. According to the latest statistics, there are up to 20,000 mental health apps on the market, with the most popular mental fitness app having millions of users. In addition, major mental health apps were installed 215,000 times in the US between November 3 and 5, 2020, according to Statista.
Do you want to start a business in this direction? Here is our tailor-made list of the best mental health business ideas and opportunities for 2023.
Sleep Technician
Many people have sleep and eating disorders, which in turn lead to mental problems. That is why it is a good idea to start a business in this direction. You can perform sleep tests to better diagnose and treat patients with common sleep problems.
The Deep Meditate app will help you get rid of stress. As a result, you will fall asleep comfortably.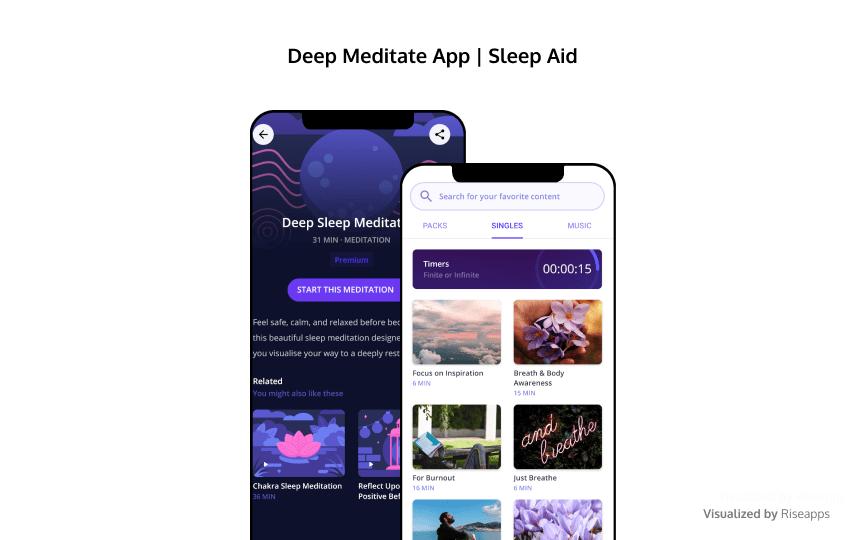 Media Hub for Mental Wellness
You can create a media space that will contain relevant information. You can invite a variety of experts as contributors to create a mental health app with relevant content. Like any other ideas online, your business will start to generate income when you have a large enough audience. Once you've reached that goal, you can sell ads or affiliate products, and run online courses, and workshops to expand your online brand.
An example of one such online course is online meditation groups with live instructors. Chorus is an online group meditation class for stress management that is led by instructors in a live format. It also features music. Clients can attend classes in the morning for a stress-free day, or in the evening for a good night's sleep.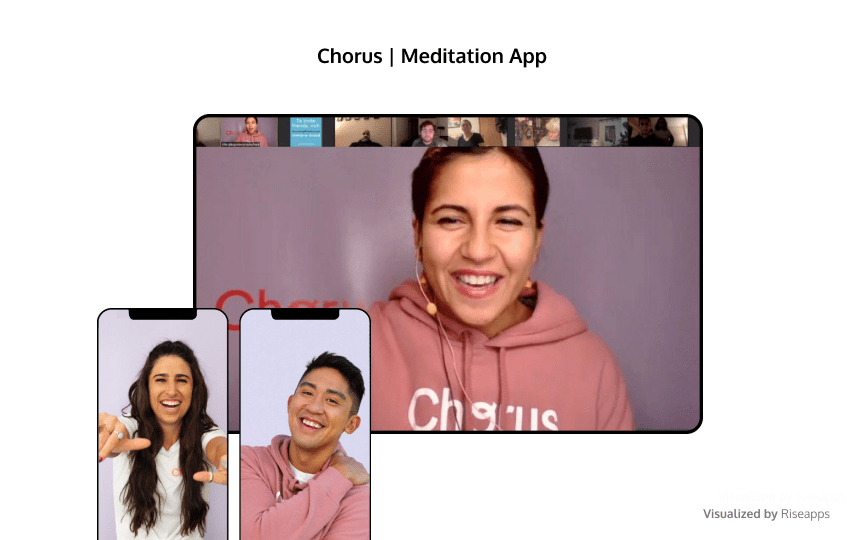 Corporate Wellness
Corporate wellness programs focus on both the mental & physical health of employees, regardless of the work environment. Often, this type of service is in demand in factories, corporate offices, and large and small corporations.
Modern Health empowers employers to take charge of helping their employees be less stressed, more engaged, and happier with evidence-based technology and professional support. It is the leading platform that combines clinically validated assessments, personalized stress management support, and an international network of certified behavioral health coaches and licensed therapists to provide mental health support for a wide range of individual needs, such as breathing exercises. 
Mental Health & Wellness Podcast
Love to interview people? Consider starting a health and wellness podcast. While a podcast doesn't generate income on its own, once you've built a target audience, you can sell ads, recommend affiliate products, or even sell your own products and mental health services.
Shimmer is an app for the obsessive-compulsive disorder that provides online access to support groups with experienced coaches. Participants pay a monthly subscription and join a small group of people with similar situations and improve their condition together with the help of breathing exercises. On the platform, you can keep a diary, monitor your mood, set goals, and call weekly group sessions with emergency support features.
Software to Support Wellpreneurs
You can create a mental health software product to support entrepreneurs in growing their businesses. For example, it could be client management software for coaching, email list management, or personalized meal plans.
A great example of mental health solution is the treatment of mental illness with the help of software. Iona Mind is the first FDA-approved digital treatment tool for anxiety and depression. The software mental health solution is based on Cognitive Behavior Therapy. CBT is one of the most effective evidence-based forms of treatment, which is carried out fully and automatically using a conversational interface. The exercises and programs are evidence-based, with over 300 peer-reviewed journal articles demonstrating the effectiveness of CBT in treating many common chronic illnesses.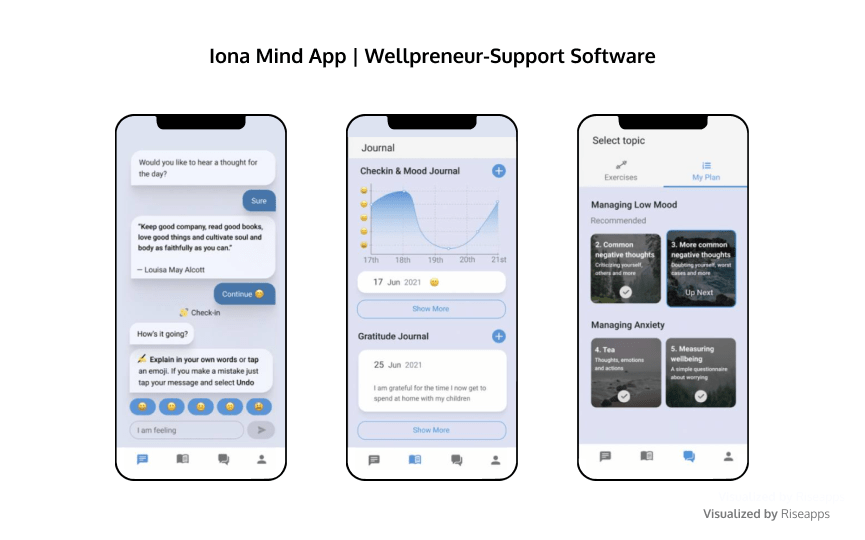 Home Healthcare Agency
Home-type medical facilities provide a wide range of services for the client in case of mental health disorders or injury. Often, these mental health services are cheaper, more convenient, and just as effective as the care you get in a hospital. Today, the demand for this type of service is growing rapidly.
Actipulse Neuroscience allows non-invasive brain stimulation not in the hospital, but at home. The patented brain stimulation device allows patients with mental health disorders to be treated directly from home with the same efficiency and lower treatment costs.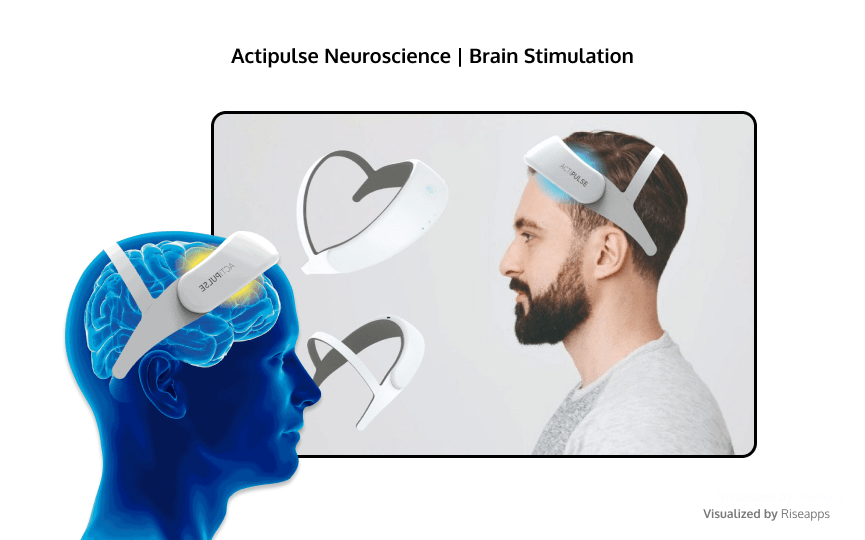 Develop a Healthcare App
Today, healthcare professionals and individuals alike are increasingly turning to a mobile mental health tracker app to record and manage mental health illnesses and mood patterns. For example, Meru Health is an online app with remote clinicians (licensed therapists and psychiatrists). It features a smartphone-based treatment program, wearable biofeedback devices, and an anonymous support group.
If you have relevant experience, then you can develop a mental health app aimed at psychiatric clinics and patients. We will talk about what types are further.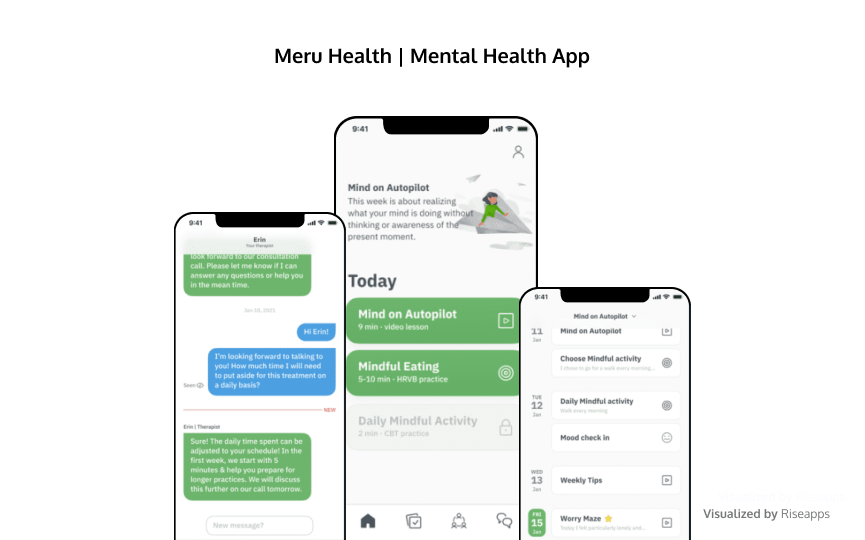 12 Benefits of Mental Health App Development to Make Your Own Application
A therapy app is great for both the user and the healthcare provider. According to the Digital Health Buzz, the digitalization of healthcare brings many benefits, especially since there have been significant improvements in software security in recent years. Some of these benefits include better coordination of patient care, automation of administrative processes, access to real-time medical data, and efficient communication between physicians.
There are many mental wellness apps available on the market, but they all share some common benefits. Let's take a closer look at each of them.
Easy accessibility
Mental health treatment using mobile applications can take place anywhere and at any time, which makes this type of therapy very convenient. If it is more difficult for a patient to come to an appointment in person (especially during a pandemic), it is useful to use a mobile application, whether you need help in the middle of the night or during work. Healthcare professionals and patients will have 24/7 availability and easy access to each other when needed through the app.
Obscurity
With this app, users can choose their rehabilitation treatment options without disturbing anyone around them.
Intro to Care
The mental health app is a good initiative for those who haven't received any help or avoided it. The reason can be anything, including difficulty making an appointment or connecting with people.
Money-saving
The cost of counseling is often much more expensive than a mobile application used for such purposes. In fact, mental health apps are often free or cheaper than traditional mental health care and counseling. Reducing medical costs may be a significant reason why many patients choose mobile apps over traditional treatments.
Remote approach and extensive care
Some people need more ongoing support to maintain their health. Some people may need both an in-person visit to a therapist and the benefits of mobile apps to manage their health while they are at home, at work, or even in the city.
For example, some people may suffer from social anxiety and have difficulty attending a party. In such cases, using a mental health app can greatly alleviate stress.
In fact, technologies such as mobile apps can effectively accompany traditional therapy sessions. Along with face-to-face therapy, these tools can reinforce new skills, improve control, and provide additional support.
A mental health app can help mental health experts provide access to help for people in remote areas or a large number of people in need of impulsive help, such as in the event of a natural disaster, etc.
Lightened use
A mental health mobile app is a more engaging and attractive treatment option than a conventional one that can encourage patients to continue treatment.
24/7 available care
The mental health app can provide daily help around the clock, anytime, anywhere, and give psychological support.
Sequential method
The mental health app and app platforms can provide consistency and equality for every individual.
Individual support
The mental health app is designed so that all people and patients can get a personalized session that will not only provide support but also improve and support new skills in people.
Evidence collection
What makes healthcare apps unique, unlike traditional therapy, is the collection of factual data that can be accessed with a single click, including patient movement, mood, location, and other critical information.
Anonymity
Another important reason why many people around the world prefer to use mental self-improvement apps instead of visiting a psychotherapist in person. Many people choose not to share their personal and private information, even with a professional and prefer to manage their health more privately without involving other people. In essence, the anonymity of mobile treatment options may be preferable for many patients.
Involvement
Another advantage of mobile applications is the high level of engagement. Patients rarely use mobile applications under the supervision of a doctor, which encourages them to use mental health applications on their own, and not to follow the instructions of the therapist. In addition, greater engagement can be achieved through prompts, real-time engagement, and in-game interactions that improve cognitive skills.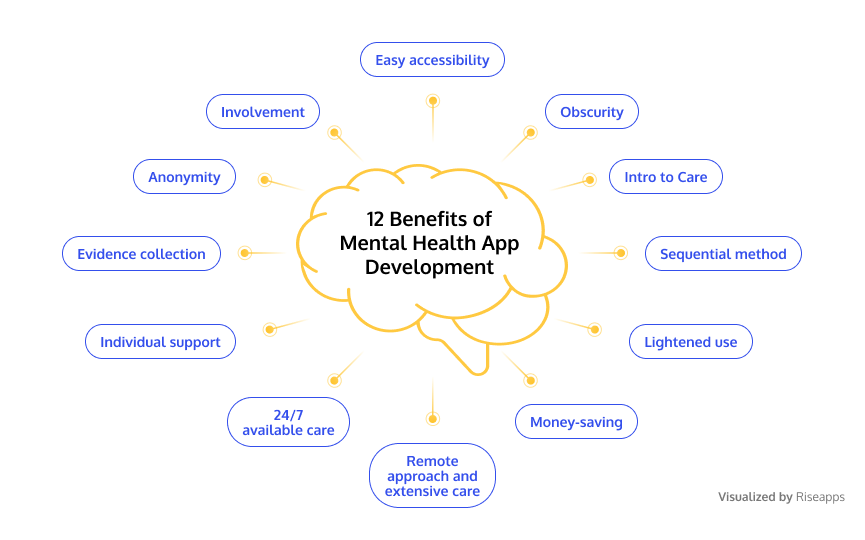 9 Must-Have Mental Health App Features for a Pitch-Ready Product
When talking about the essential mental health app features, we would like to mention that disease treatment apps will also require the healthcare providers' portal. Let's discover the vital components that a patient's and practitioner's mental health applications should have.
Patient app features
A mental health app for patients should provide excellent accessibility and ease of use. Make the features as straightforward as possible to help users quickly adapt and start using them right away. Try not to overload the screens with UI details to provide a convenient layout. Here's a list of features that each app should include:
User profile. As mental health mobile apps work with sensitive patient information, it's best to provide sign-in/sign-out features to manage access. Creating a user profile should be straightforward. Think of fetching the data from users' social media to speed up registration.
Communication features. Including chat and video calls, apps for improving cognitive skills are a must, as patients with depression and PTSD require 24/7 support with anger management. For self-help apps, you can provide community features to encourage people to share their experiences.
Audio/video library. Your app should have relevant content depending on the type of app you develop. Video content is king nowadays, and audio materials are a good supplement as users can listen to them daily.
Self-monitoring. Mood journals, meal and mood patterns tracking, pills schedule, and progress tracking are all attributes of self-monitoring and self-improvement apps. Regardless of the type of self-improvement apps, you'll build, self-monitoring features are a must.
Notifications. Notifications is a powerful engagement tool for apps that provide tracking features. It's even more valuable for mental health apps as observing behavioral patterns is a key to recovery. Notifications help people keep their journals and stay motivated.
Gamification. Gamified elements help users get real-time feedback, acknowledge their progress, and stay motivated. You can implement digital rewards such as badges, points, etc.
Practitioner app mental health tracking features
The applications that help to treat diagnosed post-traumatic stress disorder will require a separate app for practitioners. These apps help a mental health professional  monitor the patient, analyze the patient's data, and revise treatment plans if needed. Here's an essential feature list for the practitioner's mental health mobile app:
Access control. Protected health information (PHI) shouldn't fall into the wrong arms. The access control feature sets the limits on working with PHI, which guarantees therapy confidentiality.
Dashboard. A dashboard helps practitioners manage their workflow, access patients' data, perform analysis, and more.
Scheduling. Let practitioners manage the appointments directly from your app. Provide a calendar and notifications to make the patient-doctor connection straightforward.
Not just for mental illness patients, these mental health apps are also a great source and platform for mental health professionals. They can easily connect to the app with their patients and update their knowledge to take better care of their patients. Also, mental health professionals can offer their patients:
a good nutrition and exercise regimen
track the mental health progress of patients, as well as symptoms
mood and medication monitoring, which can also be done with a good mental health app. 
In addition, these mental health specialists of mental healthcare services can contact patients via online sessions when needed. All of this has one goal: to improve patient care and reduce the overall burden on mental healthcare on Earth.
How to Develop a Mental Health App: 5 Steps to Release & Secure Funding
Now that we've seen what popular mental health apps are, let's discover how to make a mental health app. There are two main stages in mental health app development: preparation and psychological therapy app development itself. During the first stage, you need to collect the information which will determine app requirements. The second stage implies prototyping, app development, and testing to achieve the app's high performance.
Step 1. Conduct market research
Before you go any further in mental health app development, we advise you to start by examining your market. Market analysis will help you establish your business goals with greater clarity. When you apply an evidence-based development process, you get:
a better understanding of market needs and requirements
a perspective to stand out from your competitors
enhanced strategic planning
predicted income and success evaluation
marketing strategy prerequisites.
Start by analyzing market size. Discover who are your primary customers. Learn their demographics and social status, where they work, and what their age curve is. Then assess the number of target customers in the market. To do so, calculate the number of customers of the companies with a profile similar to yours.
Your future customers are looking for mental health apps for a reason. Discover what they are looking for in such apps, their pain points, and what problems these apps solve.
See what mental health solutions your competitors offer to get inspired. You may notice that some of the customer problems aren't entirely fulfilled. It'll give you a great chance to compose your unique value proposition and stand out from competitors.
Market analysis lets you develop a mental health app for mental disorders driven by the market's demand, so your success relies on not just guesses and "gut feeling" but also reasonable research outcomes.
Step 2. Leverage Industry-Based Insights from Niche Experts
Since you're dealing with a health app, you should also engage professionals to guide you through the specific needs of a mental illness. Several therapies, such as Cognitive Behavior Therapy (CBT) or psychodynamic treatment, were created to address mental health issues. Some of them could be a core concept for your application, which will define its content and features, such as cognitive skills training. So, professional advice could come in handy. 
The National Center of Biotechnology information published evidence-based recommendations for the future of mental health app development. We've highlighted core recommendations from the article for you:
Basic CBT principles require activities that enhance context engagement, attention, and cognitive change. You can achieve this by providing rewards, meditations, thoughts journals, etc.
Preventive applications for people without a clinical diagnosis are more effective than apps for a specific mental illness.
Real-time engagement is good for addressing users' problems at the moment they experience psychological challenges.
Apply transdiagnostic CBT to deal with both depression and anxiety.
Include psychoeducation to increase users' awareness of psychological processes and techniques for managing their distress.
Provide gamification and progress tracking for better engagement.
Provide links to crisis support services.
To achieve excellent therapeutic outcomes, provide:
tools for building lasting relationships between the therapist and the patient
personalized mental health solutions
self-monitoring features with feedback.
Step 3. Choose the features and monetization strategy
With market research and professional guidelines at hand, you can define the feature list for your application. We suggest you create a Minimum Viable Product (MVP) first and then scale it up to a full-fledged application. An MVP approach implies developing only the crucial features that let an application bring principal value. Then you test your app out, fix bugs, make improvements and repeat testing until your app for mental disorders is stable.
You should also think of a suitable revenue model for your app to achieve your business goals. These are the most popular monetization strategies you may apply:
Let your users download the application for free, providing free access to core features. If they wish to use full functionality or additional content, they should make in-app purchases.
This monetization model implies users get access to your app for a specific period. To continue using the app, they need to pay a monthly/yearly fee. You can also provide flexibility by offering paid plans with a set of privileges for each plan.
If users pay to download an app, they get lifetime access to your application, including further updates.
Step 4. Create an intuitive design
Now you have a feature set to develop, but what about the user interface? The application logic can be hard to follow sometimes for users. Work on the app design if you don't want people to abandon your app for mental disorders because of its clunky UI. Consider these recommendations to make a user interface clear:
make the screens simple, free from needless elements
provide intuitive navigation
choose a calm color palette
display reports in simple graphics
make text content easy to read.
Do not rely only on your understanding of which design is good. Test your app's UI/UX on focus groups, your teammates, friends, etc. With several points of view taken into consideration, you have a greater chance to provide a seamless user experience and retain users.
Step 5. Develop, test, and implement
The final step, the development process lies on the shoulders of your team of mental health app developers. There are several approaches for software programming, such as waterfall, incremental approach, spiral approach, etc. Which one to choose depends on your industry requirements. When hiring a team of mental health app developers, ask for the development methodologies they use, their test cycle, and the control measures they apply to provide reliable software. When your app for mental illnesses is built and well-tested, you are ready to launch it and acquire the first users.
Remember to develop a plan for further actions on supporting and improving your app to keep your business going and achieve remarkable outcomes.
How to Make a Mental Health App: Common Project Costs
The cost of developing a mental health application depends on time, app complexity, and the number of platforms you will maintain. If you need a mobile and web application, the time spent on mental health app development will increase. Most development teams charge an hourly rate for their services. Depending on the team's location, the fee will vary.
| | | |
| --- | --- | --- |
| Region | Hourly rate | Basic level healthcare app |
| The USA | $100-180 | $100,000-180,000 |
| Great Britain | $125-220 | $125,000-220,000 |
| Western Europe | $90-165 | $90,000-165,000 |
| Eastern Europe | $30-70 | $30,000-70,000 |
| Ukraine | $30-50 | $30,000-50,000 |
| India | $15-30 | $15,000-30,000 |
Building an app for bipolar disorder usually takes over 5 thousand hours. Creating an MVP will cost you approximately USD 50,000-70,000. Don't forget to include hidden costs for backend support, integrations, and compliance certifications.
7 Battle-Tested Best Practices to Follow and Launch a Sales-Ready App 
It is crucial for you to know what is happening now in the market. Before you start working on your application, we recommend that you study innovative approaches and modern mental health practices. Find out which practices are in trend trending now:
Patient-centric design
Effective mental health app design is perhaps the main factor in the success of your future project since it is the first thing your users will encounter. If the design of your application is unpleasant and incomprehensible, then they will simply close it and never return to it. Moreover, in the case of developing a mental health application, the risks of such a scenario are even more likely, since in this case, you will interact with a very sensitive audience.
Look at reviews of mental health apps in the Apple Store or Google Play. You will see that a huge number of people complain not only about overloaded design and poor navigation, but also about aggressive design – irrelevant design annoys users as much as aggressive advertising and leakage of their personal data.
To avoid these design flaws, follow these rules:
Color scheme. Try to avoid bright, flashy colors that can cause negative feelings and aggravate the user's condition. Instead, choose calm, preferably warm tones that will evoke pleasant associations. For example, purple is often used for meditation-related screens; while green is commonly used on screens to relieve stress and anxiety; blue- evokes a sense of confidence and trust; pink usually helps to relax.
Simple design. Typically, users of mental health apps prefer a minimalistic interface that is not overloaded with information and redundant features. At the same time, it is also desirable that there be a large distance between pictures, buttons, texts, and other design elements.
Calm sounds. Sounds inside the application should not be harsh or loud; instead, use soothing music and nature sounds. If the application has text recitation by voice, then it should also be calm and slightly muffled so as not to annoy users.
Soft lines. Apart from this, it is also important to avoid straight and sharp lines/corners. They are associated with energy (aggression) and interfere with relaxation.
Clinician-focused admin panel
The main characteristics of the screen with profiles are minimalism and informativeness. The layout should include the name, age, photograph, and a resume describing the therapist's experience.
The purpose of this feature is to provide users with the right information and engage them in interacting with the platform. Therefore, the profile screen should be easy to navigate and concise.
Interoperability
Mental health data should flow freely from the application to the psychiatric systems of other professionals (e.g. EHR/EMR). Otherwise, you may lose partnership opportunities if patient data is not made available for secure, anonymous sharing.
Cross-platform support
Today, on average, people switch between two mobile devices per day: laptops and smartphones. Therefore, your application must meet the needs of the client on all these platforms.
Trauma-informed care
Provide patients with appropriate contacts in the emergency app. For the emergency support function, there should be a separate call button and a short FAQ section. You can also add automatic notifications to family members and relatives just in case.
AI-powered clinical settings
Artificial intelligence can be useful for developing your therapeutic or mental health application. This is because app development and mood tracking can rely entirely on understanding artificial intelligence as a substitute for a real healthcare professional or face-to-face patient. AI is a great tool to consider when you want to develop a mental healthcare app.
The best reason to use AI is that over time, AI-based applications can better adapt to the needs of the user.
Telehealth
The use of telehealth in health applications is now on the rise. Using this practice will help reduce the harmful effects of sedentary behavior, protect health, and even resolve sleep problems. A huge number of applications provide not only access to training but also a diet plan and a calorie counter, allowing the population to stay in good physical shape and monitor their health.
Riseapps' Mental Health App Developers Experience
At Riseapps, we help healthcare brands to build reliable applications fast and with high performance using a modern technology stack. Our team has comprehensive experience in custom healthcare mobile application development. With 7 years of telemedicine expertise, we've made business solutions and processes money-worthy and customer-focused. 
A great example is Skinpick, a market-leading mental health platform for excoriation disorder treatment. Riseapps have been collaborating with Skinpick since 2020. For this time, such solutions were delivered:
Transformed an MVP-based version into a full-featured product
Full-fledged UI/UX design to renovate the platform's look-n-feel
SMM and marketing materials design 
Adopted a brand-new treatment plan system and got a 35% satisfaction rate growth among mental healthcare specialists
Redesigned the user experience and navigation to get a 200% platform usage growth
30% conversion rate boost in the first 30 after-release days.

Skinpick – Healthcare Software Development
Another example is PxPhoto, a HIPAA-compliant cloud storage photo management software. We have helped the HealthTech & clinical photography management product to raise $1 dollars and get featured on Minbody, PatientNow, AppAdvice, Nextech, and much more. For this period, we delivered such solutions:
Full-featured web app development 
Patient-focused iOS-based mobile app development 
EMR integrations with Streamline, eClinical, and Greenway platforms
Highly secure data encryption and HIPPA (Health Insurance Portability and Accountability Act of 1996)  compliance that has general data protection regulation
Payment gateway integrations for seamless in-app purchases
Full-cycle UX/UI system design.

PxPhoto – Healthcare Software Development
Key takeaways
Now you have all the necessary information to start your app. Let's sum up the main ideas of mental health app development.
The mental health application market is growing, and now is an excellent time to launch a mental health app.
There are several mental health apps for you to think about. For example, meditation apps, general mental health apps, apps for specific bipolar disorder treatment with anxiety management support, and self-help apps.
The applications' target audience is dispersed. Providing separate apps for patients and therapists is a common practice.
The essential feature set for mental health apps includes a user profile, communication features, an audio/video library, self-monitoring, notifications, gamification, and access control.
To develop an app, you need to conduct market research, define the app's functionality, and find a reliable team of mental health app developers.
Need a team of skillful developers to build your mental health app?
Learn more
FAQs
---
How do I create a mental health app?

---

To develop a successful app, take the following steps:

Step 1. Conduct market research
Step 2. Ask for professional advice
Step 3. Choose the features and monetization strategy
Step 4. Create an intuitive design
Step 5. Develop, test, and implement
---
How much does it cost to create a mental health app?

---

Building an app usually takes over 5 thousand hours. Creating an MVP will cost you approximately USD 50,000-70,000. Don't forget to include hidden costs for backend support, integrations, and compliance certifications.
---
Do I need to make my mental health app evidence-based?

---

Evidence-based apps will contribute to more effective treatment of a patient with a mental health disorder. Proven and reliable evidence will also offer personalized treatment based on analysis, research, testing, and observation.
---
Lack the team of professionals for your mental health app development?
Contact us