Humans know how to deal with common health issues; they turn to a practitioner for help when someone's got the flu. But what if they experience solitude or sadness? These feelings could be a ringing bell for mental health issues. According to the National Institute of Mental Health, Nearly, one in five U.S. adults live with a mental illness (51.5 million in 2019).
Most people aren't aware that depression or anxiety are psychological disorders. And even fewer can recognize the symptoms. Mental health software is a modern way to provide mental health awareness and improve human well-being. Practitioners say applications can facilitate therapy because "a lot of work happens outside the office."
For those who want to develop a mental health application, now is an excellent time. To help you get started, we've aggregated our experience into a structured guide on how to develop a mental health app.
Why are mental health apps so popular?
Mental health applications' popularity is growing. Sensor Tower's report reveals that the top 100 apps in the wellness category exceeded 200 million installsy in April 2020. As the Coronavirus pandemic hit the world, people faced a lot of stress and anxiety. Many turned to self-help apps, meditation apps, mood monitoring apps to combat these feelings.
The mental health apps market is growing due to the widespread use of mobile phones.
It was valued at overUSD 928 million in 2020 and is expected to grow at a CAGR of 20.5% to reach a market valuation of around USD 3 billion by the year 2027. The market offers a lot of opportunities for startups to help people and gain profit. So why are mental health apps so popular?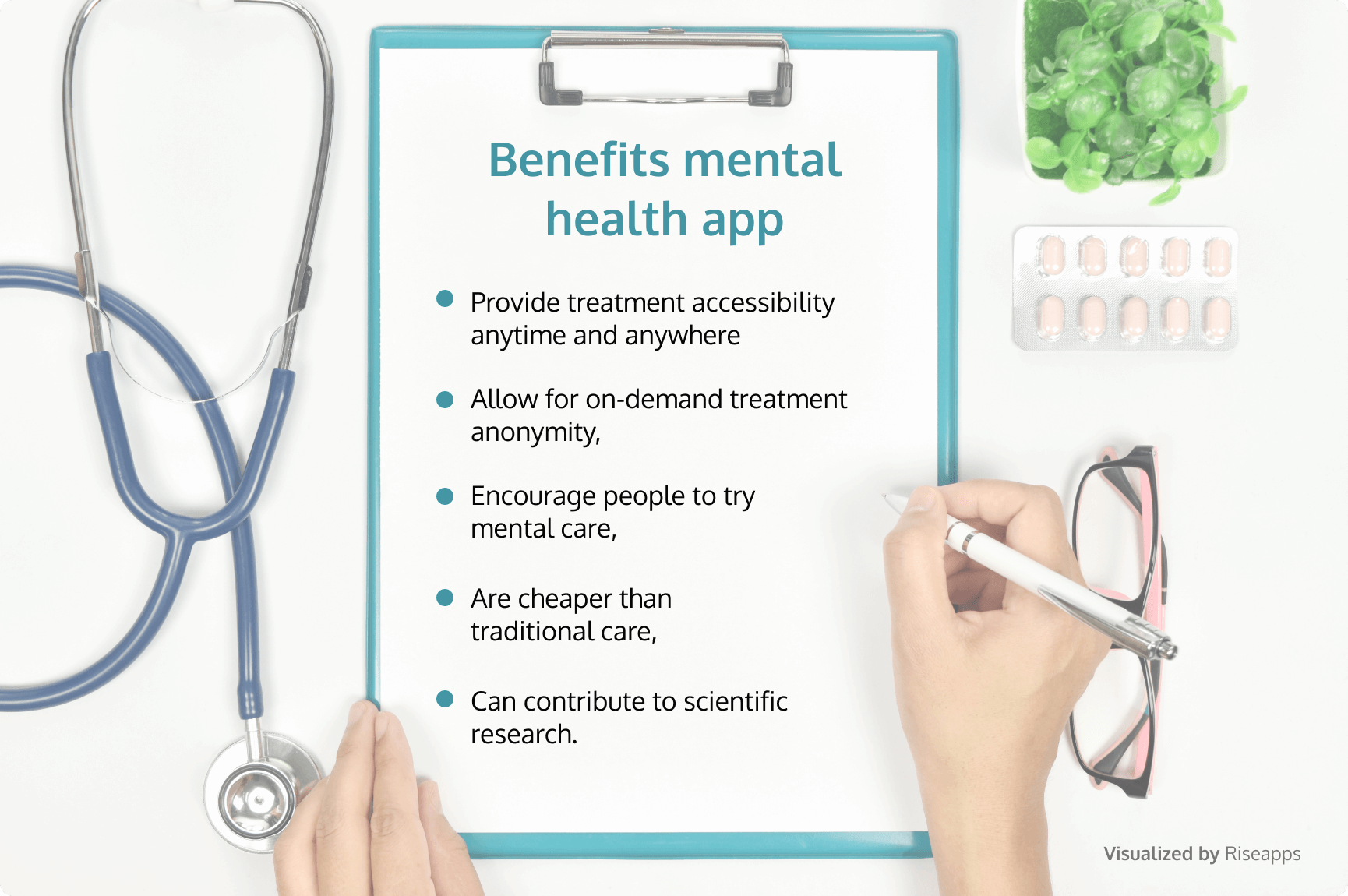 Mental health applications are a convenient tool for people who've been avoiding mental care for some reason, for those who have troubles with in-person communication, for groups of people who live in remote areas, for those who want to improve their well-being, for everyone. That's why mental health apps are attractive for many people. Before starting your mental health app development, learn about the mental health app's types and main features.
Mental health application types
A mental health app creator should clearly understand how different types of such applications work. The application type you'll choose to build will define your target audience, the app's feature set, your marketing and monetization strategy, and development complexity. So before you jump into mental health app development, study the most widespread mental health app types.
Meditation apps
Meditation is a process of training your mind. Meditation helps to stay focused on your inner-self and not on thoughts spinning in your head. This practice became so popular recently due to its simplicity and positive impact on one's well-being. Meditation applications make meditation accessible anytime, anywhere.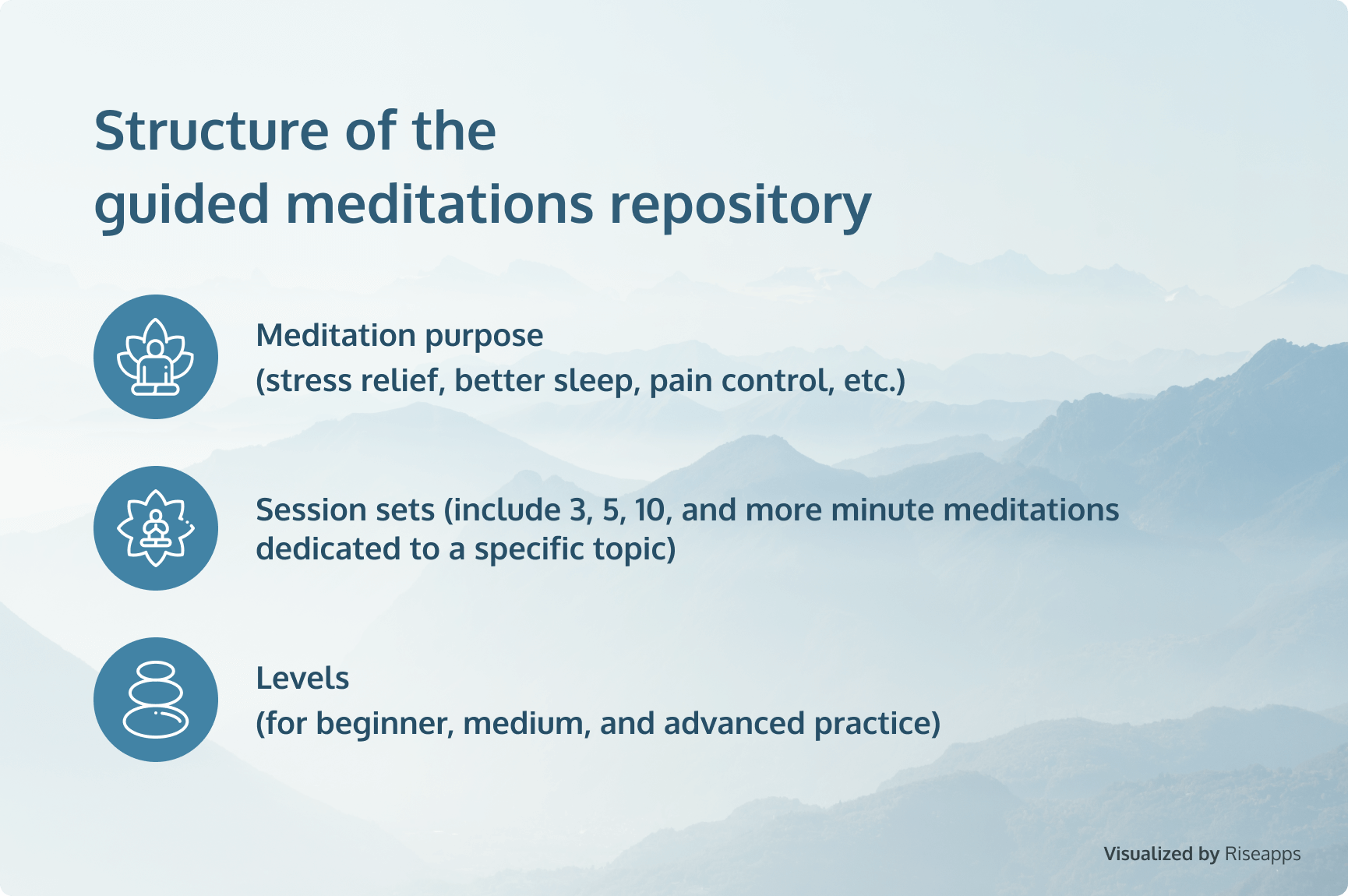 Meditation apps' layout design patterns stick to simple UI and relaxing colors. It's also good to have such advanced features as personalization and gamification to boost user engagement.
Take a look at Headspacefor inspiration. The application is the second most downloaded meditation app. It offers many meditation courses and 'how-tos' to reduce stress, achieve mindfulness, and more. The app has a clear user interface; it also provides tutorials on several meditation techniques and a progress tracker to keep users engaged.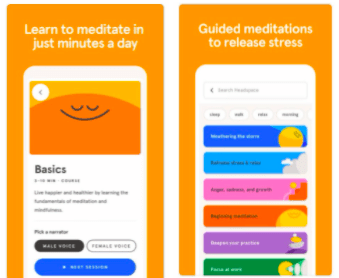 Self-improvement apps
Self-improvement applications are meant for people who don't experience any mental health issues but are interested in improving their lifestyle. Self-improvement apps help to develop good habits, monitor one's mood, cultivate positive thinking, etc. According to the app purpose, self-help apps can be divided on:
General mental health apps provide questionnaires to increase people's self-awareness and tools for building positive thoughts patterns.
Addiction recovery apps deal with bad habits such as smoking, alcohol, and drug addictions. The features could be reminders, support chats, etc.
Stress management apps help to build stress-busting skills with breath exercises and biosensors to track stress levels.
Let's take a look at Sober Grid, the application which helps to go through addiction recovery. The application provides 24/7 access to chats where people in recovery can share their feelings and get support. It uses GPS to help people find sober buddies nearby. According to CrunchBase, Sober Grid's total fundings amount is USD 10 million, and their most recent investor is the National Institute on Drug Abuse.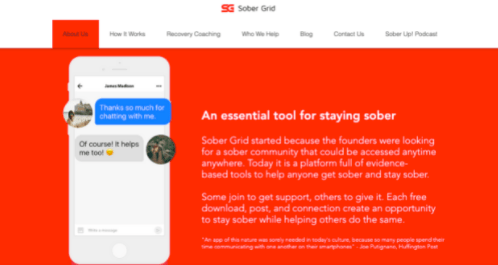 Educational apps
Educational applications in healthcare can bring awareness to some diseases, help learn medical concepts and terms, provide a visual representation of human body parts, etc. Educational apps could add significant value to reducing the stigma around mental illnesses.
Your app could be the storage of helpful content related to the topic. It also can be designed as a game where people learn while playing. For instance, the Center for Disease Control and Prevention provides a mobile application with trusted content and the latest news concerning health. The application has an advanced filtering feature for users to set up a personalized news feed.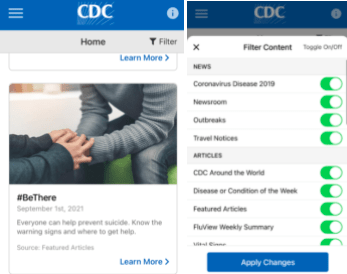 Apps for specific disorders treatment
Mental disorder applications help people cope with bipolar disorder, eating disorder, obsessive-compulsive and posttraumatic stress disorders, etc. These applications provide mood or food tracking, chat and video calls to connect with a psychiatrist, social and gamification features, etc. See how it works on Recovery Record's example.
RR: Eating Disorder Management is an application that helps people combat bulimia, anorexia, binge eating, and general eating concerns. It provides users with a calm and friendly interface to track and plan their meals, develop coping skills, contact their nutritionist, and more. It includes a reward feature to engage users to continue their treatment. According to Apptopia, RR: Eating Disorder Management has more than 5,000 downloads monthly.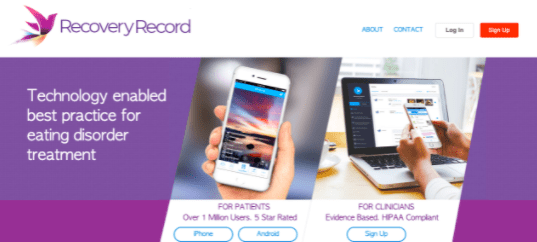 Essential features of mental health apps
When talking about the essential mental health app features, we would like to mention that disease treatment apps will also require the healthcare providers portal. Let's discover the vital components that a patient and practitioner mental health apps should have.
Patient app features
A mental health app for patients should provide excellent accessibility and ease of use. Make the features as straightforward as possible to help users quickly adapt and start using them right away. Try not to overload the screens with UI details to provide a convenient layout. Here's a list of features that each mental health app should include:
User profile.As healthcare apps work with sensitive patient information, it's best to provide sign-in/sign-out features to manage access. Creating a user profile should be straightforward. Think of fetching the data from users' social media to speed up the registration.
Communication features.Including chat and video calls in mental health, apps is a must, as patients with depression and PTSD require 24/7 support. For self-help apps, you can provide community features to encourage people to share their experiences.
Audio/video library.Your app should have relevant content depending on the type of mental health app you develop. Video content is king nowadays, and audio materials are a good supplement as users can listen to them daily.
Self-monitoring.Mood journals, meals tracking, pills schedule, progress tracking are all attributes for mental health apps. Regardless of the app type you'll build, self-monitoring features are a must.
Notifications.Notifications is a powerful engagement tool for the apps that provide tracking features. It's even more valuable for mental health apps as observing behavioral patterns is a key to recovery. Notifications help people keep their journals and stay motivated.
Gamification.Gamified elements help users get real-time feedback, acknowledge their progress, and stay motivated. You can implement digital rewards as badges, points, etc.
Practitioner app features
The applications that help to treat diagnosed mental health disorders will require a separate app for practitioners. These apps help healthcare providers monitor the patient, analyze the patient's data and revise treatment plans if needed. Here's an essential feature list for practitioner's app:
Access control.Protected health information (PHI) shouldn't fall into the wrong arms. Access control feature sets the limits on working with PHI, which guarantees therapy confidentiality.
Dashboard.A dashboard helps practitioners manage their workflow, access patients' data, perform analysis, and more.
Scheduling.Let practitioners manage the appointments directly from your app. Provide a calendar and notifications to make patient-doctor connection straightforward.
Compliance
Any health application which works with Protected Health Information(PHI) should comply with official regulations. PHI includes such sensitive data as demographic information, names, addresses, social security numbers, medical history, biometric identifiers, etc. When creating mental health applications, make sure you protect valuable data under the following protocols and regulations.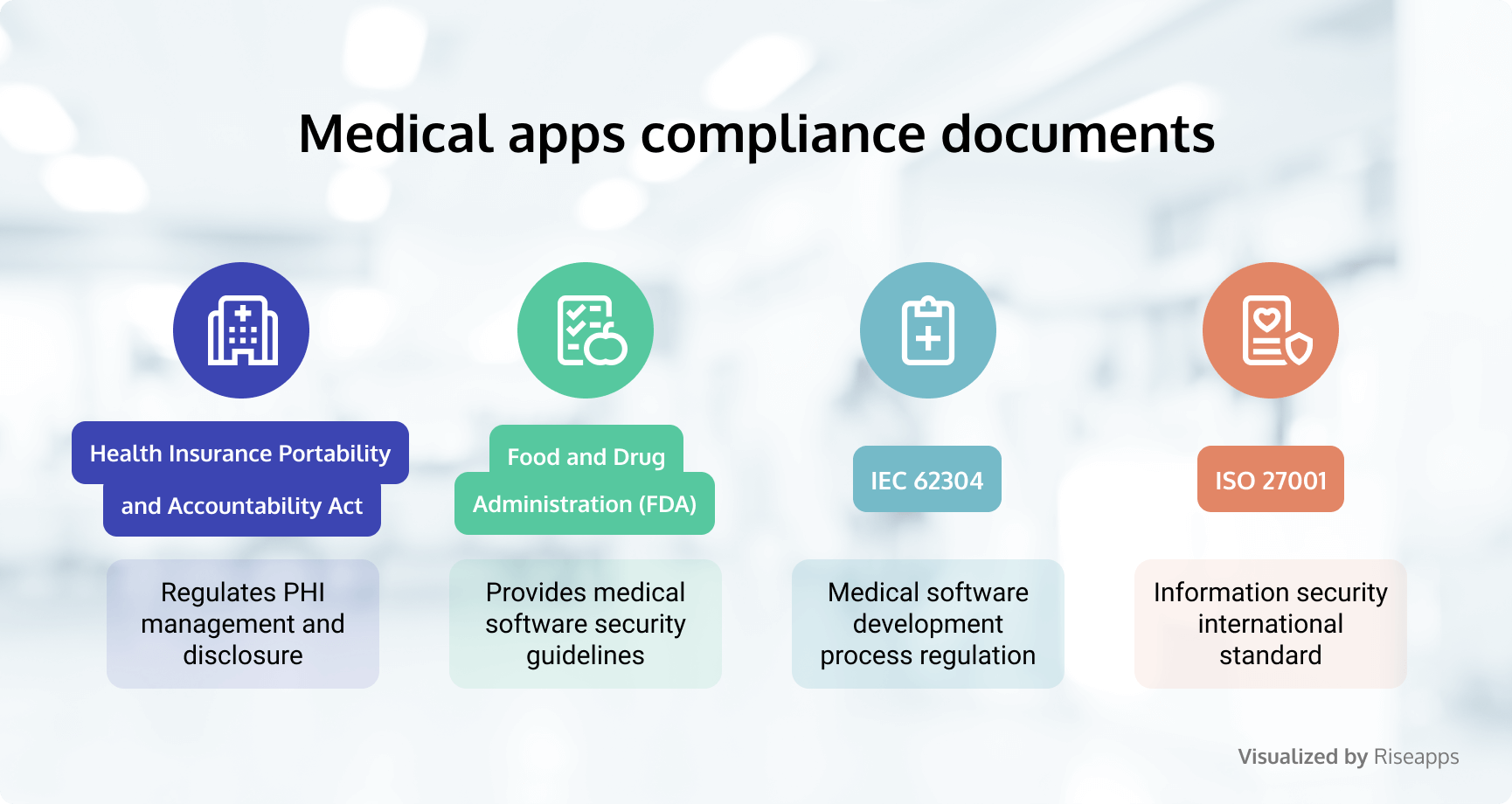 Critical steps of mental health app development
Now that we've seen what mental health apps are, let's discover how to develop a mental health app. There are two main stages in application development: preparation and development itself. During the first stage, you need to collect the information which will determine app requirements. The second stage implies prototyping, development, and testing to achieve the app's high performance.
Step 1. Conduct market research
Before you go any further in mental health app development, we advise you to start by examining your market. Market analysis will help you establish your business goals with greater clarity. When you apply evidence-based development process, you get:
a better understanding of market needs and requirements,
a perspective to stand out from your competitors,
enhanced strategic planning,
predicted income and success evaluation,
marketing strategy prerequisites.
Start by analyzing market size. Discover who are your primary customers. Learn their demographics and social status, where they work, and what their age curve is. Then assess the number of target customers in the market. To do so, calculate the number of customers of the companies with a profile similar to yours.
Your future customers are looking for mental health apps for a reason. Discover what they are looking for in such apps, their pain points, and what problems these apps solve.
See what solutions your competitors offer to get inspired. You may notice that some of the customer problems aren't entirely fulfilled. It'll give you a great chance to compose your unique value proposition and stand out from competitors.
Market analysis lets you develop your mental health app driven by the market's demand, so your success relies on not just guesses and "gut feeling" but also reasonable research outcomes.
Step 2. Ask for professional advice
Since you're dealing with a health app, you should also engage professionals to guide you through the specific needs of a mental illness. Several therapies, such as Cognitive Behavioural Therapy (CBT) or psychodynamic treatment, were created to address mental health issues. Some of them could be a core concept for your application, which will define its features and content. So, professional advice could come in handy. The National Center of Biotechnology information published evidence-based recommendations for the future development of mental health apps. We've highlighted core recommendations from the article for you:
Basic CBT principles require activities that enhance context engagement, attention, and cognitive change. You can achieve this by providing rewards, meditations and thoughts journals, etc.
Preventive applications for people without a clinical diagnosis are more effective than apps for a specific mental illness.
Real-time engagement is good for addressing users' problems at the moment they experience psychological challenges.
Apply transdiagnostic CBT to deal with both depression and anxiety.
Include psychoeducation to increase users' awareness of psychological processes and techniques for managing their distress.
Provide gamification and progress tracking for better engagement.
Provide links to crisis support services.
To achieve excellent therapeutic outcomes, provide:
– tools for building lasting relationships between the therapist and the patient,
– personalized treatment solutions,
– self-monitoring features with feedback.
Step 3. Choose the features and monetization strategy
With market research and professional guidelines at hand, you can define the feature list for your application. We suggest you create a Minimum Viable Product (MVP) first and then scale it up to a full-fledged application. An MVP approach implies developing only the crucial features that let an application bring principal value. Then you test your app out, fix bugs, make improvements and repeat testing until your app is stable.
You should also think of a suitable revenue model for your app to achieve your business goals. These are the most popular monetization strategies you may apply:
Freemium. Let your users download the application for free, providing free access to core features. If they wish to use full functionality or additional content, they should make in-app purchases.
Subscriptions. This monetization model implies users get access to your app for a specific period. To continue using the app, they need to pay a monthly/yearly fee. You can also provide flexibility by offering paid plans with a set of privileges for each plan.
Pay to download. If users pay to download an app, they get lifetime access to your application, including further updates.
Step 4. Create an intuitive design
Now you have a feature set to develop, but what about the user interface? The application logic can be hard to follow sometimes for users. Work on the app design if you don't want people to abandon your app because of its clunky UI. Consider these recommendations to make a user interface clear:
make the screens simple, free from needless elements,
provide intuitive navigation,
choose a calm color palette,
display reports in simple graphics,
make text content easy to read.
Do not rely only on your understanding of which design is good. Test your app's UI/UX on focus groups, your teammates, friends, etc. With several points of view taken into consideration, you have a greater chance to provide a seamless user experience and retain users.
Step 5. Develop, test and implement
The final step, a development process, lies on the shoulders of your development team. There are several approaches for software development, such as waterfall, incremental approach, spiral approach, etc. Which one to choose depends on your industry requirements. When hiring a developers team, ask for development methodologies they use, their test cycle, and control measures they apply to provide reliable software. When your app is built and well-tested, you are ready to launch it and acquire the first users.
Remember to develop the plan for further actions on supporting and improving your app to keep your business going and achieve remarkable outcomes.
How much does it cost to build a mental health application?
The cost of developing a mental health application depends on time, app complexity, and the number of platforms you will maintain. If you need a mobile and web application, the time spent on development will increase. Most development teams charge an hourly rate for their services. Depending on the team's location, the fee will vary.
| | | |
| --- | --- | --- |
| Region | Hourly rate | Basic level healthcare app |
| The USA | $100-180 | $100,000-180,000 |
| Great Britain | $125-220 | $125,000-220,000 |
| Western Europe | $90-165 | $90,000-165,000 |
| Eastern Europe | $30-70 | $30,000-70,000 |
| Ukraine | $30-50 | $30,000-50,000 |
| India | $15-30 | $15,000-30,000 |
Building a mental health app usually takes over 5 thousand hours. Creating a mental health MVP will cost you approximately USD 50,000-70,000. Don't forget to include hidden costs for backend support, integrations, and compliance certifications.
Our experience in mental health app development
Riseapps team has comprehensive experience in developing applications for the healthcare industry. We use a modern technology stack to provide cross-platform development to build reliable applications fast and with high performance:
Backend: Python, Django, Django Rest, AWS, Firebase.
Frontend: React.js, Redux, WebRTC, React Native
iOS: Swift
Android: Kotlin
We help our clients go through the development process smoothly. Our team of developers and business analysts puts an effort to help you assess your business idea, pick a suitable technology stack, develop a prototype for raising funds and build your Minimum Viable Product within three months.
Key takeaways
Now you have all the necessary information to start your mental health app. Let's sum up the main ideas of mental health app development.
1. The mental health application market is growing, and now is an excellent time to launch a mental health app.
2. There are several mental health apps to choose from. For example, meditation apps, general mental health apps, apps for specific disorders treatment, self-help apps.
3. The mental health applications' target audience is dispersed. Providing separate apps for patients and therapists is a common practice.
4. The essential feature set for mental health apps includes user profile, communication features, audio/video library, self-monitoring, notifications, gamification, access control.
5. To develop a mental health app, you need to conduct market research, define the app functionality, and find a reliable team of developers.

Need a team of skillful developers to build your mental health app?
Contact us
FAQs
---
How much does it costto builda mental health application?

---

Building a mental health app usually takes over 5 thousand hours. Creating a mental health MVP will cost you approximately USD 50,000-70,000. Don't forget to include hidden costs for backend support, integrations, and compliance certifications.
---
What are the benefits of mental health apps?

---

There are several benefits that mental health applications bring to the table. Mental health apps:

provide treatment accessibility anytime and anywhere,
allow for on-demand treatment anonymity,
encourage people to try mental care,
are cheaper than traditional care,
can contribute to scientific research.
---
How to develop a mental health app?

---

To develop a successful mental health app, take the following steps:

Step 1. Conduct market research
Step 2. Ask for professional advice
Step 3. Choose the features and monetization strategy
Step 4. Create an intuitive design
Step 5. Develop, test, and implement
---
Lack the team of professionals for your mental health app development?
Contact us