As a company grows, L&D specialists face the need to find solutions to standardize and automate employee training and onboarding. Universities and schools also need to digitize educational processes, especially in the realities of the coronavirus pandemic. The best way to do it efficiently is to set up a learning management system. An LMS provides automation, learning content delivery, learners progress tracking, administration, and reporting tools to simplify educational processes. 
Choosing suitable software requires time and effort. Besides picking a set of features needed, you should figure out all the nuances of using the LMS, its integration and customization capabilities, etc. Free, open-source platforms as Moodle may be a quick fix for your situation, but it would be better to compare a few platforms. We offer you a Moodle alternatives overview to save your time and help you find your perfect LMS.
How does Moodle work?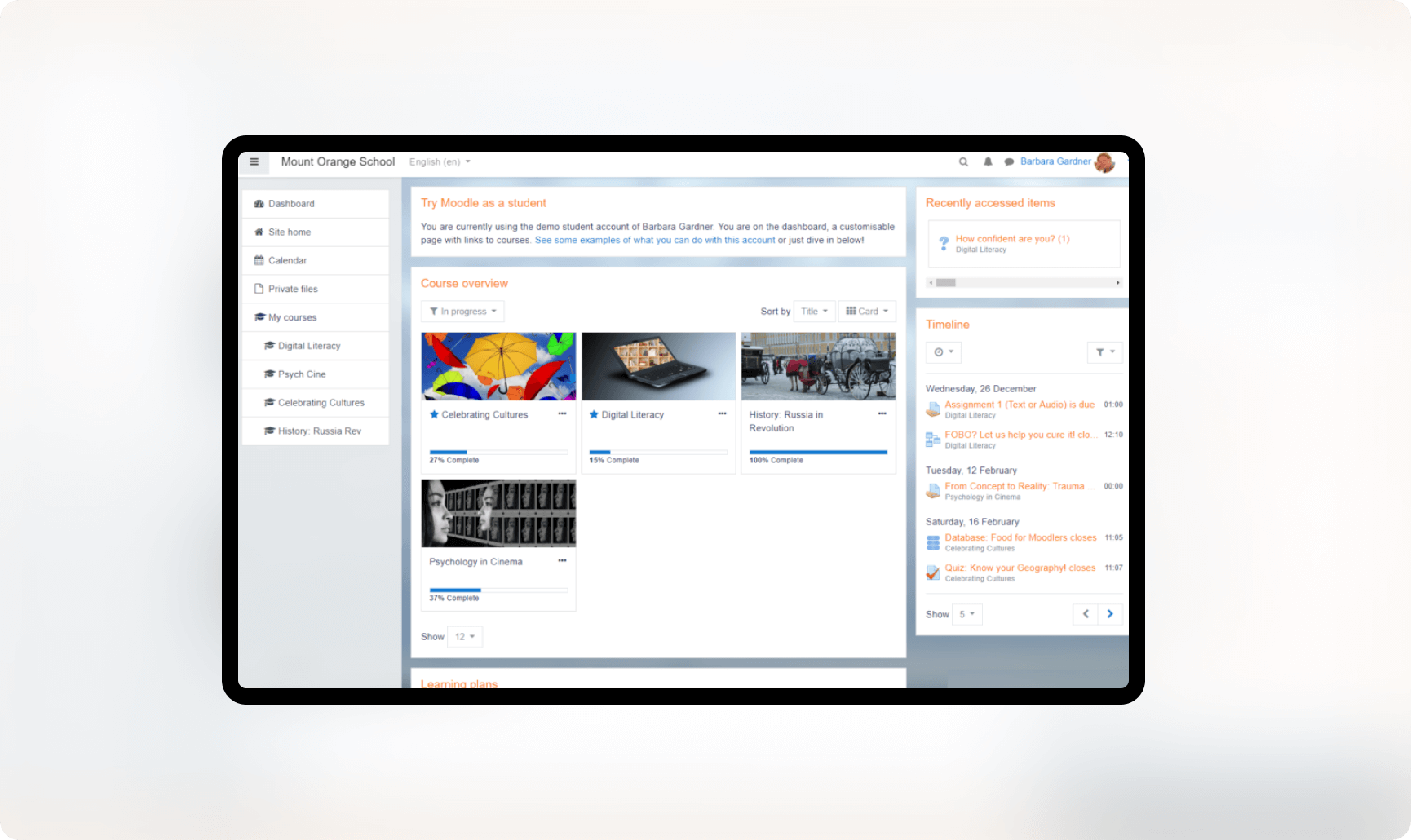 Let's begin with understanding what Moodle is and how it works. Moodle stands for Modular Object-Oriented Dynamic Learning Environment, which means developers can integrate external applications or build plugins to customize the platform to meet specific business needs. 
Before launching any courses, you need to download and install Moodle on your server. Due to its open-source architecture, Moodle has robust documentation on setting up and using the platform. But, if your technical skills are essential, or no IT specialist within your organization can configure Moodle for you, you'll need to hire a Moodle partner.
Small organizations and corporations can use MoodleCloud or Moodle Workspace for online courses. MoodleCloud is a ready-made solution that doesn't require complex coding. It has a free version for 50 users and some paid packages that widen LMS capabilities.
Moodle Workspace is a ready-made solution that streamlines onboarding and learning management for businesses. Moodle provides users with a learning management system's basic features: 
Personalized dashboards
File management
Progress tracking
Automated assessment tools
Scheduling and notifications 
Collaborative tools and activities 
Mass enrollment 
Course creation
Gamification elements (badges)
Moodle is a flexible and highly customizable tool that can help organize the learning process for corporate and non-profit organizations. The LMS is extremely popular and has a good reputation. It also has several advantages and drawbacks, you should know before choosing Moodle as your learning management system.
Benefits of Moodle
In the US, there are over 14,000 registered Moodle sites. Why do people rely on Moodle when choosing an LMS for their organization? The answer is because it's open-source and flexible enough to build a complex learning environment and support plenty of users. 
Open-source software
Moodle offers its source code to access, reuse and modify to everyone for free. You can download Moodle code, customize it and deploy it on your server without any payment required.
Any open-source software requires constant attention, updates, and improvements. And Moodle has it all due to the Moodle developers' and partners' broad community, who dedicate their knowledge and time to make Moodle a sustainable system. One more reason why open-source software is beneficial is that you can scale it to an unlimited number of users without any fees. 
Modular design
Moodle architecture consists of core modules and different plugins. Such a division provides risk-free interaction between various software components, so mistakes or unprofessional actions can't corrupt the core architecture. Moodle core libraries include several modules: 
Courses and activities. The course module is responsible for organizing activities and resources on Moodle site.
Course enrollment. This module is responsible for role-based access control. Anyone who wants to interact with the platform should be enrolled in a course by one of the user roles: student, teacher, admin, etc. 
Activity and course completion. Quiz systems in Moodle allow teachers to create questionnaires that are scored and updated automatically.  
Navigation. Navigation provides users with simple access to their courses, profiles, and other Moodle site pages.
The core modules can be customized and scaled with plugins, created from scratch, or borrowed from open libraries. Let's talk about why Moodle add-ons are an excellent tool for customization. 
Moodle add-ons
Because of the vast geography of Moodle and its huge developer community, there are over 1800 ready-made plugins you can reuse for free. Add-ons give you the flexibility to enable required features quickly and discard them when they're of no use to you anymore. There are no limits on add-ons usage, so you can scale your LMS as much as you need.
Besides free plugins, you can find dozens of commercial offers or hire Moodle specialists to create plugins for specific usage. Moodle is an LMS skeleton where you can add anything you need to boost the learning process in your organization.   
Moodle security 
Moodle provides all the tools to provide secure operations and keep user data protected. The LMS follows the security by design principle, which means Moodle creators apply a security mindset from the beginning of a development process to create a protected platform.
Due to a wide developer community, Moodle tracks the system's vulnerability and performs frequent updates to address any issues. The platform doesn't store any sensitive user information and provides authentication and access control features to prevent data leakage. 
The other Moodle security advantage is a collection of excellent guidelines and recommendations on making your site secure. If you need GDPR compliance, you should use Privacy API when developing your plugins. 
Disadvantages of Moodle: why do you need an alternative?
Although Moodle has several advantages, it may not be the best solution for your organization. It isn't easy to figure out how to set up Moodle to effectively perform employees' or students' learning. Consider the following information when choosing Moodle for your needs.
Moodle is free, like a puppy 
Moodle is open-source and free. You can access its repository anytime and build your learning management system if you have enough technical skills. Otherwise, you'll need to hire a Moodle specialist. Creating and maintaining your LMS will cost you money.
Besides, Moodle started to monetize their platform by offering pre-made solutions as MoodleCloud and Moodle Workspace by a subscription. So, if you hear that Moodle is free, remember that it's free like a puppy which you'll need to feed and heal.  
Outdated interface
Moodle design looks like it hadn't changed since 2002, when the platform was created. Clunky layout, outdated colors, and elements make poor user experience. Someone can say design is all about subjective tastes, but efficient design isn't only responsible for site appearance.
Excellent user interface design makes user communication with the system easy and influences user retention. If your LMS looks modern and is intuitive, learners are likely to come back to their courses. Moodle does offer design modifications as pre-made themes, but they are limited and not always attractive.
Besides, changing layouts will require hard coding and additional spendings. Moodle can't provide UI simplicity in comparison with modern LMSs. Before implementing Moodle, we suggest trying their demo version to assess the interface.
Inefficient reporting and analytics tools
Default reporting and analytic tools are limited in Moodle. They could be satisfied only with academic goals. Businesses will need to resort to significant modifications with the help of developers to get the required reports. Why is it so, and how Moodle reporting works?
Moodle provides several plugins to help you track students' activities, test results, etc. For example, these plugins can get you only one type of reports: 
Gradebook reports;
Course reports;
Legacy admin reports;
Quiz reports.
You can download separate reports from each plugin. But if you want to analyze the overall impact of your learning course or program, assess students' engagement and course completion, you'll need to perform analytics manually or get an additional analytics software or plugin.
The best alternatives to Moodle that you should know
Although Moodle is one of the most popular learning management systems, there're booming LMSs nowadays that offer user-friendly interfaces, robust functionality, and analytic tools for the best prices.
Google Classroom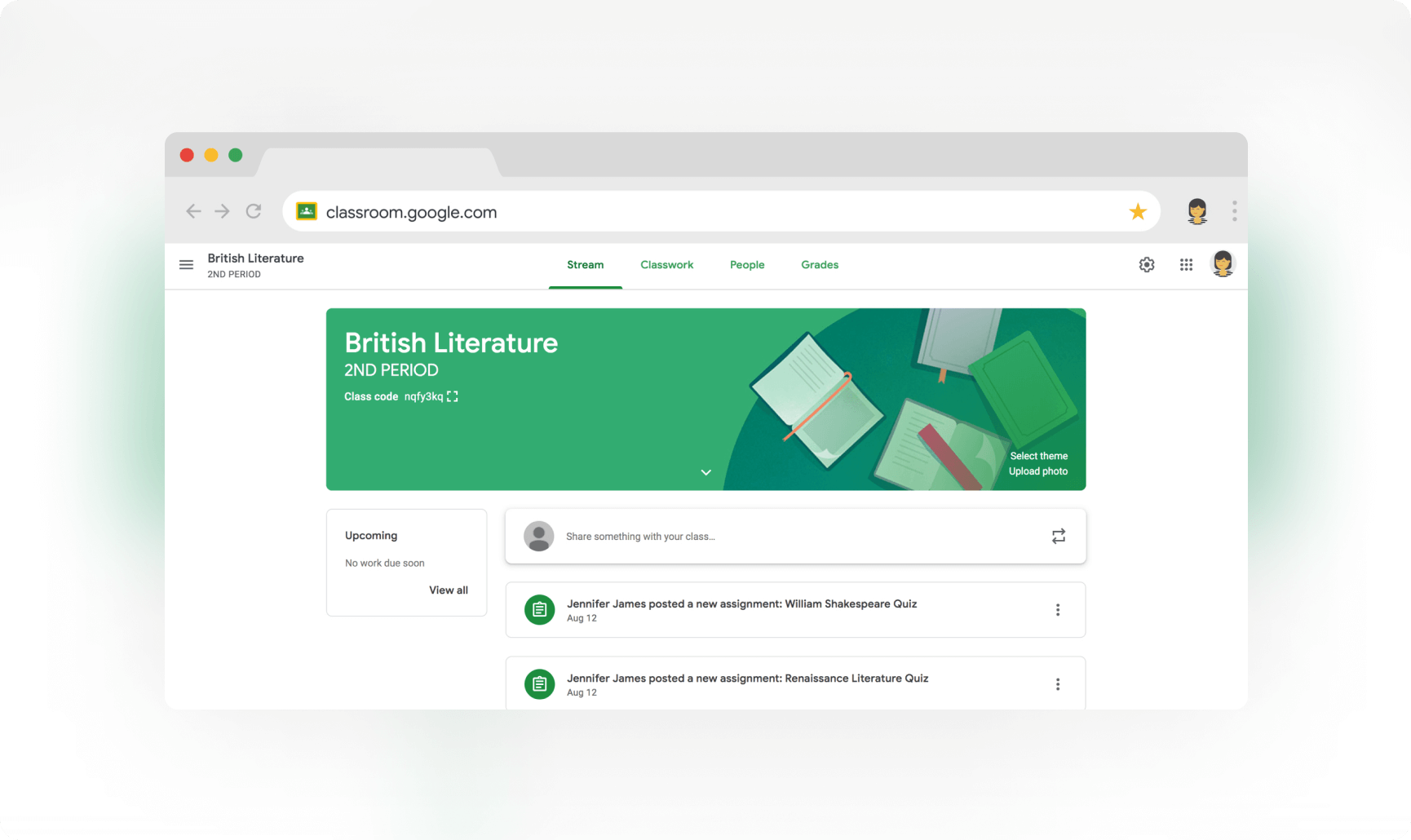 Google Classroom is a learning management platform that allows teachers and students to exchange files, create assignments, and teach and learn at a distance. When the coronavirus pandemic hit the world, Google Classroom got 50 million downloads for Android and became number one among education apps.
How does it work
Google Classroom is available as a part of a Google G-Suite for Education. Still, anyone who has a Google account can use it. To create a course, you need to apply the course name, choose a banner image and add a description. When you finish course creation, go to your Google Drive and find a "Classroom" folder. This folder is available by default for all the students who joined the class so that you can share learning materials right away.
Invite students via email, not only with Google accounts, or share an access code. When students start to accept your invitations, your course is officially online. There're enough features to provide a learning experience online. Google Classroom includes:
Assignments and announcements 
Online discussions and live classes
Customizable grading system 
Content sharing 
Pros
Google Classroom is so popular due to its simplicity and accessibility. Besides, it has all the required integrations to create an online learning environment without complicated coding.
Google Classroom is free for teachers and students. Your educational institution needs to register to Google Workspace for Education so that students will be able to access classes. Google Workspace for Education has a free plan that includes many features such as video conferencing, storage, chat rooms, etc. 
Google Classroom is deployed on the cloud, which means Google manages the server-side for you. You don't need to hire IT specialists to deploy an application and manage its security. Register and start teaching online.
Google Classroom is simple to use both for teachers and students. Due to its user-friendly interface and essential feature set, anyone can quickly understand the app's logic and start using it. Course creation and quiz management can also be done in a few clicks. 
Google Classroom has excellent collaboration tools. The app offers tools to encourage students to share their ideas and communicate with their peers. You can enable comments to give your students permission to comment on tasks and course materials. If you want to save the commenting section for teachers' notes, limit student rights to comment.
You can invite co-teachers to your Google Classroom to manage courses and quizzes together. One of the great tools is the ability to assign students to particular tasks or questions. You can use it as an engagement tool before the lesson begins. 
Cons
Although Google Classroom is free of charge and simple to use, it has several limitations which may not suit your needs.
Limited functionality. Google Classroom offers handy collaboration tools and a few features to control the educational process. However, it lacks reporting and analytics, progress tracking and has poor integration capabilities. Besides, quizzes and tests are limited in answer types. You can only create one-choice tasks or open answer tasks. 
It suits only the K-12 sector. From the name, it's clear that Google Classroom is designed to help teachers provide lessons online. For corporate goals, it's hardly convenient due to limited management features.
Not really an LMS. Google Classroom is not a learning management system. It's more an add-on for an exciting learning environment. 
Google Classroom vs. Moodle
Both Google Classroom and Moodle offer solutions for distance learning and provide enough features to organize the learning process. Both applications have cloud-based packages and are free for a limited number of features. Moodle is more flexible and can be customized and scaled, while Google Classroom is user-friendly and provides seamless collaboration.

TalentLMS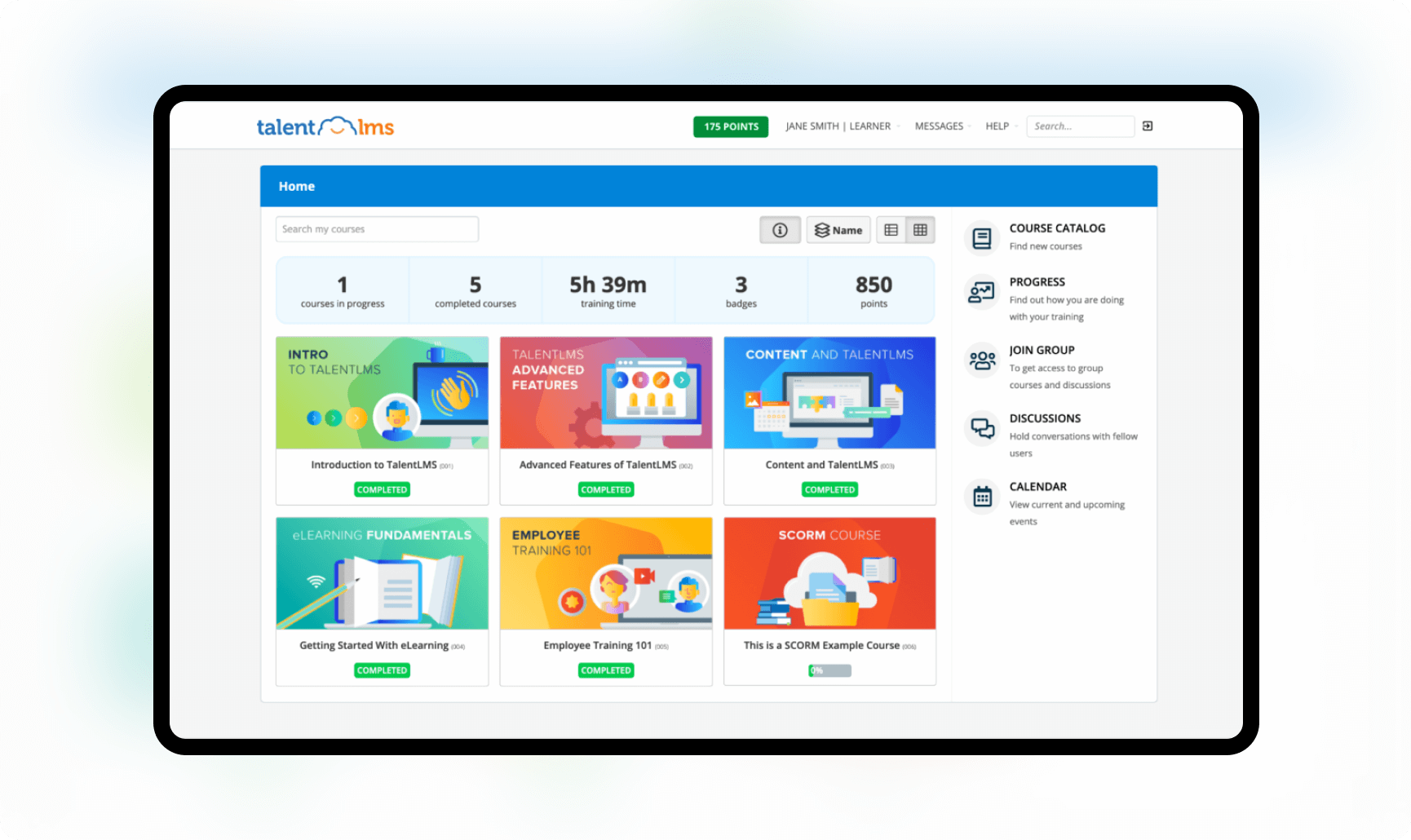 TalentLMS is a software as a service solution for small to middle-size businesses to organize employee learning processes. There are over 900 live sites using TalentLMS nowadays. 
How does it work
TalentLMS provides three-level access to the platform. Administrators, instructors, and learners have their capabilities inside the LMS. Main admin is a core role, which allows you to create and manage the whole education system for your organization and access reporting.
You can add different branches for each department or your clients, and the learners will see a separate home page with related courses. Each branch can have its admin. Instructors can add and edit courses, start discussions and conferences, assign learners and manage groups. For learners, TalentLMS offers course access via a clean interface, gamification, and progress tracking tools.
Pros
TalentLMS is a customizable and flexible platform that suits business purposes. It's simple to set up and includes reporting features. TalentLMS is one of the best alternatives to Moodle because it has: 
Accessibility and seamless UI. TalentLMS is available from any device. Learners can access courses offline from mobile, tablet, or PC. The user interface is what gets TalentLMS the best reviews. Users claim TalentLMS is intuitive and manages to avoid complex interfaces even with its comprehensive functionality.
Integrations via Zapier. There are over 200 apps you can connect to your LMS via Zapier. You can connect your management tools like an HR management system, video conferencing and collaboration tools, payment gateways, etc. 
Helpful support team. If any concerns bother you, TalentLMS will quickly answer your questions. Besides, they provide video tutorials to help you effectively use the platform. 
Cons
Poor reporting tools. It's hard to get cross-object reports, and analytics is not available. 
Lack of certificate management. You can't validate certificates publically or find a particular user by Cert ID, or update certificates according to new requirements. 
Payment options. Organizations that use TalentLMS pay per user but not for an active user. You have to deactivate learners who have finished their courses, but you lose their learning history if you do. 
Talent LMS vs. Moodle
Compared to Moodle, TalentLMS is much easier to implement and use. It has a modern and clean design and provides simple learning flow management. Moodle, on the other hand, is more suitable for large corporations. Both solutions don't offer convenient reporting tools. 
Docebo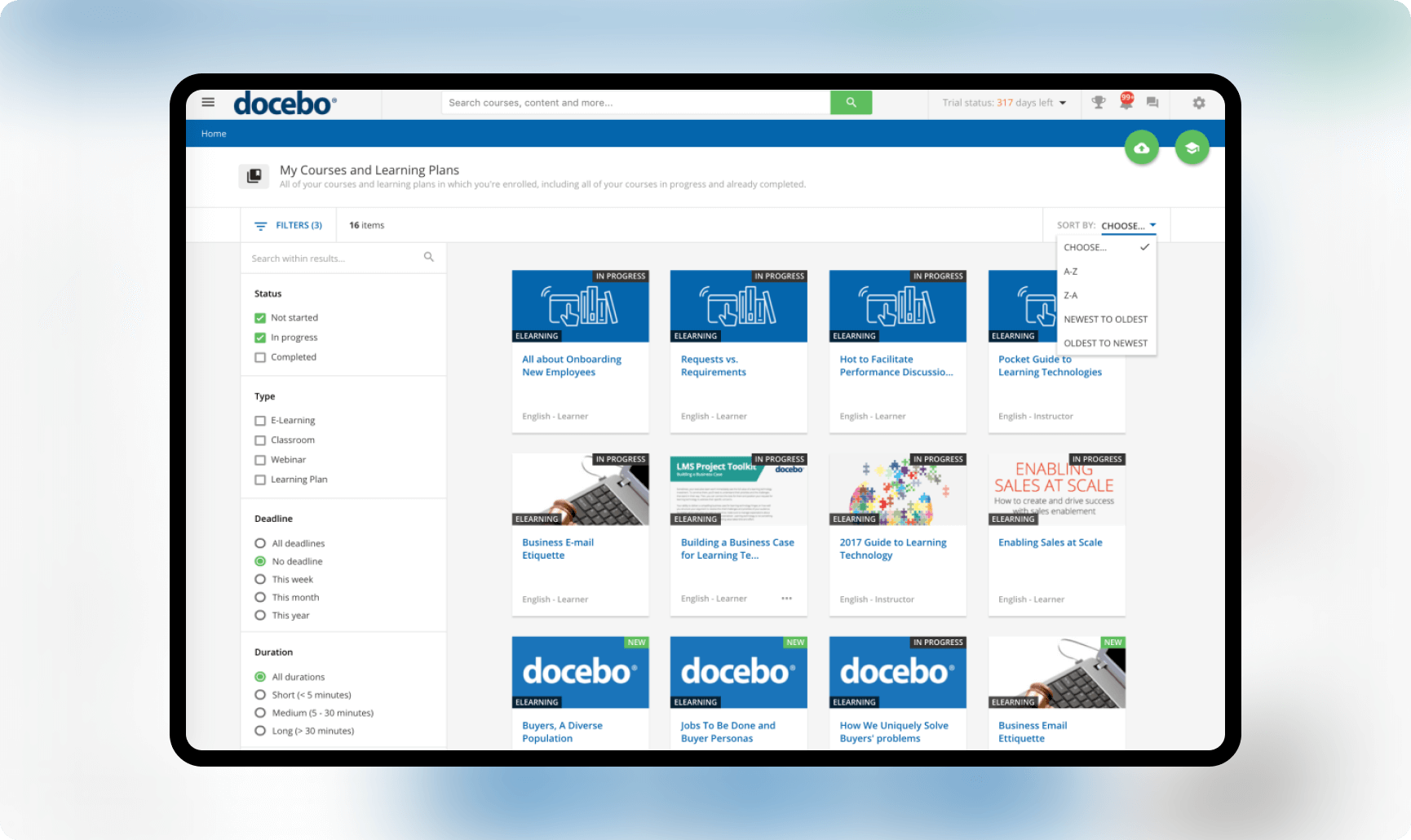 Docebo is one of the most awarded learning management systems for enterprises, trusted by over 1,600 companies such as Samsung, UniGroup, Hawk-eye, and more. Docebo is among the 15 fastest-growing enterprises in Canada for 2020. 
How does it work
Docebo setup is similar to most LMSs. It would help if you customized your LMS appearance by adjusting offered styles or embedding custom CSS styles. Then you can create users one-by-one or upload from CSV, LDAP, or other integrated applications.
Docebo provides user management by roles, branches, and groups to streamline learners' enrollment for a particular course. Course creation is also simple. From the course management page, you can add a new course. Available course types are e-learning, classroom courses, and webinars. You can either upload, import, or create learning materials – Docebo supports most file formats. 
Pros
Docebo can satisfy most corporate learning needs and offers such modern learning features as microlearning, gamification, reporting, and analytic tools.
Useful ILT features. Instructor-Led Training with Docebo becomes a pleasant process due to effective management, enrollment, course creation, and assessment tools.
Effective file management. Docebo is compliant with SCORM and Tin Can; it also allows you to upload videos, PDF, PPT, ODP, and other files. The platform converts videos in MP4 format.
Powerful integrations. Docebo offers many free and paid plugins to widen the LMS functionality. It also provides a robust API to integrate with any third-party application.  
Cons
Inefficient support. Docebo has a Help Center which provides detailed instructions on how to use essential features. Still, people who needed advanced support said they couldn't receive quick and helpful answers to their questions.
Pricing. Docebo charges for some add-ons, which users consider basic and want to see as a part of a subscription plan without additional payment.  Some paid add-ons seem to have to be added to a paid plan for free. 
Docebo vs. Moodle
Docebo could be a great alternative to Moodle as a solution for business needs. Moodle customization is also much more problematic, as it requires specific IT knowledge. 
Canvas LMS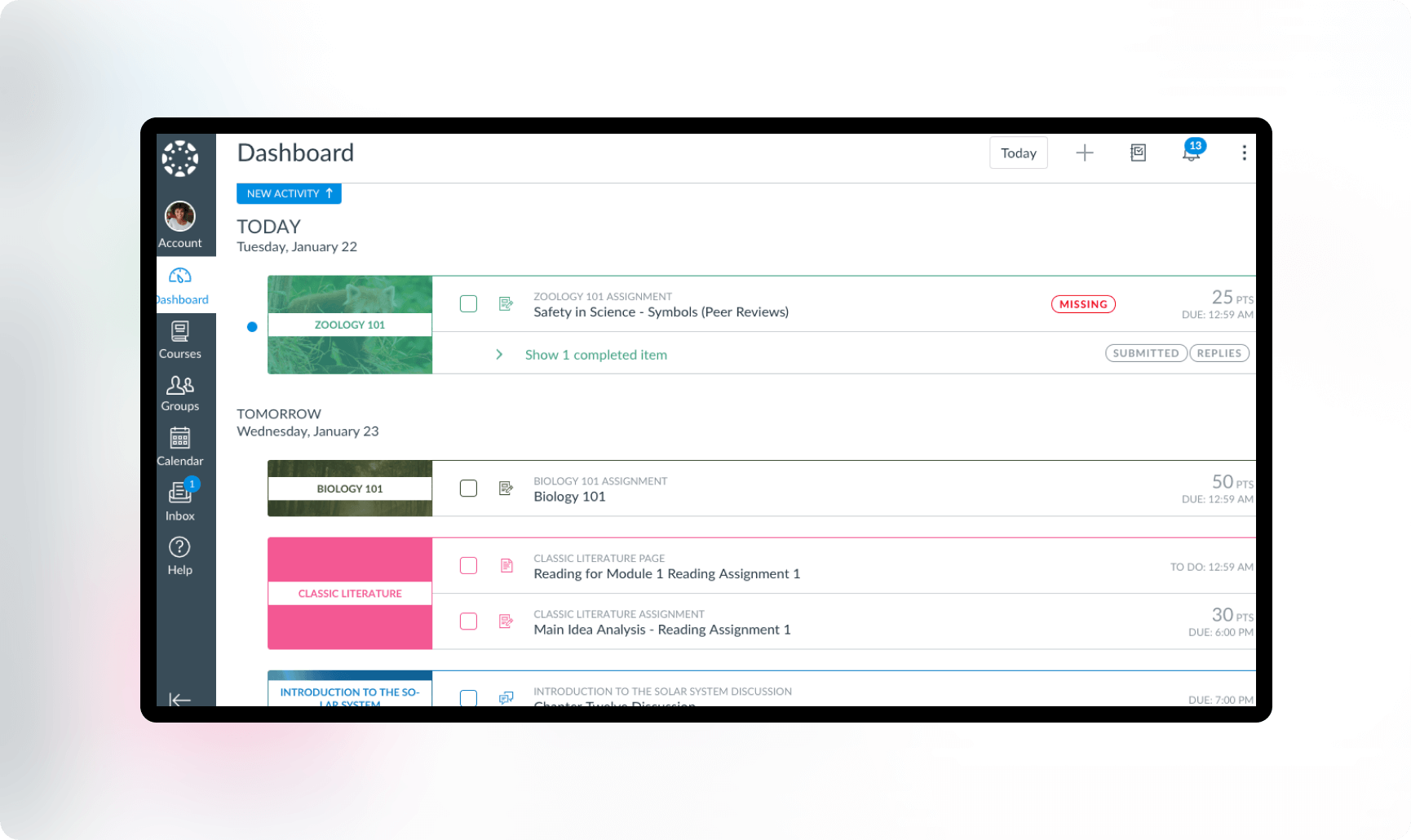 Canvas LMS is a learning platform targeting the educational sector. Thirteen states across the US have adopted Canvas LMS to improve the learning process during the coronavirus pandemic. 
How does it work
Canvas LMS provides educational institutions with digital learning management, course creation, presentation tools, and assessment and engagement features. Courses are simple to create due to the rich content editor and integrations with other software. Other Canvas LMS features include: 
Analytics and reporting 
Collaborative workspaces
LTI integrations
Open API
Course notifications
Web conferencing tools
Pros
Canvas LMS is designed to provide an engaging learning environment for students and simplify student management for teachers.
Progress tracking. Canvas LMS features allow teachers to divide courses by modules and permit access in sequence. When students finish the first module, they can start the next one. The gradebook feature is also available. 
File sharing. Canvas LMS Commons feature is a repository where courses, quizzes, modules, etc., are stored and shared between departments, institutions, and states. Students are also allowed to download read-only files from Commons. 
User-friendly interface. The platform is easy to use. It is compatible with any device and can be hosted by small to large organizations. 
Cons
Canvas LMS provides essential features for designing learning paths, but not all features work as you expect. 
It can be glitchy. Canvas LMS users complain that sometimes software is buggy, some messages and files unpredictably disappear, login doesn't work well, student works are not automatically saved. 
It has no built-in video conference tool. Integrated tools such as Zoom don't always work correctly, and the platform doesn't provide a video conferencing tool. 
Canvas LMS vs. Moodle
As SaaS solutions, Canvas LMS and Moodle Cloud both suit educational institutions' purposes, but Moodle can host fewer users. While Moodle provides gamification tools, you'll have to integrate with third-party vendors for Canvas. Moodle can be configured for business needs, while Canvas works only for the educational sector.
Tovuti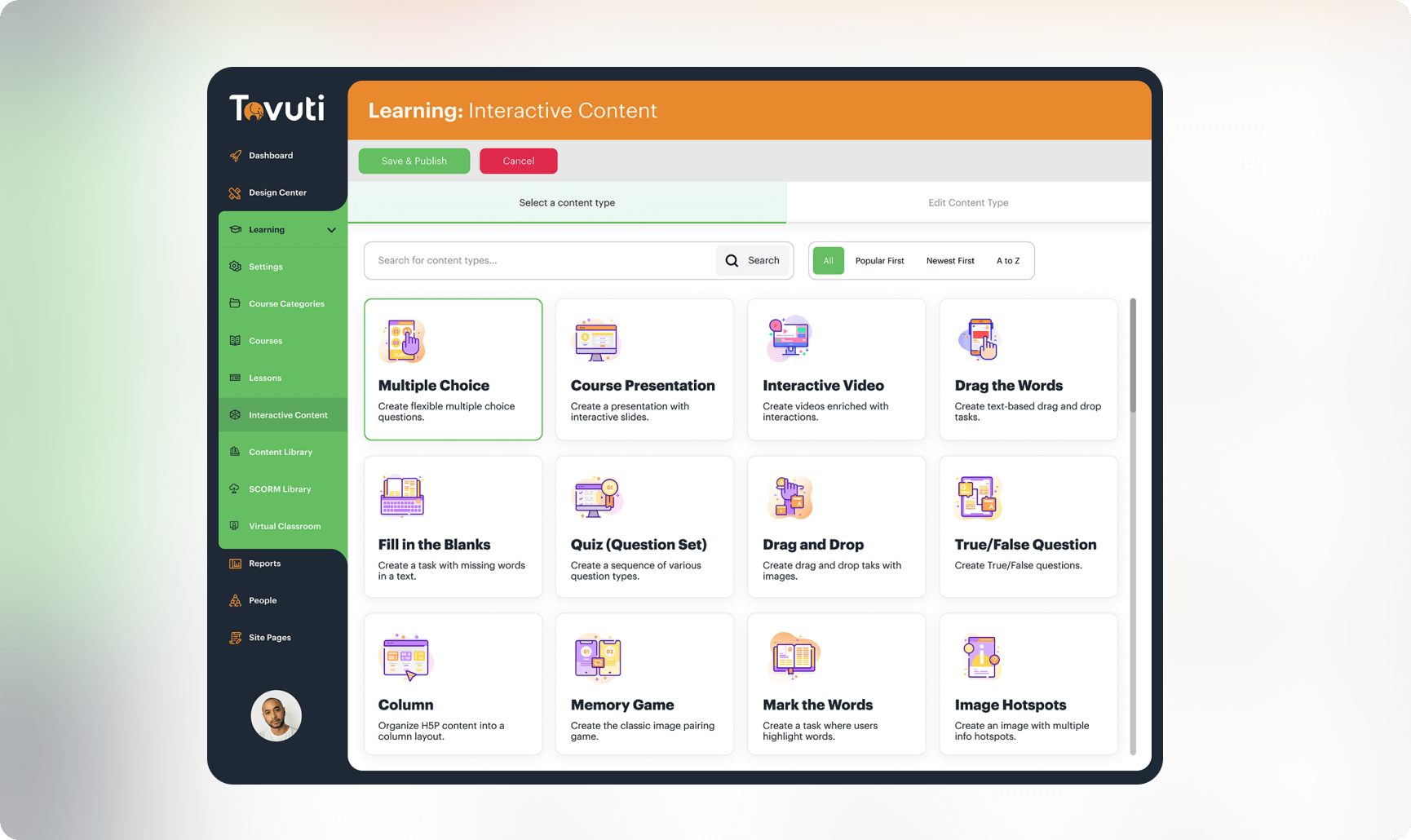 Another great alternative to Moodle is the Tovuti LMS. Tovuti is a learning management system with a broad focus, which can satisfy enterprise and educational institution needs due to its course creation tools, robust reporting, and progress tracking features. 
How does it work
As with many SaaS platforms, Tovuti deployment includes registration and customization steps. The LMS allows you to create gamified modules to boost learners' engagement. After importing learning materials, you can add new users, make groups, assign courses and track progress. 
Pros
Tovuti helps to streamline the learning process and makes it attractive to learners. It offers a wide range of handy features for a fair price. 
Interactivity. You can add interactive quizzes to your video or presentation to motivate learners to pay attention to the material. You can configure quizzes as an obligation to move to the next part of the content, thereby slightly inducing learners to participate in the learning process. 
Best price. The affordability of the price is determined primarily by your budget, but most users find that Tovuti charges a reasonable fee for the feature set it offers.
Solid support. Tovuti's help center gets a lot of positive reviews on TrustRadius. Their customers say the support team responds quickly and gives helpful advice. 
Cons
There are minor drawbacks to Tovuti features. If you want to implement offline access to learning materials or your learners' groups are large, consider the other LMS solutions. 
No offline mode. Tovuti is available online only from any device. 
It has limited classroom capacity. The video conferencing feature handles large groups of learners poorly. 
Poor social community management. You can create a social portal to let learners discuss their learning experience, but this feature doesn't provide anti-spam management.
Tovuti vs. Moodle
Both software solutions offer great features to implement an online learning process for your organization. Tovuti has the advantage of simplified setup and interactive content features, while Moodle provides better scalability. 
Moodle-like platforms: comparison table
As we can see, Moodle is a powerful tool for organizing learning processes. Still there's a lot of alternative software to substitute Moodle and get the advantages of reporting and analytic tools, engaging interface and more. To summarize, let's see the Moodle alternatives comparison table. 
Comparison criteria 
Moodle
Google 

Classroom

TalentLMS
Deployment

type

self-hosted,

cloud-based

cloud-based
cloud-based
Main features

Personalized dashboards
File management
Progress tracking
Automated assessment tools
Scheduling and notifications 
Collaborative tools and activities 
Mass enrollment 
Course creation
Gamification elements (badges)

Style customization 
Learning materials management 
File management 
Google tools integration
Grades tracking 
Social activity management 
Collaboration

Content delivery 
Progress tracking
Manager dashboards 
Assessments tools
Content creation, management and storage 

Pros

Open-source
Highly-customizable
Modular design
Advanced security 

Free for teachers and students 
Great collaboration tools
Simple to use

Accessibility and seamless UI
Robust integrations 
Helpful support team 

Cons

Outdated interface
Hidden expenses 
Inefficient reporting and analytics 

Not an LMS
Limited functionality 
Suits only for K-12 sector 

Lack of advanced reporting 
Lack of certificate management 
Unprofitable payment options 

Pricing
Code access is free

Cloud-based solution plans starting from $120/year 

Free as a part of Google Workspace for education 
Paid plans starting from $59/month 
Best for
Any organization who needs to implement an LMS 
Small schools who need to quickly adopt online education, schools without IT departments, any educational institutions who want to improve online collaboration. 
Small organizations to streamline employee onboarding and education. 
Comparison criteria 

Docebo
Canvas LMS
Tovuti 
Deployment

type

cloud-based
cloud-based
cloud-based
Main features

Course builder
Assessments & quizzes
Instructor-Led Training
Learning paths
Communication & notifications
Assignment scheduling
Varied user types
Certifications
White labeling
Content delivery, tracking and storage  

File sharing
Gamification
Collaborative learning
White-Labeling
Content library
Assessments
Grading
Course authoring
Video conferencing
Analytics

Gamification
Collaborative learning
White-Labeling
Content library
Assessments and grading
Course authoring
Video Conferencing
Analytics

Pros

Useful ILT features. 
Effective file management. 
Powerful integrations.

Progress tracking
File sharing
User-friendly interface

Interactivity
Best price
Solid support 

Cons

Inefficient support
Unprofitable payment options

Can be glitchy
Has no built-in video conference tool

No offline mode
Limited classroom capacity
Poor social community management

Pricing
Not provided 
Not provided 
Paid plans starting at $450/month
Best for
Large and midsize corporations
Schools and institutions, who want to create advanced learning paths
Any organization who needs to automate the learning process. 
Conclusion
Choosing a proper learning management software affects your organization's effectiveness as it automates many tasks and improves L&D specialists or teachers' workflow. We've compared the five LMS alternatives to Moodle to help you assess if any of them are worth your time getting started with these platforms. 
If you haven't found proper software yet, remember that using pre-made solutions isn't your only option. You can always turn to developers for help and build your LMS from scratch, considering all your specific needs.
Have some questions about creating a custom LMS?
Contact us
FAQs
---
Is there a free version of Moodle?

---

Moodle is open-source and free. You can access its repository anytime and build your learning management system if you have enough technical skills. Otherwise, you'll need to hire a Moodle specialist. Creating and maintaining your LMS will cost you money. We suggest considering Moodle alternatives such as Docebo, TalentLMS, Tovuti, etc.
---
Is Google Classroom considered an LMS?

---

Google Classroom is not a learning management system. It's more an add-on for an exciting learning environment. It has excellent collaboration features but poor customization and management tools.
---
How do I make my own LMS?

---

If you want to create a learning management system from scratch, you should create a business strategy for LMS implementation and find a development provider which will turn your ideas into working software.

Contact us if you want to know more about the LMS development process and cost.
---